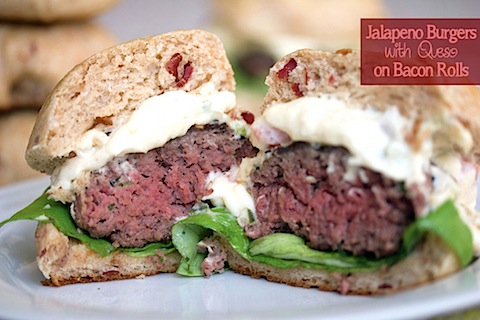 Guys, it's spring! It really, really is. And that has me all crazy optimistic. Especially because this new season has SO much awesomeness to look forward to. Chris and I will hopefully be buying a house. This little blog is going to get a sweet redesign. And my sister and brother-in-law are going to have two baby boys (!!!). Best spring ever? I'm pretty much assuming that it will be.
Of course, buying a house means house hunting and that isn't really all it's cracked up to be. I mean, it can be fun in some ways, but it's also a major emotional time suck. I think everyone who's been through it has confirmed that this is always true. Which is both comforting and uhhh can it just be done already at the same time? I'm both ridiculously picky and insanely indecisive about pretty much everything in my life, so this is really not the best situation for me.  The good news is, we've seen several houses that we've fallen in love with. The bad news is, there's always been some deal-breaker with the property. Also, houses in Massachusetts are crazy expensive. Seriously, go on Zillow and search for a house within your budget in MA and then look almost everywhere else in the country. It's not a pretty sight.
And while I can't complain too much about my apartment, I'm now constantly dreaming of a kitchen that's larger than the one I currently have. With a sweet island. Nice appliances. And natural light. Whatever house we eventually end up in must be drenched in natural light. Oh, and a deck. With a grill. But until then… I have my trusty little Le Creuset grill pan. And what does the Le Creuset grill pan do best? Burgers. OK, it grills up a pretty mean salmon, too. But I was seriously craving a burger the other day, so I decided to blend the ground beef with jalapeños and make my own. But then instead of topping with simple slices of cheese, I decided to whip up a queso. And when I realized I didn't have any hamburger rolls, I figured I'd just have to make my own. With bacon.
Jalapeño Queso Burgers on Bacon Rolls (makes about 5 burgers):
Print this recipe! 
1 lb. ground beef
2 Jalapeños, diced
8 oz. cream cheese
6 oz. sharp cheddar (I used Cabot's Seriously Sharp)
2 cloves garlic, minced
1 tomato, diced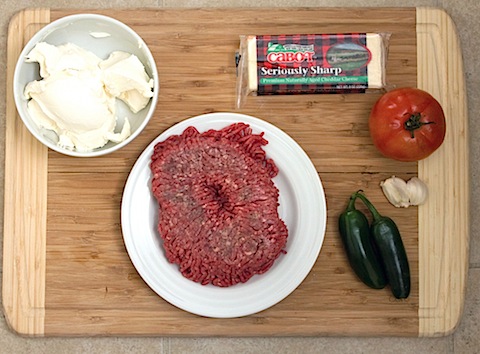 Bacon Rolls (makes 12):
Print this recipe!
 2 T active dry yeast
1 C plus warm water
1/3 C olive oil
1/8 C sugar
2 eggs
1 T salt
2 C all-purpose flour
1 1/2 C whole wheat flour
1 jalapeño, minced
Pre-heat oven to 425 degrees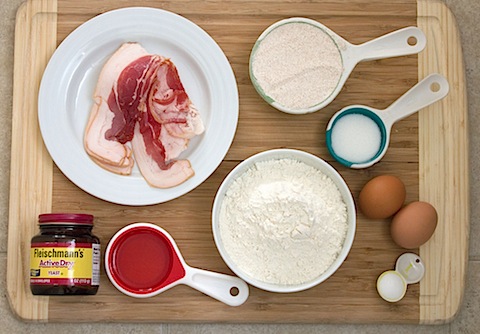 It's smart to start with the rolls first. Which means frying up that beautiful bacon!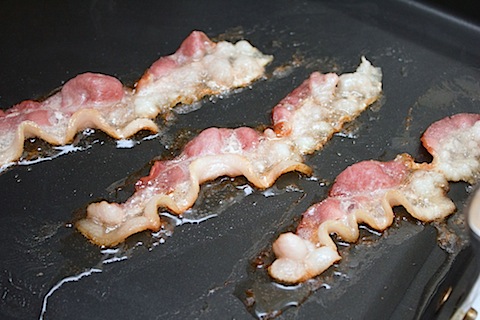 Until it's nice and crispy-licious.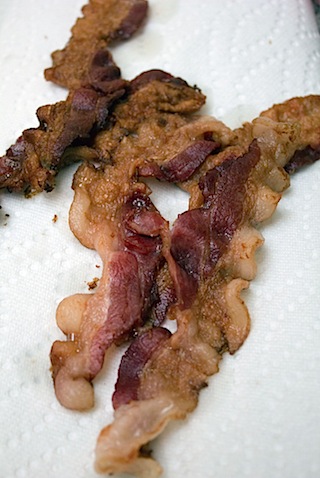 In a large bowl, combine yeast and water. Let sit for about 5 minutes until mixture becomes frothy.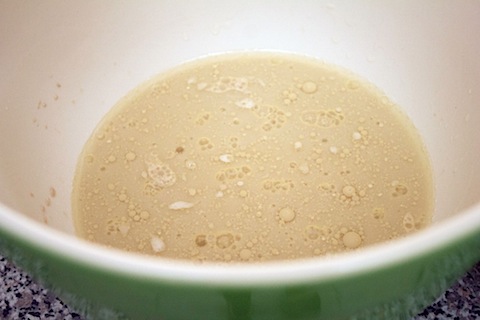 Stir in olive oil, sugar, one of the eggs, and the salt.
Using a wooden spoon, gently stir both types of flour in. Dough should be nice and soft; if it's feeling dry, you can add a bit more warm water in.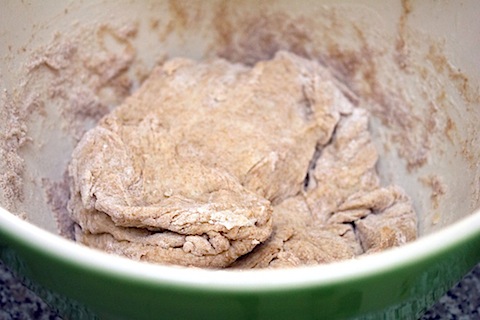 Crumble bacon over the dough.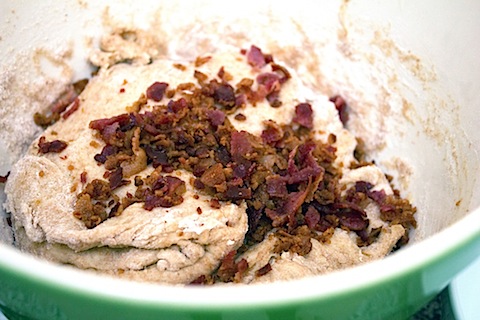 On a lightly floured surface, gently knead the dough for about 5 minutes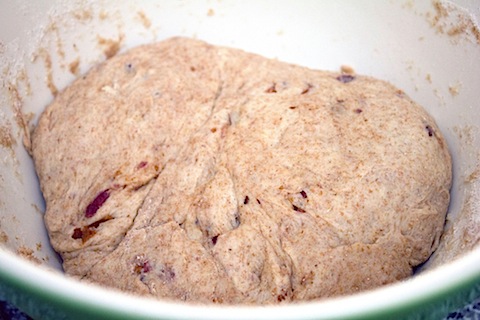 Separate the dough into 5 balls and place a couple inches apart from each other on a greased baking sheet. Cover with a towel and let sit in a warm spot for 10 minutes. Beat the second egg in a small bowl. Remove towel and lightly brush the tops of the buns with egg.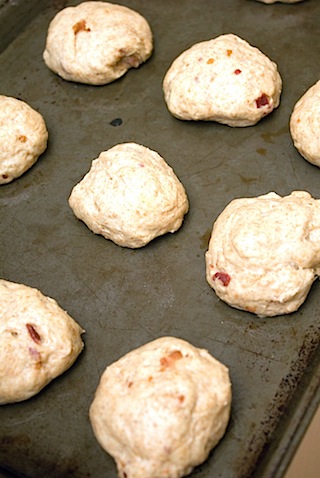 And then bake at 425 degrees for 9-12 minutes, until the rolls are looking golden.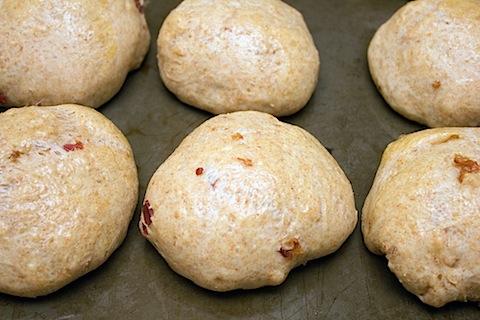 Next up… the queso! I've never made queso before, but I knew I wanted it to be super sharp. So I decided to make the queso with Cabot's Seriously Sharp Cheddar and cream cheese. Cabot recently asked me to be on their "Cheese Board," which means they send me fun packages filled with cheese on occasion. I'm in love.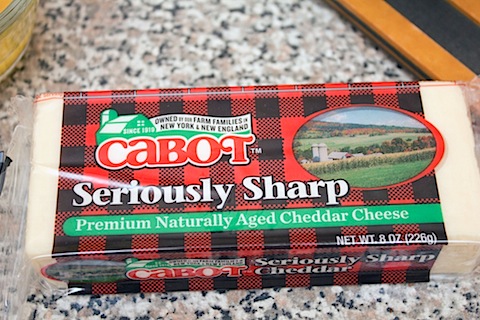 Put both cheeses in a medium saucepan over medium heat and gently stir until the cheeses are melted.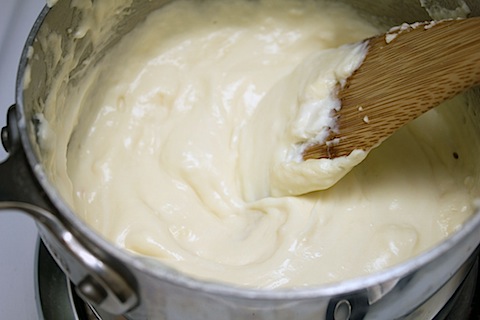 Then stir in half of the diced jalapeños and all of the garlic and tomatoes. Keep warm.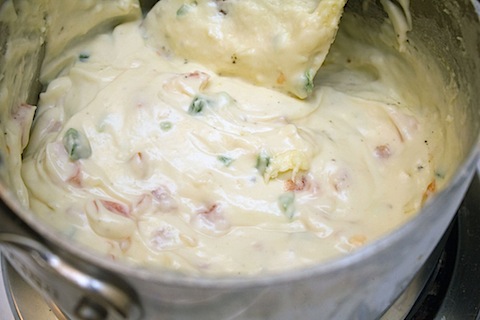 Last but most certainly not least, prepare the burgers! Simply combine the beef and the rest of the jalapeño pepper and some salt and pepper.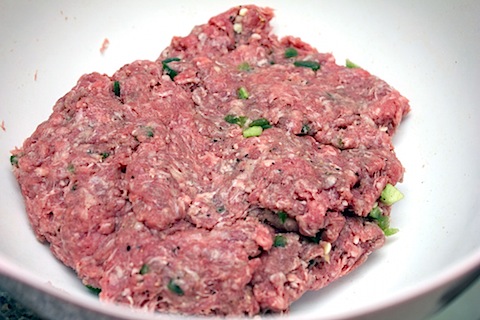 And form into patties. I made pretty small, fat patties and got five.
Place them on a grill pan or regular pan over medium heat. Cook for about 4 minutes on each side, until desired doneness.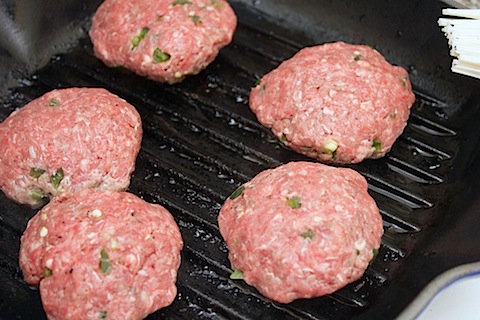 Cut bacon rolls in half and place a layer of lettuce on one side.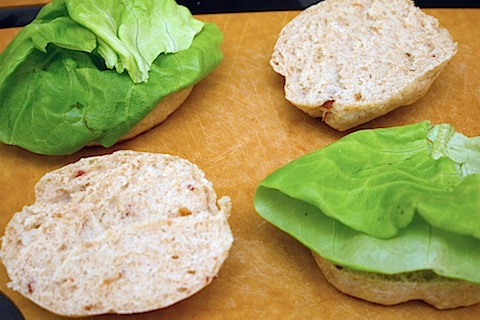 Top with a burger.
And a huge dollop of queso.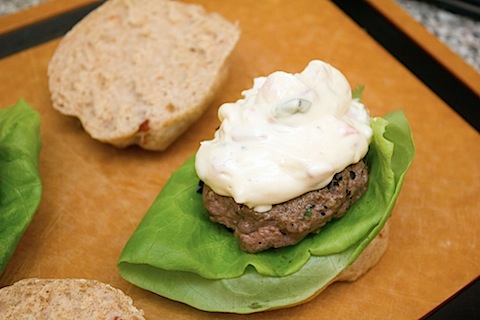 Hello, why don't you have yourself a seat right next to me?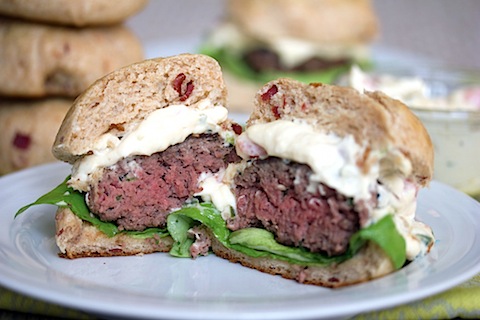 I really have no words. But since this is a food blog, I suppose I'd better find them. So… yum?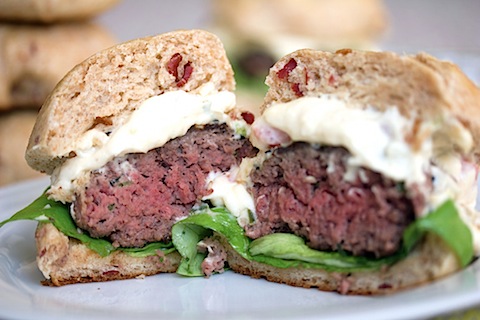 But really, these burgers are a dream come true. I pretty much never eat a burger that doesn't involve cheese, but queso? That's taking it to a whole new level of awesome. I topped the burger with plenty, so it legit oozed out and packed in tons of sharp cheesy flavor.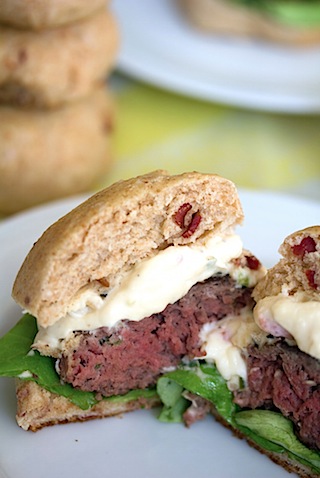 The jalapeño pepper in the burger added a little spicy bite, but wasn't too hot at all. So, if you're not a fan of your mouth being on fire, don't worry. This heat was all flavor.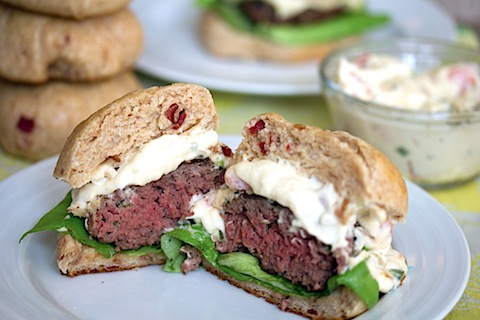 Um, I almost forgot to tell you about the bacon rolls. It's a roll. That has bacon in it. Really. It was the perfect bun for this burger, but is also great warmed up a little and slathered with butter. Kind of like a scone.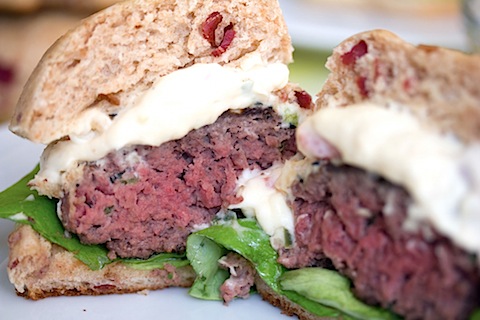 I may or may not have taken a spoon to the leftover queso when I was done eating the burger. You'll never know (though you can probably guess). Chris deemed this one of the top three burgers he's ever had… The others being the one he had at db Bistro in Miami and the one I made back in the day for the Four Seasons Boston. I'll take that rating, for sure.
What's the best burger you've ever had?
[Sues]