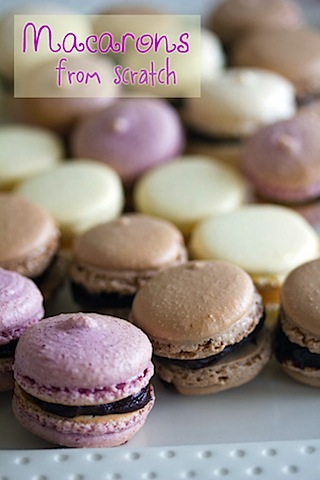 Time to get all sappy. It is almost Mother's Day, after all. And now that I'm 30 years old (ugh, I still hate saying that), I feel very lucky to say that my mom is one of my best friends. Really. I also feel pretty lucky that I never went through any really horrible phases growing up in which I really didn't get along with her. Sure I was an angsty teenager at times and I once threw a fit in the mall parking lot because I wanted my mom to buy me clothes from Abercrombie and Fitch and not Macy's (hello, former self; your current self is obsessed with Macy's and doesn't know what was wrong with you… Also, your parents were buying you clothes. Be thankful). But overall, we've always had a good relationship. And it's only gotten stronger as I've gotten older.
Not only is my mom a fabulous lady, but she's lucky to have some of the most wonderful friends, too. I'm not going to lie; I was a little jealous when my mom told me she was taking a macaron making class at Sur la Table with her friends…. and not me. After all, we love taking cooking classes together and macarons have been on my must learn to make ASAP list forever now. But then she had her friends over to put their lessons into practice and invited me.
When I was 14, I might have thought spending a day at my parents' house with my mom and her three friends was a little odd, but now that I'm 30, it's basically my ideal day. Especially when macarons are involved. Also, why does my blogging software insist on correcting the word "macaron" into "macaroni"? The nerve.
I'm going to give you the basic raspberry macaron recipe we followed from Sur la Table. But know that I'm ridiculously excited to try about a million different macaroni recipes in my NEAR future… Including some savory ones!
Raspberry Macarons (makes 35):
7 oz. powdered sugar, divided
4 oz. almond flour or meal
2 T dried, finely ground raspberry powder
4 large (4 oz.) egg whites, room temperature
Pinch of cream of tartar
3 ½ oz. granulated sugar
Red gel food coloring (optional)
Filling of your choice (chocolate ganache with a little raspberry jam is perfect)
Pre-heat oven to 375 degreesWe used Bob's Red Mill Almond Flour and it was pretty perfect. Also key? We were making four different macaron recipes, so we immediately divided all of the ingredients first thing.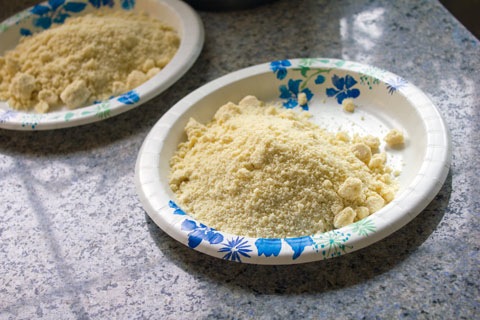 We popped the almond flour in the food processor with powdered sugar to make sure it was sifted as best as possible. If you're adding any powdered flavoring, this is the place to do it. For our raspberry macarons, we added the raspberry powder... which was really freeze dried raspberries processed into a powder.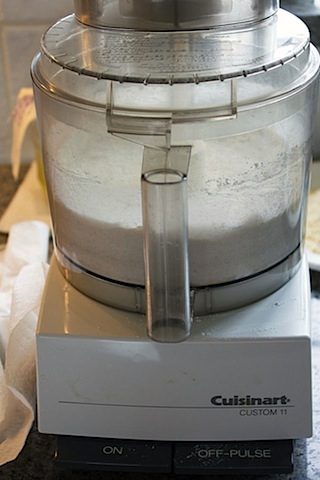 Making macarons also taught me that I really need to put my food scale into better use. Because exact measurements are so important in macarons, it was essential to use the scale… We even weighed the egg whites.
In the bowl of a stand mixer with whisk attachment, combine eggs whites and cream of tartar on medium speed until foamy. Then add granulated sugar slowly while still mixing. Scrape down sides of bowl, add red food coloring (if you're using it). Gel food coloring is best since liquid can offset the consistency of the mixture. We added a little more red to our raspberry macarons to brighten the color a bit. Now, increase the mixer speed to high, whisking until firm glossy peaks form.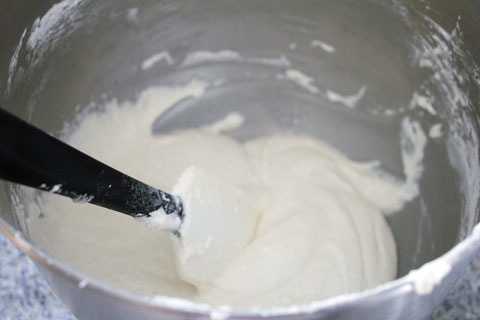 I have to pause to comment on the fact that the Sur la Table instructions say here, "to complete the macaronnage step..." Annnd macaronnage may just be my new favorite word.
Anyway, we sifted the almond flour mixture one-third at a time over the egg white mixture and folded it in with a spatula until the mixture was smooth and shiny.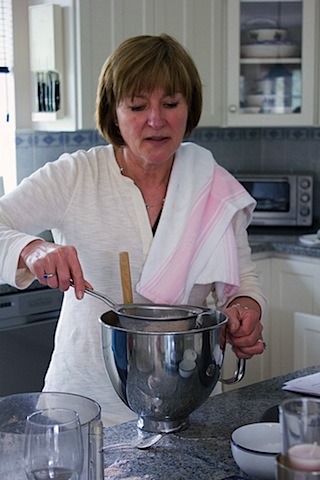 Once all incorporated, we mixed more to make sure the batter was firm and dripped slowly from the spatula.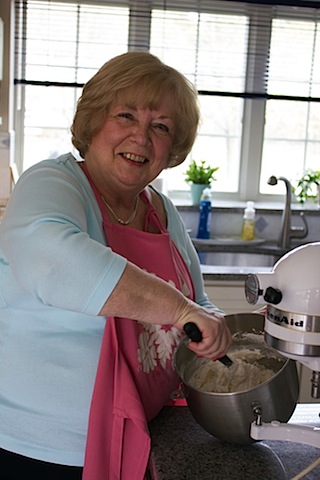 Then we were ready to pipe the mixture into rounds on a baking sheet. The pastry bag needs to be fitted with a ½-inch plain round tip (#12) and the batter needs to be piped into 1 ⅓-inch rounds on parchment-lined baking sheets.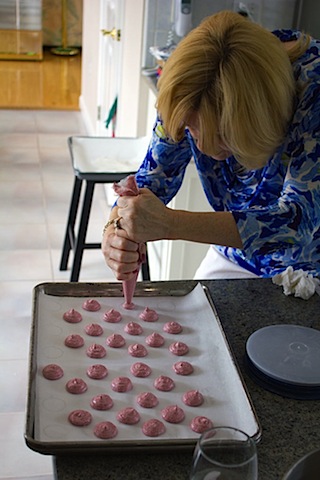 The ladies got these super helpful guidelines from Sur la Table, which we used under the parchment paper as guides to make sure our macarons were the right size.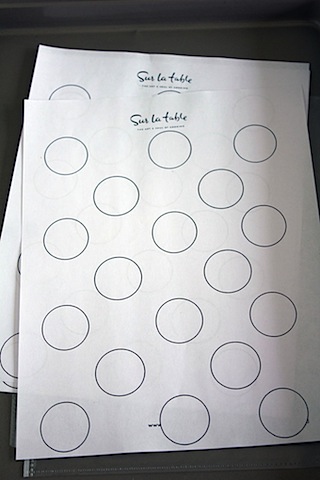 Once the macarons are all piped, we had to bang the baking sheet against the counter to ensure any air bubbles were released. And then let them stand at room temperature for about 30 minutes to set. A slight crust began to form. When they no longer stick to your finger when lightly touched, they're ready to be baked!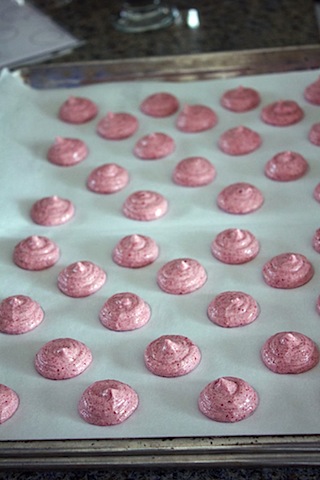 It's interesting to see how even a little ingredient change can impact your macaron shape. We added a little lemon extract to the lemon macarons.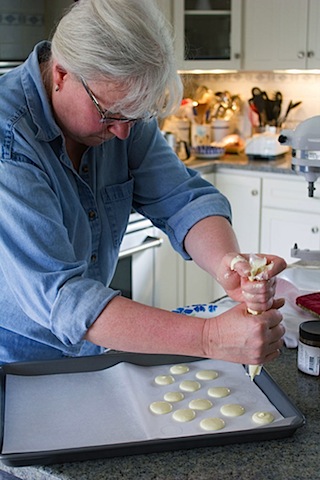 And they definitely piped onto the baking sheet a little smoother and a little flatter.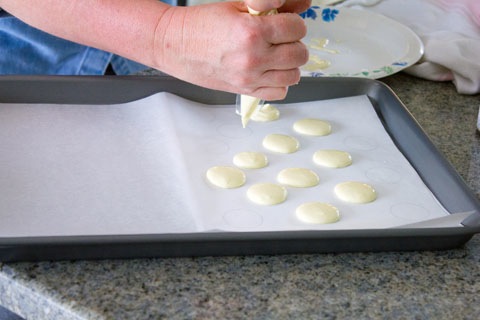 One by one, we popped the trays of macarons in the oven at 375 degrees for about 10-15 minutes, rotating halfway through, until they're crisp and firm. If they're still soft inside (they'll be a bit jiggly), lower the oven to 300 degrees, cover with foil, and bake for a few more minutes.
While the macarons were baking, we all snacked on the delicious food everyone brought to my mom's.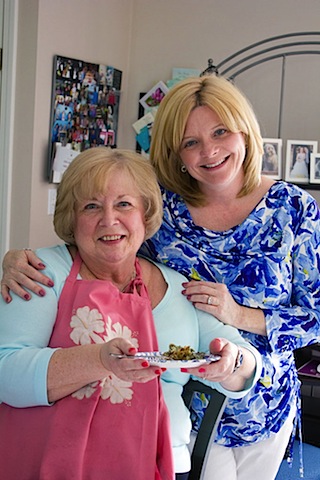 Let the macarons cool on baking sheets for 2-3 minutes, and transfer to wire racks to cool completely. Fill with the filling of your choice.
The raspberry macarons ended up getting a little browned… We think it's because we had the oven on convection initially.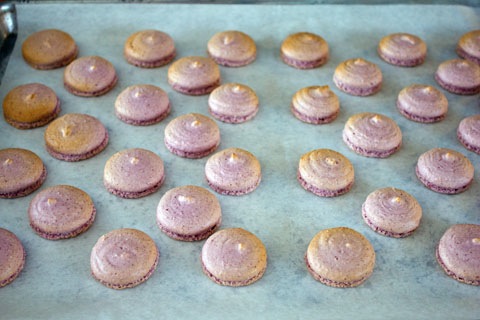 Once we turned that off, they cooked much more evenly. See how the lemon cookies are much smoother than the raspberry? But a little flatter, too.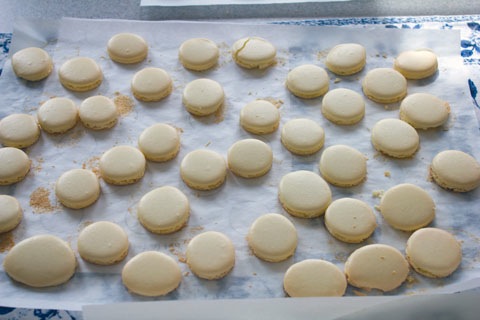 The chocolate ones were looking pretty fabulous, too!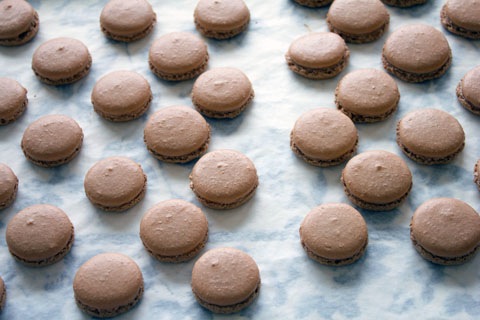 That's a lot of macarons….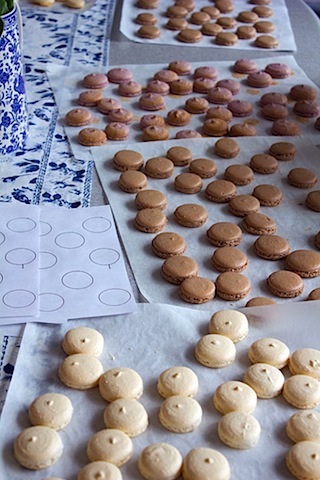 We made a couple different chocolate ganaches for filling the macarons. For the lemon ones, we used a lemon curd.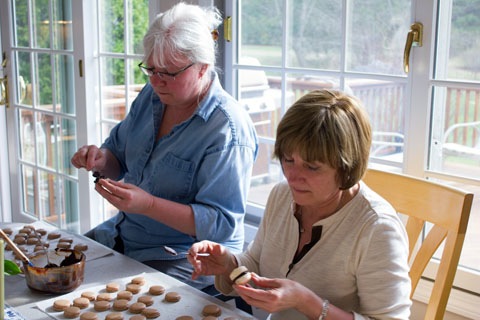 For the raspberry macarons, we used a chocolate ganache and added a little bit of raspberry preserves as well.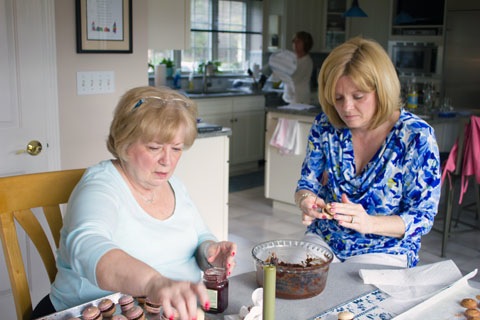 One thing about my mom and her friends? They're always laughing together. Such a fun group.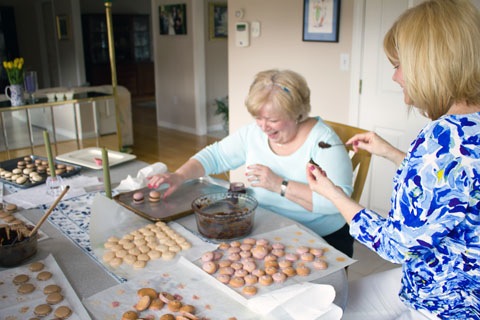 I thought the macarons look delicious as plain old cookies, but once they were filled with ganache, they became absolutely heavenly!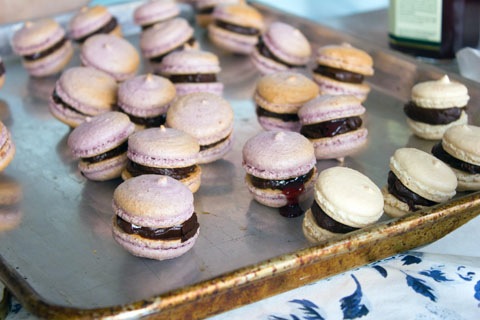 I was SUPER impressed with how all of the macarons came out. I've heard some horror stories of people making macarons and having them tun into total disasters, so I assumed at least a couple batches would end up being a little rough. But nope!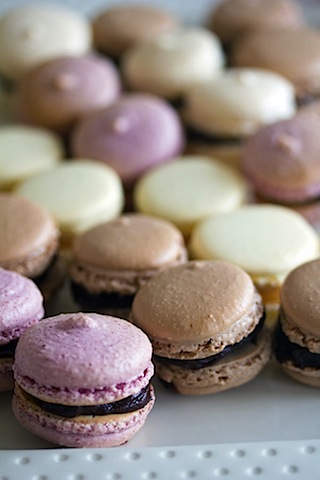 Besides the browning on the raspberry ones, I would say they looked nearly perfect.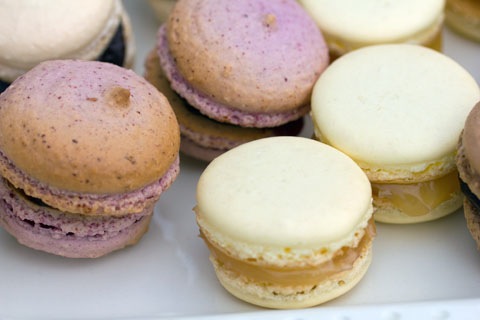 And obviously tasted perfect, too. Really, though. I didn't realize how much I loved macarons until we made these. I could have eaten a million of them.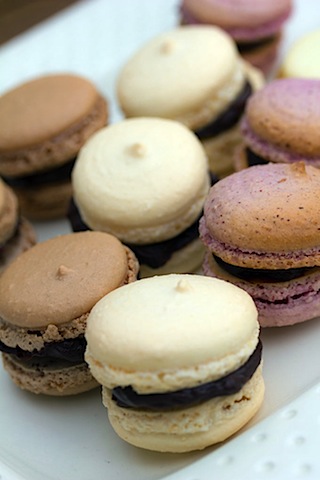 And might have come close. I always say I know food is really good if Chris breaks into it on his own (legit he'd starve to death if I didn't actually place food in front of him) and I know dessert is really good if my dad eats it. Both Chris and my dad willingly ate some of these macarons on their own. Yes!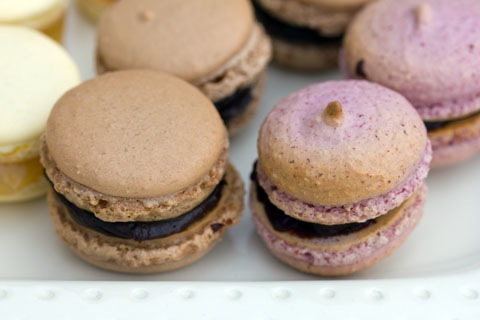 Not so bad, right? I feel lucky that I got to see four talented ladies whip these up and now I feel confident that I can take on macarons on my own.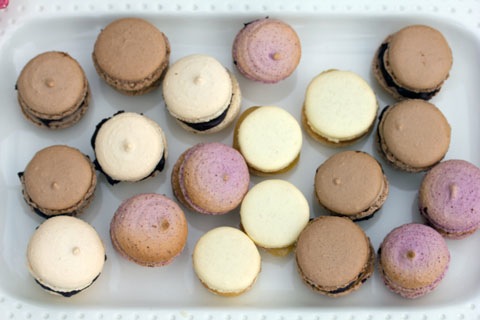 Thanks so much for inviting me to your girls' day, Mom! It was a pleasure to spend the day with you, Kathy, Jan, and Anne.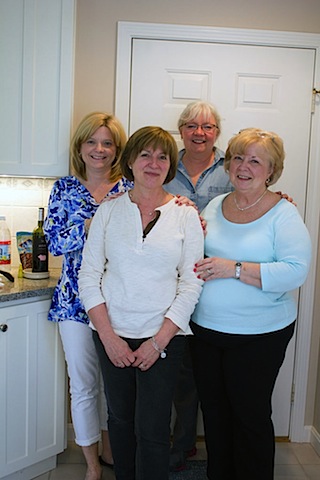 Let's do it again soon! You know I've been DYING to make my own croissants... that could be the next lesson 🙂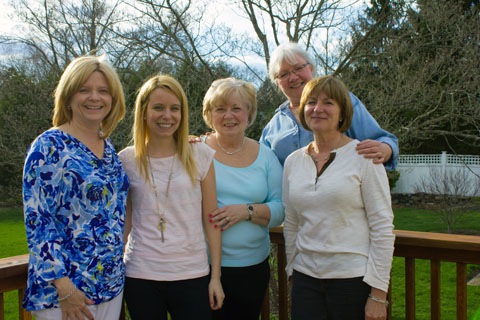 Have you made macarons before? What was your experience like?
[Sues]