Woahhh, Nelly! What a crazy night weather-wise here in Massachusetts! What happened in Boston was just about nothing at all compared to the insane tornadoes out in Western Mass. But the city did experience an intense thunder/lighting show, winds, flooding streets, and power outages. Which explains why I'm posting today vs. yesterday. My power was out all night and part of the morning. Thankfully we have fun neighbors so we went over and played 20 Questions by candlelight with them to kill some time and to make the most of the storm. It was actually really fun!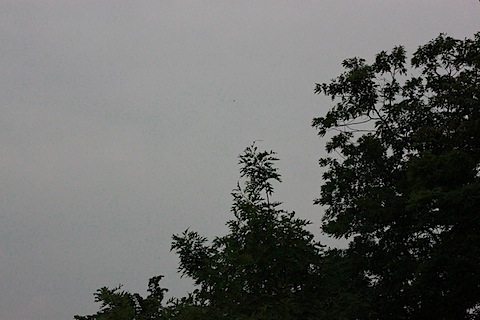 I'm not a fan of thunder and lighting at all. I feel like all the rumbling and loud banging sounds like the world is ending and it still, to this day, freaks me out. One of my dad's friends actually calls me Lighting Bolt because I freaked my freak in the middle of a storm back at one of their company picnics when I was about 5 years old. The name still holds true, because I'm definitely that girl who screams like a child when lighting strikes, hahaha. Missy and Liza were cracking up at me last night running around the house bolting from the windows. Give me a blizzard, a spider, any weird bug, or a bee and I'm fine. I guess we all have our "things"!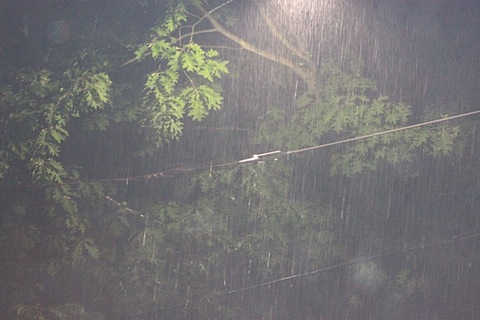 And on that note, I just admitted to the world that I'm crazy 😉
On to the meatballs!
As Sues mentioned last week, after attending BlogHer Food it definitely made us want to push ourselves in the kitchen. To create more of our own original recipes. There's nothing at all wrong with adapting, but part of this journey is to teach ourselves and just get to know food in as many ways possible. I feel like the best way to do that is to sometimes just play in the kitchen, try different methods, and to piece ingredients and measurements together instead of always relying on a recipe.
For the past couple weeks I've been randomly wanting to make meatballs. I've made them plenty a time, but I've only had one really successful meatball recipe and the others, even when followed by a recipe, haven't really blown me away. So I decided to create my own and stuff them with Brie. Which is brilliant since anything stuffed with Brie, should in theory, be fantastic. The thing with creating my own recipes then blogging about them is I realize half way into the process that "it could use a little more of this, a little more of that, and oh, an egg should be included, as should breadcrumbs!". So, not everything is included in photos.
Turkey Meatballs Stuffed with Brie
(makes about 16 meatballs)
Print this Recipe!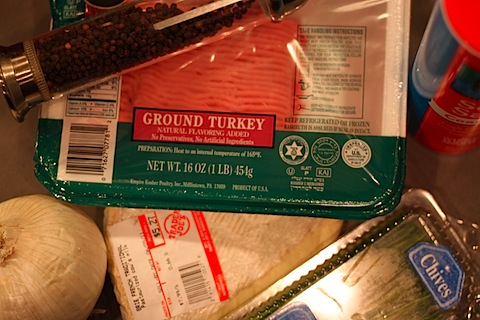 • 1 lb ground turkey
• 1 egg (not pictured)
• about 1/3 cup plain breadcrumbs
• 1/2 cup chopped onion
• 1 teaspoon chives, chopped
• Brie, divided into small cubes
• salt and pepper
Preheat oven to 400 degrees.
Combine the turkey, egg, breadcrumbs, onion, and chives into a small mixing bowl. Season with salt and pepper.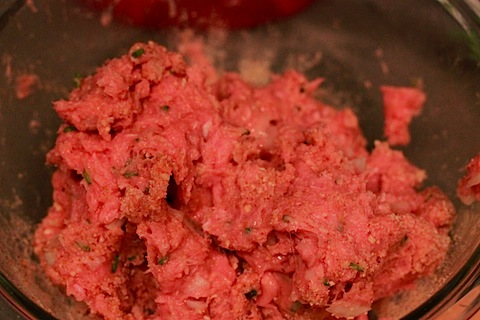 Form the ground turkey into small balls and arrange in a baking pan. Make small indents in the meatballs.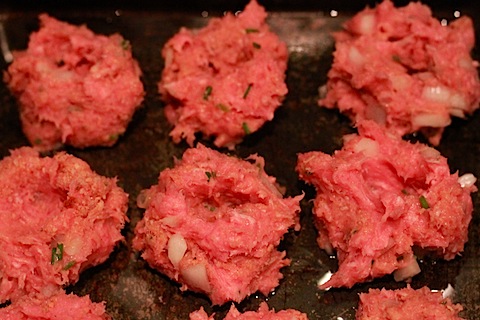 And insert the cubes of Brie into the indent.
Using your fingers, gently seal the top of the meatball, to cover the Brie.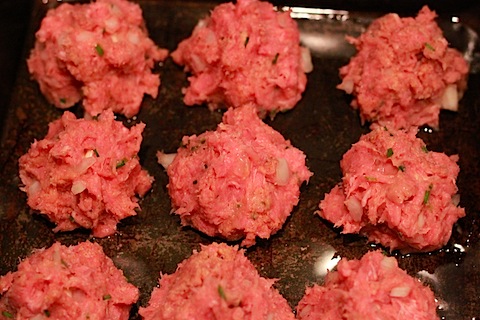 Bake for about 18-20 minutes until the meatballs are golden brown and no longer pink inside.
Since I was experimenting, I decided to save a few of the uncooked meatballs and pan fry them to see how they came out. Overall, the pan fried meatballs were a bit more moist, but the cheese stuck to the pan like crazy, even though it was coated with olive oil, which resulted in a less attractive final product. The baked meatballs were definitely a cleaner experience and still tasted wonderful.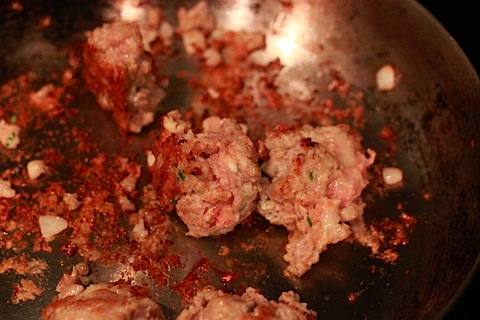 Also, I guess my love of food blogging was confirmed last night since we were in the middle of a tornado warning and I still went on my deck to snap photos of the final product for better light. Don't follow my lead.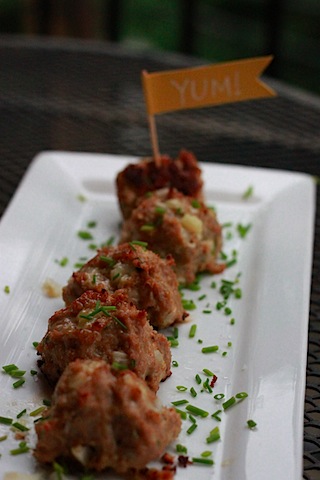 I think these are the perfect "Party Ready" appetizer to serve to guests because they hardly take any time to prepare and all of the ingredients are either in your pantry or a quick trip to the grocery store. They don't even require a sauce or anything because once you break into them, the gooey Brie is exposed and keeps them nice and moist, which make for a perfect dish to serve at a party; simply arrange a fun toothpick in the center of each meatball and voila!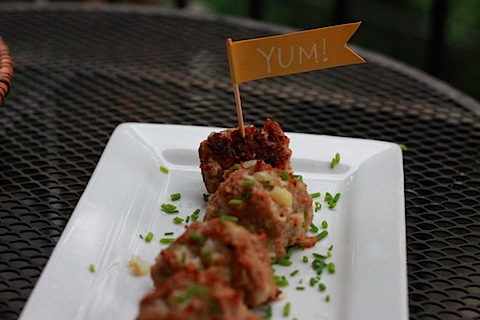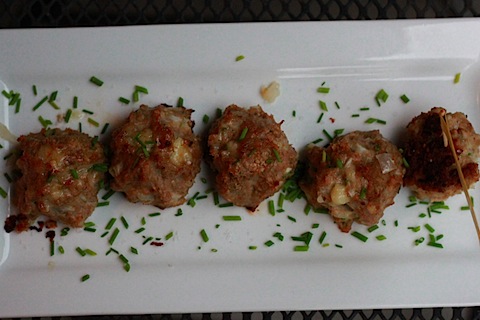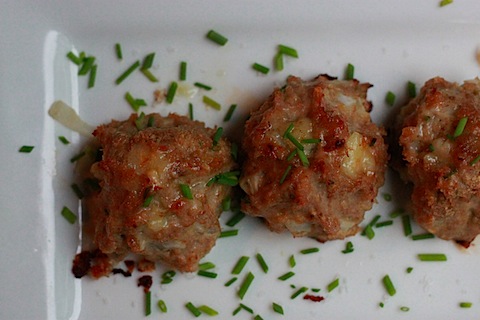 Back to my fear of thunder and lightning. What are you most afraid of?
[Chels]