This recipe for Mexican Chocolate Whoopie Pies uses Cinnamon Pebbles cereal to take chocolate cinnamon cake cookies and sandwiches them with a fluffy marshmallow buttercream filling.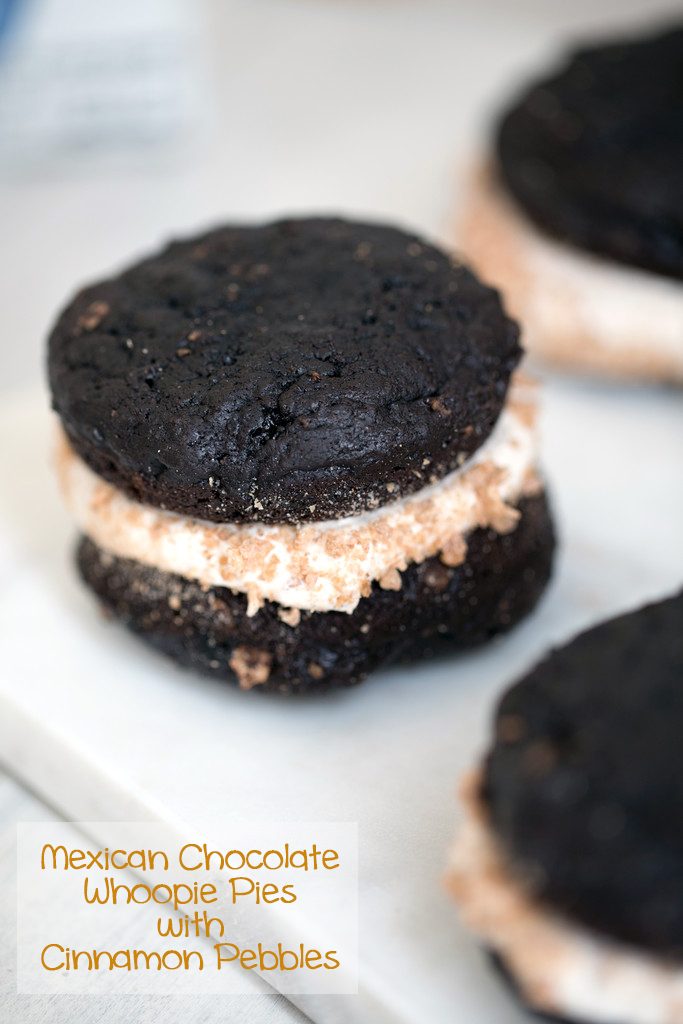 While I was at the grocery store the other day, I got a massive craving for chocolate milk. It legit came out of nowhere, but I immediately bought a carton of skim milk and a bottle of Hershey's Dark Chocolate Syrup (because yessss) and went home and made myself a giant glass of chocolate milk. It was everything I wanted and more except that I felt seriously sick after drinking it. Probably because I haven't had an entire XL size glass of milk in about 20 years. It also made me realize that I haven't made a for real cup of hot cocoa in ages, which, when you consider that hot cocoa really is the best part of winter, is pretty sad. While I don't think we're going to get any more snow in Boston this season, I do know that we're still stuck with weather in the 30s and 40s. So, I may just have to come home from work one evening this week and make myself a mug.
In the meantime, I'll just eat my chocolate. Which is totally fine with me. Also, while I do enjoy a good hot chocolate from time to time, I much prefer Mexican hot chocolate and am pretty much in love with all things cinnamon. In fact, I often sprinkle a little cinnamon into my coffee grounds before brewing our morning coffee and mmm it makes it so much better. So, I obviously bought these new Cinnamon Pebbles the second I saw them on the grocery store shelf (p.s. cinnamon is SO a thing in the cereal world right now… I also just noticed Cinnamon Frosted Flakes the other day!) and knew I needed to combine them with chocolate ASAP. I did exactly that with these Mexican Chocolate Whoopie Pies with Cinnamon Pebbles and a delicious marshmallow buttercream.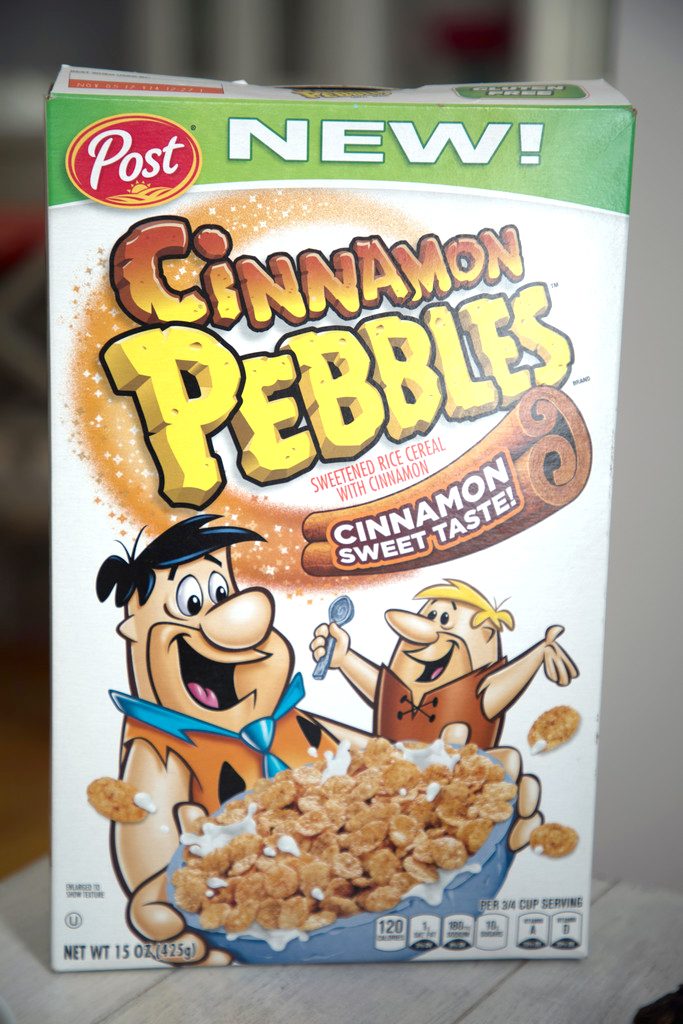 I made my whoopie pies in a whoopie pie pan because I have one and don't use it nearly enough. But if you don't have one, it's no problem at all! You can easily make whoopie pies on a parchment paper-lined cookie sheet, just like you would regular cookies. Into my batter went lots of cocoa powder, cinnamon, and some espresso powder, too. And don't forget to fold in the Cinnamon Pebbles!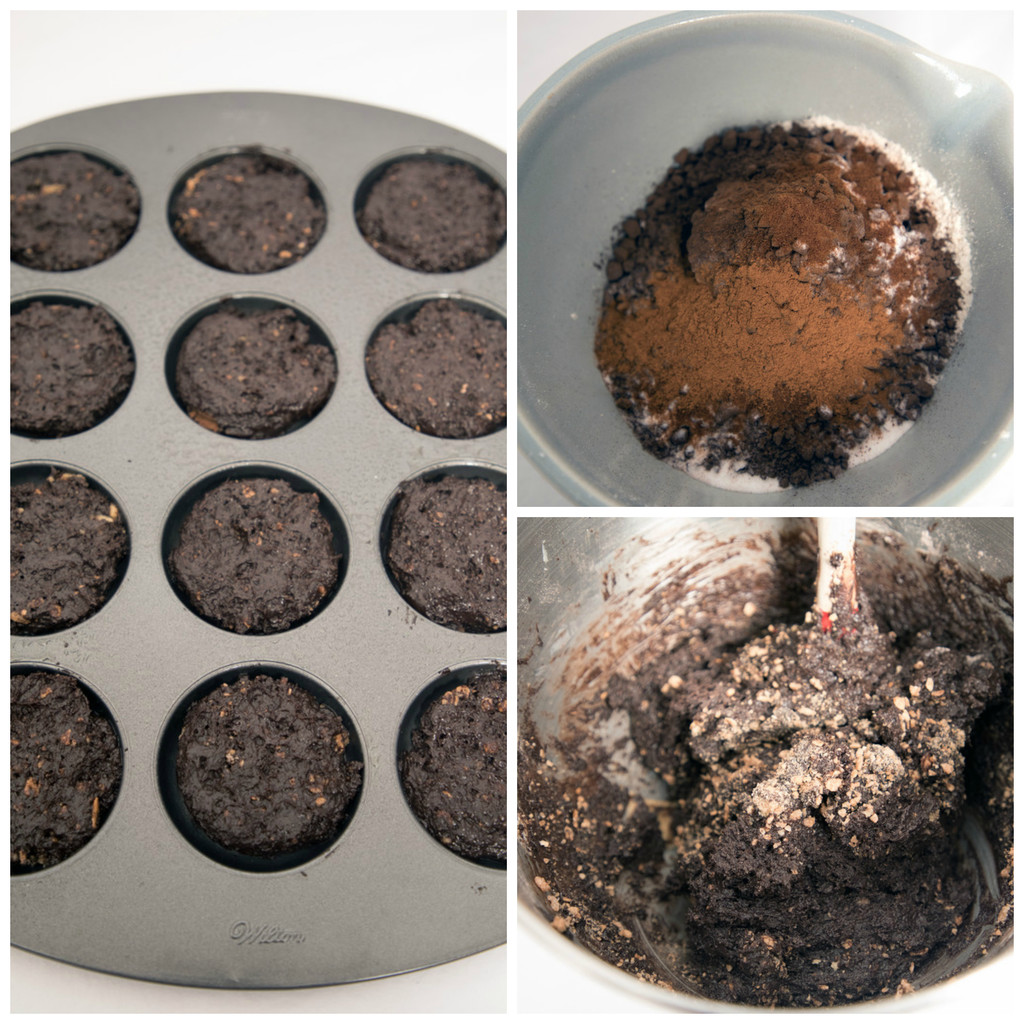 The frosting is also super easy to whip up. I was close to making my own marshmallow fluff because I hate buying the stuff, but you know… the container literally lists the same ingredients as what I put in my mixing bowl, so I took the easy way out here. No shame… I just wanted to get these whoopie pies into my mouth as soon as possible!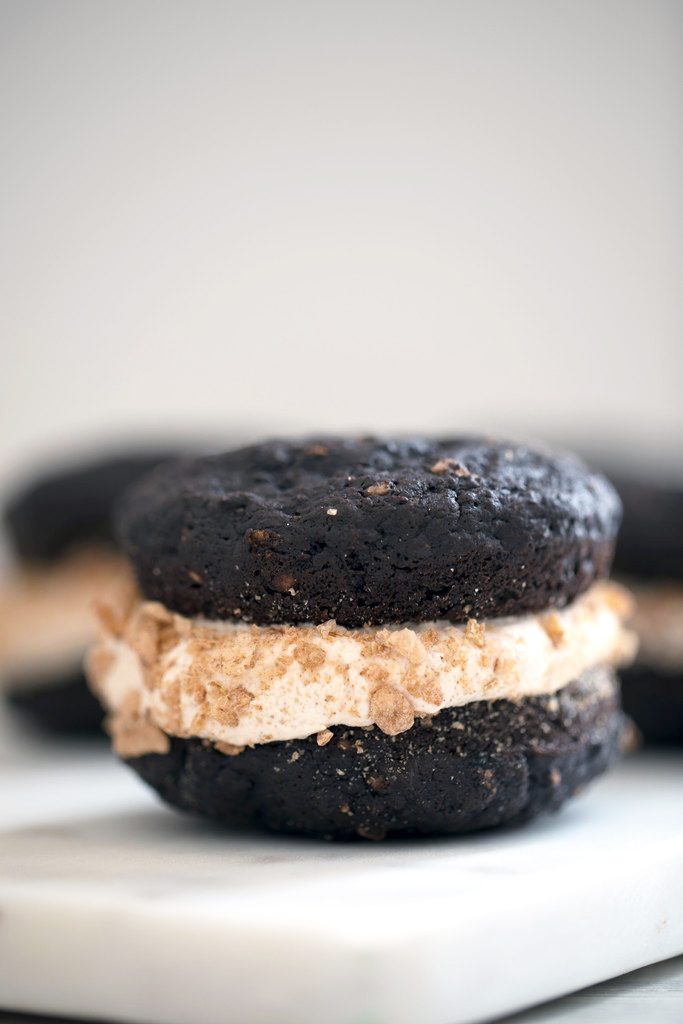 And done. I feel like this is one baked good that is seriously underrated and I have no idea why. Don't get me wrong, I've had some not-so-great whoopie pies in my day, but I think the key is to really have a nice moist cake/cookie and enough filling to balance everything out. I think I had success here!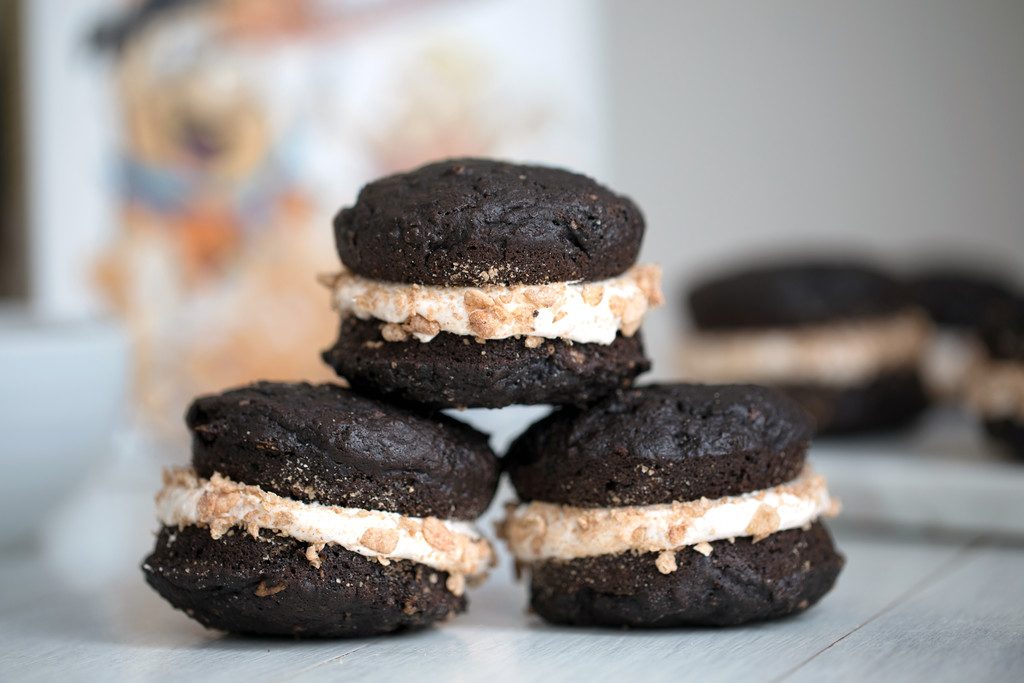 And yeah, those Cinnamon Pebbles. I'm a big Pebbles fan in general and love baking with Fruity Pebbles since they're so fun, bright, and cheery. And remember Ice Cream Pebbles?? I wish those would come back! But I seriously hope Cinnamon Pebbles are around to stay because they are my new "dessert cereal" obsession. I don't really eat sugary cereals for breakfast, but love stuff like this for a snack or dessert! Or, you know, incorporating into other desserts.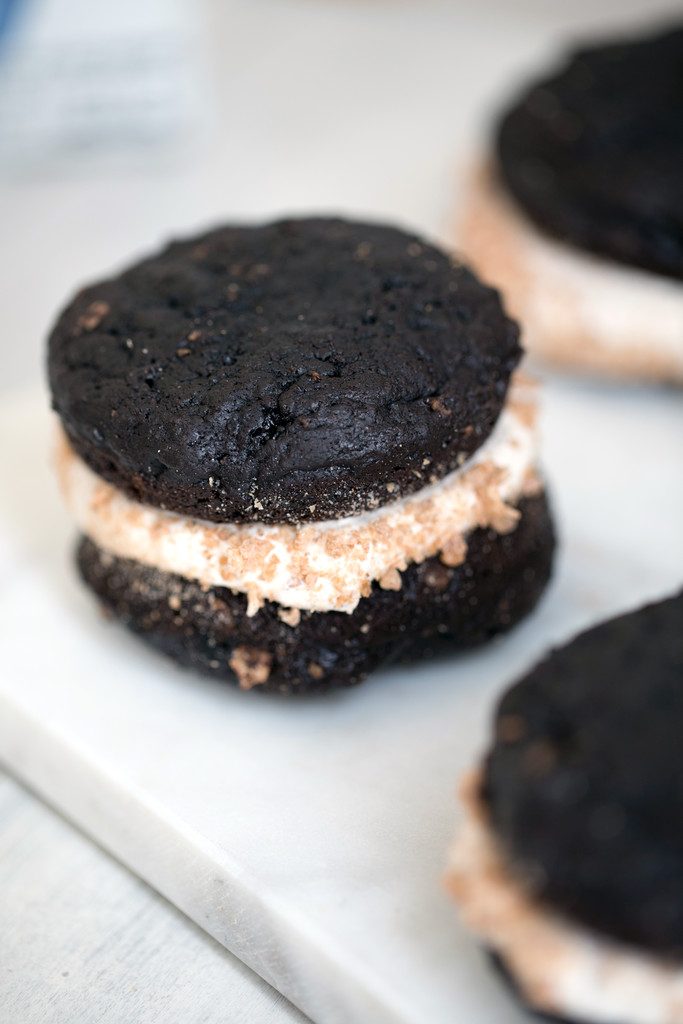 If you're not on the chocolate/cinnamon AKA Mexican chocolate bus, I urge you to get on it. Cinnamon also has a crazy amount of antioxidants and health benefits, so that should make you feel even better about indulging in dessert. Not that you should ever feel bad about it. I'm all about balance in my diet and try to eat as many fruits and veggies as I can throughout the day since I know I'm going to crave something sweet after dinner (I've toyed with the idea of cutting out sugar before… But I honestly feel like I wouldn't be as happy without it. I know once I got over it, I'd be totally fine… But I just want some simple pleasures in my life #sorrynotsorry).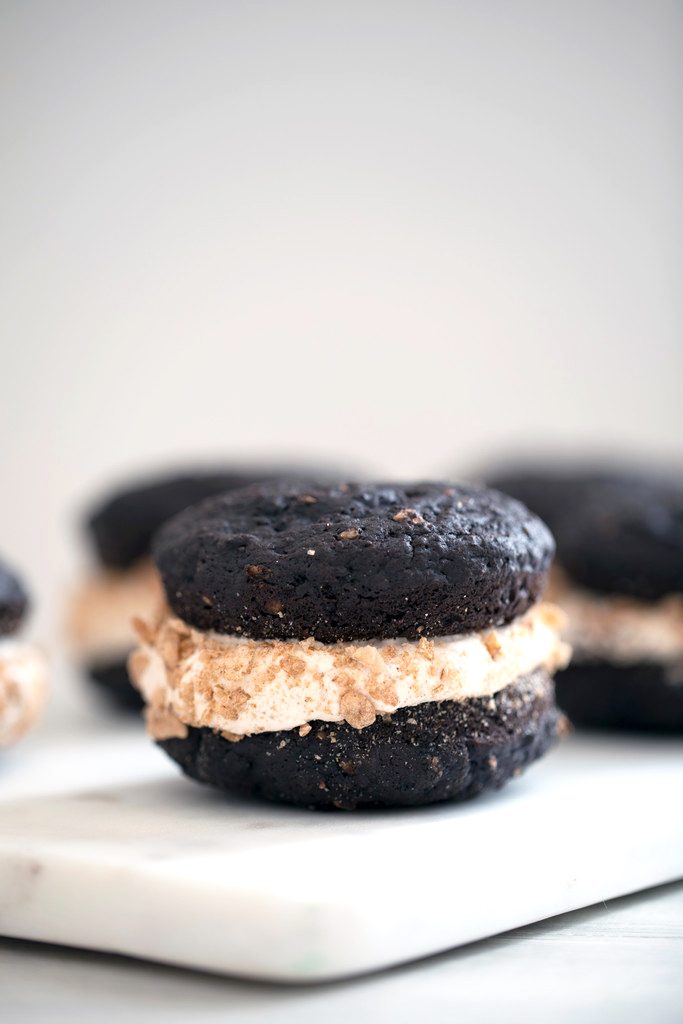 Moist and fluffy cake with a sweet marshmallow buttercream filling and cereal crunch? Please don't deprive me! This is my idea of perfection and exactly what I want after a long hard workday. Or, I mean, after any day really…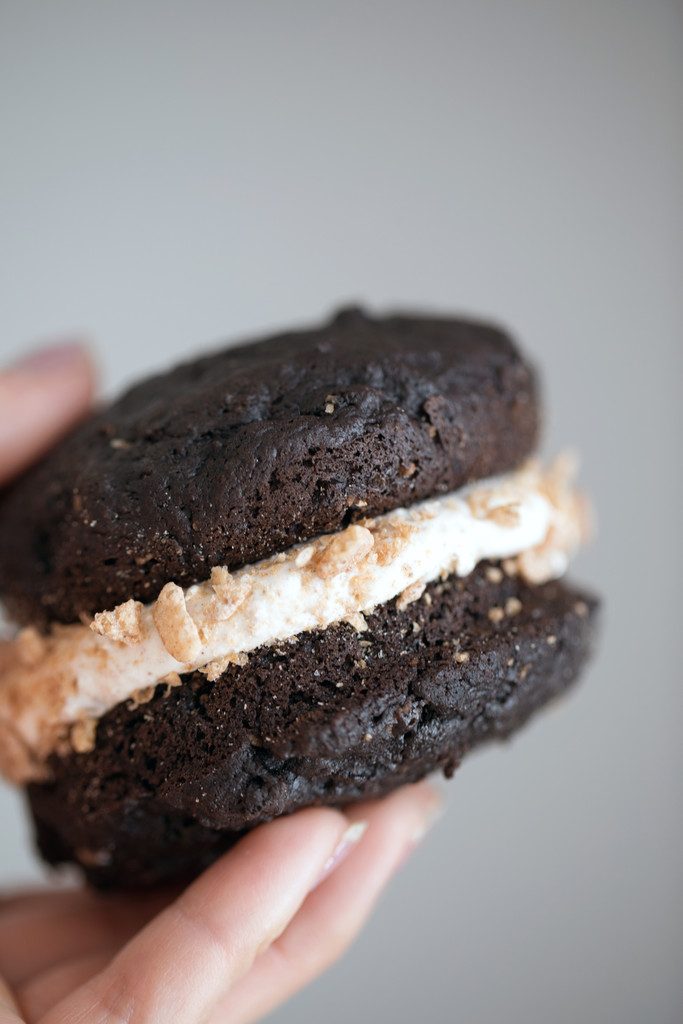 I hope you're all having fabulous weeks so far. Am I the only one who can't believe it's only Tuesday?? Hello, weekend… I'm gonna need you to get here soon!
Are you a fan of chocolate and cinnamon together?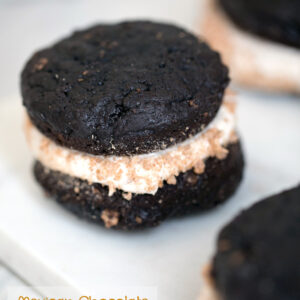 Print Recipe
Mexican Chocolate Whoopie Pies with Cinnamon Pebbles
This recipe for Mexican Chocolate Whoopie Pies uses Cinnamon Pebbles cereal to take chocolate cinnamon cake cookies and sandwiches them with a fluffy marshmallow buttercream filling.
Ingredients
2

cups

all-purpose flour

3/4

cup

cocoa powder

1 1/2

tsp

baking soda

1

tsp

espresso powder

1

tsp

cinnamon

1/2

tsp

salt

1

stick unsalted butter

room temperature

1

cup

packed brown sugar

1

large egg

1 1/4

cups

buttermilk

1 1/4

cups

crushed Cinnamon Pebbles cereal
Marshmallow Buttercream Filling:
1 1/2

sticks unsalted butter

room temperature

2 1/2

cups

marshmallow fluff

1 1/2

cups

confectioner's sugar

2

tsp

ground cinnamon
Instructions
Pre-heat oven to 350 degrees.

In a large bowl, whisk together flour, cocoa powder, baking soda, espresso powder, cinnamon, and salt. Set aside.

In the bowl of a stand mixer or in a separate large bowl with a hand mixer, beat together butter and brown sugar on medium speed until light and fluffy, about 2-3 minutes.

Beat the egg into the butter/sugar mixture.

Alternate mixing the flour mixture and buttermilk into the batter, adding the flour in three additions and the milk in two, starting and ending with the flour, and mixing just until just smooth, taking care not to over-mix.

Gently fold 3/4 cup crushed Cinnamon Pebbles into the batter.

Spoon about two tablespoons of batter into the cavities of a greased whoopie pie pan. If you don't have a whoopie pie pan, spoon batter in mounds on a parchment paper-lined cookie sheet.

Bake at 350 degrees for 8-10 minutes, until cakes spring back when touched. Let cool in pans for about 5 minutes before moving to wire racks to cool completely.

Once cakes are cooled, spoon about 3 tablespoons of marshmallow buttercream onto one cake and sandwich with another.

Roll edges in remaining 1/2 cup crushed Cinnamon Pebbles.
Marshmallow Buttercream Filling:
In the bowl of a stand mixer or in a large bowl with a hand mixer, beat butter and marshmallow fluff at medium speed until combined.

Add confectioner's sugar and cinnamon to bowl and continue beating until combined.