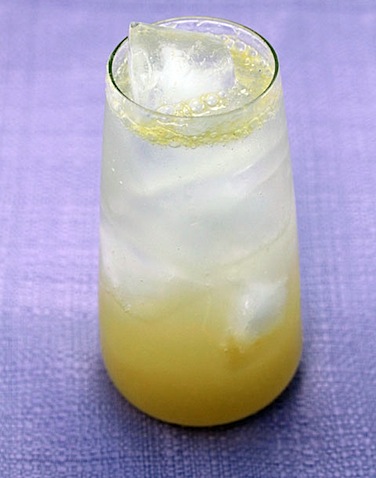 Another week is coming to a close and we've got another Cocktail Friday on our hands. I have a feeling I don't need to say anything more on that. Except for maybe Siiiiiiiiiiiiiiiigh (of relief). And perhaps you'd like to hear the sound of gin pouring into a glass, crackling as it hits the ice. Tonight we're enjoying a Meyer Lemon Tom Collins, another recipe that I actually followed for several reasons. a) Tom Collins is one of those classic drinks I hear about all the time, but I wasn't sure exactly what it consisted of. I needed to learn. And b) Cocktailing with Meyer lemons is new to me. Also, why isn't cocktailing a word? Let's change that, OK?
In case you're wondering, Meyer lemons are basically a cross between a regular lemon and a mandarin orange. Which means they're sweet and tasty. While I know I love Meyer lemons, I wanted to do a little research on them… And guess what I learned? Well, according to this NPR report, Miss Martha Stewart herself is the "fairy godmother" of Meyer lemons. No wonder I love them so much. Allegedly, these little lemon joys weren't very popular among us common folk until Martha started featuring them in lots of her recipes. What can't that woman do? I mean, she can suddenly make a piece of produce relevant? You go, girl! Though Meyer lemons don't ship well because of their thin skin, it's this same feature that makes them perfect for cooking and baking. Supposedly, you can eat the entire lemon, peel and all, if you so desire. I may have to try that. They're alllllmost out of season, though, so I'll have to try it soon. And you'll have to make this drink soon. Good thing gin is always in season.
Also, completely unplanned, the photos of this drink are our wedding colors! Woo hoo! On that note, I'm sharing a few little wedding details at the end of this post.
Meyer Lemon Tom Collins (makes 1 drink):
Recipe from Serious Eats
Print this recipe!
1 1/2 oz. gin
1 1/2 oz. Meyer lemon juice (about 1 or 1 1/2 Meyer lemons)
1/2 t sugar
Ice
Soda water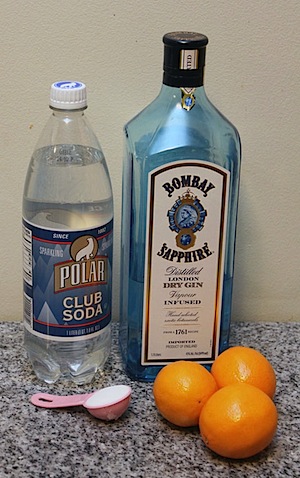 So, it turns out a Tom Collins is cocktail made from gin, lemon juice, sugar, and water. Which is precisely what this is… But with Meyer lemons instead of conventional. I got the recipe from Serious Eats and it comes from Feizal Valli of Hot and Hot Fish Club in Birmingham, Alabama. Clearly, Birmingham has some awesome bars and I need to go there STAT.
Easiest recipe ever. Juice your lemons, making sure to keep out as many seeds as possible.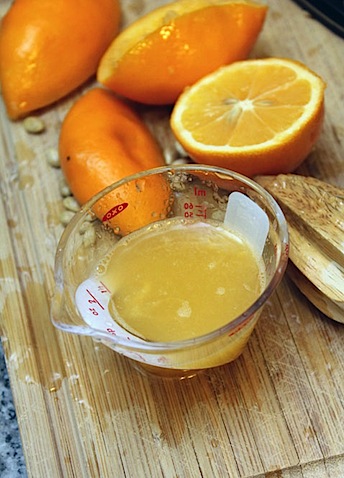 Then, in a "highball glass" or whatever glass you have on hand, mix together the gin, Meyer lemon juice, and sugar. I cut my sugar a little bit from the original recipe because I had faith that my fruit would bring in enough natural sugar. Plus, I generally prefer tart over sweet. You can add as much or as little as you choose.
Stir it up.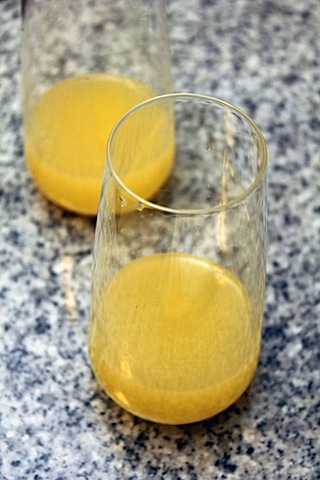 I got a little nervous here because there wasn't a whole lot in the glass for drinking. But once I added the ice and topped off with soda, it made perfect sense. And I love the way the colors separated.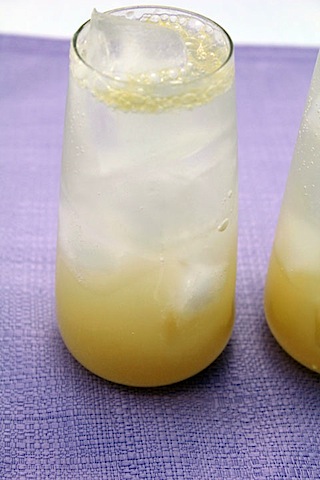 And the drink was definitely another winner. While I'm sure I'd love a traditional Tom Collins, the Meyer lemons were so fragrant and unique that I think I'd probably prefer this. Plus, I love a good traditional cocktail that has a super simple spin on it. Now, I'm imagining I'd like to try a Tangerine Tom Collins as well. Especially if the colors would separate like they did with this one.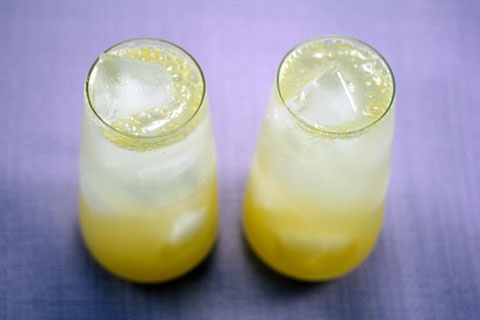 I swear I didn't plan for this drink to consist of our wedding colors when I photographed it against the purple background. But I kind of love it.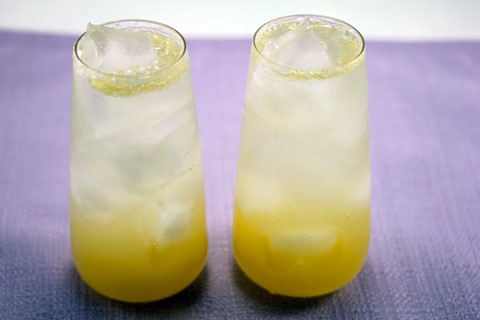 Since lots of people have been asking about the wedding, I wanted to share a little bit (but no, I will not be sharing photos of my dress yet! Chris reads WANM :)). I'll be sharing most of the details after the wedding since I don't want our guests to know all about it before they even arrive. But since there's going to be SO much to share, I figured I could at least talk about some of the stuff- like our save the dates. Especially since we're about 5 minutes away from sending the invitations.
We sent out most of our save-the-dates in September and we were thrilled with how they came out. We wanted to do something a bit different, so we opted for coasters. We thought this was fitting as Chris is a huge craft beer lover and one of our favorite hobbies is sampling new beers (can that be a hobby? Please?). We decided to add our personalities into the coaster even more by writing a "wedding recipe." Chels helped us come up with the idea (have I mentioned how fabulous it is to have a friend/bridesmaid who is the ultimate creative??)
Please note, most of the numbers are estimates 🙂 At first I was like er, maybe I should block out some of the wedding details when I post this one the blog?? But then I realized I talk about it enough already and everyone knows when and where it is. Oops. However, it will be in a private space, so don't crash  🙂 We got the coasters letterpressed at Copper Dog Press, which was an absolutely delightful experience. We felt like they delivered an amazingly high-quality product and the price was most definitely right. If you're looking for letterpress services, we highly recommend them!
Then, with lots of Chels's help, we packaged the save-the-dates all nice and pretty with our wedding colors. We sent 2 coasters to each person (to make a set) and, of course, kept a bunch for ourselves.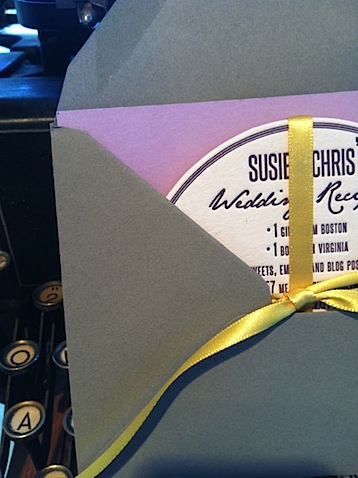 There's nothing better than finishing a wedding project and feeling so happy with it. We spent a really long time trying to come up with our perfect save-the-date concept and we definitely found it. With Chels's help, we did the same for our wedding invitations. I mean, she's totally creative anyway, but I think it helps that she knows us and our style so well. Our wedding is going to be "fancy," but more modern and fun than "classic"… and that can be a hard balance to find! So far, so good.
We're definitely in the homestretch of wedding planning and, while we still have lots to do, it's mostly in terms of purchasing things, putting things together, and making some final decisions. It's so fun seeing it all come together and I'm so, so eager to see my dress tomorrow!
If you're married what was your favorite part of the planning process? If not, what are you looking forward to (you know you have a Pinterest board for it! :))
[Sues]