Now, I'm no fool. I know a cupcake when I see a cupcake. And though Martha Stewart calls these cupcakes, I don't believe her for a second. They're clearly muffins. You're probably thinking, "Boo! Muffins are not as fun as cupcakes!" But here's where you're wrong. Because, you see, if it's called a muffin, that means you can eat it for breakfast. Without feeling completely guilty.
Sara and I baked these Oatmeal-Raisin Cupcakes (but really, if we're being honest, muffins) the same evening we made the peanut butter blondies (if you're wondering, yes, we skipped dinner in lieu of filling up on desserts). First, pre-heat the oven to 375 and line your cupcake (muffin) trays. Then whisk together oats (2 C), flour (2 1/2 C), baking powder (1 1/2 t), baking soda (1/2 t), salt (1 t), oat bran (2/3 C), and cinnamon (2 t) in a medium bowl.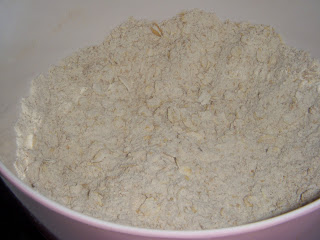 Then, at medium/high speed, mix together (with electric mixer) unsalted butter (1 1/2 C = 3 sticks), granulated sugar (1 C), and light brown sugar (1 C) until light and fluffy. Mix in the 4 eggs 1 at a time and the vanilla (2 t). Reducing the mixer speed to low, add the flour mixture and mix until it's combined. Mix in the sour cream (1 C) and stir in the raisins (1 1/2 C).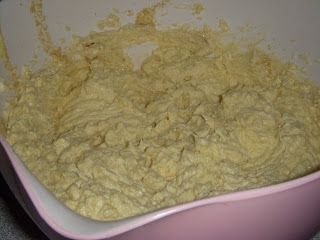 Now it gets a little complicated, but it makes perfect sense. Put 2 3/4 C of the batter into a separate bowl and stir in the rest of the oats (1 3/4 C). Also stir in some coconut (1 C). This batter is going to be used for the muffin top (See! More evidence of their being muffins!). Now we're ready to fill the muffin (ahem) tins. First spoon in 2 1/2 T of the plain (coconut-free) batter. Then top it with 1 1/2 T of the extra oat and coconut batter.

Bake the muffins for about 18-20 minutes and they're ready to be devoured. If you love oatmeal raisin cookies, you will go crazy over these. I brought some to the Jessi's Cape house and we ate them for dessert and breakfast.
And now- gratuitous muffin pictures: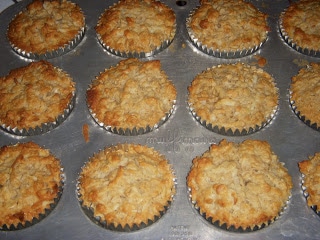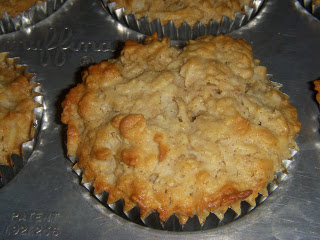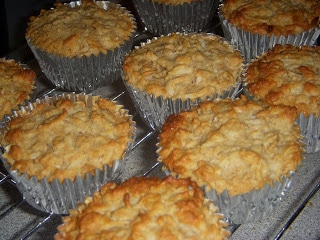 If you would rather eat a cupcake than a muffin (I really don't blame you), I think these could be made a lot more cupcake-like with some frosting. Perhaps Martha Stewart's
Maple Cream Cheese Frosting
(because cream cheese still equals breakfast, right?) or maybe a
Rum and Vanilla Bean Buttercream
(can rum equal breakfast? It depends who you are, I suppose).

Whatever you call them and whenever you eat them, you'll love them. And really, that's all that matters. As long as you're taking it easy on the rum at 7 a.m.

[Sues]