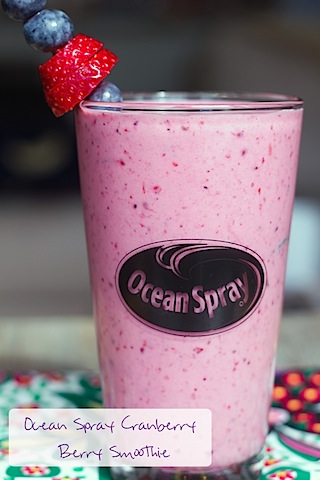 I don't drink a lot of juice. Mainly because I don't like to drink my calories. Unless it's Cocktail Friday calories and then it's a whole different story. Because calories obviously don't count on Cocktail Friday. Smoothies are generally quite healthy, but can also be packed with calories. I used to be a serious smoothie fiend and prided myself on how much goodness I could jam into my blender. "Look Ma, I'm drinking 2 bananas, a pint of strawberries, a cup of yogurt, a cup of orange juice, and probably more!" Then I realized that I was basically eating 3 meals in one. Healthy meals, but still. When DailyBuzz Food asked if I wanted to try Ocean Spray's Diet Cranberry Juice and incorporate it into a smoothie, I was on it.
I decided not to do much altering to the recipe Ocean Spray sent because I really did want to be able to taste the cranberry juice. I don't think I've ever added cranberry juice to a smoothie before, but I'm totally loving the idea. Now if we could get a cranberry-flavored yogurt invented, I'd be in smoothie heaven.
Ocean Spray Diet Cranberry Berry Smoothie (serves 2 or 1 thirsty person):
¾ C Ocean Spray Diet Cranberry Juice
1 C frozen mixed berries
6 ounces berry yogurt (I recommend Greek)
½ banana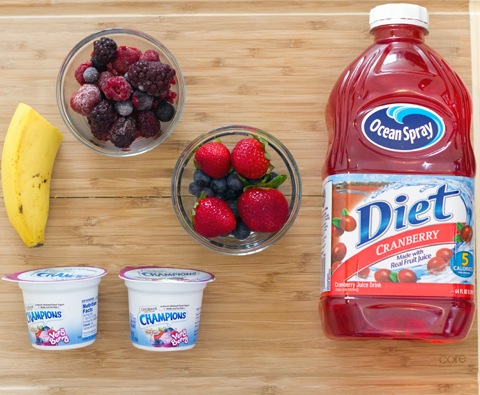 I gave the Ocean Spray Diet Cranberry Juice a once-over, a little bit skeptical at first. I'm not a fan of the word diet; never have been and never will be. But I AM a huge fan of cranberry juice (especially Ocean Spray) and miss drinking it by the gallon (remember when calories didn't matter??). When I took my first sip of this juice, I was surprised that it didn't taste overly fake -- one thing I generally hate about diet drinks -- and instead, really did just taste lighter. 5 calories, ladies and gentlemen!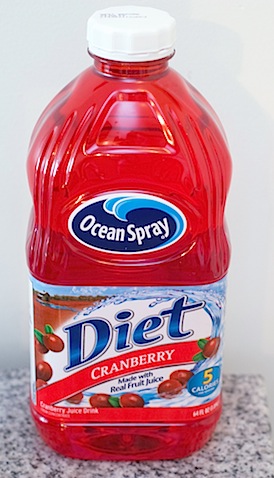 Obviously a smoothie is one of the easiest things to make in the world. I mean, all you do is put all the ingredients in the blender. You don't gotta be a chef or even semi-intelligent to do this.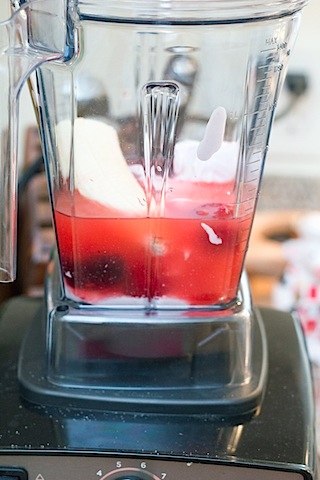 Blend it up. I love the color.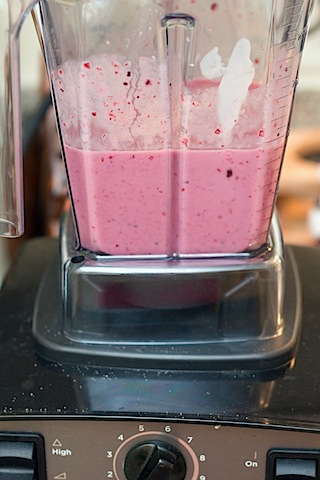 Pour it into a sweet Ocean Spray glass if you're lucky enough to own one (in love!), throw on a fruit kabob for garnish, and breakfast is served.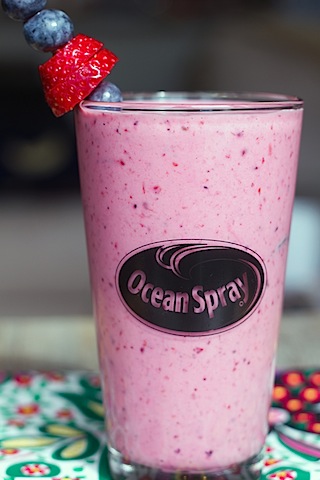 Could you pack any more berries into a drink? Cranberry smoothies are my new favorite thing. I'm kicking myself for not buying more fresh cranberries when they were available and freezing them. But really, the idea of adding cranberry juice to a smoothie is kind of genius. It adds a little tartness, which cuts the sweetness of the berries. The Greek yogurt helps, too, adding some smoothness, as well.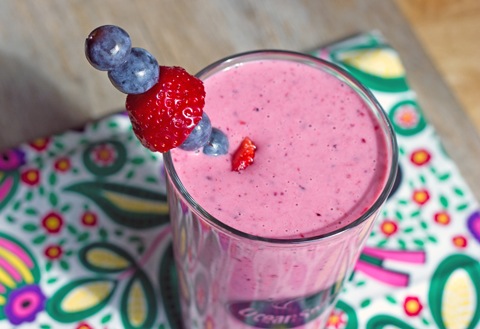 Smoothie success! If I had more hands, I would make this every morning and bring it to work with me (it's a struggle enough on the T with my work bag, laptop bag, and coffee mug). But instead, I think I'll make it my weekend treat. Something to look forward to!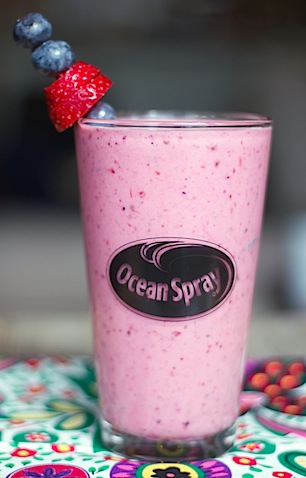 I can also tell you this cranberry juice tastes pretty awesome with a little vodka. But really, I've been drinking a splash of it in my SodaStream sparkling water every night.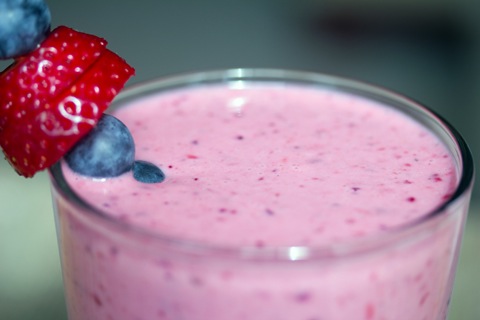 Ocean Spray also makes a Diet Cranberry Lemonade, so I'm already dreaming up some "skinny" cocktail ideas for summer. I know, I know, I keep veering the smoothie conversation over to cocktails. Can you tell I'm not pleased it's only Tuesday?
Have you ever added cranberry juice to a smoothie? What's your favorite smoothie combination?
[Sues]
I have partnered with Ocean Spray through DailyBuzz to help promote their new Ocean Spray Diet product. I have been compensated for my time commitment to work with this product, however my opinions are entirely my own and I have not been paid to publish positive comments.