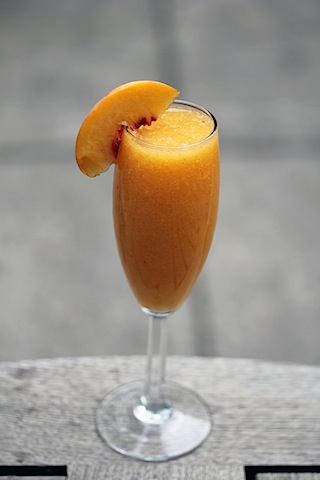 Happy Friday!!! Please tell me I'm not the only one who desperately needs a cocktail right about now. I'm switching it up bit with this week's Cocktail Friday. Don't worry; there's still alcohol involved. I wouldn't do that to you and you know it. But this is actually kind of a cross between a cocktail and a dessert. And it would be absolutely perfect for a little brunch party you're hosting. I think they're totally unique, pretty, and definitely tasty. Since you can't sip it, you'll obviously have to serve additional cocktails as well, but brunch, like Friday nights, is one of those times where the more cocktails, the better.
I spotted the recipe for Peach Bellini Jelly in Bon Appetit and immediately knew I wanted to make it. I've seen peach bellini jelly recipes before, but they always seem to involve peach schnapps, which you may know I cannot stand (hi college hockey games. ugh). This recipe was totally fresh and fabulous-sounding and quite simple, too. Plus, it left a lot of leftover prosecco. You can't argue with that one. I changed up a lot of the proportions for the recipe and ended up being really happy with it. Even though I'll admit I ate this on a Tuesday night. On the couch, in sweatpants, with a spoon.
Peach Bellini Jelly (makes 2 servings):
Adapted from Bon Appetit
Print this recipe!
2 T water
1 ¼-ounce packet of unflavored gelatin
¾ pound of peaches (about 2 large peaches), peeled, halved, pitted, and cut into wedges; plus 1 unpeeled peach, cut into wedges for garnish
¼ C sugar
¾ C sparkling wine, like prosecco
½ T fresh lemon juice
Ice cubes for chilling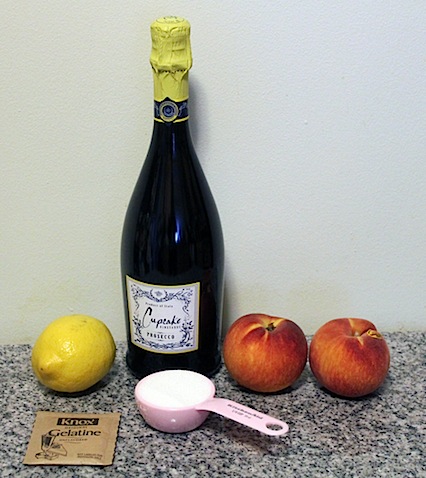 As you can see, I used my beloved Cupcake Vineyards brand. Their prosecco is quite delicious and affordable.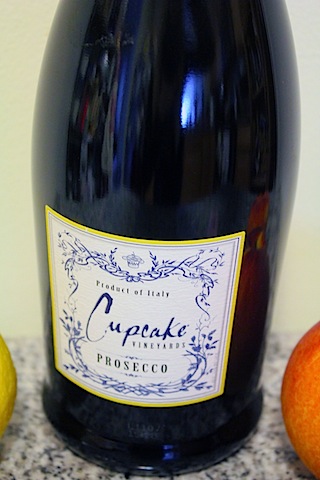 Peel and pit your peaches. And cut them into wedges. Look, I used my new Swiss vegetable peeler that I got from The Big E! It worked fabulously 🙂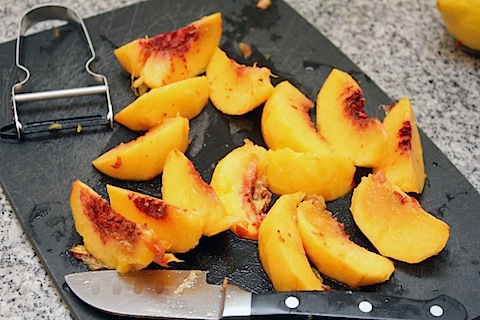 Put your 2 T water in a heat-proof dish and sprinkle the gelatin over it. Stir to blend and let stand for about 10 minutes, while gelatin softens.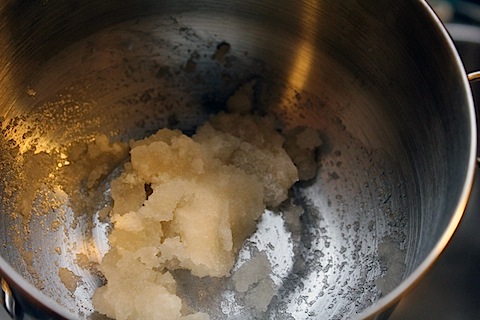 Put peach wedges in a food processor and process until smooth.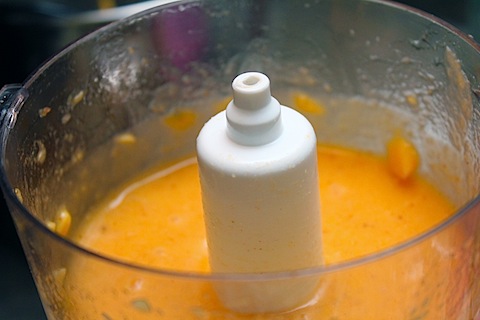 Measure out one cup of the puree (if you have extra, you can save it for something else… like topping ice cream. Or just sipping. What?) and put it in a small saucepan.
Add sugar to the saucepan.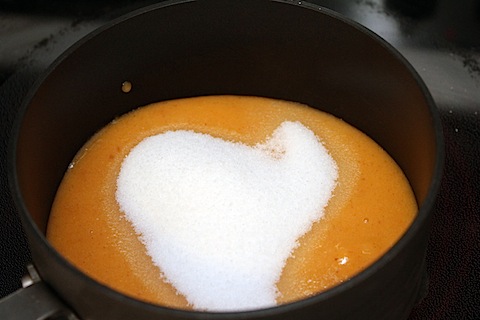 And stir over medium heat until the sugar dissolves.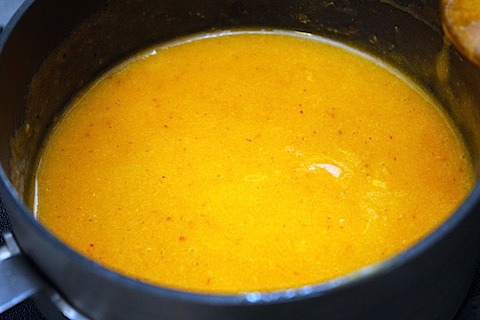 Transfer the peach mixture to a medium bowl.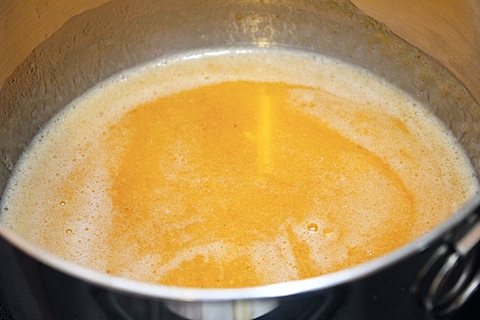 Now, pour about an inch of water into a small skillet and bring to a simmer.
Reduce heat to low and place the bowl of gelatin into the skillet. Stir the gelatin until it's completely dissolved and liquidy, about 2 minutes.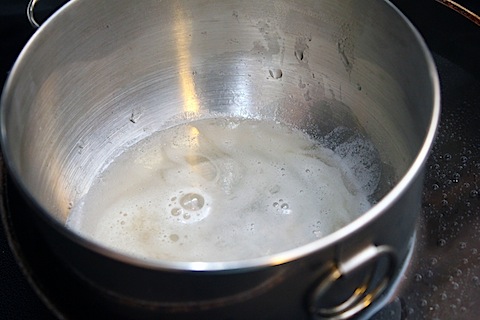 Add the gelatin mixture to the bowl with peach puree and stir until blended.
Pour in the sparkling wine and lemon and stir. Let mixture stand for about 5 minutes, stirring occasionally, as the foam subsides.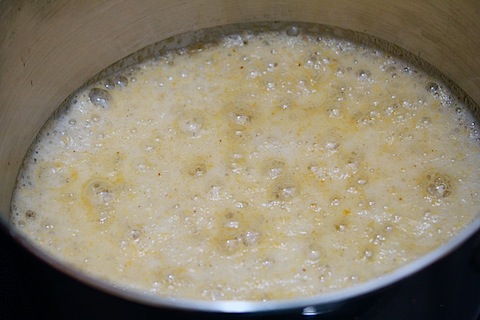 Now, place the bowl in a larger bowl filled with ice and water. Stir constantly with a rubber spatula for about 2 minutes, until the mixture is cool to the touch.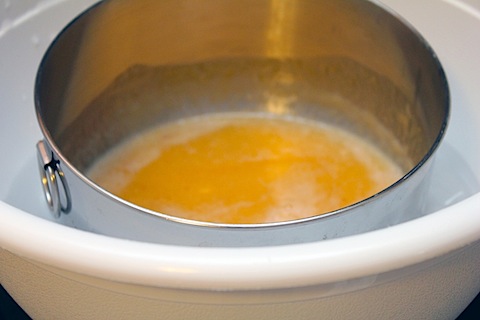 Pour the mixture into two 7-8-ounce champagne flutes and cover each with plastic wrap. Put in the fridge to chill for at least 4 hours, until the they are set.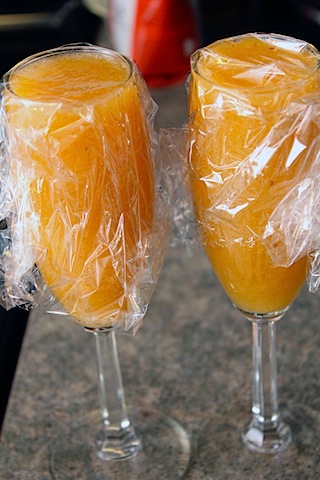 You can make these up to 2 days ahead, making them ideal for a brunch at which you want to do some of the work ahead of time. When you're ready to serve, garnish with a fresh peach wedge.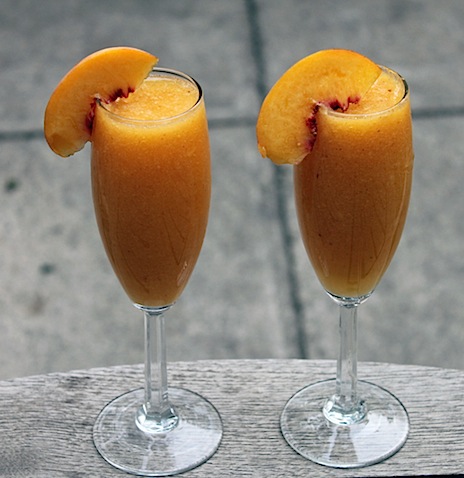 I admit, I was intrigued by this recipe, but I was also a little skeptical of it considering I do not like Jello. But when I ate my first spoonful of this Peach Bellini Jelly, I honestly said "oh my God, this is good." I was actually kind of stunned by how good it was.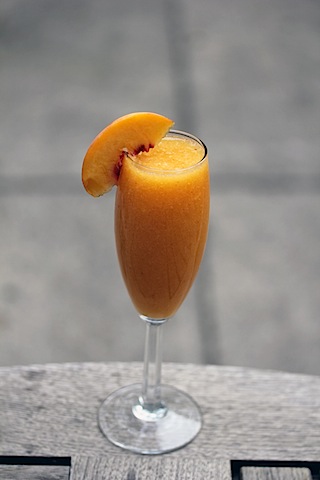 Of course, the consistency is a bit Jello-like, considering it is made with gelatin. But it's not that sugary and artificial tasting. And because there's actual peach in it, it's not as weirdly smooth or wiggly; there's definitely more substance to it.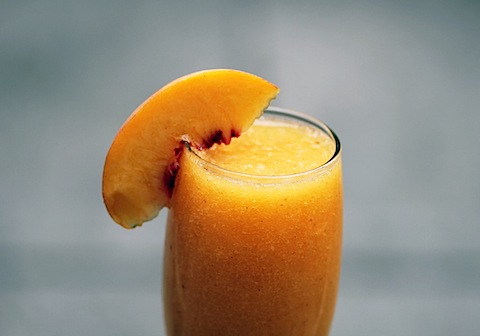 But then, these would also make REALLY awesome adult Jello shots with a bit more wine (and maybe a smaller glass. maybe). I recently heard that Jello shots were coming back in style in a major way, so maybe this is the answer to anyone who wants to get back to their college days in a more mature, classier way.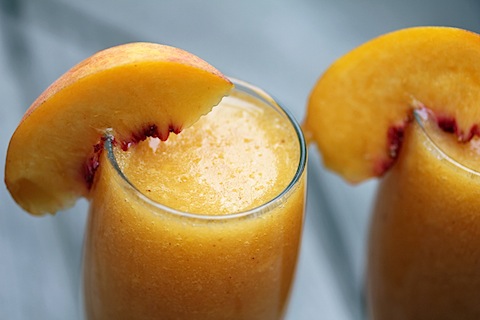 I know peaches are starting to fade from our grocery stores for the year, but the thing is, I'm pretty sure you could make this with plenty of other fruits. I really want to make raspberry bellini jelly. Or mango bellini jelly. Wait. Do you think I could do margarita bellini jelly? What about appletini bellini jelly? Grapefruit? Whoa; I could keep going. I'm not going to say what I'm really thinking… Bloody mary jelly! Yes, I just took it one step too far.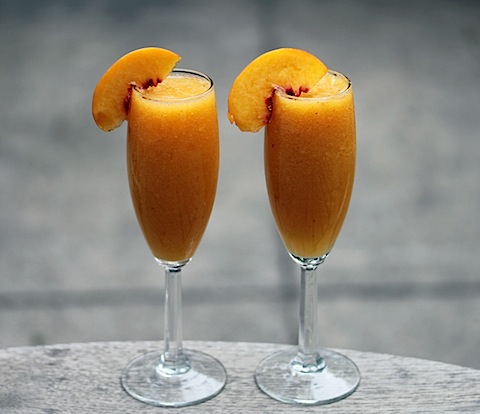 And with that, Cocktail Friday is almost over. But like I said, I drank this on a Tuesday, so I think it's safe to say every day is a Cocktail _____ (fill in the blank day) for me. Speaking of filling in the blanks, a conversation about adverbs with Chris tonight (we really do have rocking Friday nights) led me to the realization that he has never heard of Mad Libs. WHAT. Am I crazy in thinking that everyone did Mad Libs? I had about a billion of them and they were a summer camp/long car ride staple. Plus, how else would you learn the parts of speech?!
Have you ever enjoyed a grown-up version of a jelly drink like this?
[Sues]