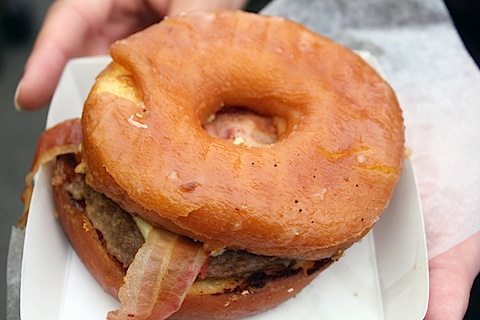 Alternatively titled: The day I ate every fried thing you could ever imagine.
Have you heard of The Big E? I had never heard of it in my life. I'm trying to figure out where I've been hiding for the last 28 (almost 29 eeeek!) years, considering it's the largest fair in the Northeast. And I've lived in the Northeast all of my life. I guess I've just never been a big fair-goer. I visited the Topsfield Fair a couple times as a kid… And the Rye Fair in college. But the Big E? Never crossed my radar. Until this weekend. My sister's friend, Lesa, grew up somewhat close to the fairgrounds and invited us to attend the fair with her in West Springfield. So, we made the drive on Saturday and had a day packed with fair fun.
What was my main takeaway from The Big E? FRIED FOOD. Everything was fried. And I ate it all. ALL.
The concept of the fair is actually quite interesting. Besides all the normal fair stuff, there's an "Avenue of States." On it, there are replicas of each of New England's original statehouses. And each building is packed full of all the things that represent that state. Interestingly enough, each individual state actually owns the ground the building resides on!
For instance, here's good old Massachusetts: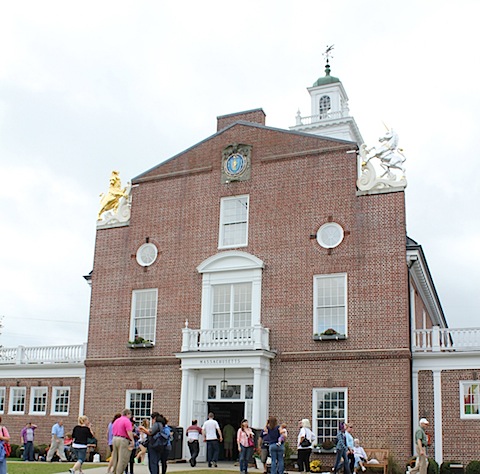 Recognize it?
Anyway, we partook in much of the fair activity throughout the day. And like all good fairs, plenty of animals were hanging out. Including a petting zoo, with this cute little guy: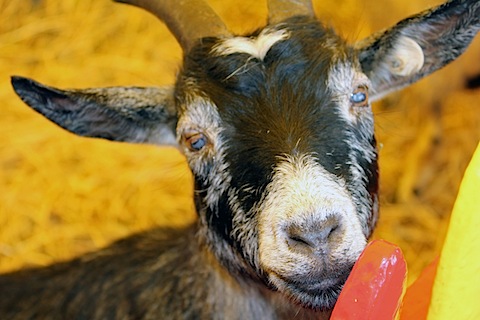 And a donkey. Ha! There was even a zebra and a crazy llama who kept following everyone around. I haven't been to a petting zoo in AGES.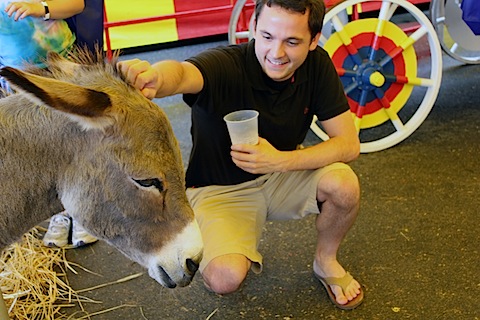 Check out this Clydesdale horse who just happens to weigh 2,230 pounds. Sheesh.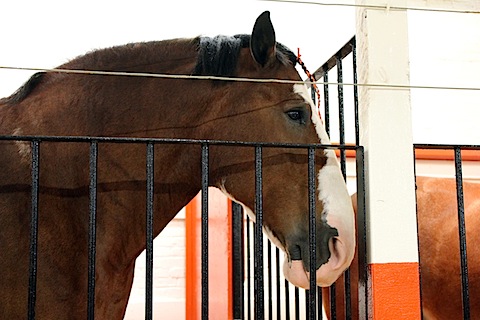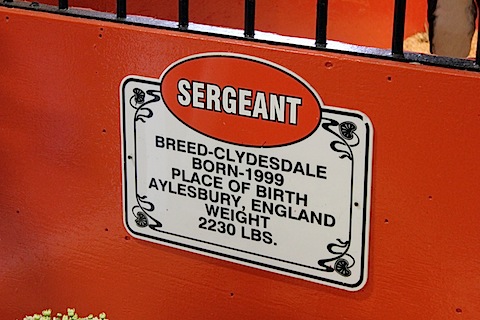 There were lots of those booths that say things like "Step inside to see the world's largest horse!" or the "world's smallest horse!" I didn't fall prey to any of them because, hello, we just saw a horse that weighs 2,230 pounds. Do I need anything more than that? Also, I know what a miniature horse looks like, thankyouverymuch.
I kind of loved the chick hatchery with all the adorable little newborn chicks.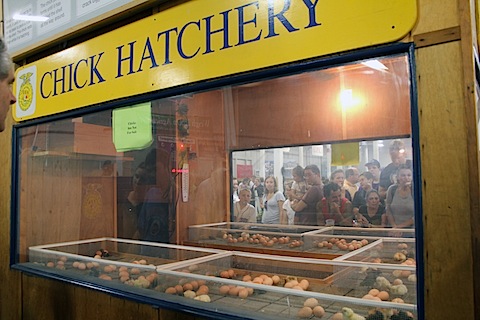 Chris faced his worst nightmare… Bees!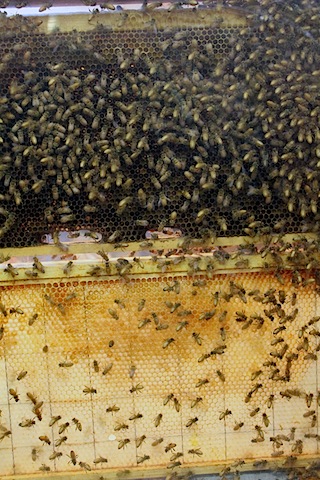 OK, let's talk food for a little bit. I'm warning you, it's not pretty. But, when at the Big E… What I'm trying to say is that I had to. I recognize that the food at this fair represents all that is wrong with our country. It's actually a bit sickening. But as people who are relatively healthy in every day life, partaking in one day of fair fried goodness is not going to kill us. And seriously, I couldn't do it for more than one day!
We started "in" Maine with the baked potatoes because not only did Lesa recommend them, but so did everyone on Twitter. I'm actually not a big baked potato person and didn't want to fill up too early, but I definitely had a few bites of Chris's.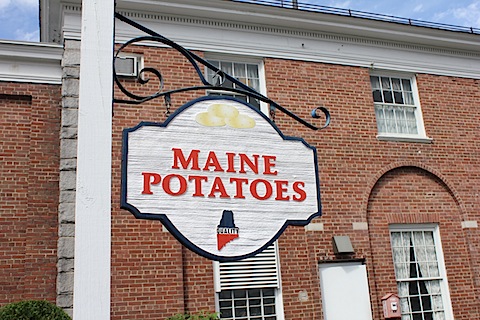 It was a HUGE potato and fully loaded. With all the good stuff. You know, fake cheese; fake bacon. Yup.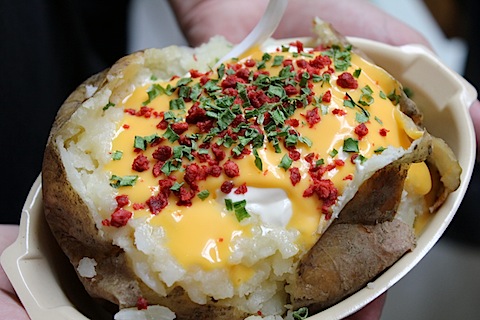 From there, we made our way to Rhode Island and began our fried food binge.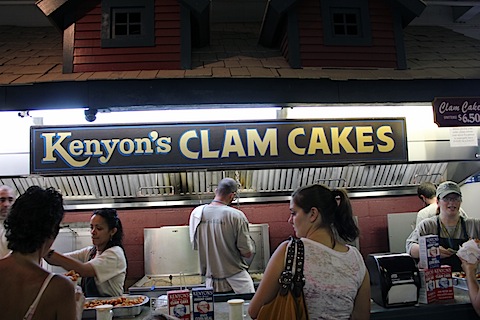 These clam fritters were quite nice.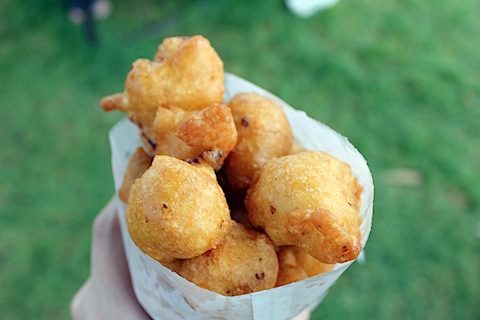 Fresh out of the oil!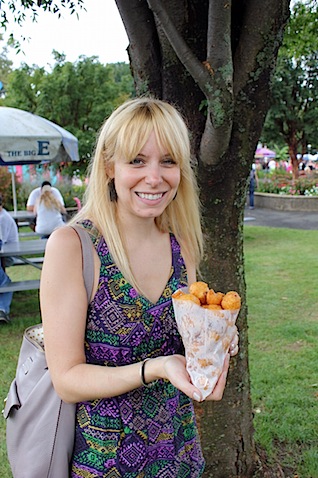 But maybe not as nice as what we saw next.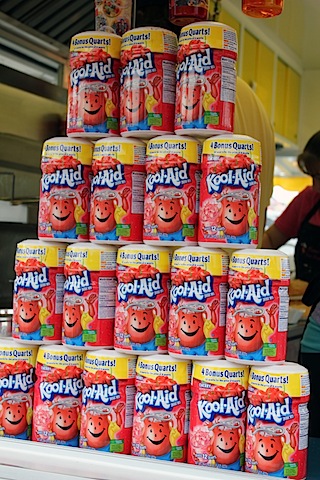 Ahem. Fried Kool-Aid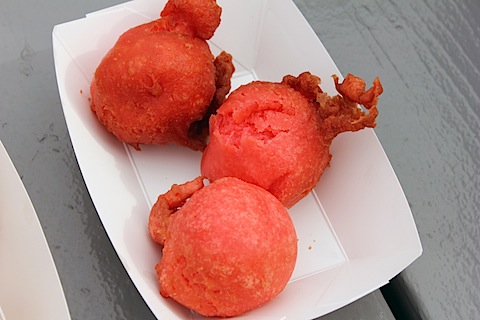 And fried jelly beans.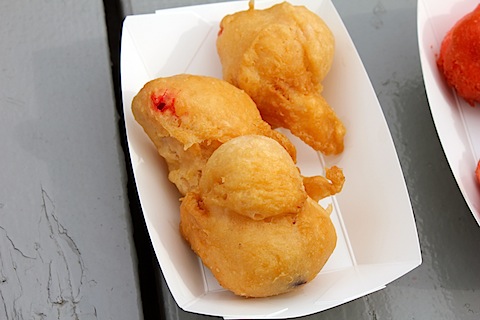 No lie. This is totally not what we were expecting fried jelly beans to be like. But they were quite interesting.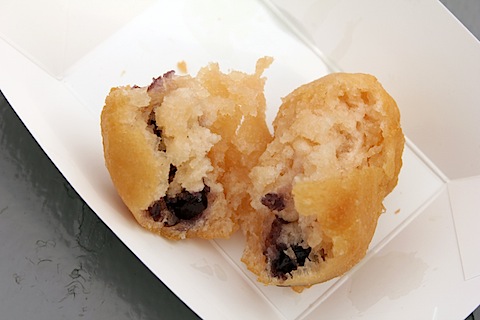 To be honest, everything just tasted mostly like fried dough. But what did we really expect? At least we didn't eat the fried butter. Yes, butter.
Say "cheese!" Er, I mean "Fried!"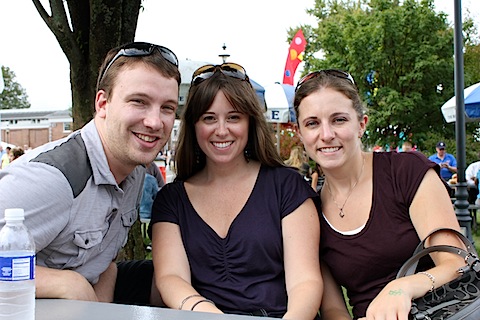 But we did check out the fabulous butter sculpture!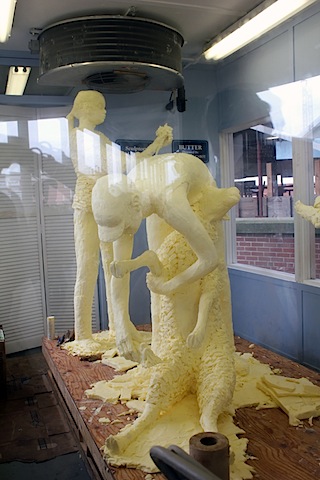 Which I'm happy say was sculpted with butter donated from Cabot Creamery!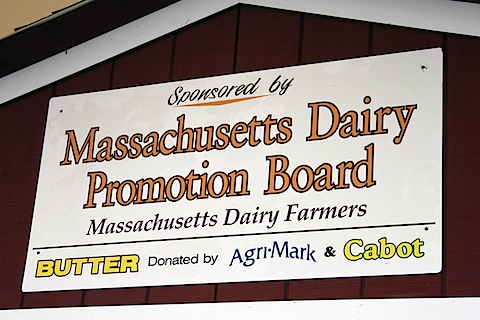 FYI: 600 pounds of butter were used in the sculpture, which means 12,600 pounds of milk were used. Also, you could have topped 19,200 pancakes with that butter. Oh, and did you know "butter" is Greek for "chowcheese?" Now you do.
I opted out of trying a giant cream puff or eclair, but am kind of craving one now that it's been over 24 hours since any fried food intake.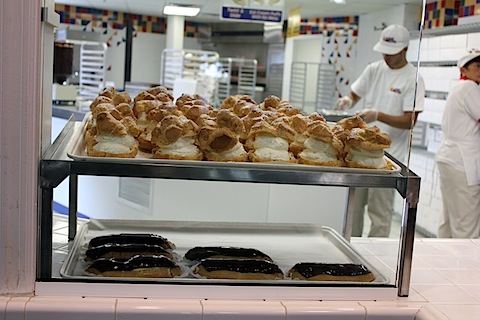 But don't worry; the culinary experience wasn't over just yet. We HAD to try the award-winning Hot Diggid-E Dog! I'm pretty sure it was a hot dog filled with cheese, wrapped in bacon, and topped with BBQ sauce and coleslaw.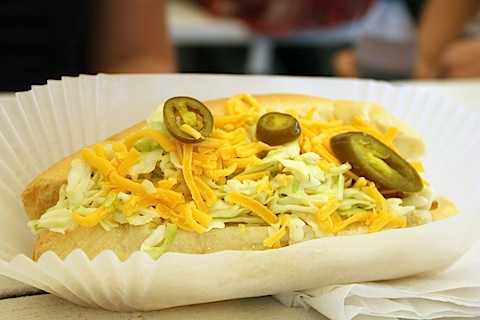 Meh, not as good as it sounded. I'm going to need something to cleanse my palate. Oh, how about a burger on a doughnut topped with cheese and bacon. Nobody told me Paula Deen was in the house (oh, never mind, if she was here, there would have been a fried egg on there, too!).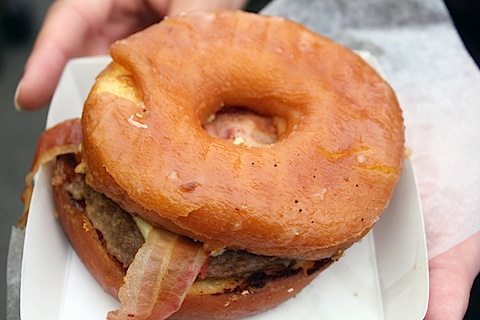 STOP judging me. I swear, the 5 of us shared all of this food and mainly just had a "taste" of everything.
Oh hey, it's a stand called "Dr. Vegetable." Finally, right? Oh wait, it says "Fresh FRIED vegetables." Silly me. Guess the Dr. didn't finish medical school, huh? Also, please note, this stand remained quite empty each time I walked by. You can batter it up and put it in the fryolator, but it's still a vegetable.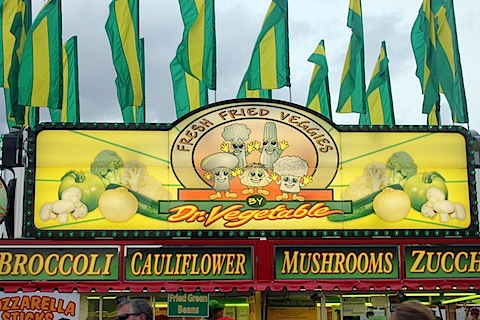 We also did a bit more state house touring. New Hampshire, home of my alma mater!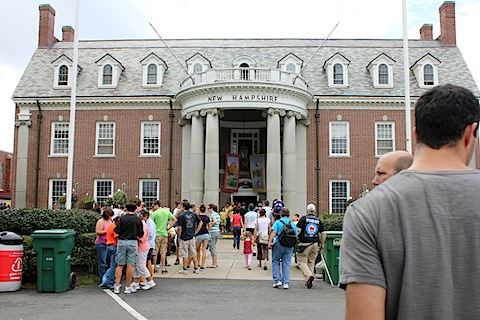 This maple cotton candy was seriously awesome.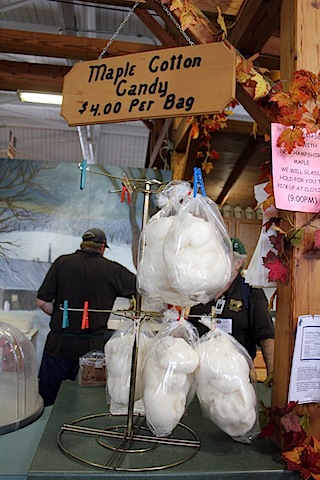 Upon entering the Massachusetts building, we spotted a booth selling raspberries. Raspberries that weren't fried!! I love raspberries anyway, but don't think I ever saw such a beautiful sight at these. My body was majorly craving them.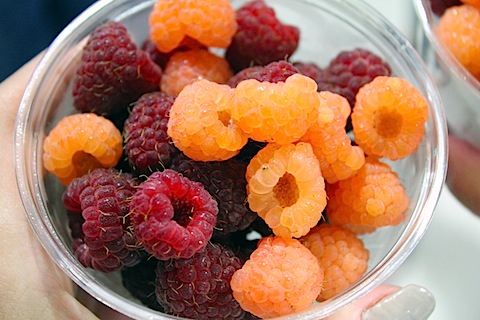 I'm legitimately leaving tons of Big E attractions out because there are just too many to name. But one thing I found quite interesting was a Christmas tree competition. Here we have the grand prize balsam fir from Massachusetts. Pretty, right? Wouldn't you like to see that one in your living room on Christmas day?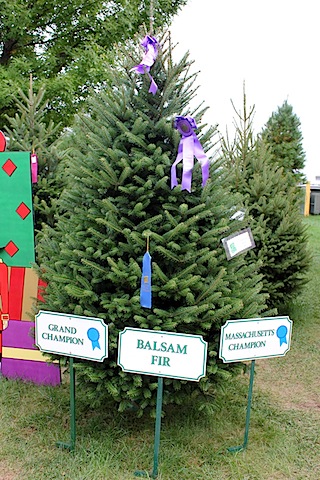 Oh, hey there.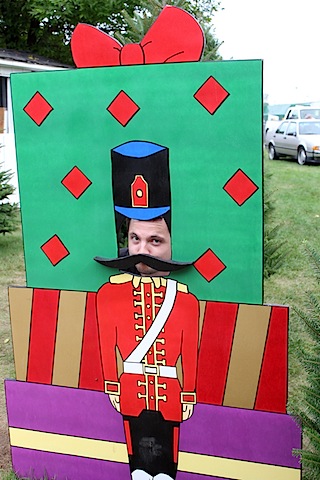 There was also a lot of infomercial-y stuff around the Big E (and a TON of hot tubs for sale). One of which I may have fallen sucker to.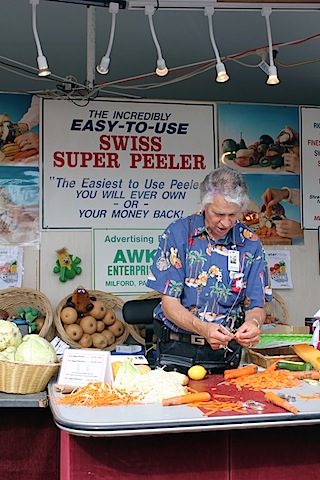 In all fairness, I needed a new vegetable peeler. Lesa told me these Swiss Super Peeler's are the only peelers she ever buys. And another person standing next to me also spoke to their amazingness.
See how totally intrigued I am? Sold!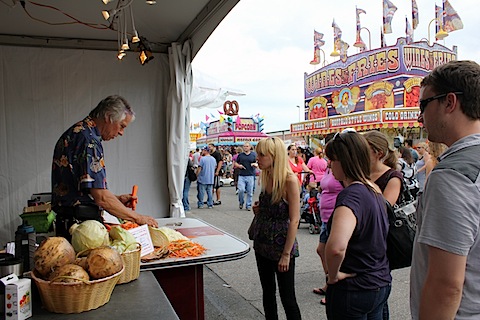 My dad should just be happy we didn't purchase a hot tub for his deck… We've been trying to convince him to get one for the longest time, but he won't cave.
After a full day of walking around and stuffing our faces, it was time for a stop at the martini bar. Oops sorry, I mean martin-E.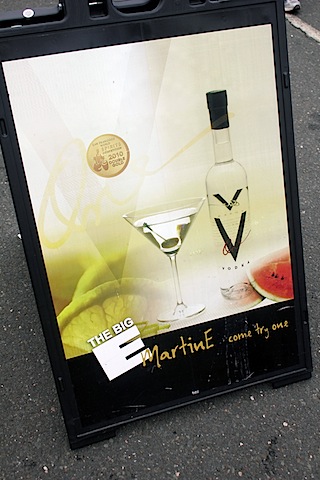 This dirty martini was exactly what I needed. It was made with V-1 Vodka, which I had never heard of, but is a local brand.
As we were leaving, the music was just starting and more and more people were entering the Big E. But we had an almost 2-hour drive ahead of us, so we hit the road.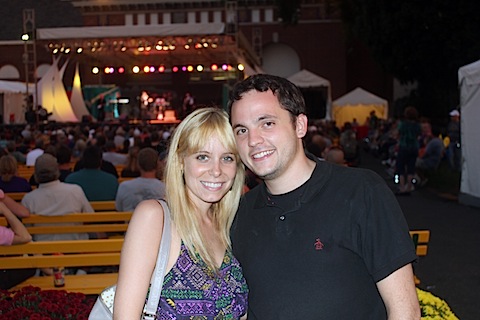 The Big E runs until next weekend and during that time acts like Blake Shelton and Reba McEntire will be performing.
So, I mean, if you're craving fried food and some fair fun, get yourself over to West Springfield. Trust me, I barely even touched upon the food selection… I missed out on the fried Oreos, fried cheesecake, fried whoopie pies, 2-foot-long hotdogs, and much, much more.
Whew. I think I'm all faired out for quite a while!
Are you a fair-goer? What's your favorite part about a fair?
[Sues]