This Pineapple Kiwi Mojito is made with fresh fruit and no added sugars or other juices. It looks like a fancy cocktail, but you'll be surprised by how simple it is to prepare and enjoy on a hot summer day!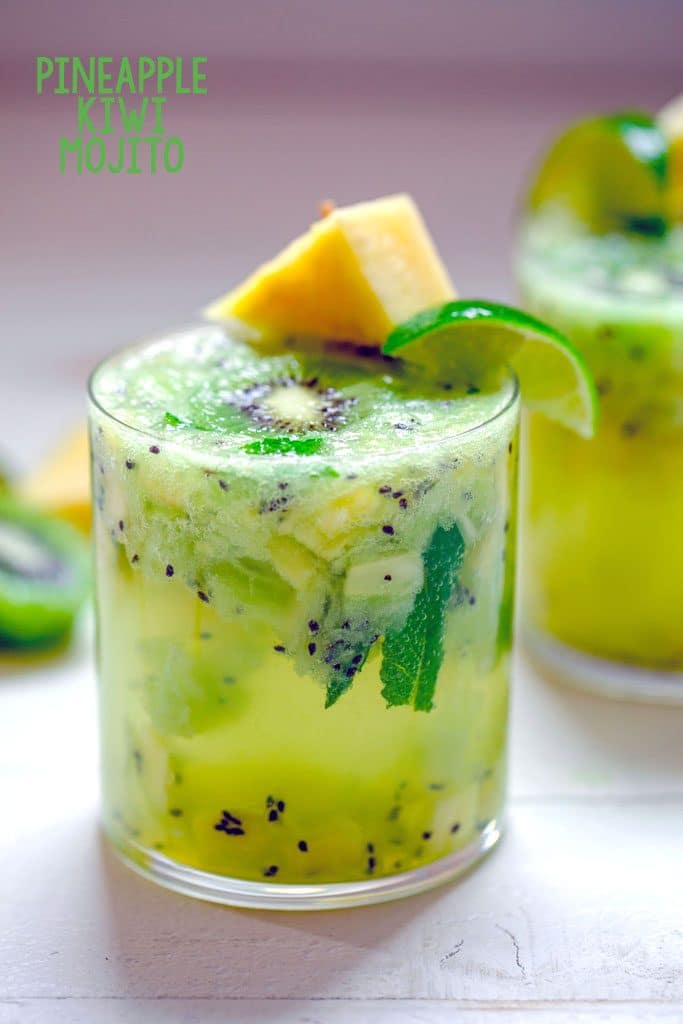 (This recipe for Pineapple Kiwi Mojito was originally published in May 2014, but was updated with new photos in 2018).
Guys, we need to have a Cocktail Monday. Seriously though. For lots of reasons. One is because I have all these cocktail recipes piling up and Fridays kind of keep whizzing by. Well really, it goes a little something like this: Monday I'm totally on top of my blogging game, mostly because I spent some time Saturday or Sunday pulling things together. Wednesday I manage to get a post out too, probably because I had Monday night to edit photos, Tuesday night to start writing, and Wednesday night to finalize things and hit publish before midnight.
But then the next day is Thursday. And I'm so wiped out from my week that when I get home from work, I can't even open Photoshop. And then it's Friday morning and I realize Cocktail Friday will have to wait until evening. But somehow I end up staying at work until 7 p.m. and then I come home and crash on the couch, cocktail photos unedited and blog post unwritten. Repeat. My poor, poor cocktails.
So, that is what happened to Cocktail Friday. But I think I'm desperately going to need a cocktail this Monday anyway. I mean, I fell asleep on the couch both Friday and Saturday night by 9:30. And if you know me at all, you know how absolutely crazy this is for me. I guess I'm just plain tired. So, basically, if I drink this pineapple kiwi mojito now, I'll be asleep within about five minutes. Head to the desk.
Luckily, you could pass this cocktail off as half juice. In fact, I'd be totally content sipping on it without the rum. Well, maybe not quite as content as I am with the rum... But it's not usually acceptable to fall asleep at your desk at 9:00 a.m. Even on Mondays.
PINEAPPLE KIWI MOJITO RECIPE
As with most of my cocktail recipes, this one is ridiculously easy to put together. It mainly just requires a little bit of chopping, namely a whole lotta' pineapple and kiwi.
In fact, all you're going to do is muddle the chopped pineapple and kiwi with the mint in your glass. Add in some ice. Then squeeze in the lime juice and rum. And top it all off with soda water.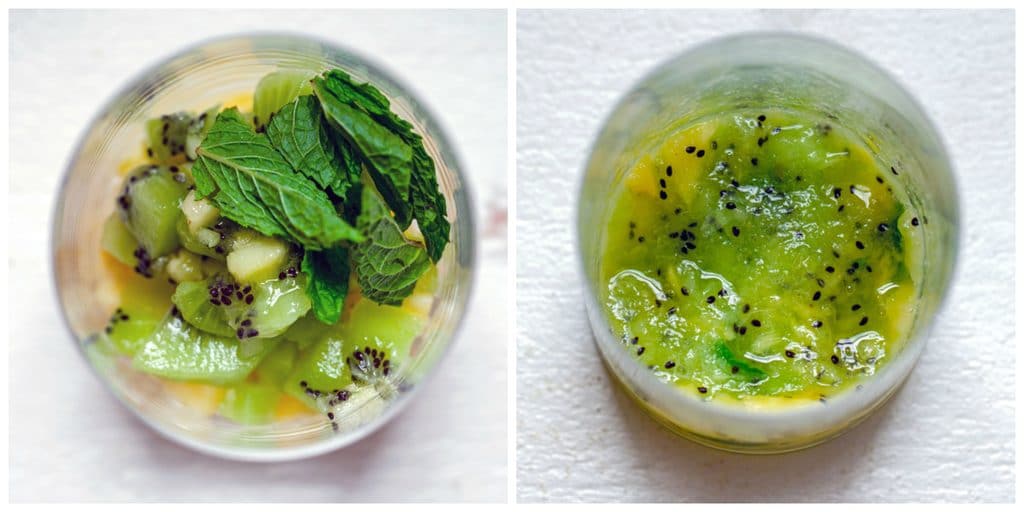 Hey, I can clearly barely keep my eyes open after work… I obviously need to keep things simple around here if I want to be drinking fancy cocktails.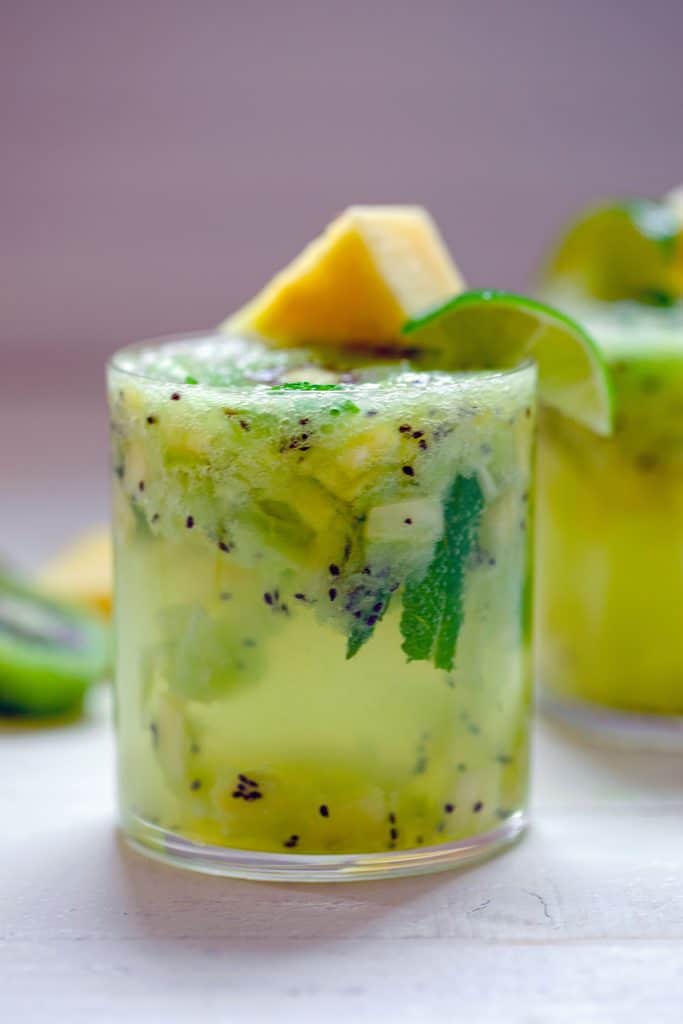 I did, however, manage a pineapple garnish… Which consists of a cube of pineapple on a toothpick. I know, I know. I totally went overboard. But really, this pineapple kiwi mojito doesn't need anything extra to make it feel like a fancy drink!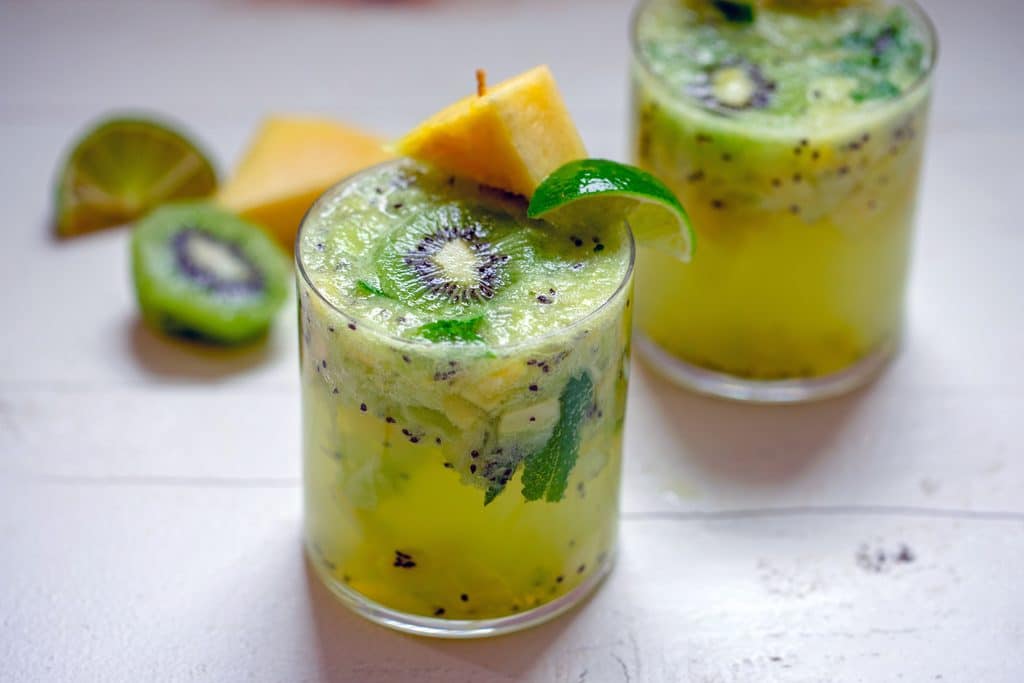 Usually when I make a mojito drink like this, I'd add in some sugar or simple syrup, but my pineapple was so naturally sweet, I didn't feel like I needed it. I also considered adding in actual pineapple juice, but then decided against it. The muddled fresh kiwi and pineapple are really all you need to get the perfect amount of sweetness.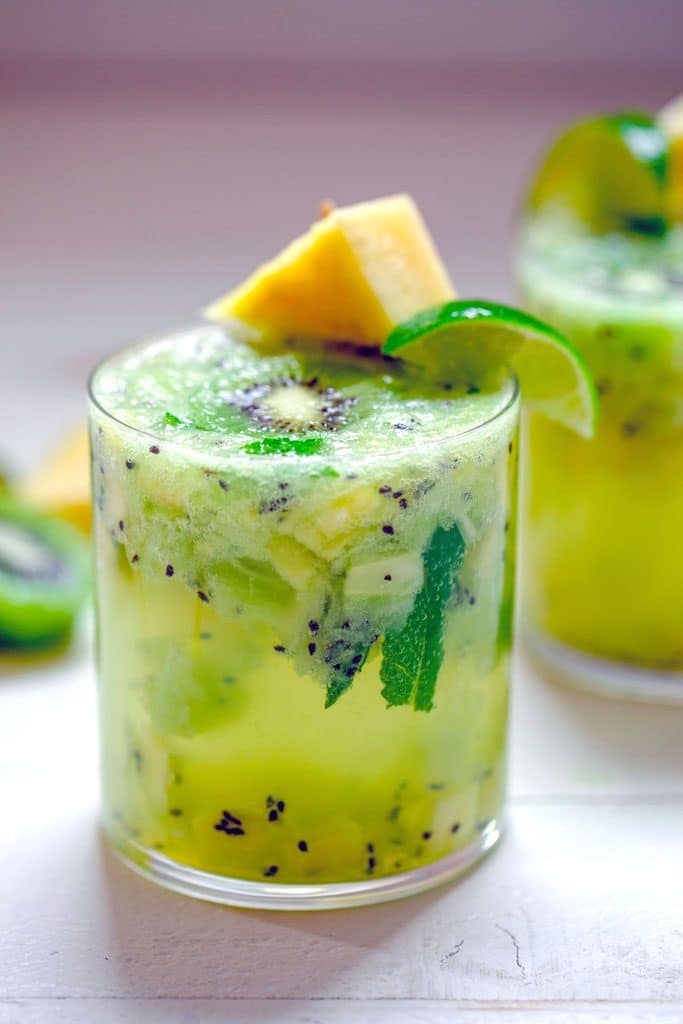 Of course, it was also a super minty drink, as all mojitos should be!
Is it safe to say we can officially stick with summer drinks now? The last couple days in Boston have been marvelously perfect. But it was only a few days ago that I was shivering to the bone. It could most definitely turn on a dime... But for now, I'm sipping mojitos and enjoying the mini heatwave.
And here we go... Off to start another crazy packed week. I'm glad we talked about cocktails today because who knows the state I'll be in by Friday.
What state are you generally in by Friday evening?
If you're looking for more summer cocktail recipes, check out my Key Lime Pie Mojito or my Blueberry Vodka Lemonade. And seriously, check out these Color Changing Mojitos from One Armed Mama!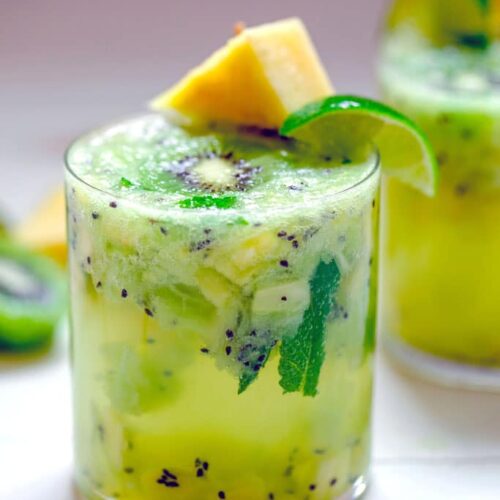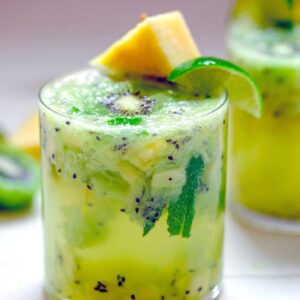 Pineapple Kiwi Mojito
This Pineapple Kiwi Mojito is made with fresh fruit and no added sugars or other juices. It looks like a fancy cocktail, but you'll be surprised by how simple it is to prepare and enjoy on a hot summer day!
Print
Pin
Rate
Ingredients
½

cup

diced pineapple

¼

cup

diced kiwi

10

fresh mint leaves

2

tsp

freshly squeezed lime juice

2

oz.

light rum

Soda water
Instructions
In the bottom of a cocktail glass or mason jar, muddle together pineapple, kiwi, mint leaves, and lime juice until pureed as much as possible.

Add ice to the glass and pour in rum. Top off with soda water.
Share a Photo of Your Finished Recipe!
Mention @wearenotmartha and share a photo if you've made the recipe!