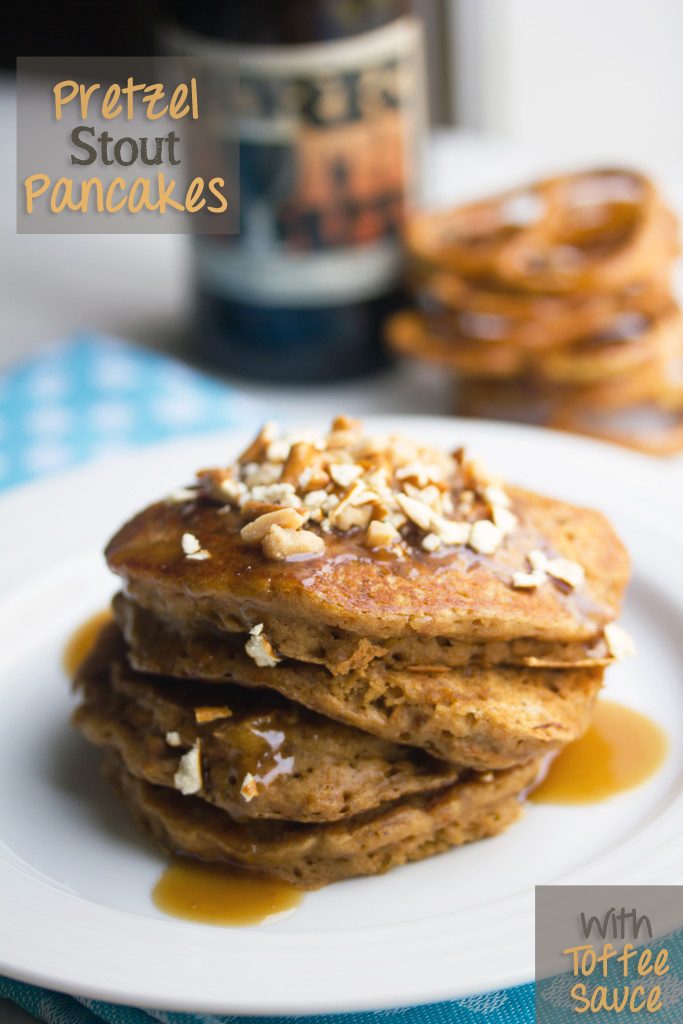 It's finally cold in Boston. Like really cold. Fleece leggings cold. Up until this point, we've had been having a wonderfully mild Boston winter. I've only had to wear my full-length down winter coat a couple times, which says a lot since I'm basically always freezing. But this week? This week I got out the fleece leggings and wore them under my pants. Totally dorky and weird? Probably. Ask me if I care.
To be honest, and with the knowledge that this isn't a very popular opinion, I really want a blizzard. Or at least a decent snowstorm. It should preferably be on a day when I have no other plans and the following day, it should all melt away so we don't have to deal with pesky mounds of gross brown snow. But aside from those few little caveats, I want a blizzard.
I want to snuggle up on my couch with a fire roaring in the fireplace. I want to pile on the blankets and sip steaming cups of coffee all day, followed by wintry cocktails in the evening. I want to have an excuse to read a book for 6 hours straight or binge watch shows on Netflix (we just started watching Scandal, but haven't had time for a good binge). Maybe I'll even bake a batch of cookies or make a cake. And then eat the entire thing. Guilt free because blizzards cancel out anything you do during them when it's not possible to leave the house.
We haven't had a good blizzard since we bought out house and I think it's time. My apologies if you're not in agreement with me, but we're allowed one blizzard a year, right? I live in New England, for Pete's sake. Also? My husband so far actually enjoys snow blowing the driveway, which means I legit don't have to leave my warm house. But if I do, at least I have my fleece leggings.
Really though, if we do have a blizzard anytime soon, I highly recommend you make these pancakes. Being stuck in your house is the only excuse you need to add beer to breakfast, right? I wanted to add a bit of saltiness to my pancakes and decided pretzels were the way to go. But then I started thinking about the fact that nothing goes better with pretzels than beer and how they could potentially be a match made in pancake heaven. These Pretzel Stout Pancakes were born… with toffee sauce drizzled over the top because a little extra sweetness was needed to cut the salty maltiness. Bring on the snow and bring on breakfast.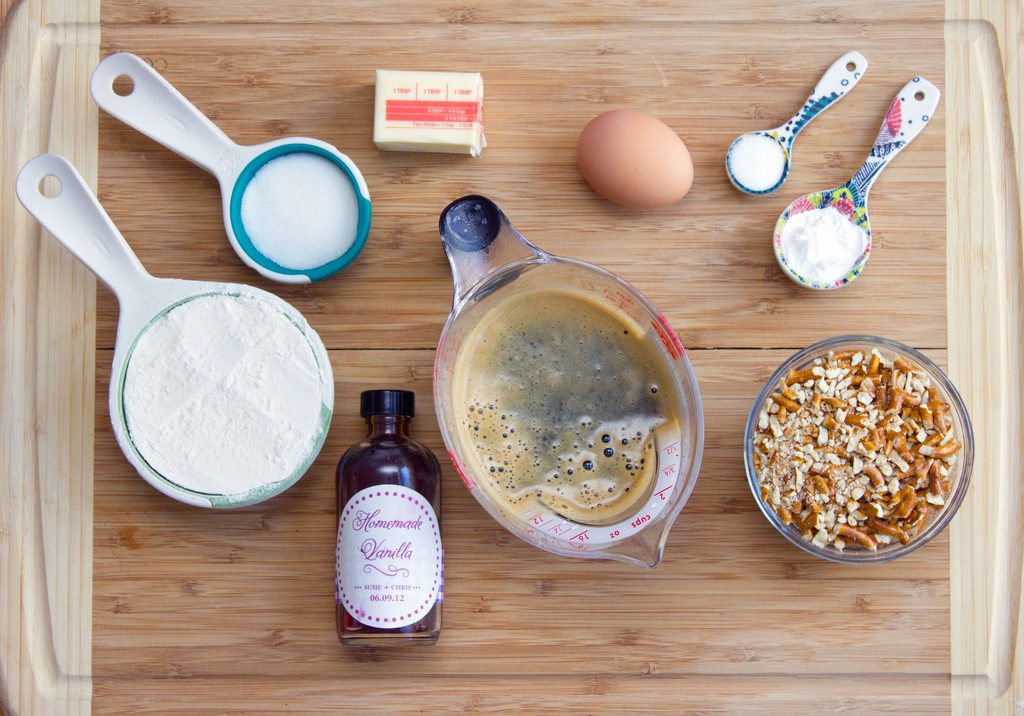 These are as easy as any standard pancakes, just with crushed pretzels thrown in and beer instead of milk or buttermilk! They had a FULL stout flavor, so if you want something a bit more subtle, I'd recommend using half stout and half buttermilk.
In a small bowl, whisk together the flour, sugar, baking powder, and salt. Mix in the crushed pretzels.
In a separate medium bowl, whisk together the stout, melted butter, egg, and vanilla. Pour the dry ingredients into the wet ingredients and stir until they're just combined, taking care not to over mix.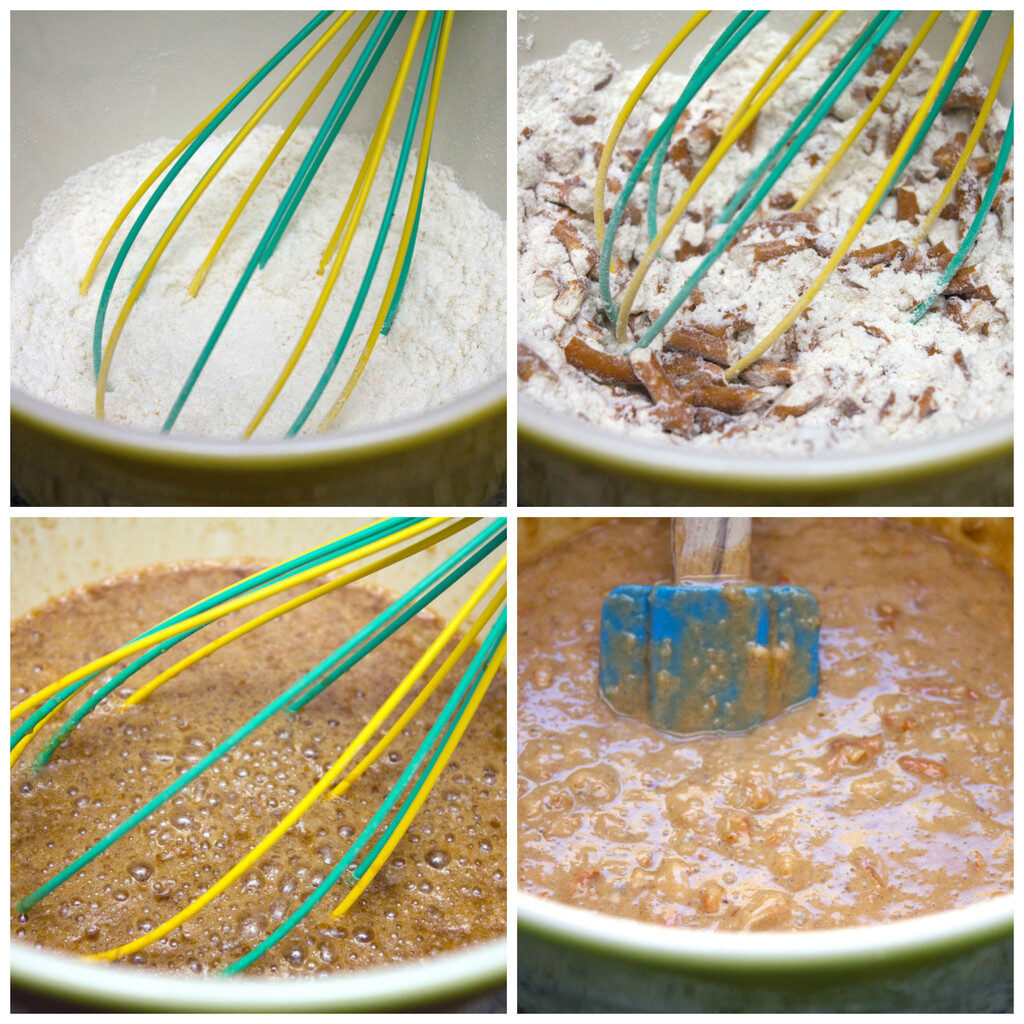 Heat your griddle or frying pan over medium heat and pout about 1/4 cup of batter onto it. Cook pancakes for 1-2 minutes on each side, until they're nicely browned and cooked through. Repeat and keep cooked pancakes warm until ready to eat.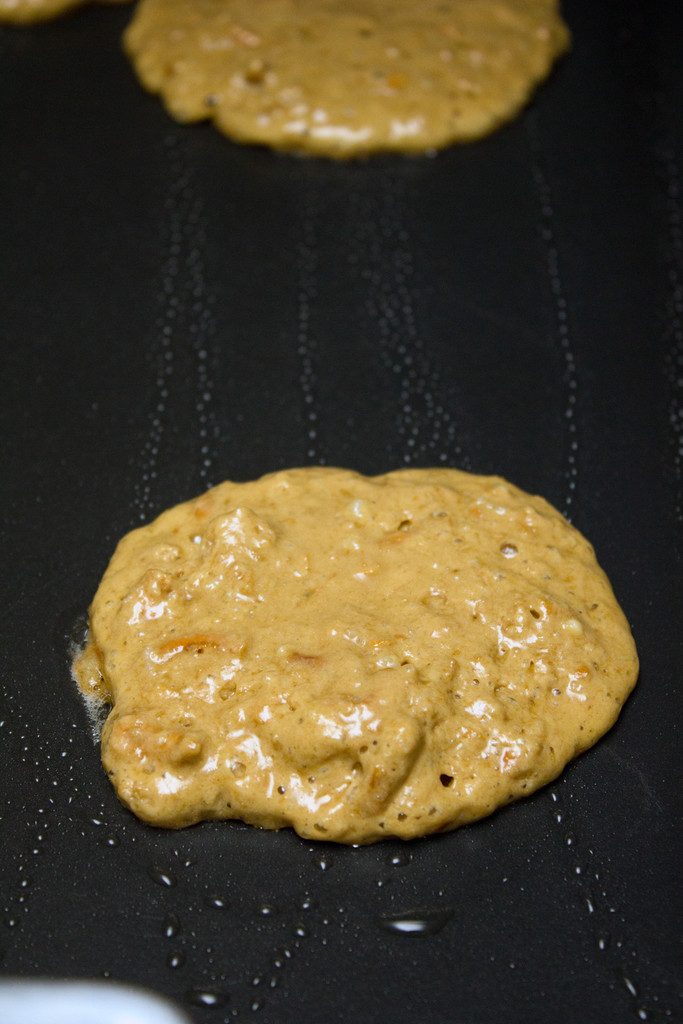 You could definitely drizzle maple syrup over the top of these pancakes… But I couldn't stop thinking about how good a toffee sauce would be on top. So, I whipped one up and if you have a little extra time (it's a blizzard, you can't leave the house, remember??), I think you should, too.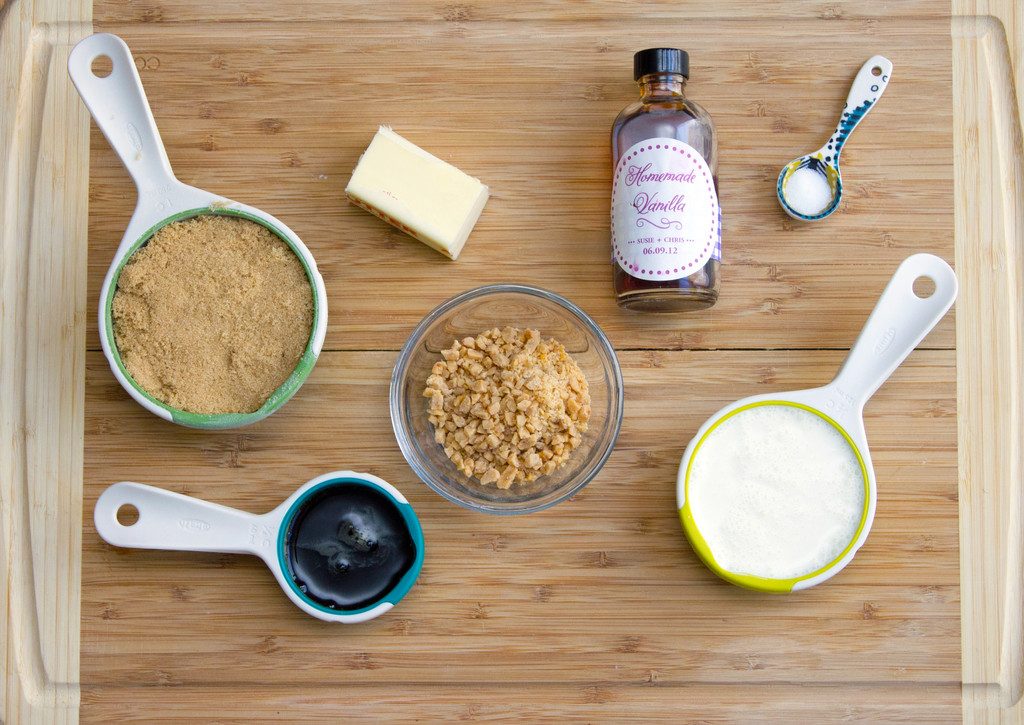 In a medium saucepan over medium heat, combine butter and brown sugar and bring to a boil.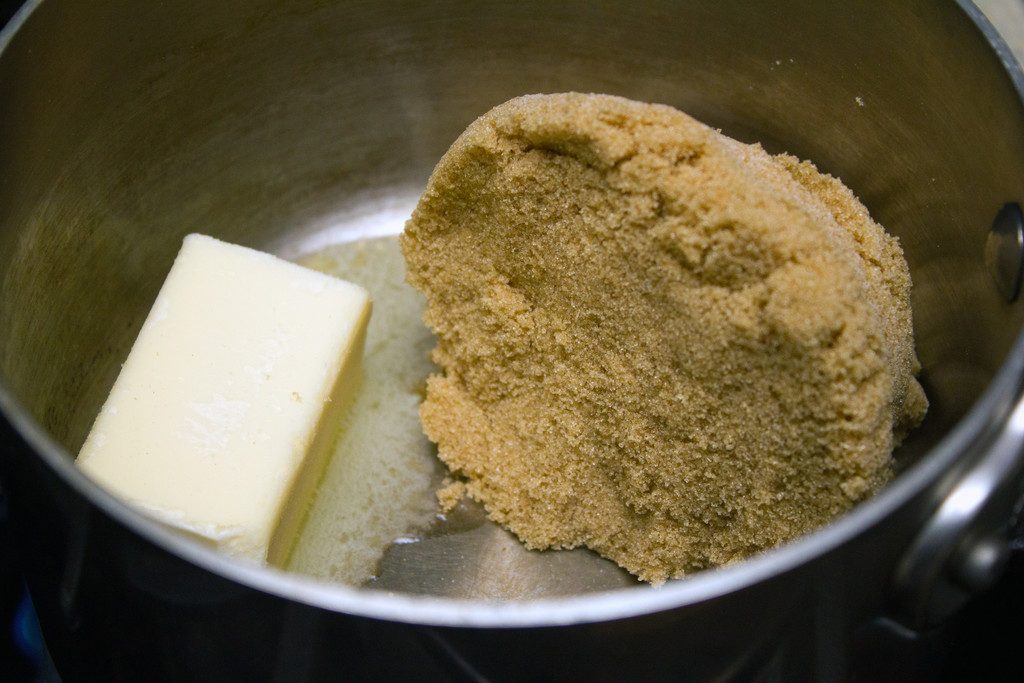 Reduce heat, stir in heavy cream and stout and simmer for about four minutes. Make sure to sir occasionally until the toffee sauce starts to thicken. Then, remove from the heat and stir in the salt and vanilla.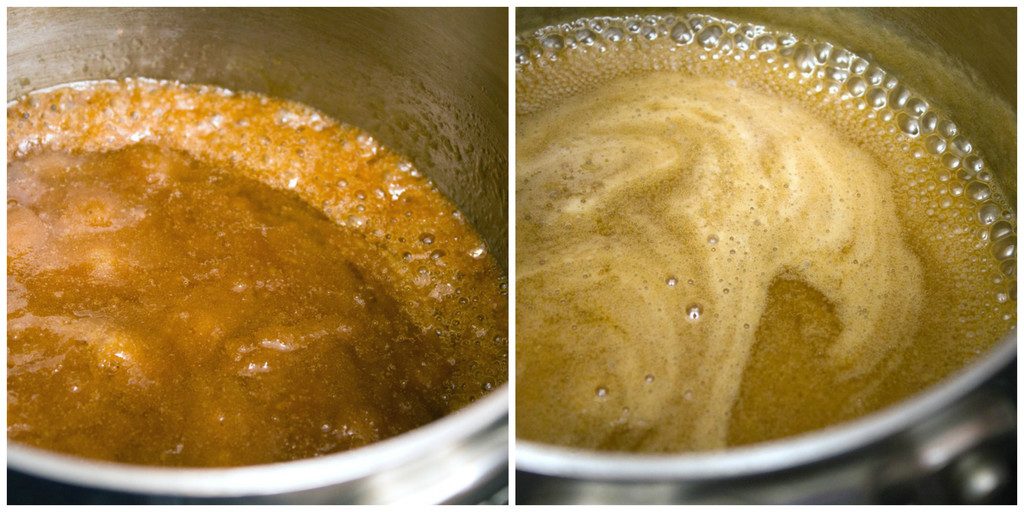 You can add additional toffee pieces for extra flavor… Or you can just sprinkle them over the top of the pancakes.
After you drizzle on the toffee sauce, of course. And crush some more pretzels over the top. And add some extra toffee pieces, too.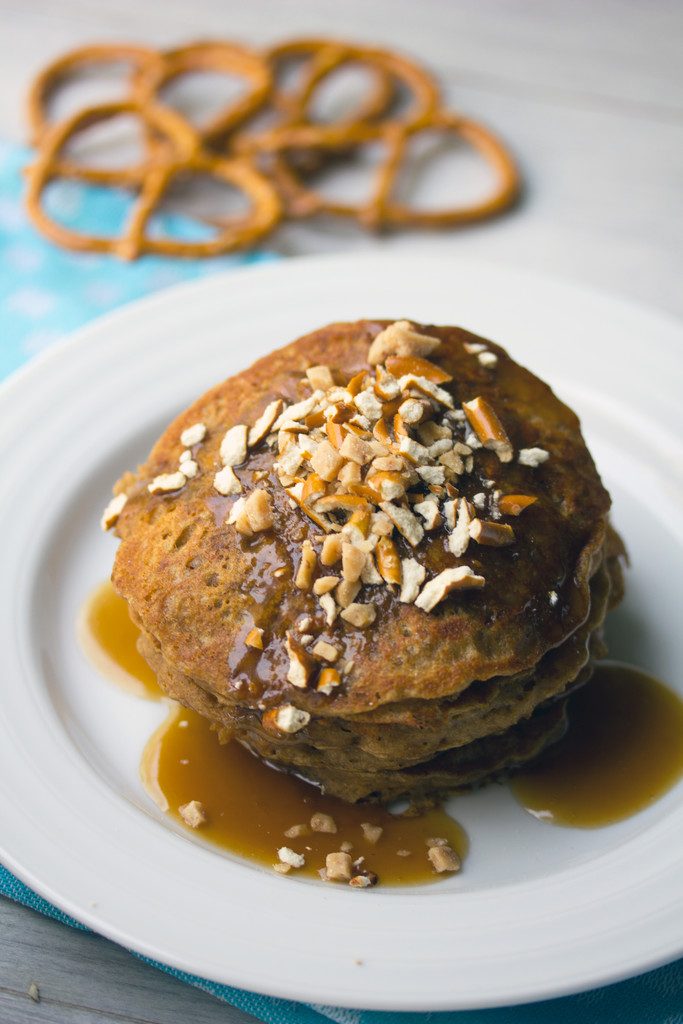 Like I already mentioned, the stout in these pancakes is no joke. You know when you order a dish that's "beer-infused" and you can barely tell beer even came close to the food? This is not that. You take one bite of these and say "holy stout!" At first I thought it might be a little too intense…. But my husband convinced me that it was perfect and that they wouldn't be stout pancakes without that awesome flavor. What's the point of a beer-infused food that doesn't taste like beer?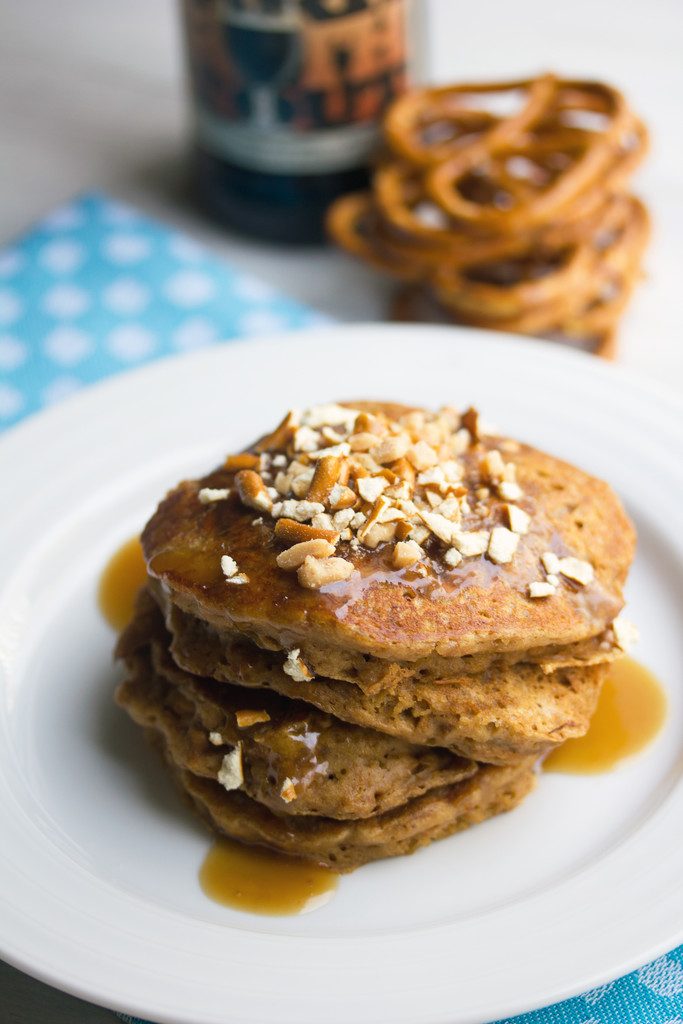 I loved the saltiness of the pretzels and the consistency they contributed to the pancakes, though the stout was definitely the star of the show.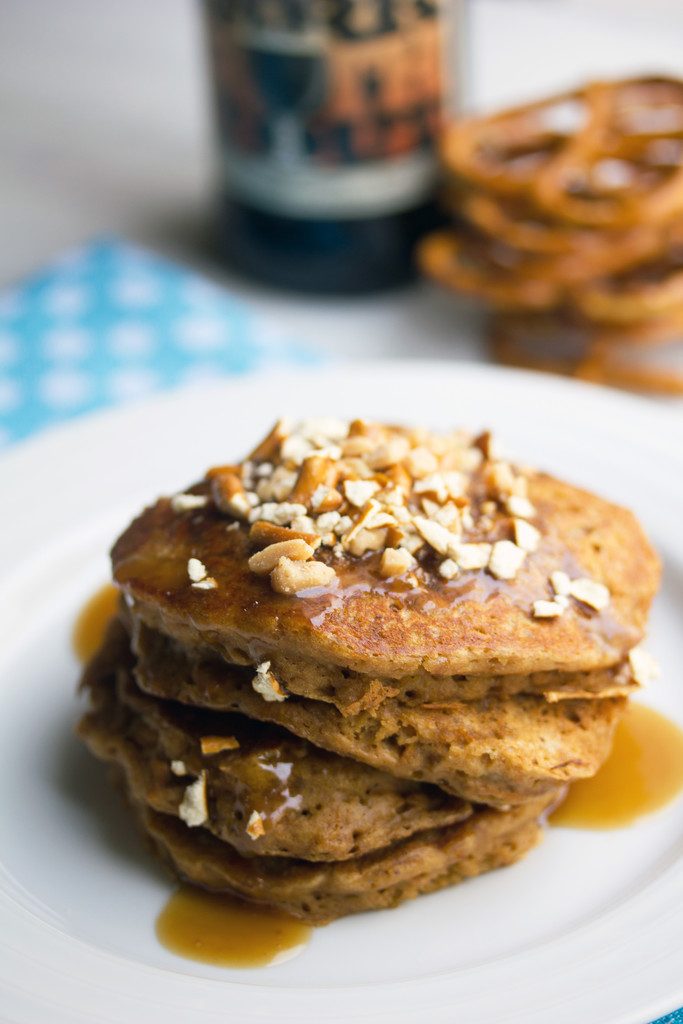 I have leftovers of that toffee sauce in my fridge and right now I am reallyyyy tempted to get up off the couch and sneak into the kitchen with a spoon. I believe toffee is one of the most underrated candies. Let's work together to change that.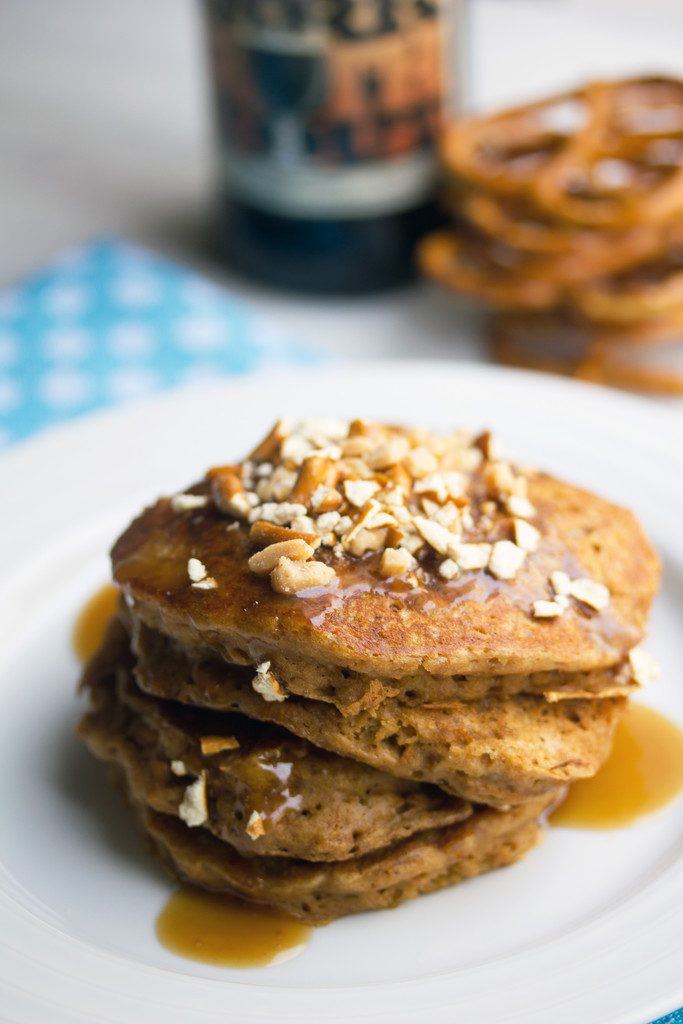 Consider this my first contribution. Of many.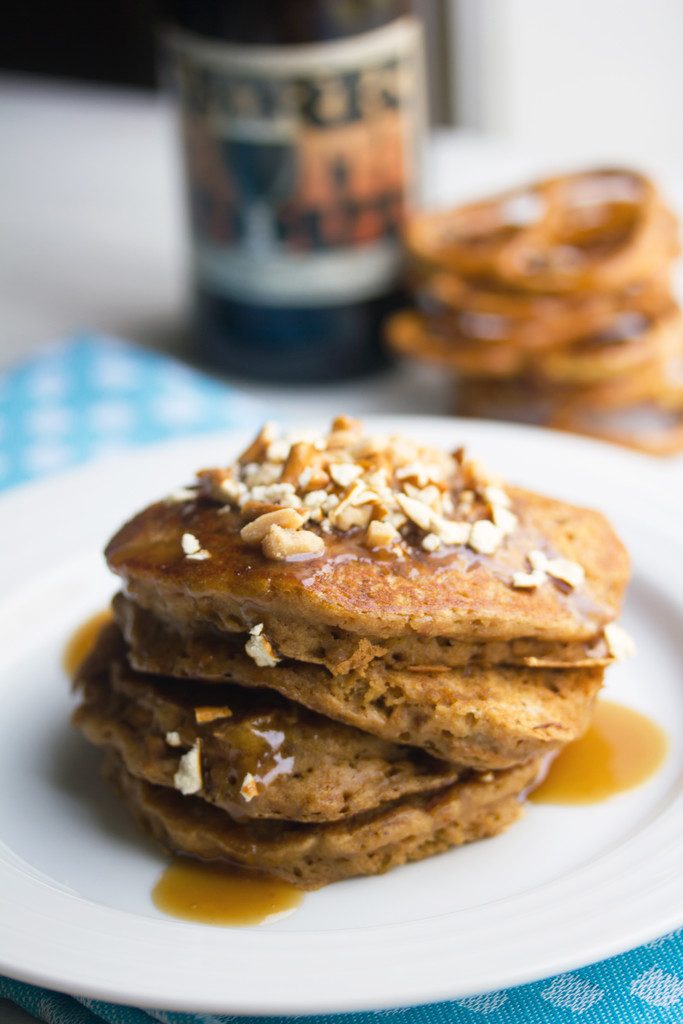 Beer obviously isn't underrated, but I kind of think the awesome food you can make when you cook and bake with it is. I want to help change that, too.
I'm actually not a fan of pretzels at all, UNLESS they're being used in recipes. Serve me a bowl of pretzels and I'll be bored out of my mind… Put them in cookies or use them as bread crumbs and I'm so on board.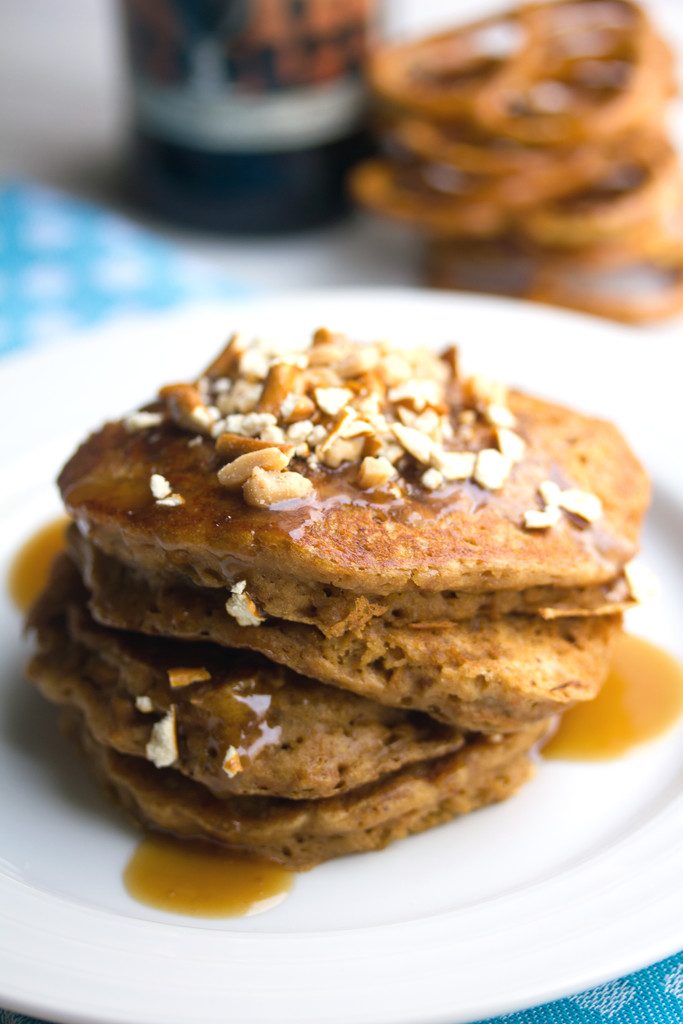 You obviously don't need to wait for a blizzard to make these pancakes. I mean, if you live in a place like California, you would be waiting for quite a while. And that would be sad. So…. this weekend will work just fine instead.
Do you like a good snow storm or are you dreading the rest of this winter?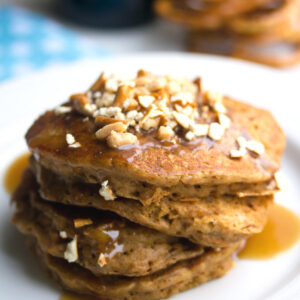 Pretzel Stout Pancakes with Toffee Sauce
This sweet and salty breakfast treat has a strong stout flavor and is sure to make any beer lover have a happy morning.
Ingredients
1

C

all-purpose flour

2

T

sugar

2

t

baking powder

1/2

t

salt

1

C

crushed pretzels

plus more for topping

1 1/4

C

stout

3

T

unsalted butter

melted

1

large egg

1

t

vanilla
Toffee Sauce
4

T

unsalted butter

room temperature

3/4

C

packed brown sugar

1/2

C

heavy cream

2

T

stout

Pinch

salt

1

t

vanilla extract

1/4

C

toffee pieces

optional
Instructions
Pretzel Stout Pancakes
In a small bowl, whisk together the flour, sugar, baking powder, and salt.

Mix in crushed pretzels.

In a separate, medium-sized bowl, whisk together stout, melted butter, egg, and vanilla (if you want less of a stout flavor, use 1/2 buttermilk and 1/2 stout here).

Pour the dry ingredients into the wet ingredients, stirring until they're just combined, but taking care not to over mix.

Heat a griddle or frying pan over medium heat and pour about 1/4 C batter onto it. Cook pancakes for about 1-2 minutes on each side, until they're nicely browned and cooked through. Repeat with all batter.

Serve stacks of pancakes with toffee sauce poured over them. Sprinkle additional crushed pretzels and toffee pieces on top if desired.

Toffee Sauce
In a medium saucepan over medium heat, combine butter and brown sugar and bring to a boil.

Reduce heat, stir in heavy cream and stout and simmer mixture for about 4 minutes, stirring occasionally until it begins to thicken.

Remove from heat and stir in salt and vanilla.

Add in toffee pieces for additional flavor (toffee pieces can also be used to top pancakes