Looking for the perfect make-ahead brunch dish to serve to a crowd? This Raspberry Coconut French Toast Casserole will ensure you have something fabulous to wake up to!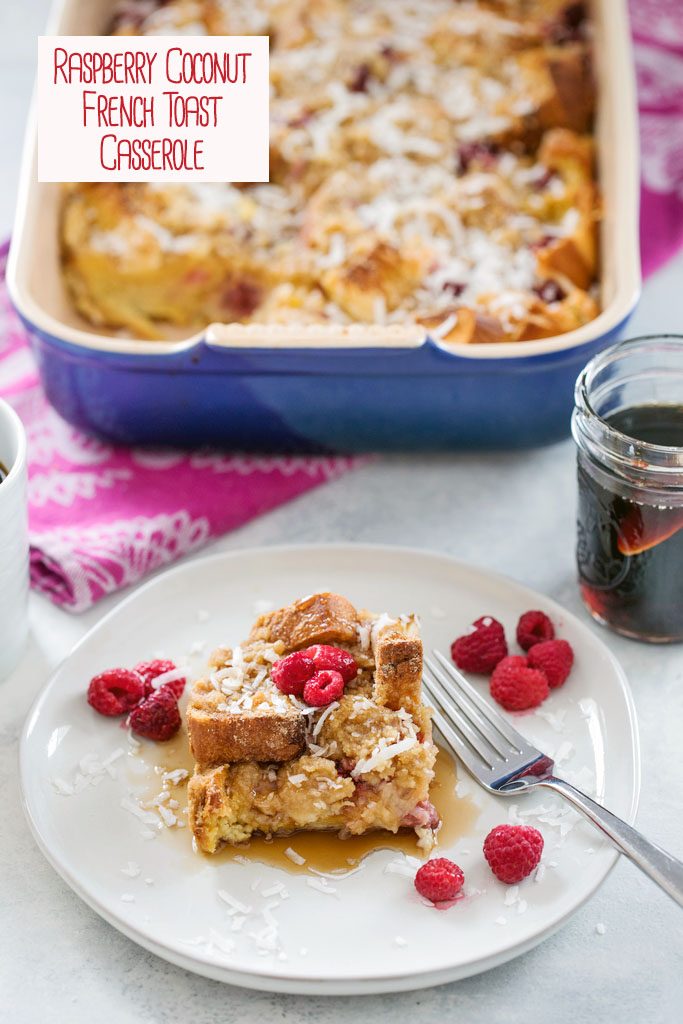 I'll always remember the day I learned how expensive pillows were. I was headed off to my junior year in college and getting all my new apartment shopping done at Bed, Bath, and Beyond. I grabbed a pillow and quickly noted the price... $100. For a pillow. Excuse me?? Then I realized how many freaking pillows BB&B had in their pillow department. What? Why?? Up until that point, my parents supplied the pillows in our household and I happily slept on whatever was provided, no questions asked. Now, I was suddenly faced with a major decision that could apparently mean the difference between a good night's sleep and major nightmares and lifelong neck aches. OK fine, in the end, I probably just ended up buying a couple relatively inexpensive pillows (likely paid for by my mom) and I don't remember ever having any issues. I was young and invincible.
Now that I'm old, married, and buying my own pillows, my husband and I have debates about what we look for in a pillow... And I'm sad to say that we have pretty much opposites desires. He likes one that smushes way down that he can sink his head into. I want to be pretty elevated and always sleep on at least two pillows. But really, I just make whatever I have work and haven't really shopped for a perfect pillow. We recently made a visit to BB&B so he could look at pillows and again, I was totally overwhelmed. Now they have pillows for $200+. Are they miracle pillows?? And I honestly can't even tell which one I'd like best because a) how the heck do you know if you like a pillow after resting your head on it for three seconds?? and b) I refuse to put my head on a pillow that 9402 other people have also tested with their head. Luckily, I still seem to sleep quite well every night, so I left without buying a new pillow, though Chris got a nice new smushy one.
But now I swear, every night as I'm laying in bed trying to fall asleep, all I can think about is how uncomfortable I am and how I desperately need new pillows. I legit can't fall asleep. And I've never had a problem before! I'm starting to blame my pillows for all my problems in life and now I don't think I can be happy until I find the perfect one. Ughh. Ignorance is bliss and I wish I still lived in a world where one pillow fits all. Oh, I should probably note that my husband did pay a pretty penny for his new pillow and guess what? He hates it.
Anyway, when I wake up overtired and with an achy neck, there's only one thing that makes things better. And that's having a really fabulous breakfast already prepared for me (and coffee. Lots of coffee). If that breakfast involves maple syrup, EVEN BETTER. That's why I love french toast casseroles so much. Really, I love them for a couple different reasons: 1) make one and you have breakfast ready to go in your fridge for an entire week. It's also easy to pack a serving up in a Tupperware container and bring to work and 2) If you're throwing a brunch party, you can prep this the night before so when you wake up in the morning, all you have to do is pop it in the oven and get ready for your guests to arrive.
RASPBERRY COCONUT FRENCH TOAST CASSEROLE RECIPE
I can't stop talking about how easy this french toast casserole is to make. It's basically a handful of ingredients and comes together in no time at all. And since you can assemble it all the day before, that means it takes zero work in the morning. Zero! Unless you consider turning on and opening your oven work.
All you have to do is put your cubed bread, shredded coconut, and raspberries in a buttered casserole dish. Whisk together brown sugar, eggs, coconut milk (the refrigerated kind in the carton), and vanilla in a bowl. And pour the wet ingredients over the bread mixture.
Pop it in the fridge for at least 4 hours. But I hope you're getting more sleep than that.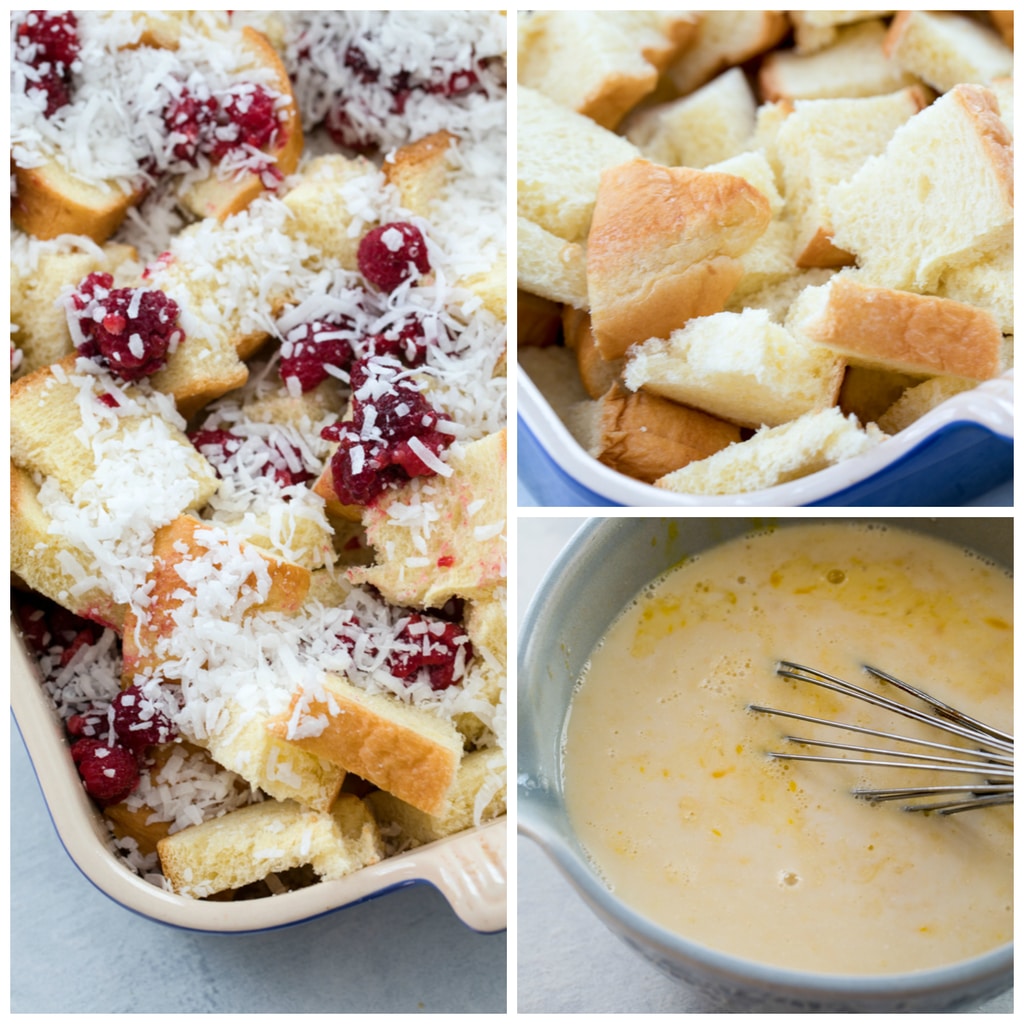 WHAT BREAD SHOULD I USE FOR FRENCH TOAST CASSEROLE?
You can use almost any kind of bread for this raspberry coconut french toast casserole, but I highly recommend using brioche. It's nice and buttery and sturdy and does a great job of soaking up the egg mixture. If not brioche, challah is also an excellent choice because it's deliciously eggy and also quite sturdy. Both breads will also get a bit crispy when baked, so that allows for your french toast casserole to have a nicely browned, crispy top.
Often, you can find different varieties of brioches and challahs at your grocery store or bakery. I once made a cinnamon french toast casserole with cinnamon swirl brioche and it was an absolute delight!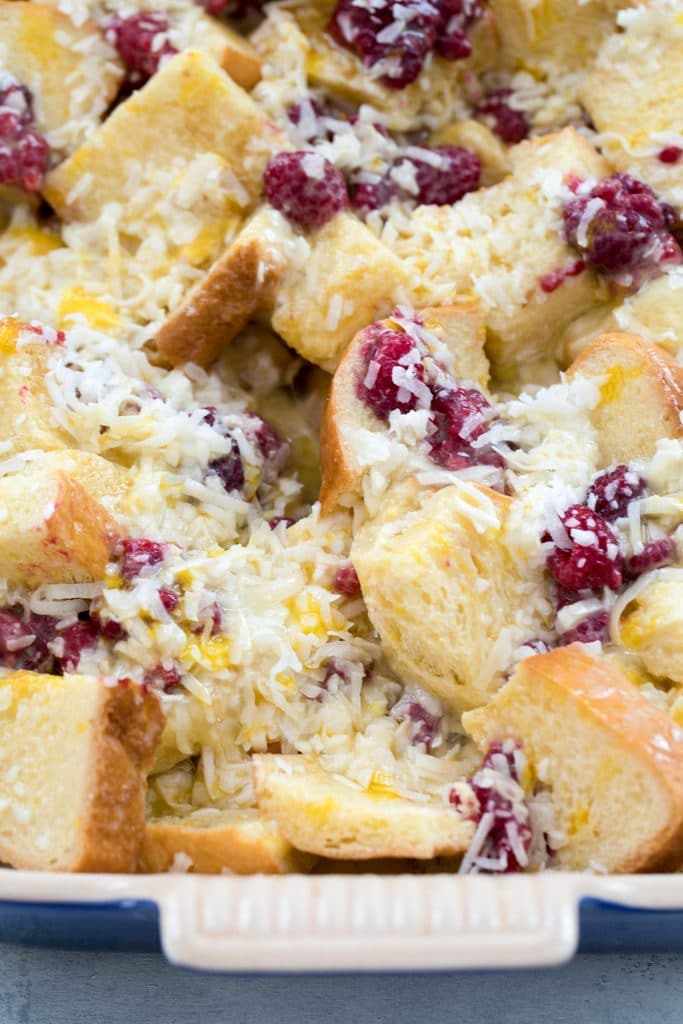 While the french toast casserole is in the fridge overnight, the bread will soak up the egg and milk mixture. In the morning, you'll sprinkle on the crumb topping and bake it. I also prepped my crumb topping the night before and simply covered the bowl in plastic wrap and put it in the fridge, so everything was ready to go in the morning.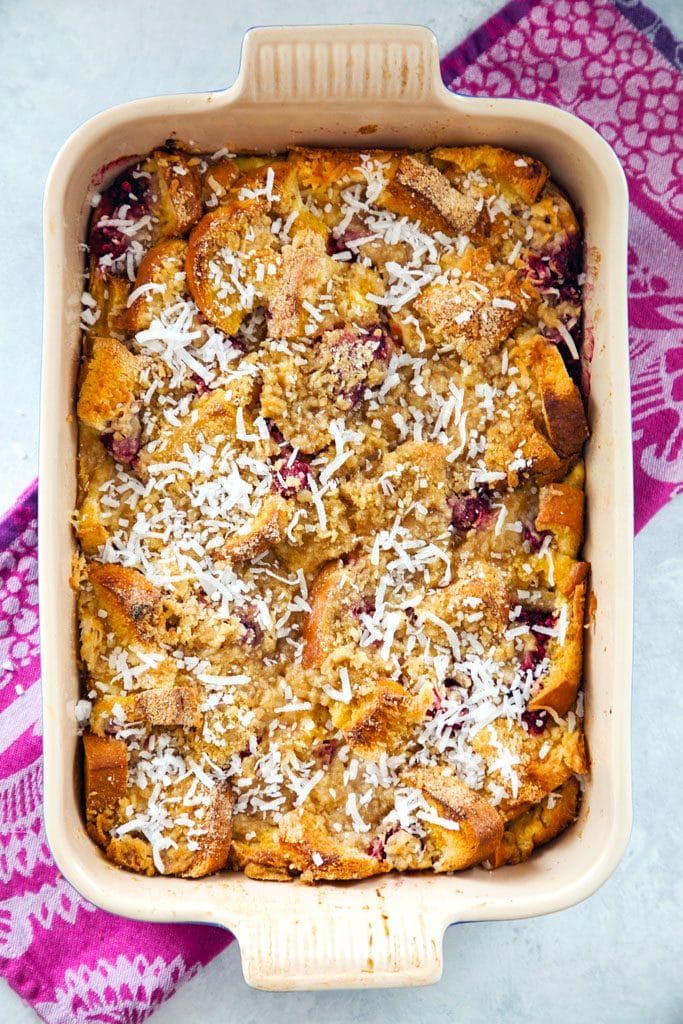 After baking, the results are an ultra custardy and flavorful raspberry coconut french toast casserole. I topped with a little extra shredded coconut and fresh raspberries for a pop of color.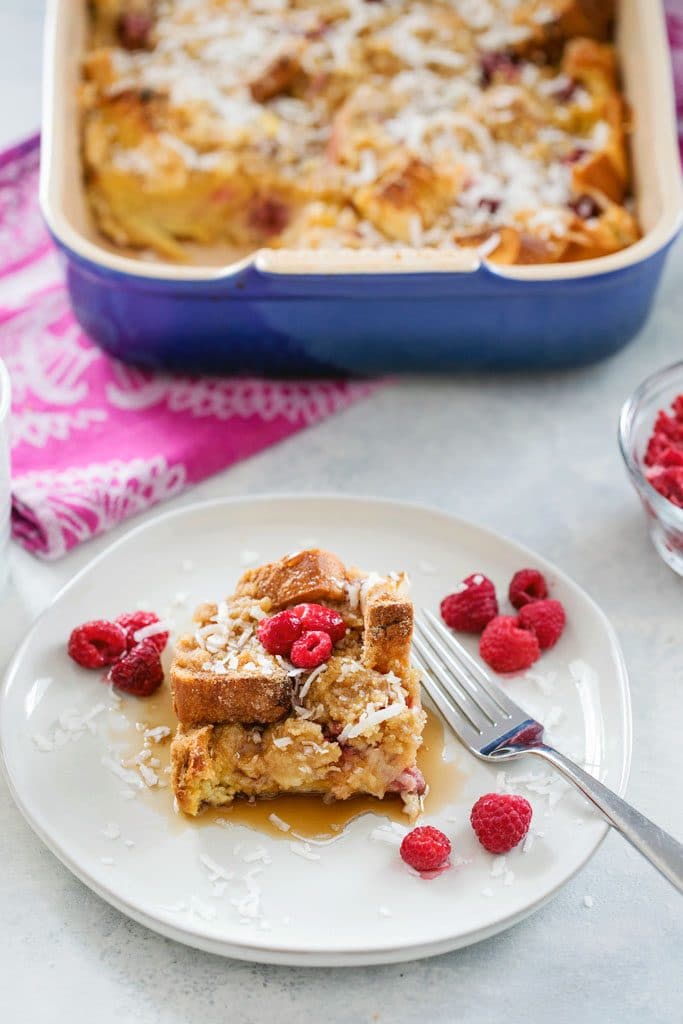 You can pour a little maple syrup over the top (and I always do), but honestly, you don't even need it. This is definitely a breakfast that's on the sweet side and you might even want to balance it out with some bacon or sausage on the side (yes, that is what I call balance!)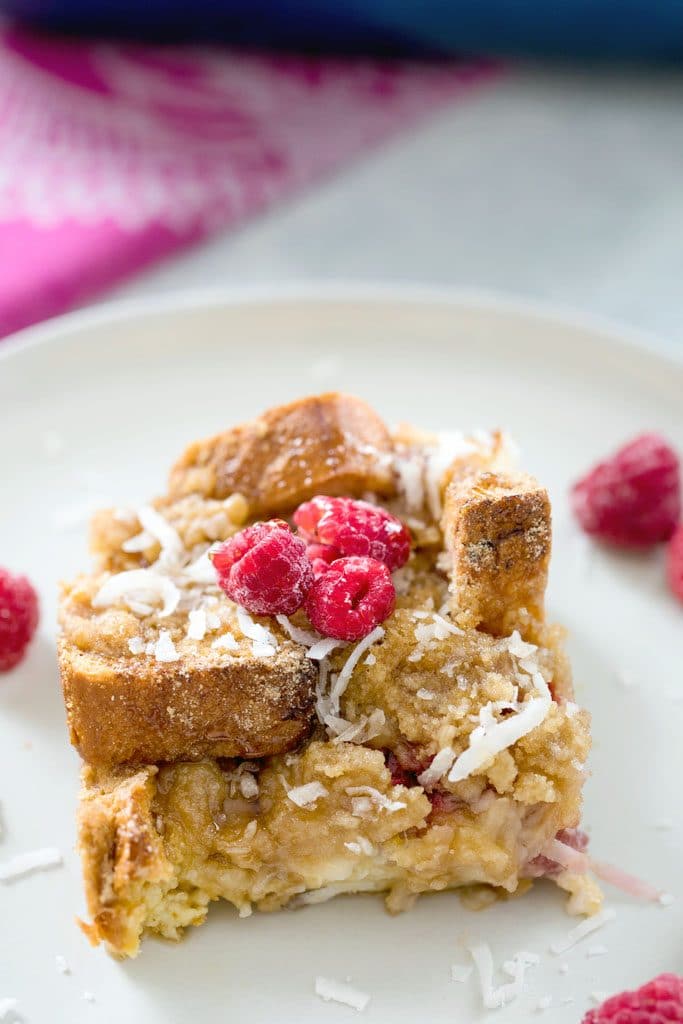 But you can control the amount of sugar you use here. The first time I made this, I forgot my coconut was sweetened and ended up using too much additional brown sugar (Chris loved it, but it was too sweet for me!). This is supposed to be a sweet breakfast casserole, but you also don't want to overdo it first thing in the morning.
Because this raspberry coconut french toast casserole is made with shredded coconut and coconut milk (the kind on the milk cartons, not a can), it has a wonderful coconut-y flavor with a little tartness from the raspberries, which cuts the sugar quite nicely.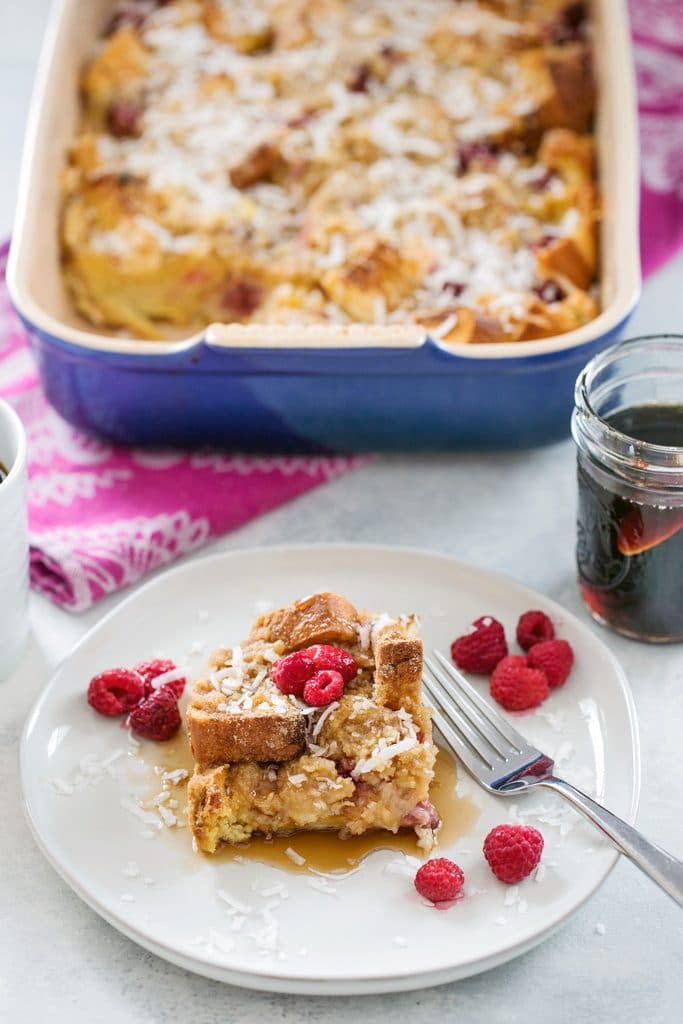 Whether you're looking for the perfect Mother's Day brunch recipe or you just want to eat breakfast like royalty for a week straight, prep this raspberry coconut french toast casserole right now and you'll be thanking your lucky stars in the morning!
Especially if you toss and turn all night because your pillow isn't absolutely perfect and you have no idea which kind is best for you. Sigh.
What's your favorite prep-ahead breakfast? And also, are you particular about your pillows or do you just not care?
If you're looking for another easy make-ahead brunch dish for a crowd, check out this Spinach, Sausage, and Cheese Strata. I also love this Cinnamon Roll French Toast Casserole from Tipps in the Kitchen!
📖 Recipe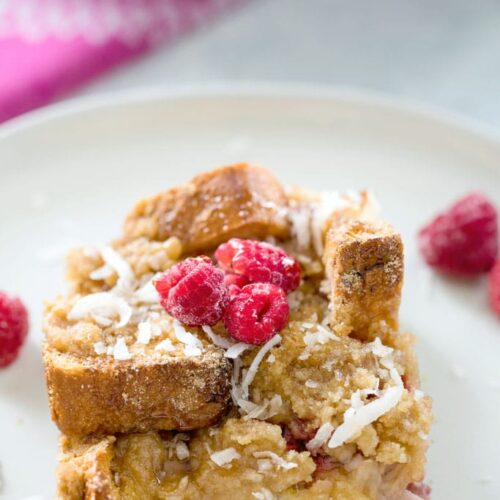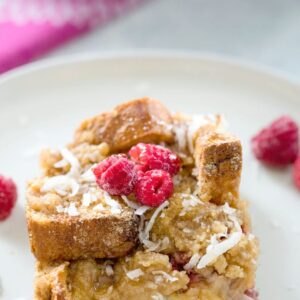 Raspberry Coconut French Toast Casserole
Looking for the perfect make-ahead brunch dish to serve to a crowd? This Raspberry Coconut French Toast Casserole will ensure you have something fabulous to wake up to!
Print
Pin
Rate
Ingredients
1

loaf (about 17 oz.)

brioche or challah bread,

sliced and cut into 1-inch cubes

1 ½

cups

fresh or frozen raspberries

¾

cup

shredded coconut, plus more for sprinkling

(can use sweetened or unsweetened, but if using unsweetened, increase brown sugar to ¾ cup)

⅓

cup

packed light brown sugar

(use ¾ cup if using unsweetened coconut)

9

large eggs

2 ½

cups

coconut milk

(in a carton)

2

tsp

vanilla extract
Crumb topping
⅓

cup

packed light brown sugar

⅓

cup

all-purpose flour

¼

tsp

salt

4

Tbsp

unsalted butter,

chilled
Instructions
Lightly spray a 9x13 inch baking dish with cooking spray or brush with butter. Put bread cubes in baking dish and top with raspberries and shredded coconut.

In a medium bow, whisk together brown sugar, eggs, coconut milk, and vanilla extract until smooth. Pour mixture over bread. Cover baking dish in plastic wrap and place in fridge for at least 4 hours, but preferable overnight.

In the morning, pre-heat oven to 350 degrees. Remove plastic wrap from baking dish and sprinkle crumb topping over casserole. Place in oven for 45-55 minutes, until casserole is cooked through and no longer jiggly. If the top is browning too much, but you want inside to cook longer, cover top with tinfoil.

Remove from oven and let rest for 5 minutes before topping with additional coconut (if desired) and serving.
Crumb Topping
In a small bowl, whisk together brown sugar, flour, and salt. Using a pastry cutter, a fork, or your fingers, cut butter into dry mixture until small clumps form.
Notes
You can also prepare crumb topping in advance. Just cover bowl in plastic wrap and keep in fridge.
Please note that cook time does not include the 4+ hours french toast casserole needs to sit in fridge.
Share a Photo of Your Finished Recipe!
Mention @wearenotmartha and share a photo if you've made the recipe!