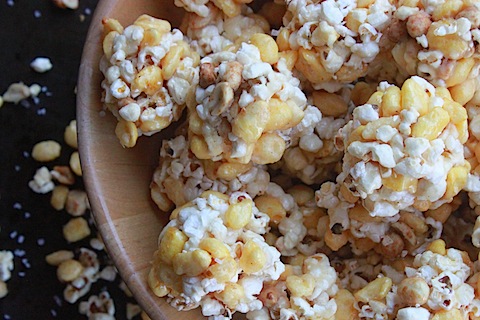 One of my favorite things about this time of year is definitely all of the holiday parties! I'm pretty sure I have one to attend every weekend up until Christmas, yay! I always like to bring a little treat to them, so it's the perfect excuse to get in the kitchen and experiment with new recipes. On Saturday, my friend Julie and her husband, hosted an open house/holiday party. They recently completed their beautiful kitchen renovations so what better way to show your friends your hard work than by inviting them over for some holiday cheer?!
I had to work Saturday afternoon then went straight to Julie's house, so I knew I had to make something pretty quickly before I went to work. And it had to be something that traveled well because I was leaving straight from work then driving out to the 'burbs. I immediately thought I'd make some sort of "snacky" food. Something easy to munch on while chit chatting, something a little sweet and salty. So, I got to looking on the interwebs and found this recipe for Spicy Popcorn Balls from Food and Wine. With a few alterations, I made it my own and I think it was quite a success. I decided to cut back on the spice factor just a bit since I was bringing them to a party and oddly enough, not everyone loves spicy, especially if it's unexpected. 😉
Popcorn Balls (Makes roughly 36)
Print this Recipe!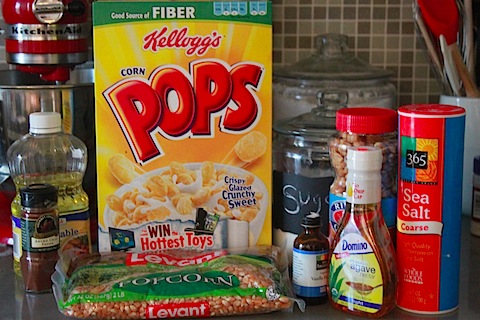 • 20 cups of freshly popped popcorn (about ¾ cups kernels)
• 4 cups Corn Pops
• 1 ½ cups salted roasted peanuts
• 3 cups sugar
• 1 ½ cups agave nectar (the original recipe called for light corn syrup but I wanted to use the agave for a touch of natural sweetness)
• 1 stick unsalted butter
• ½ cup water
• 1 teaspoon vanilla extract
• 1 tablespoon sea salt
• 1 teaspoon chipotle chile powder (add more or less depending on how much of a kick you want them to pack!)
I absolutely love popping fresh popcorn. It's obviously a bit more work and cleanup than just tossing a bag in the microwave but there's nothing like making your own. I normally use a very large pot and start off by pouring about a couple/few tablespoons of vegetable oil in. A little trick I learned, once you've poured the oil in the pot, add three kernels. When one or more of them pops, you'll know the oil is heated properly and you can add the rest of the kernels in.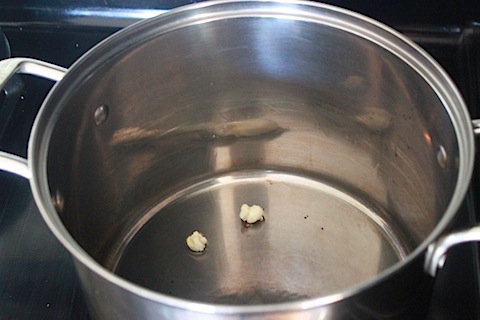 Put lid on the pot to make sure the kernels don't pop out of control! Holding the lid down on the pot, continuously shake the pot to make sure none of the kernels stick or burn. Continue shaking the pot until you no longer hear any more kernels popping.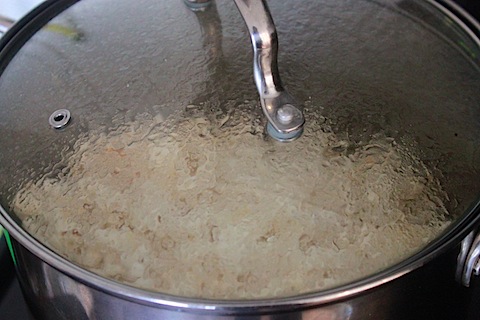 Remove from heat and let sit for another minute or so since there might be a few straggler kernels waiting to pop!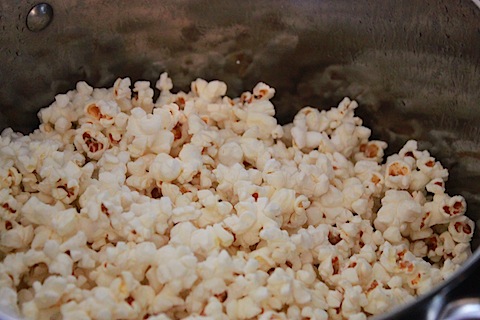 Once the popcorn is done popping, add the Corn Pops and peanuts.
And mix well.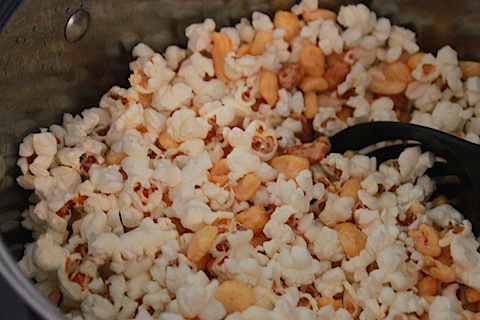 In a large saucepan, combine the sugar, agave nectar (or corn syrup), butter, water, and vanilla.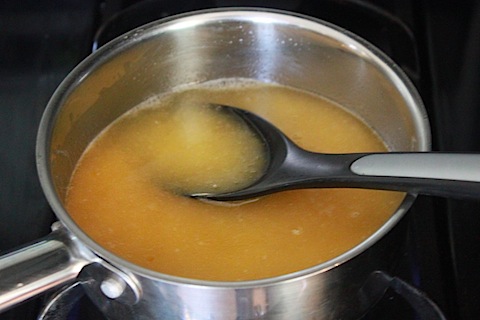 Cook over medium high heat, making sure to stir, until the syrup reaches 295 degrees on a candy thermometer, about 15 minutes. Stir in the sea salt and chipotle powder.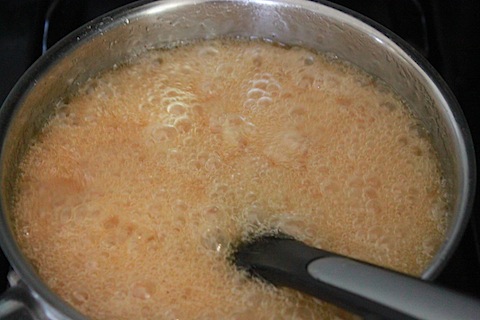 Now, carefully pour the hot syrup over the popcorn mixture. Using a wooden spoon, toss to coat the syrup over the mix.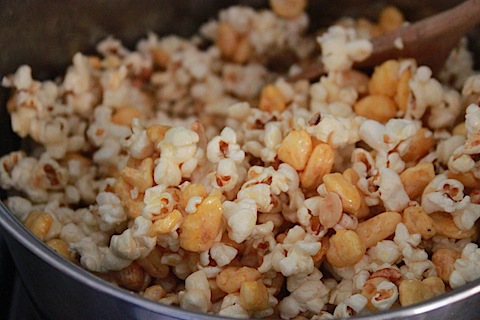 Immediately spread the popcorn glazed mixture onto a lightly oiled baking sheet. Now, this is where you can use your best judgement. You can either wear lightly oiled rubber gloves to form the shapes of the popcorn balls, or you can use your bare hands. For some reason, I don't own a pair of rubber gloves, so I did this part with my bare hands and it is HOT. So be careful. You can use an ice cream scoop to help form the shape (to get 36 popcorn balls, each should be about 2") then lightly press in the palms of your hands, making sure not to pack it too tightly because you don't want any of the popcorn/cereal/peanuts to break.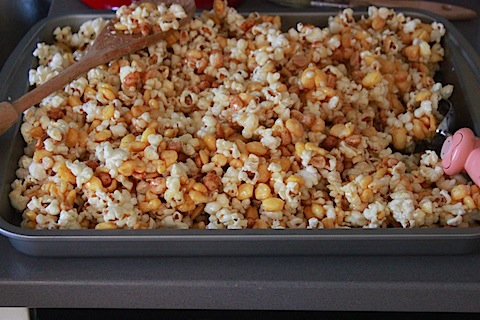 By incorporating a throwback cereal (Corn Pops!) and more traditional snack foods (popcorn and peanuts) these popcorn balls touched on all aspects of a great party food. Sweet, sticky, crunchy, buttery, salty, and fun! Plus, it was kind of funny to watch people eat them and be like, "Ooooo, what are theeeese?!" then see them get all excited when I said they had Corn Pops in them. Which, by the way, I don't think I've ever purchased in my adult life. We used to eat pretty normal cereals growing up and when my mom would buy the variety packs we'd all fight over who would get the "fun" cereals 😉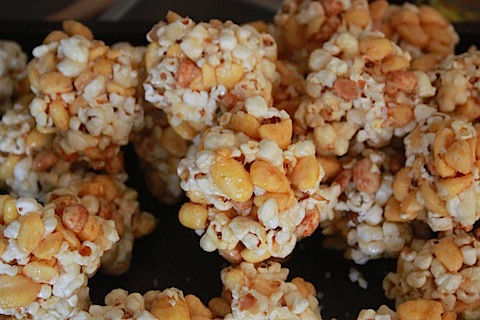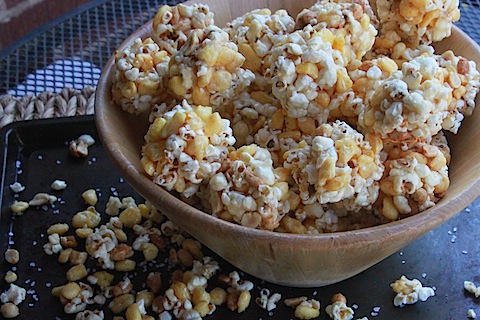 Between making Momofuku's Cornflake Crunch and these, I think I'm on a little cereal kick. I kind of want to experiment with it all now!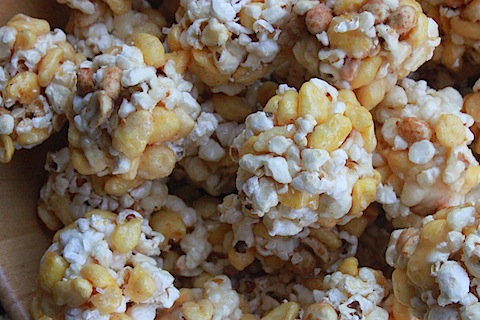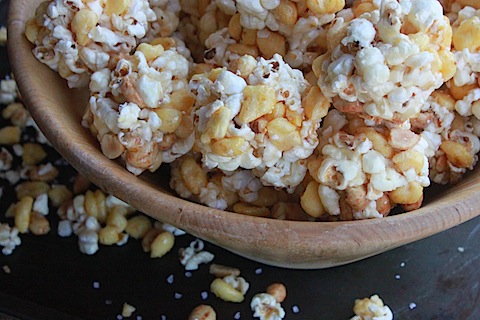 What's your favorite holiday snack to bring to a party?
[Chels]