Whether you're a fan of candy corn or not, you're going to love this easy to mix combination. Candy Corn and Peanuts combine to make a delightfully sweet and salty Halloween treat... It might just change your mind about the controversial candy!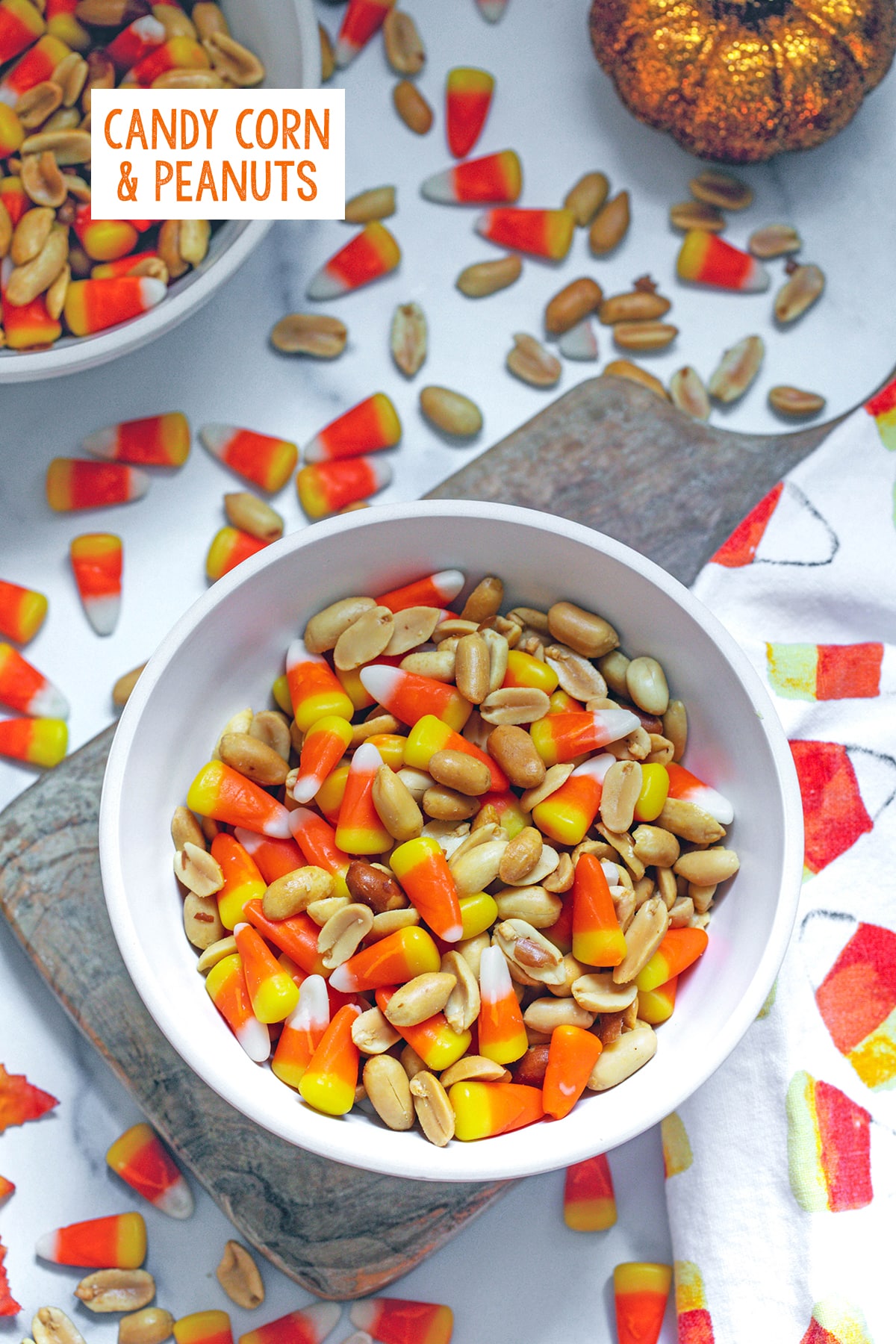 You, as a reader of my blog, have full rights to totally roast me for this "recipe." First of all, for calling it a recipe. And second of all because it involves candy corn, which I am fully aware you may not be a fan of.
But if you are a candy corn hater who has an open mind, I urge you to try this little mixture. Because it's been known to turn candy corn dissenters into candy corn enthusiasts. Just trust me on this one.
It's obviously a very simple combination, but candy corn and peanuts could just be the thing that has you craving the sweet Halloween treat!
❤️ Why candy corn and peanuts work together
A lot of people who don't like candy corn dislike it because it's too sweet. But when you mix sweet candy corn with salty peanuts, the overly sweet flavor is balanced out and you get that salty sweet combination that is to die for!
Not only is there a great flavor contrast, but there's also a texture contrast. Candy corn is a little bit chewy and waxy and peanuts are nice and crunchy. There's also a certain richness to combining the two of them together.
In fact, did you know that candy corn and peanut butter can combine to create a totally authentic-tasting Butterfinger bar? You just mix the two together (melted candy corn) and coat them in chocolate. I promise, it really works!
If you've ever had a Payday candy bar, you know exactly what the sweet and salty kinda crunchy hype is all about.
🗒 Ingredients
I won't lie, there are only two ingredients in this candy corn and peanut mixture and you can obviously guess what they are based on the name alone:
Candy corn
Salted peanuts
However, I also have lots of fun variation ideas that can make your candy corn and peanut mixtures even more exciting!
🍬 How to make candy corn and peanuts
This is obviously a very easy recipe (but definitely take a look at the recipe card at the bottom of this post for full recipe instructions). All you need to do is mix them together! But you might be wondering how much of each ingredient to use.
It's ultimately up to you, but I think using a 1:1 ratio makes the perfect combination.
And really. Just put them in a bowl and mix them up. I like to mix a big batch in a large bowl and then put the candy corn mix out in a few small bowls.
And watch candy corn haters change their minds! Well, the open-minded ones at least.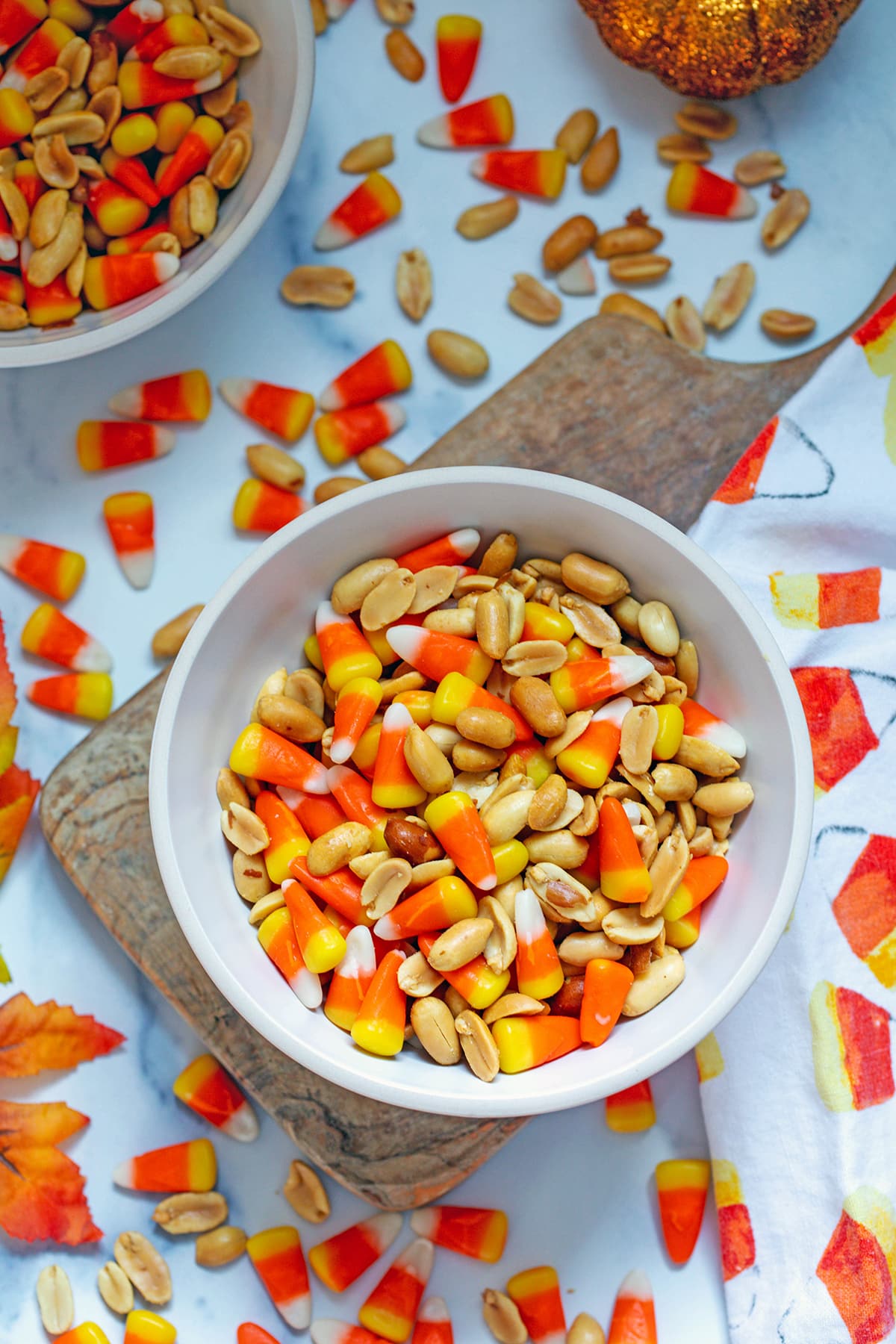 The sweet and salty flavors combine so well together and this Halloween mix is quite addictive.
I guarantee if you leave a bowl of this in your house in the fall, you'll find the fall snack mix slowly depleting.
Your family may not want to admit that now enjoy candy corn... But the salty crunchy peanuts make it irresistible.
⏲️ How to store
Ideally, you should store this Halloween treat in an airtight container in a cool, dark spot.
However, I have been known to leave a bowl out at room temperature for a few days, so snackers can grab a few whenever they walk by.
If kept in a cool spot, it will take a while for this mix to go stale even when left out, but please be aware if could attract pests. If your home is hot or moist, the peanuts will likely go bad quicker.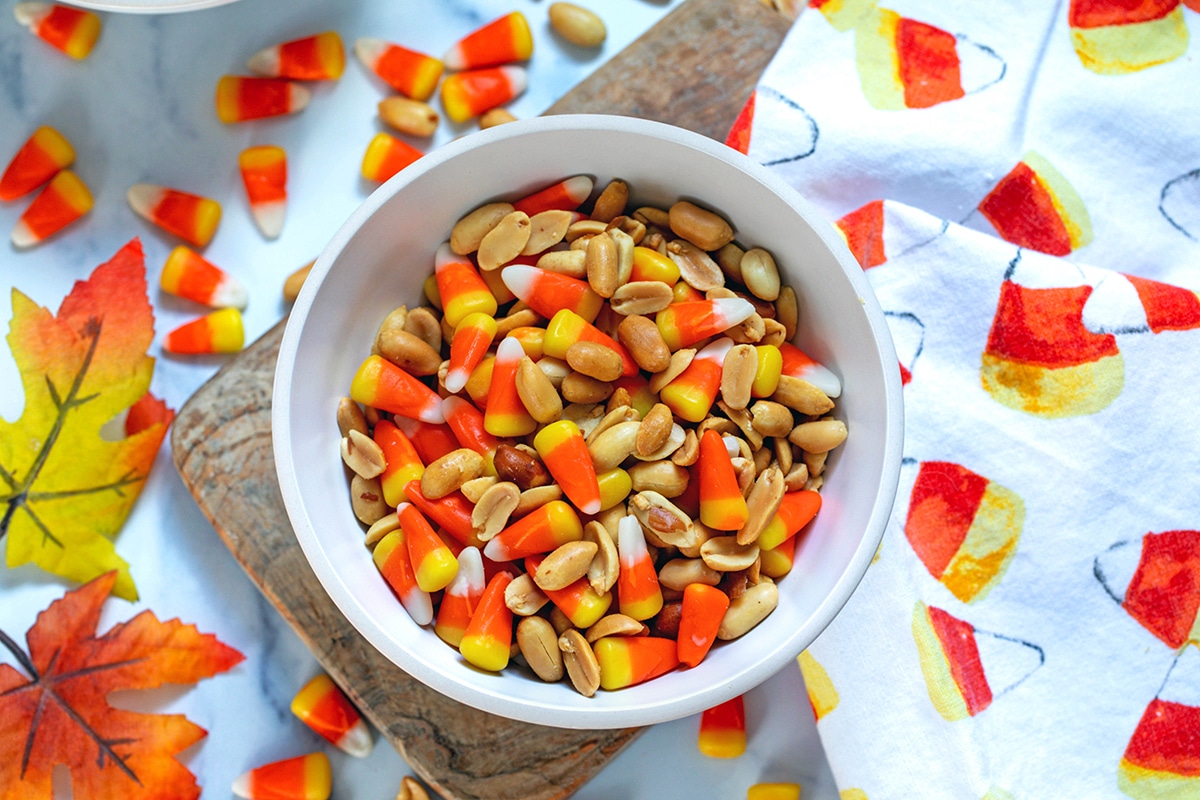 🎉 Variations on recipe
Though I think the candy corn and peanuts combination is totally perfect as is, I also love the idea of using it as a base for all kinds of Halloween snack mixes.
Here are some fun ideas for other ingredients you could add to make this a candy corn party mix:
Chocolate chips: the contrast of the chocolate (especially if you use dark chocolate) is great with the sweet and salty flavors.
White chocolate chips: they add a little too much sweetness for me, but if you love sweet, try adding them in. Peanut butter chips would also be delicious.
Mini marshmallows: I love that they add even more variation in the texture of the mix.
Mini pretzel twists: these will add even more saltiness and crunch.
Pumpkin seeds: for a little more seasonal crunch.
Other nuts: if you like candy corn with peanuts, you might also like it with pistachios, almonds, cashews, or pecans.
Popcorn: add popcorn to turn this into a great movie-watching snack. I also have a fun recipe for Halloween Popcorn you can try.
Cereal of your choice: like Chex, Cheerios, or even Cinnamon Toast Crunch.
Peanut butter or chocolate drizzle: to make this mix even more indulgent.
Autumn mix: traditional candy corn is great, but if you really enjoy it, try adding even more of the flavor with an Autumn Mix or Mellocreme Pumpkins.
👻 More candy corn treats
There are so many fun treats you can make with candy corn, including both desserts and drinks.
Here are some of my favorite candy corn and candy corn-themed recipes:
Even if you're still not a candy corn fan, you have to admit that there's something so fun and festive about the seasonal candy!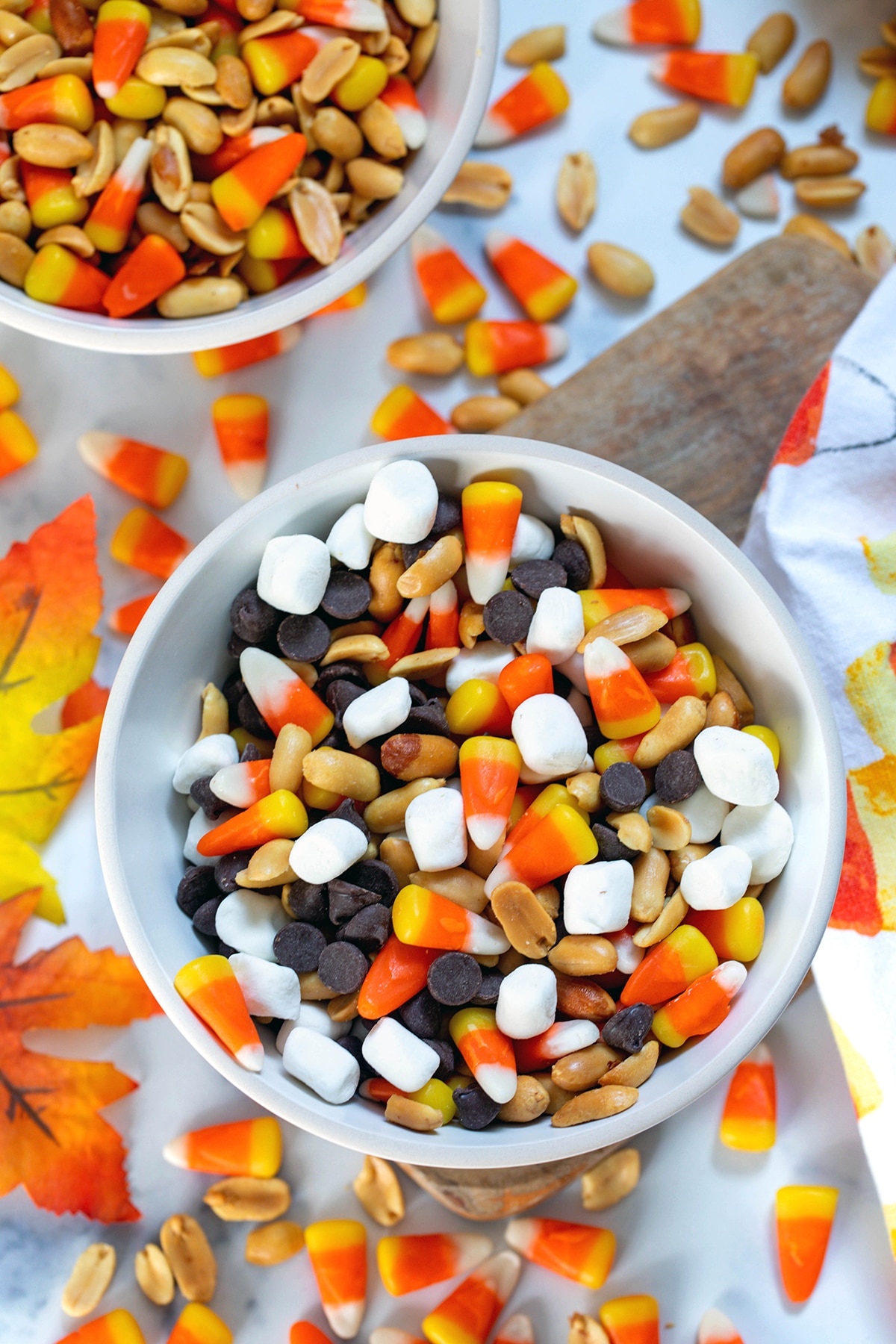 This mix is perfect for serving at Halloween parties (you could even put it in little treat bags and give it out as a party favor) or for simply leaving out around the house for snacking.
Candy corn season is so short and even if it's not your favorite Halloween candy, I urge you to give this sweet and salty snack mix a try!
Could mixing candy corn with peanuts have you loving the candy a little bit more?
📖 Recipe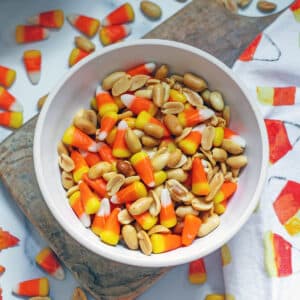 Candy Corn and Peanuts
Whether you're a fan of candy corn or not, you're going to love this easy to mix combination. Candy Corn and Peanuts combine to make a delightfully sweet and salty Halloween treat... It might just change your mind about the controversial candy!
Print
Pin
Rate
Ingredients
1

cup

candy corn

1

cup

salted peanuts
Instructions
Mix candy corn and peanuts in a bowl and serve!

For additional fun and flavor, consider adding chocolate chips, mini marshmallows, mini pretzels, cereal, additional nuts, pumpkin seeds, or the ingredient of your choice.
Notes
Feel free to use the ratio of candy corn and peanuts of your choice.
Share a Photo of Your Finished Recipe!
Mention @wearenotmartha and share a photo if you've made the recipe!