It's been said these Momofuku Milk Bar cookies will send you to rehab. And I can confirm these Cornflake Chocolate Chip Marshmallow Cookies are downright dangerous... But in the best way possible!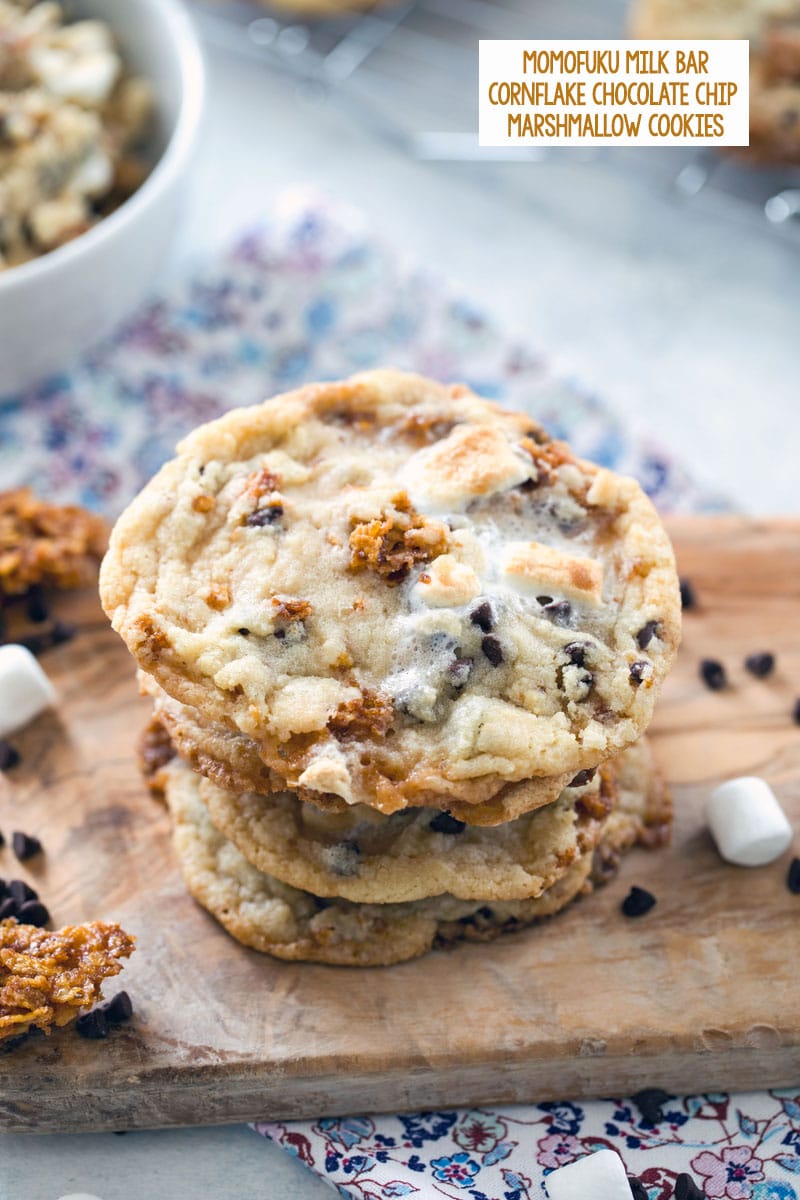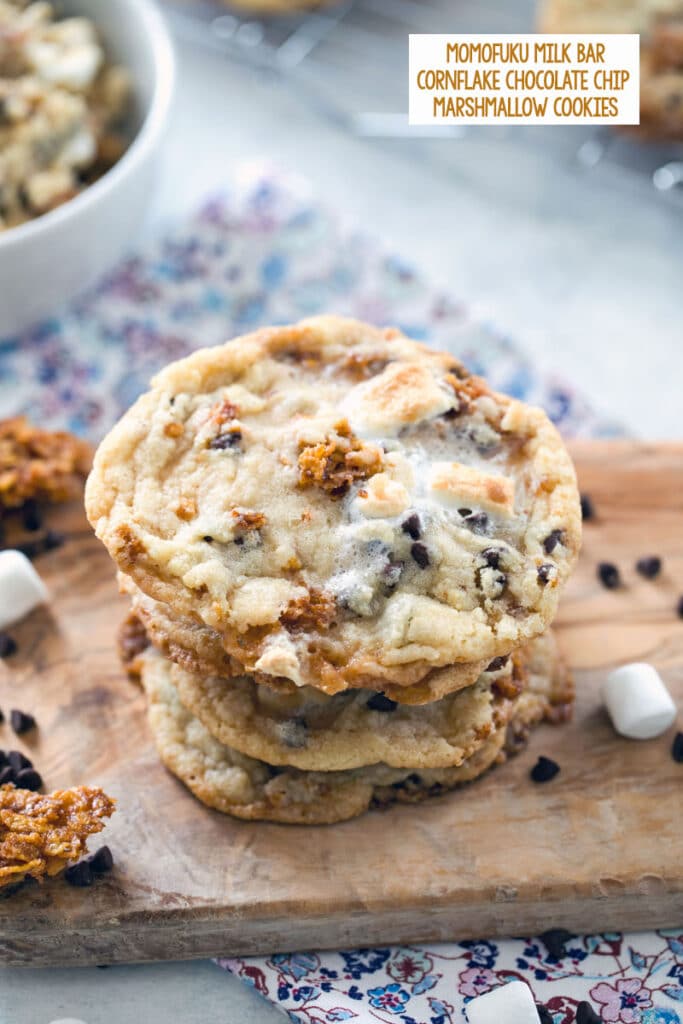 (This recipe for Momofuku Milk Bar Cornflake Chocolate Chip Marshmallow Cookies was originally published in November 2011, but was updated with new photos and content in 2018).
Chels first made these cookies and blogged about them in 2011 after she saw an article in a DailyCandy newsletter called "A Cookie That Will Send You to Rehab" and couldn't resist seeing what that could possible mean (if you're not a longtime reader, I should tell you that Chels co-founded this blog with me way back in the day).
Generally, when I update the photos in older blog posts, I leave the copy mostly alone and simply make cosmetic updates. But then I started editing this post and getting all excited that a Momofuku Milk Bar is going to open in Boston soon and Christina Tosi is on Chef's Table and then I realized this post would be really confusing if I didn't just update the entire thing.
Especially since, sadly, DailyCandy doesn't exist anymore; it shut its doors way back in 2014. I hope this post isn't too belated of a THANK YOU to them for introducing us to these Momofuku Milk Bar cookies and basically sending us straight to heaven Thankfully, we haven't had to go to cookie rehab yet, but I'm sure that will come at some point.
The recipe in that long-ago DailyCandy email was for Momofuku Milk Bar's Cornflake Chip Chocolate Chip Marshmallow Cookies, a cookie which you have likely heard about by now. The Milk Bar cookies aren't difficult to make, but they're definitely a little finicky and the original recipe had to be tweaked a bit by both me and Chels, mainly in regard to baking time.
But after lots of testing, you can be assured that this recipe is a winner! While I still desperately want to get myself to Momofuku Milk Bar, these cookies are a pretty good substitute in the meantime.
MOMOFUKU MILK BAR'S CORNFLAKE CHOCOLATE CHIP MARSHMALLOW COOKIES RECIPE
You'll need to start by making the Cornflake Crunch. It's super easy to make, but let me tell you, I haven't actually bought Cornflakes in ages! Now that I have a large box, I'm going to have to keep making batches of these Momofuku cookies!
I also had to buy malt powder for the Cornflake crunch and now all I want to do is sit on my couch and drink Ovaltine. A hot mug of Ovaltine and one of these cookies is my dream.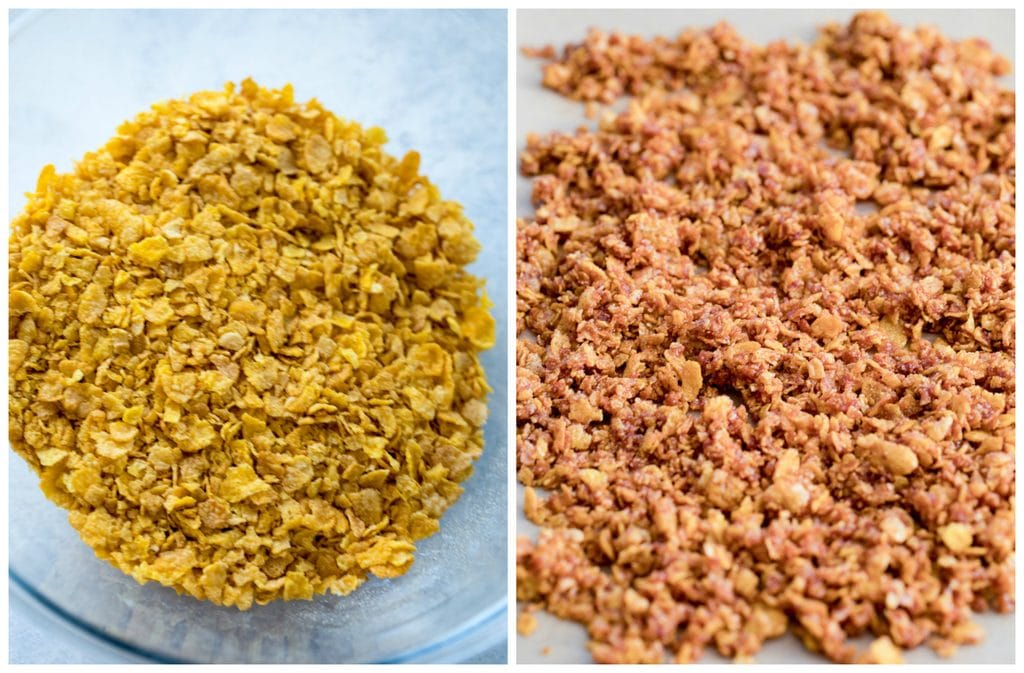 After the Cornflake Crunch has cooled, you can whip up the cookie batter. It's a fairly traditional batter, but it's definitely a buttery one and with a bit of brown sugar included, instead of just granulated. It also packs in the mini marshmallows and chocolate chips.
WHY ADD BROWN SUGAR TO COOKIES?
In case you're wondering, brown sugar is moister than granulated and also slightly acidic, which means you'll get a chewier cookie. A lot of times, I'll experiment with the balance of granulated and brown sugar when making cookies, but for this recipe, I followed the instructions and was happy with the results.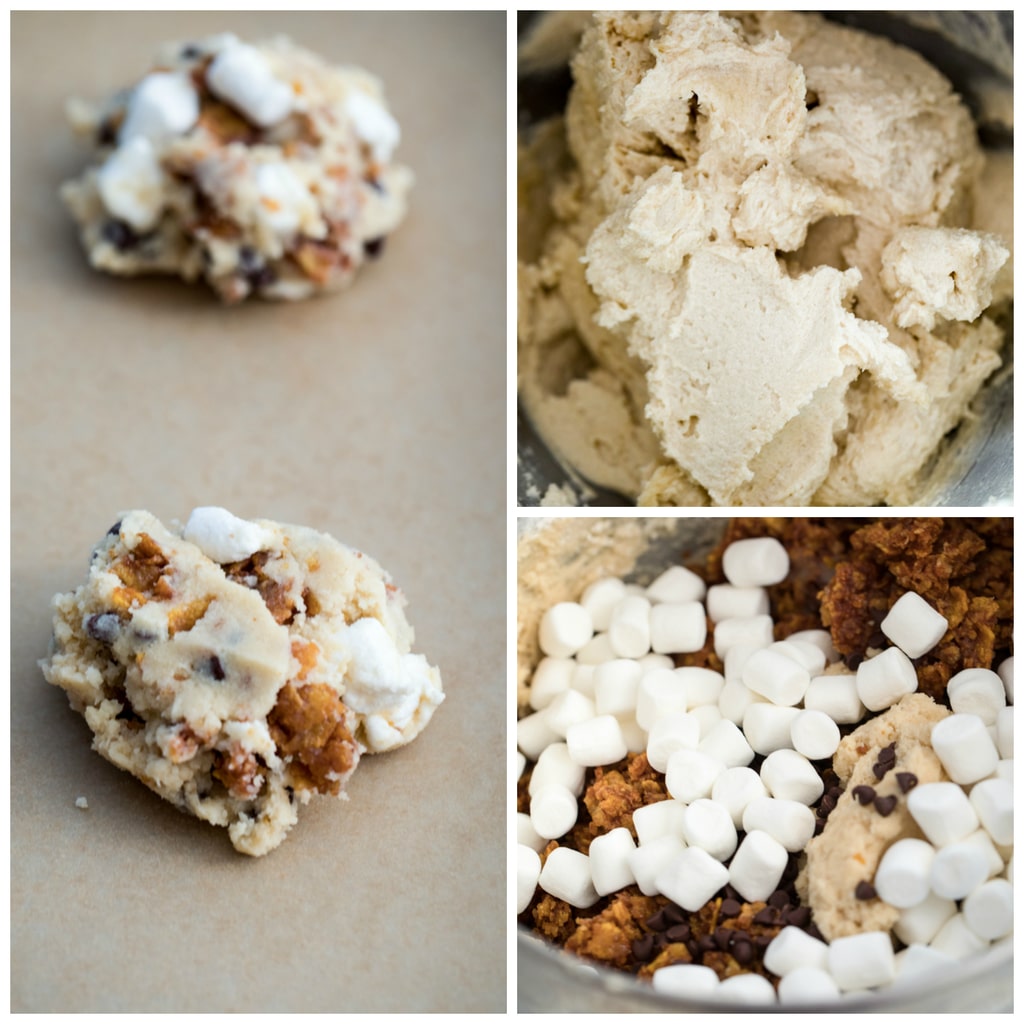 It's 100% necessary that you chill the dough after you form the cookies on the baking sheets. If you don't chill them, the cookies will spread like crazy and be a big mess. The recipe recommends chilling them for at least an hour, but I recommend at least two hours.
I made a couple batches of these and the batch that I kept in the fridge overnight were the best, so feel free to prep the dough the night before you bake these.
HOW LONG TO BAKE MOMOFUKU MILK BAR'S CORNFLAKE COOKIES
The Momofuku Milk Bar cookies recipe recommends baking these for 18 minutes, but whatever you do, don't bake them that long! After 10 minutes, these cookies were DONE.
Even after chilling for hours, they spread quite a bit and if you bake for too long, they will definitely burn and get way too crispy. I believe this has something to do with the Cornflake Crunch in the cookies and the fact that it's so buttery.
With the additional butter, the cookies spread a lot more than they would without. I recommend you check the cookies after 9 minutes and then most definitely remove them by 11 minutes. As you can see in the photo below, some of the cookies developed ridiculously crispy edges (and some didn't) by 11 minutes.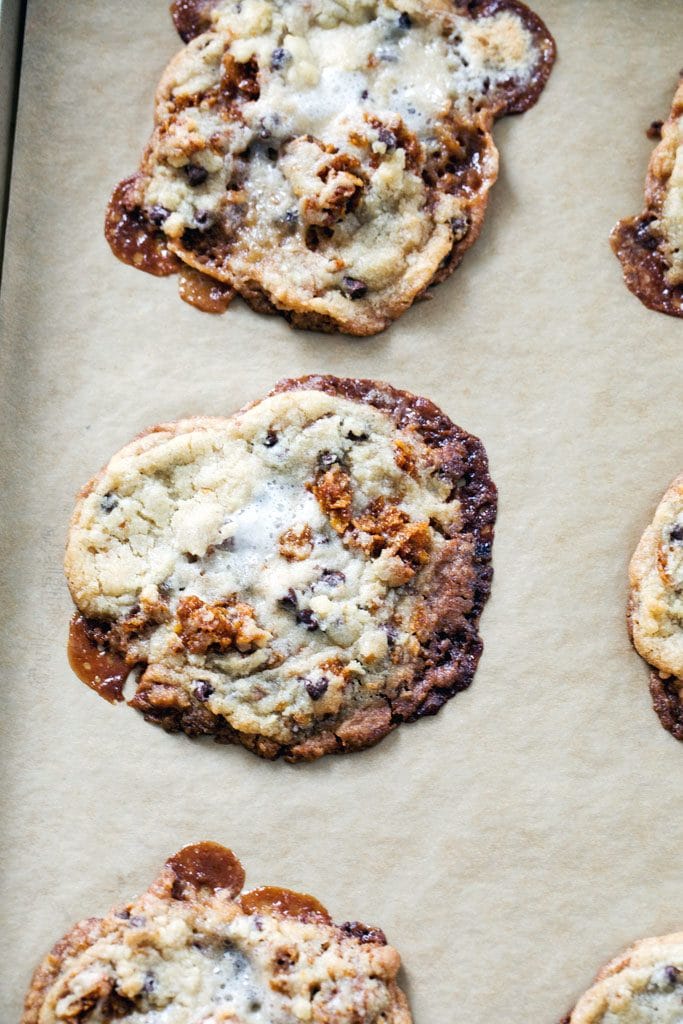 If you want to avoid this altogether, I recommend only using two cups of Cornflake Crunch in the cookies, instead of the recommended three. The cookies that didn't have as many Cornflake Crunch clusters in them definitely had less crispy edges.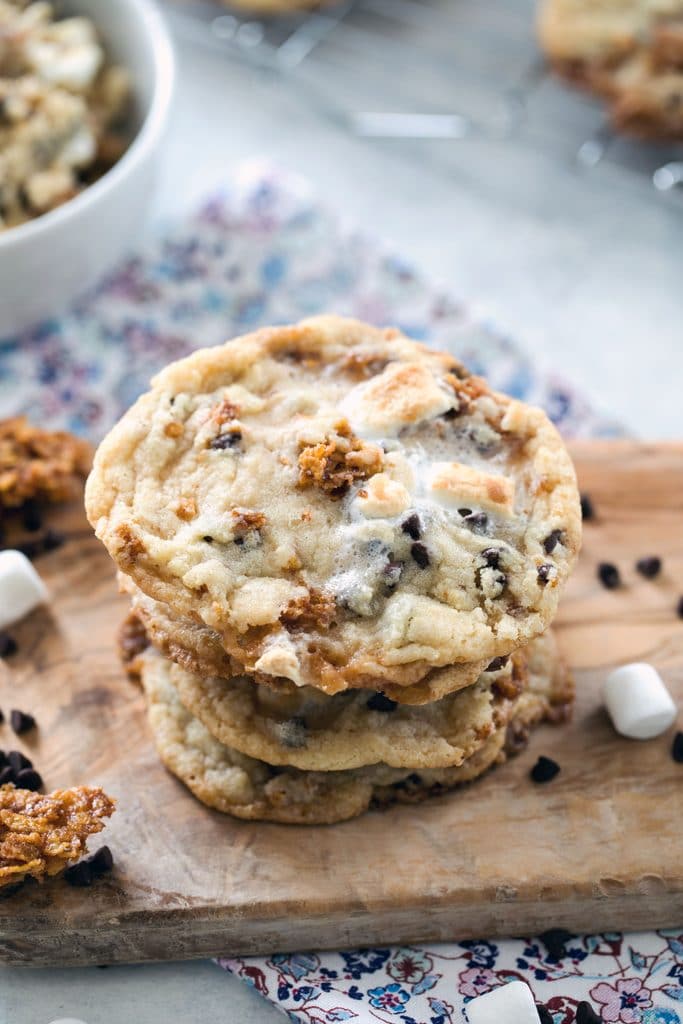 I've never actually had the real Momofuku Milk Bar cookies so, in terms of looks and taste, I don't exactly have anything to compare this to. But no matter how the original cookies taste, I have to say I'm very happy with how these turned out!
These are the kind of cookie should need to forcibly stop yourself from eating because you may get out of control (hence the rehab). They're also the kind of cookies your friends and family will love you for, so I highly recommend baking these for every party you're invited to in the future.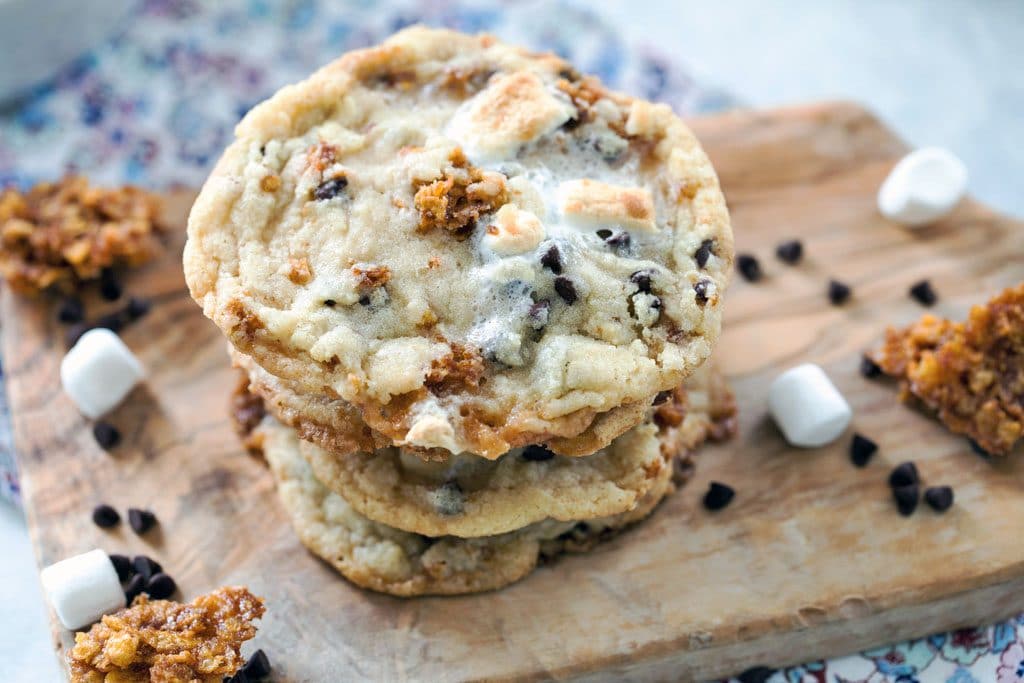 Now that I'm updating this post, I'm excited to say that I heard a Milk Bar will be opening in Boston sometime soon and I am CRAZY excited. Have you guys been?? Am I going to want to try one of everything the first time I go?? Am I going to want to drive into Boston every single day and make Milk Bar my new remote work space?
Also, am I going to gain one billion pounds?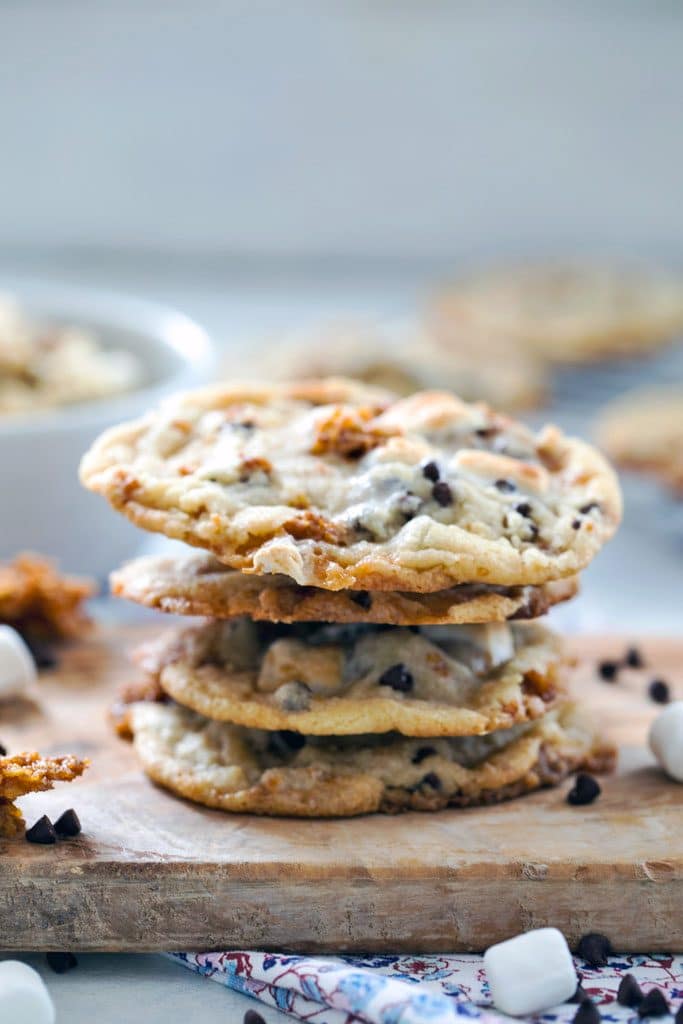 All valid questions and all things I am 100% OK with. I will probably order these Milk Bar cookies once for comparison sake, but then I will sample everything else and then go home and make these again.
I especially want to try that funfetti crumb birthday cake you've probably seen everywhere (OK, maybe I mainly want to Instagram it). While I'm waiting for Milk Bar to open near me, I'm a) going to purchase Christina Tosi's Milk Bar cookbook [affiliate link] and b) Going to watch Christina Tosi on the new pastry-themed season of Chef's Table. I want her brain. Sorry, I hope that's not creepy.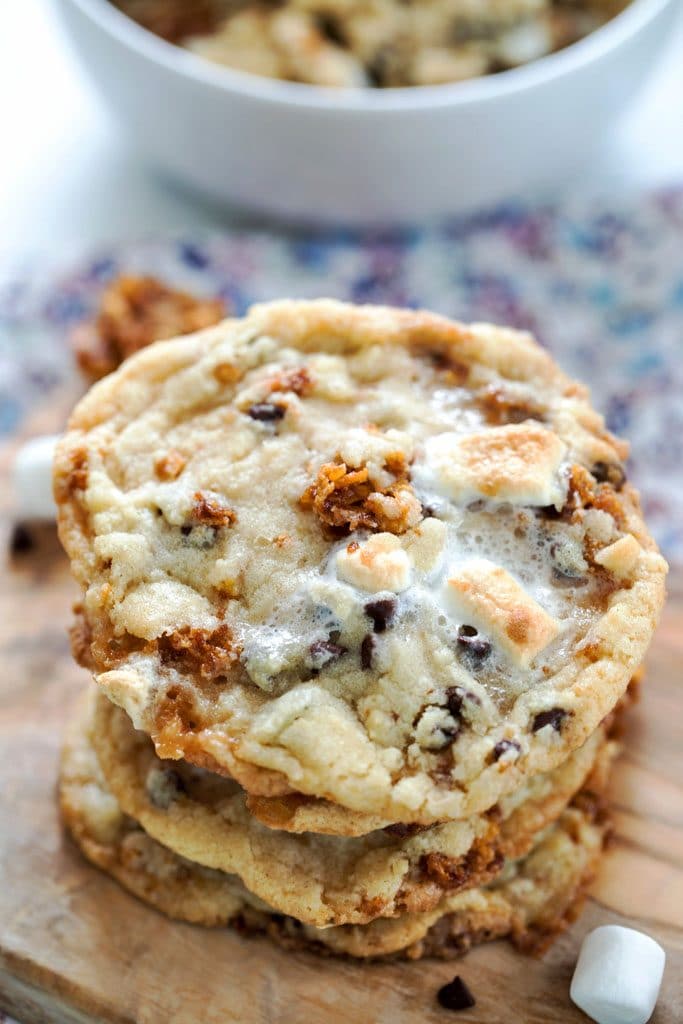 But for now, I have her cookies and I guess that's going to have to be good enough. But do you think she'll pay for my rehab??
What kind of cookies are you most addicted to?
If you're looking for more delicious cookie recipes, check out my Mexican Chocolate Cookies and my Strawberry Lemonade Shortbread Cookies. And for a delicious take on the Momofuku birthday cake, check out this recipe from Eva Bakes!
And if you're looking for a holiday version of these cornflake cookies, check out my recipe for Milk Bar's Cornflake Chocolate Chip Candy Cane Cookies!
📖 Recipe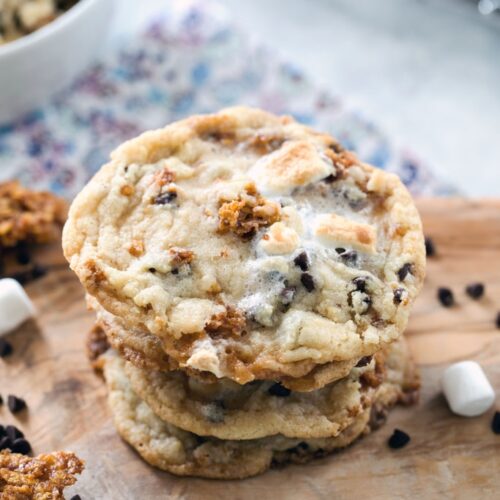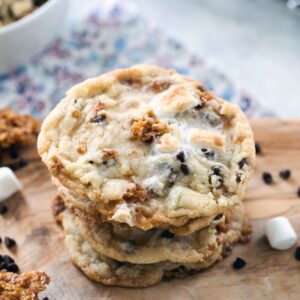 Momofuku Milk Bars Cornflake Chip Marshmallow Cookies
It's been said these Momofuku Milk Bar cookies will send you to rehab. And I can confirm these Cornflake Chip Marshmallow Cookies are downright dangerous... But in the best way possible!
Print
Pin
Rate
Ingredients
1

cup (2 sticks)

unsalted butter,

room temperature

1 ¼

cups

granulated sugar

⅔

cup

light brown sugar,

packed

1

large egg

½

tsp

vanilla extract

1 ½

cups

all-purpose flour

½

tsp

baking powder

½

tsp

baking soda

1 ½

tsp

salt

3

cups

Cornflake Crunch

(recipe below)

⅔

cup

mini chocolate chips

1 ¼

cups

mini marshmallows
Cornflake Crunch
5

cups

Cornflakes

½

cup

malted milk powder

3

Tbsp

granulated sugar

1

tsp

salt

9

Tbsp (1 stick, plus 1 Tbsp)

unsalted butter,

melted
Instructions
Line a baking sheet (or two) with parchment paper.

In the bowl of an electric mixer or in a large bowl with a hand mixer, combine butter and both sugars and cream togeher for 2-3 minutes. Scrape the side of the bowl and add the egg and vanilla. Continue mixing for about 7 minutes.

Bring the speed of the mixer to low and add the flour, baking powder, baking soda, and salt. Mix until just combined, taking care not to over-mix.

Keeping mixer on low speed, add the Cornflake Crunch and chocolate chips and mix until just combined. Fold in marshmallows.

Using a 2-oz cookie or ice cream scoop, scoop about ⅓ cup of dough onto prepared cookie sheet, leaving about 4 inches of space between each scoop. With your palm, pat the tops of the dough flat.

Wrap cookie sheet tightly with plastic wrap and place in fridge for at least 2 hours and up to a week.

When dough is chilled and ready to be baked, pre-heat oven to 375 degrees. Bake cookies for 9-10 minutes, until the cookies are just beginning to brown. Cool completely on pan before moving to an airtight container.
Cornflake Crunch
Pre-heat oven to 275 degrees.

In a large bowl, using your hands, crunch the cornflakes into small pieces. Combine malted milk powder, sugar, and salt with the cornflakes. Add the butter and toss so the cornflakes are coated. Small clusters will form.

Spread the cornflake clusters on a baking sheet lined with parchment paper and bake for about 20 minutes until they are getting crunchy. Let cool completely before using in the cookies. This can also be made ahead of time and stored in an airtight container. You will have leftover Cornflake Crunch if making one batch of the Milk Bar cookies.

Notes
Recipe adapted from Christina Tosi's Momofuku Milk Bar, via DailyCandy
It's imperative that you let the cookie dough chill before you bake the cookies. Even chilled, the cookies spread a lot and if baked at room temperature, they will be a hot mess.
The original recipe recommends baking cookies for 18 minutes, but in my experience, this was way too long. Cookies should only need 9 or 10 minutes before getting crispy.
If you want your cookies to spread a little less and have less crispy edges, I recommend using two cups of Cornflake Crunch in your batter instead of three cups.
Share a Photo of Your Finished Recipe!
Mention @wearenotmartha and share a photo if you've made the recipe!