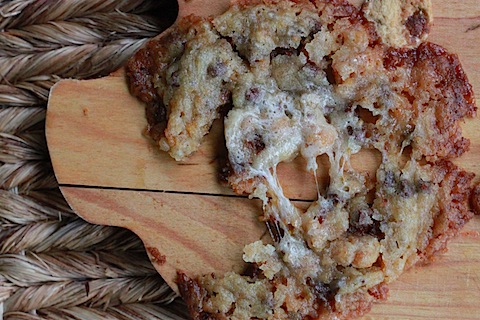 Every morning when my alarm clock goes off, I lay in bed and check my email on my phone. And every morning I have the same conversation with myself about needing to unsubscribe from almost every email I receive. My morning routine would probably be a lot faster if I didn't spend so much time deleting pointless emails when I could be, you know, showering or eating breakfast. But then again, had I unsubscribed from my DailyCandy subscription, I wouldn't have received the email they sent a couple weeks ago titled "A Cookie That Will Send You to Rehab". Say whaaaat?! I needed to know more. So, naturally, I spent another 5 minutes in bed reading all about said cookie.
Turns out it was the recipe for Momofuku Milk Bar's Cornflake Chocolate Chip Marshmallow Cookie. I've heard lots about these cookies. Jimmy Fallon was even talking about them on his show last night. I've tried to stay away. But when an email with a title like that gets tossed in your inbox, calling your name, it's as if a higher power is telling you to just bake them and enjoy them and all of their buttery goodness. So that's what I did.
Momofuku Milk Bar's Chocolate Chip Marshmallow Cookies (makes 15-20 cookies)
Adapted from Momofuku Milk Bar
Print this Recipe!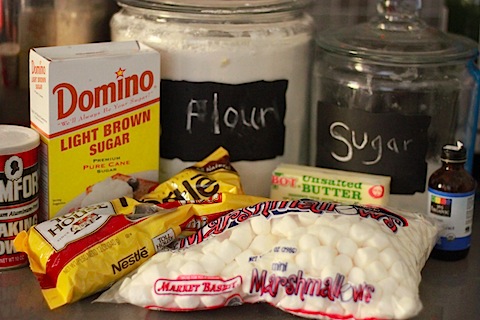 • 16 tablespoons (2 sticks) room-temp butter
• 1 1/4 cups granulated sugar
• 2/3 cup light brown sugar, packed
• 1 egg
• 1/2 teaspoon vanilla extract
• 1 1/2 cups flour
• 1/2 teaspoon baking powder
• 1/2 teaspoon baking soda
• 1 1/2 teaspoons salt
• 3 cups Cornflake Crunch (recipe below)
• 2/3 cup mini chocolate chips
• 1 1/4 cups mini marshmallows
Cornflake Crunch Recipe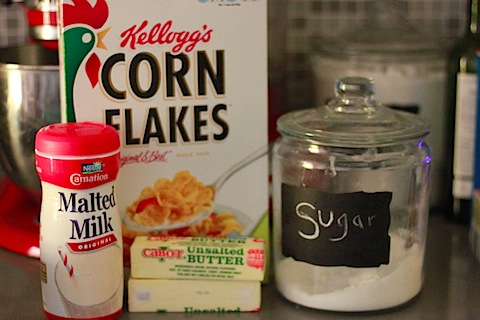 • 5 cups cornflakes
• 1/2 cup milk powder/malted milk
• 3 tablespoons sugar
• 1 teaspoon salt
• 9 tablespoons butter, melted
Heat oven to 275 degrees.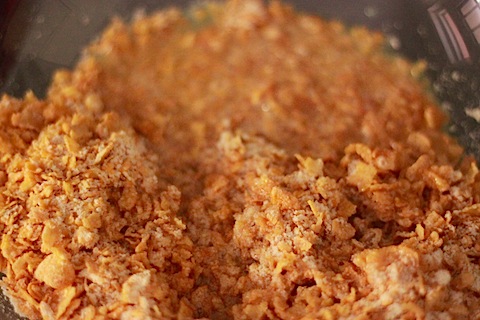 In a large bowl, using your hands, crunch the cornflakes into small pieces. Combine milk powder, sugar, and salt with the cornflakes. Add the butter and toss so the cornflakes are coated.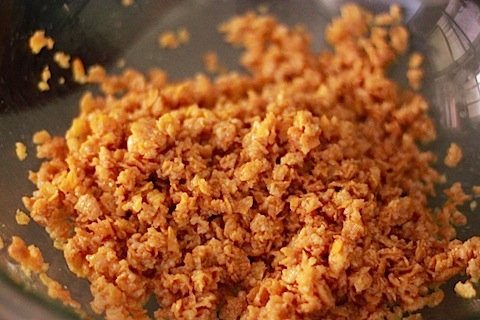 When the butter melts it binds the pieces of cereal and forms small clusters.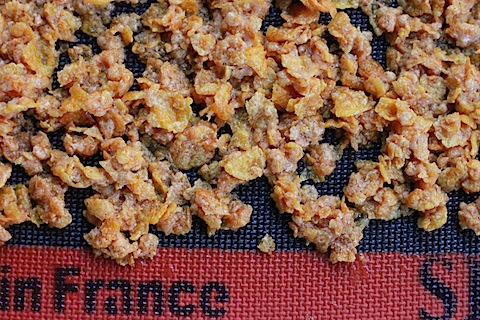 (before baking)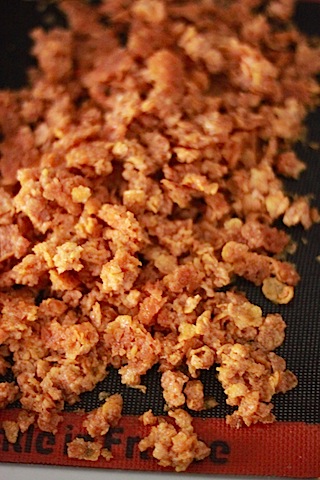 (after baking)
Spread the cornflake clusters on a baking sheet lined with parchment paper or Silpat and bake for about 20 minutes until they are a bit crunchy. Let cool completely before using in the cookies. This can also be made ahead of time and stored in an airtight container.
The Cookies
When the cornflake crunch has cooled, you can begin to prep the cookie dough.
In the bowl of an electric mixer, combine the butter and both sugars and cream for 2-3 minutes. Scrape the side of the bowl and add the egg and vanilla. Continue mixing for about 7 minutes.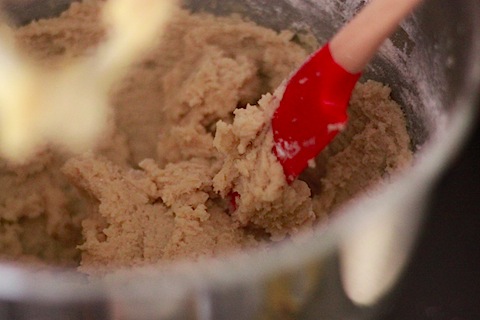 Bring the speed of the mixer to low and add the flour, baking powder, baking soda, and salt. Quickly mix. You're just briefly combining these ingredients so don't over-mix here.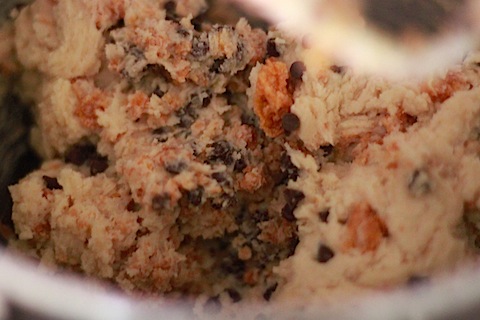 Continue on a low speed and add the cornflake crunch and chocolate chips, about 45 seconds.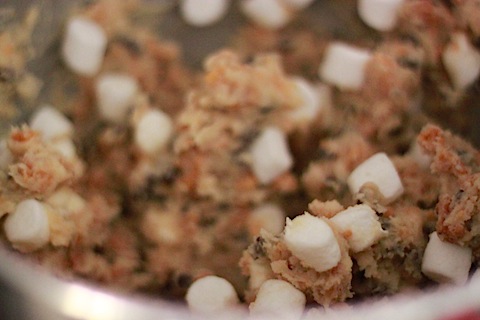 Then quickly mix to incorporate the marshmallows.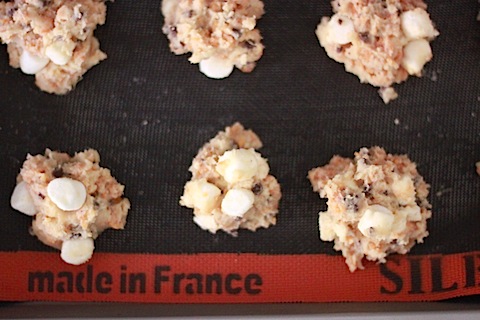 Using an ice cream scoop, place the dough on a parchment lined baking sheet or Silpat. Make sure to leave a good amount of space, about 4 inches, between each cookie. I ended up rearranging the cookie sheet above when I realized they were a bit too close to each other 😉 Once the cookies are arranged, cover with plastic wrap and place in the fridge to chill for a minimum of an hour, maximum of one week. When the dough is chilled, the recipe suggests baking for 18 minutes at 375 degrees.
So, this is where things got interesting. Well, for starters, I could only fit about 6 cookies on a sheet so I had to bake them in several batches, which ended up working out better because I could tell after the first batch that they didn't chill in the fridge long enough. If the dough is too close to room temperature when they're placed in the oven, the cookies won't hold their shape. They just run right into each other resulting in a very flat and hard cookie, even in the center. See below: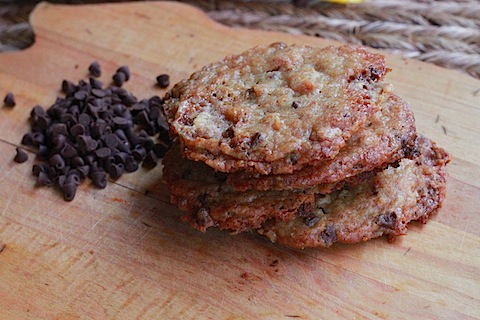 I decided to prepare another cookie sheet with the remaining dough but instead of placing it in the fridge, I put it in the freezer for two days. When I was ready to bake them, I set the oven to 375 but instead of baking for 18 minutes I set the timer for 10 minutes, just so I could check on them. When the 10 minutes was up the cookies actually looked wonderful, so I took them out of the oven and let them cool a bit on their own. They were still flat cookies (I might even try baking them for 8 minutes next time just to see how they come out), but the centers were also nice and soft, plenty gooey, buttery beyond belief, and definitely addicting. I mean, I've had plenty of chocolate chip cookies in my day, but the cornflake crunch in this takes the chocolate chip cookie to an entirely different level. It's like a syrupy, sticky, crunchy treat. That definitely requires a napkin or two. Did I mention how much butter is in these? 😉
I've never had the real Momofuku cookie so, in terms of looks, I don't exactly have anything to compare this to. But I'm thinking mine turned out well since I hear the real thing is pretty wonderful. The next time I'm in NYC I'm going to pay the bakery a visit for "comparison sake", or something like that.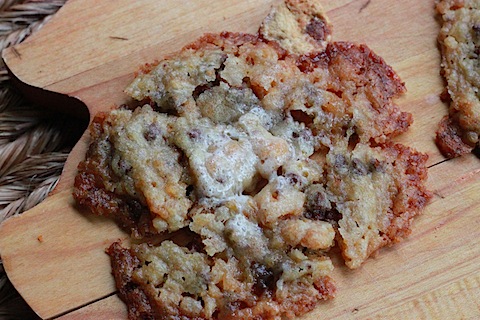 If you're looking for a unique twist on a traditional dessert for Thanksgiving I'm thinking this cookie might do the trick. Plus, it's a great way to get everyone in your family oo'ing and ahh'ing over you for being such a fantastic baker. 😉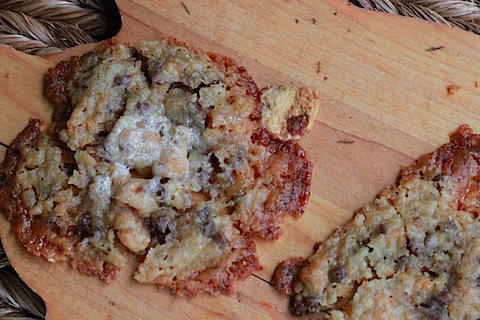 After baking these cookies I've decided I'm also adding Christina Tosi's new Momofuku Milk Bar cookbook to my Christmas list this year. And I don't even make Christmas lists anymore. But I'm thinking this book needs to be added to the collection almost immediately!
[Chels]