This Spicy Roasted Tomato Soup with Quinoa and Feta was inspired by Panera's tomato soup, but is taken to a new level with a little bit of spiciness, satisfying protein from quinoa, and extra delicious flavor from feta cheese.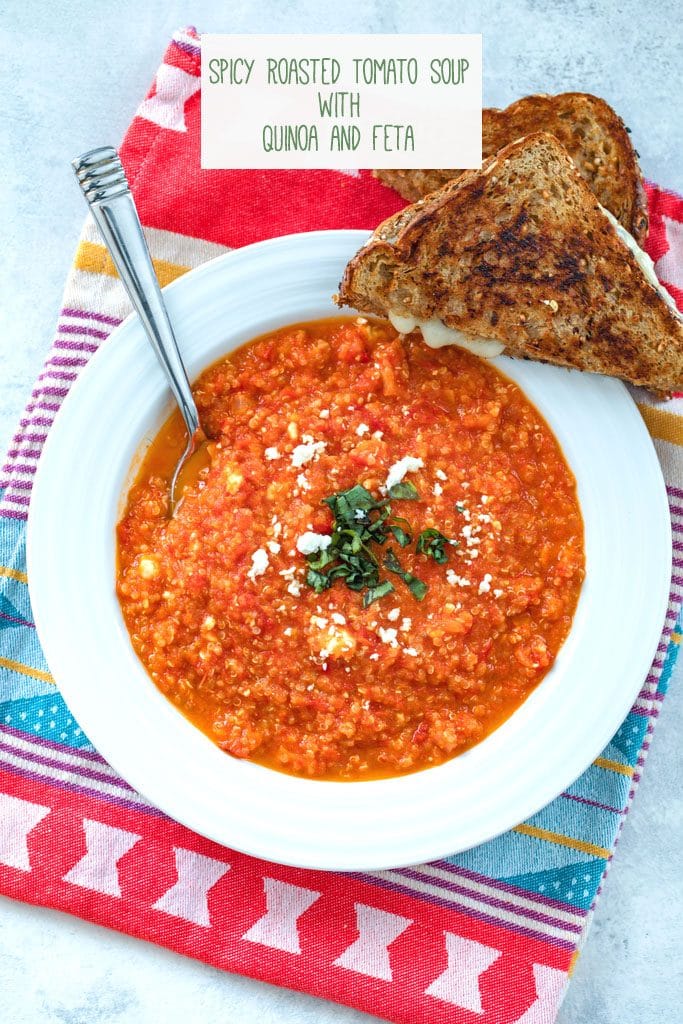 (This recipe for Spicy Roasted Tomato Soup with Quinoa and Feta was originally published in December 2012, but was updated with new photos in 2018).
I'm like 50% a soup girl and 50% not a soup girl at all. I think I often like it more in theory than I do in actual reality. I love making it and I often enjoy eating it... Butttt I also want a loaf of bread to go along with it. That's one thing I love about Panera Bread. There. is. always. bread. Always. I mean, bread is in the freaking restaurant name. I can order my favorite creamy tomato soup there and also get a giant piece of bread (and half a sandwich or half a salad) and I leave totally satisfied. But does that totally defeat the purpose of having soup for a meal?? Possibly. Ask me if I care.
The key to making a soup that you don't need to pair with a loaf of bread is to pack it with all sorts of delicious ingredients that are totally satisfying on their own. Meet this spicy tomato soup. Or rather, spicy ROASTED tomato soup. It's much better than your basic roasted tomato soup because it's also packed with quinoa and feta cheese. Quinoa loads you up on protein and feta cheese is just plain delicious. OK, I'll admit I may have served this soup with a side of grilled cheese sandwich (the photos can't lie!), but that was before I realized how much this tomato soup hits the spot is all on its own.
SPICY ROASTED TOMATO SOUP WITH QUINOA AND FETA
OK, so let's talk about what is involved in this spicy tomato soup! I chose habanero pepper for spice, quinoa for protein and carbs, and feta cheese for deliciousness. I contemplated bacon, but thought that might be taking it one step too far. Not that I'm against going a few steps too far, but I tried my best to keep myself reigned in. You're welcome. Or I'm sorry. I'm not sure which yet.
You'll need to start by roasting the tomatoes and garlic in the oven. Yes, you can make tomato soup without roasting tomatoes, but once you have roasted tomato soup, I don't think you'll ever want to go back!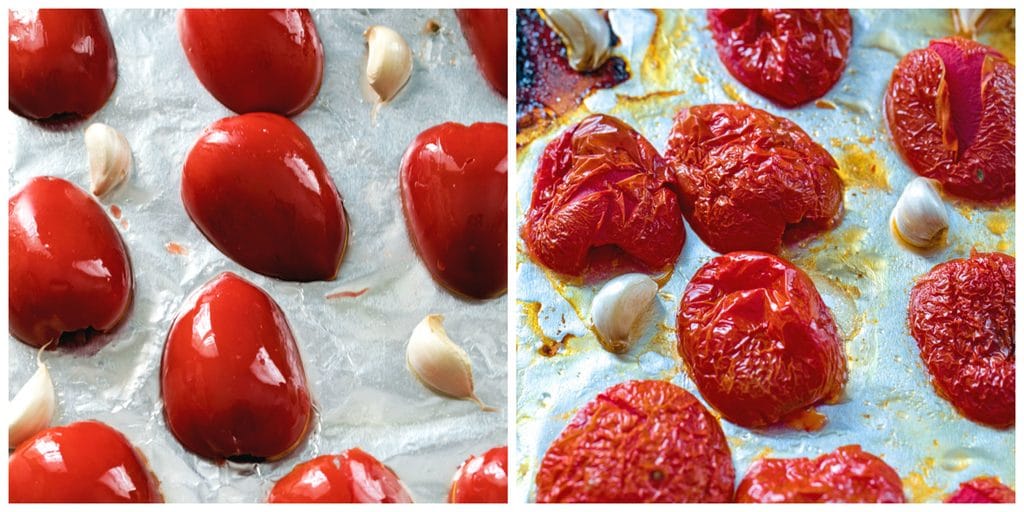 After cooking onions and habanero peppers in a stockpot, you'll add in those beautiful roasted tomatoes and garlic.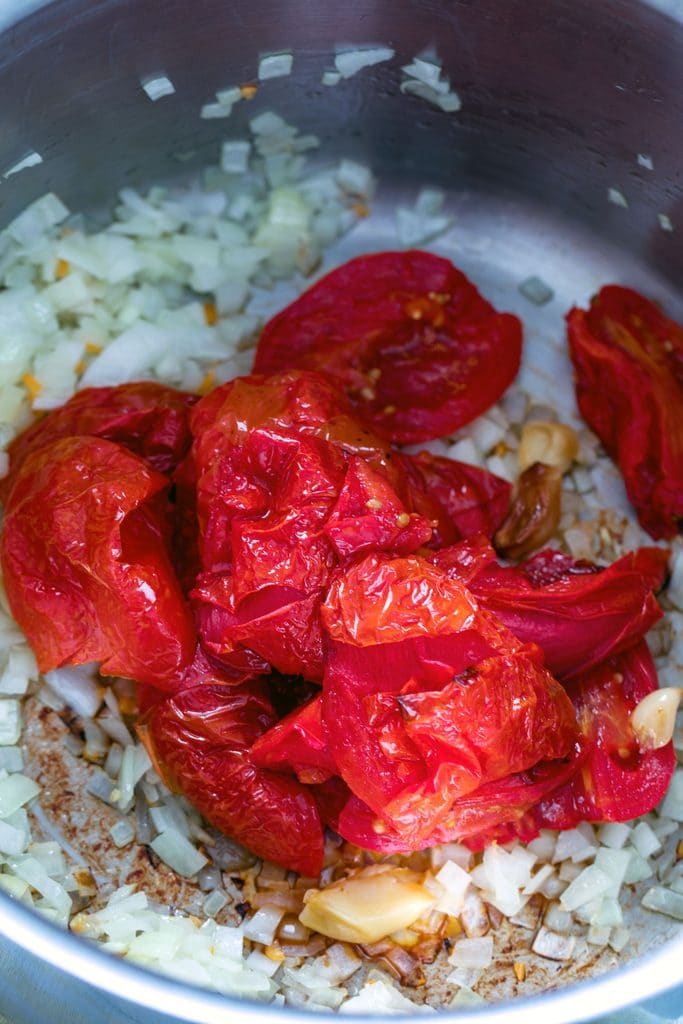 And then the vegetable broth and a tiny bit of sugar.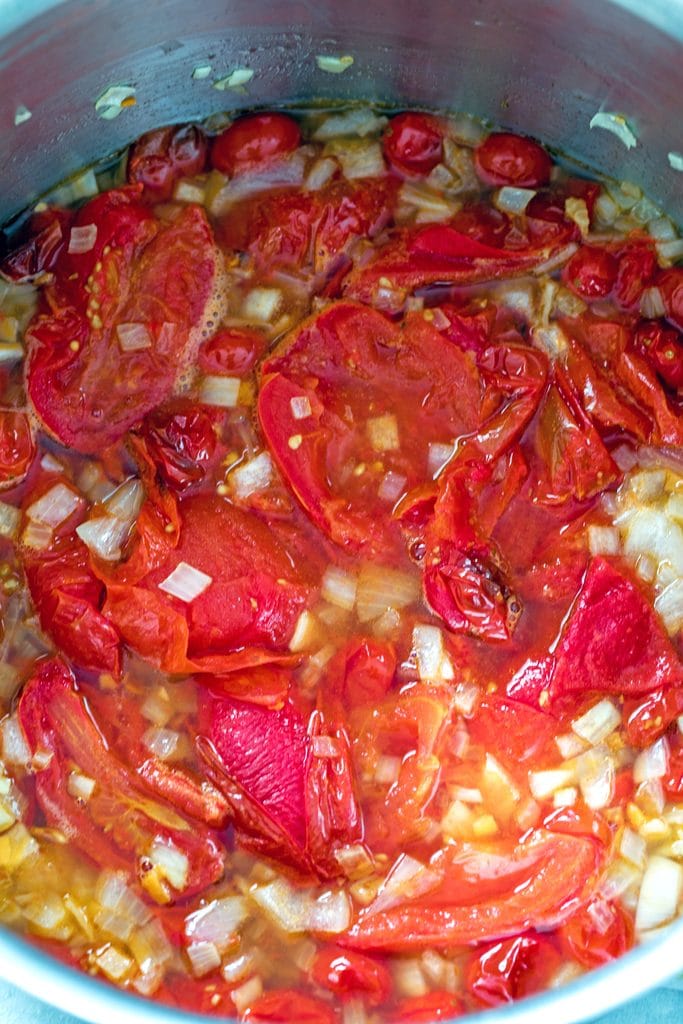 Using an immersion blender (or transferring it to a blender), puree it until it's nice and smooth. And then mix in the quinoa and feta.
Soup's on! And my kitchen smelled heavenly at this point. I served the spicy tomato soup with a little basil and some more feta cheese sprinkled over the top. And yes, a grilled cheese sandwich. Again, totally not necessary!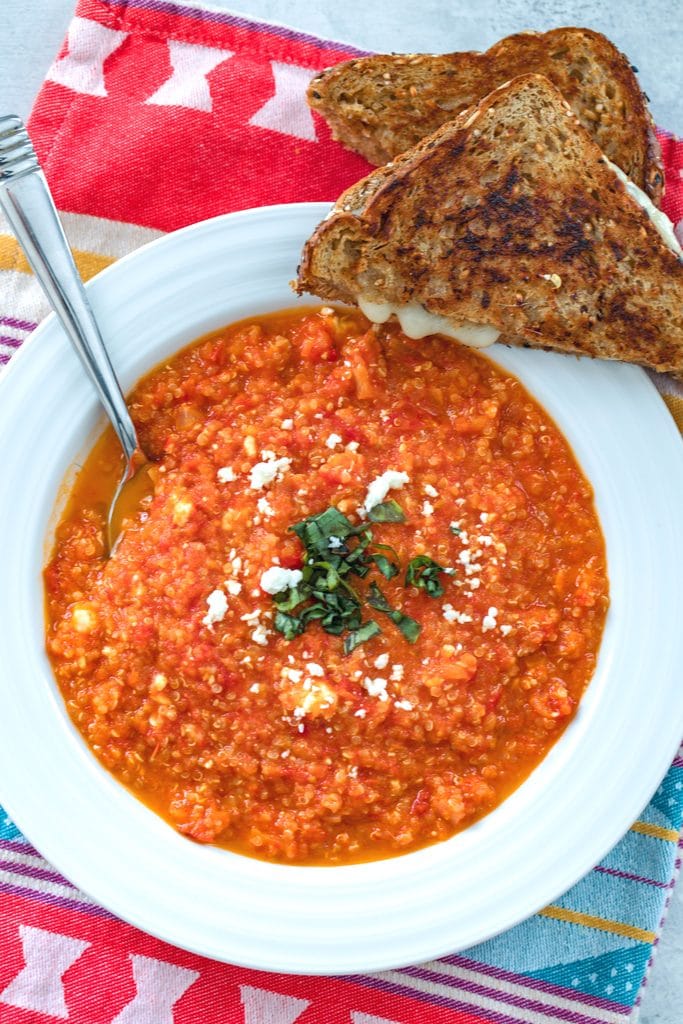 Because I added the protein with the quinoa and a little bit of cheesy goodness, this soup was totally satisfying all on its own. It made for a fabulous dinner, but I also enjoyed it for leftovers for a couple days after.
Quinoa in soup is my new favorite idea ever. So is habanero pepper. You know I love a spicy kick and this one was subtle, but definitely present. The roasted flavor of the tomatoes also came through really well.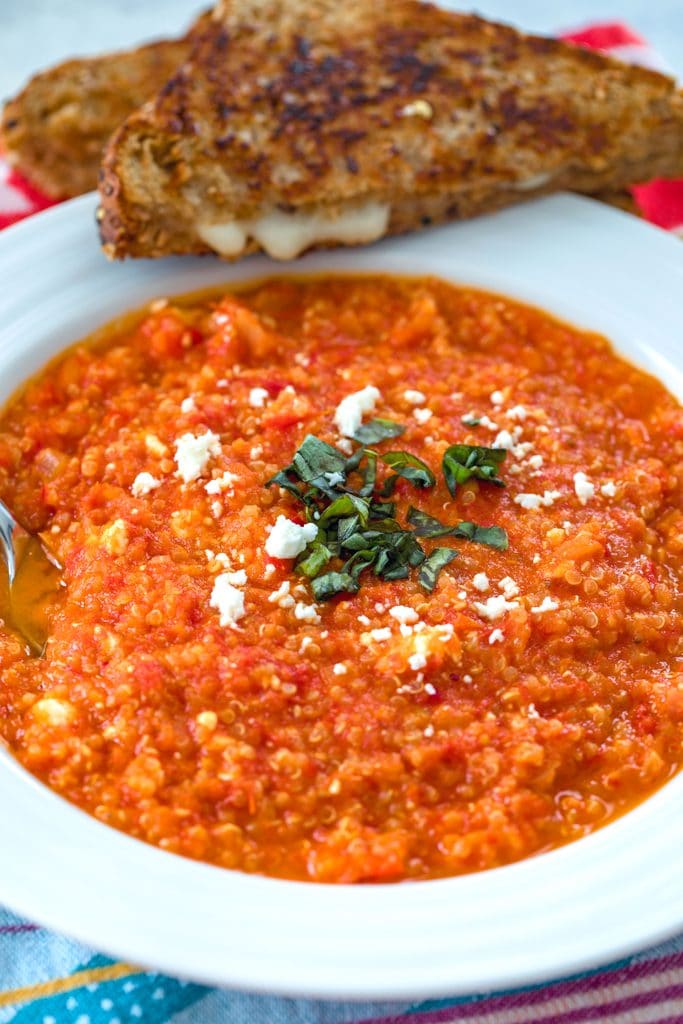 There's really no bad time of year for tomato soup, but I actually think September is one of the best months for it. That's because fresh garden tomatoes are still in season and it's starting to get just a little bit cool out; enough to make you start craving soup. But since it's still summer/early fall, you want to keep things semi-light and not go full on comfort food just yet. Roasted tomato soup with quinoa is the perfect solution!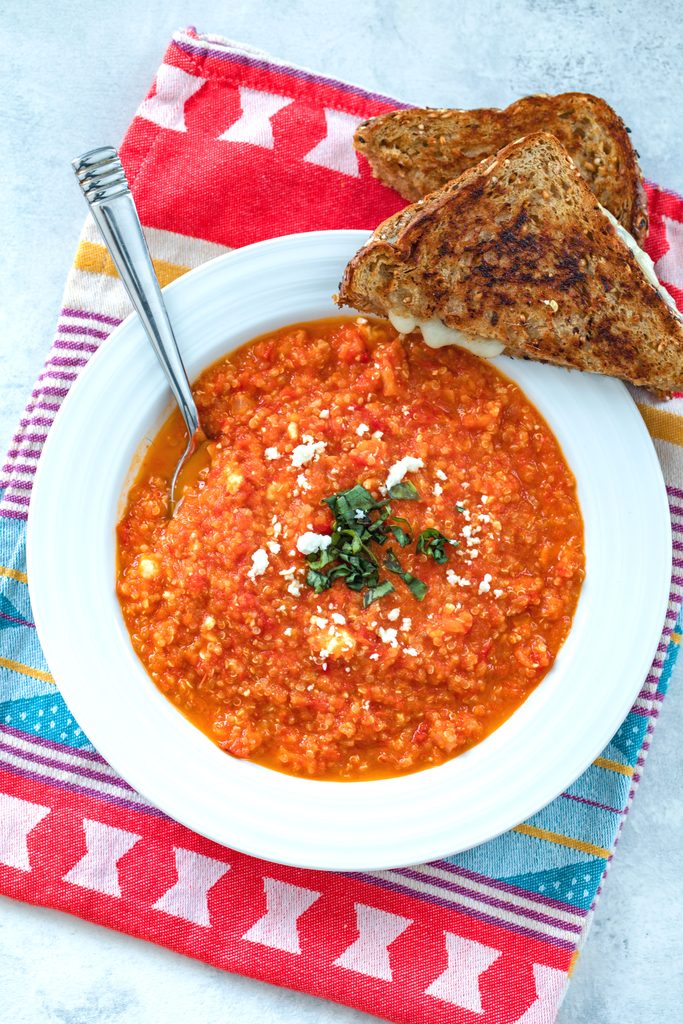 I'm pretty sure this soup pushes me toward being more like 90% a soup girl. That remaining 10% of me will forever be a loaf of bread (or at least a grilled cheese sandwich) girl.
Are you a soup person?
If you're looking for more delicious soup recipes, check out my Chilled Mexican Corn Bisque with Shrimp or my Chipotle Butternut Squash Soup (with Grilled Cheese Croutons!!). I'm also obsessed with this Bloody Mary Gazpacho from The View from the Great Island!
📖 Recipe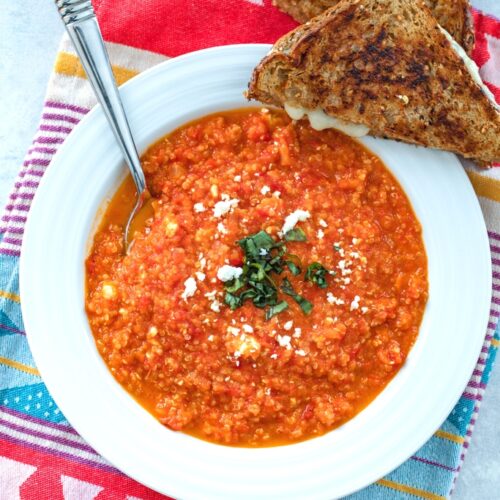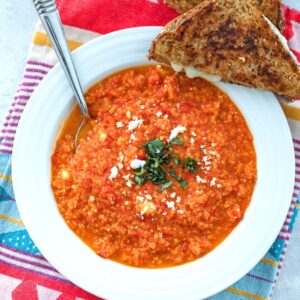 Spicy Roasted Tomato Soup with Quinoa and Feta
This Spicy Roasted Tomato Soup with Quinoa and Feta was inspired by Panera's tomato soup, but is taken to a new level with a little bit of spiciness, satisfying protein from quinoa, and extra delicious flavor from feta cheese.
Print
Pin
Rate
Ingredients
2 ½

lbs.

plum tomatoes,

cored and halved lengthwise

5

cloves

garlic,

still in peel

Olive oil

1

medium onion,

chopped

1

habanero pepper,

chopped

1

tsp

granulated sugar

2

cups

vegetable broth

1

cup

cooked quinoa

¾

cup

crumbled feta cheese,

plus more for serving if desired

Small bunch

basil
Instructions
Pre-heat oven to 400 degrees.

Place halved tomatoes and garlic in peel on a foil-covered baking sheet lightly brushed with olive oil. Lightly brush a little bit more olive oil over tomatoes and garlic. Roast for about 40 minutes, until the tomatoes are getting wrinkled.

Put onion and habanero in a large stockpot with 1 Tbsp olive oil. Sauté for about 5 minutes, until onion is translucent.


Remove peels from garlic and add garlic and tomatoes to stockpot. Add vegetable stock and sugar to stock pot, as well.

Using an immersion blender, blend until soup is smooth. Alternatively, you can put the soup in a blender and puree until smooth.

Let soup simmer for about 20 minutes, until thickened. Mix in quinoa and feta cheese.

Serve and top with basil and additional feta cheese, if desired.
Share a Photo of Your Finished Recipe!
Mention @wearenotmartha and share a photo if you've made the recipe!