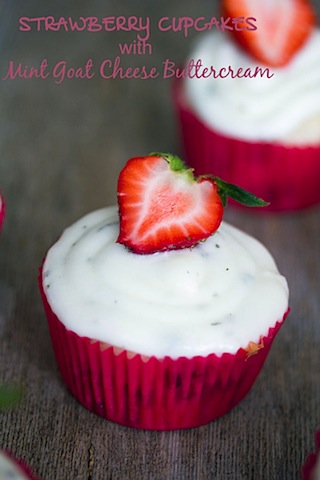 I think we all need some cupcakes to start this week off. I know I do. Cupcakes that involve all sorts of comfort, in the form of seasonal strawberries, mint, and creamy goat cheese. Oh… like these ones, you mean? I make it my yearly goal to buy as many strawberries as possible during strawberry season and while I eat most of them all by their lonesomes, I also like to cook and bake my little heart out. Because what's better than a bright red juicy strawberry? Probably the only thing better is bright red juicy strawberries IN cupcakes. In more than one way. But maybe goat cheese buttercream is better than that. Ugh I'm confused and am not good at making decisions like this.
Let's just say this is a cupcake that is sure to brighten your day in more than one way. And it may even have you considering what other types of cheese can be made into frostings. Hint: there probably aren't too many, so maybe be careful. But goat cheese? Goat cheese is definitely a winner.
Strawberry Cupcakes with Mint Goat Cheese Buttercream (makes a dozen):
Print this recipe!
6 T butter, room temperature
3/4 C sugar
1 1/3 C all-purpose flour
1 1/2 t baking powder
1/2 t salt
1/2 C milk
1/2 T vanilla
3 egg whites
1 C chopped strawberries
1 batch strawberry filling (see recipe below)
1 batch mint goat cheese buttercream (see recipe below)
(pre-heat oven to 350 degrees)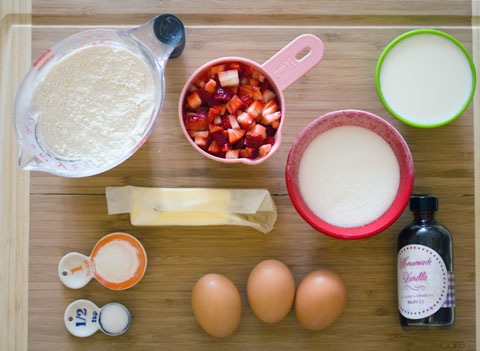 Strawberry Filling (makes enough for 12 cupcakes):
Print this recipe!
1 C chopped strawberries
1/4 C sugar
1 t corn starch
2 T lemon juice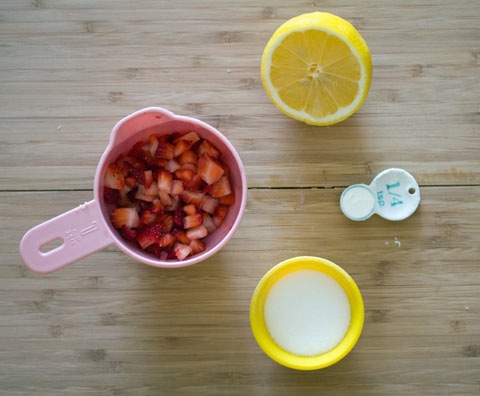 Mint Goat Cheese Buttercream (makes enough for 12-18 cupcakes):
Print this recipe!
1 stick butter, room temperature
6 oz. goat cheese, room temperature
2 C confectioner sugar
1 T finely chopped mint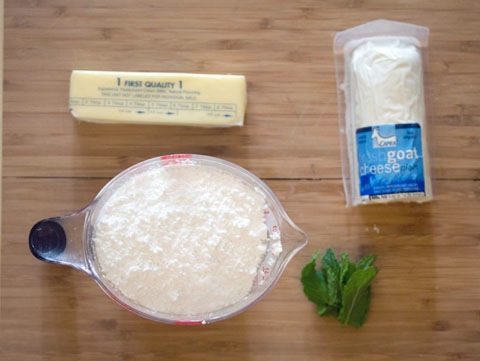 Cream the butter and sugar in a stand mixer or with a hand mixer, until light and fluffy.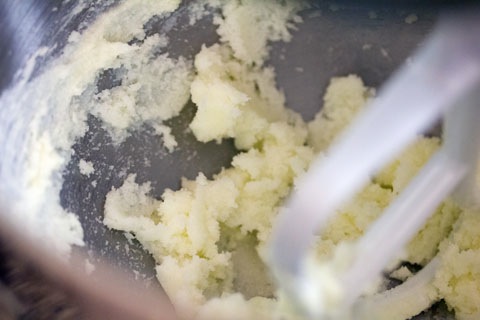 In a separate bowl, whisk together the flour, baking flour, and salt together.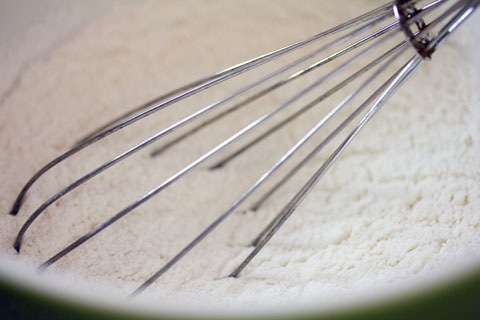 Now, slowly mix the dry ingredients into the butter and sugar, alternating with the milk. Add the vanilla and mix until just blended. The batter will be thick.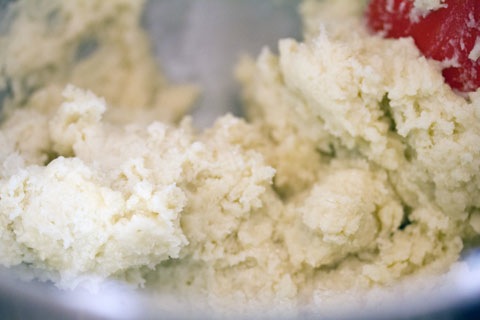 In another separate bowl, whisk the egg whites with a hand mixer until stiff peaks form.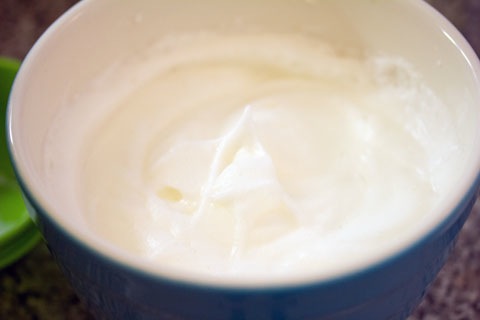 And gently fold the egg whites into the batter, until just blended. Fold in the strawberries, as well.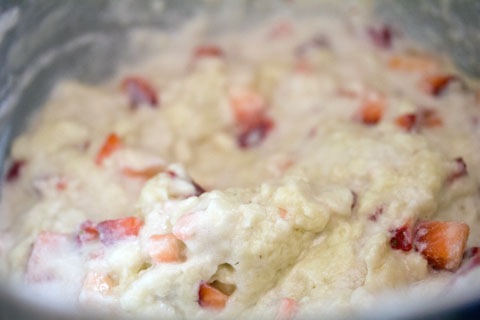 In a lined cupcake pan, fill cupcake papers about 3/4 of the way with batter.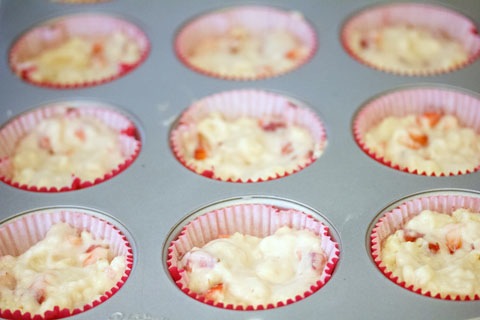 And bake at 350 degrees for about 16-18 minutes, until a toothpick comes out clean.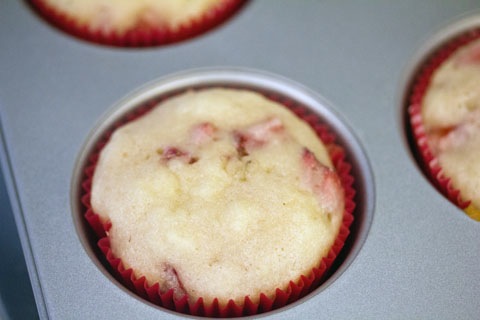 After cooling in the pan for a few minutes, move cupcakes to wire rack to cool completely.
While your cupcakes are baking, you can whip up the strawberry filling. This part is easy. But it has to cool, too.
Basically, put all the ingredients into a saucepan over medium-high heat and bring to a boil.
Then lower to a simmer and let simmer for about 10 minutes, until it gets thicker and syrupy.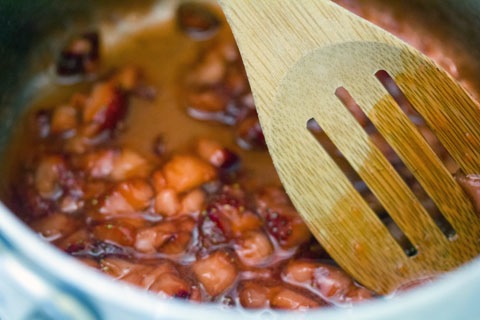 Remove to separate bowl and place in fridge to cool completely.
While everything is busy cooling, you may as well get started on the frosting. Yes, it's Mint Goat Cheese Buttercream. Because if you love cream cheese frosting and you love goat cheese, why wouldn't you love goat cheese buttercream? Guess what? I like goat cheese buttercream a whole lot more than cream cheese frosting now. Totally my new favorite "cheese" frosting. But like I said, the whole cheese frosting thing might not translate to all cheeses. Just warning you.
Oh and while we're talking about seasonal joy, we may as well thrown in fresh mint. Chopped up nice and finely.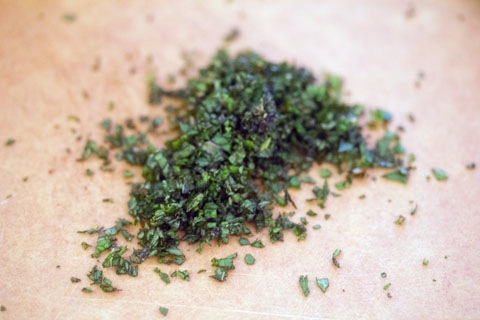 To make the buttercream, put butter and goat cheese in the bowl of stand mixer or use a hand mixer and blend until combined.
Mix in confectioner sugar, one cup at a time.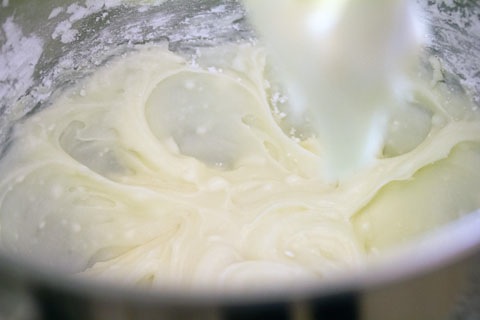 Stir in mint.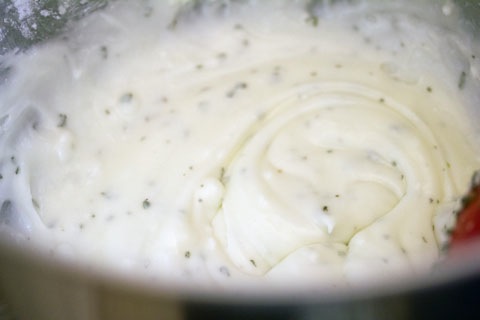 Phew. By now your cupcakes should be cooled. And you can core them. You can obviously do this with a knife. But I highly recommend the Cuisipro Cupcake Corer
. It's the best.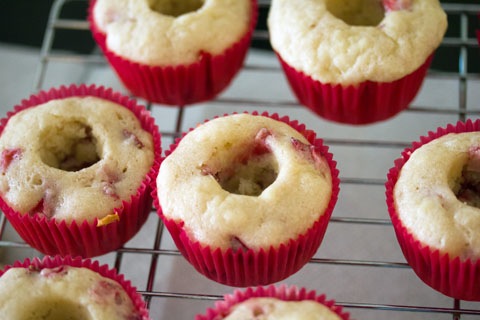 Fill each cupcake with the cooled strawberry filling.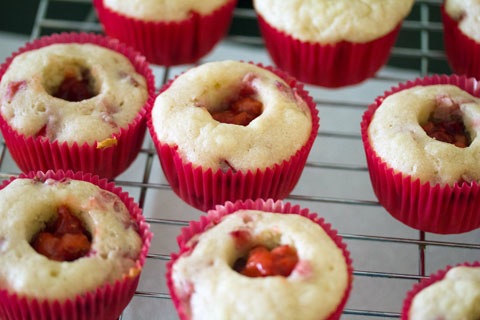 And if you want, you can put the top back on. You don't have to, though.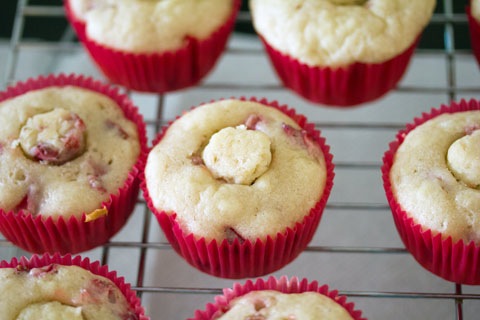 And then just pipe the frosting on in any fashion you like.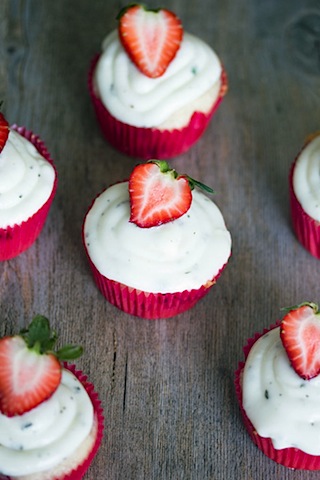 And obviously top with a half a fresh strawberry.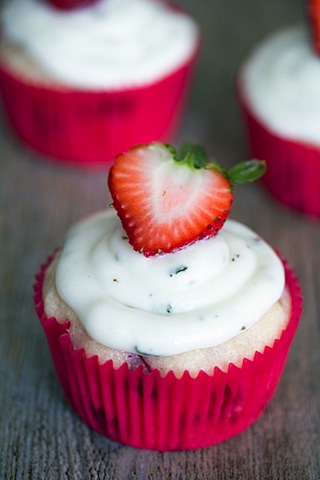 Clearly, there's no such things as too many strawberries.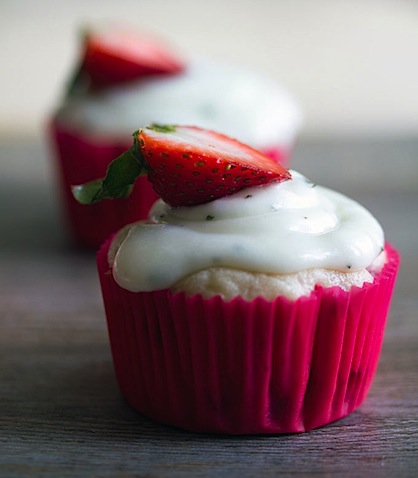 I admit I'm really a vanilla/chocolate cupcake type girl… But not during strawberry season. I am fully and 100% obsessed with these. I think a lot of it had to do with the strawberry filling and a lot of it had to do with the goat chess frosting. Because goat cheese. And buttercream. Combined. 'Nough said? Yup.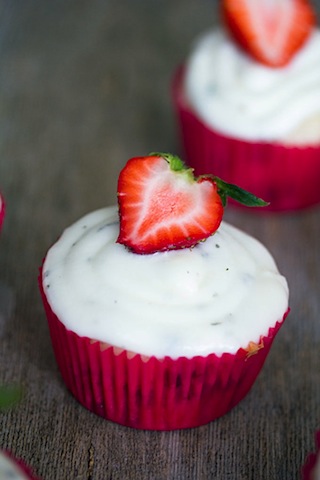 After I photographed these, I realized they'd really make the perfect Valentine's Day cupcakes, too. But since spring is strawberry season, I'm keeping them here with me now.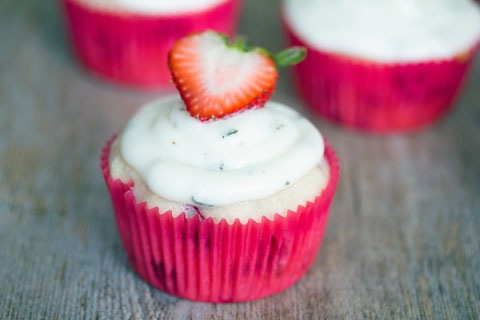 Oh, you probably want to see what the strawberry filling looks like, right? I thought so.
All cupcakes need some sort of surprise filling, right? If it can't be chocolate, I want it to be a fresh strawberry filling.
What's made you smile lately?
[Sues]