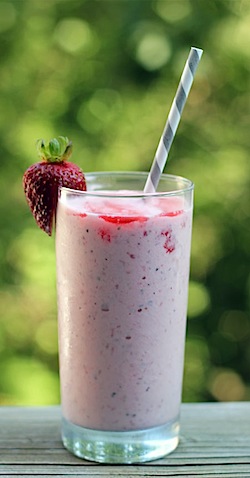 If you spend a lot of time with me in real life, you've probably heard me say, "I really want a milkshake right now." I'm ALWAYS craving milkshakes. I'm pretty sure it's because I don't hydrate well enough, so when I crave ice cream, I often want it in milkshake form. With a milkshake, I can enjoy the creaminess of ice cream and quench my thirst. And bring the boys to the yard, obviously.
I don't make milkshakes very often because, well, there's something about taking already not-fabulous-for-you ice cream and combining it with even more milk in a blender. But come on, doesn't that sound awesome?
There are a few components to this recipe since I'm a crazy person and can't make a milkshake with store-bought ice cream. Nope. I had to make my own. I've never made a milkshake completely from scratch, but think this might become a regular occurrence in my household. Really, the only downside to it is that it takes a lot of time. Not active kitchen time, but waiting time. But if homemade milkshakes taste this good, I'll gladly wait.
Strawberry Mint Milkshakes (makes 2 milkshakes):
1 pint strawberry mint ice cream (see recipe below)
1/2 C strawberry syrup, plus more for drizzling (see recipe below)
1/2 C milk
Strawberry Mint Ice Cream (makes about a pint):
1 C heavy cream
3/4 C milk
1/8 t salt
2 large eggs
3/4 C sugar
1 lb. fresh strawberries, hulled
1 small bunch mint, about 20 leaves, chopped finely
1 T lemon juice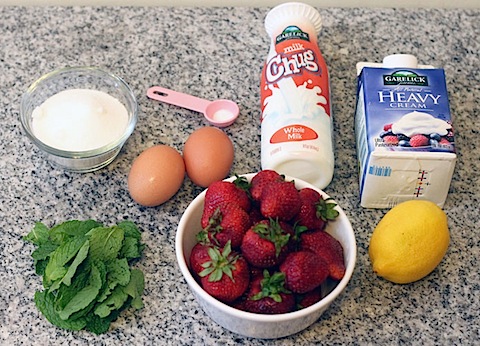 Combine the cream, milk, and salt in a saucepan and bring to a boil.
Immediately remove from heat.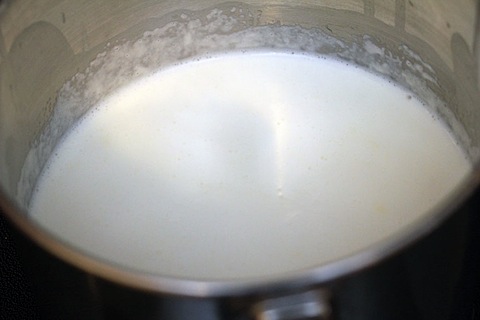 In a separate bowl, whisk together eggs and 1/2 C sugar.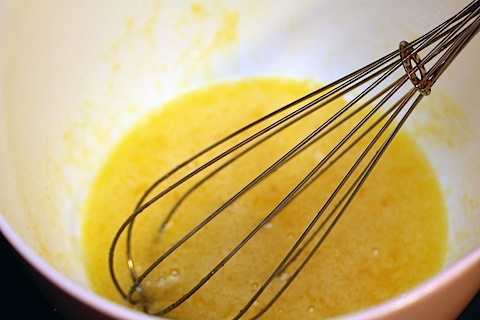 Add half the hot cream/milk mixture into the egg/sugar mixture, whisking as you go.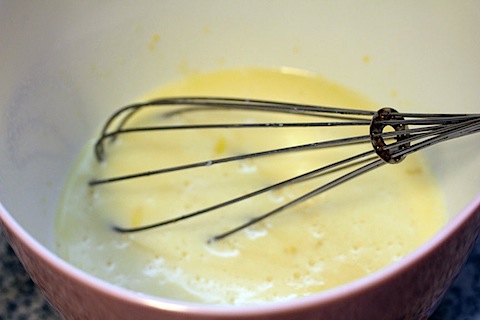 Then pour that back into the saucepan.
Cook over medium-low heat, until the mixture slightly thickens (and coats back of spoon), stirring the whole time.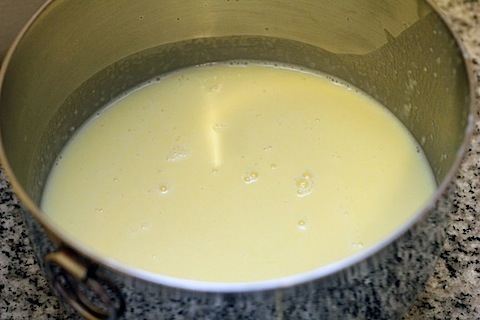 Pour mixture through a strainer and let cool to room temperature. Stir every so often.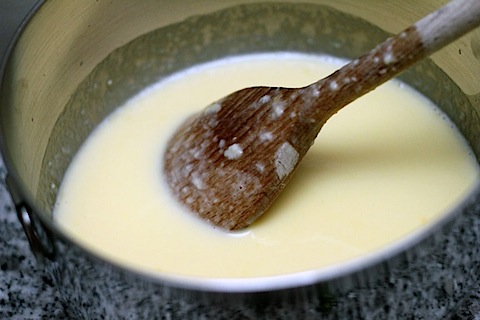 In a separate bowl, mix together strawberries, mint, 1/4 C sugar, and lemon.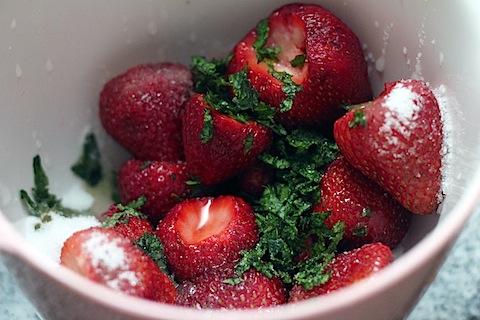 Mash mixture together (I used a potato masher).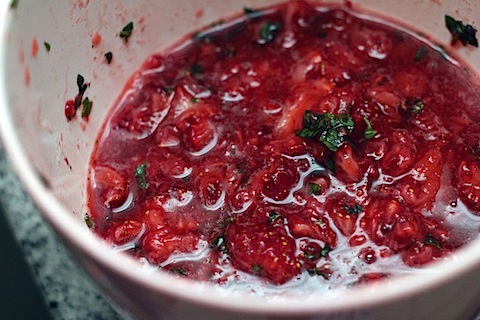 Put strawberry puree and cream mixture into fridge. It's best if you let the cream mixture cool in fridge for at least 8 hours to overnight.
When you're ready to make your ice cream, mix together strawberry puree and cream mixture.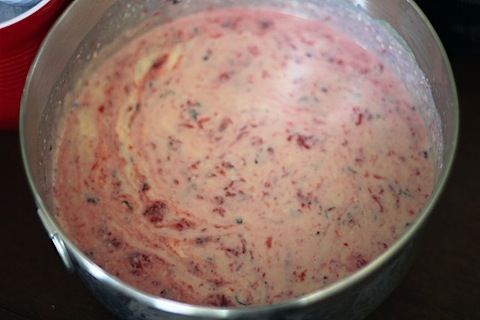 Follow the instructions that come with your ice cream maker to process ice cream. I let mine process in machine for about 30 minutes.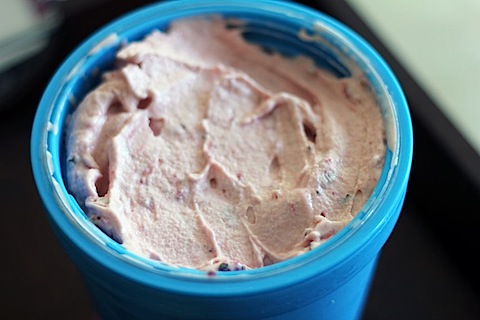 The ice cream will still be quite soft, so you should pop it in the freezer for about 4-6 hours. Or overnight if you choose. If you can wait that long.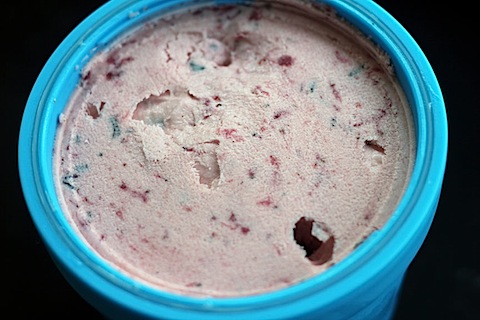 While the ice cream is chilling, you can start on the strawberry syrup. I adapted a recipe I found in Bon Appetit . Not totally necessary to this strawberry mint milkshake, but a definite plus!
Strawberry Syrup:
1 lb. strawberries, hulled and sliced
1/2 C water
1/2 C sugar
1/3 C corn syrup
Pinch salt
1 T lemon juice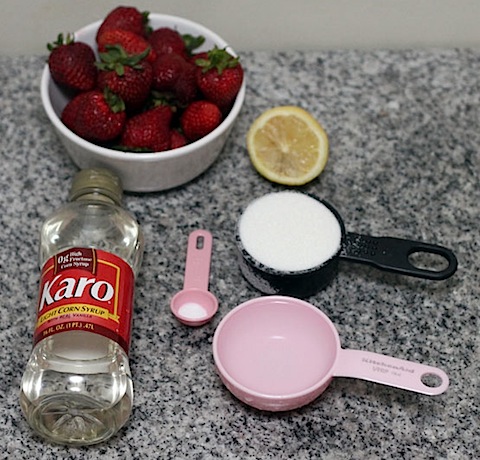 Slice strawberries into quarters, or so.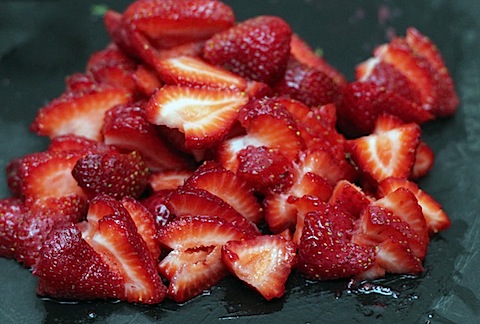 Put strawberries, water, sugar, corn syrup, and salt in a heavy saucepan and bring to a boil over medium-high heat.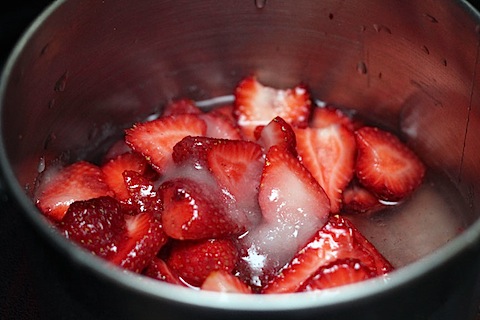 Stir until the sugar dissolves and then let boil for about 10 minutes, stirring occasionally. You can turn the heat down when needed so the mixture doesn't boil over.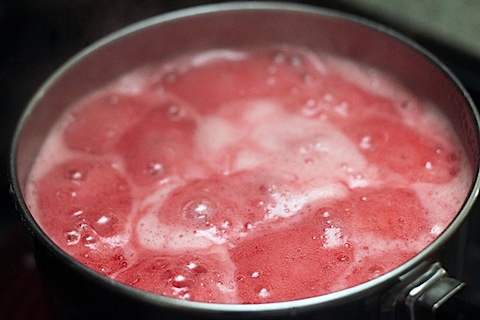 Add the lemon juice and put mixture through a strainer.
Voila! Homemade strawberry syrup. Cover and chill the syrup until ready to use. You can make it up to a week ahead.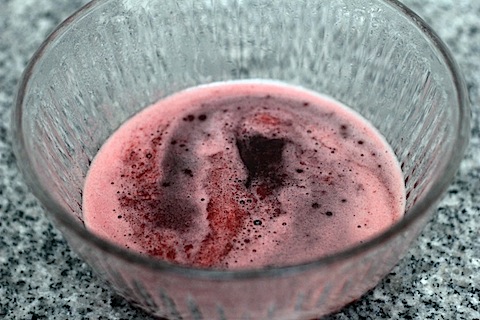 Now, after all that work and endless waiting, you're ready to assemble your milkshakes. I know. Using ice cream from a carton gives you instant results. But really. It's not nearly as satisfying.
Put the ice cream (it should be about a pint) into a blender along with 1/2 C milk and 1/2 C strawberry syrup.
Blend away.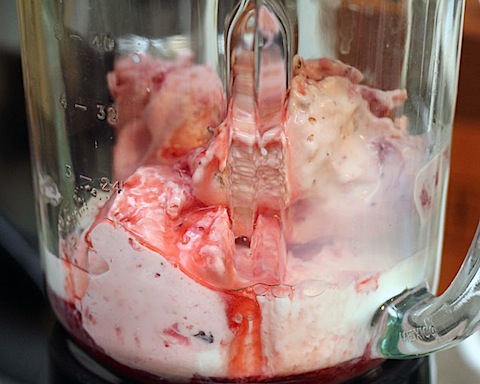 And pour into a tall glass. Drizzle with a little more strawberry syrup and garnish with a strawberry for good measure.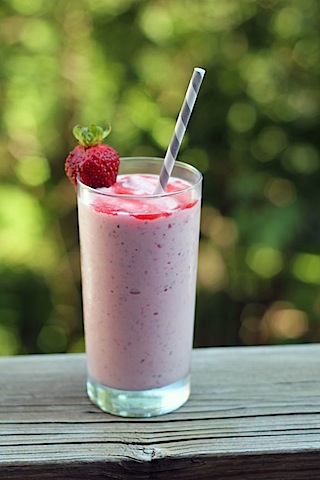 And you NEED to drink a milkshake with a straw. There's no other way.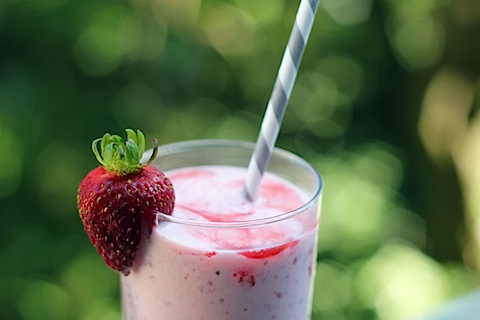 See? I told you that strawberry syrup was kind of essential. I love the swirl look.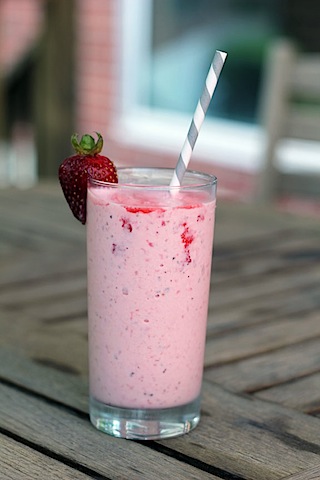 Do you know how much better a milkshake tastes when you make it entirely from scratch? This honestly tasted like a million bucks. Not that I'll ever know what a million bucks tastes like, but you get the idea. It's tough to explain, but it was just so obvious this was ultra fresh ice cream that couldn't be found in any carton. The mint flavor wasn't overpowering, but definitely added a different level to typical strawberry ice cream. The shake was smooth and packed with strawberry flavor, reaffirming my absolute pure love for my ice cream maker even more. Can I just marry it already? Just kidding, I'm already marrying a pretty amazing guy. One who doesn't mind when I spend late nights with my ice cream maker.
What dish/dessert have you made completely from scratch?
[Sues]