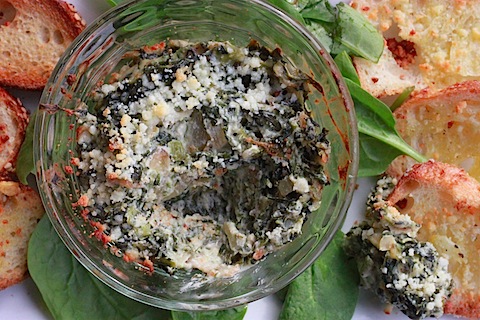 I love a good dip recipe and since Thanksgiving is right around the corner I figured I'd share a very simple recipe for you to bring to Thursday's dinner if you're still trying to figure out what to make! I'm working all day tomorrow then going straight to my parent's house so I needed to make something ahead of time that would travel well. Thankfully there's an industrial fridge in the cafe of my job so that's exactly where this dip will be living for the 7 hours I'm working at the gym 🙂
Spinach, Onion, and Bacon Dip (serves 8-10)
Print this Recipe!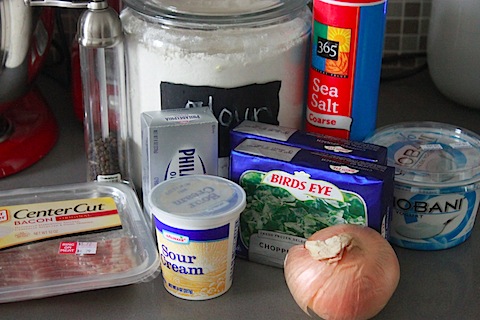 • 5 slices of bacon, thinly sliced crosswise
• 1 medium yellow onion, diced
• salt and pepper
• 1 teaspoon all-purpose flour
• 2 (10 ounce) packages frozen spinach, thawed and squeezed dry
• 1 cup milk (I used 1% since that's what I had on hand. You could use something heavier if you wanted a creamier end result)
• 1/4 cup plain Greek Yogurt
• 1/4 cup sour cream
• 1 (8 ounce) bar cream cheese
• 1/2 cup grated Parmesan (or Parmesan/Romano blend)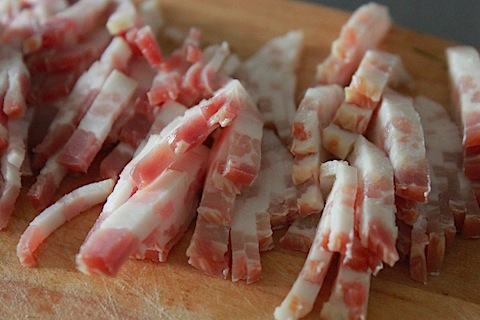 Preheat oven to 350 degrees.
In a saucepan, cook bacon until crisp, about 10 minutes and drain on paper towel-lined plate. Discard all but one teaspoon bacon fat from pan.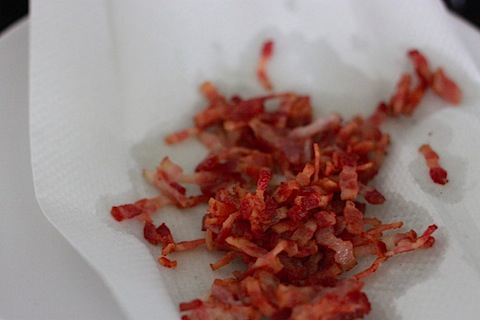 Add onion to pan, season generously with salt and pepper, and stir; about 8 minutes. Add flour and combine.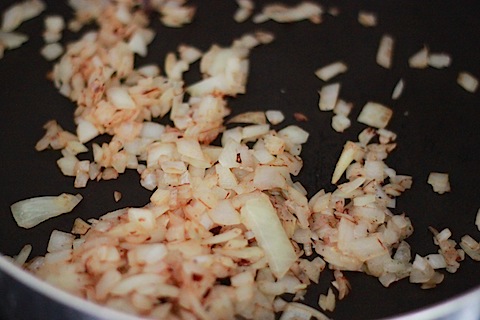 Incorporate spinach, milk, Greek yogurt, sour cream, and cream cheese.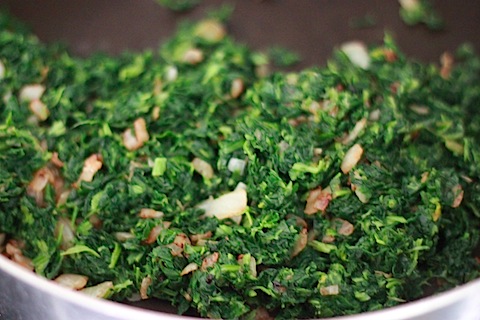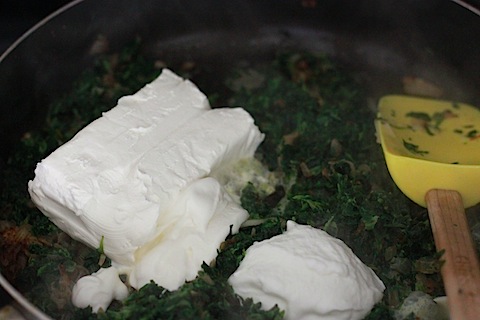 You can just break up the block of cream cheese in the pan using a spatula and continue to stir until it's all melted, which should only take 2-3 minutes. Continue stirring until you have a creamy consistency.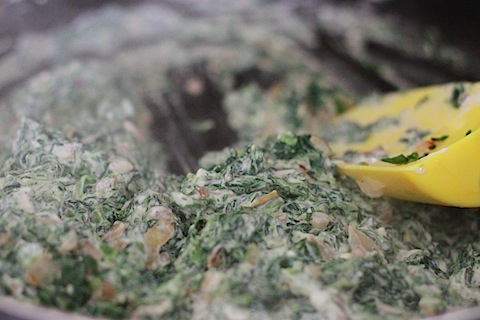 Add the bacon back to the pan.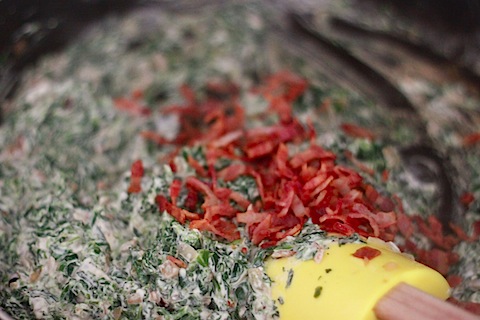 And incorporate 1/4 cup of grated cheese.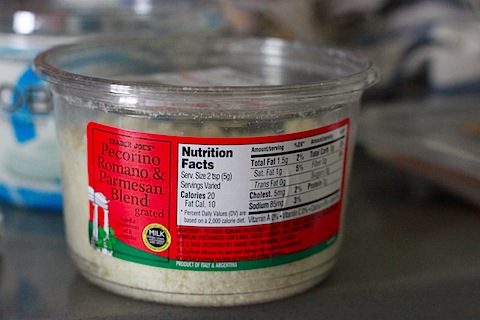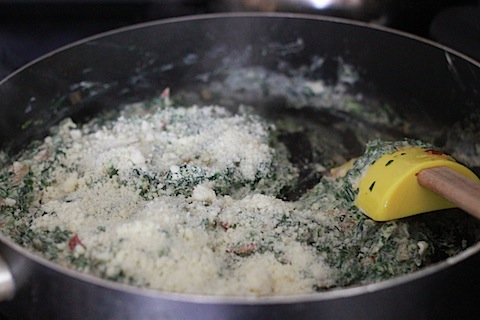 Continue to stir until everything is blended together.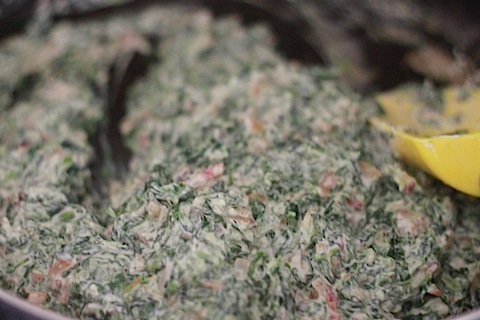 Transfer the spinach dip into a shallow baking dish and top with the remaining 1/4 cup of the grated cheese.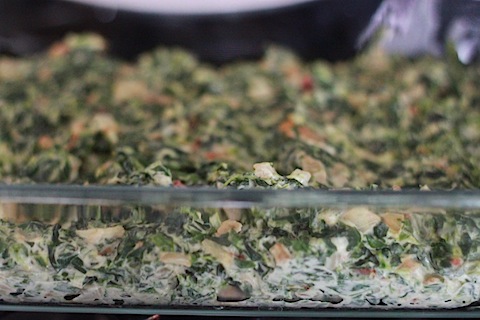 Bake for about 15 minutes until the dip is golden brown and bubbling.
Since I made this ahead of time for a Thanksgiving appetizer, I just skipped the baking part and I have it chilling in my refrigerator. I'll just bake it Thursday before guests arrive at my parent's house so it will be nice and fresh. I was always taught never to make a dish and bring it to someone's house if I haven't tried it on my own, so I decided to make a small ramekin portion so I could sample it and snap some final photos for the sake of this blog post. Really, I just wanted it for lunch this afternoon and thought that was the perfect excuse, who are we kidding 😉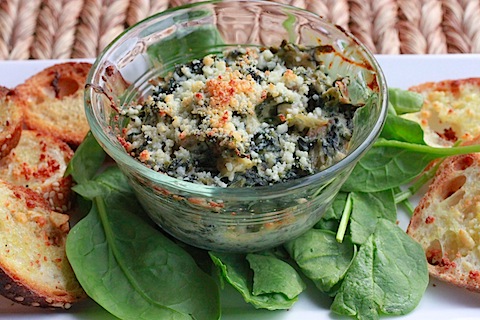 Garlic Toasts
So, so, so easy. Instead of buying a box of crackers or crostini, I decided to just make my own. I actually think sometimes it turns out to be more economical to make your own, anyway! Plus, you can add whatever ingredients you want to make them even tastier.
I bought two loaves of Iggy's bread, a sesame loaf and a basic French baguette, and I sliced them on an angle.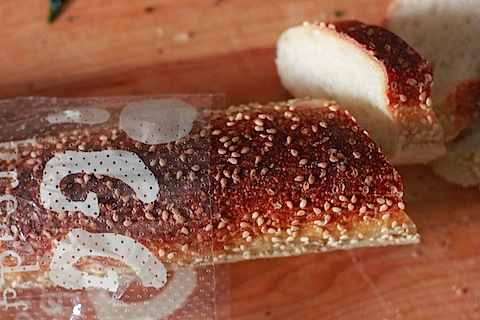 Arrange them neatly on a cookie sheet.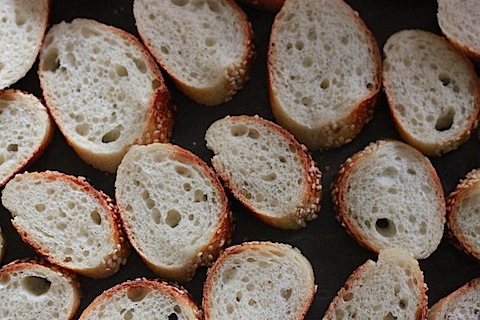 In a small ramekin I took about 3-4 tablespoons of good olive oil and three cloves of minced garlic. I simply brushed the garlic/oil mixture over each slice of bread, sprinkled grated Parmesan cheese on top and baked until golden brown, about 10-15 minutes on 350 degrees.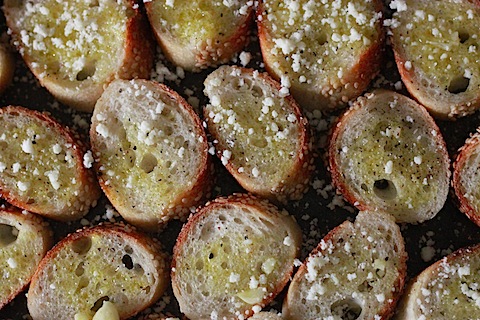 Done! And YUM!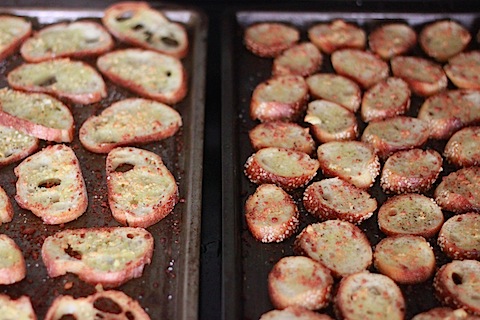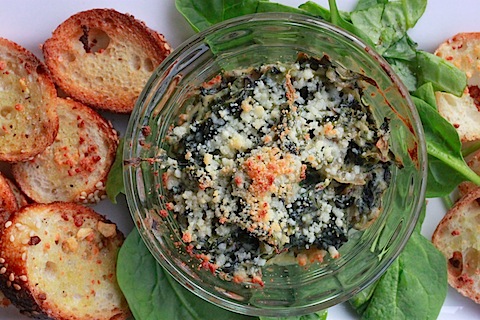 If you're still struggling trying to decide what to contribute to a Thanksgiving dinner, or any dinner, a good dip is always a win, win. People love gathering around food like this and it's usually one of the first things to go at a party.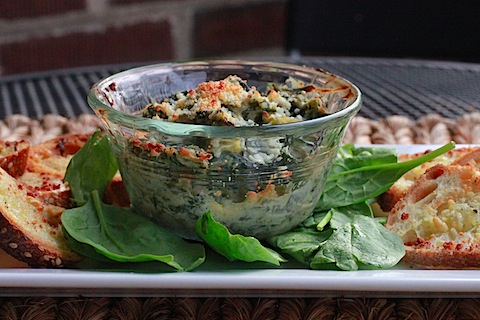 The little hints of salty bacon are the perfect touch to take an ordinary spinach dip to the next level and the buttery garlic toasts act as a perfect crunchy scoop.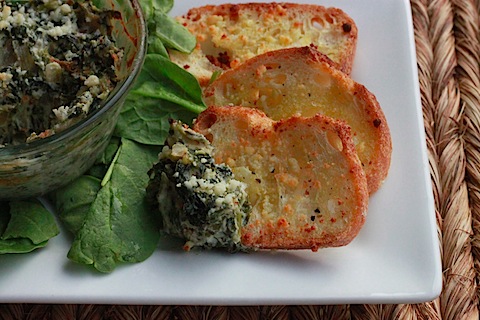 What are you planning on bringing to Thanksgiving dinner? My mom and aunt run the show at our Thanksgiving and we always have so.much.food. This year I'm contributing this dip so I don't take up too my of my mom's valuable kitchen time. I'll help her clean up the kitchen and wash some dishes, too 😉 I can't wait to spend the next couple days with my family!
[Chels]