I have a huge obsession with cooking risotto. I could probably be happy making a different kind of risotto for dinner every night for the rest of my life (I swear I wouldn't get sick of it). I feel like people have these false pretenses that risotto is really hard to make. False! Sure, it takes a little paying attention to and some time, but it's really not difficult at all. I promise! And people will probably be impressed with you because, for some reason, it's known for being hard to cook.

Risotto is especially fun because there are so many ways you can make it. SO many. One of my favorite recipes involves peas and zucchini. Another one involves lots of butternut squash. But sometimes you want something a little more meal-like. AKA you need some meat! Since I cook a lot casually, I like making dishes that can be eaten as a full meal. This way, I don't have to get cooking an entree and then sides, etc. Because, really, who needs that every night?

I chose this risotto dish, tomato and sausage risotto from Martha Stewart's Everyday Food, because it's different than any others I've made. Instead of using chicken stock, it's made with a sort of diced tomato stock. I opted to make it with chicken sausage because I love Trader Joe's chicken sausage and it's obviously a bit healthier than regular sausage (whatever you consider "regular" sausage. I'm not quite sure). You can use anything you want, though. Here are all the ingredients you'll need to whip this up: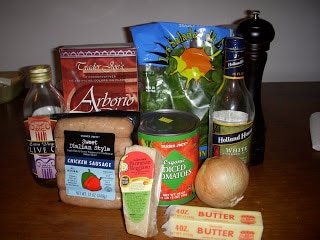 And like I promised, it's super easy. To start, simmer the diced tomatoes in a saucepan with 3 cups of water and make sure to keep it warm over low heat. In other larger saucepan add the sausage and onion and break up the sausage with a spoon as it heats up (3-5 minutes). The add the arborio rice…and then the dry white wine.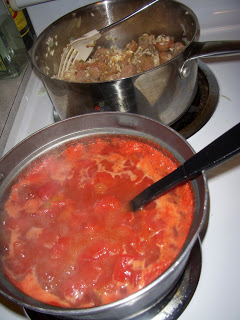 And now you're ready for the "difficult" part. You need to add the tomato stock a little at a time, making sure to stir it frequently (so the mixture doesn't stick to the bottom of the pot). Add about 2 cups and stir until it is absorbed by the rice. Then add another cup, stir, wait for it to absorb, and so on, until you've added all the stock and the rice is super creamy.

Now take the rice off the heat, season it with salt and pepper and add in some chopped spinach, parmesan cheese, and butter.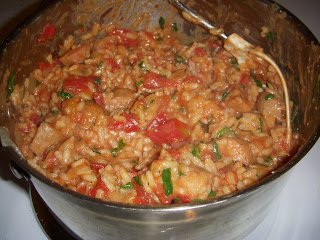 After serving it, you can sprinkle some more parmesan on top (especially if you're a cheese fanatic like I am). And be sure to take the advice of 2 Guys Uncorked and serve it with the Marchese de Petri 2006 Sangiovese.
Seriously, for $3.49 a bottle, how could you not serve it??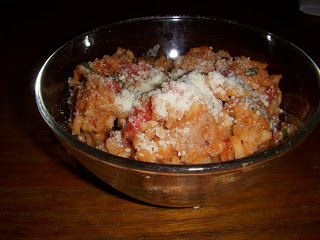 You'll be amazed by how creamy and flavorful this risotto is. It's definitely going to be a new staple in my risotto repertoire! Nina and I enjoyed it while trying to catch up on American Idol and discovering that Paula Abdul is attempting a comeback!
And another thing I love about risotto? There's always plenty of leftovers.
[Sues]