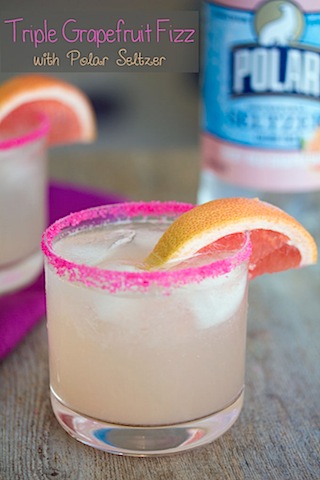 My name is Susie and I'm an addict. Wait, that's probably not the best way to start a Cocktail Friday post, is it? Before you come and try to convince me that alcohol is not the answer, I should clarify. I'm addicted to water. Not quite as exciting, right? But a little safer? Well, more specifically, it's Polar Seltzer water I'm addicted to. I promise you it's exciting. Exciting enough that I drink a liter a day cannot break the habit. Nor do I want to. Because plain old water bores me and drinking Polar Seltzer means I enjoy drinking water. Also, sometimes it goes nicely in a cocktail. Like today.
My history with Polar Seltzer is a long one, going back 25+ years ago to when my family took trips to New York state and drove past and waved at the Polar Beverages polar bear in Worcester. That started my obsession and it's still going strong today. Stronger, really.To the point where people in my office sometimes laugh at me because I'm rarely in a meeting without my bottle of Polar Seltzer. I even managed to snap a photo with Orson when he was in Boston with the Today Show last month. The fact that I'm posting such a horrendous photo of myself for all the world to see should kind of sort of be proof of my devotion.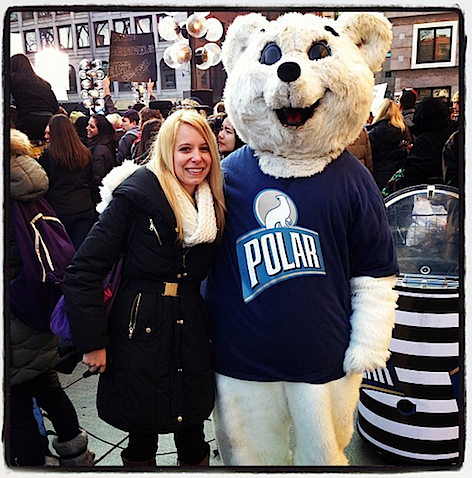 I've been chatting it up with the Polar Seltzer crew on Twitter (I like to believe it's Orson behind the keyboard) and they asked if I wanted to create a cocktail and hold a giveaway for WANM readers. Answer? Yes. And thus, the Triple Grapefruit Fizz was born. It uses 3 grapefruit-y things, including Polar Ruby Red Grapefruit Seltzer. If you don't have grapefruit vodka, you can totally use regular vodka, but then you'll just have to call this the Double Grapefruit Fizz. Which doesn't sound quite as fun, but I guess it will do. Also, you don't necessarily have to rim your glasses in pink sugar. My husband looked at me like I was crazy when I handed him this glass… But then he took a sip and got over the pink sugar real quickly. I probably could have added an umbrella to the drink and he wouldn't have even noticed. Muhahaha.
Triple Grapefruit Fizz (makes 1 drink):
Print this recipe!
Sugar (colored if you want) for glass rim
1.5 oz. freshly squeezed grapefruit juice
1.5 oz. grapefruit vodka
2 oz. Polar Ruby Red Grapefruit Seltzer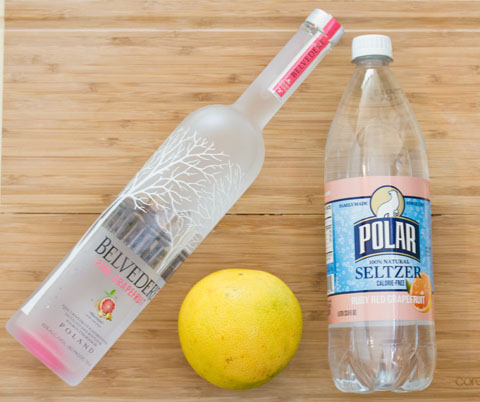 Ruby Red Grapefruit is one of my favorite Polar Seltzers. But don't make me decide on my ultimate favorite. There are WAY TOO MANY flavors for me to decide.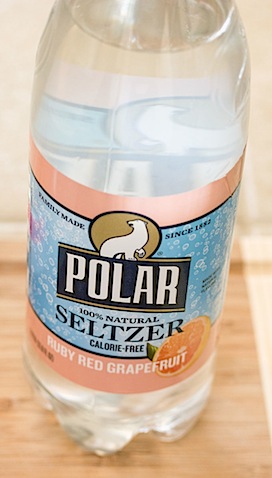 Anyway, let's mix this baby with some vodka. By the way, Belvedere Pink Grapefruit Vodka has macerated grapefruit in it and is worth every penny.
Place your sugar on a small plate. Rim the glass with a little grapefruit juice and set glass upside down in the sugar.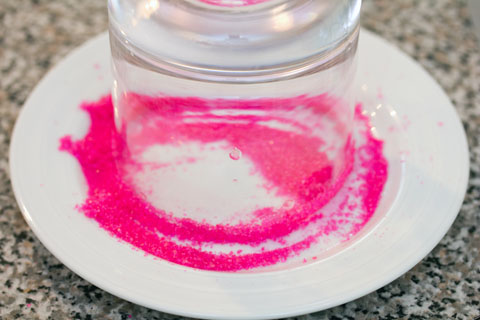 I love grapefruit. I was going to tell a funny story about how Chris tried to serve me grapefruit a couple months ago. But I'll save him the embarrassment. Anyway, you don't need to cut this grapefruit in any way fancy; you just want to get the juice out of it.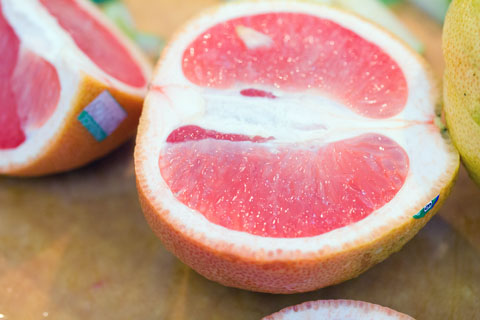 Fill a glass with ice. And pour in the freshly squeezed grapefruit juice and grapefruit vodka. Top with 2 oz. of Polar Ruby Red Grapefruit Seltzer or more if you'd like!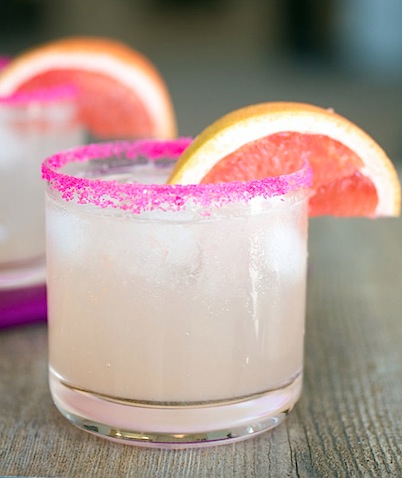 A little grapefruit wedge garnish accents the pink sugar well. Which is always a plus.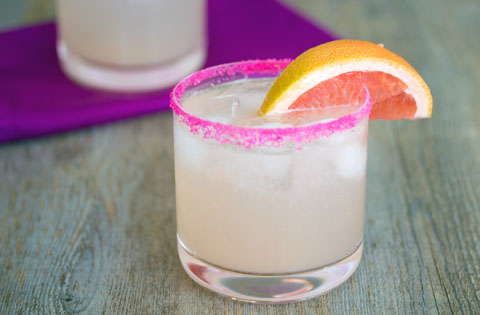 If you have a loved one and you really actually love them, you'll make them one, too. Otherwise, that's just rude.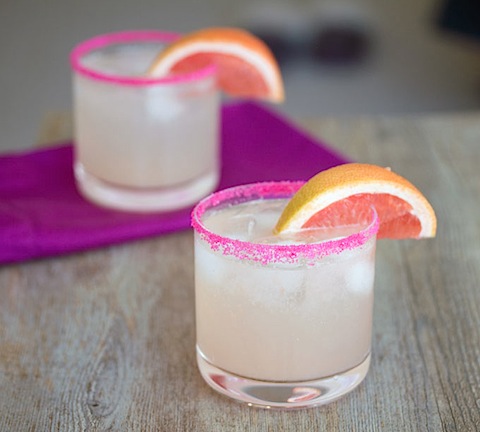 But this drink was pretty awesome. A little bit tart, but because all of the grapefruit flavors were ruby red, it wasn't the kind of drink that would have you puckering.
And I didn't think I could love Polar Seltzer more than I already did. Their website actually has tons of other drink recipes on it, too, if grapefruit isn't quite your thing. Looks like I've got Cocktail Friday covered for the next 9042 weeks.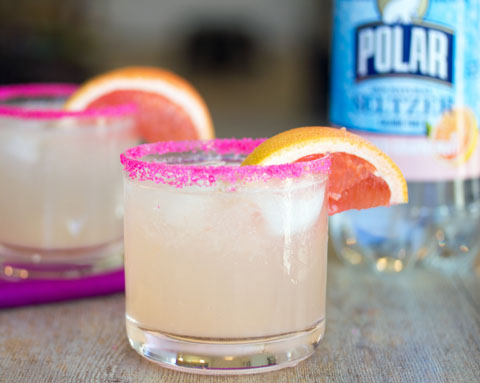 Like I mentioned earlier, there are too many delicious flavors for me to choose a favorite. But I'll try anyway, Aside from grapefruit, I'm a huge fan of Cherry Pomegranate, Orange Vanilla, and Granny Smith Apple. But I've never tried one I didn't like.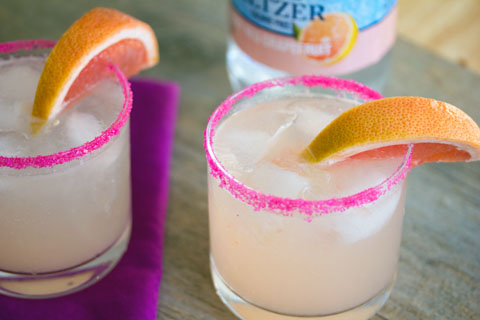 Oh my gosh, I didn't even mention one of the best things in the world. Polar Seltzer comes out with limited edition flavors twice a year, in the winter and summer. It's basically like Christmas twice a year, except a Christmas that lasts for a couple months with lots of gifts. For instance, the flavors for this past winter? Well my favorite was Egg Nog (don't make fun of me for drinking egg nog flavored water until you try it. DO NOT.), Butter Rum (alcohol-free unless you change that yourself), and Vanilla Pear (which is now being made a permanent flavor! Yay!). I was frightened by Chocolate Mint and Boston Cream Pie at first, but definitely came around to the Chocolate Mint, finding it nice and refreshing.
YES, I do think about and analyze Polar Seltzer this much.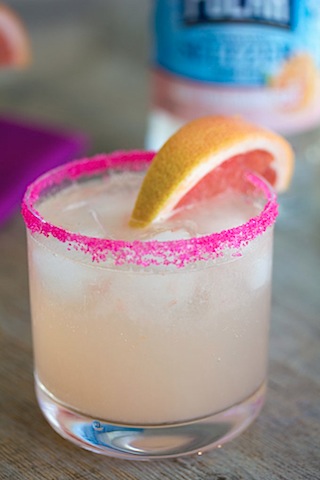 The summer flavors were to die for last year. All were from a different tropical location: Mint Mojito (Miami), Pina Colada (Puerto Rico), Ginger Lemonade (Jamaica), Orange Mango (Brazil), And Pineapple Passionfruit (Hawaii). All were my favorites. But I might cry if I never get to enjoy Ginger Lemonade again.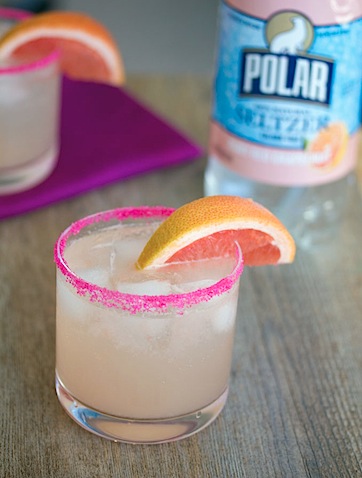 This year's summer flavors are coming out in May!! And the only hint I could get them to spill is that the destinations theme will continue with the addition of Europe to the roster. Hmmm. I'm going with Sangria flavor from Spain! What do you think?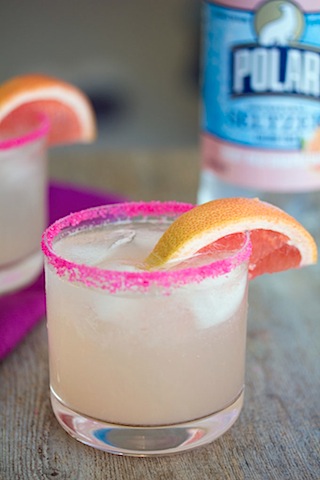 Happy Cocktail Friday! See? I'm well-balanced. I like water, too.
[Sues]