This Spicy Roasted Grapefruit Margarita consists of grapefruit that's been broiled and tequila that's been infused with habanero and is the most delicious margarita you'll ever try!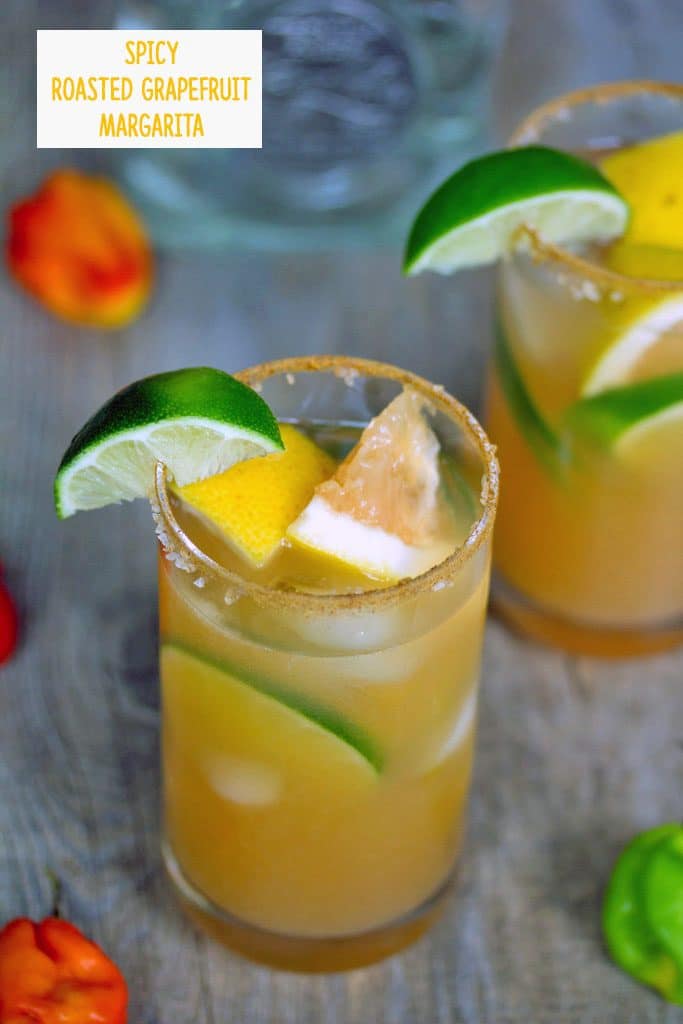 Annnd it's suddenly Monday again. Funny how that happens, huh? Funny, but in a not really funny at all and super depressing kind of way. A "you need a cocktail immediately" sort of way. But maybe not immediately because it might be like 6:00 a.m. wherever you're reading this from and that could get sort of awkward if you have to show up at work for the day. So, maybe try to wait until tonight. Do you indulge in cocktail action during the week? Or do you stick to beer and/or wine? Or do you try your best to wait until the weekend? I want to beg you not to wait until the weekend to make this grapefruit margarita... But I also recognize roasting grapefruits for a cocktail isn't everyone's idea of Monday night relaxation. Plus, that habanero tequila needs a few hours to infuse.
Have you ever roasted grapefruit before? I've broiled a grapefruit a time or two with a little brown sugar action for a sweet and delicious snack. But I've never actually put a few grapefruits in the oven to roast... For a cocktail. Until now! And now I'm not quite sure why every single restaurant on the block doesn't have roasted grapefruit margaritas on their menu... Seems like a serious missed opportunity. You heard it here first (probably)!
SPICY ROASTED GRAPEFRUIT MARGARITAS RECIPE
I don't even remember how I found the original recipe, but I adapted this cocktail from KQED's Bay Area Bites. I think I was first attracted to it because I love everything grapefruit... And also by the pretty photos. Also, habaneros. I love a little kick to my cocktails and this roasted grapefruit margarita certainly has a kick!
There's nothing quite like habanero-infused tequila. This one is supposed to infuse for three hours. My husband started infusing one when we moved into our house and broke into it about nine months later. Honestly, the smell of it almost made me die. For real. He happily enjoyed a drink with it. I thought I'd most definitely need to take him to the hospital that night, but somehow he survived and the habanero tequila still sits on my counter ready for the next time he wants to break into it.
For this recipe, a three hour infusion is certainly enough.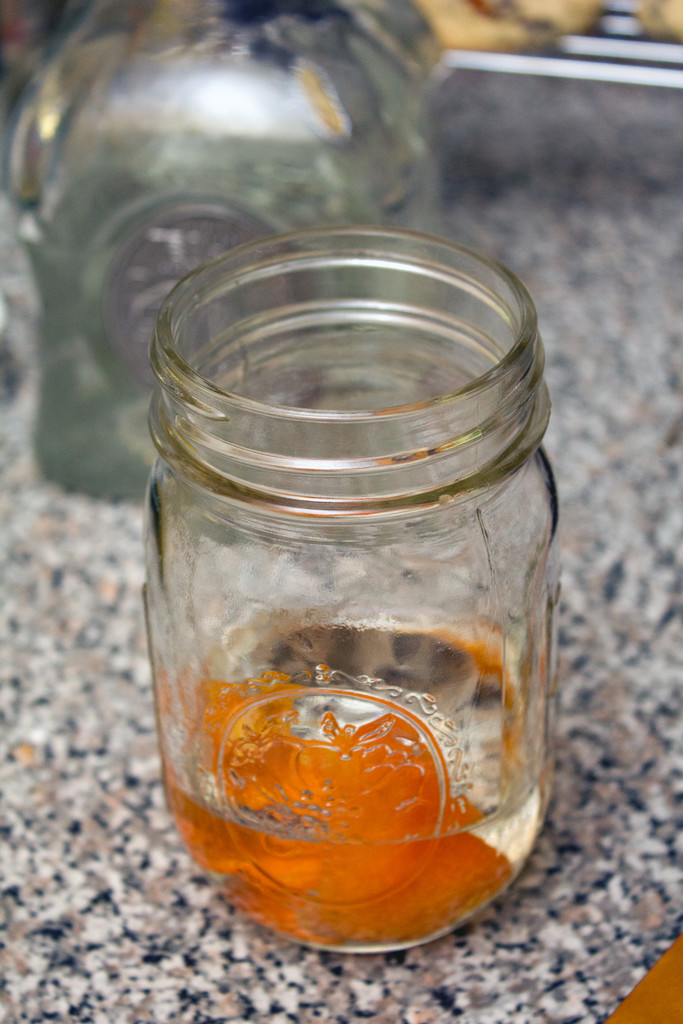 It was pretty difficult not to just eat these grapefruits with a spoon. But I really, really wanted this cocktail so I resisted.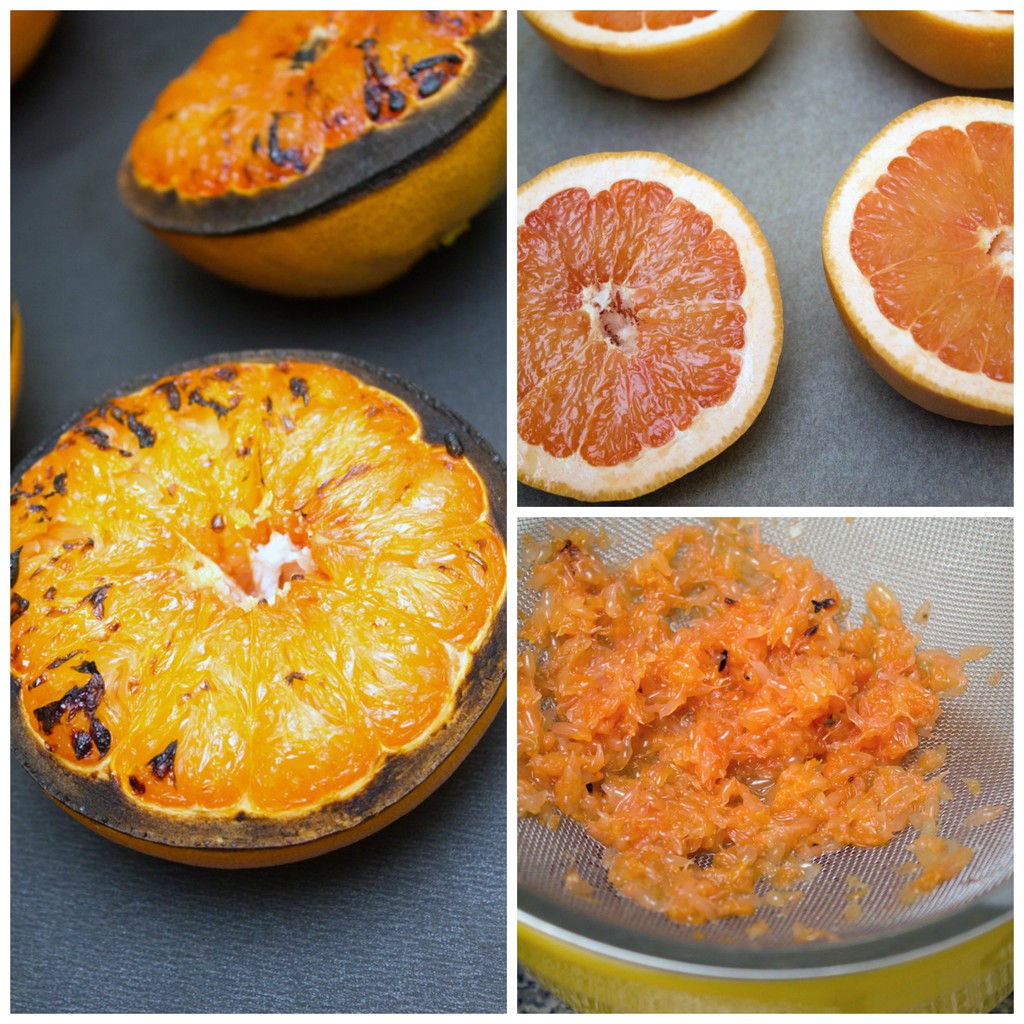 Once the grapefruits are cooled, you juice them. And then you learn how amazing roasted grapefruit juice is. OMG.
I feel like it's been way too long since I've made a cocktail for y'all. Actually, I haven't been making a whole lot for myself either. It's been mostly wine and Deep Eddy Cranberry. And this weekend, pumpkin shandy. But I have a few cocktails on my current must-make list, so get ready. Summer cocktails are nice, but there's nothing quite like cozying up on the couch with a warming cocktail in the fall.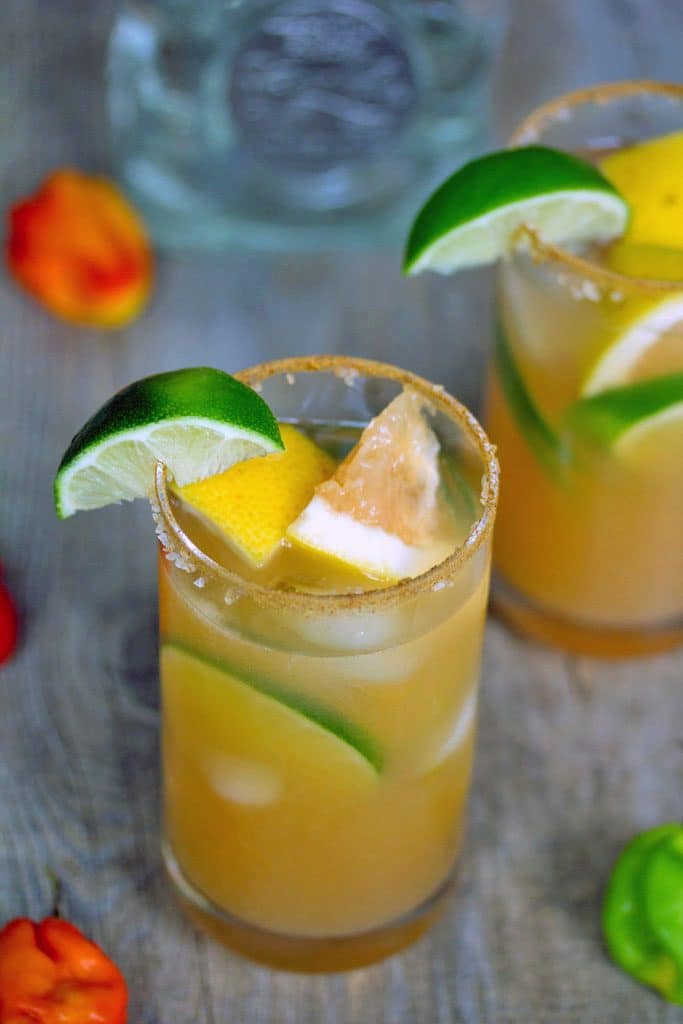 Pretty sure this qualifies as a "warming" cocktail. The heat from the habaneros will make sure you're kept quite cozy. And roasting is just so perfect in the cool weather. This grapefruit margarita has already landed back on my list as a drink I need to make again immediately.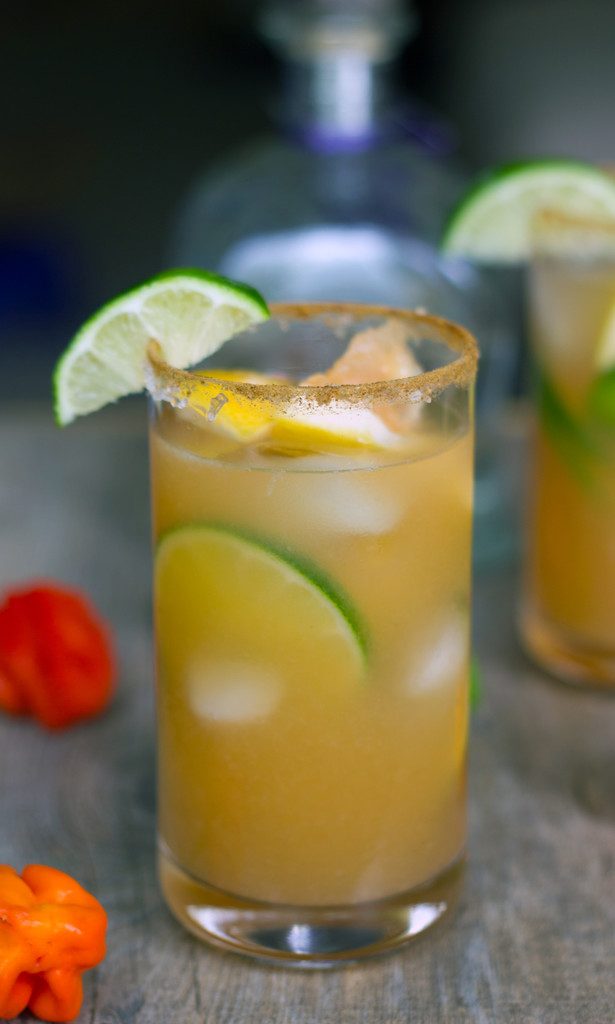 Just looking at the pictures of these spicy roasted grapefruit margaritas will help me get through Monday. I think? I hope. Strength comes in different forms.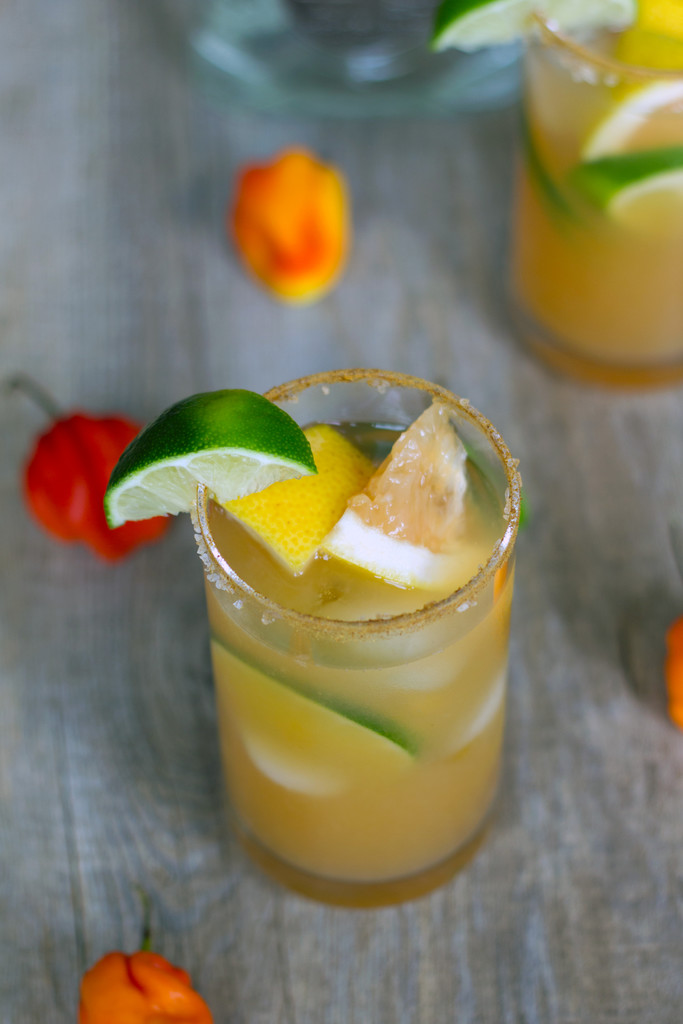 Even if it's not tonight, I highly encourage you to roast up and juice some grapefruit as soon as you possibly can. If you're not feeling the whole tequila on a weekday thing, I'll even tell you that you can drink it as is. But seriously, who are you to turn down a margarita?
What were you sipping on this weekend?
If you love grapefruit as much as I do, be sure to check out my recipes for Grapefruit Smoothie Bowls and Grapefruit Donuts. I'm also obsessed with this Grapefruit Tart from Always Eat Dessert!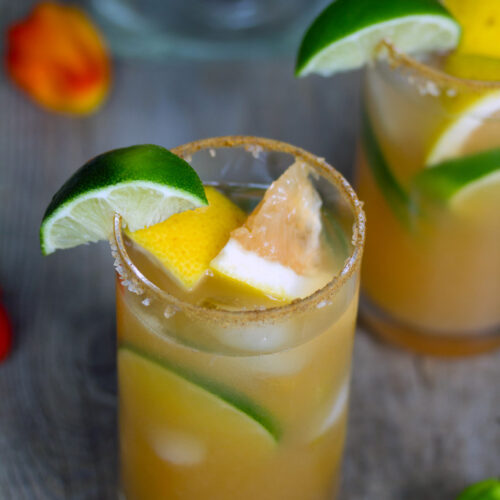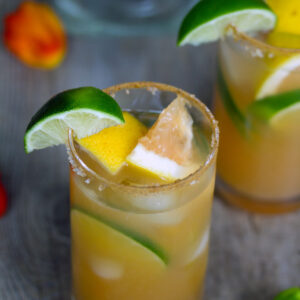 Spicy Roasted Grapefruit Margarita
This Spicy Roasted Grapefruit Margarita consists of grapefruit that's been broiled and tequila that's been infused with habanero and is the most delicious margarita you'll ever try!
Print
Pin
Rate
Ingredients
½

habanero pepper

(take seeds out if don't want full spice)

½

cup

tequila

3

whole grapefruits

1

whole lime

2

oz.

grand marnier

4

oz.

freshly squeezed lime juice

Sea salt

Cayenne
Instructions
Cut the habanero pepper in half. Remove seeds if you don't want full spice (I kept them in).

In a mason jar or other airtight container, combine the habanero slices and tequila and let steep for at least three hours. The longer you steep, the spicier it will get.

Slice all three grapefruits in half and place five of the halves on a baking sheet. Put them under the broiler for about 10 minutes, until their skins are roasted and shriveling and flesh is charred.

While grapefruit is roasting, cut remaining grapefruit half into slices. Slice lime.

Remove the grapefruit and let them cool. When you are able to touch them, juice all five slices and place juice in the fridge to cool completely.

When tequila has steeped and grapefruit juice has cooled, combine 4 oz. grapefruit juice, 1 ½ oz. habanero tequila, ½ oz. grand marnier, and 1 oz. lime juice in a shaker.

Pour into ice-filled glass rimmed with mixture of sea salt and cayenne. Add sliced grapefruit and lime.

Repeat with remaining tequila and grapefruit juice.
Notes
Recipe lightly adapted from KQED
Share a Photo of Your Finished Recipe!
Mention @wearenotmartha and share a photo if you've made the recipe!