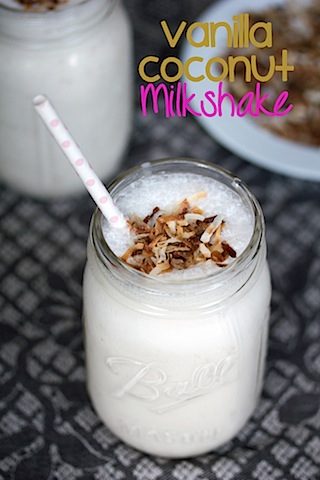 I would like to implement mandatory Milkshake Mondays. Why not, right? Just give me one perfectly good reason why not. You can't think of one, can you? Because one doesn't exist. Cocktail Friday and Milkshake Monday. But I'm pretty sure they can be interchangeable, too. As in, if you put a little bit of vodka in this and sip it on a Monday afternoon, I won't tell anyone. In fact, I'll probably be secretly proud of you. Not that I encourage bad behavior… But it is Monday. So, maybe a little bit.
This recipe is just about as easy as it can get. I didn't make my own ice cream and I used Silk PureCoconut Milk, which means there is already tons of flavor packed in. Plus I used the vanilla variety. Which is awesome. And makes me feel like I'm majorly indulging whenever I take a sip. The non-vanilla variety is basically just as awesome and I actually bought this one by mistake. But the second I took a sip, I thought MILKSHAKE! So, I made a Vanilla Coconut Milkshake and it took an already delicious milk and turned it into the most decadent dessert. Which is saying a lot for a liquid dessert. Yes, adding vodka would be splendid, but have you ever heard anyone complain about an ice cream, milk, and coconut combination? Please say no.
Vanilla Coconut Milkshake (serves 2):
Print this recipe!
3 C coconut milk, like Silk PureCoconut Milk (Vanilla or not)
2 C vanilla ice cream or frozen yogurt
1 C shredded coconut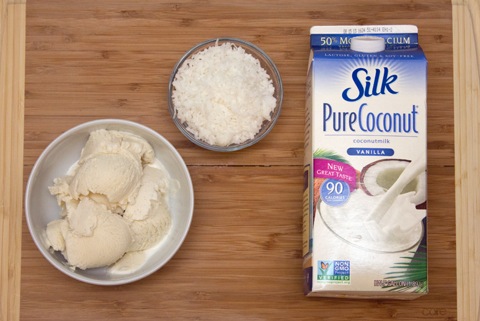 Silk's PureCoconut Milk is like a dream. Obviously you need to love coconut. And clearly, I've been obsessed with it lately, eating and drinking it in every form from candy to water to milk. Also, Silk has 50% more calcium than regular milk and lord knows the older I get, the more my bones are going to be craving calcium.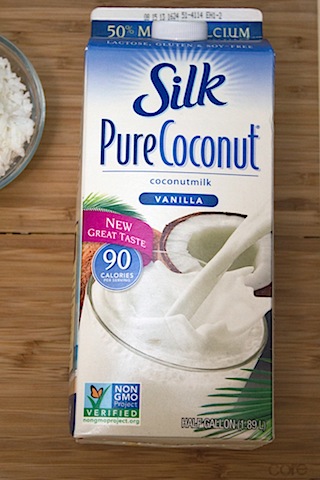 As I mentioned, preparing this is really quite simple. I think coconut gets an added oomph when toasted, so I decided to toast a bit to add to the already sweet taste of the silk and vanilla ice cream. I put my coconut in a large pan over medium heat-low and kept a watchful eye over it, stirring from time to time.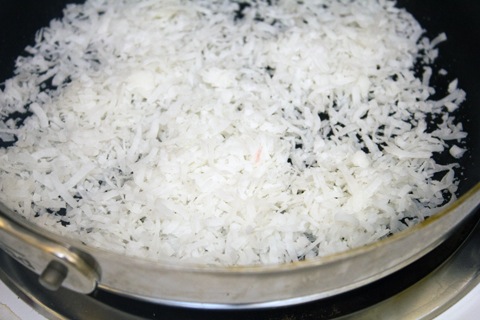 Since the sugars in coconut mean it can burn quickly, I made sure to watch it like a hawk as it browned. And I removed it from the heat when it was browned to my liking.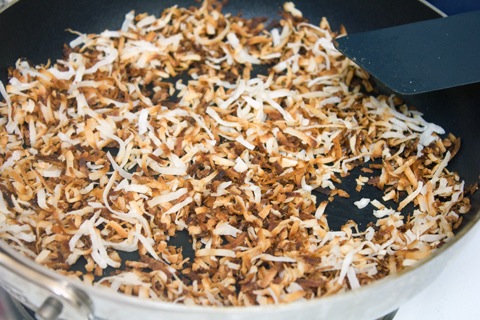 And then I let it cool.
Next step! Just put the coconut milk, ice cream/froyo, and about 3/4 of the coconut in a blender.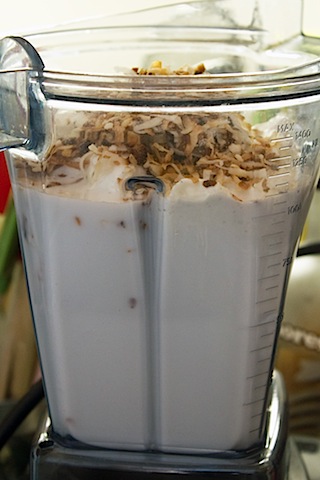 And blend away into heaven.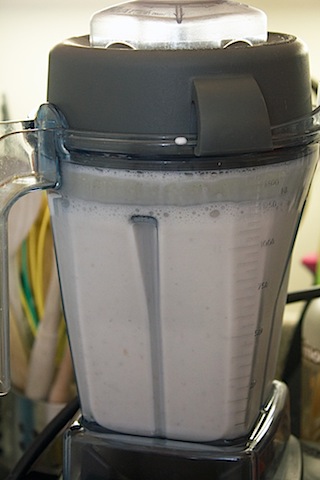 Pour into two glasses and top with more of the toasted coconut. No such thing as too much.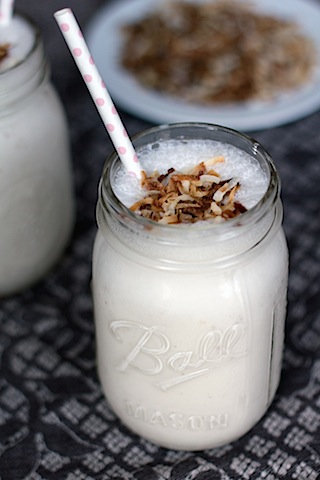 Of course, the toasted coconut would have probably looked even better if it was sitting atop a nice cloud of whipped cream. But I figured I'd try my best not to make a healthy coconut milk even more unhealthy. And besides, I'm not one for whipped cream. It's one of very few foods that I just do not like. Homemade I can deal with though I'd never seek it out. From a can? Blech, ugh, even the sound makes me feel not so hot. (However, whipped cream could be the solution here… though I guess it still wouldn't offer a spot for the toasted coconut to sit atop. Huh. Still a good idea).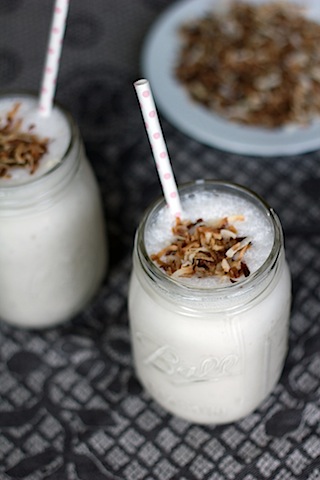 Plus, this milkshake had enough natural froth to it, that the coconut rested quite nicely without sinking.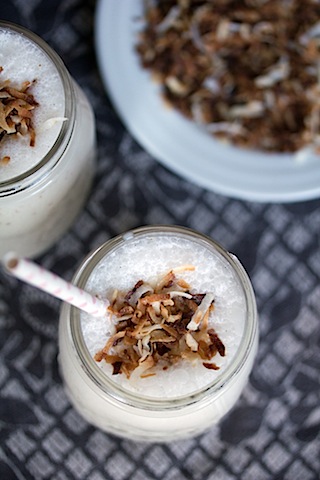 If you aren't obsessed with the aesthetics of your beverages, then you're probably wondering how this tasted. Duh. Is it suffice to say I would like one of these for dessert every single day? And that it's not often my sweet tooth can be satisfied by a drink (in general, give me cake! And pie! And doughnuts!)? So yes, that is really saying something.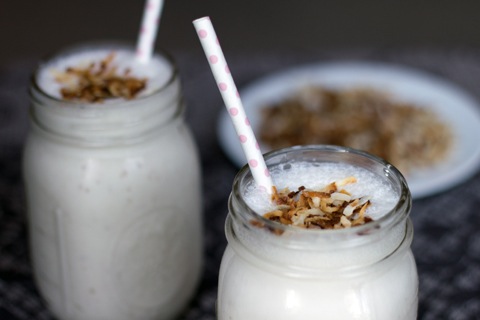 I'd say I want to drink one of these for breakfast every morning, but feel like that would probably be looked down upon, what with the ice cream and all. Perhaps if I replace with a tart frozen yogurt instead? And change the name from milkshake to smoothie? I think I'm on to something here.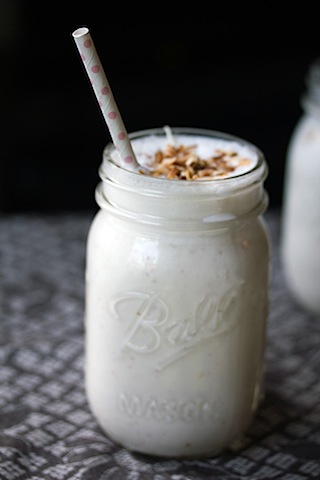 I seriously would implement Milkshake Monday on the blog if I didn't think all of our readers would vanish due to the non-stop ice cream and milk in mason jars. But the options are endless and though the ingredients and prep are generally quite simple, you know this will not be the last milkshake you see from me. Sorry? Or not.
Are you a coconut lover? Have you tried any coconut milks yet?
[Sues]