Spring is in the air and it's the perfect time to work on a fun baking project! These Flower Pot Cakes are adorable and and a great touch at spring parties.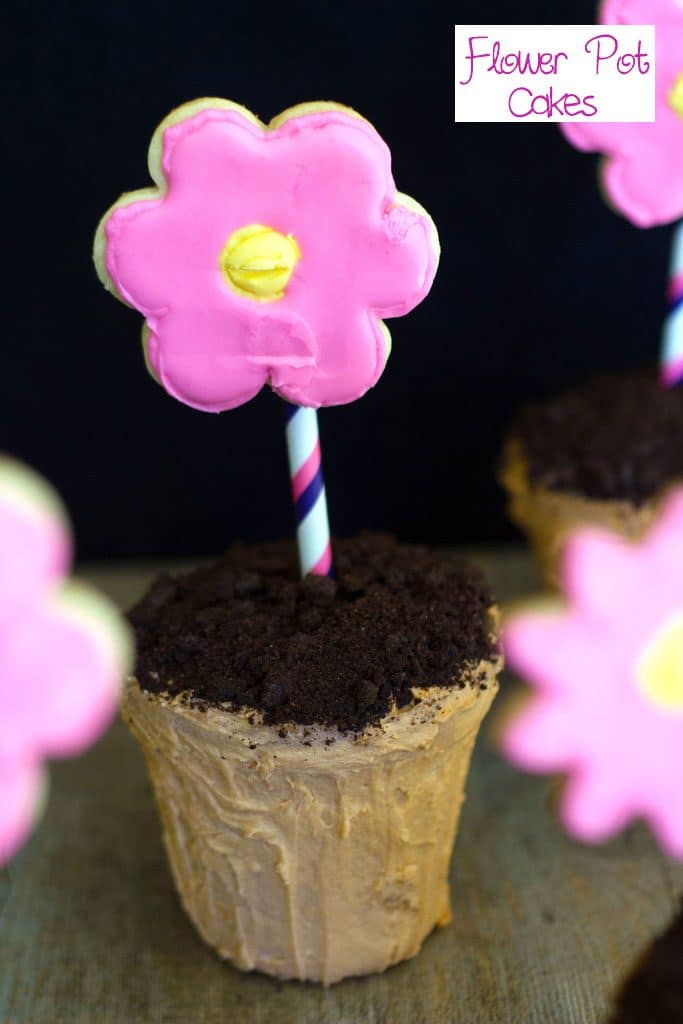 Spring is so, so, so, so close. I know we must feel this way every year, but this year it seems like people are particularly impatient for winter to end and spring to get here. For real. I feel super lucky that Wilton sent me a little package to help me get in a bit of a springtime mood because it is exactly what I needed. I'm also super thrilled to tell y'all that I'm going to be part of the Wilton Treat Team this year… Which means I'll be working with Wilton to get my bake on! Hooray! Wilton is a company that's been in my life for pretty much forever and I've always trusted them with absolutely everything baking, so this is basically a dream come true.
I legitimately squealed with joy when I open up my first package from my Wilton friends. A giant box of baking and decorating goodies. Pretty much heaven in a box. Here are a few of the delights, including flower cookie cutters for spring, SO. MANY. SPRINKLES (It's enough to make my heart burst), and my all-time favorite candy melts.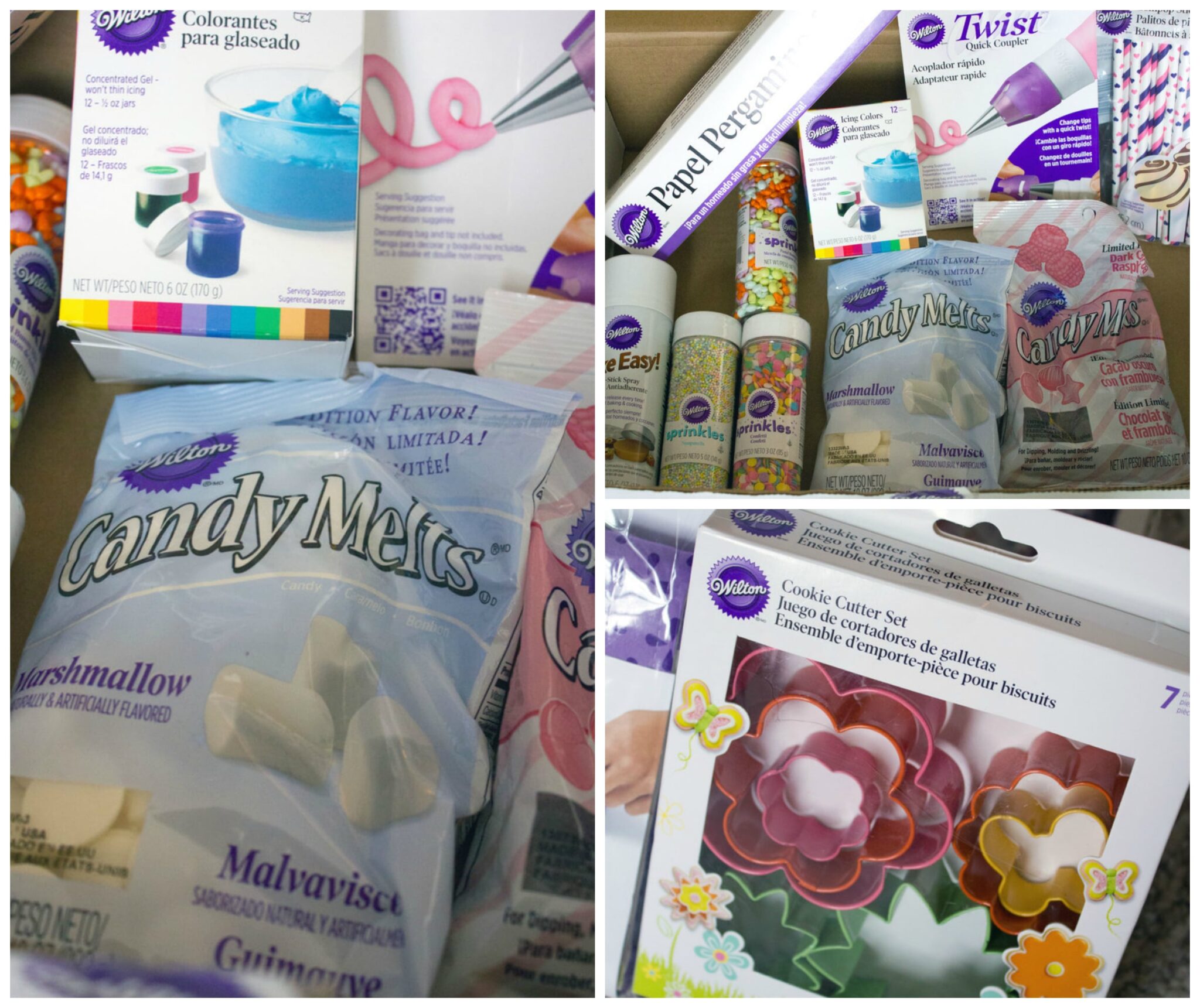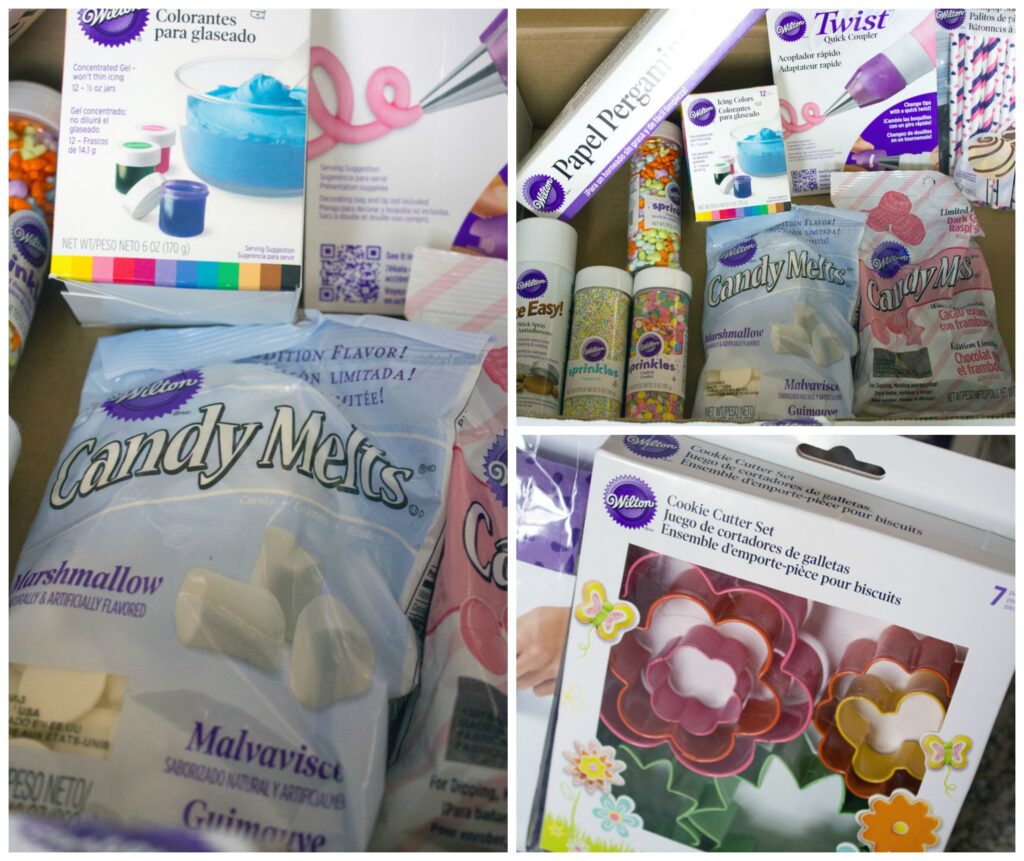 I have to admit this pan scared me a bit. A mini cake pan sounds all fine and dandy, but um, I'm expected to make terracotta pots with this one? Um. This is a product I would likely never purchase all by my lonesome. But part of my goal in working with Wilton is to expand my horizons and step outside my comfort zone. So, I decided Flower Pot Cakes would be my very first little project. Eek! Hold me.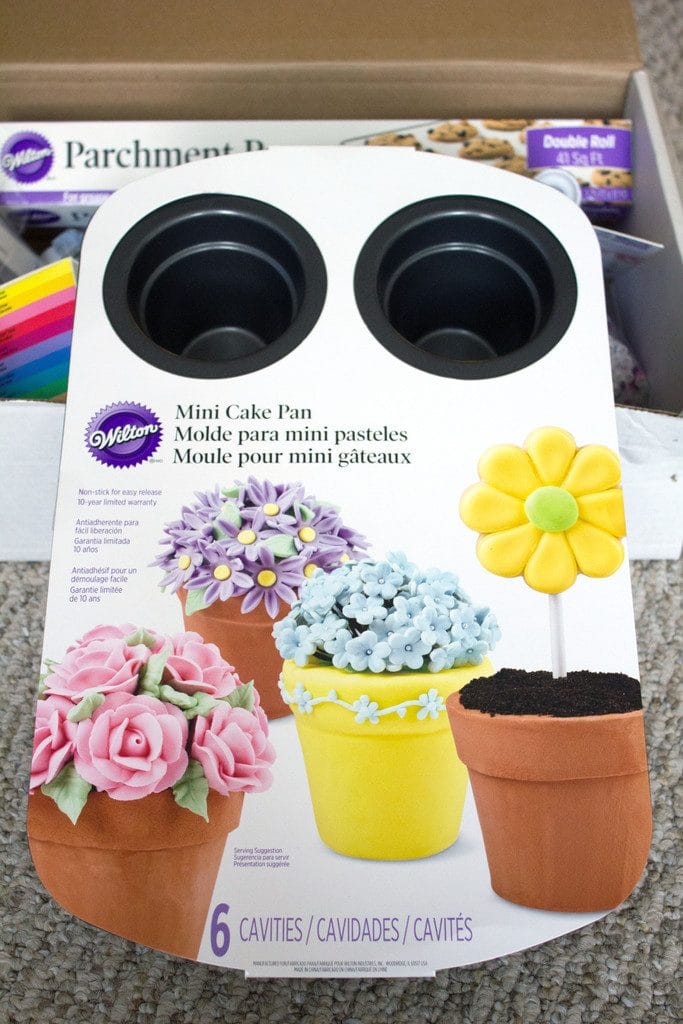 If you know me at all, you will know that though I absolutely love baking and think I can whip up some mighty delicious treats, my presentation isn't exactly out of this world amazing. In fact, I'm a pretty shoddy decorator. Though I pride myself on my patience in most parts of life, I don't think I'm all that patient when it comes to spending time decorating . Plus, my art skills have always been seriously lacking and decorating cakes and the like is definitely an art form. I need help. But I'm pretty sure Wilton can offer that to me.
So, on to the Flower Pot Cakes! These are definitely not the kind of treats, you want to make on your way to a party at the last minute. They require several steps and I ended up making them over the course of two days. I made the cookies and the cakes on Saturday and then spent Sunday decorating and putting the treats together. Instead of giving you the full step-by-step of the recipes (I used Wilton's recipes for many aspects and Martha Stewart's pound cake recipe), I'm going to simply lay out what I did and link to the separate recipes in case you want to follow along.
For the sugar cookies, I used Wilton's sugar cookie recipe and did two different flower shapes.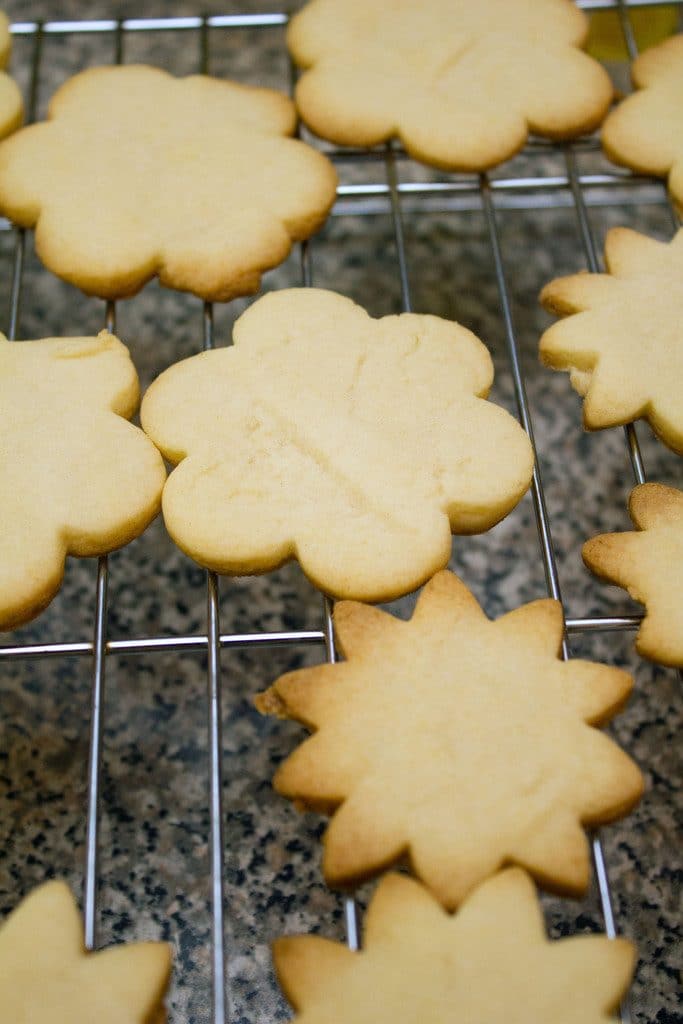 I also used Wilton's recipe for royal icing and decided to go with pink and yellow for super spring-like flowers.
One of the products Wilton sent me was their gel icing colors (affiliate link). I was already a fan of these and have used them for all my food coloring the past couple years. They have such a good color range and a little goes a long way!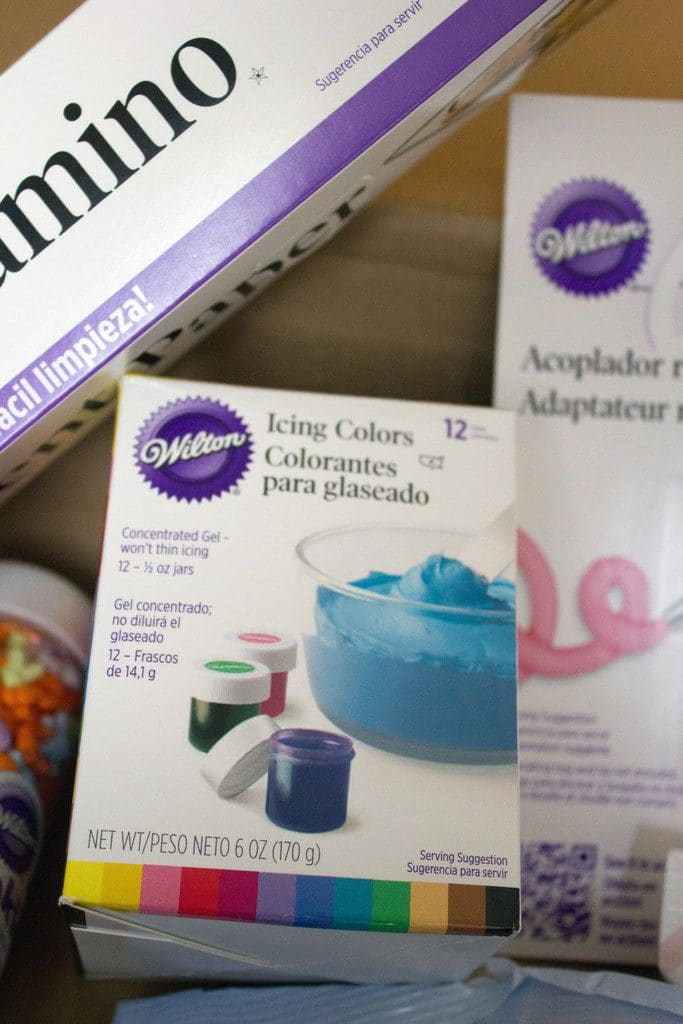 I used the royal icing to outline the flowers. And then thinned the icing out a bit to flood them. This was only my third time making sugar cookies with royal icing and definitely something that I want to improve upon!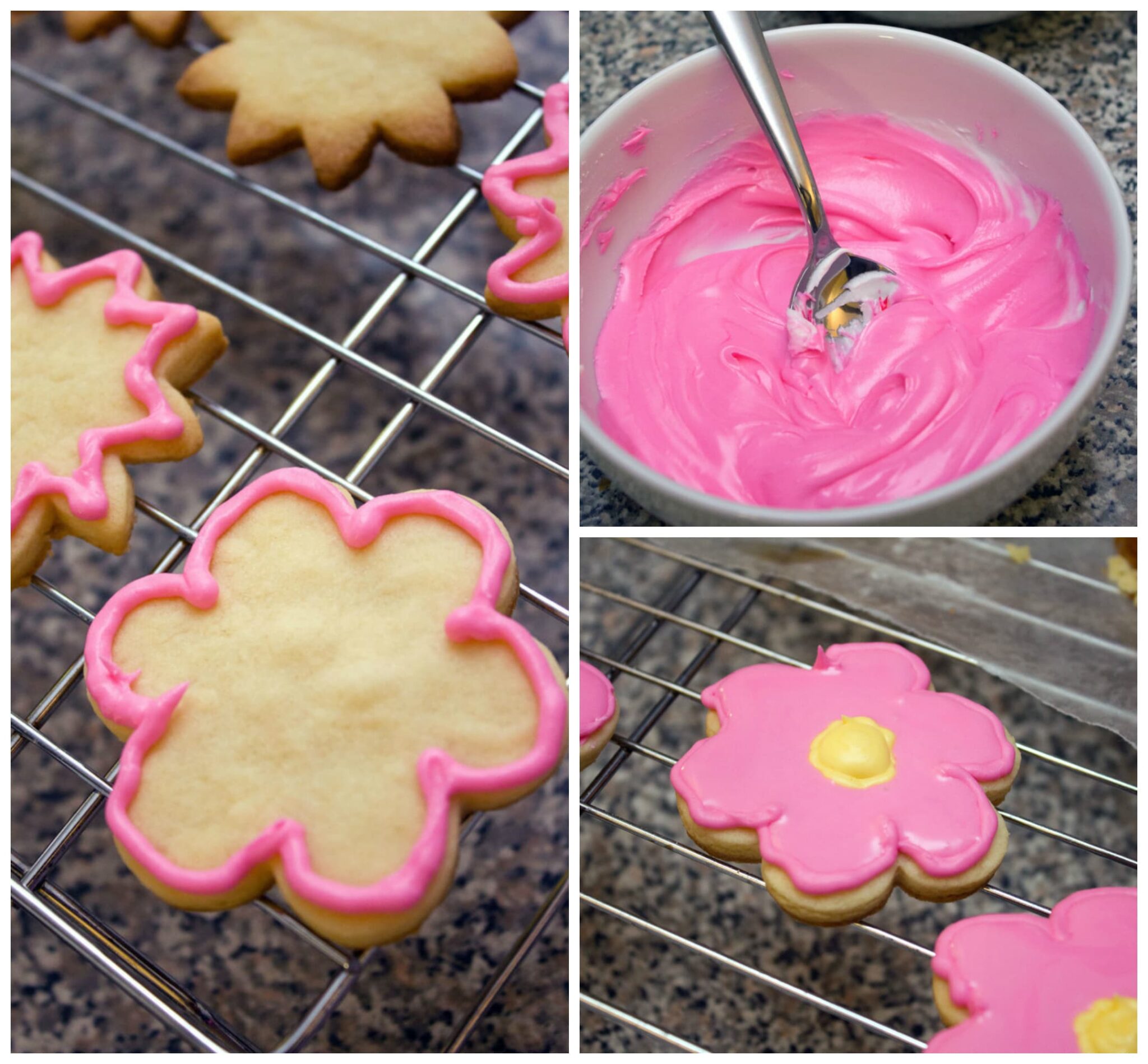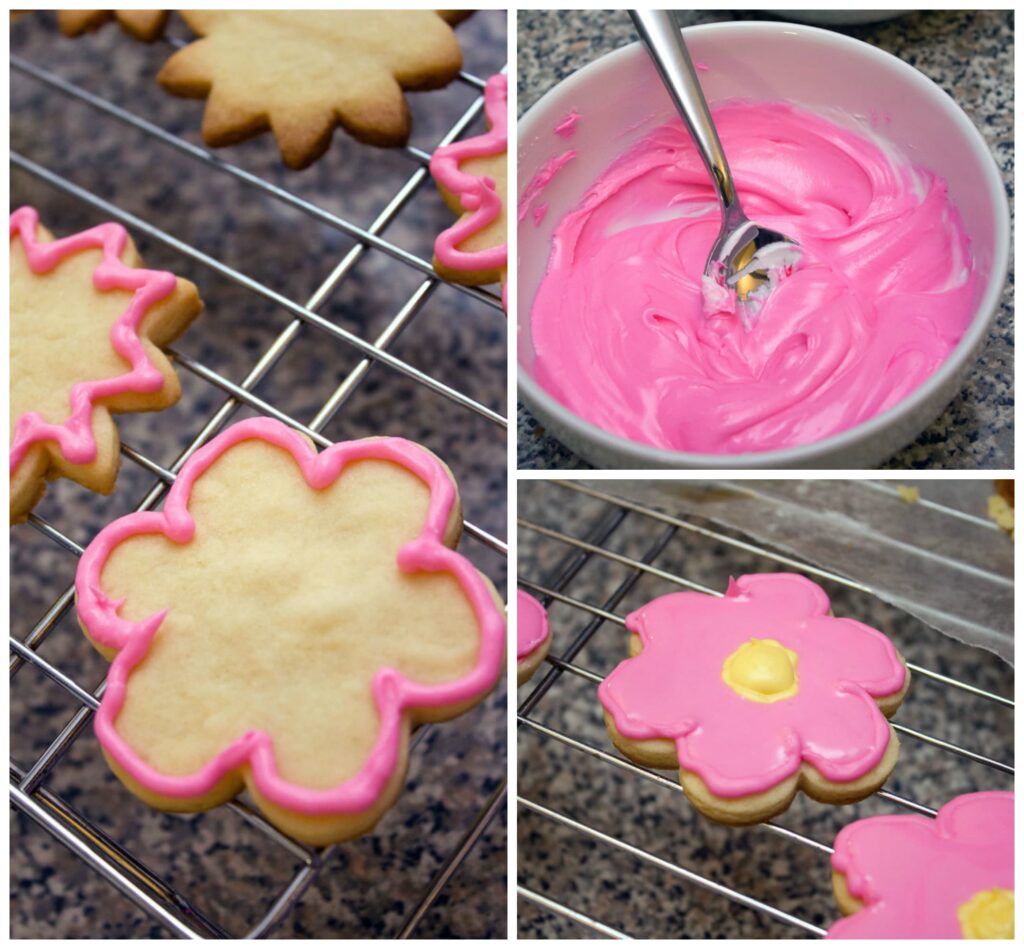 Once these dried (they said 4 hours, but I just gave them 2!), I flipped them over and used some more royal icing to "glue" the lollipop sticks to the backs. I let these dry for a couple more hours.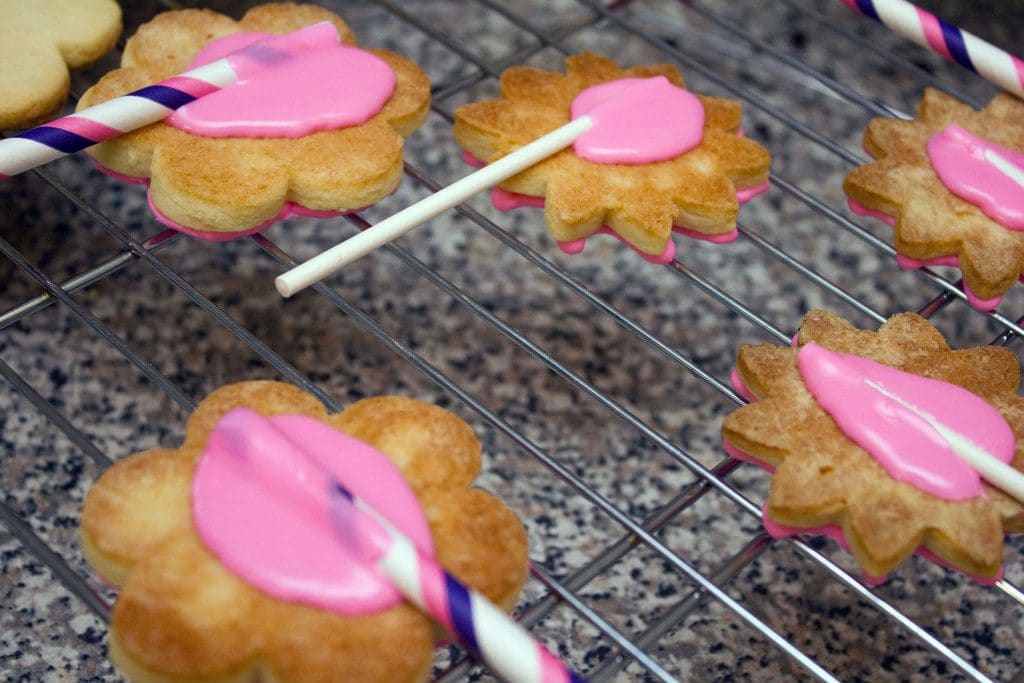 For the cake, I used Martha's pound cake recipe and filled the cake pans about ¾ of the way full.
I used Wilton's Bake Easy Spray (affiliate link) on the pan, which is like my new favorite thing. I'm always nervous when baking in cake/cupcake pans that everything will fall apart when I take them out of the pan. When I took the pan out of the oven, I let it sit on the rack for five minutes. And then flipped the pan over with a piece of parchment paper on the bottom and let cool for 10 minutes more. When I lifted the pan off, the cakes looked perfect. Hooray!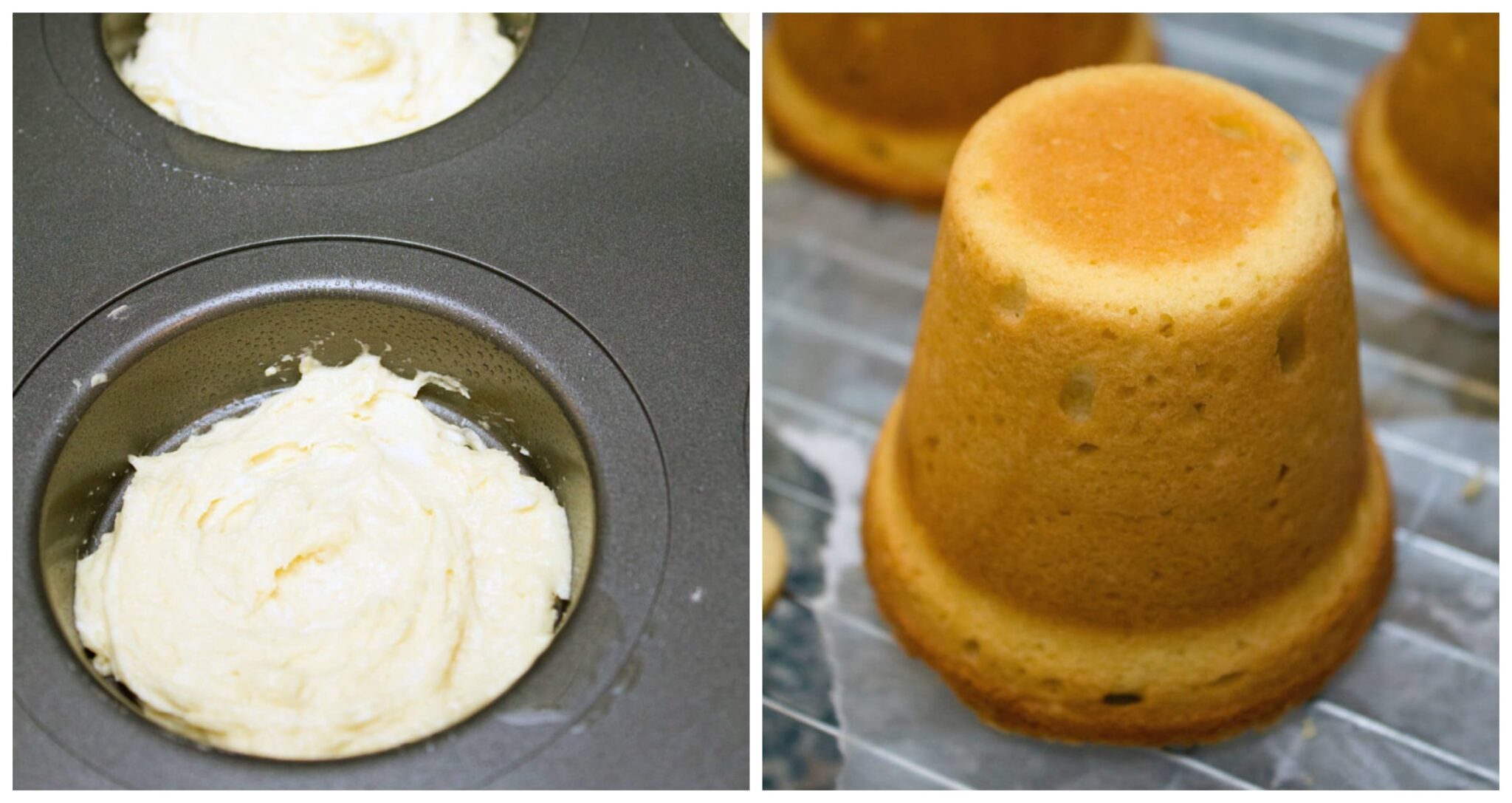 The next step is to make the buttercream and tint it to the terracotta color. Again, I used Wilton's butercream recipe. And yes, I told you this was going to be a lot of steps!
And then I covered the cake pots with icing. I most definitely did not get the icing nearly as smooth as Wilton had them in their photos. I know there are ways of getting buttercream to spread on cakes all super smooth like and this is a skill I'd love to learn.
I crumbled up chocolate cookies for the "dirt." I actually used Oreos and scraped the cream filling out of the middle. Then I put them in a plastic bag and banged them with a meat tenderizer. Basically my favorite activity in the world.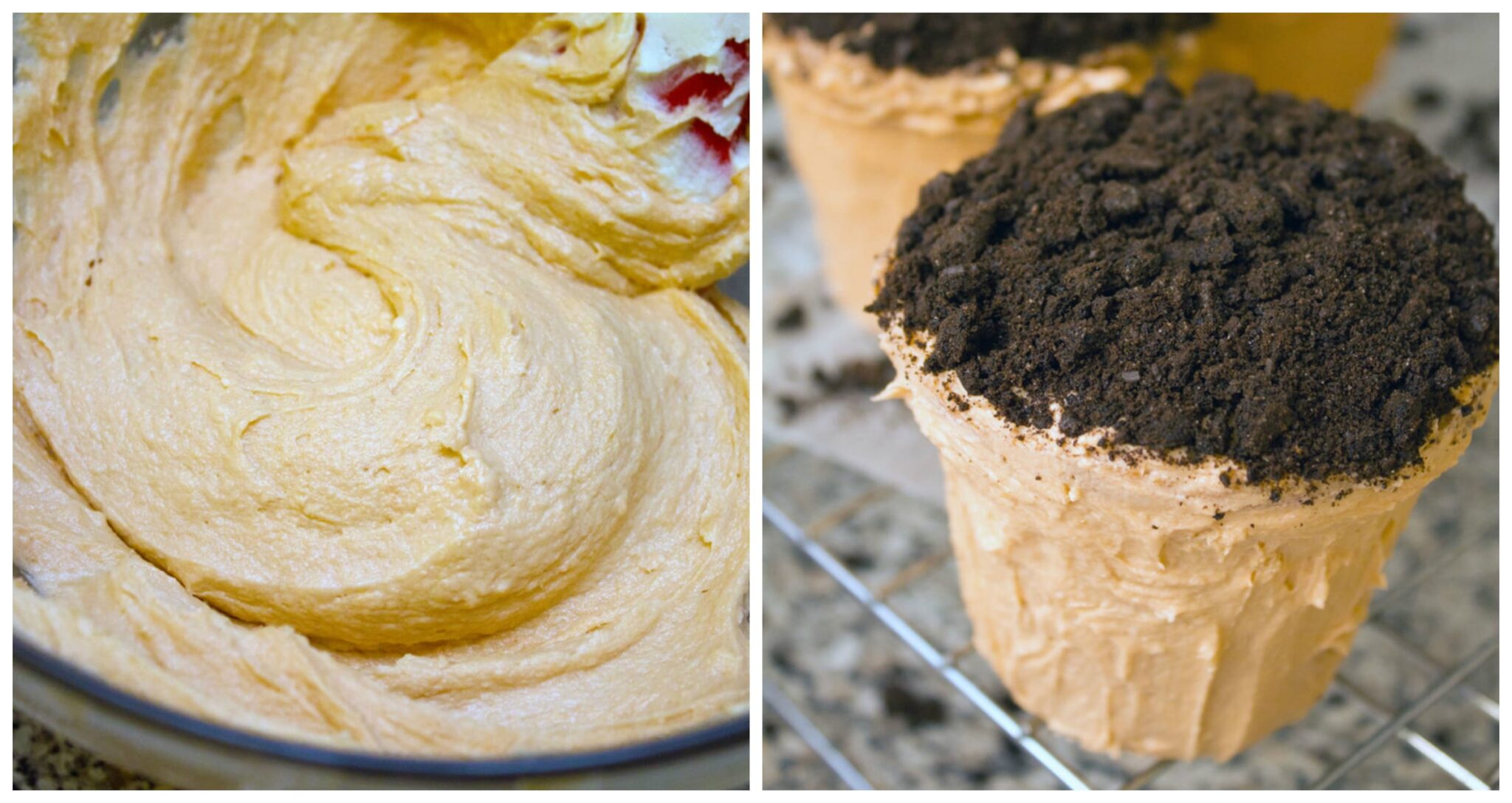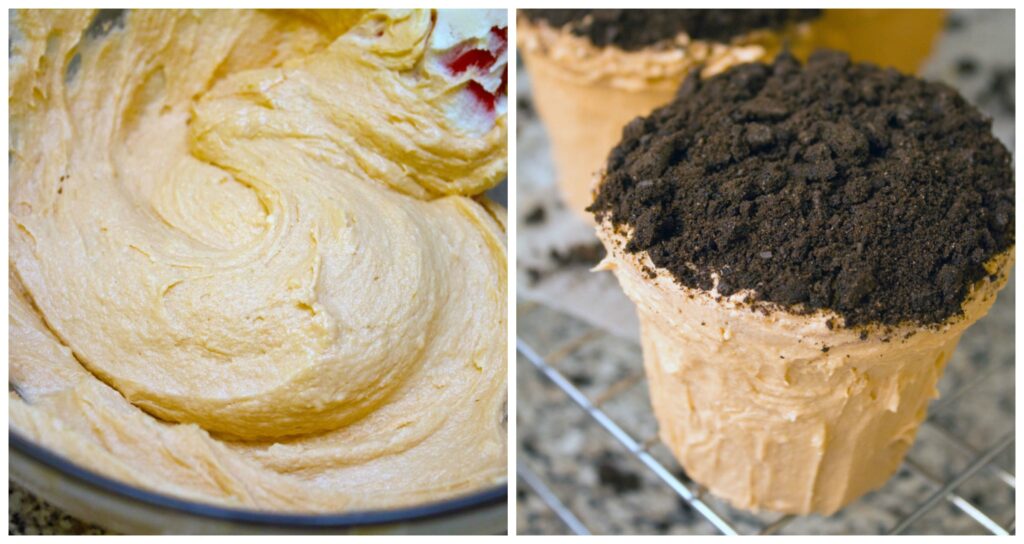 And then I was ready to "plant" my flowers into my flower pot cakes. And now spring has officially arrived in my kitchen... In pretty little terracotta pots.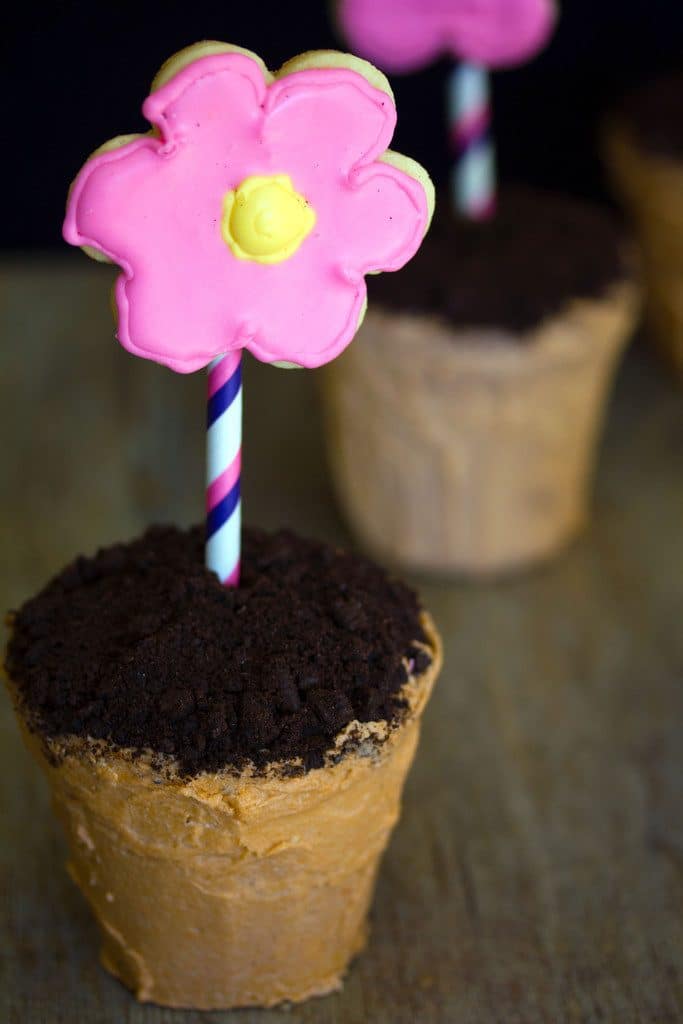 I was quite happy by how my first flower pot cake decorating project came out. Obviously they're not perfect... I would love to have made the pot a little bit prettier by spreading the frosting on a little more smoothly and making the pot's lip a little more prominent. But I never claimed to be Martha and I'm all about learning here. The only way to get better at something is to keep working at it.
You know how some people are just naturally good at things? Yeah, I've sadly never been like that with anything. But I am a really hard worker, so at least I have that going for me.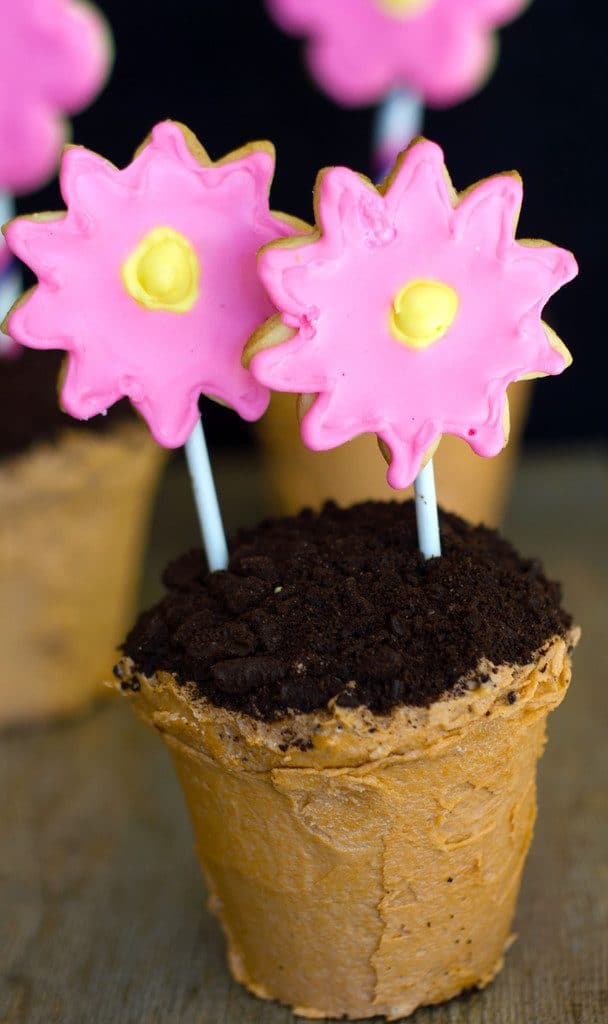 I think these flower pot cakes would be super cute at a spring party or wedding/baby shower. The cakes are pretty huge, so it would be easy to split them.
You can even plant multiple flowers in a pot 🙂 In fact, Wilton uses fondant in the pots a lot to create some crazy beautiful plants. Fondant is another thing I'm seriously frightened by. Like really, really.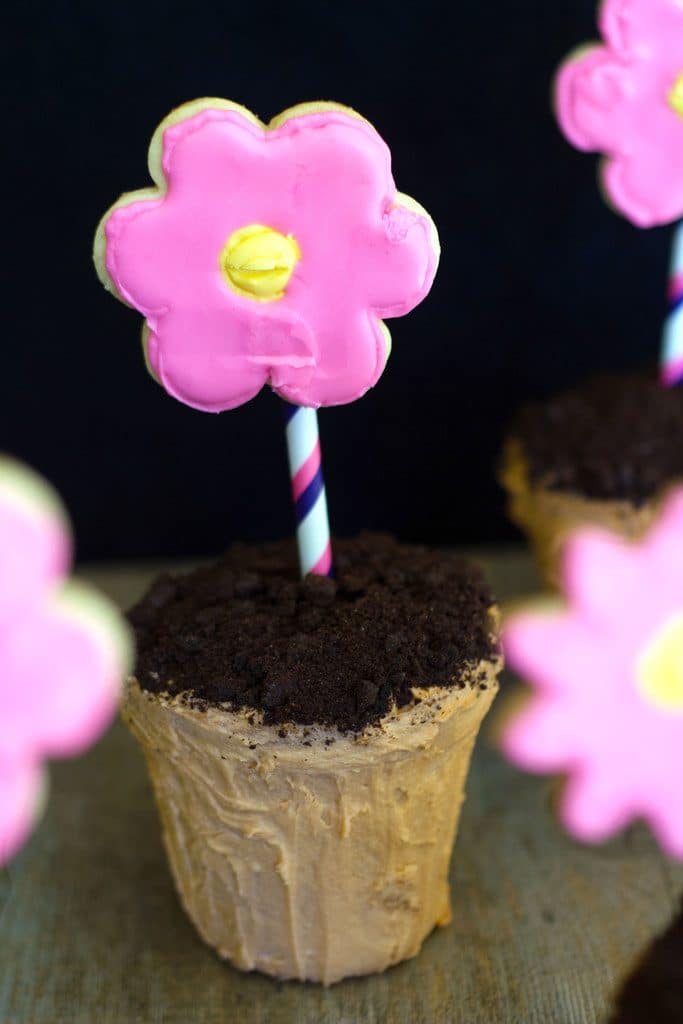 But really, I was excited by how the flower pot cakes came out and can't wait for my next Wilton project! Stay tuned because I'll also likely have some fun Wilton giveaways coming up in the future.
I think it was like 43 degrees outside today, which is basically tropical for these parts. It was also snowing when I woke up this morning, but I'm trying really, really hard to focus on the positive. And if all else fails, there's always cake to eat!
Have you attempted any advanced baking projects lately?
For more fun baking and decorating projects, check out my Doughnut Sugar Cookies. I also really want to make this Cupcake Bouquet from Sally's Baking Addiction!