These healthy Banana Maple Cranberry Cookies have a banana base and are packed with oats, flaxseed, applesauce, and dried cranberries. They're quick and easy to make and can double as dessert or breakfast!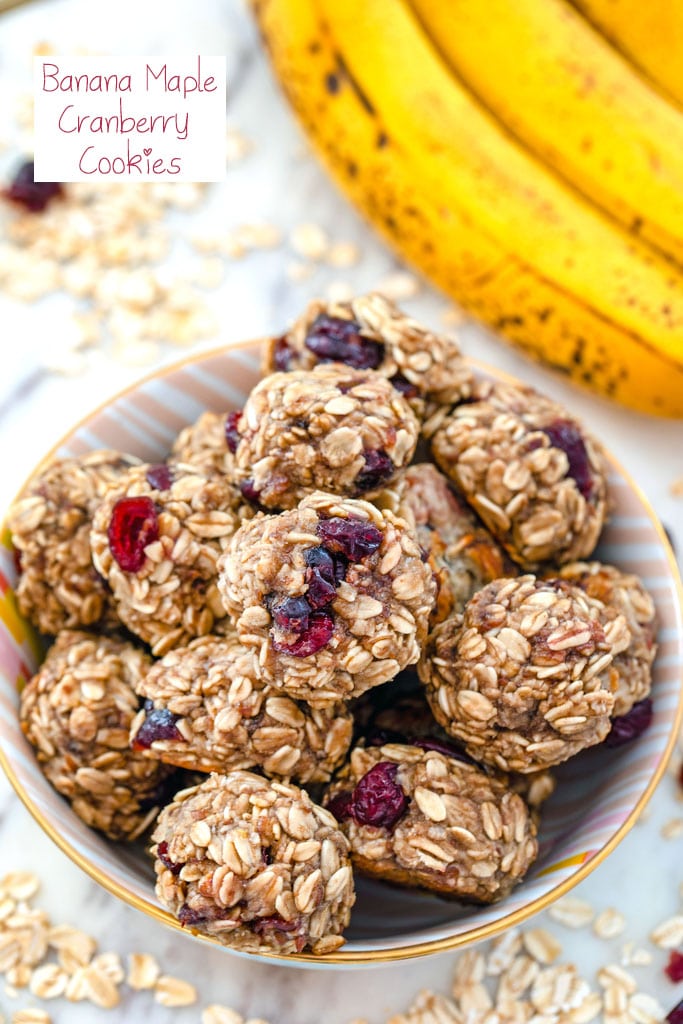 (This recipe for Banana Maple Cranberry Cookies was originally published in January 2012, but was updated with new photos in 2019).
You know those commercials for the cookie diet? You see them and you're like "Oh, hell no. There is no way I can eat all cookies all day every day and lose weight. Liars!" So, you laugh at the gimmick and then laugh a little harder when you see the lovely straight-from-Jersey-Shore Snooki promoting the product.
But then, then, you see Snookie again and she's lost like a million pounds and you're like "Huh?! But I thought she was only eating cookies…" And then you maybe start to believe in the cookie diet a little bit. Right? I don't know where I'm going with this because I'm not trying to lose weight. And I'd never buy a cookie diet that has commercials on television that Snooki is promoting.
But I do strongly believe in a world where we can eat as many cookies as we want and not gain one billion pounds. And I'm pretty sure I found it. A world that contains a cookie diet that works.
I spotted a version of these healthy cookies in Shape magazine and was astounded. I mean, there is no flour or granulated sugar in these cookies. No baking soda or baking powder. They're made from bananas. And oats. And applesauce. Basically. I made some changes to this recipe, but followed the banana oats rule and discovered a banana maple cranberry cookie that's actually good for me. Can I get a hallelujah up in here??
BANANA MAPLE CRANBERRY COOKIES RECIPE
The ingredients in these healthy cookies include bananas, oats, ground flax, and dried cranberries. Add in a little unsweetened applesauce and maple syrup and you can eat these all day every day and will probably lose weight. But uh, don't take my word on it. They don't involve kale, after all… But now my mind is working over-time.
Also, this is the easiest recipe ever. I was literally IN BED when I started craving cookies. And I decided to hop out of bed and make these banana cookies. They need to bake for 20 minutes, but they only require about 10 minutes of actual work from me. Easy AND healthy are not two words you hear together very often.
Start by mashing your ripe bananas all together in a bowl with a fork.
Then, mix all the other ingredients together with the banana. The oats, applesauce, maple syrup, flaxseed meal, and dried cranberries.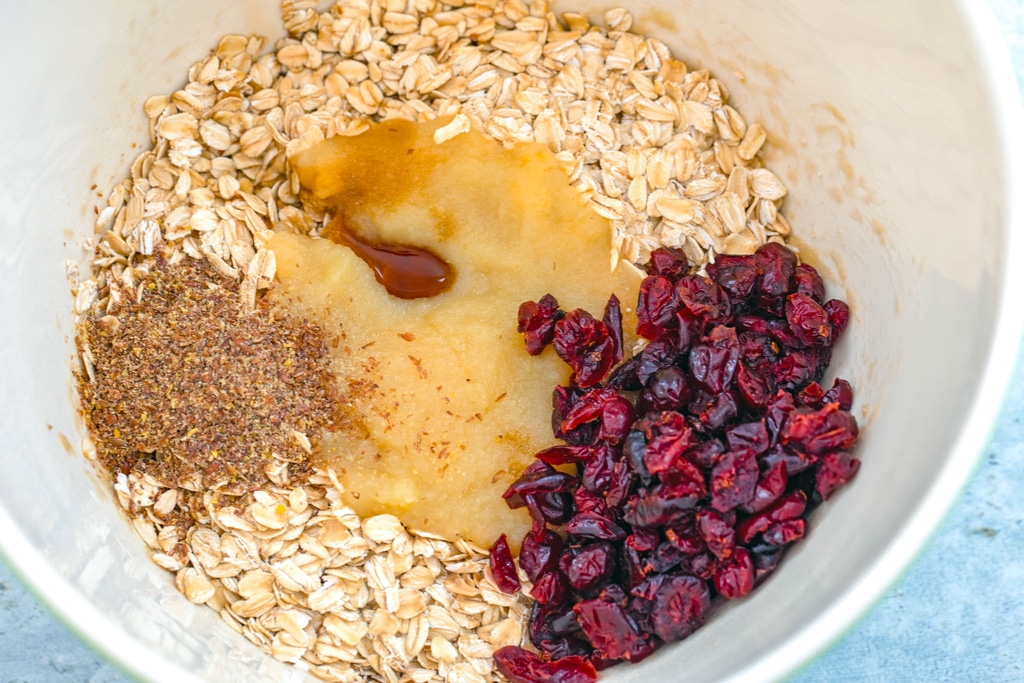 I've never had flaxseed meal, but found it at Market Basket and thought I'd check it out. Flax is super healthy and filling/satisfying, too, so it helps bulk up these cookies and add some more nutrition.
Drop "dough" on a parchment or Silpat-lined cookie sheet. I use "dough" in quotes because this definitely isn't a traditional dough. Can banana dough be a thing? I dropped the banana dough in balls using abut 1 ½ Tbsp of "dough." The cookies don't flatten very much as they bake so if you want more of a cookie look and less of a "ball" look, definitely flatten the "dough" as you drop it.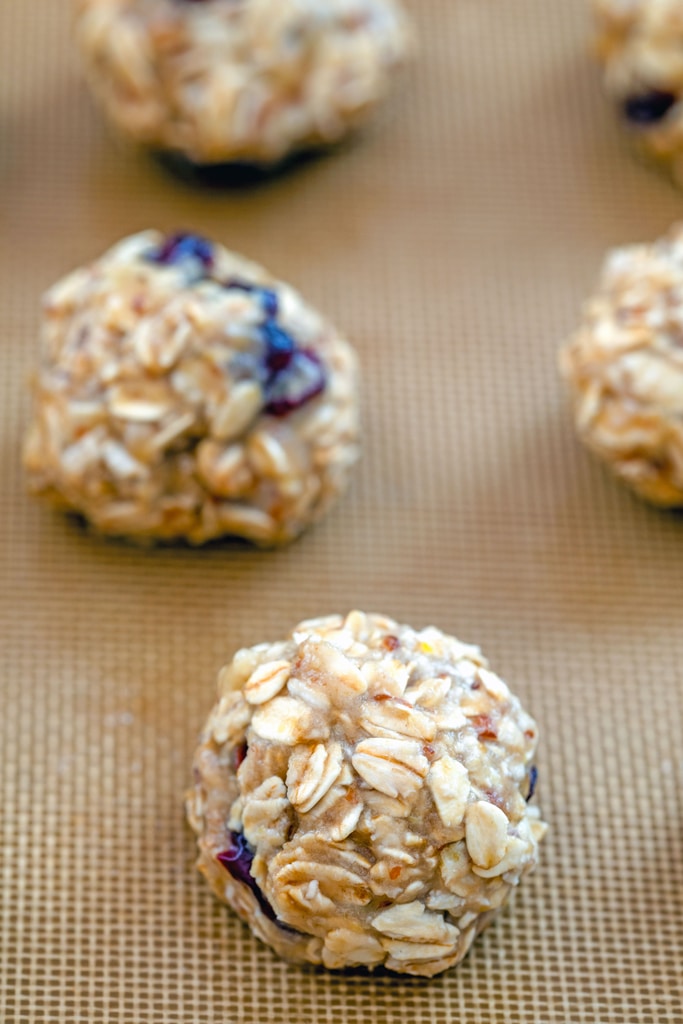 Bake the cookies for 20 minutes at 350 degrees. Let them cool in the pan for a few minutes before moving to cooling racks to cool completely.
I know, I know. You're probably thinking: THIS IS NOT A COOKIE. This is merely a banana covered in oats and applesauce with some dried cranberries stuck in. Woo hoo. But they're delicious. I promise. They're kind of like a nice and chewy granola bar with nice banana flavor and sweetness added in.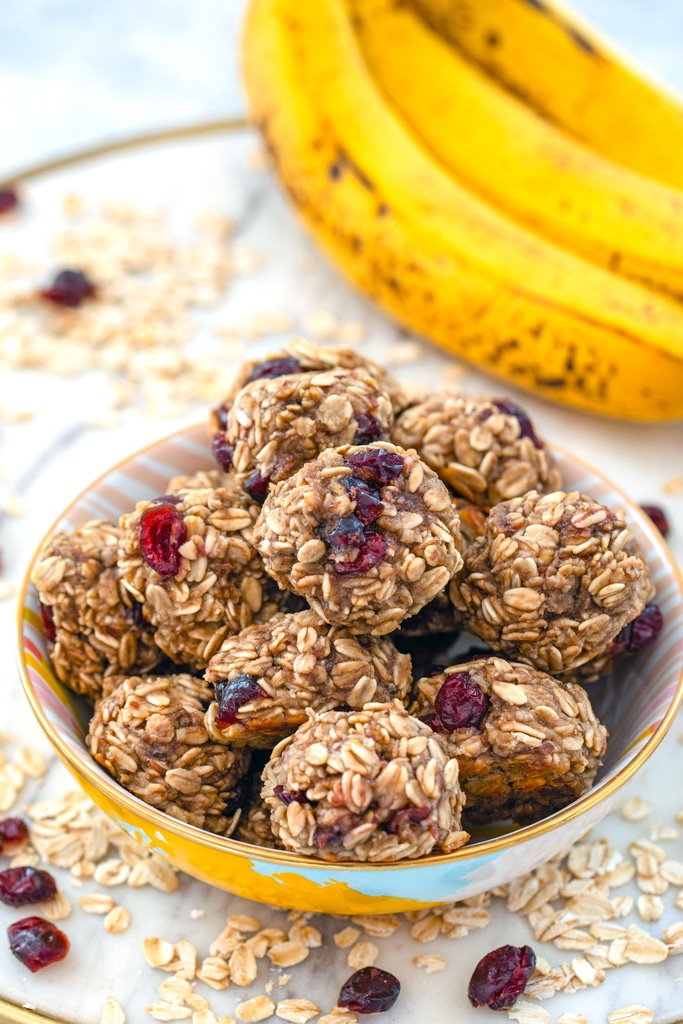 Obviously, you have to like bananas to enjoy these banana cookies because there is a strong banana flavor involved.
But there's also a delicious maple touch and a nice chewy oat texture. I had a few after lunch today and was completely satisfied and happy. And the other day when I was in a rush, I grabbed a few for breakfast and they did just the trick.
Cookies for breakfast? Just call me Snookie. But no, don't actually.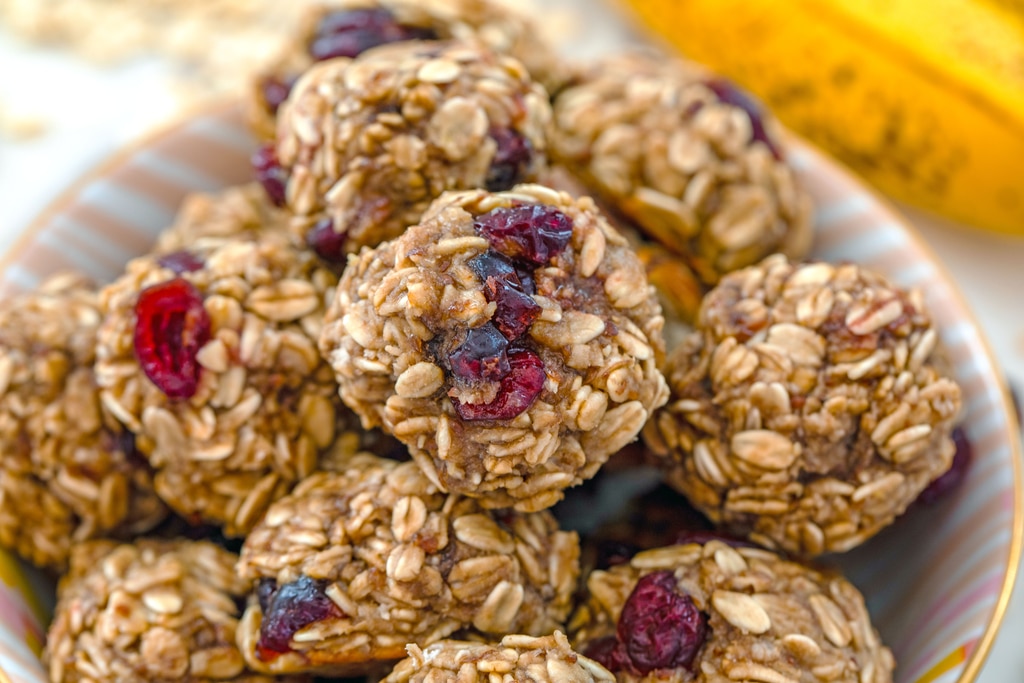 Of course, I couldn't help but wonder what these banana maple cranberry cookies would be like if I added chocolate chips instead of dried cranberries. Because you never know. And coconut maybe?
The add-in options are really endless with this banana base.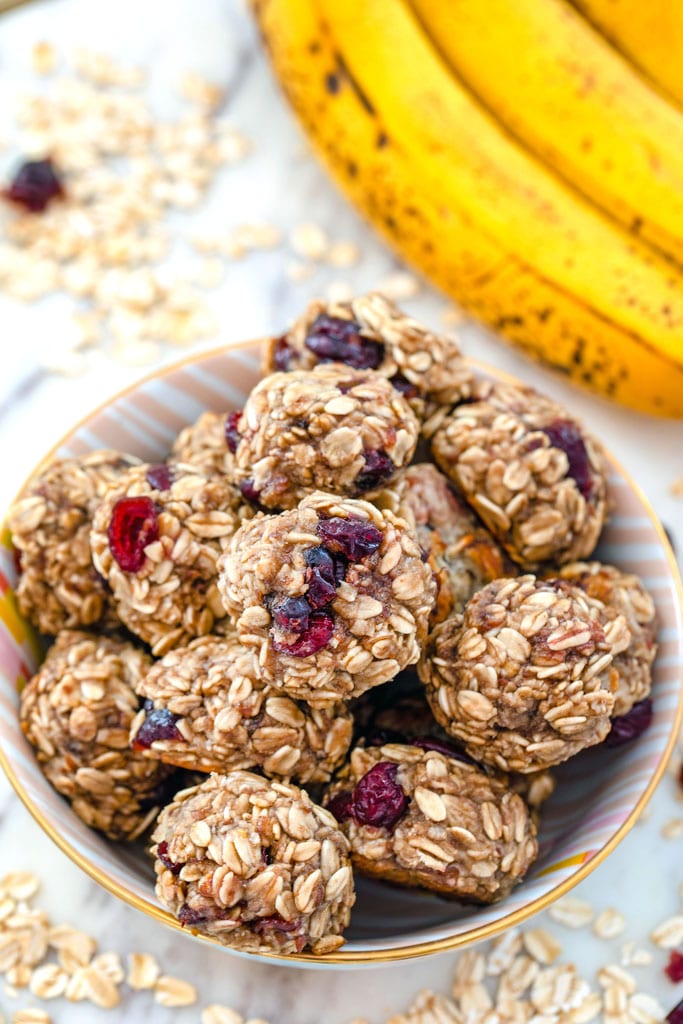 And since I rarely post about healthy desserts, I feel like you have to trust me on this one. After all, I'm the first person to down a package of Fudge Stripes or Keebler's Chewy Chocolate Chip Cookies (Soft Batch!), but sometimes I want to feel a little better about my choices. Not often, but sometimes. I do, after all, have to fit into a wedding dress in 4.5 months (eek!). And I'm sure as heck not giving up cookies. Nor do I plan on befriending Snooki.
What's your favorite healthy-ish dessert?
For more healthy-ish treats, check out my Chocolate Chip Oatmeal Cookies or my Mocha Overnight Oats. I also want to try these Healthy Breakfast Cookies from Cake Whiz!
📖 Recipe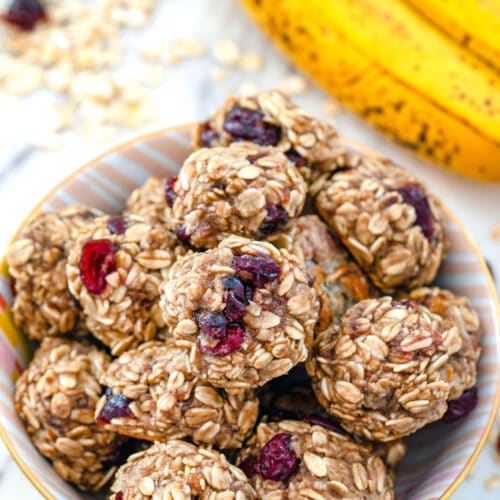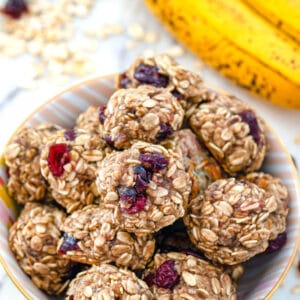 Banana Maple Cranberry Cookies
These healthy Banana Maple Cranberry Cookies have a banana base and are packed with oats, flaxseed, applesauce, and dried cranberries. They're quick and easy to make and can double as dessert or breakfast!
Print
Pin
Rate
Ingredients
1

cup

ripe mashed bananas

(from about 3 bananas)

2

cups

rolled oats

⅓

cup

unsweetened applesauce

2

Tbsp

real maple syrup

1

Tbsp

flaxseed meal

½

cup

dried cranberries
Instructions
Pre-heat oven to 350 degrees and line a baking sheet with parchment paper or Silpat.

In a large bowl, combine mashed banana with oats, applesauce, maple syrup, flaxseed meal, and dried cranberries.

Drop 1 ½ Tbsp of dough on prepared baking sheet. If you want more "cookie-like" cookies, flatten dough a bit with the palm of your hand.

Bake for 20 minutes. Let cookies cool on baking sheet for a few minutes before moving to racks to cool completely.
Share a Photo of Your Finished Recipe!
Mention @wearenotmartha and share a photo if you've made the recipe!