Made with fresh raspberries, lemon juice, and simple syrup, this Raspberry Vodka Lemonade will be your new favorite refreshing summer cocktail!
(This recipe for Raspberry Vodka Lemonade was originally posted in June 2013, but was updated with new photos in 2018).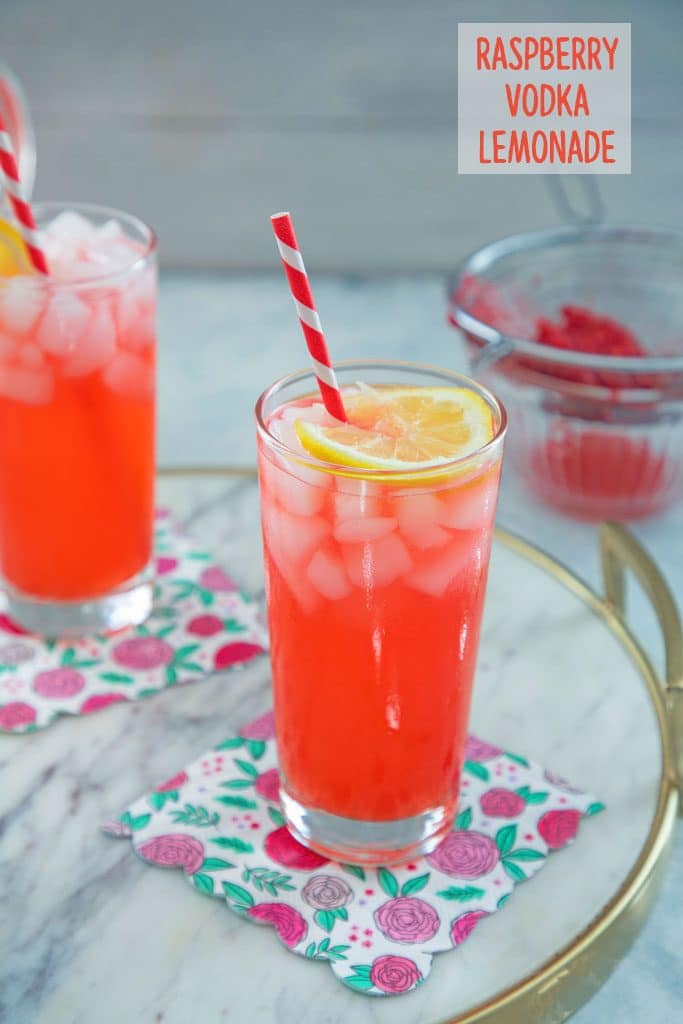 It didn't occur to me until after I made, drank, and started writing about this cocktail that I don't like raspberry vodka. Hate it, in fact. Even the words are making me feel a little iffy right now. I'd never in my right mind order a drink out that contained the words "raspberry" and "vodka" in it. But I made one. And was obsessed with it. And didn't even think it was slightly odd. The reason is pretty obvious….. fresh raspberries. Which absolutely do not equal artificially flavored raspberry vodka. I don't like artificially flavored raspberry anything. But fresh raspberries? Are one of my favorite things in the world. I even love the way the word is spelled. Raspberry… With a little extra "p" for "pizazz." amirite?
Now that it's officially summer and just about the 4th of July (hooray!), this is basically all I want to drink. Well, after work. And after 12:00 on the weekends. And maybe I need some water in between. But other than that all I want is Raspberry Vodka Lemonade with fresh raspberries. Happy summer, indeed.
RASPBERRY VODKA LEMONADE
This drink is ridiculously easy to make, meaning it's perfect for when you have a few friends coming over at the last minute. You'll need to make a quick simple syrup, which is easy peasy (and if you're someone like me, you probably already have some in your fridge!). The toughest part is squeezing the juice out of all those lemons... Which, come on, isn't really that bad. I only needed 4 very juicy lemons to get a cup of juice.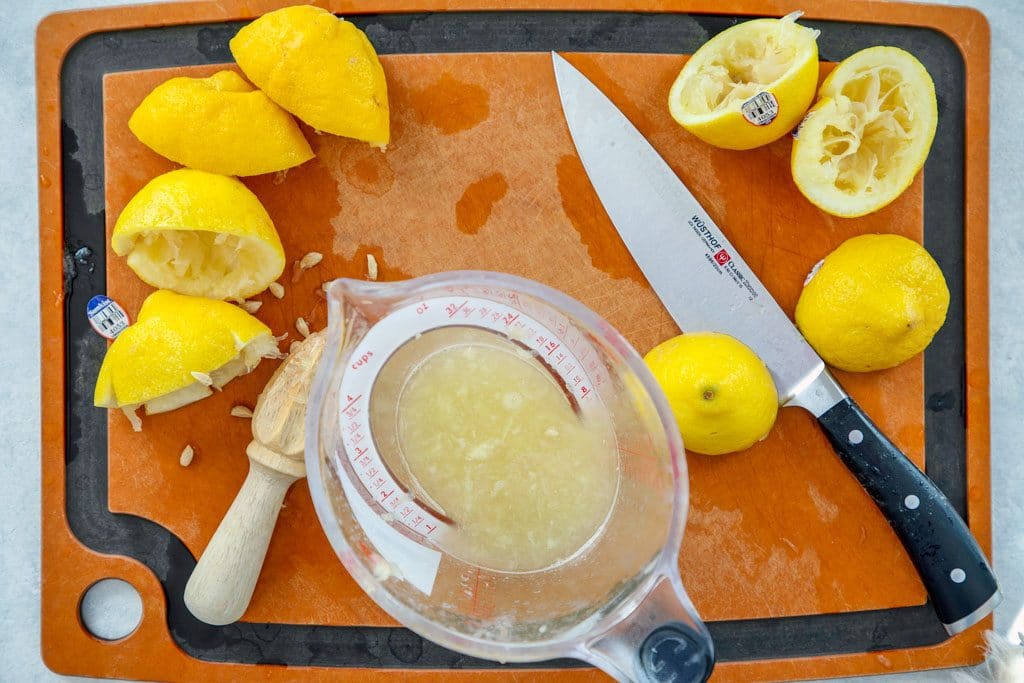 Then I mushed my raspberries with a potato masher... But you can definitely put them in a blender or food processor if you want. The key is to extract as much juice as you can.
I'm obsessed with the color!
Add the lemon and raspberry juice, ½ the simple syrup, extra water, and vodka into a big ice-filled pitcher... I like my lemonade a little bit tart, so I added the simple sugar in slowly, tasted, and added more until I thought it was sweet enough. Pretty sure I almost "taste tested" the entire pitcher. Oops!
I am not lying when I say this is my new all-time favorite sweet drink. It was PACKED full of fresh raspberry flavor, but also had tons of the tartness of the fresh lemon juice. The best of both worlds.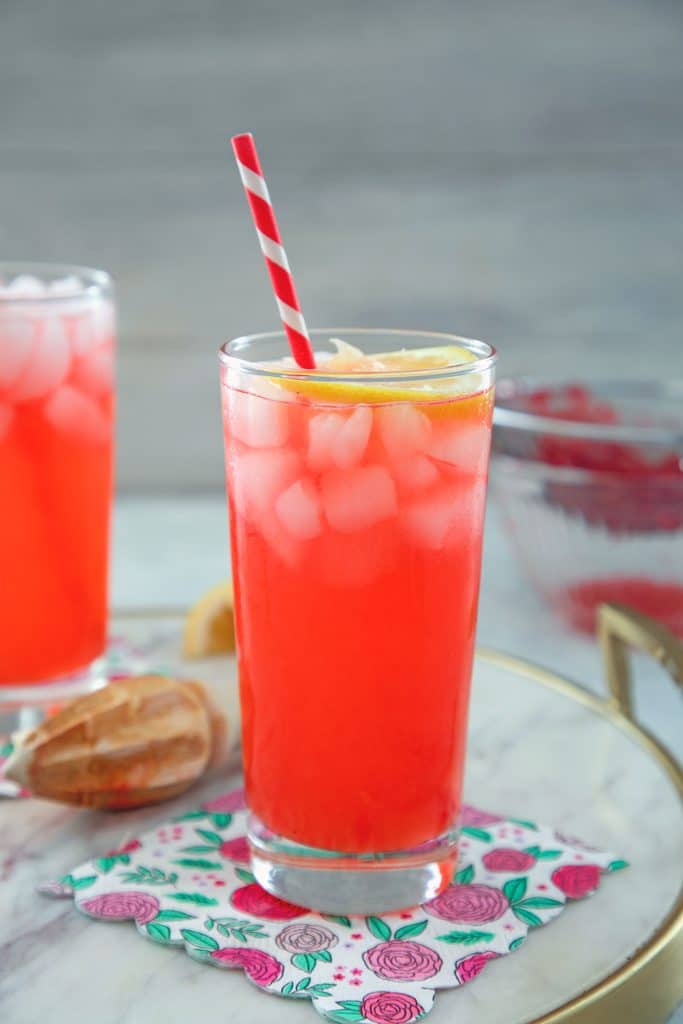 Though there's obviously some added sugar from the simple syrup, there's also plenty of natural sweetness from the raspberries. And, I mean, think about all the vitamin C this drink contains? You should sip on it for that reason alone!
This made me really wish I had a house with a front porch. And I could sit on my porch with this in hand and pretend I lived somewhere life was a little bit slower and simpler. And there was always time to watch the sun set on a summer evening.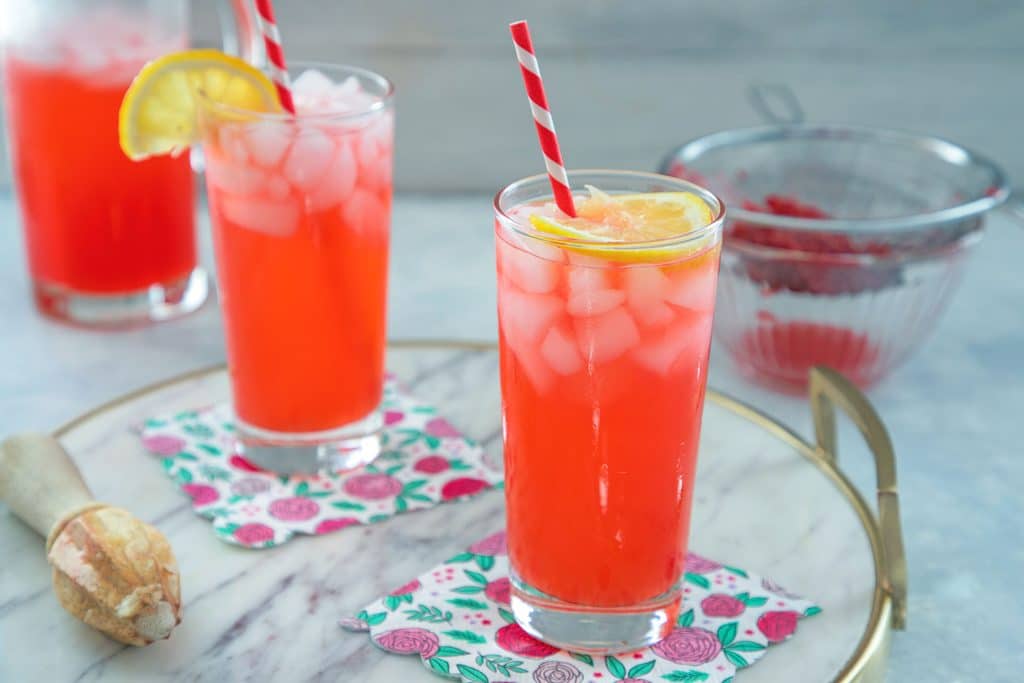 Just looking at this is making me seriously angry that I don't have any fresh raspberries in my fridge. And has me convinced I need to make sure to ALWAYS have frozen raspberries in my freezer because, though it may not be quite as delicious, you cold definitely make this with frozen raspberries. In a pinch. Or when fresh raspberries are ridiculously expensive at the grocery store. Which they often are.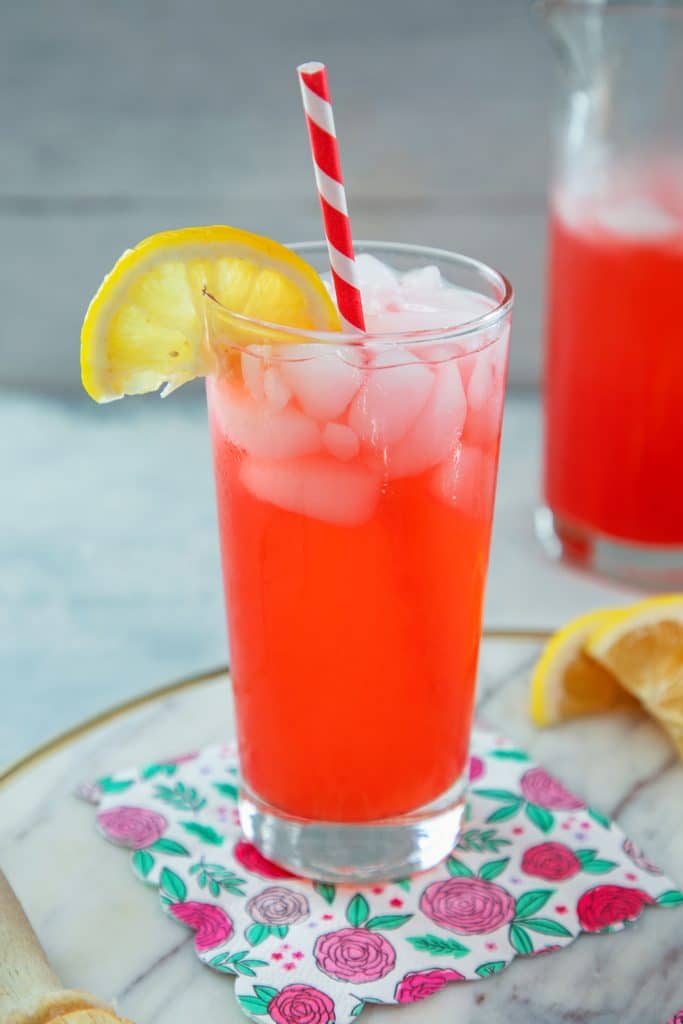 I know this summer is going to go by far too fast, so I'm trying to be conscious of enjoying every second. Every single second. And cocktails like this raspberry vodka lemonade are certainly going to help. I know I've been slacking on Cocktail Friday a bit lately, but I already have a few more planned, so get excited 🙂 If you're into that kind of thing. And I hope you are.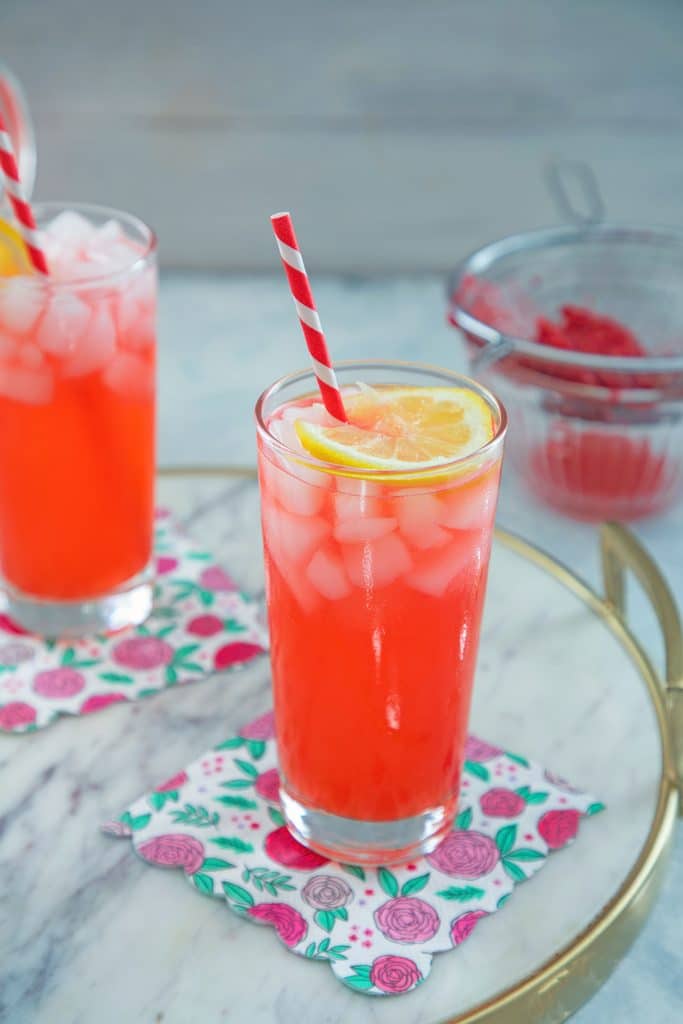 Enjoy this summertime Cocktail Friday! And the rest of your weekend, too. It's going to be a rainy one here in Boston, but that's OK because I'm on vacation in exactly one week! Cocktail Friday? I'll be having Cocktail Week! How much raspberry vodka lemonade do you think one can drink in a week? Don't make me test this out!
What summer cocktails are you sipping this weekend?
For more fabulous summer cocktail recipes, check out my Blueberry Vodka Lemonade or my Key Lime Pie Mojito.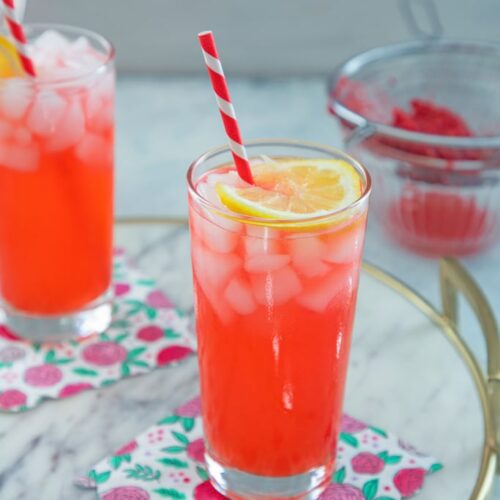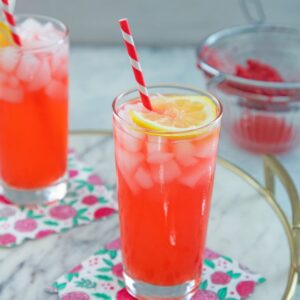 Raspberry Vodka Lemonade
Made with fresh raspberries, lemon juice, and simple syrup, this Raspberry Vodka Lemonade will be your new favorite refreshing summer cocktail!
Print
Pin
Rate
Ingredients
½

cup

granulated sugar

2

cups

water,

divided

1

cup

fresh squeezed lemon juice

(from 4-5 lemons)

1

cup

fresh raspberries

1

cup

vodka
Instructions
Put sugar and ½ cup water in a small saucepan over medium-high heat and bring to a boil. T

urn heat to low and gently simmer until sugar completely dissolves and mixture thickens a bit, about 5 minutes.

Pour simple syrup in separate bowl and put in fridge to cool.

Put lemon juice in an ice-filled pitcher.

In a separate medium bowl, mash raspberries with a fork or potato masher. Alternatively, you can puree them in a blender or food processor. Push the mixture through a fine mesh sieve to extract the juice into the pitcher with the lemon juice.

Add remaining 1 ½ cups cold water, ½ the simple syrup, and vodka to the pitcher. Stir with a wooden spoon and taste. Add more simple syrup in if desired.

Pour lemonade into ice-filled glasses, garnish with a lemon slice, and enjoy.
Pin this Recipe for Later!
Mention @wearenotmartha and share a photo if you've made the recipe!