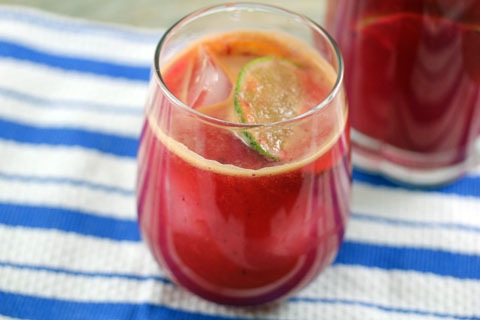 It's Cocktail Friday! And I'm writing this from the airport about to depart to Richmond, VA, to visit Chris's family. Sitting in the new Jet Blue terminal at Logan Airport makes me feel like I need a cocktail. Big time. But unfortunately, there's only a prepared sandwich kiosk. And I'm fairly certain they don't sell cocktails. Or blood oranges. Or even a nice cup of Starbucks coffee… Seriously though, this terminal is pretty awful and I'm starting to wish I didn't make it to the airport until just before my flight took off. That's what I get for being so punctual (or just a crazy nervous wreck about being late).
Also, screaming babies. Several of them. I pray they are not on my flight. But since there are a total of 3 gates here, I fear the worst. Anyway, it's likely that you need a cocktail, too, correct? We can get through this together (except you're probably sitting on your couch after a long week, relaxing). If you are, get up right now and make this Blood Orange Lime Rickey. And have one for me. Thank you 🙂
Blood Orange Gin Lime Rickey (serves 4):
Print this recipe!
1 1/4 C fresh blood orange juice, plus a few slices for garnish
1/4 C fresh lime juice, plus a few slices for garnish
1 C gin
1 C club soda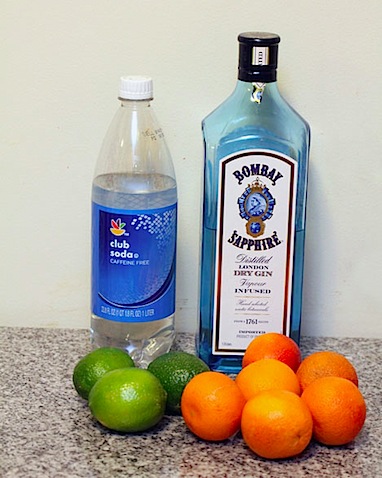 It's really quite simple. Just juice your oranges (until you have a cup and 1/4 of juice… probably about 8-10 oranges) and admire the beautiful mess the blood oranges make.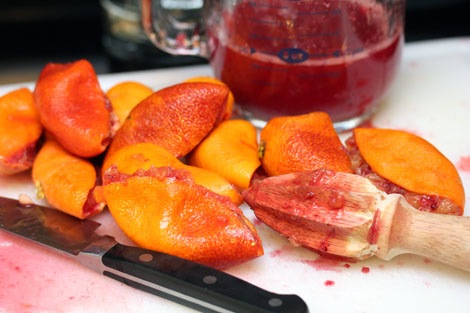 Then, into a pitcher, pour the juice, along with 1/4 C of lime juice. I like my rickeys citrusy, but if you get tired of squeezing, you can stop when you want. Then pour in the gin and top off with the soda. Add a few slices of limes and blood oranges in for good measure.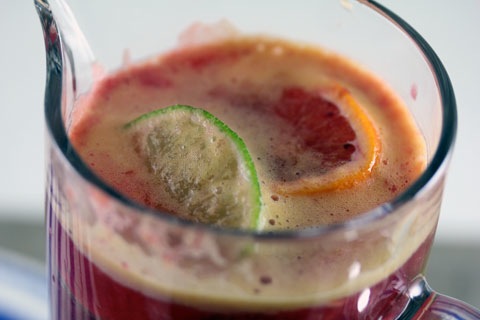 Of course, you can adjust the amount of ingredients to taste. Some lime it ginny-er. Some like it less so. Who are you? And can I have your gin? 😉
I absolutely LOVE the color of this drink. Seriously, there may be nothing better than a beautiful blood orange.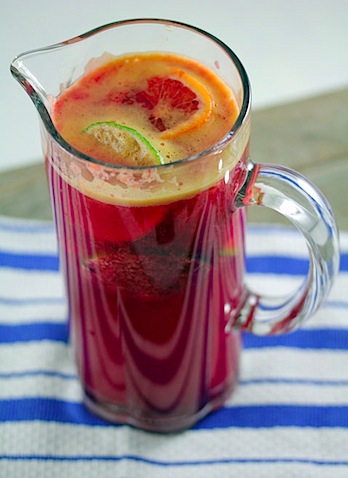 Fill a cup with lots of ice and pour the drink in.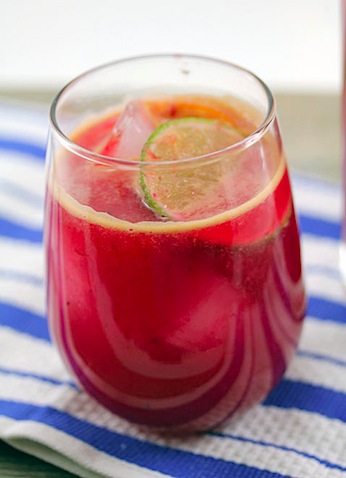 Make sure you get an orange and a lime slice in there, too.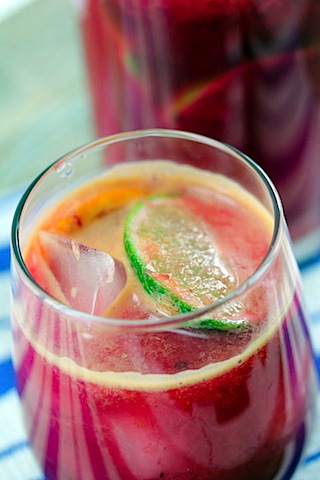 Whenever I see blood oranges at my grocery store, I HAVE to buy them. And then I'm never quite sure what I should do with them… So I make a cocktail. Because I know they make some of the best cocktails ever.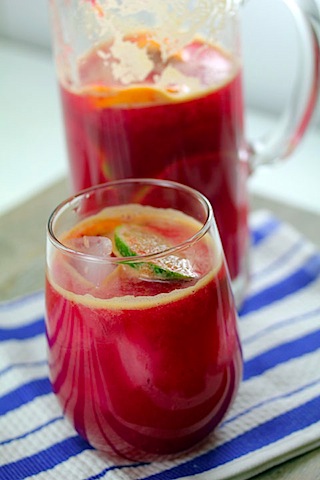 What do you generally do with blood oranges because I think I need some ideas… Don't get me wrong, I'll still be making cocktails, but would love some entree ideas. You know me, and I'm already thinking blood orange risotto.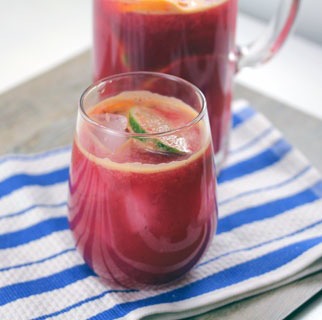 Alright, I'm getting ready to hop on my flight. Dreaming of this… Hey, Chris, do you think you could have one ready for me when I land?? 😉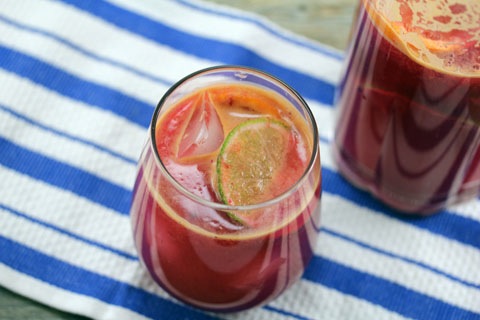 I hope all your cocktail wishes come true this weekend. I'm excited to spend some time in Richmond and am hoping for maybe a cocktail or two!
Did this week/day/hour make you feel like you need a cocktail? Why?
[Sues]