Candy corn season doesn't last very long, so you should take full advantage of it with this deliciously creamy Candy Corn Ice Cream! It's the perfect Halloween treat.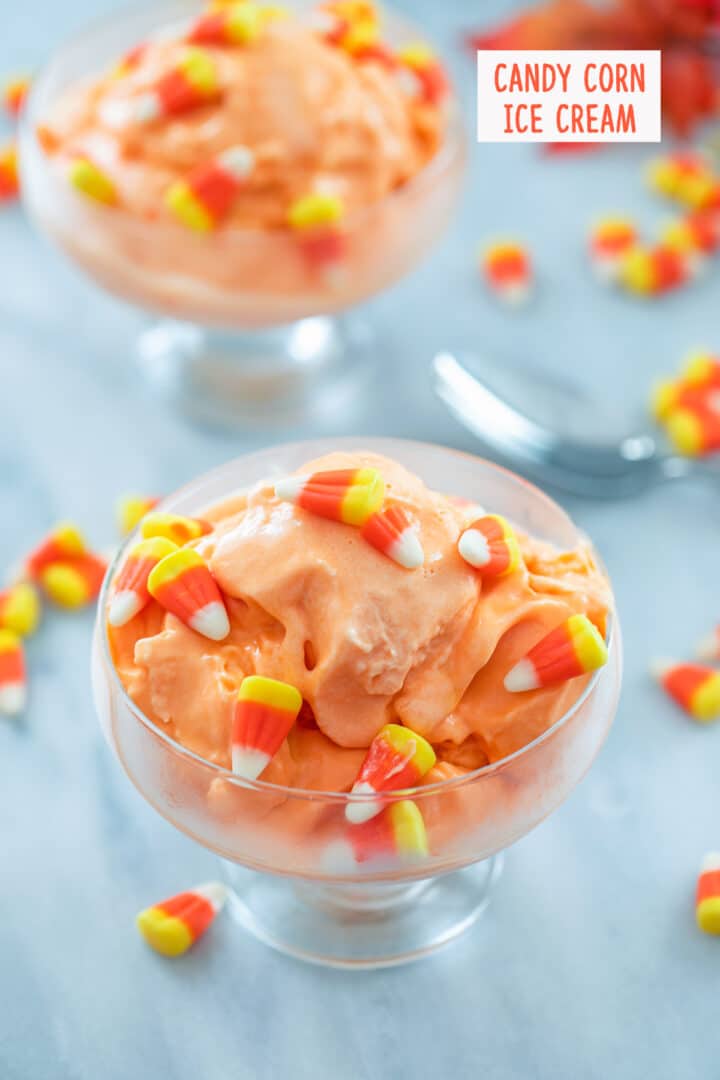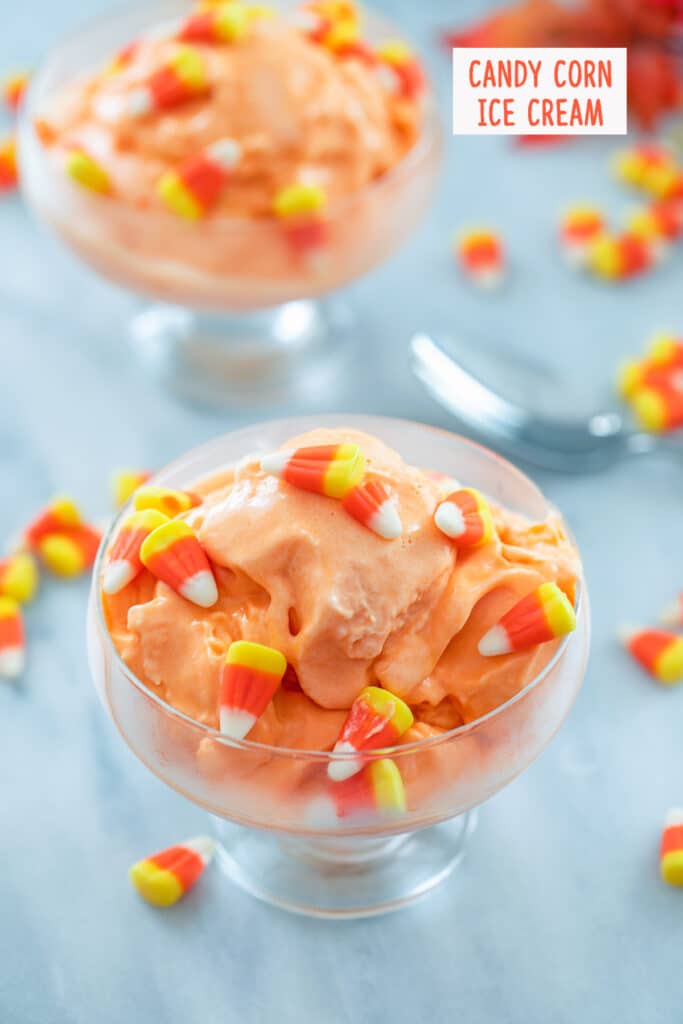 (This recipe for Candy Corn Ice Cream was originally published in October 2010, but was updated with new photos in 2018).
I often wonder how many candy corn casualties occur each year. I have this theory that everyone begins life with a love for candy corn. But then comes one ill-fated day when they consume just one too many candy corn. Or more likely, one too many handfuls of candy corn.
And then they're turned off candy corn forever. Tragic.
Lucky for me, I have an extraordinarily high candy corn tolerance. Sure, there are times I may hate it for an evening. But for the rest of life? Pshh, I don't see that happening any time soon. And since candy corn is only in our lives for such a fleeting amount of time each year, I recommend enjoying it to its fullest potential.
That means in any form you can possibly think of. Including (but certainly not limited to) martinis, granola bars, etc. And ice cream. You most definitely need candy corn ice cream in your life.
How to Make Candy Corn Ice Cream
The ingredients for this Halloween ice cream are totally simple. Heavy Cream. Whole Milk. Candy Corn. I mean, does life get any better than that?
How often do you make a totally amazing recipe with just 3 ingredients? Ingredients you may just have sitting in your kitchen as we speak. If you happen to be like me and always have candy corn on hand (even in the off-season!).
This candy corn ice cream also doesn't involve any eggs, so no need to make a custard. You do need to heat half of the milk in a saucepan with some of the candy corn. The candy corn will dissolve into the hot cream and turn it into a vibrant orange color.
The only downside to this recipe is that it requires some waiting, like most ice cream recipes do. After you heat the cream and candy corn, you need to chill everything for about 6 hours.
Your mixture will start out looking like this: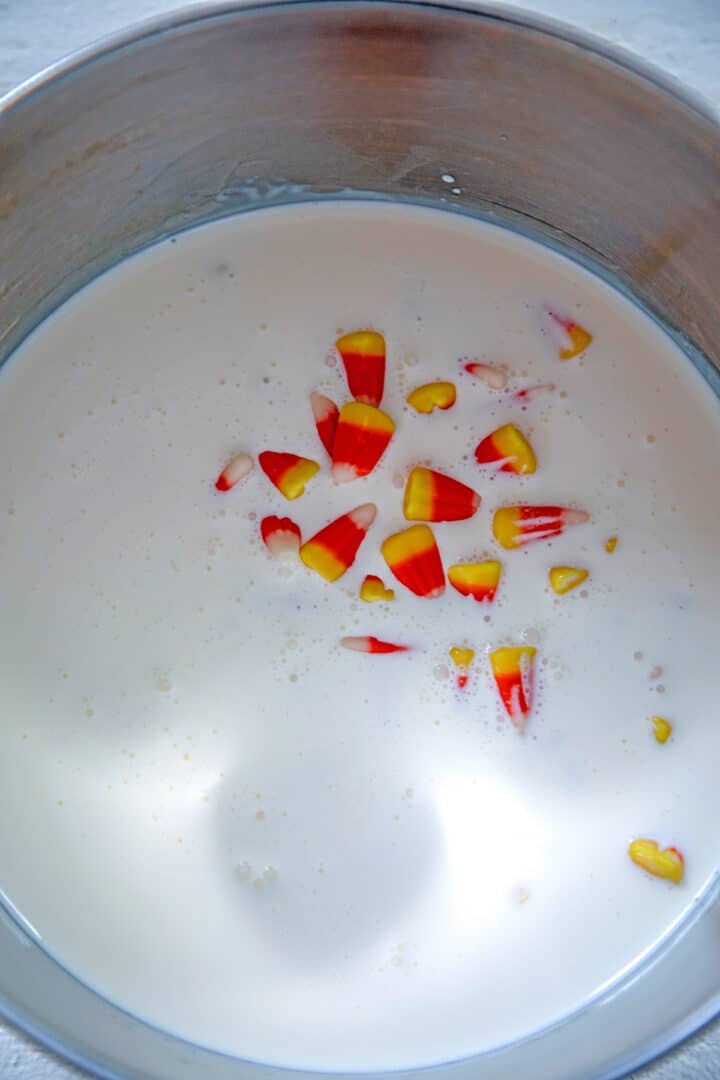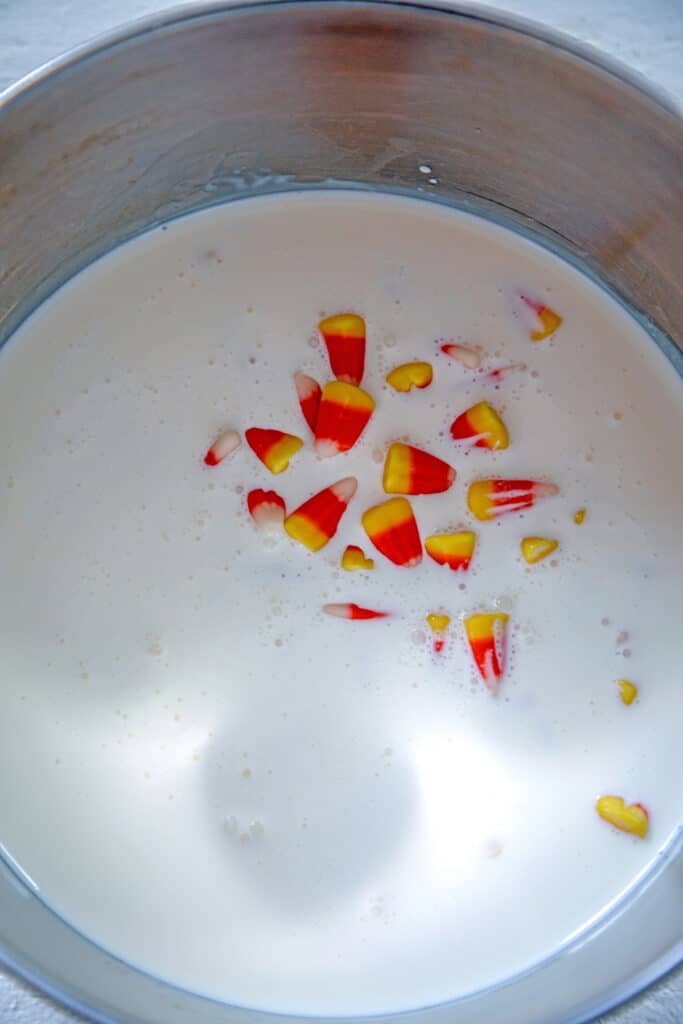 And then up looking like this: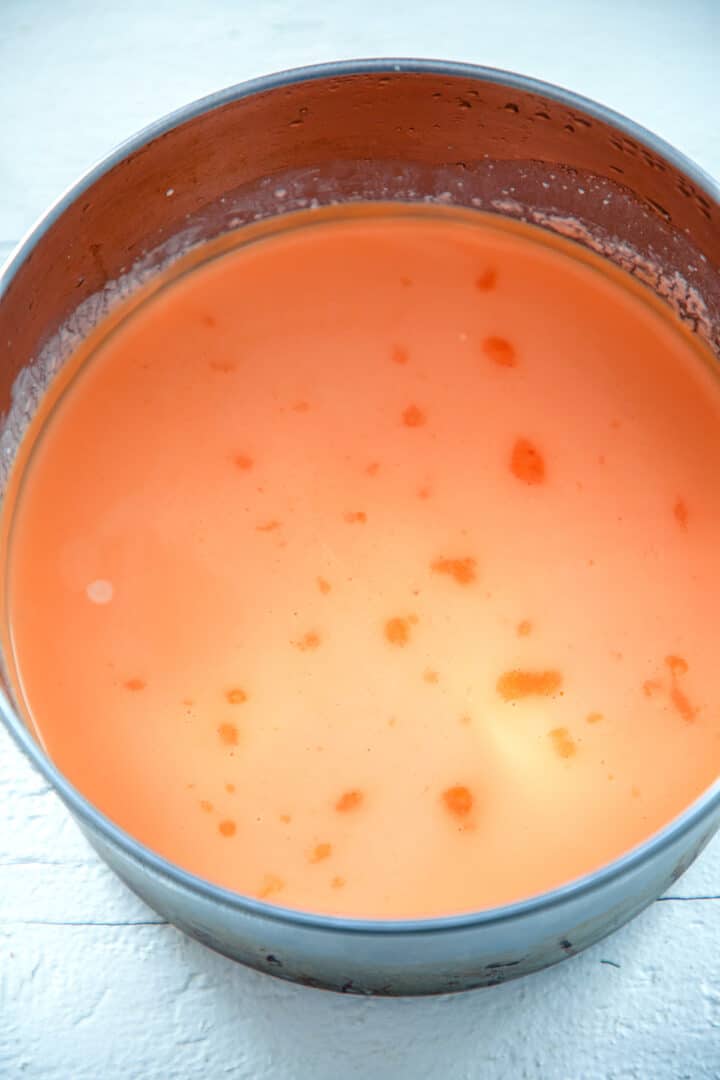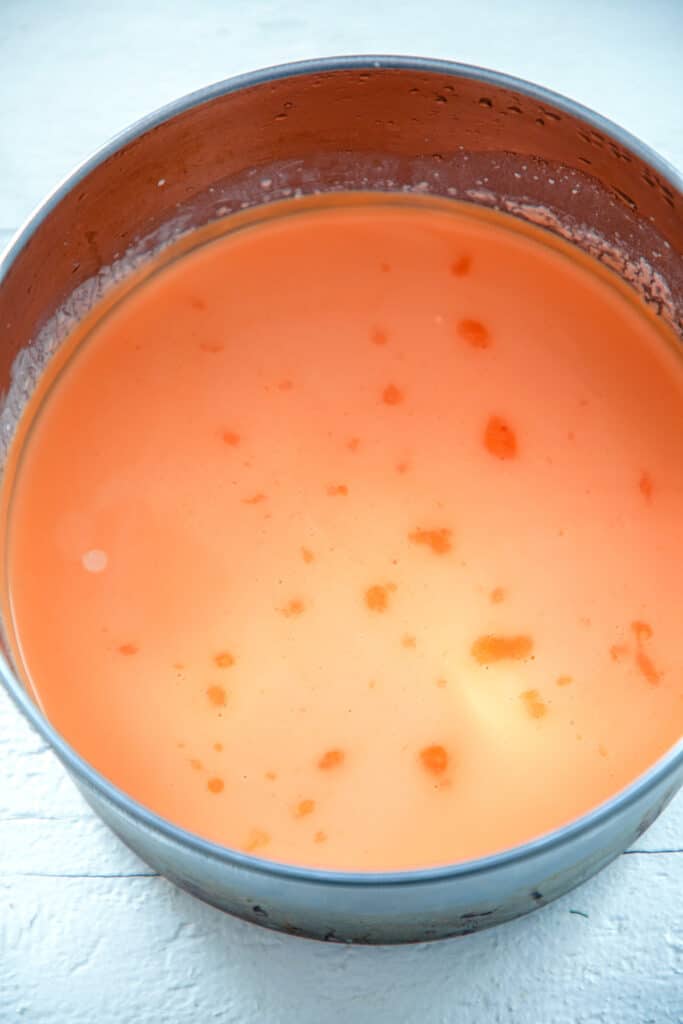 The perfect Halloween shade of orange!
Then you'll process the ice cream in an ice cream maker and chill it again for at least 6 more hours (As the ice cream is processing, I add in another cup of chopped candy corn because why not?). Zzzzz.
If you happen to be in the market for an ice cream maker, I can't recommend the KitchenAid ice cream attachment enough. Of course, you need to have a KitchenAid mixer to use it, but if you do, it's the easiest thing ever.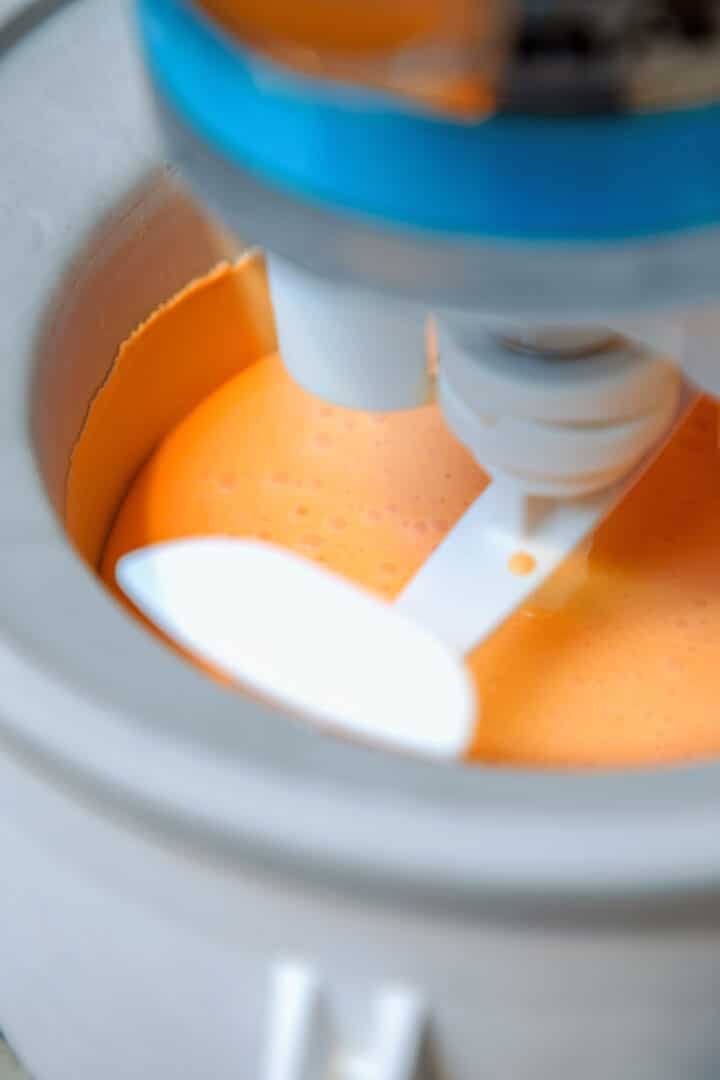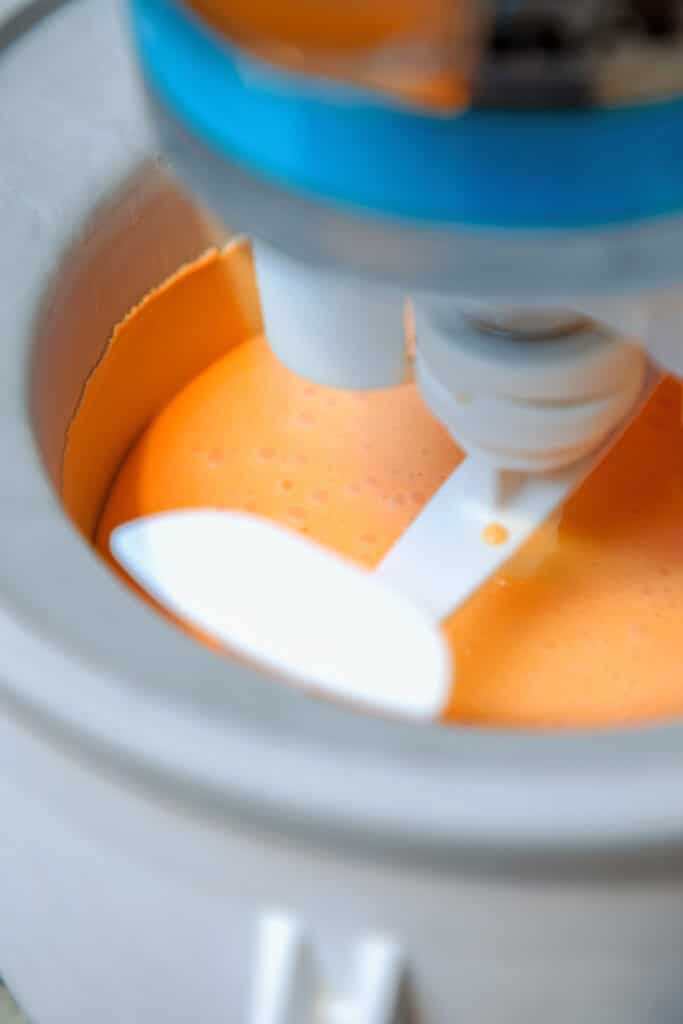 And trust me, the long spooky Halloween ice cream wait is totally worth it.
I just think the color of the is so glorious. It's basically the prettiest shade of orange you could ask for. It almost looks like creamsicle, but it's even better because it's candy corn!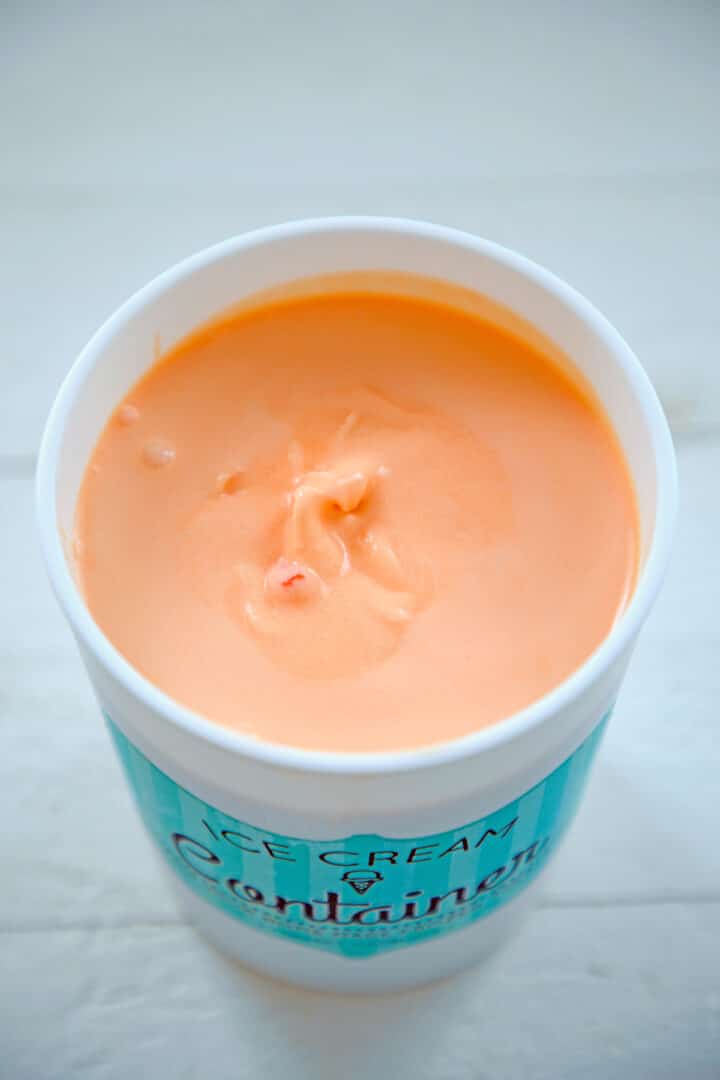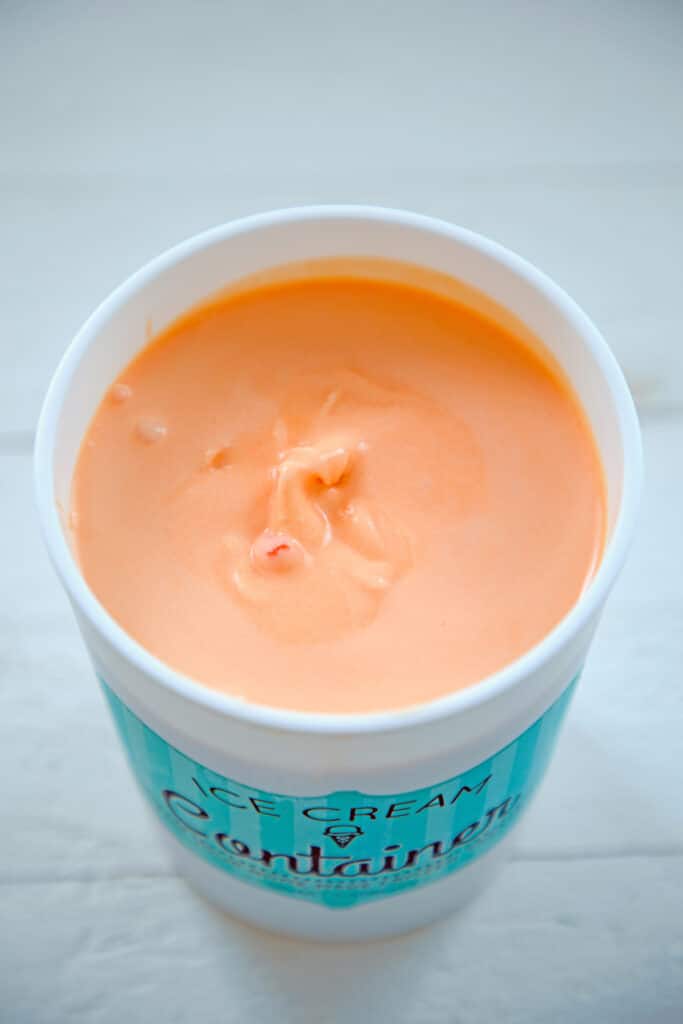 I obviously served the candy corn ice cream with even MORE candy corn. I know, I'm tempting the candy corn Gods now.
But I love living on the edge.
Especially when it comes to candy.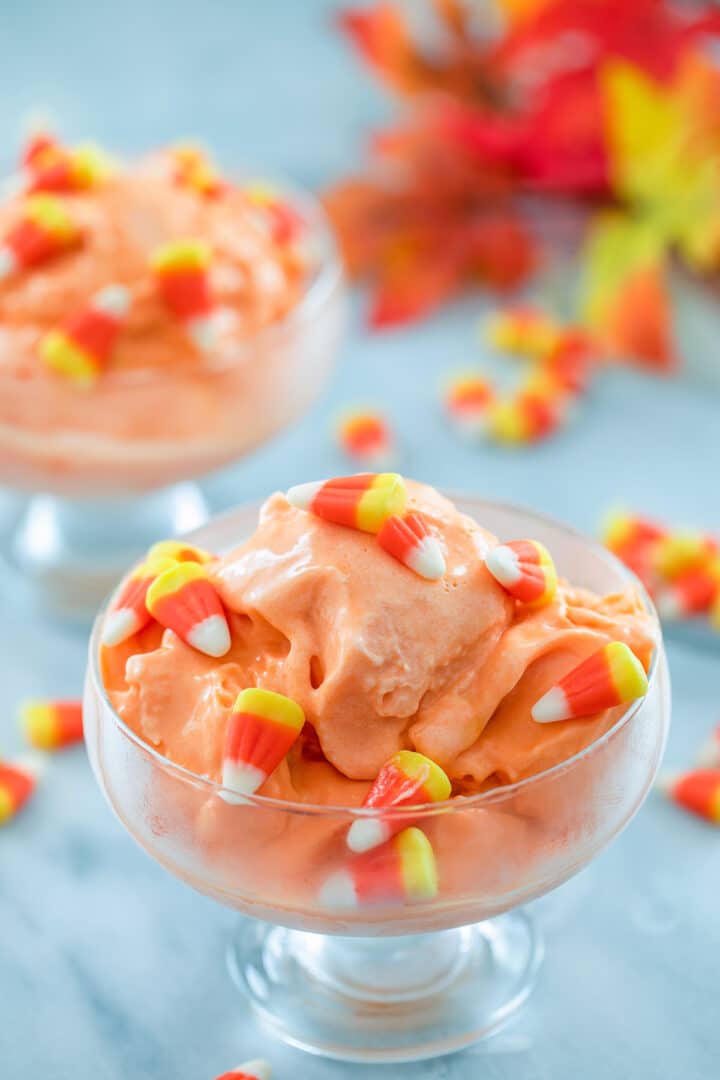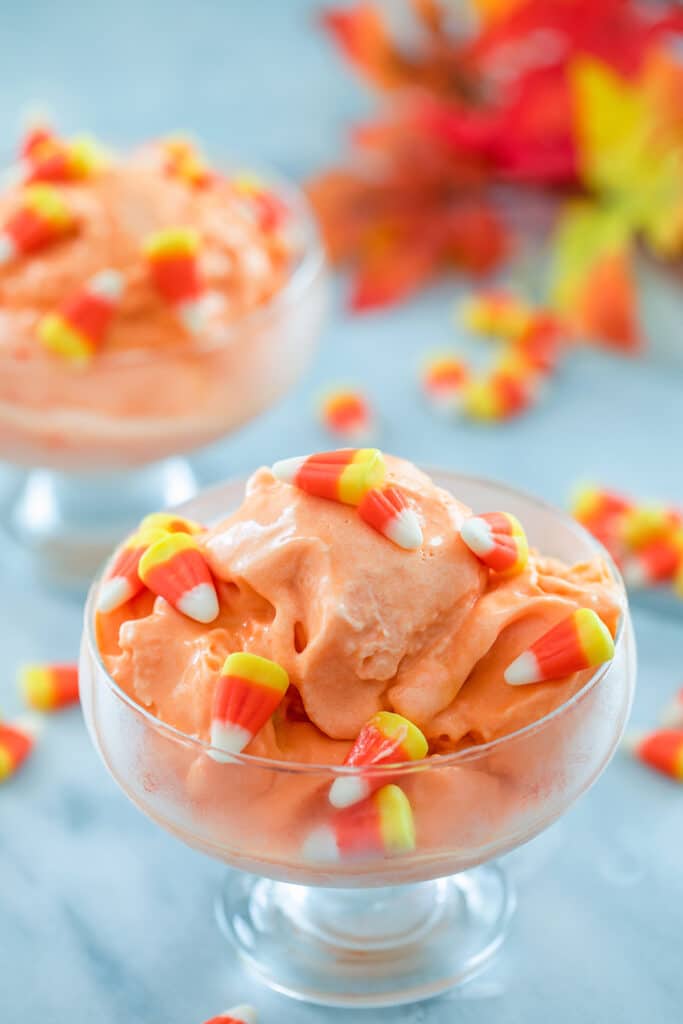 I'm honestly surprised more ice cream brands aren't selling candy corn ice cream in stores at this time of year. Is it because candy corn is just too controversial with the general public?
Even without all the extra candy corn, this ice cream tasted exactly like everyone's favorite Halloween treat. But creamier, of course.
You could blindfold anyone, feed them a spoonful of this, and I guarantee they'd know right away that they were eating candy corn ice cream. I love how smooth and melty it is; one of the creamiest ice creams I've made!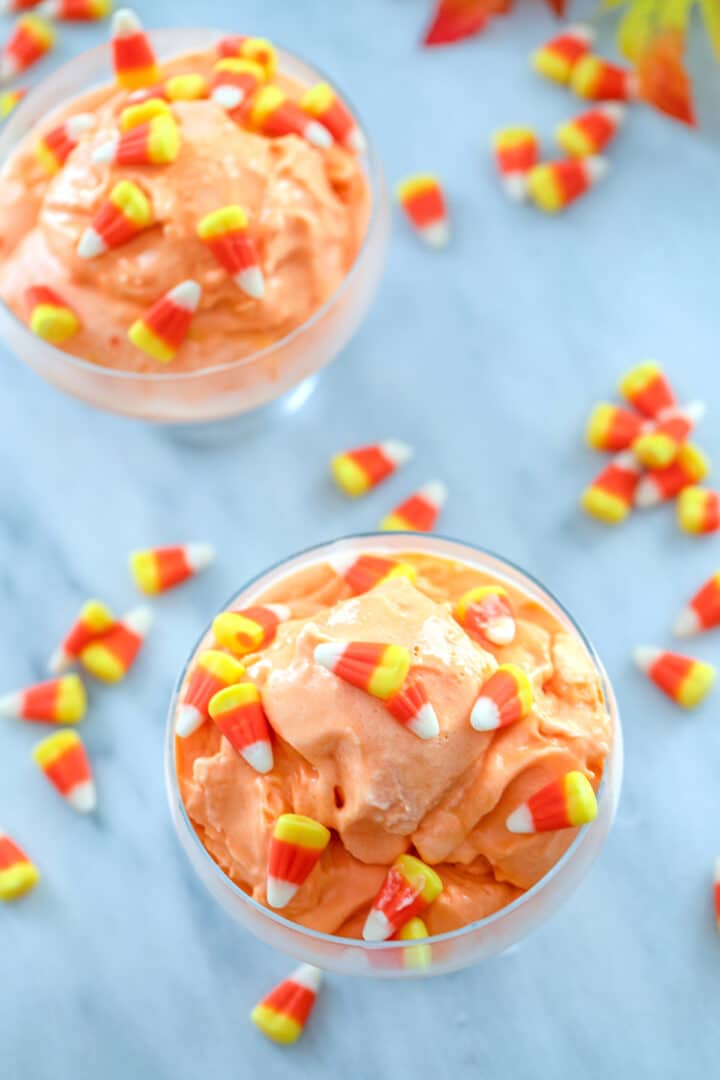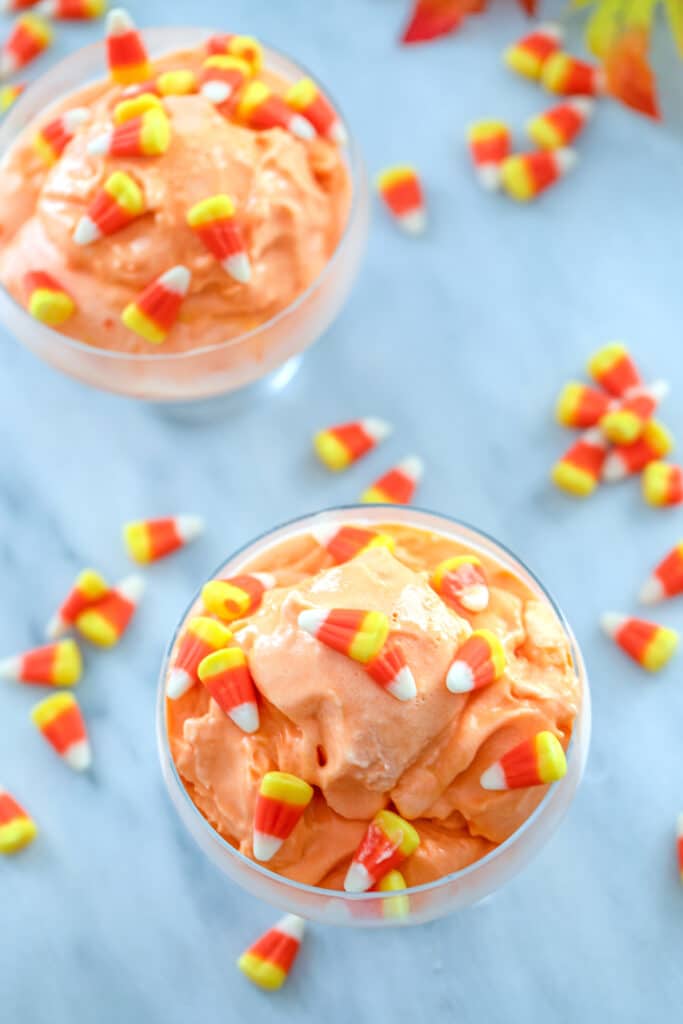 Also, have I mentioned how much better candy corn is when it's slightly frozen? Yes, it does get better!
Come on, I mean candy corn season doesn't last all that long, so you owe it to yourself to make the most out of it. Candy corn ice cream topped with and surrounded by candy corn is the perfect way to do so.
Just please, try not to overdo it. You're an adult; you can be responsible. Right?? Right???
More Halloween Treat Recipes
No matter how you feel about candy corn, I've got plenty of other delicious Halloween dessert recipes for you. Here are some of my favorites: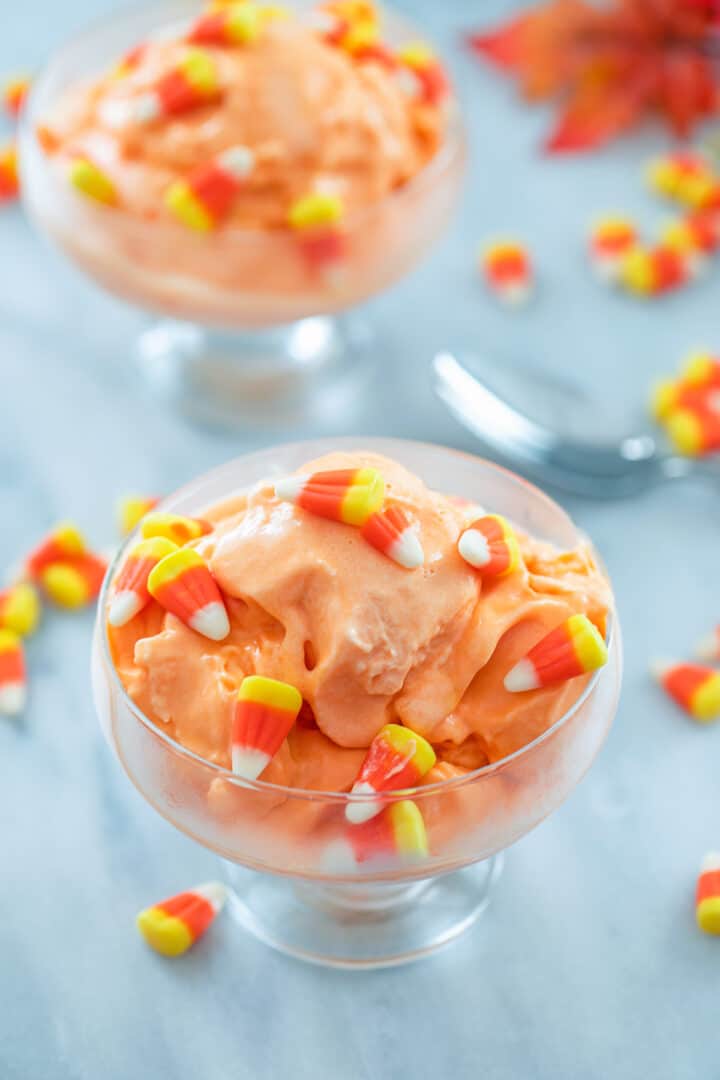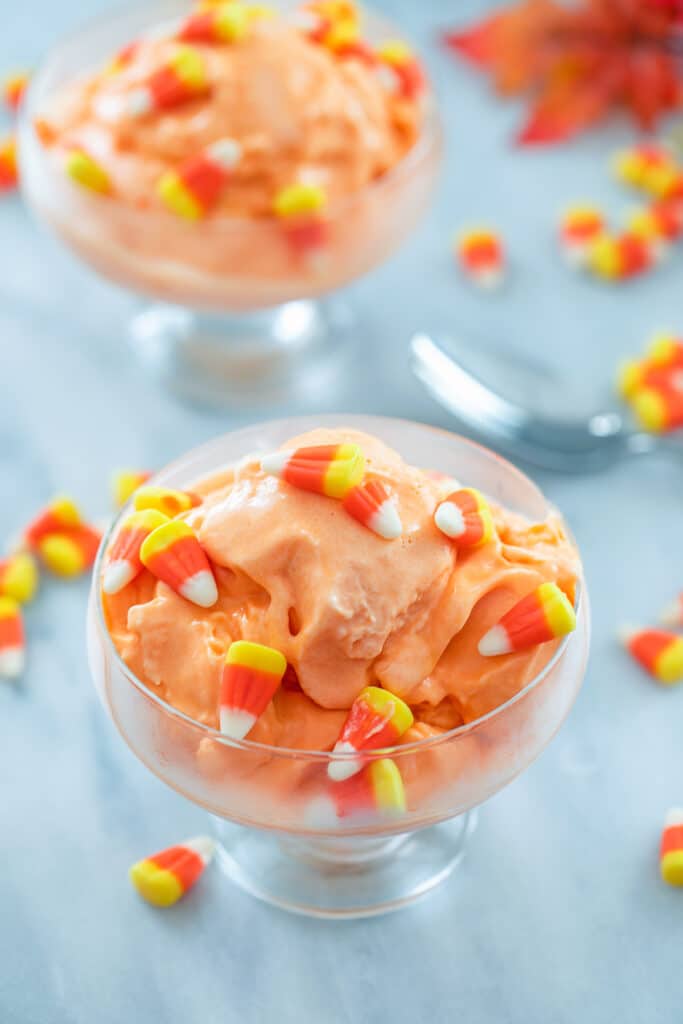 Next up: I think I need to put this ice cream in a blender with another big bag of candy corn and create a milkshake out of it. What?
Now, go and make this candy corn ice cream! Before we get too far into the Halloween season and you overdo it and can't stand the sight of candy corn for another 11 months (at which point you'll do it all over again!). Guys, please candy corn responsibly.
Are you a candy corn lover or hater?
If you like this Candy Corn Ice Cream recipe, be sure to check out my Candy Corn Martinis. I also like these No Bake Candy Corn Cheesecakes from Gretchen's Bakery.
📖 Recipe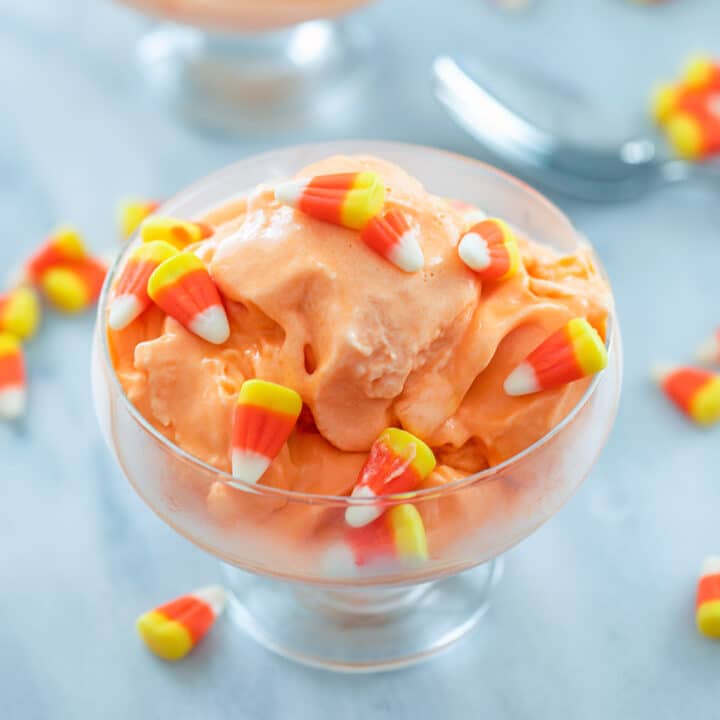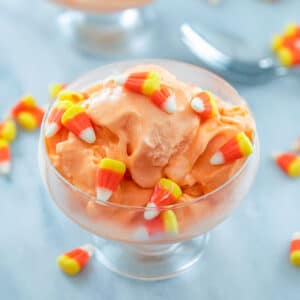 Candy Corn Ice Cream
Candy corn season doesn't last very long, so you should take full advantage of it with this deliciously creamy Candy Corn Ice Cream! It's the perfect Halloween treat.
Print
Pin
Rate
Ingredients
3

cups

heavy cream,

divided

1 ½

cups

whole milk

3

cups

candy corn,

divided
Instructions
Add 1 ½ cups heavy cream and 1 ½ cups candy corn to a medium saucepan over medium heat. Let mixture heat (without boiling) and stir until candy corn is dissolved.

Move mixture to a large bowl and let cool to room temperature. Stir in remaining heavy cream and whole milk. Cover bowl and place in fridge to chill for at least 6 hours.

Once chilled, pour mixture into ice cream machine and process according to manufacturer's instructions. While ice cream is processing, chop another cup of candy corn. Once ice cream is almost done processing, add in chopped candy corn.

Place ice cream in airtight container and place in freezer for at least 6 hours, but ideally overnight.

Serve ice cream in bowls with remaining ½ cup candy corn sprinkled over the top.
Share a Photo of Your Finished Recipe!
Mention @wearenotmartha and share a photo if you've made the recipe!
View Web Story for this recipe.