These cantaloupe boozy smoothie shooters are the perfect party sippers. Made with a few simple ingredients you don't often find together, they have just a little vodka kick.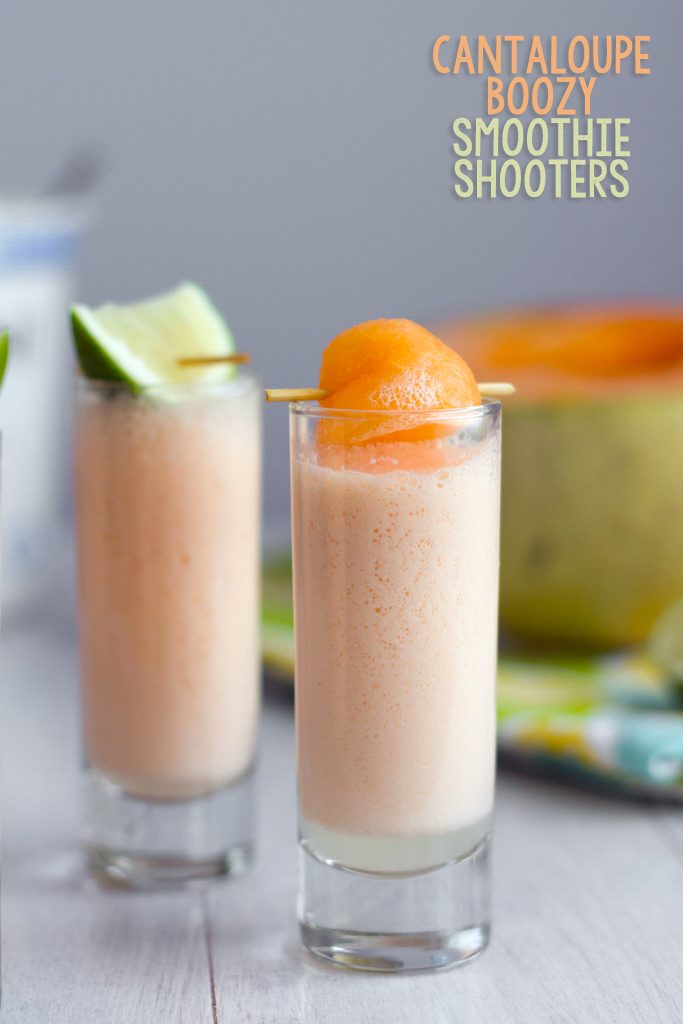 I don't talk about my smoothie imbibing much on the blog. That's because it's super boring. Unless you consider a nightly smoothie packed with kale, spinach, pineapple, and chia seeds to be an exciting thing. Then by all means, come on over and I'll make extra. Seriously though, I love those smoothies and they make me feel good about getting some greens in my body even if I've had an otherwise subpar day nutritionally. If I had the time/energy/motivation I'd totally drink them in the morning, but I fear the noise of the blender at 5:30 a.m. would drive me to the edge of insanity. I'm already close to it every morning when I have to get out of bed.
Now that I've bored you by talking about a topic I just called totally boring, let's instead discuss a smoothie that's a littttle bit more fun. Smoothies with vodka.
While you probably wouldn't serve a kale smoothie at your summer party (unless you would? In which case, I kind of want to come to your party to see what it's all about…I'm also a little afraid), you'd totally serve a Cantaloupe Boozy Smoothie Shooter. These take about 5 seconds to make and are the perfect summery drink, especially for someone who wants "just a taste." And yes, they involve alcohol!
CANTALOUPE BOOZY SMOOTHIE SHOOTERS RECIPE
To make the boozy cantaloupe smoothie shooters, simply put the ingredients in the blender! I used 3 cups chopped cantaloupe, 1 Tbsp freshly squeezed lime juice, ½ cup non-fat Greek Yogurt, and 2 oz. vodka. I put the first three ingredients in my blender and blended until smooth before adding the vodka for another quick blend.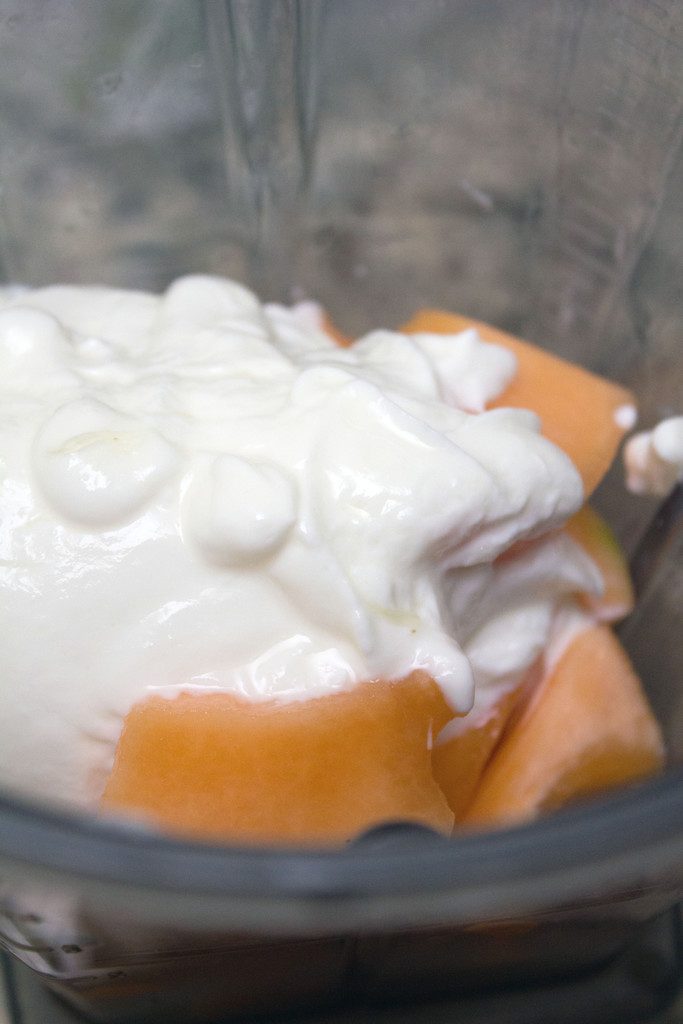 Divide the smoothie among shooter glasses. I use this 2.5 oz. version from Libbey (affiliate link) and got about 12 shooters total. Then I sliced some limes and used my cookie scoop to make melon balls. I put them on little toothpicks and used them as garnish.
Line these boozy smoothies up on a tray or keep them in a bed of ice and serve them to your summer party guests. They're a little bit tropical and most definitely fun.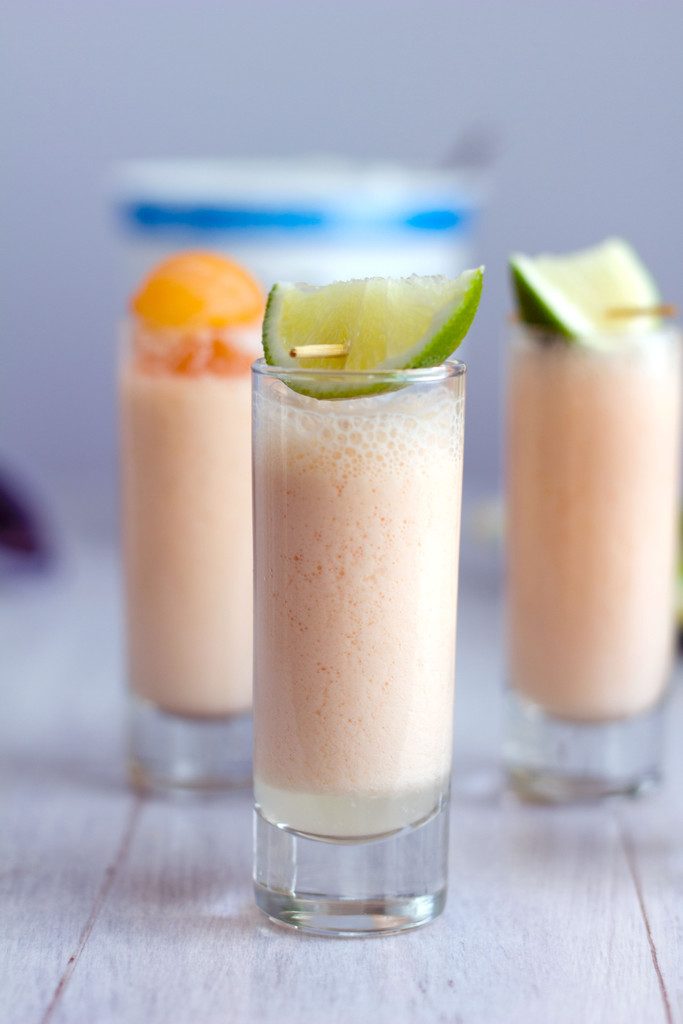 Yes, I admit I was a little apprehensive to mix vodka with yogurt. I wasn't sure if that was socially acceptable. But I did a little research and found that it's totally done at some of the hippest bars. Isn't this just an invitation for me to open up an alcoholic smoothie bar?? I think so! Would you come??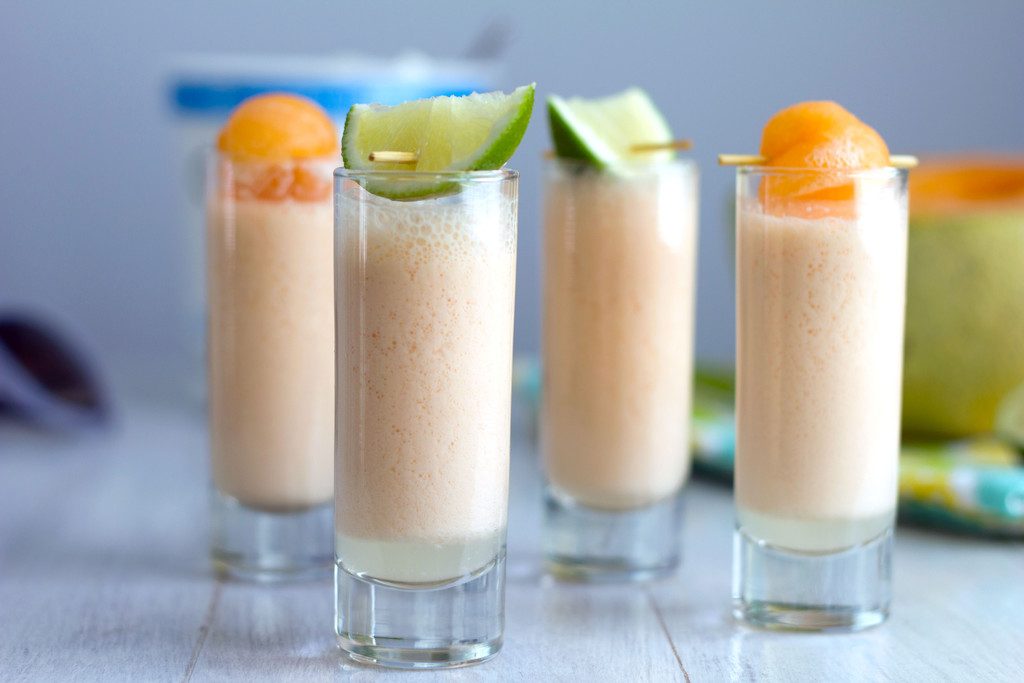 I'm a huge fan of the boozy smoothie shooters for summer parties idea. Sometimes you don't want to walk around with a big drink (carrying a drink and a plate of food while also trying to hold conversations is my worst nightmare) and you'd rather take a couple sips and then grab another drink when you're ready.
Obviously these smoothie shooters don't have a huge amount of alcohol in them, but you can totally add more if desired... But remember, they're just a few sips! Things could get out of control very quickly.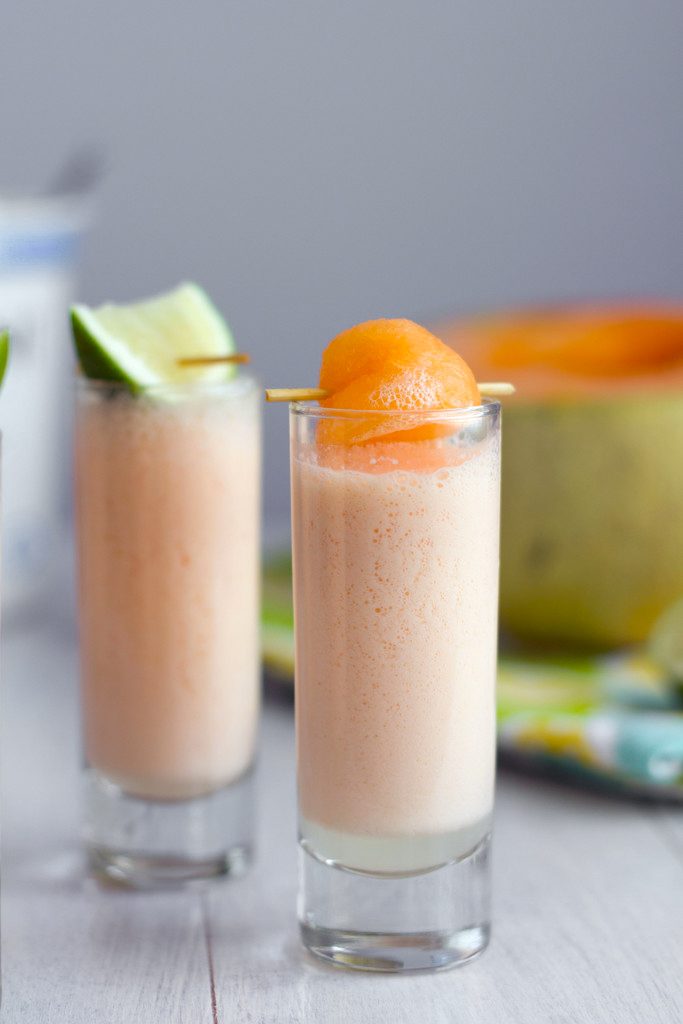 Also, if you wanted to leave the vodka out (SIGH), you'd still have a really delicious cantaloupe smoothie.
Believe it or not, this is the first year that I've really gotten into cantaloupe. I've always been more of a honeydew girl, but cantaloupe seems to have gotten more juicy and delicious this year. Why is it so much better when you chop your own than it is in almost any fruit salad you get from a restaurant or anywhere else? Same goes for watermelon.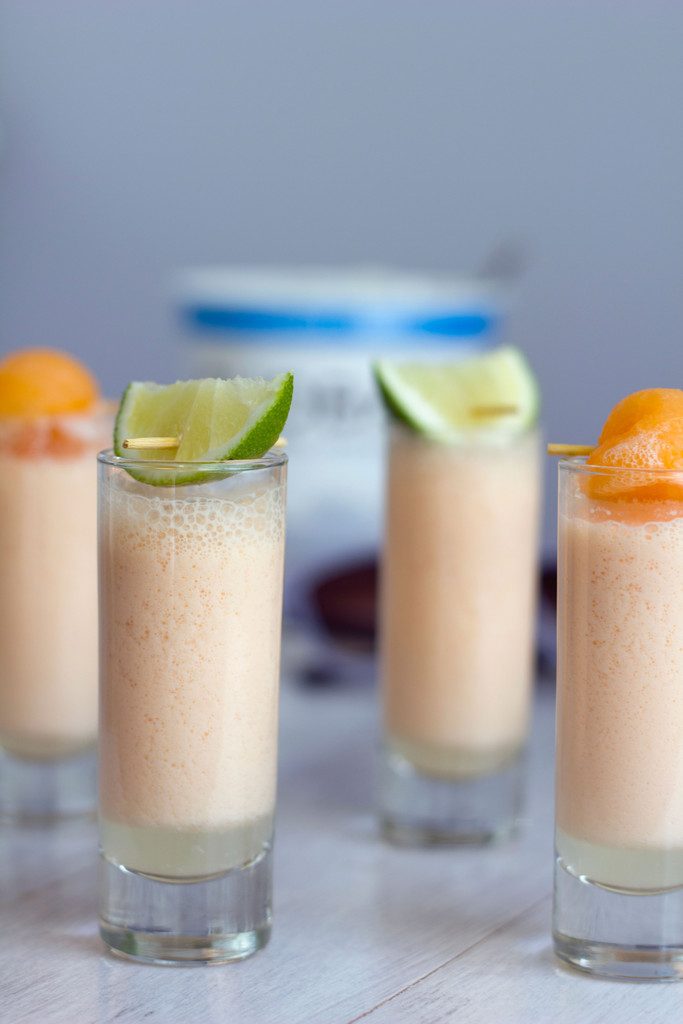 I may have to add this alcoholic smoothie to my regular smoothie rotation. Maybe I'll forgo my Friday night kale smoothie for one of these instead? Or should I try adding vodka into my kale smoothies? Hmmm I should probably leave those ones alone otherwise it kind of defeats the purpose of the whole trying to be healthy thing. UGH.
Now that I know boozy yogurt shooters can be a thing, I'm most definitely going to try this with more fruits… Already dreaming up a little watermelon and rum!
Happy almost Cocktail Friday!
Are you a smoothie drinker? What about alcoholic smoothies?
If you're looking for more drinks to serve at your next party, check out my Blueberry Vodka Lemonade. For something more unique (like these smoothie shooters!), try my Rosé Sour Patch Kids. I want to serve these Fruity Sorbet Wine Slushies from A Little and a Lot at my next party!
📖 Recipe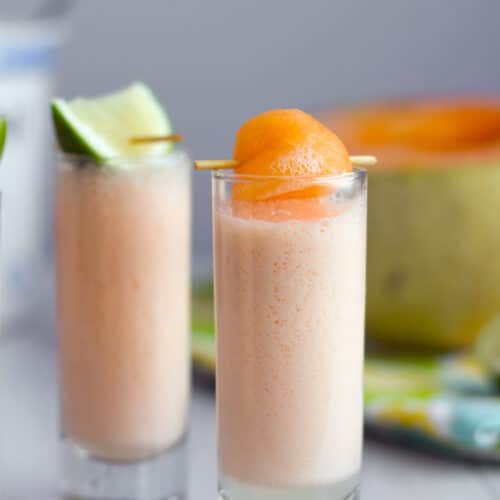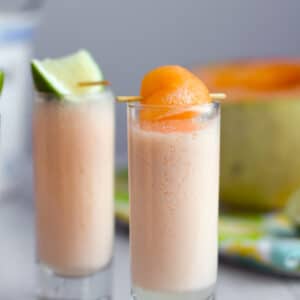 Cantaloupe Smoothie Shooters
These cantaloupe boozy smoothie shooters are the perfect party sippers. Made with a few simple ingredients you don't often find together, they have just a little vodka kick.
Print
Pin
Rate
Makes:
10
smoothie shooters
Ingredients
3

cups

chopped cantaloupe

1

Tbsp

freshly squeezed lime juice

½

cup

non-fat Greek yogurt

3

oz.

vodka
Instructions
Put cantaloupe, lime juice, and Greek yogurt in blender and blend until smooth.

Add vodka and blend for another 2 seconds.

Divide smoothie into about 10 2.5 ounce smoothie glasses.

Garnish with cantaloup balls and lime slices.
Share a Photo of Your Finished Recipe!
Mention @wearenotmartha and share a photo if you've made the recipe!