… Otherwise known as A Happy Accident.
Long story short, these were supposed to be muffins but I couldn't find my beloved muffin tin. After tearing my place apart, mumbling a few choice words under my breathe, and slamming every IKEA cabinet in my kitchen, the dang tin never showed up. And goodness knows where it is! For all I know, my kitchen gadgets could have a party out there every night while I'm sleeping, like in Toy Story. Maybe the tins just forgot about curfew? Needless to say, I'll probably wind up finding it in the oddest of places months from now.
After searching high and low for far too long, I decided to just make them into donuts because, evidently, my donut pan is a lady and comes home after a crazy night… unlike little Ms. Muffin Tin.
Don't ask why I'm naming kitchen gadgets… it's been a long day 😉
I loved the idea of these muffins/donuts because if you're going to eat a baked good, why not include some veggies? Especially zucchini and carrots, two of my favorites, that both add a great deal of moisture. I very loosely followed this recipe from Whole Living. I used it as a base for measurements but definitely switched several things up according to my own tastes and what I had available in my kitchen.
Here's what you need:
Makes about 8 donuts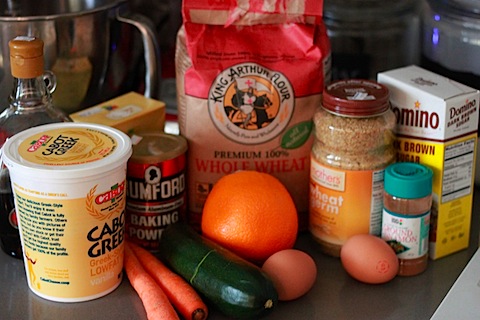 • Vegetable-oil cooking spray
• 3/4 cup whole wheat flour
• 1/2 cup all purpose flour
• 1/4 cup toasted wheat germ
• 1/3 cup packed dark brown sugar
• 1 teaspoon baking powder
• 1/4 teaspoon baking powder
• 3/4 teaspoon ground cinnamon
• 1/2 teaspoon salt
• 2 medium carrots, peeled and grated
• 1 large zucchini, peeled and grated
• 1/2 cup vanilla Greek yogurt (Sues and I are literally obsessed with Cabot's. It's pretty unreal.)
• 2 large eggs, separated
• 2 tablespoons maple syrup
• 1 teaspoon finely grated orange zest
Here's what you do:
Preheat your oven to 400 degrees. Spray your donut pan (or muffin tin, if you're making muffins!) with cooking spray.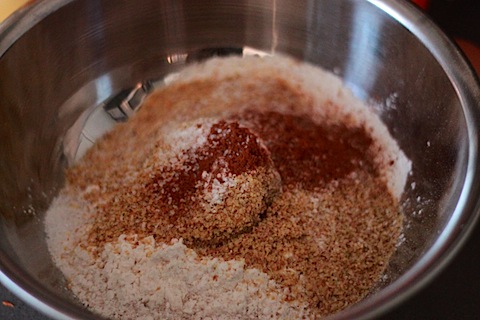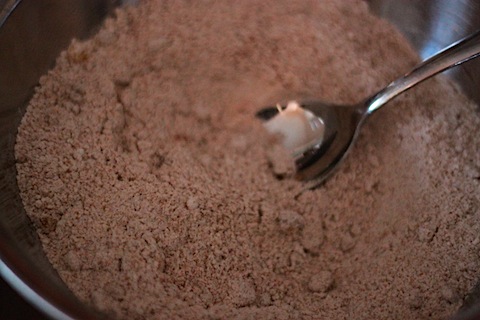 In a small bowl, mix together the flours, wheat germ, brown sugar, baking powder, baking soda, cinnamon, and salt.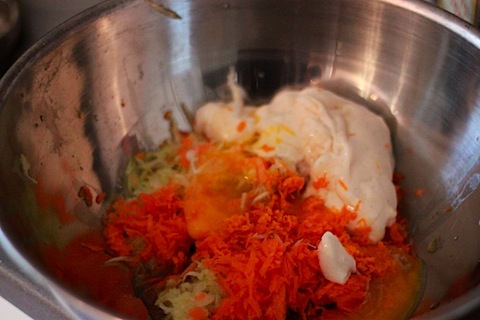 In a large bowl, combine the carrots, zucchini, yogurt, egg yolks, syrup, and orange zest.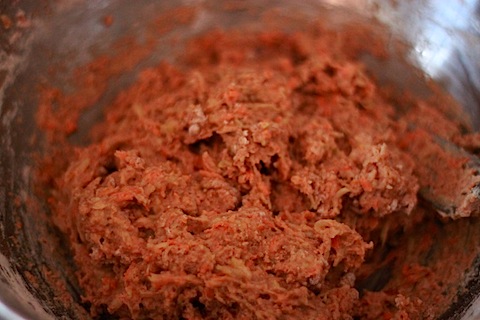 Slowly begin to fold the flour mixture into the carrot mixture until combined.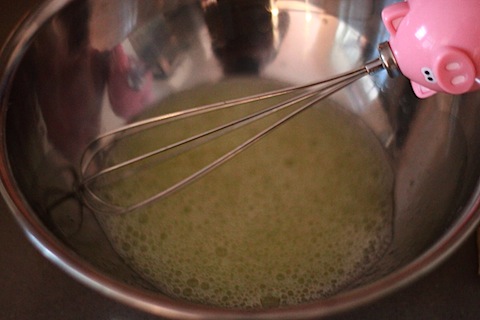 Beat the egg whites until shiny, stiff peaks form. I swear I have a REAL whisk, too. I just really enjoy my lil' pig one!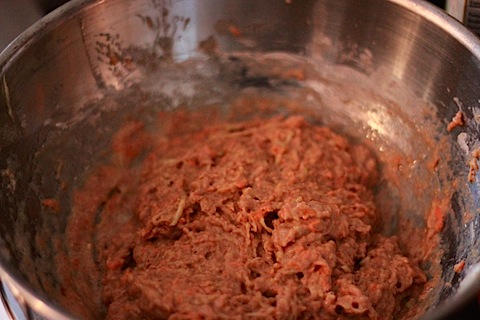 Gently fold the egg whites into the carrot mixture.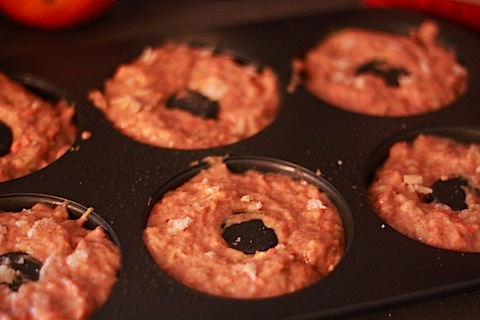 Now you can begin to spoon or pour the batter into your prepared donut pan or muffin tins.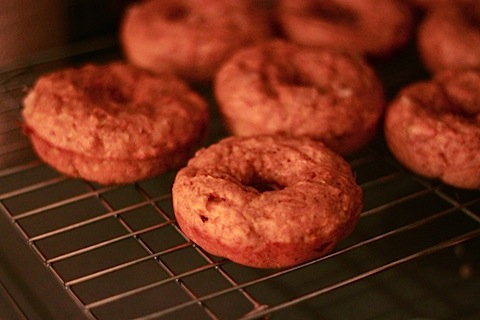 If you're making donuts, bake for about 10 minutes. If you're making muffins, you'll want to bake a bit longer since the muffin tin isn't as shallow as the donut pan, about 25 minutes. Be fully prepared for your kitchen to smell like, well, Heaven. To check for doneness, insert a toothpick into the center of one to make sure it comes out clear.
As my donuts were baking, I decided to make a frosting for them, too. Because I felt like it. They're absolutely perfect plain, since they're filled with such great flavors, but a little frosting never hurt anyone, now did it? Unfrosted, they make a great breakfast. Frosted they make a good dessert. It's okay to eat two in one day because they have veggies in them. And whole wheat flour. And wheat germ 🙂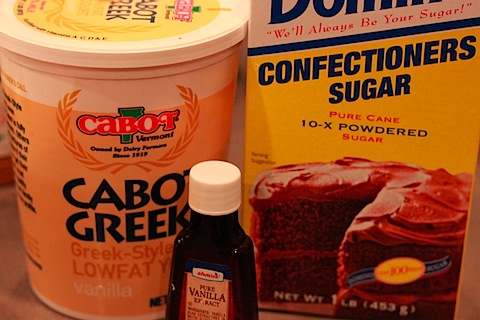 I decided to incorporate the Cabot vanilla Greek yogurt into the frosting, really, because I wanted another excuse to eat it. I took about 1/2 cup of the yogurt and mixed it with 1/2 cup confectioners sugar, a few dashes of vanilla, and let it sit in the fridge for about 30 minutes to thicken up.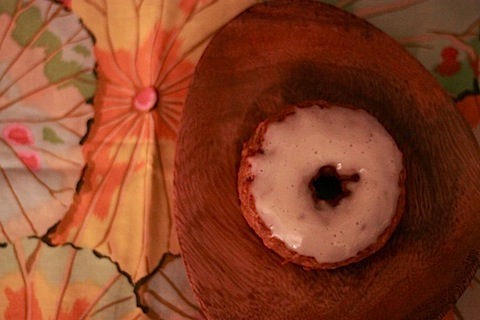 Then, I dipped the donut into the yogurt frosting.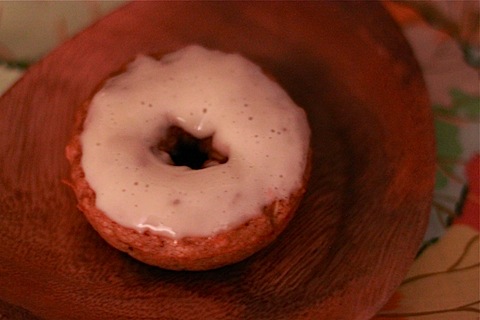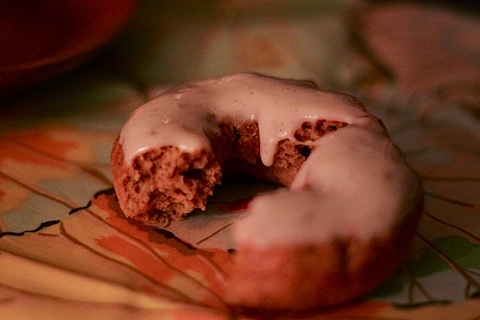 Then, I immediately devoured said muffiny donut.
You see, sometimes mistakes actually lead you to something better. Although I do love a muffin, I kind of think donuts are just more fun!
What's your favorite happy accident in the kitchen? Or in life in general?
[Chels]