Want to do something special for your pup? This dog-friendly recipe for mini crustless quiche combines some of your dog's favorite things: chicken sausage, kale, red peppers, and cheese. Your dog will thank you!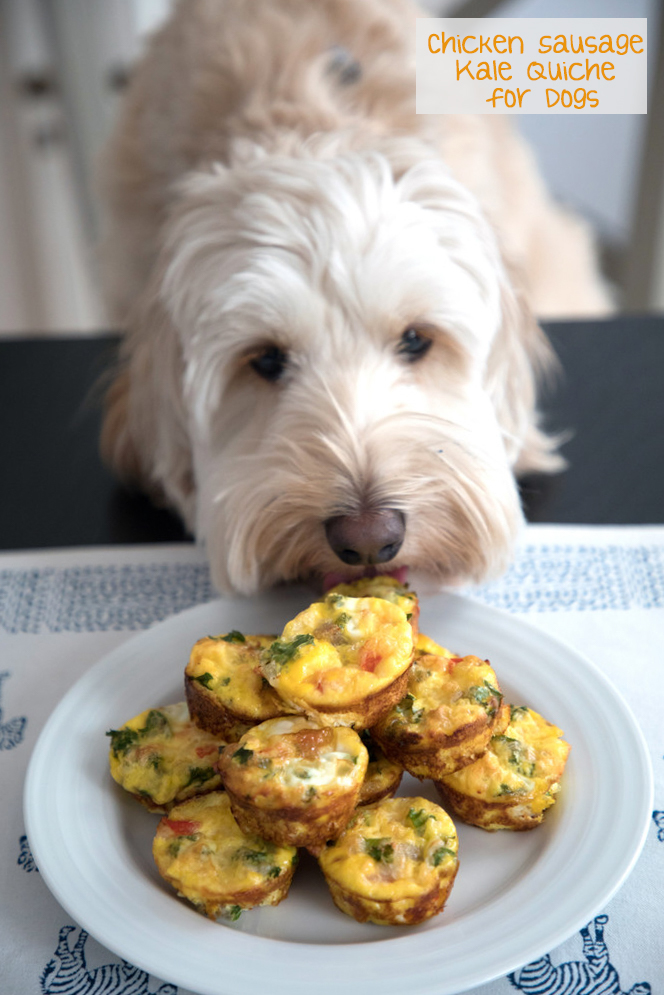 It's no secret that I have the most spoiled dog in the world. Winnie has more toys and balls than any dog I've ever met and has bins overflowing with treats of all kinds. However, she's actually a bit of a picky eater and no matter what she's offered, almost always prefers Chicken Nibbles, Zuke's Mini Naturals, and Three Dog Bakery Cookies. Lots of treats she actually downright refuses, but that doesn't stop me from getting ridiculously excited (I'm sure more than her) when a new BarkBox arrives. We have bags and bags of treats that I pull out every now and then just to see if she's changed her mind about them. She's always game to give them a sniff, but rarely changes her mind unless she's feeling desperate for a treat.
People food, though? That's another story. Winnie is my little kitchen buddy and is pretty much always by my side when I'm cooking and baking. She loves to sample the ingredients when allowed and I like to pretend she's my little sous chef since she watches my every move so intently. I swear she's trying to learn from me and not just waiting for me to drop food for her. The Peanut Butter Banana Pupcakes I made her for her first birthday have been one of my top-performing recipes, which is telling me that lots of you are looking for dog-friendly recipes, too! Inspired by a recipe in a recent issue of Rachael Ray magazine (love how much she loves dogs!), I decided to whip up some savory treats for Winnie with these mini crustless quiche, packed with chicken sausage, kale, red pepper, and cheese. Quiche for dogs! I think it's safe to say that Winnie was in love with these!
Super simple to make, you simply put the ingredients in mini muffin tins and bake them. Your pup is worth that small amount of time, right??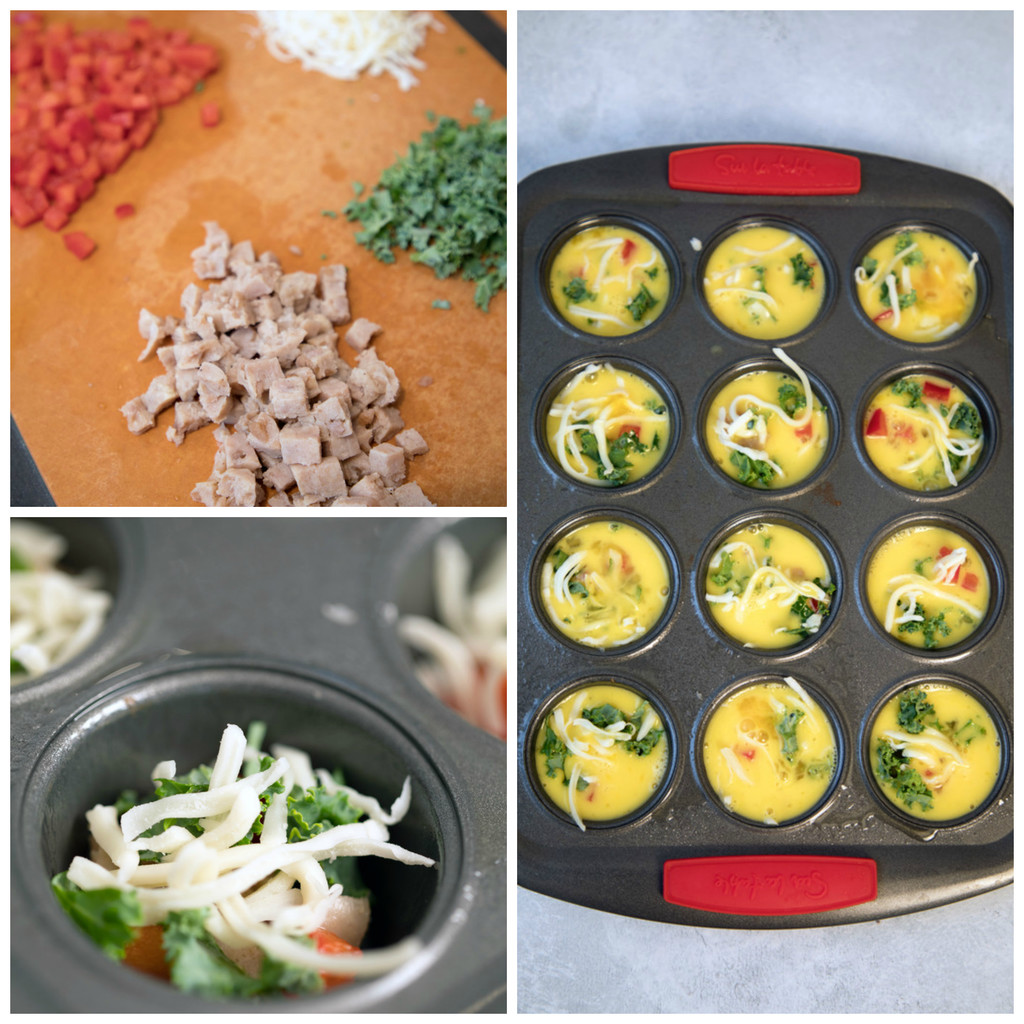 These little quiche for dogs pop out of the muffin tins and look pretty perfect. You'll be tempted to steal a few... And you certainly can; you'll just feel like they need a little salt and pepper.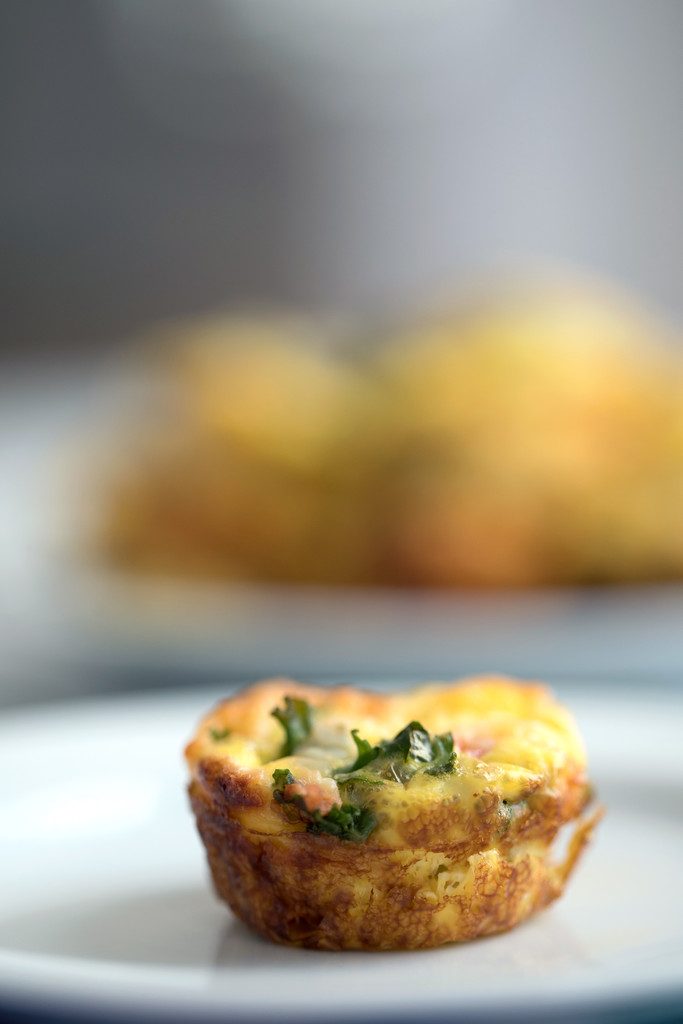 I told Winnie she could have some dog-friendly quiche if she sat at the table and waited patiently while I took some pictures. Surprisingly, she agreed! I was so impressed by her manners... At least to start.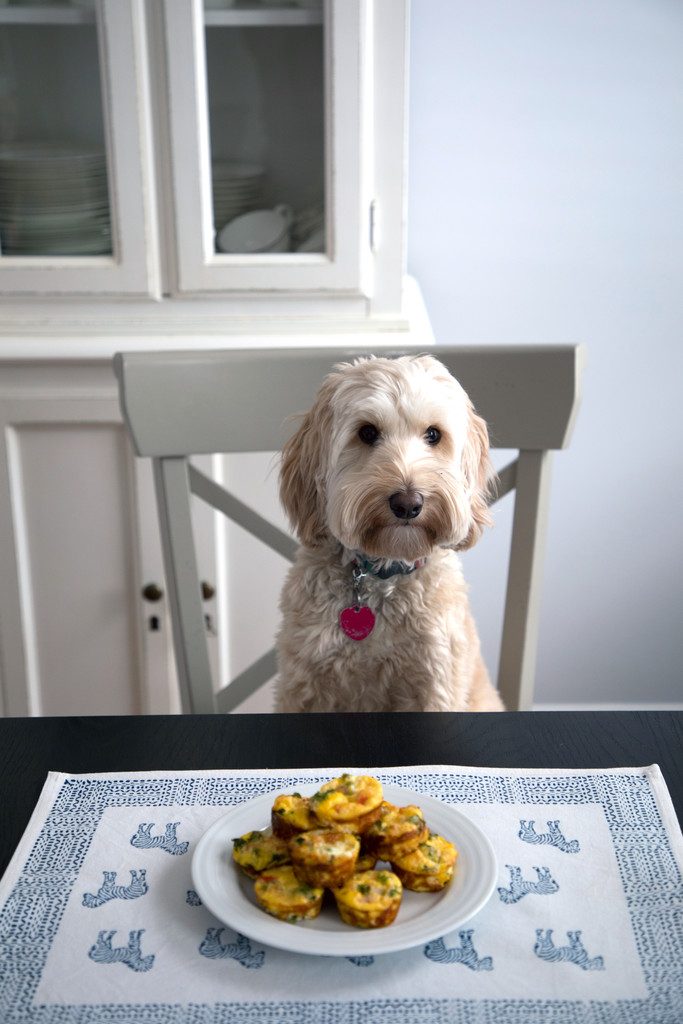 She definitely started feeling a little bit impatient with me after a couple minutes. And she went right in. I can't really blame her.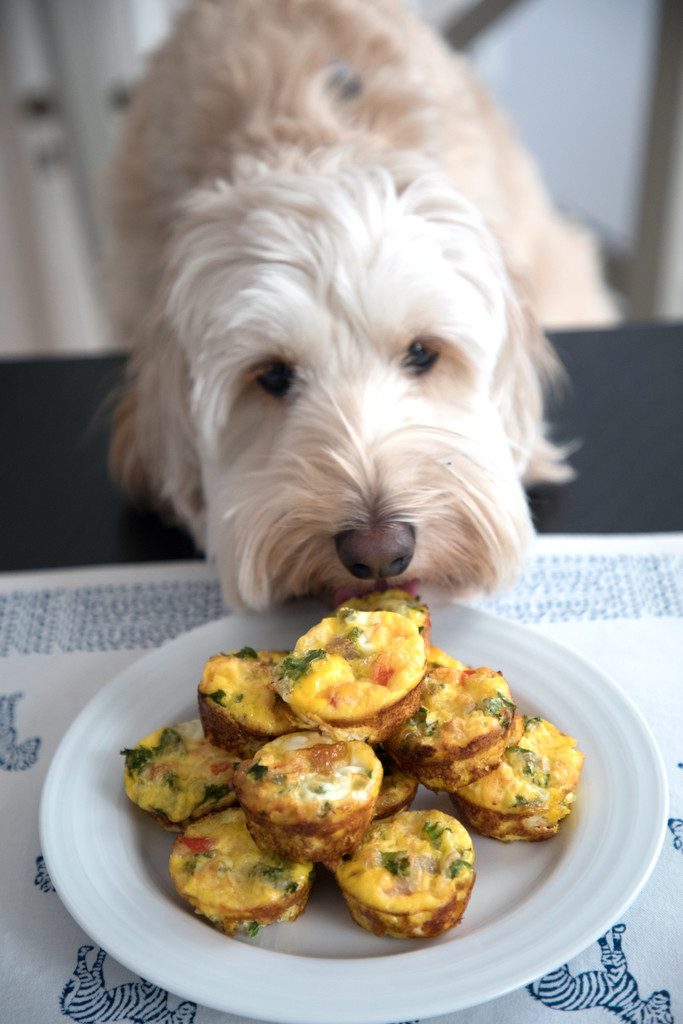 Ahhh she was so happy. I love that little face. I totally think she deserves a place at the dinner table moving forward, no? (just kidding, guys... Pretty sure my family is dying right now because they def wouldn't put it past me!).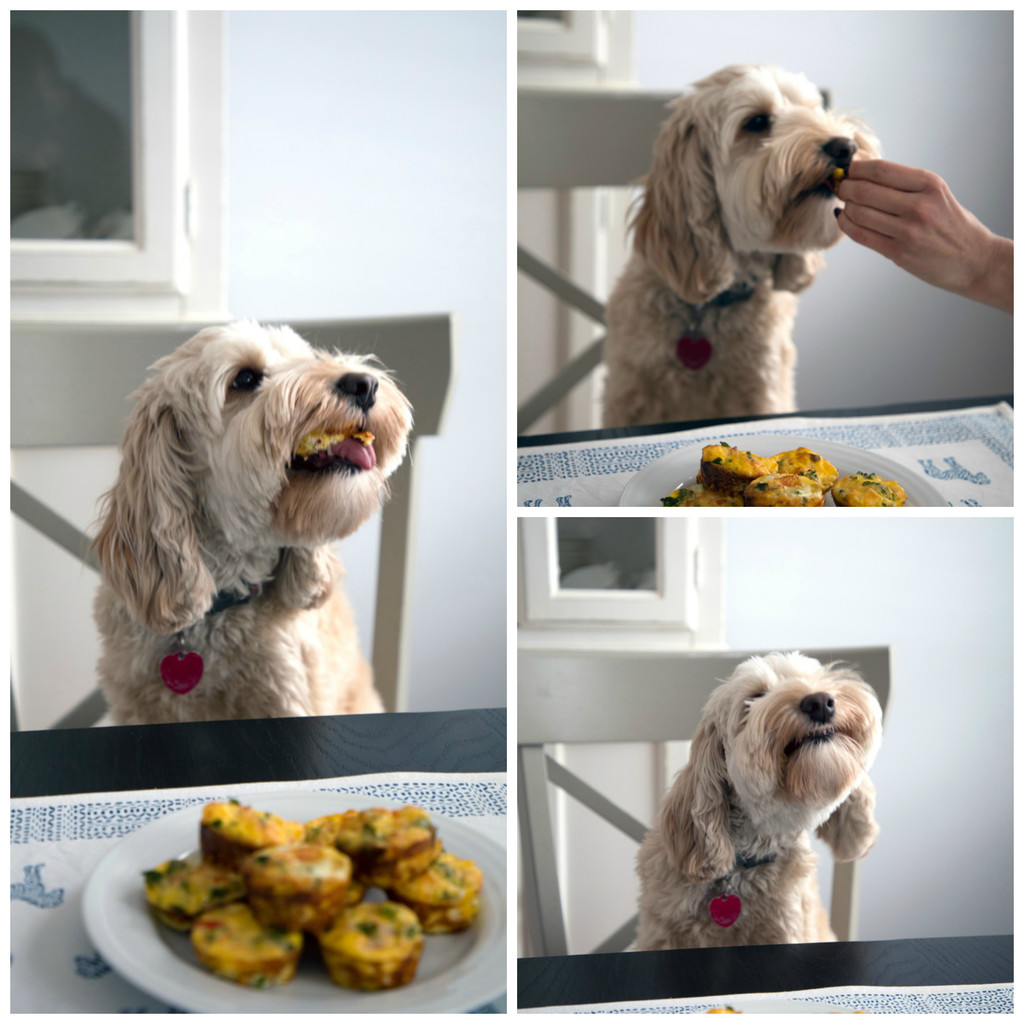 Winnie continued being patient with my photoshoot (don't you hate when people insist on taking pictures of you while you're eating??) before deciding if that whole plate of quiche was going to be in front of her, she was going to keep taking as many as she possibly could. I finally had to remove the plate before she lost all control. Chris and I often have debates of how much food she would eat if we allowed her as much as she wanted. I don't think she'd ever stop.
But seriously, spending a few minutes chopping ingredients was so worth it for that excitement. You can obviously mix up the add-ins you use in the mini quiche for dogs depending on your pup's tastes.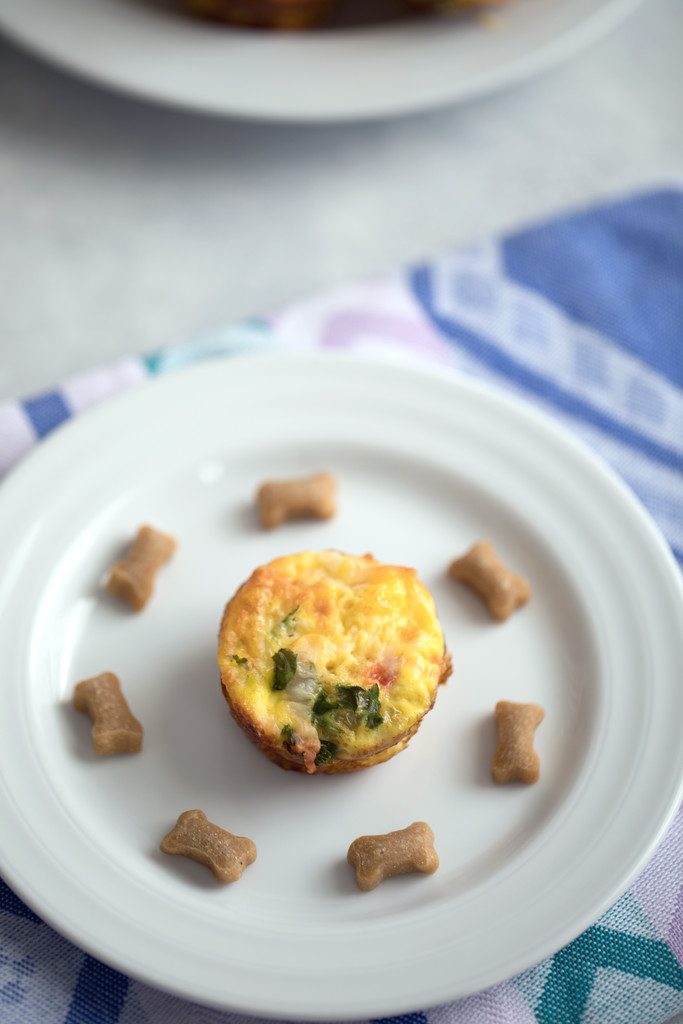 If you're cooking or baking for your dog, it's important that you only utilize ingredients that are OK for them to eat since they can't have everything humans can and every dog is different. I use the website CanIGiveMyDog.com as a resource all the time when I want to introduce a new food. It will basically tell you "yes, it's good for them," "sure, but it's not going to do anything for them," "no, it will harm them!" etc. But like I said, every dog is different, so I always start by giving my pup just a small amount on an ingredient to see how she handles it. Every dog also has different tastes. Winnie LOVES kale (just like her mom!), but isn't a fan of spinach.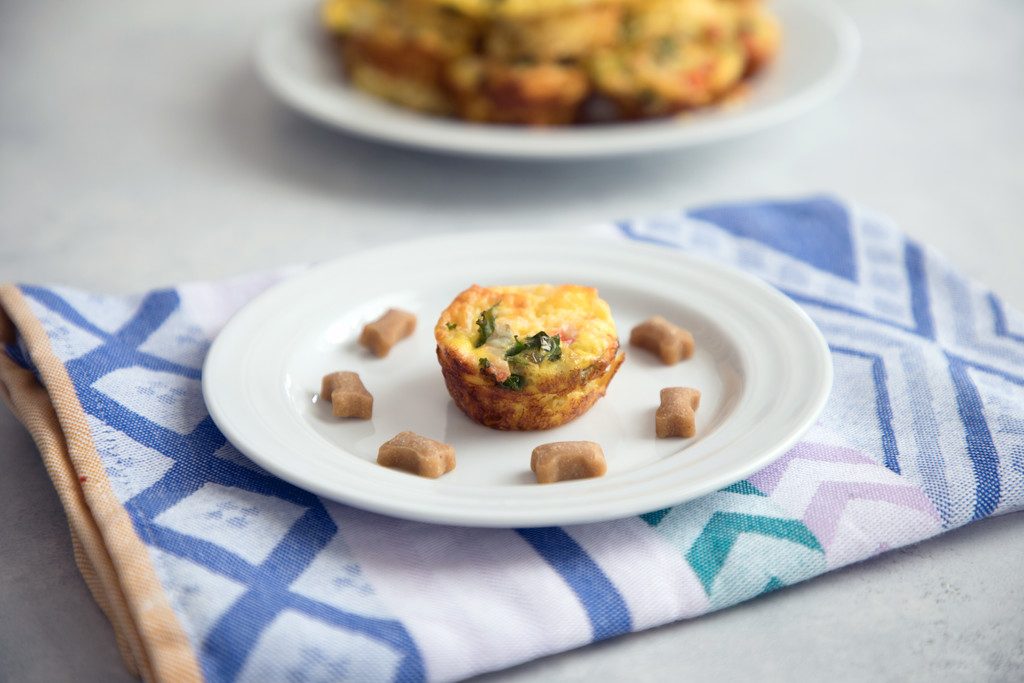 The recipe I'm sharing here makes two dozen mini quiches, but you can certainly freeze them and bring them out when your dog is being exceptionally good. Winnie has a lot of social anxiety and right now, we're working really hard to overcome some issues. So, when we get back from a good walk (no leash pulling and no freaking out when she sees people and/or dogs and/or lawn ornaments...), she often gets a special meal and these mini quiches have become her new favorites.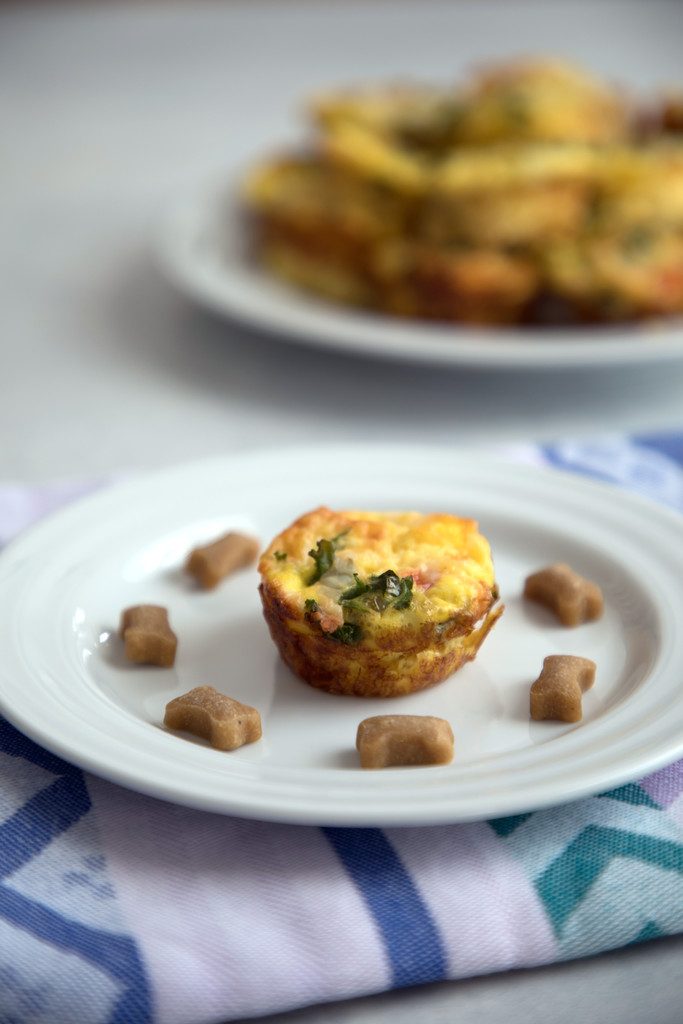 No, I don't usually let her serve herself. Just when I want to take a cute picture.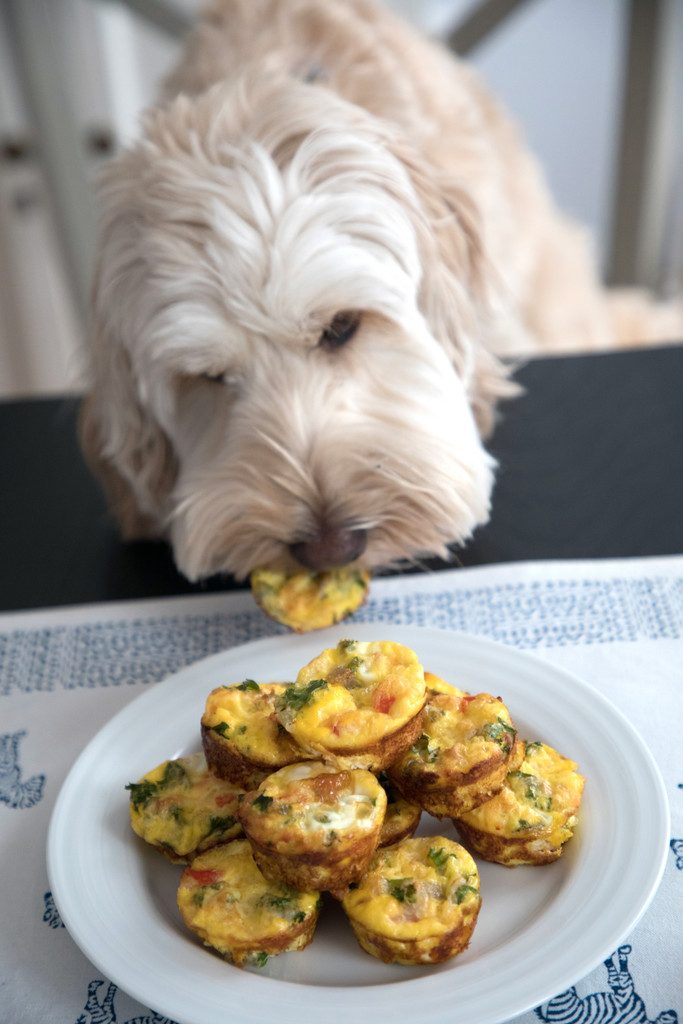 If you're interested in more dog-friendly recipes, you should know that tomorrow, April 11, is National Pet Day, so it's the perfect time to treat your pup! Check out my other posts featuring homemade food for dogs:
Peanut Butter Bananan Pupcakes
Peanut Butter Cheddar Dog Bones
Chicken Dog Treats
And if you don't have a dog and don't really care about recipes dogs can eat, I apologize and sincerely hope you can at least enjoy cute pictures of dogs. This won't likely be the last recipe for dogs you see around these parts... Winnie's second birthday is coming up soon!
Have you ever cooked or baked for your dog?
📖 Recipe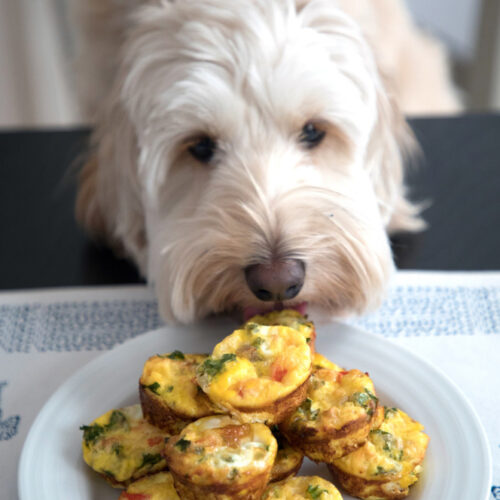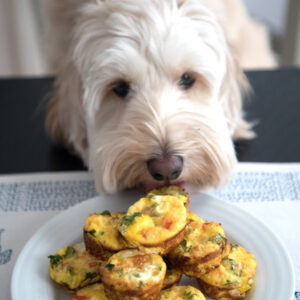 Chicken Sausage Kale Quiche for Dogs
Want to do something special for your pup? This dog-friendly recipe for mini crustless quiche combines some of your dog's favorite things: chicken sausage, kale, red peppers, and cheese. Your dog will thank you!
Print
Pin
Rate
Ingredients
1

chicken sausage link

diced

½

red bell pepper

diced

¼

cup

finely chopped kale

⅓

cup

shredded mozzarella or cheddar cheese

8

large eggs

½

cup

milk
Instructions
Pre-heat oven to 350 degrees

Lightly grease 24 mini muffin cups and divide chicken sausage, red pepper, kale, and cheese among cavities (can do in two batches in 12-cavity muffin tin).

In a medium-sized bowl, whisk together eggs and milk. Divide egg mixture evenly among into muffin tin cavities.

Bake at 350 degrees for about 20 minutes, until quiches are turning lightly golden.

Let cool for a few minutes before releasing from muffin tins and letting cool completely on wire racks.
Share a Photo of Your Finished Recipe!
Mention @wearenotmartha and share a photo if you've made the recipe!