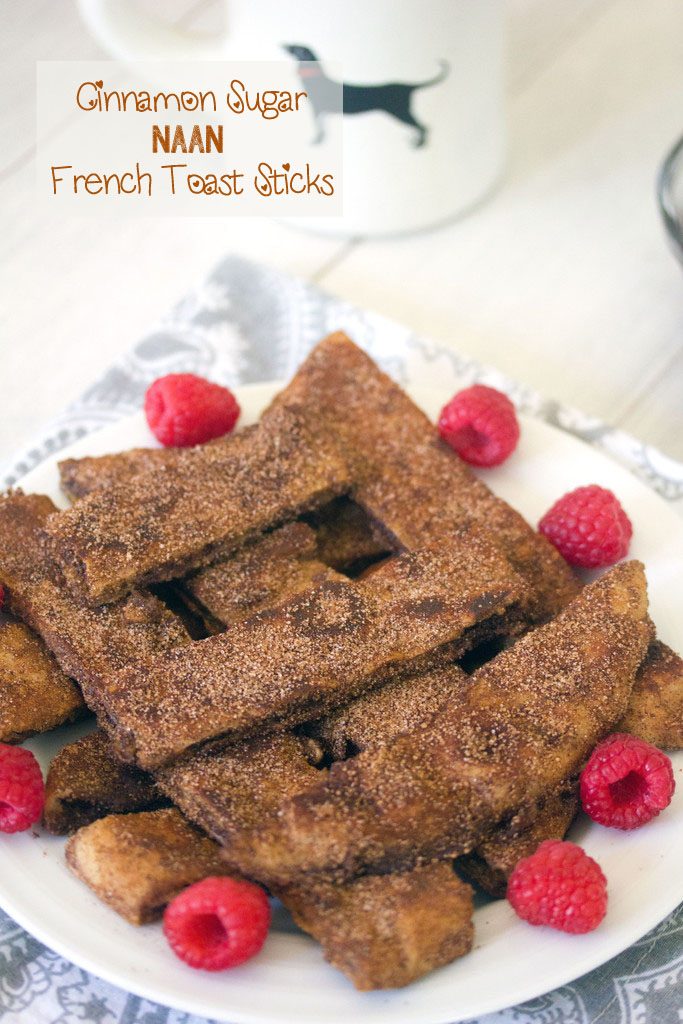 Thank you to Stonefire Naan for sponsoring this post. As usual, all opinions are my own!
Do you have your own private jokes that you sometimes giggle about in public, despite the fact that nobody else is in on your joke? Just me? That's what I thought. I blame my naan humor on my brother-in-law. One evening a few years ago, we were out to dinner at an Indian restaurant trying to decide what kind of naan to order. Naan is obviously the most important part of any Indian food meal and some restaurants have am amazing variety naans. After discussing it for a few minutes (did we really need two orders of naan each?? Or was that excess?? Can you have too much naan??), my brother-in-law finally declared it a "naan-issue." To this day, if someone calls anything a "non-issue," I immediately picture a plateful of naan and rename it a naan-issue in my head. And occasionally the laughter in my head end up outside of my head. It's the best if you're in a little tiff with someone and you start picturing naan. Whatever "issue" you're discussing becomes awesomely humorous.
And really, naan should never be an issue. While traditionally an Indian bread, naan has entered into the mainstream much more recently and people are using it to make everything from pizza to pita chips. I could live off naan, but though I've made it several times from scratch, it's not something you really do on a whim as it's quite the undertaking. So, when Stonefire Naan reached out to me to work on a project, I was super excited. I can buy naan at the grocery store and have it ready whenever the craving strikes! Not only that, but Stonefire Naan has no preservatives, so it's basically homemade, just someone else making it for you! Talk about a non-naan-issue. I've seen multiple displays of Stonefire at various grocery stores lately. Stop and Shop has been stocking more and more of their varieties, including the mini variety of naan!
While I can sit and eat a whole package of regular-sized garlic naan all on my own, I decided to try out Stonefire's whole grain naan for the first time.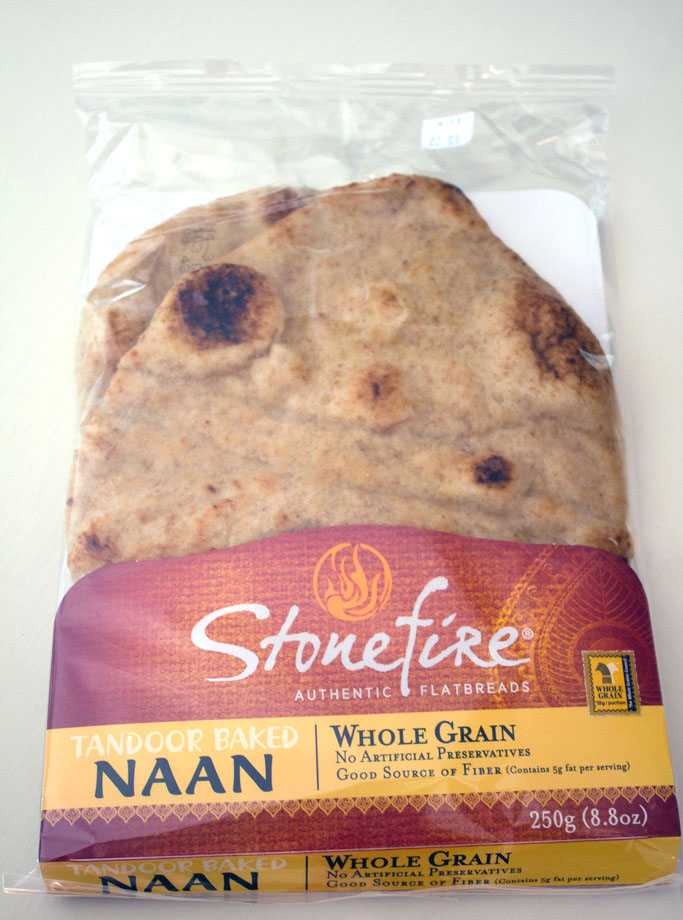 When trying to decide what type of recipe to create with the naan, I couldn't get french toast out of my head. At first, I was going to make one big naan french toast, but then decided french toast strips might be a little bit easier to enjoy. Anything covered in cinnamon sugar is an immediate "YES" in my book, so when they were done cooking, I dipped these little naan sticks into a delightful cinnamon and sugar mixture.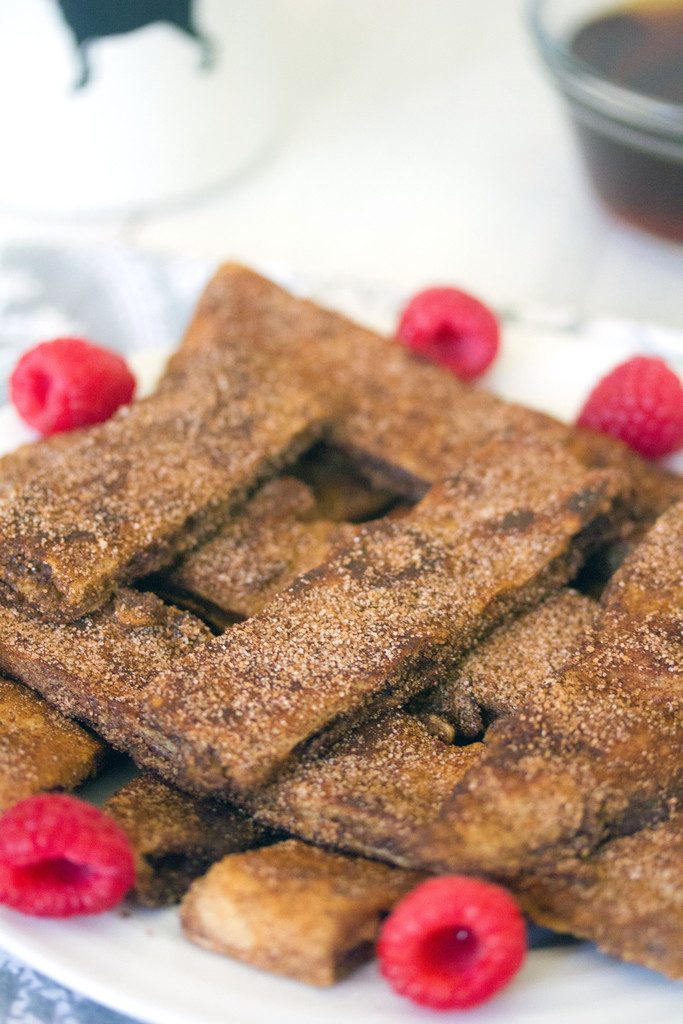 Really, these are made the same way you would make a traditional french toast, with a cinnamon-packed egg mixture soak and a hot griddle. The cinnamon sugar dipping session is all bonus.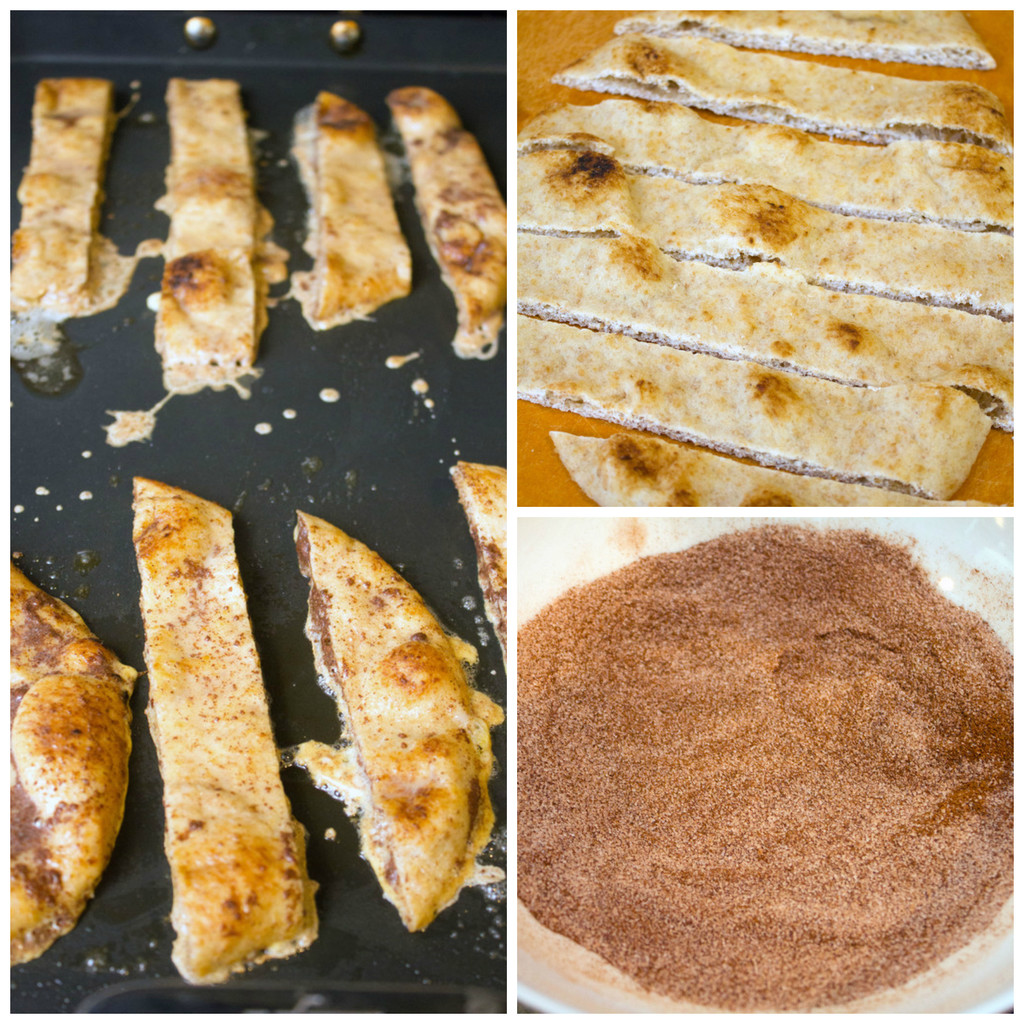 Sooo, Chris and I may have eaten an entire batch of these french toast sticks just between ourselves. But hey, it was a Sunday morning and we had a full day of yard work and housework ahead of us. Food is fuel, y'all.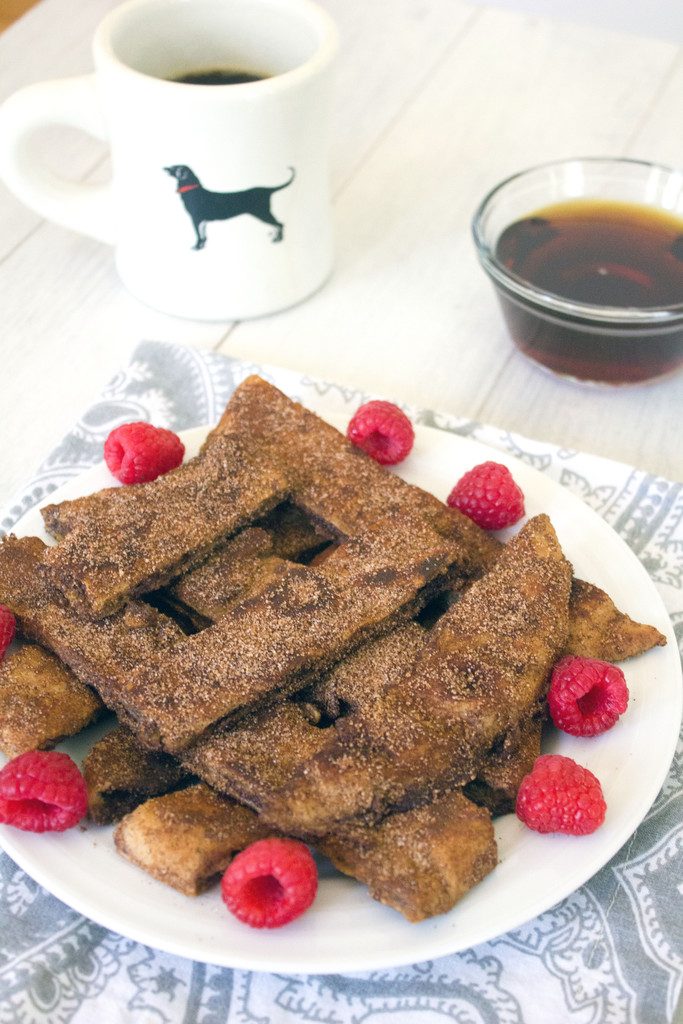 While lots of people will tell you to use a thick bread for making french toast, I'm telling you that naan is where it's at. Since it's thinner, it fries up better and makes for some super crispy and buttery tasting french toast sticks. You know how Cinnamon Toast Crunch is the best cereal ever? Well, these are like the french toast version of Cinnamon Toast Crunch. You feel way better about eating because you made it yourself and it doesn't come from a box.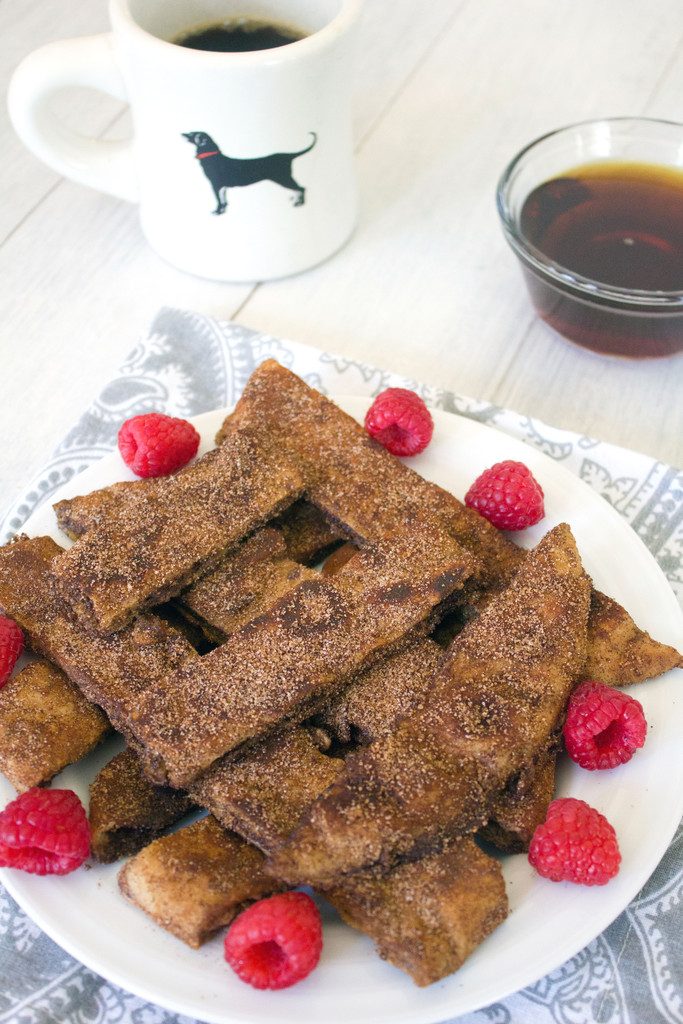 Even though you don't really need it, I would never turn down an opportunity for maple syrup. Cinnamon, sugar, and maple syrup are pretty much the only things you really need in life.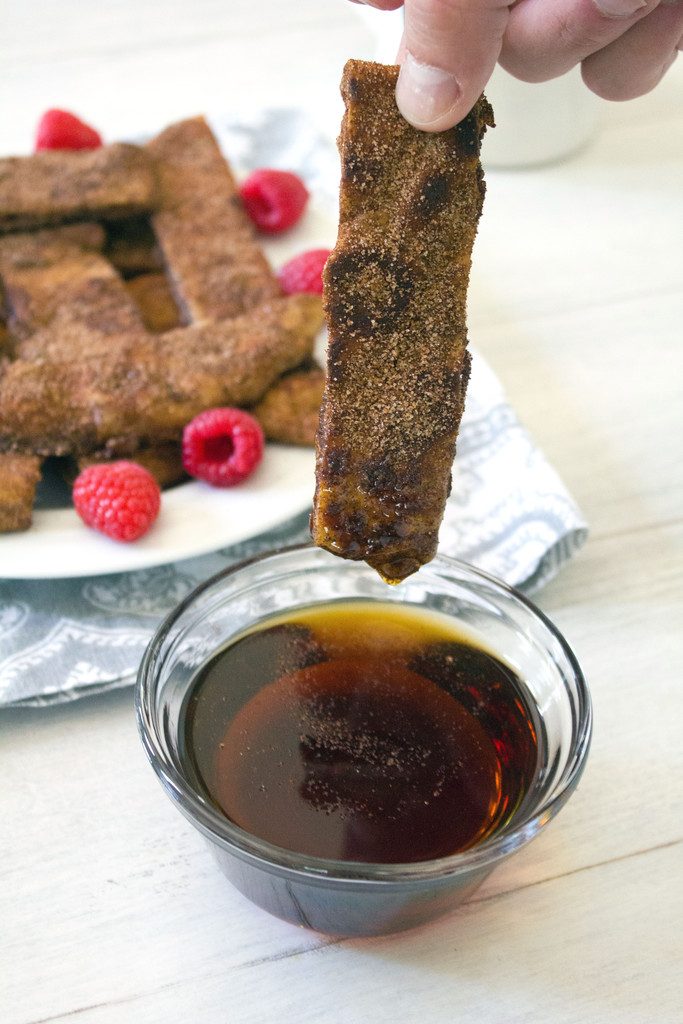 You have no idea how excited I am about my naan creation. I truly think I discovered the answer to world's best french toast sticks. And now I'm wondering what other traditional dish naan could reinvigorate. I'm going to have some serious naan-issues in my life.
What would you make with naan?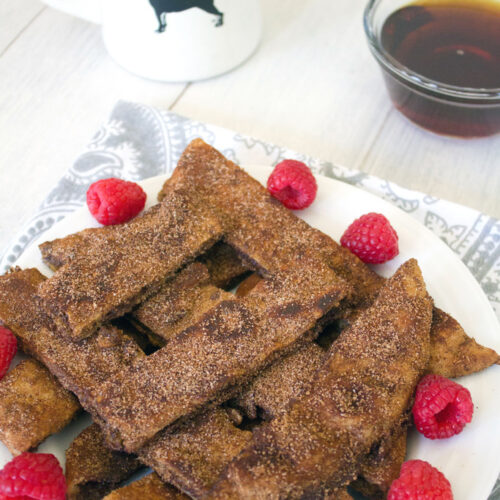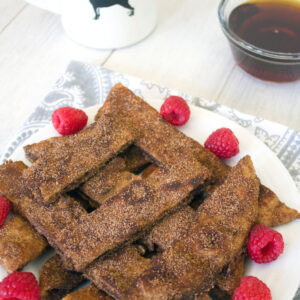 Cinnamon Sugar Naan French Toast Sticks
Once you try this french toast made with naan and coated in a cinnamon sugar mixture, you'll never go back to french toast with regular bread again!
Print
Pin
Rate
Ingredients
2

rounds Stonefire Naan

2

large eggs

1

cup

milk

1

Tbsp

cinnamon

1

Tbsp

sugar

¼

tsp

salt

1

Tbsp

unsalted butter
Cinnamon Sugar Coating:
4

Tbsp

sugar

1 ½

Tbsp

cinnamon
Instructions
Slice naan into strips.

Whisk together eggs, milk, cinnamon, sugar, and salt in a medium bowl.

Dip naan strips into egg mixture until saturated and shake off excess batter before placing strips on a plate.

Melt butter on a griddle or in a frying pan over medium heat.

Place naan strips son griddle and fry until golden brown, about two minutes on each side.

Immediately dip french toast strips in cinnamon sugar coating mixture until well coated.

Serve with maple syrup if desired.
Cinnamon Sugar Coating:
In a medium bowl, mix together sugar and cinnamon.
Share a Photo of Your Finished Recipe!
Mention @wearenotmartha and share a photo if you've made the recipe!


This blog post was sponsored by Stonefire Naan, but the opinions are all my own. #ad #HelloNaan