If you love coconut, these Coconut Waffles with Vanilla Coconut Glaze are for you! They're even topped with toasted coconut and are the best reason to get out of bed in the morning!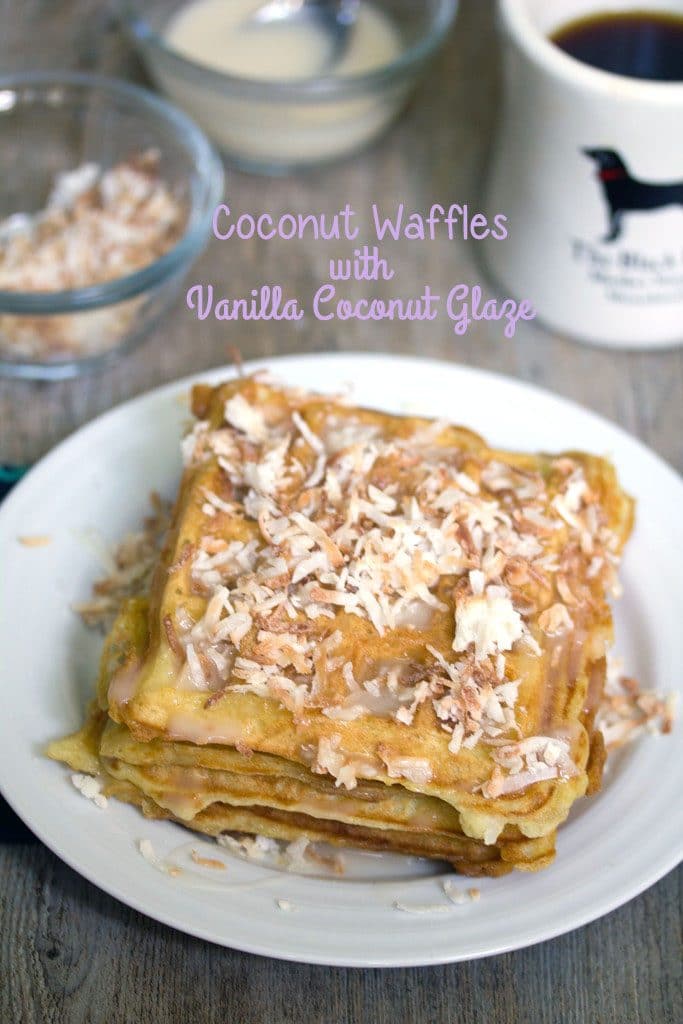 I still haven't had a cronut. Not the original and not an imitation. And I feel like my life may be somewhat lacking because of that. But before I can get too caught up in that fact, the world has already moved on to the next thing in food fads... One of which is the wonut. Yup, a combination of a waffle and a donut. Because, does life really get any better than that?
I obviously haven't had a wonut yet either. Mainly because I live in Boston and we don't often do cool things like that here. And even if we did, I'm probably too lazy to get up at the crack of dawn and stand in line for one. Delivery, please?
I didn't actually think about wonuts (come on, that is seriously the best word ever) until I was eating these coconut waffles. And then I realized my waffles were a bit wonut-like in that they're deliciously sweet waffles with a made-for-donuts glaze drizzled on top. It's like combining the best of both worlds and then sprinkling toasted coconut on top.
If I could open up my own wonut shop in Boston, I totally would. But something tells me I'd be breaking some sort of health code... Not to mention, there's probably already a trademark or two taken out on the word wonut. I'd have to call my creation something else.... Like a doaffle? Doesn't really have the same ring to it, does it? So, I'll just call these Coconut Waffles with Vanilla Coconut Glaze and call it a day. A really, really good day.
COCONUT WAFFLES WITH VANILLA COCONUT GLAZE RECIPE
Like pancakes, waffles are incredibly easy to make. Even when you get all fancy with coconut and a glaze, they can still be made quickly and easily. Which is probably why they make an ideal breakfast dish. You can mix some ingredients together with your eyes closed. Just be careful when it comes time to use the waffle iron.... You might want to open your eyes for that part.
Also open your eyes when you're toasting the coconut to sprinkle on top of your stack of coconut waffles. It goes from pure white to burnt to a crisp very quickly in the toaster oven or regular oven, so don't say I didn't warn you!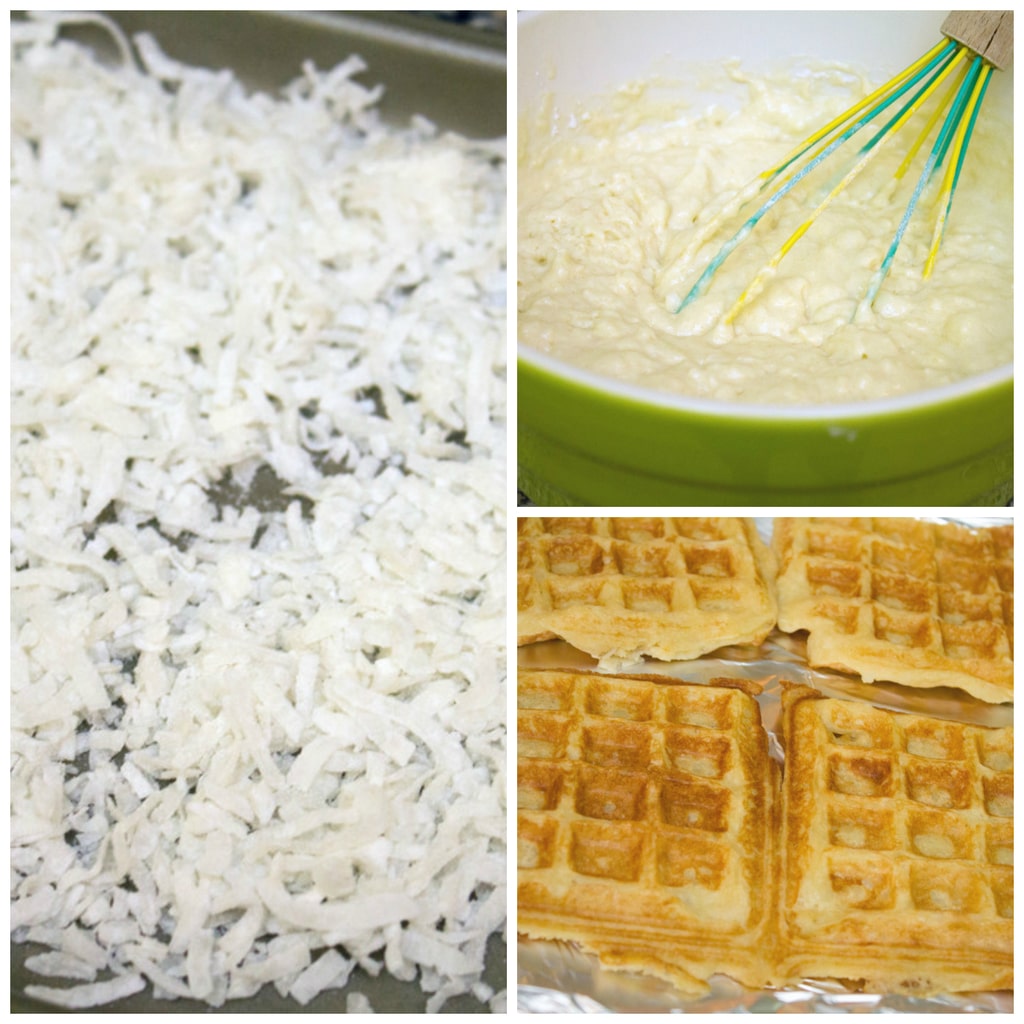 Serve the waffles in a stack, drizzling glaze over the top and sprinkling on toasted coconut.
I almost feel bad posting this on a Monday because, well, I'm assuming most of you are not enjoying a nice leisurely breakfast this morning. I know I'm certainly not. I'm probably sitting at my desk eating a yogurt and maybe a banana as you're reading this. How depressing.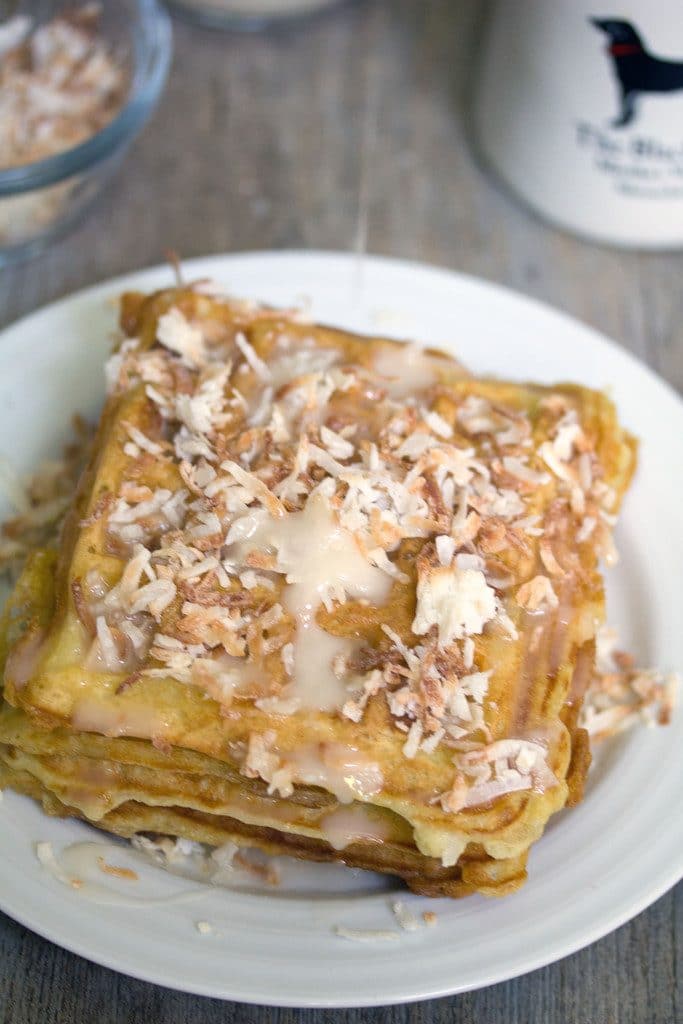 Maybe I'll have to move a waffle iron into my office, so I can make my Mondays a little bit brighter. Of course, it would make for a messy desk and I'd probably light the toaster oven on fire toasting my coconut, but it would be worth it. I should have at least brought a travel mug full of the glaze with me. Would that be weird? I'd be on some kind of crazy sugar high.
Do you have a favorite mug? I drink out of my Black Dog mug every weekend. There's just something about the weight of it that makes it my ideal coffee mug. I've sadly never even been to Martha's Vineyard, but my mom got me this mug back when I was in college and it's been a favorite ever since.
These coconut waffles are most definitely a new favorite, too. I ate an entire stack of them.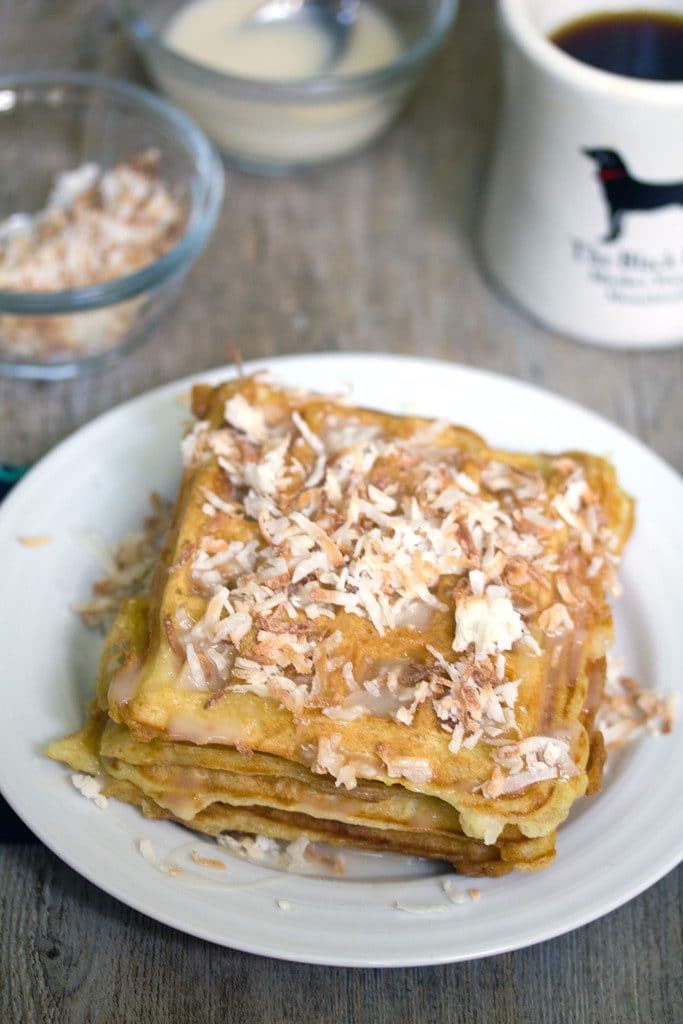 They aren't super sturdy waffles and instead are incredibly moist and packed with flavor. The kind that are easy to cut into and simply melt in your mouth. That could have had something to do with vanilla coconut glaze.
The toasted coconut on top was basically the same thing as a cherry on top of an ice cream sundae. Not totally necessary, but so so worth it. I could eat toasted coconut by the handful. Or the waffle-ful.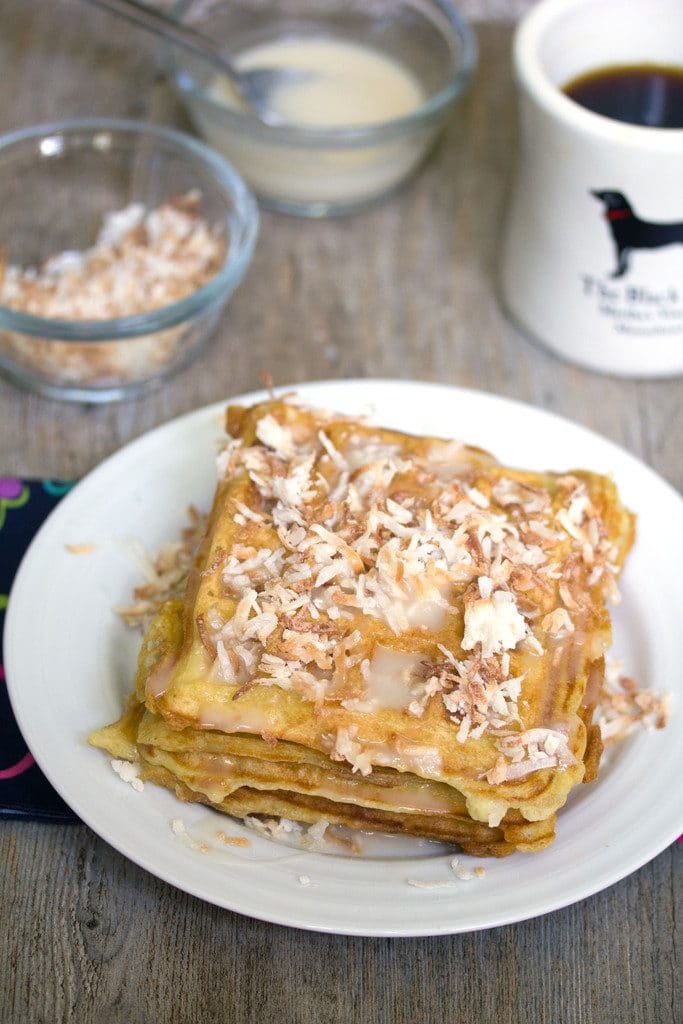 If you're a coconut lover or are close to someone who is, you need to put these coconut waffles on your brunch menu ASAP!
What did you have for breakfast this morning?
If you're looking for more fun waffles recipes, check out my Hard Cider Waffles with Cider Maple Syrup and my super fun Bubble Waffle Banana Split Tacos. I also can't wait to try these Pumpkin Chai Waffles from Noshing to Talk About!
📖 Recipe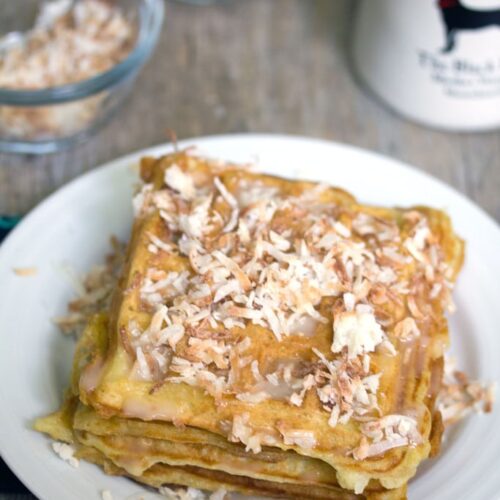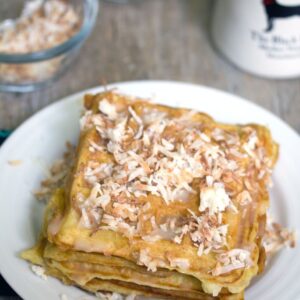 Coconut Waffles with Vanilla Coconut Glaze
If you love coconut, these Coconut Waffles with Vanilla Coconut Glaze are for you! They're even topped with toasted coconut and are the best reason to get out of bed in the morning!
Print
Pin
Rate
Ingredients
2

cups

all-purpose flour

1

Tbsp

granulated sugar

2

tsp

baking powder

1

tsp

baking soda

¼

tsp

salt

1

cup

buttermilk

1

cup

coconut milk

(in a carton)

2

large eggs

½

cup (1 stick)

unsalted butter,

melted

⅓

cup

sweetened shredded coconut,

plus ¼ cup for topping

Vanilla Coconut Glaze

(recipe below)
Vanilla Coconut Glaze
1

cup

confectioners' sugar

2

Tbsp

coconut milk

(in a carton)

¾

tsp

vanilla extract
Instructions
In a medium bow, whisk together flour, sugar, baking powder, baking soda, and salt.

In a separate, larger bowl, whisk together buttermilk, coconut milk, eggs, and melted butter.

Pour dry mixture into wet mixture and stir until just combined, being careful not to over-mix. Fold in ⅓ cup coconut.

Heat waffle iron and spray lightly with cooking oil or brush with canola oil.

Pour batter into waffle iron, close iron, and let cook for 3-5 minutes, until waffles are golden.

If you're not going to eat the waffles right away, place on a foil-covered baking sheet and place in a warmed oven.

Place remaining ¼ C coconut on a foil-lined baking tray and place in a toaster oven for a couple minutes, until nice and brown. Be sure to keep a close eye on it as the coconut could get dark quickly!

Serve waffles in a stack, drizzling glaze over the top and sprinkling on toasted coconut.
Vanilla Coconut Glaze
Whisk together confectioners' sugar, coconut milk, and vanilla extract. If you'd like the glaze to be thicker, add some more sugar. If you'd like a thinner glaze, add more coconut milk.
Share a Photo of Your Finished Recipe!
Mention @wearenotmartha and share a photo if you've made the recipe!