Though I'm fully trained in all things turkey (thank you Butterball University!), I wasn't a huge contributor to Thanksgiving dinner at my parents' house. Because I had just gotten back from my trip a couple days earlier and was playing major catch-up with work (still am!), I didn't have time to do much of anything. But I did want to bring a little something. So, I settled on Martha Stewart's Cranberry Thumbprint Cookies. They're both festive and simple-looking; not to mention, I love anything with cranberries (and had 2 bags in the freezer!).
Cranberry Thumbprints (makes about 2 dozen)
For the cookies:
1 C all-purpose flour
1/2 C yellow cornmeal, preferably stone-ground
1/2 t coarse salt
4 oz (1 stick) unsalted butter, softened
1/2 C plus 1 tablespoon sugar
1/2 t finely grated orange zest
1 large egg, separated
For the filling:
4 oz. fresh cranberries (1 cup)
1/2 C water, plus more if needed
1/4 C sugar
1 strip (2 inches) orange zest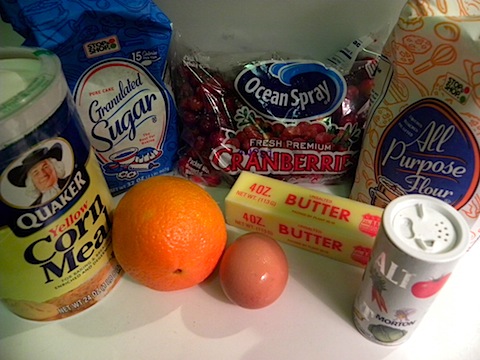 While I obviously love Martha Stewart and her recipes, this one was totally confusing, but I'm attributing it to careless editing for the website. It messed up the measurements in the recipe's steps a few times, but the amounts could be figured out by looking at the ingredient list.
Anyway, start by whisking together the flour, cornmeal, and salt in a medium bowl.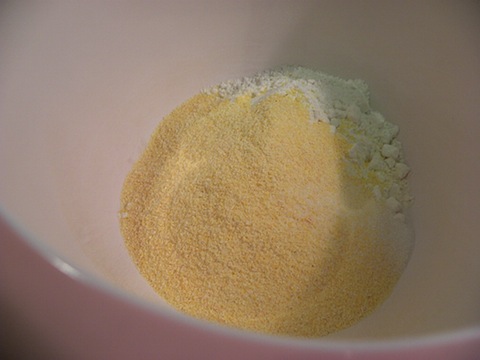 Then beat the butter and 1/2 C of sugar on medium speed in a separate bowl until pale and fluffy (about 2 minutes). Add orange zest and egg yoke and mix well.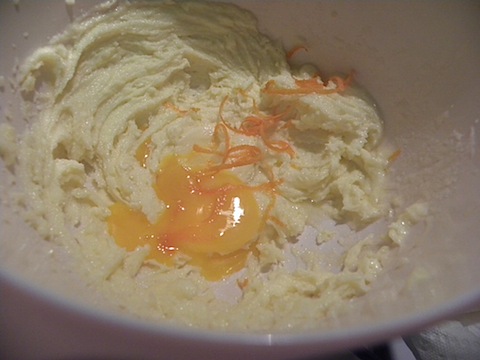 Then on low speed, add the flour mixture until just combined.
Whisk the egg white in a little bowl. And put the remaining 1 T sugar on a separate plate. Take about 2 teaspoons of dough, roll into a ball, dip into the egg white, and then roll in sugar. Place on baking tray. It is really, really ideal if you line your baking tray with parchment paper. I happened to be out of it and was baking ate night, so I had to use butter (and then tried PAM). These cookies stuck like crazy. You might also want to add some more sugar to roll them in… 1 T definitely wasn't quite enough for me!
Place about 1 inch apart and gently press center of dough with your thumb to make a little imprint.
Bake at 350 degrees for about 15-17 minutes, rotating trays halfway through.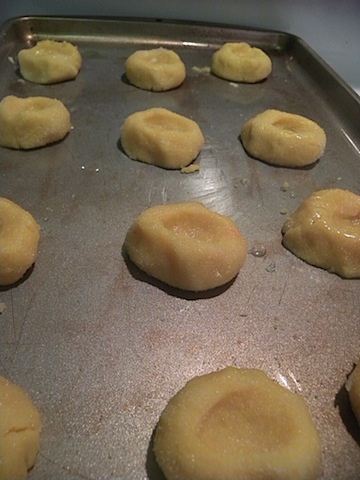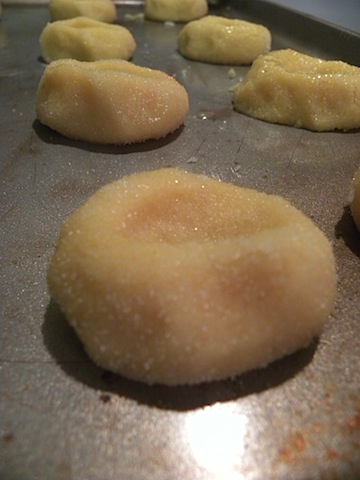 While the cookies are baking, you can make the filling. You could also make it ahead of time since it has to be cooled down before you can fill the cookies (the cookies have to be cool too, though).
In a small saucepan, add cranberries, water, sugar, and orange zest. Bring to a boil over medium-heat.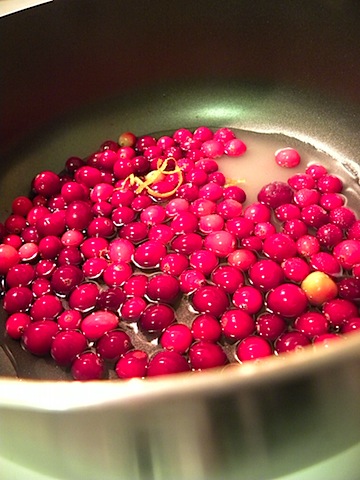 Reduce the heat and simmer gently, gently mashing the cranberries until they're thick and "jam-like" 5-6 minutes. If you need to add more water to thin it out a bit, you can.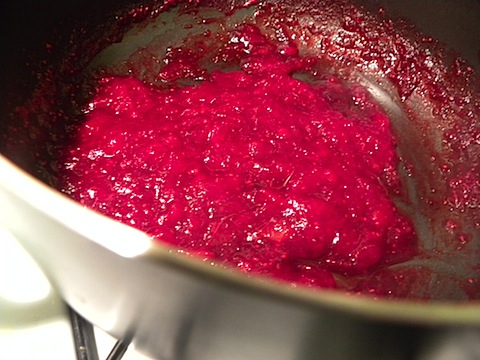 Transfer to a bowl and let cool completely- I put mine in the fridge and it didn't take too long.
Once the cookies are cooled, spoon a small amount of filling into the indentation.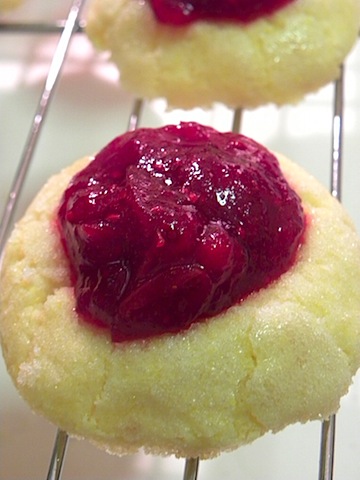 I love the way these cookies look, though I must say they don't really transport too well. But I was a big fan of the sweetness of the cookie combined with the tartness of the cranberry filling.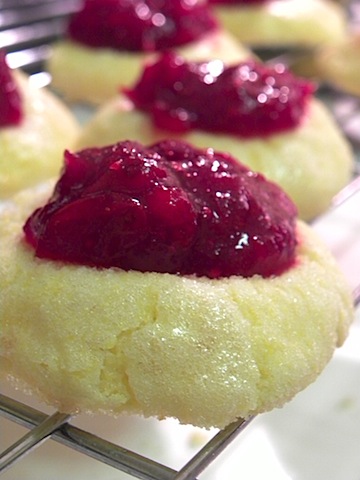 I'll definitely give these cookies another go for the upcoming holidays; but this time with parchment paper and maybe a little bit more orange zest. Mmm just looking at these is making me crave another big serving of cranberry sauce!
[Sues]