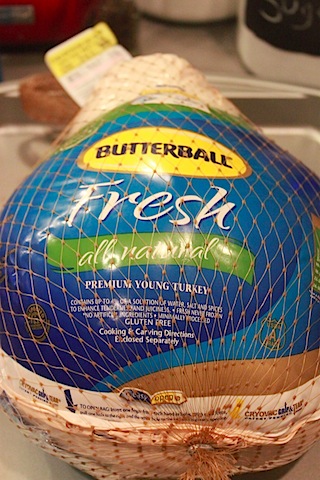 After much discussion about what to do for our next Butterball-related post, we decided the best option was a step-by-step video on how to prepare a turkey. We came to this conclusion for many reasons:
1) Cooking a turkey is easy. But it's much easier to get the hang of it when you actually see the steps in person. We were often intimidated by cooking a turkey but after three fantastic years working with the people at Butterball we felt so confident sharing this with you!
2) Videos are fun to watch. Not always fun to edit but fun for our readers to see us in action!
3) We haven't done a post together in a while.
4) We always say "Hey, we should do more videos on the blog!" then never do them. It's actually become a ridiculous joke between the two of us and almost every time we hang out one of us sarcastically says, "We should videotape this for the blog!".
5) After our Project Food Blog series last year we got a lot of comments from people saying they loved seeing us cook and in the kitchen together.
5) After blogging for almost 4 years we realized our readers probably don't know what we're like "in person" since we've only done a handful of videos on here!
6) Outtakes. Keep watching the video and you'll see how goofy we really are. Woah.
Sues came over to my place Monday night and we got to work preparing our very basic turkey. You can obviously go above and beyond with how you prepare your turkey, but we wanted to keep it simple just for the sake of showing you just how easy it really is! It was a fun night and I think it took us far longer than it should have because we were laughing and goofing off half the time. And we had many "do-overs" from giggling on the video so many times. Needless to say, by the end of the night, my abs hurt from laughing so much.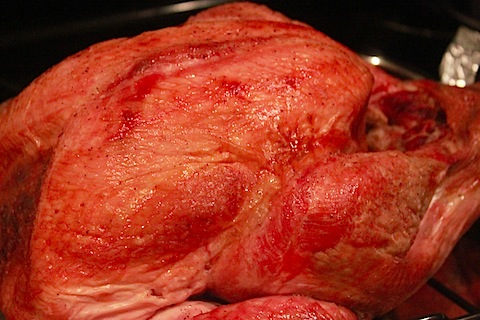 Butterball's website is also a wonderful resource for tips and tricks, so be sure to check it out as well!
The Butterball website offers information on:
How to Know When Your Turkey is Done
How to Properly Store Your Turkey
And many other useful tutorials!
If you have any questions at all about preparing your turkey this Thanksgiving (or any time of year!) please feel free to ask us! And more importantly, the Butterball Turkey Talk-Line is officially taking calls for the season so call 1-800-BUTTERBALL for any and all turkey-related questions you have. These women are turkey geniuses, not to mention some of the sweetest people we've ever met, so don't ever feel nervous to give them a ring! They're here to help 🙂
What are your turkey plans this Thanksgiving? Are you preparing it or is someone else? Do you have any fancy turkey recipes?
[Chels]
While we are being compensated and working for Butterball this holiday season, like always, all opinions are 100% our own. As you know, we only work with and talk about companies on We are not Martha that we love and support.