Your Butterball turkey has been purchased and you're ready to host Thanksgiving dinner. Now what? This guide will help you learn how to cook a Butterball Turkey… Don't worry, it's easy!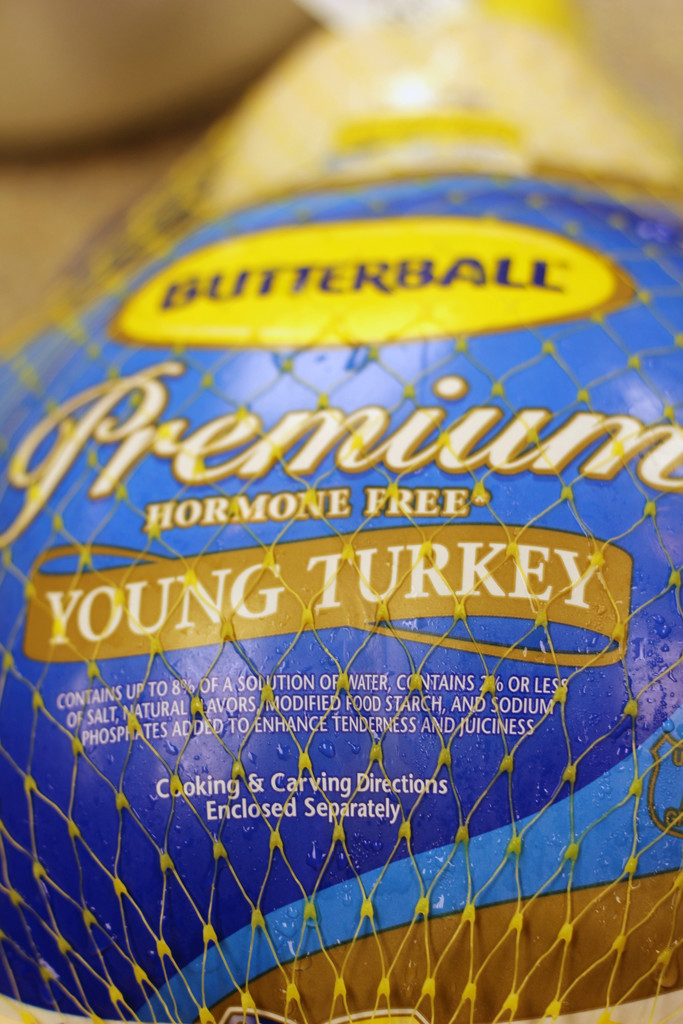 (this post was last updated October 2019)
We've been working with Butterball Turkey for several years now and I think it's safe to say we've cooked a few Butterball turkeys in our time (at Butterball University, we learned 11 different ways to cook a turkey!). And since it seems like lots of people have lots of questions about cooking Butterball turkeys, we decided to write this post teaching you how to cook a Butterball turkey.
One thing you should know is that cooking a turkey is easy. But it can be scary. Mostly because you're often cooking it for a crowd and because turkey has a reputation for often being dry and not so great. We know the feeling of being intimidated by cooking a turkey but after three fantastic years working with the people at Butterball, we feel so confident sharing this with you!
For this post, I decided to show you how to cook a very basic turkey. You can obviously go above and beyond with how you prepare your turkey, but I want to keep it simple here just for the sake of showing you just how easy it really is!
How to Cook a Butterball Turkey
I hope you're reading this post at least a few days ahead of when you want to cook your turkey. But if not, hopefully a few of these turkey cooking tips will be helpful to you.
Step 1: If your turkey is frozen, you need to have a defrosting plan! Use this guide to learn how to thaw your Butterball turkey properly. Also note that thawing is the #1 question the Butterball ladies get on Thanksgiving from people who didn't plan in advance. Remember you need days to fully thaw a frozen turkey!
For instance, a 16-pound turkey takes 4 days to thaw in the fridge. If you didn't plan enough thawing time for this, you can always do a cold water thaw. A 16-pound turkey takes 8 hours to thaw in cold water.
Step 2: To brine or not to brine? One of the awesome things about Butterball turkeys is that you don't have to brine them. They're already pre-brined with a salt solution! BUT that doesn't mean you can't brine them.
We often brine our Butterball turkeys and my family swears by Alton Brown's recipe. The brine or not brine debate is already so hot, so it's really just up to personal preference and what you feel like doing.
Step 3: Decide how you want to cook your turkey. For the purposes of this post, we're going to go with a simple oven roasting method. But at Butterball University, we learned to cook turkey 11 different ways. Yes, 11! That includes cooking a turkey in the microwave (yes, it can be done… But I don't really recommend it).
Step 4: Decide if you want to stuff your turkey. We never stuff ours and simply serve the stuffing (dressing) on the side. But if you want to stuff it, do so now. Just be sure you read the note below on taking the temperature of the stuffing!
Step 5: For the traditional roasting method, pre-heat your oven to 325 degrees. Remove the giblets and turkey neck and pat your turkey dry with paper towels. You may or may not be surprised to know another big problem the Butterball ladies hear about is people who forget to take the giblets and neck out of the turkey before putting it in the oven (very important since they're in plastic packages!).
Step 6: Place turkey breast side up on a flat rack in a shallow roasting pan 2 to 2½ inches deep.
Step 7: Turn the wings back to hold the neck skin in place, so your turkey will be stabilized in the pan and for carving. Brush the skin with a little bit of olive oil or cooking oil. Rub turkey with salt and pepper, too, if you didn't brine it.
Step 8: Insert an oven-safe meat thermometer deep into the lower part of the thigh without touching the bone. The thigh is the thickest part of the turkey, so that's where you need to make sure the turkey is up to temperature and safe to eat.
BUT! If you stuffed your turkey, you'll also need to make sure the stuffing is up to temperature. Lots of people forget to do this and it's so, so important as the stuffing is actually what can make people sick. If you don't have an oven safe instant read thermometer, you can simply take the temperature yourself when the turkey is close to being done. I couldn't live without my Thermapen for cooking meat!
Step 9: Cook turkey! See turkey cooking time calculator below to determine how long your turkey should roast depending on how much it weighs. When it's about 2/3 of the way done, loosely cover the breast with foil so it doesn't overcook (the breast will be done first, but the rest of the turkey needs more time!).
You'll know your turkey is done when the thigh  is 180 degrees and the breast and stuffing are 170 degrees.
Step 10: Remove your turkey to a platter and let stand for about 20 minutes before carving and serving! For help carving, check out this guide.
Yes, it's that easy to cook a Butterball Turkey!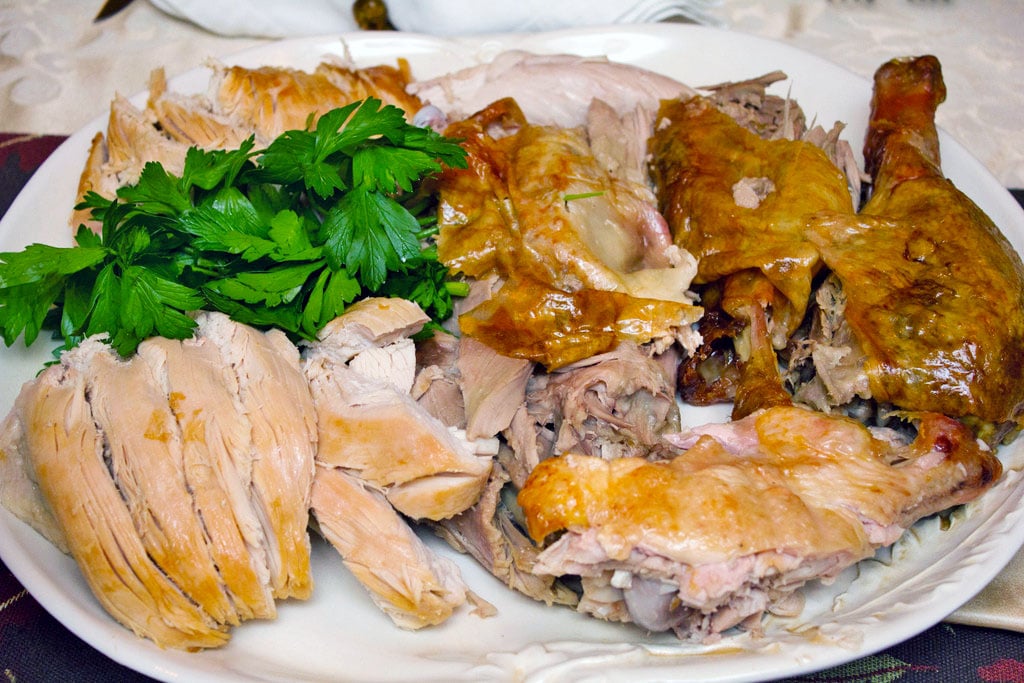 Useful Tools for Cooking a Turkey
Cooking a Butterball turkey is easy, but it can be made even easier (and more delicious!) when you have the right tools at your disposal. Here are a few of the tools we like best (note some of the below are affiliate links):
Butterball Turkey Cooking Times
For your reference, here are turkey cooking times determined by the weight of your Butterball turkey.
4.5 – 7 lbs
Unstuffed: 2-2.5 hours
Stuffed: 2.25-2.75 hours
7-9 lbs:
Unstuffed: 2.5-3 hours
Stuffed: 2.75-4.5 hours
9-18 lbs:
Unstuffed: 3-3.5 hours
Stuffed: 3.75-4.5 hours
18-22 lbs:
Unstuffed: 3.5-4 hours
Stuffed: 4.5-5 hours
22-24 lbs:
Unstuffed: 4-4.5 hours
Stuffed: 5-5.5 hours
24-30 lbs:
Unstuffed: 4.5-5 hours
Stuffed: 5.5-6.25 hours.
For more information on how to cook a Butterball turkey, check out Butterball's handy guides on:
How to Know When Your Turkey is Done
And many other useful tutorials!
If you have any questions at all about preparing your turkey this Thanksgiving (or any time of year!) please feel free to ask me in the comments below! And more importantly, the Butterball Turkey Talk-Line is officially taking calls for the season so call 1-800-BUTTERBALL for any and all turkey-related questions you have.
These women are turkey geniuses, not to mention some of the sweetest people we've ever met, so don't ever feel nervous to give them a ring! They're here to help 🙂
Have you ever cooked a Butterball Turkey before?
If you're looking for some great Thanksgiving side dishes to serve along with your Butterball turkey, check out the following WANM recipes:
Mojito Cranberry Sauce
Skillet Green Bean Casserole
Ginger Coconut Whipped Sweet Potatoes
Loaded Mashed Potatoes in Jars
And to make your Turkey cooking experience a bit more fun, enjoy my Pumpkin Pie Martinis!