It seems like every year, I get a ridiculously slow start on my holiday baking. I think it has something to do with the fact that Christmas seems to sneak up on my so quickly. One minute, I'm minding my own business eating pumpkin and the next minute Santa Claus is coming down the chimney. And let me tell you, Santa Claus does not enjoy pumpkin parfaits. Oh no, pumpkin is far too healthy for him. He'd much prefer sugary, buttery cookies. Like these ones.
I spotted this recipe on one of my favorite dessert blogs, With Sprinkles on Top, and the photo was just too stunning for me to resist. I changed up the recipe a bit (like adding some more mint extract for an extra holiday kick!), but was overall, totally happy with the results. And I think Santa would be, too. Not that he needs any more sugar in his system.
Sparkling Peppermint Sugar Cookies (makes about 24):
• 3/4 C sugar
• 1/2 C butter (1 stick), softened
• 1 egg
• 1/2 t vanilla extract
• 1/4 t mint extract
• 1 2/3 C all-purpose flour
• 1 t cream of tartar
• 1/2 t baking soda
• 1/2 t salt
• 1/2 C crushed candy canes or peppermint candies (about 7 candy canes)
• 1/4 C sugar, for coating
(pre-heat oven to 350 degrees)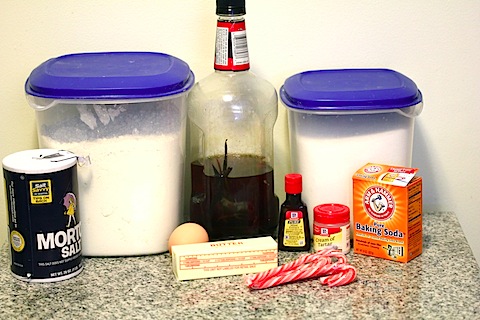 Though they're just regular old candy canes, I have to say, I was quite surprised a 10-pack was only $1. I mean, after inflation and all, I would have figured CVS would try to get at least $2.99 out of me for this box. And you know, I am so trained to pay that that I actually said, "these are only $1? Ew, they must be generic" as I searched for the non-generic ones. Then I realized a) they're candy canes. Is there a non-generic? and b) each one of these probably costs $.00001 to make. So, I gladly grabbed a few boxes and went on my way, before there was a markup on aisle 5.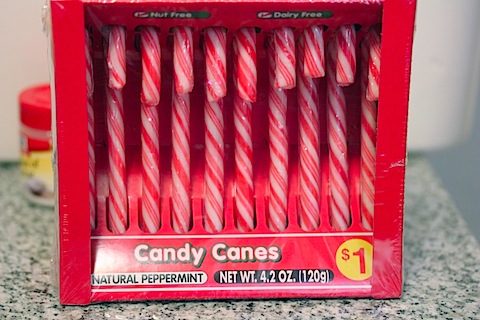 First, you'll want to crush your candy canes or peppermints.
I crushed mine in my little Cuisinart mini chopper. You know, next time I'll probably just put them in a bag and throw some books on top of them or something. Because instead of crushed, these were more pulverized (I'm telling you, this little machine has A LOT of power).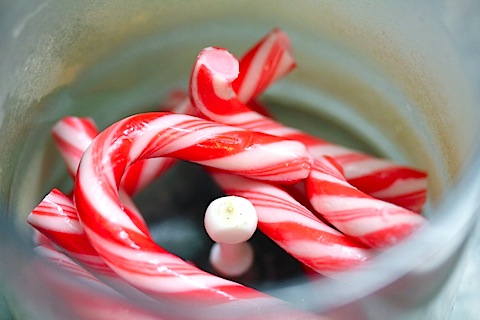 See? This was after only a few presses of the button. Like powder. They worked fine, but bigger pieces may have been a bit prettier in the final product.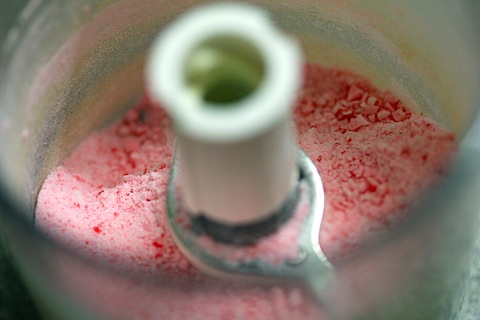 Combine 3/4 C sugar, and butter in a mixer (or bowl with hand mixer) and blend at medium speed until creamy. Then add egg, vanilla, and mint extract and blend to combine.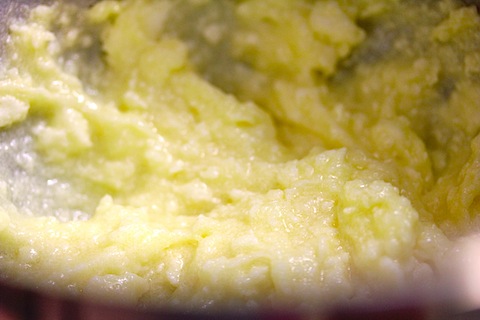 In a separate bowl, whisk together flour, cream of tartar, baking soda, and salt.
Slowly combine that to the butter/sugar mixture and blend on low speed, until fully mixed.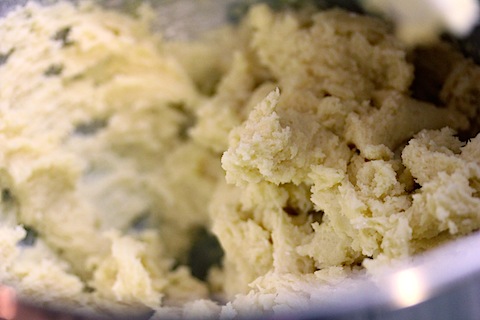 Then, stir in 1/4 C of your crushed candy canes.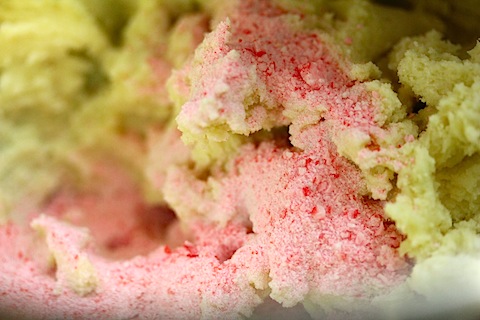 And mix it up.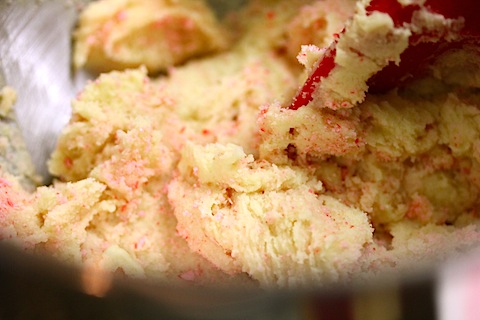 Take the other 1/4 C of crushed candy cane and mix it in a bowl with the remaining 1/4 C sugar.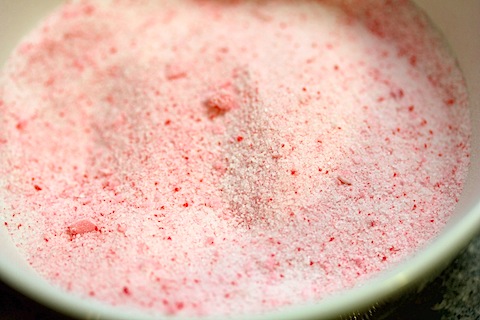 Now, shape the dough into 3/4 inch balls and roll in the sugar/candy mixture.
Place the dough balls about 2 inches apart on a cookie sheet lined with parchment paper.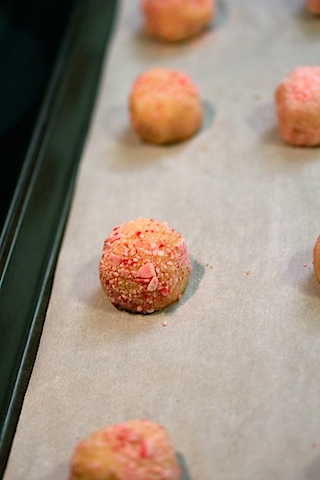 I managed to get some larger pieces of candy cane on the dough; and not just powder.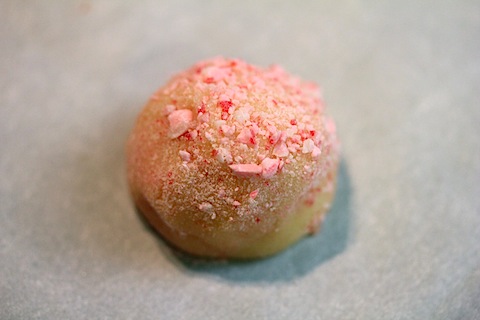 Bake the cookies for 8-10 minutes (I would try to stick to 8 for softer cookies) at 350 degreees. And then let them cool on cookie sheet for about 1 minute before moving them to a wire rack to finish cooling.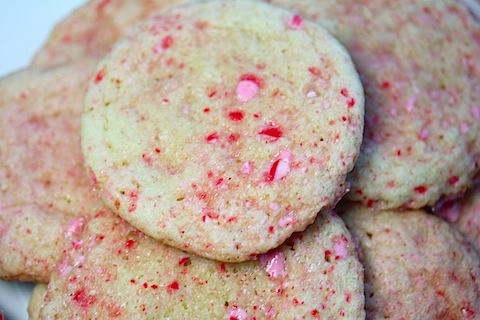 I absolutely loved these! It's like taking a sugar cookie and kicking them up some major holiday notches. And I feel like the "chewiness" of this cookie is very easy to control. If you want a crunchy cookie, bake for 10 or 11 minutes. But if you want a chewy, soft cookie stick to 8.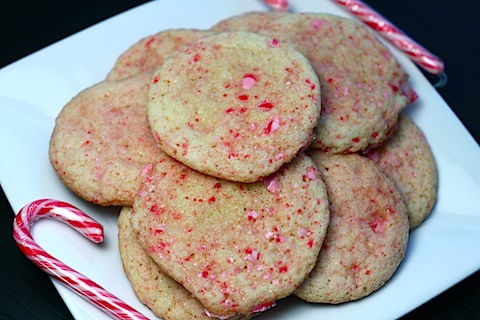 These are totally the kind of cookies Santa will go crazy for. I mean, they're buttery, sugary, and super pepperminty. Plus, I think they're kinda pretty. I think the reindeers would even eat these.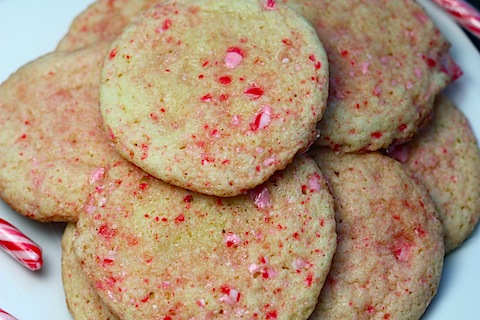 And since I can't remember the last time I ate a candy cane for enjoyment, this is the perfect thing to do with those little inexpensive treats.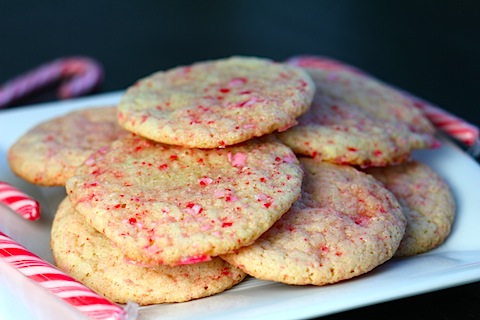 Which begs the question: why is it so hard to find peppermint candy canes these days? After a quick trip to Target's candy aisle last year, I realized they had almost every single possible flavor candy cane in the world (soda flavors?!), except for peppermint. And all those other flavors? Yup, they're more than $1 a box! Peppermint totally gets the shaft.
Oh and by the way, if you're looking for another awesome holiday cookie recipe, try these Chocolate Peppermint Bark Cookies I made last year. And please, let's embrace the peppermint candy cane (but not so much that prices are driven up).
Happy holidays! Now let's get sugared up!
What's your favorite flavor candy cane? Does it bother you that peppermint candy canes seem to be neglected?
[Sues]