Remember the cosmo? It's back! But this time the cranberry and lime are combined with frozen strawberries for an icy frozen strawberry cosmopolitan treat.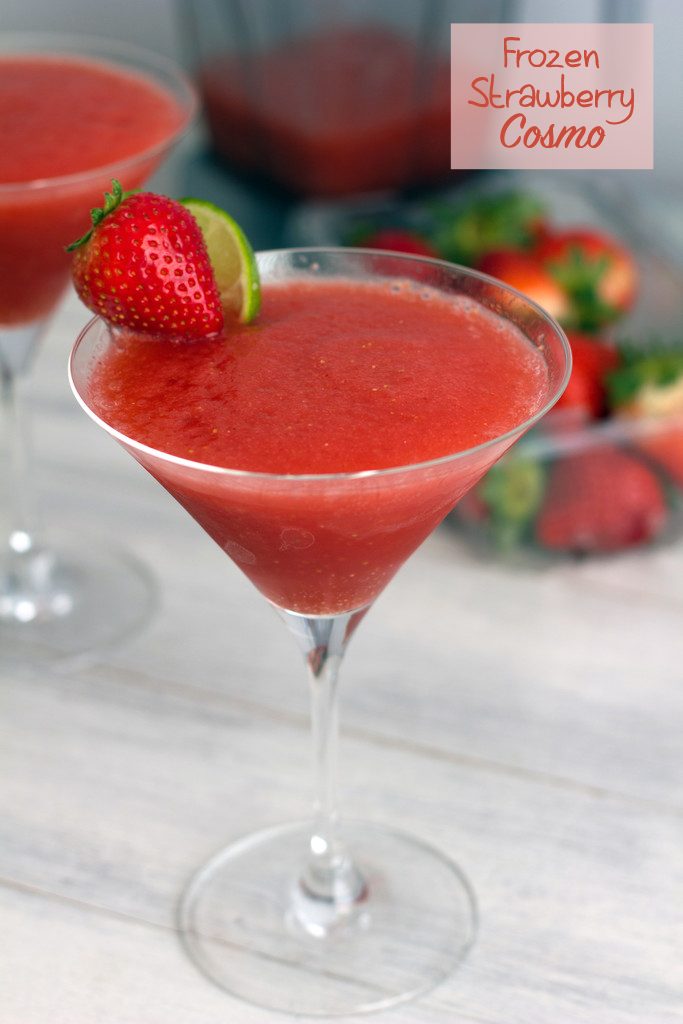 Remember when Cosmos were all the rage? We all had Carrie Bradshaw and the ladies of Sex and the City to thank for that. Cosmos, Manolo Blahniks, and being single and New York City. The late 90s/early 200s were some fun times. And I won't lie, I drank a cosmo or two in the tail end of those days. I also imagined I could be a writer just like Carrie Bradshaw. I think lots of us did. And then we quickly realized, most writers can't afford apartments in New York City and Manolo Blahniks. Such deception. Also, hi, I'm still younger than Carrie Bradshaw was on the show, but feel way too old to want that lifestyle. How about a cocktail in my bed instead of a late night restaurant opening and party on a Tuesday night?
Anyway, just as quickly as the cosmopolitan came "in," it went back "out" again. Let's face it, they became kind of hokey. But you know what? I miss them. Cranberry juice and vodka are probably two of my very favorite things. I decided to bring the cosmo back, but this time with a little bit more fun. I mixed it with some strawberries and made it frozen for a frozen strawberry cosmopolitan. Because warmer weather is coming (I promise!) and this might just be your new summer drink. And if you're the type of person who's embarrassed to order a cosmopolitan at a bar, you'd probably be really embarrassed to order a frozen cosmopolitan... But now that you can make it at home, you don't have to!
FROZEN STRAWBERRY COSMO RECIPE
Frozen cocktails are basically the easiest thing ever. Gather up all your ingredients. And then...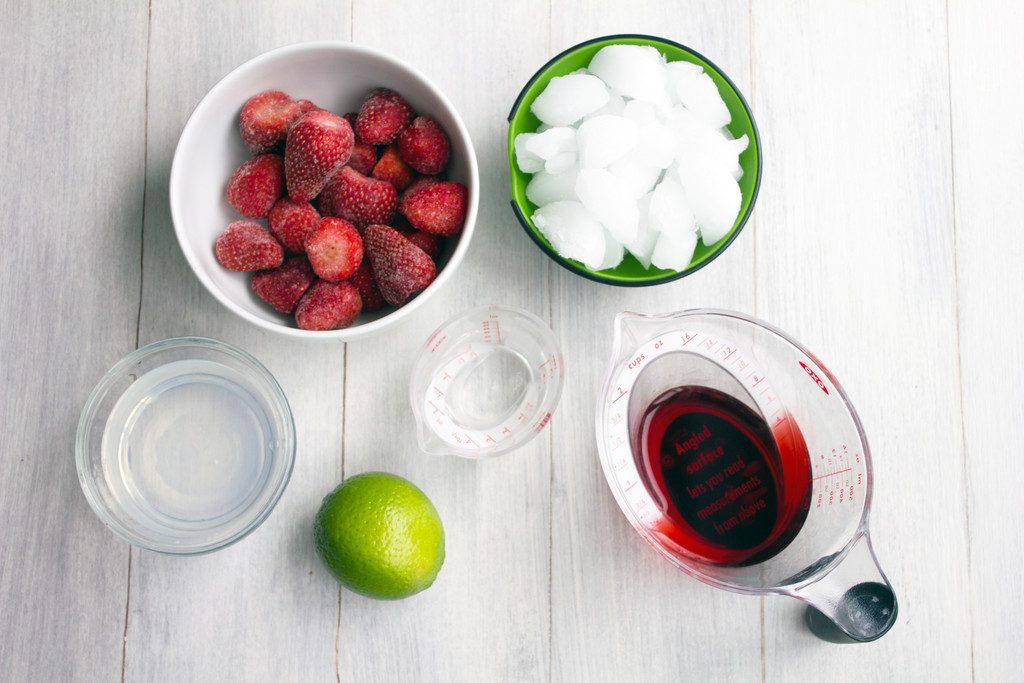 Just put all of them in the blender and blend away! For my cosmo, I used ⅓ cup 100% cranberry juice, 5 oz. vodka, 2 oz. triple sec, the freshly squeezed juice of one lime, 1 cup frozen strawberries, and 1 cup ice.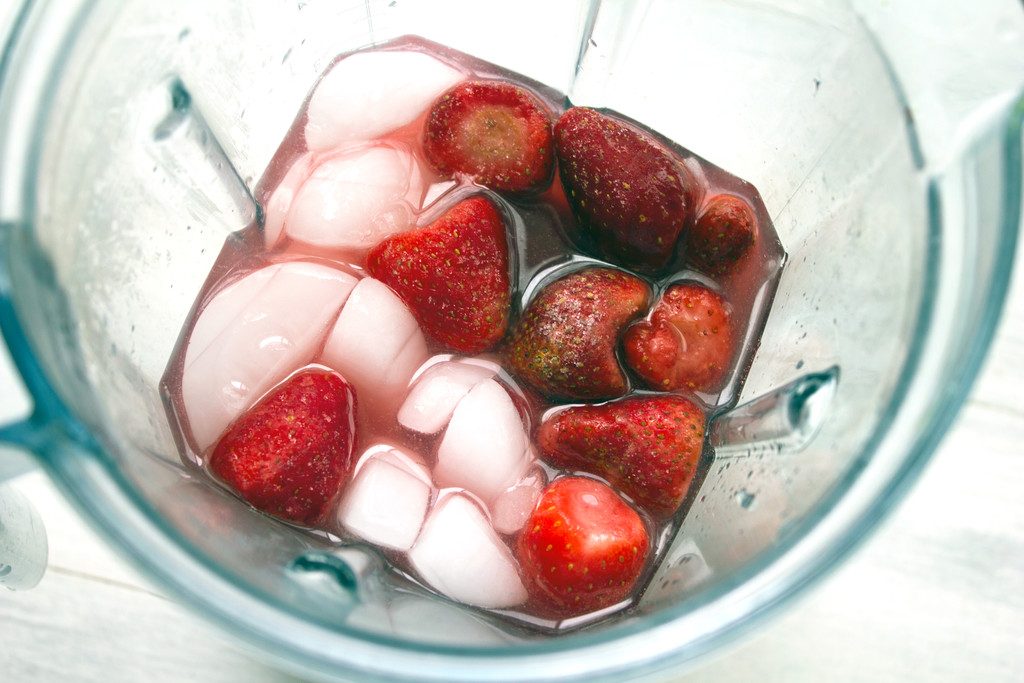 Blend away and pour into a martini glass. I'll admit this makes two very large strawberry cosmo martinis. Like, you know when you order a milkshake at a restaurant and they bring you the milkshake in a glass but they also bring you a metal container with even more milkshake in it? That's what this is like. No complaints.
I garnished my cosmo with a little strawberry and a lime wedge. If I was still able to find cranberries at my grocery store, I would have used some of those, too! No fresh cranberries is probably the one downside to summer. Boo.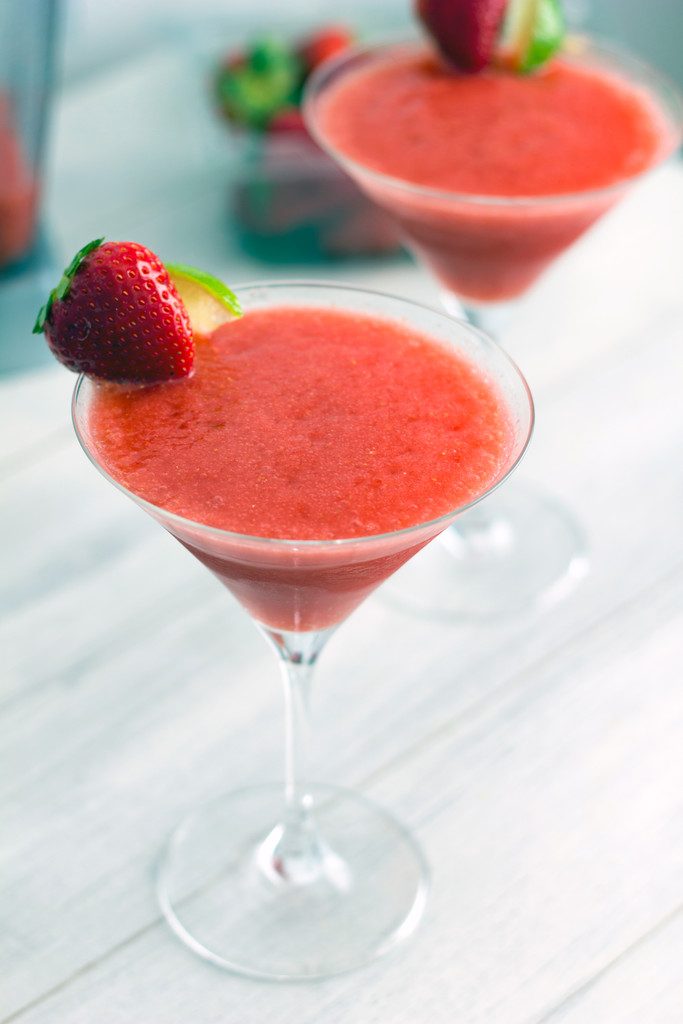 I can't decide if this made me feel super duper happy... Or ridiculously jealous of anyone who happens to be lying on the beach right now. Can I be both?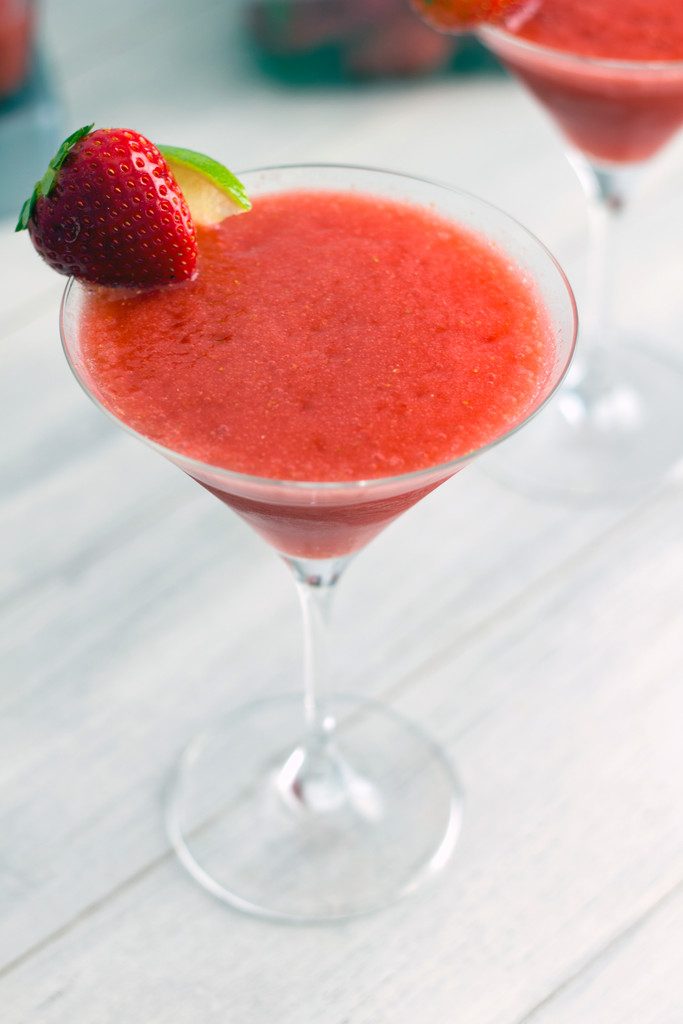 I'll try to be more happy than grumpy because it seems silly to be grumpy when you're sipping on a frozen cocktail. Especially one that's such a pretty color. Especially one that's so fruity and fun. And vodka. Don't be grumpy when you have vodka.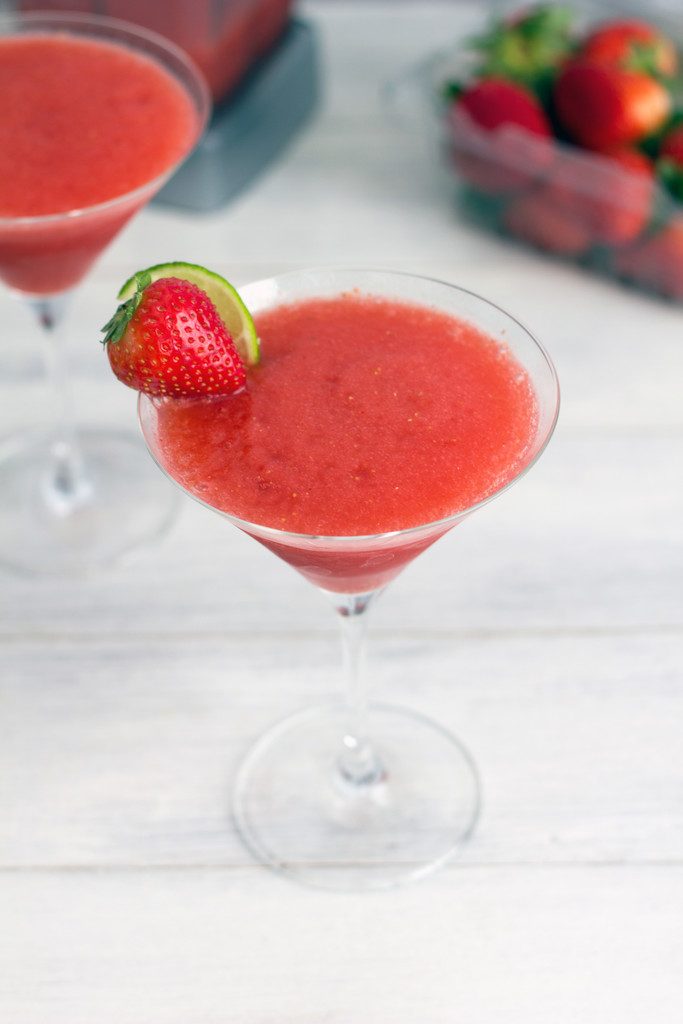 It's been a really long week. The kind where you literally can't keep your eyes open at night. I've fallen asleep with my computer on my lap multiple times. I've basically been the opposite of Carrie Bradshaw and her friends lately. So, I kind of feel like I deserve this frozen strawberry cosmo. Maybe even two.
I think you probably deserve it, too. Right?? But let's be honest; we probably both really deserve tropical vacations where we can drink frozen cosmopolitans on the beach all day long. I'm in if you're in.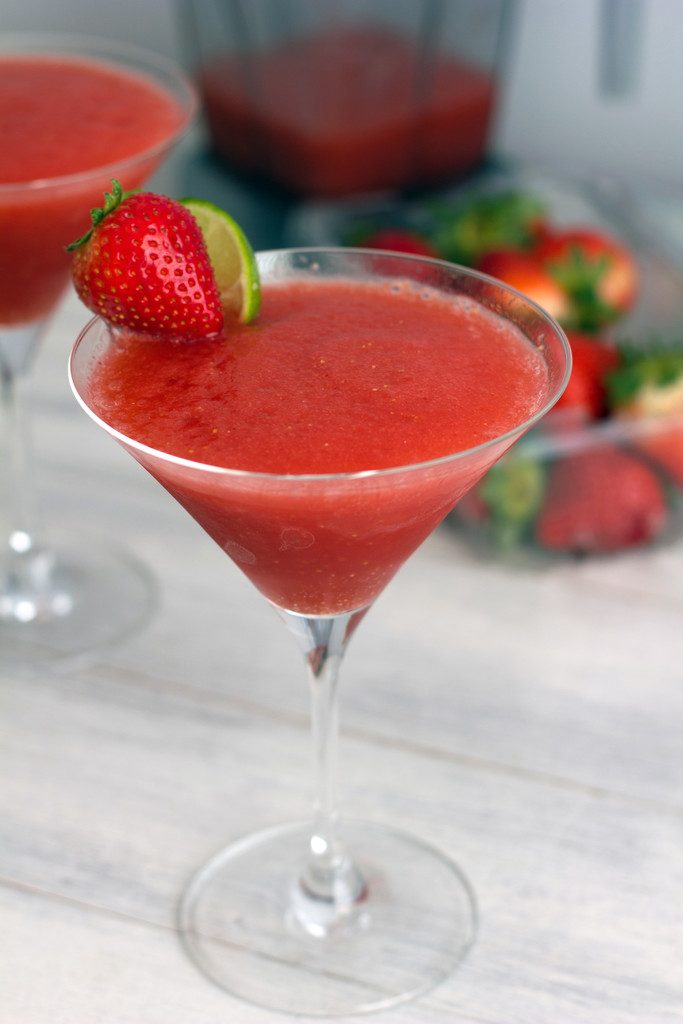 Sorry New York City, I love you dearly. But at this point in my life (or maybe just this point in the week), I would like to take my frozen strawberry cosmos on the beach. And it is with this frozen drink that I hope to help bring cosmopolitans back in style. Let's do this!
Happy Easter weekend to everyone celebrating! What are your plans? I'm having my family over to our place and making my first ham! Things are not off to a great start considering that I had to call my mom from the grocery store and ask her if you're supposed to buy ham that's already cooked. Who knew! I'm also planning to make this lemon meringue pie and can only hope mine will be anywhere close as beautiful!
When was the last time you had a cosmo? Have you ever had a frozen cosmo?
If you're looking for more delicious summer cocktails, check out this blueberry vodka lemonade or this blackberry lemonade margarita!
📖 Recipe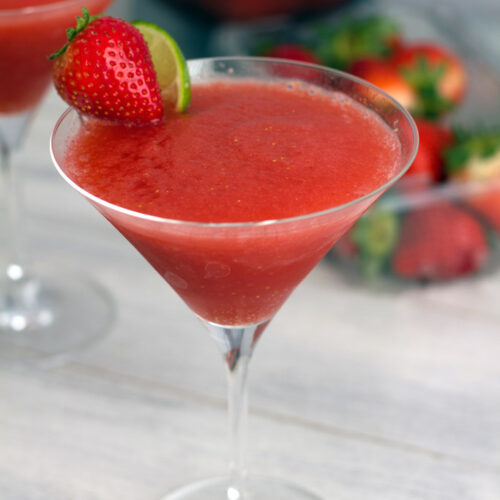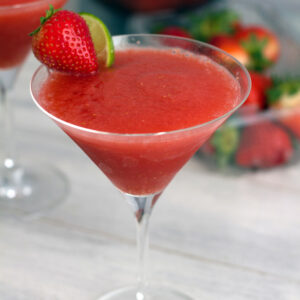 Frozen Strawberry Cosmo
Remember the cosmopolitan? It's back! But this time the cranberry and lime are combined with frozen strawberries for an icy treat.
Print
Pin
Rate
Ingredients
⅓

cup

100% cranberry juice

5

oz

vodka

2

oz

triple sec or cointreau

Juice of 1 lime

1

cup

frozen strawberries

1

cup

ice cubes
Instructions
Combine all ingredients in blender and blend until desired consistency is reached.

Pour into martini glasses and garnish with strawberry and lime if desired.
Share a Photo of Your Finished Recipe!
Mention @wearenotmartha and share a photo if you've made the recipe!