These Jalapeño Cornmeal Pancakes are made with blue cornmeal and topped with crispy bacon and orange marmalade syrup. With a little bit of spice and a little bit of sweetness, blue jalapeño pancakes make the ideal breakfast or dinner.
(This recipe for Jalapeño Cornmeal Pancakes was originally posted in May 2010, but was updated with new photos in 2018).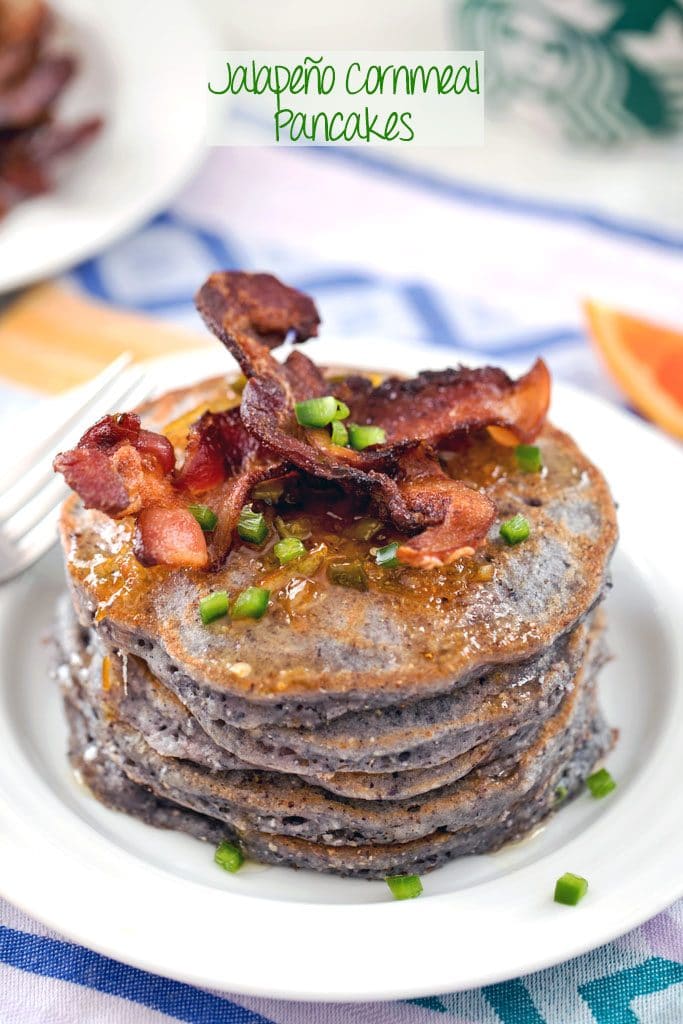 I guess this should come as no surprise considering I'm a food blogger, but I have quite a large obsession with cooking magazines. As in, I get way too many of them and never have time to thoroughly read all of them. So, every time I get one, I leaf through it and then put it in a stack (AKA under my coffee table) to read through in more detail "another time." Years ago, I bought a huge binder with the intention of going through all my magazines, cutting out the recipes I wanted, and getting rid of the rest. Never happened. This is what my magazine shelf currently looks like... and it's not even the half of it. I probably cut out about 200 recipes and then shoved them in the binder (not laminated or attached to anything.... Just shoved in). And then gave up. Sigh.
I've slowly been making my way though my ridiculous stacks, but they just keep getting bigger. And definitely don't have any clear organization strategy. What can you do, right?? OK, don't answer that because I know technically there's a lot I could do. Anyway, while sorting through old Food Network magazines, I cam across this reader submitted recipe: Jalapeno Cornmeal Pancakes. With bacon on top. Yes and now please. I pretty much immediately made them and am now totally in love.
The recipe is simple and just slightly more complicated than making a plain old pancake. And so worth that extra small complication! Of course, you make your own syrup too. And while you definitely should (yum!), you certainly don't have to if you're in a rush. But do... Please do!!
First of all, if you're not sure where to find blue cornmeal, you can get it here on Amazon (affiliate link), but I've also seen it at Whole Foods before. Bob's Red Mill is the brand I've been using.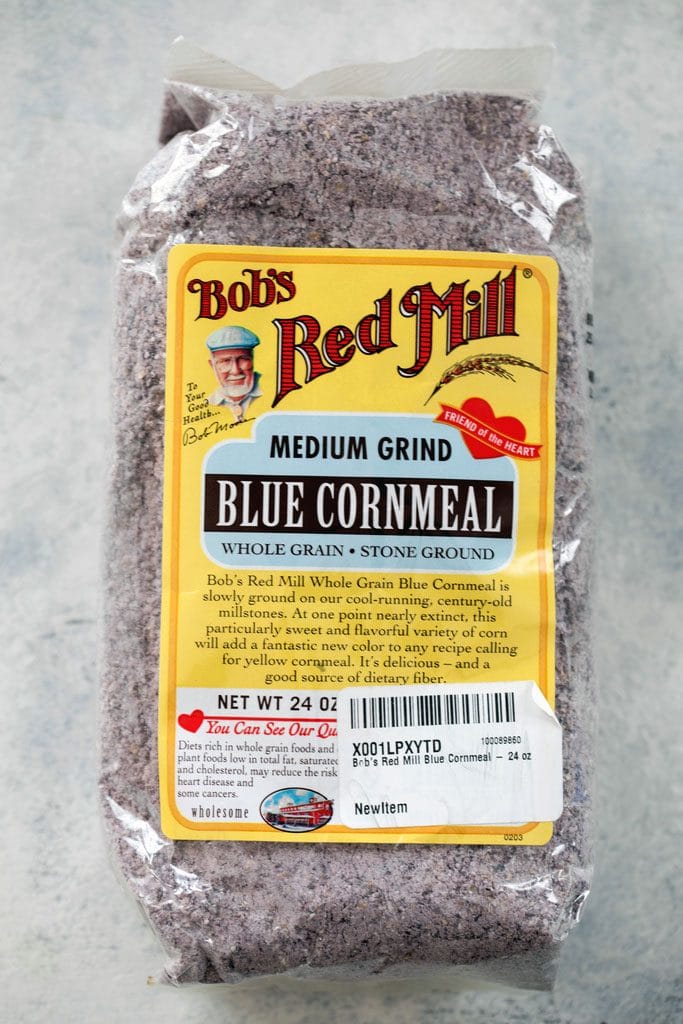 You can start by making the orange marmalade syrup and then keeping it warm while you make the jalapeño pancakes. Sometimes pancakes seem like such a huge undertaking, but every time I make them, I remember how ridiculously quick and easy they are. So, you'll want to have that syrup ready and waiting. Easy to do since you really just add everything into a saucepan and heat it up. You can thin the syrup out with more orange juice if you want.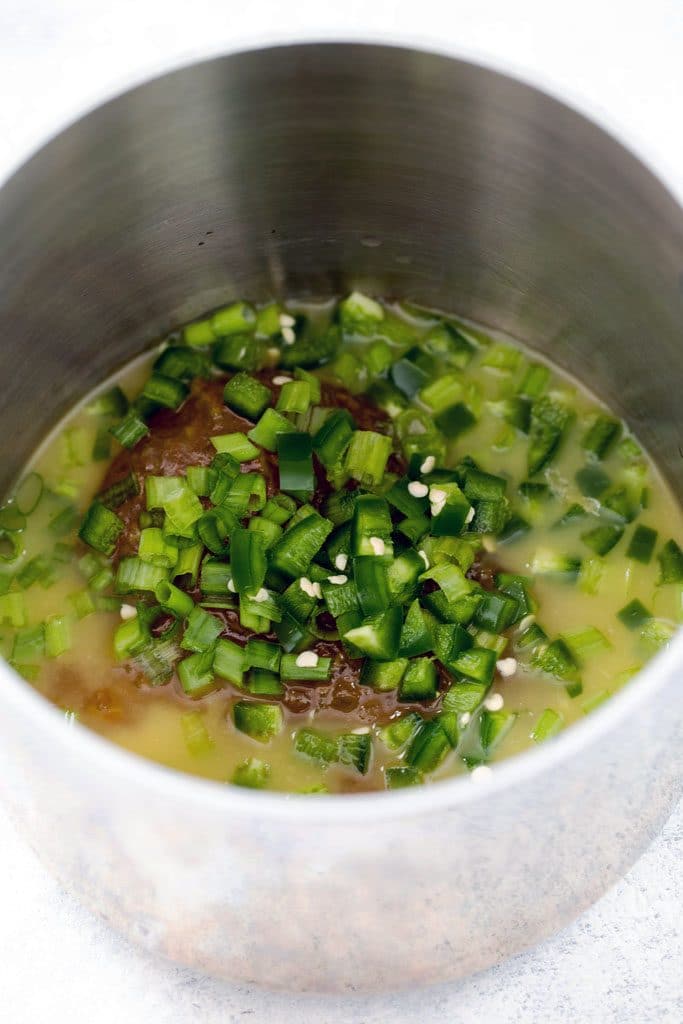 Like I said, these are pretty typical pancakes, but with the addition of blue cornmeal jalapeño, scallions, and parmesan cheese.
Note that your batter will be quite thin; a lot thinner than when making the typical pancake. But don't worry!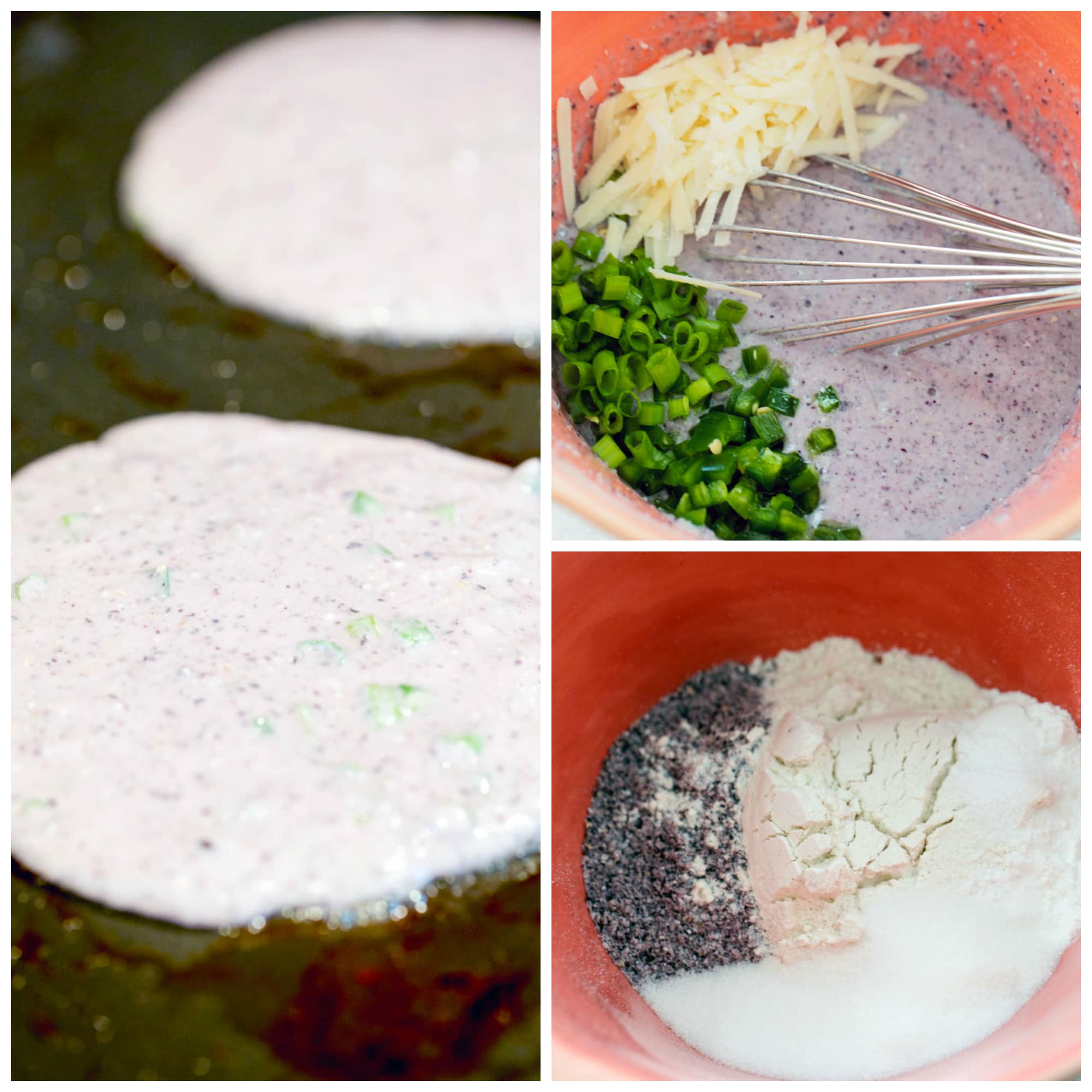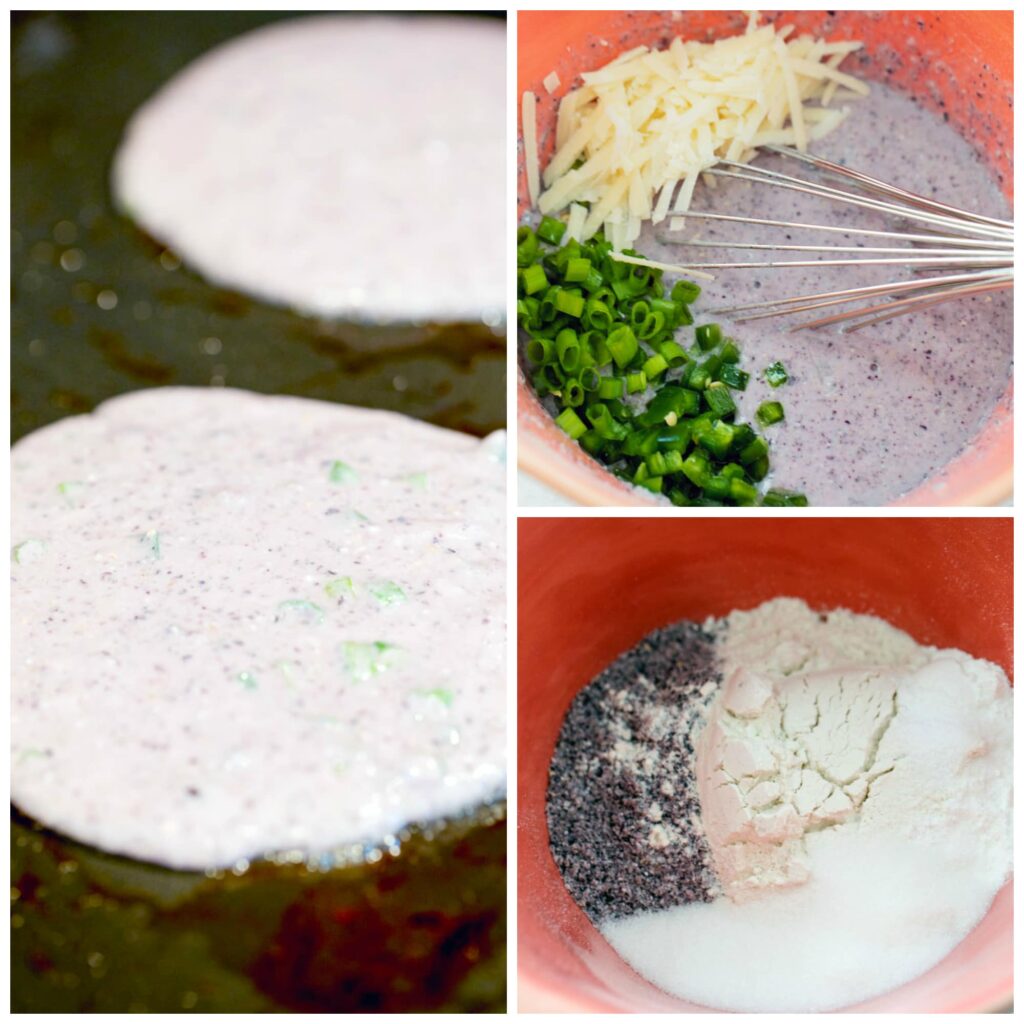 Because it will all work out and before long, you will be sitting in front of a gorgeous stack of blue jalapeño pancakes topped with crispy bacon and orange syrup. Gimme, gimme, gimme.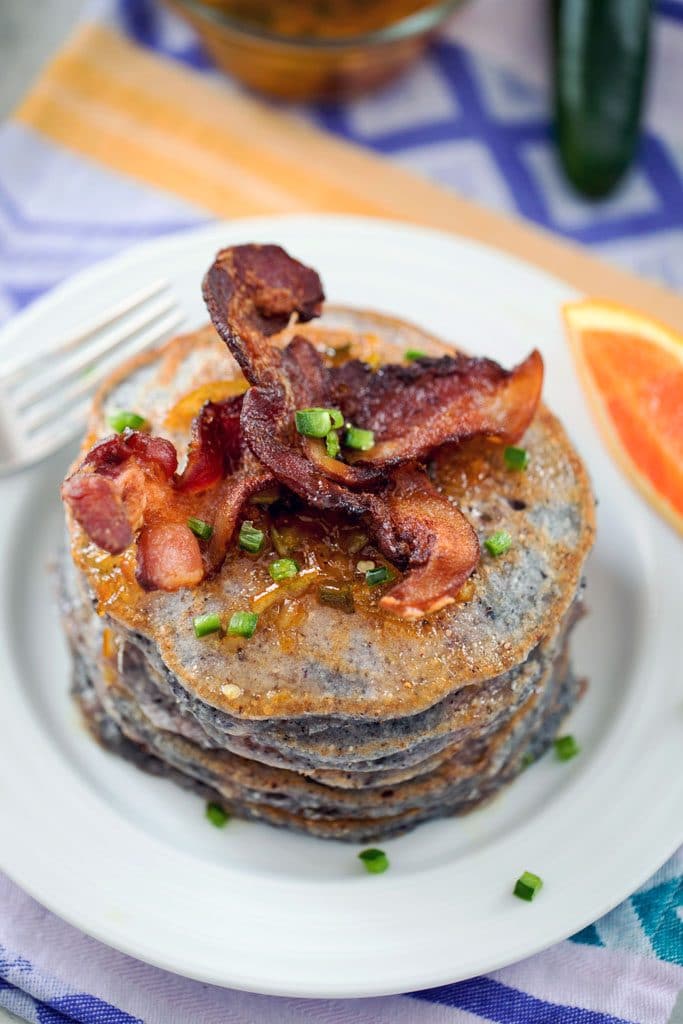 All I can say is WOW. These were the most heavenly savory pancakes EVER. I made them for dinner, but they'd also obviously be a super fun brunch option.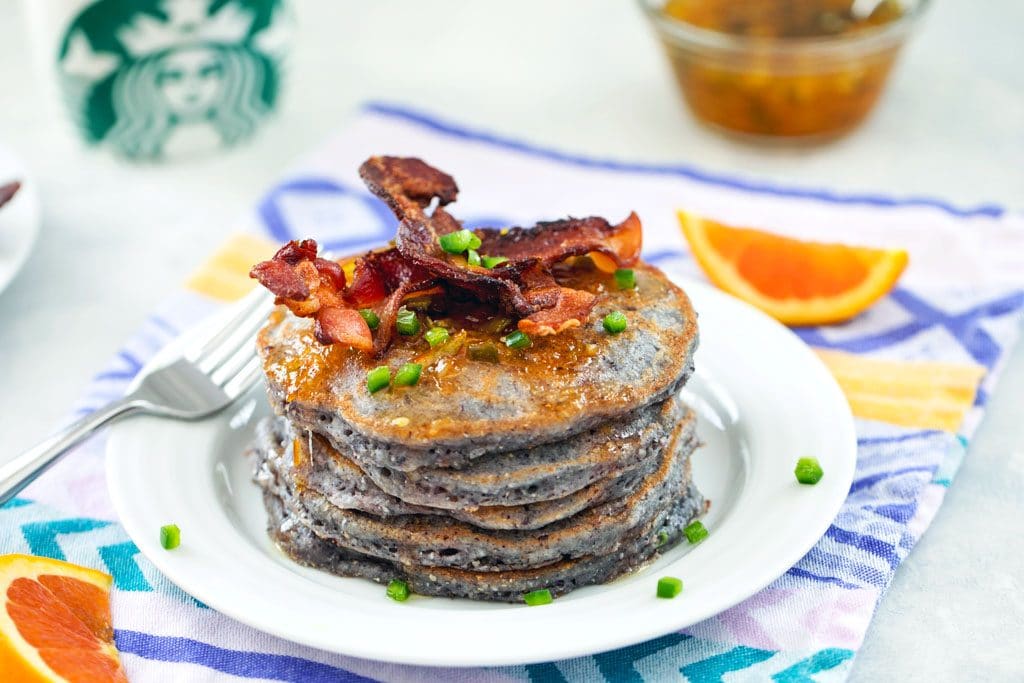 The flavors are just tremendous. Even if you're not into too much spice, they should be fine for you; it's more the flavor of the jalapeño than the heat you're getting with these. I also just love that the pancakes have just a little bit of cheese in them-- It was barely noticeable, but added some good flavor.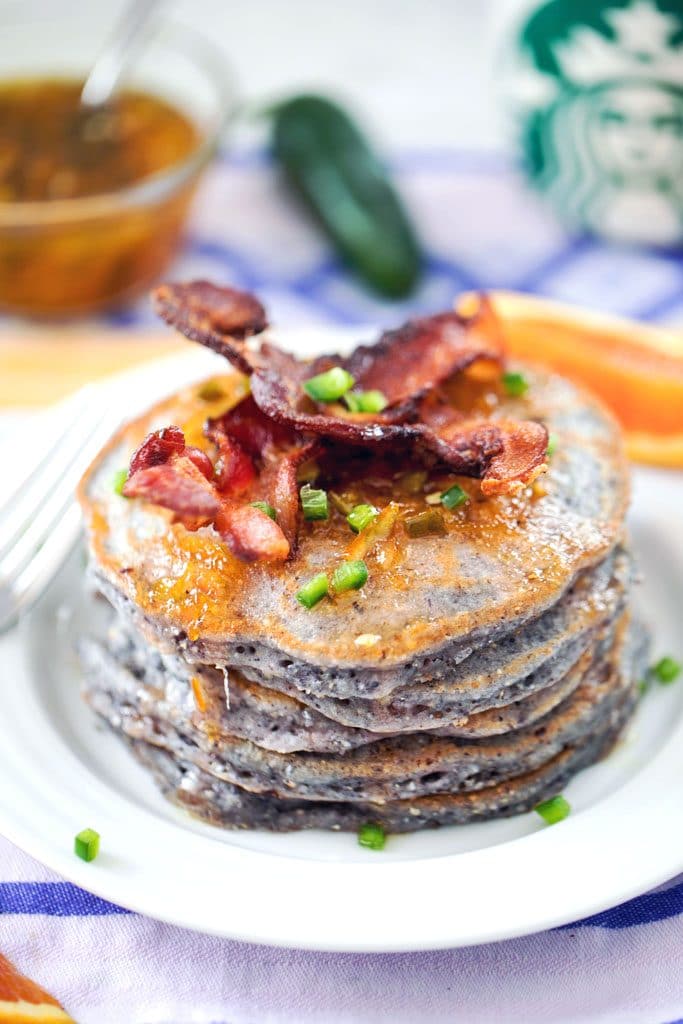 I never even thought to make pancakes with blue cornmeal before, but I'm so in love with the blue hue of these jalapeño pancakes, I might have to continue using blue cornmeal in my pancakes from now on.
These pancakes take breakfast for dinner to a whole new level. I absolutely love coming up with new pancake concoctions and this one might just be my favorite so far. Definitely on the "make again" list. And that orange syrup?? You know I love maple syrup, but I'd also be pretty thrilled if we decided to call it a day and put orange marmalade syrup on everything. The citrus goes so well with the jalapeño and bacon for a sort of tropical/Southwestern feel.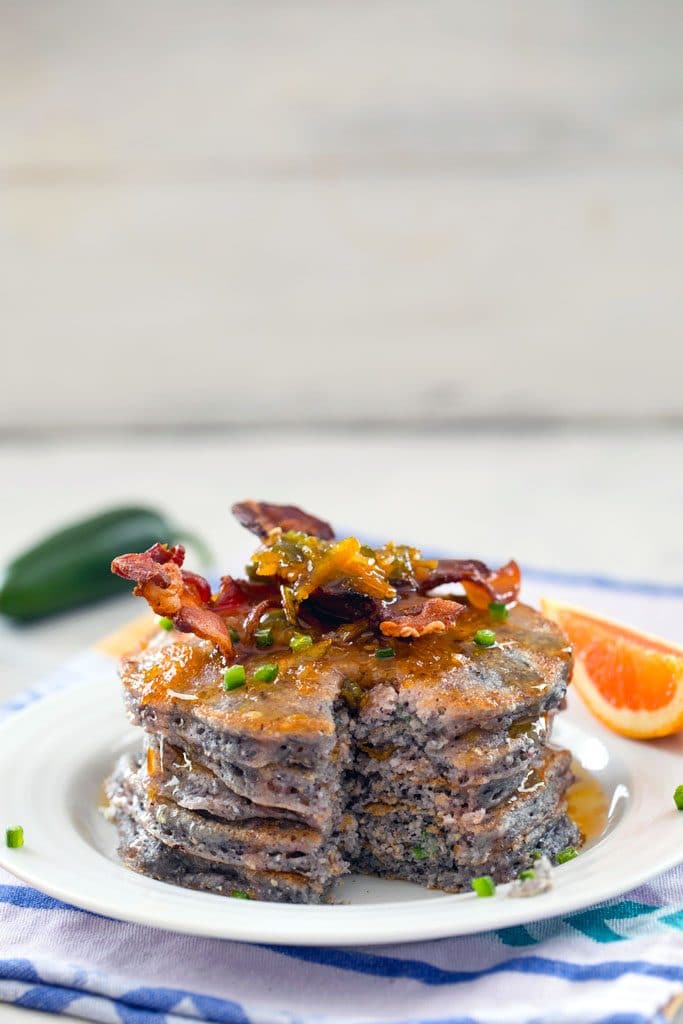 Omg we didn't even talk about that crispy bacon on top!! If you're like me, bacon with pancakes are a must, so topping the jalapeño cornmeal pancakes with these was perfection. I also have to say that I'm pretty sure Chris fell a little more in love with me when I put a plate of these jalapeño pancakes in front of him. I also may have fallen a little more in love with myself. Just sayin'.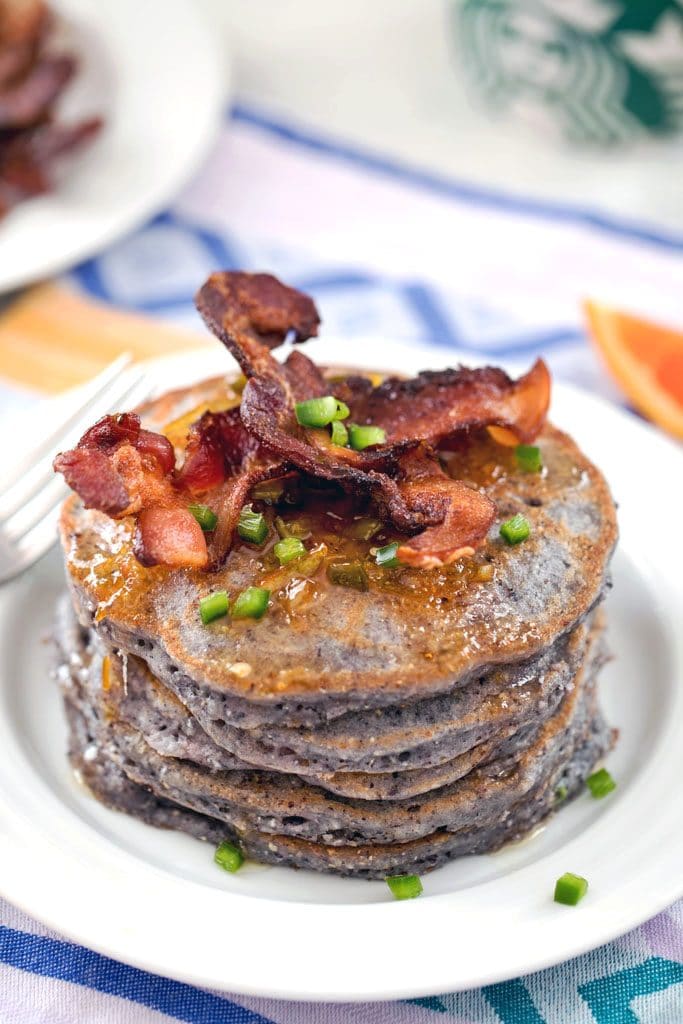 What's your favorite "unique" pancake? Any kinds you've been dying to try?
If you love jalapeño pancakes, you should also check out my Jalapeño Bacon Corn Pancakes and get ready for the best weekend ever (one recipe on Saturday.... and one recipe on Sunday...).
📖 Recipe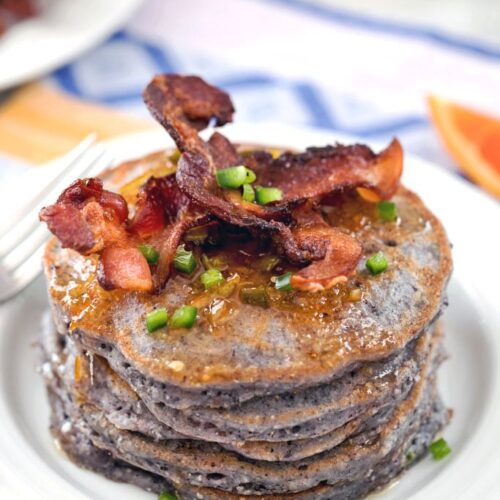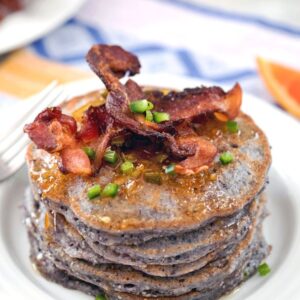 Jalapeño Cornmeal Pancakes
These Jalapeño Cornmeal Pancakes are made with blue cornmeal and topped with crispy bacon and orange marmalade syrup. With a little bit of spice and a little bit of sweetness, blue jalapeño pancakes make the ideal breakfast or dinner.
Print
Pin
Rate
Ingredients
Orange Marmalade Syrup
12

oz. jar

orange marmalade

⅓-1/2

cup

orange juice

2

scallions, chopped

1

jalapeño pepper,

seeded and chopped
Pancakes
½

cup

blue cornmeal

½

cup

all-purpose flour

2

tsp

baking powder

½

tsp

salt

2

Tbsp

granulated sugar

1

large egg

1

cup

milk

1

Tbsp

canola oil,

plus more for griddle

2

Tbsp

chopped jalapeño peppers

2

Tbsp

grated parmesan cheese

2

scallions,

chopped

8

strips

thick-cut bacon,

cooked crispy (for topping)
Instructions
Orange Marmalade Syrup
Heat marmalade, ⅓ cup orange juice, scallions, and jalapeño in a small saucepan over low heat. If you want to thin out the syrup, you can add more orange juice. Otherwise, leave it as is, keeping warm while you prepare the pancakes.
Pancakes
Whisk the cornmeal, flour, baking powder, salt, and sugar in a large bowl.

Stir in egg, milk, and canola oil until just combined. Batter will be thin. Fold in jalapeño, parmesan, and scallions.

Heat a griddle or large skillet and spray or brush it lightly with oil. Ladle about 3 tablespoons onto the griddle for each pancake.

Cook until the tops of the pancakes are bubbly and then flip them and cook until golden brown. Continue with all of the batter.

Serve in stacks and top with crispy bacon and warm orange marmalade syrup.
Share a Photo of Your Finished Recipe!
Mention @wearenotmartha and share a photo if you've made the recipe!