I have a bit of an obsession with cooking magazines. As in, I get way too many and never have time to thoroughly go through all of them. So, I collect them to read through "another time." Two years ago, I bought a huge binder with the intention of going through all my magazines, cutting out the recipes I wanted, and getting rid of the rest. Never happened. This is what my magazine shelf currently looks like… and it's not even the half of it: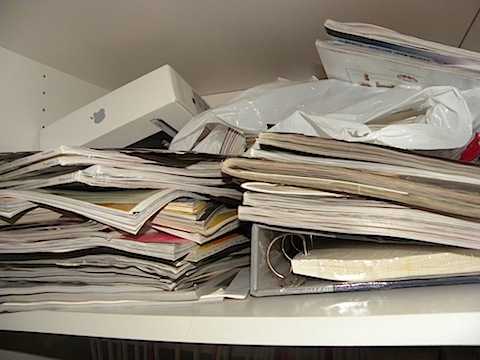 I know, so organized, right? That shelf goes back quite deep. So, my goal is to actually get through this mess before I move in September. In the meantime, I am fully recognizing where I get my magazine addiction from: my mom. Last weekend, when I was home, she gave me a huge stack of cooking magazines I don't currently get. I made it a point to go right through them, cutting out whatever I liked. And in a Food Network magazine, I cam across this reader submitted recipe: Jalapeno-Cornmeal Pancakes. With bacon on top. Yes and now. I made them the other night and am totally in love.
Jalapeno-Cornmeal Pancakes (serves 4, or 2 reallyyy hungry people. Ahem)
For the toppings:
8 strips thick-cut bacon
1 12 oz. jar marmalade
1/3 to 1/2 C orange juice
2 scallions, chopped
1 jalapeno pepper, seeded and chopped
For the pancakes:
1/2 C blue cornmeal
1/2 C all-purpose flour
2 t baking powder
1/2 t salt
2 T sugar
1 large egg
1 C milk
1 T canola oil, plus more for griddle
2 T jalapeno pepper, finely diced and seeded
2 T parmesan cheese, grated
2 scallions, chopped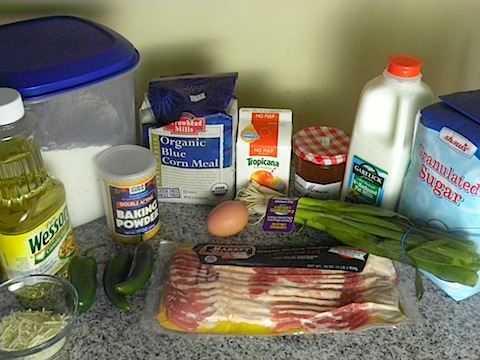 The recipe was simple and just slightly more complicated than making a plain old pancake. Of course, you make your own syrup too. And while you definitely should (yum!), you certainly don't have to if you're in a rush.
Fry the bacon in a nonstick skillet until crisp. Somehow I failed to take photos of the bacon frying, but you've seen more than enough bacon frying here on this blog 🙂
While the bacon is frying, make the syrup. Heat the marmalade, 1/3 C orange juice, scallions, and jalapeno in a small saucepan over low heat. You can add more orange juice if the syrup gets too thick. Mine didn't at all. But I was using orange marmalade from Whole Foods that was super fresh and home-made like (with real orange pieces in it).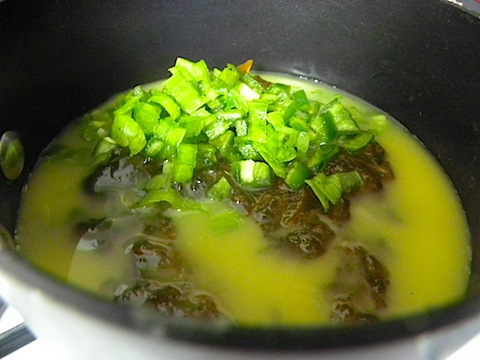 Keep the syrup warm while you get started on the rest of the pancakes.
Whisk the cornmeal, flour, baking powder, salt, and sugar in a large bowl. I was a bit worried about finding blue cornmeal, but it was easy to find at Whole Foods (I'm sure bigger regular grocery stores have it too).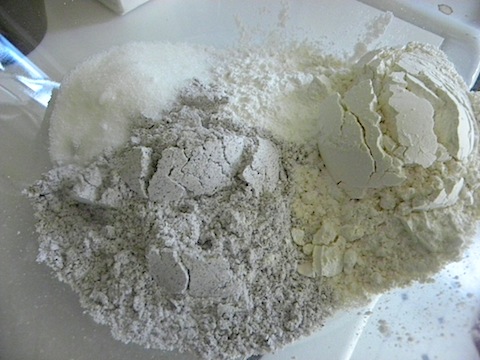 Stir in the egg, milk, and canola oil until just combined. The recipe notes that the batter will be thin. It will be. Fold in diced jalapeno, parmesan, and scallions.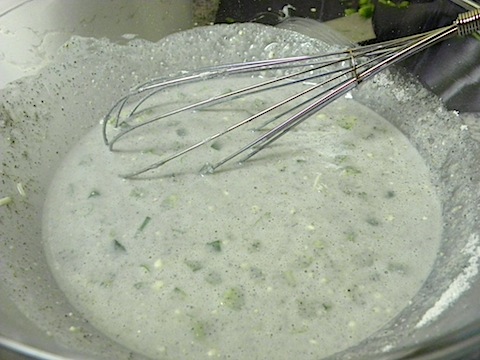 Now, heat a griddle or large skillet and lightly oil it. Ladle 2 to 3 teaspoons batter onto the griddle for each pancake.
I was kind of worried because the batter was SO thin. How the heck was this going to make a pancake??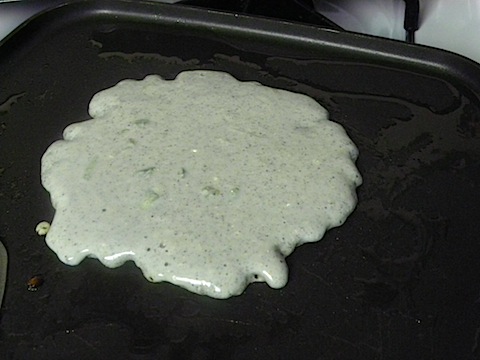 See how "drippy" it looks?
Cook them until the tops are bubbly and then flip them and cook until golden brown.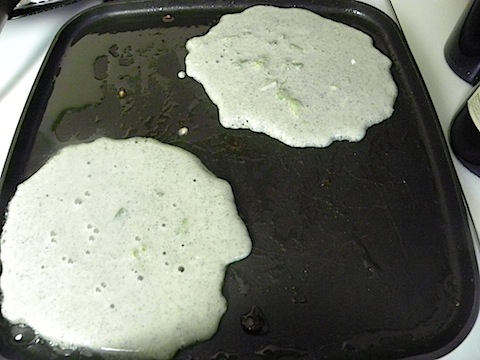 But it did! The pancakes formed nicely and they were so nice and light and fluffy.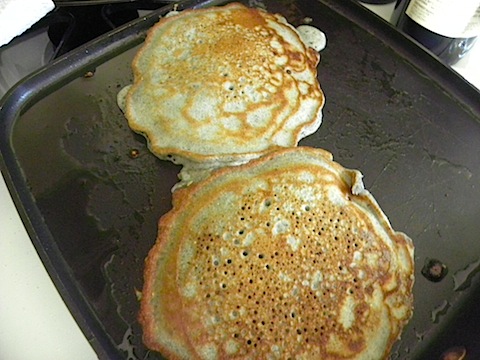 Continue with all the batter.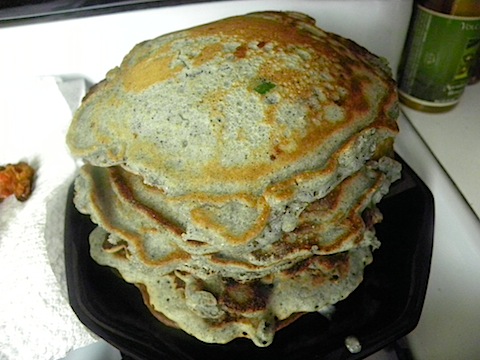 Now, serve pancakes in stacks. Top with strips of bacon and drizzle with orange syrup.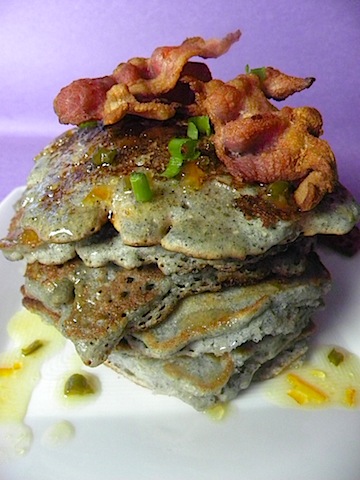 All I can say is WOW. These were the most heavenly, savory pancakes EVER. I made them for dinner, but think they'd also be a super fun brunch option. I do wish they thickened up a bit more, so next time I might use a bit more batter for them.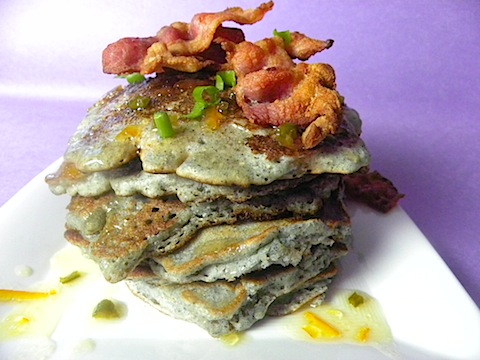 The flavors were just tremendous. They weren't quite spicy enough for me, so next time I might leave some of the seeds in the jalapenos. But if you're not into too much spice, these should be fine for you. I loved that they had just a little bit of cheese in them– It was barely noticeable, but added some good flavor.
I never even thought to make pancakes with blue cornmeal before, but I'm so in love with the blue hue of these pancakes, I might have to continue using blue cornmeal in my pancakes from now on.
These pancakes take breakfast for dinner to a whole new level. I absolutely love coming up with new pancake concoctions and this one might just be my favorite so far. Definitely on the "make again" list. And I love that they involve the touch of bacon on top. Because what's a breakfast without bacon?
What's your favorite "unique" pancake? Any kinds you've been dying to try?
Rock Paper Scissors Salon Giveaway Winner!
The winner of the RPS Salon haircut is Christina from Bon Appetit Beantown! Congrats and we hope you'll share photos of your new cut!!
Everyone else, don't forget you can still take advantage of the FREE cut with any color service if you mention We are not Martha. And the color services at RPS on Newbury Street are super reasonably priced. Call 617-236-6300 to make an appointment 🙂
[Sues]