This Jalapeño Parsley Sour Martini brings a little bit of heat, a little bit of sweet, and a little bit of sour and is the ultimate jalapeño vodka martini.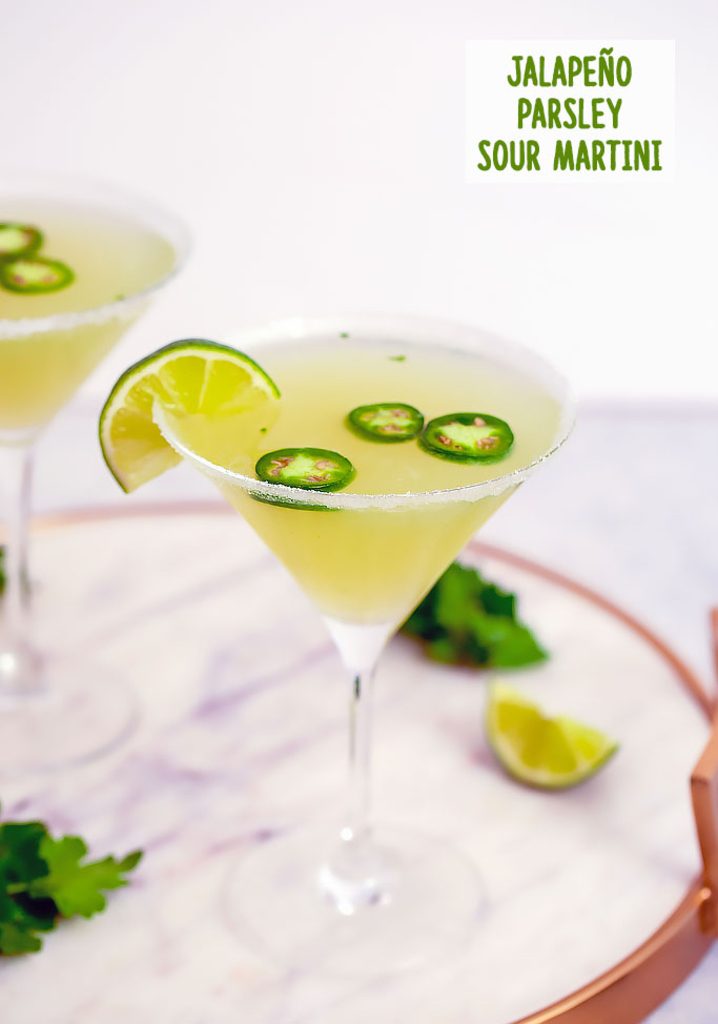 (This recipe for Jalapeño Parsley Sour Martinis was originally posted in September 2012, but has been updated with new photos and content in 2019).
You might be surprised by this, but I am not really a martini girl. Nope. I generally avoid them at all costs. Well, maybe that's a bit of an exaggeration, but for the most part, I strongly dislike ordering them when out to eat or at a bar. And it's all because of the martini glass. I'm way too clumsy for martini glasses. And I talk way too animatedly with my hands to be trusted with one. The glasses are always filled too high and, no matter what, I end up spilling martini everywhere. Every time. Sometimes when I'm out to eat and I see a delicious-sounding martini on the menu, I get tempted to ask if I can have one, but in a different glass. But I think that's probably a no-no and the bartender would probably spit in my glass or something. The thing is, I love a good martini and there's nothing quite like a restaurant's well-done martini menu. Plus, I love the look of a martini glass. I just cannot be trusted with them. Sigh.
And so, I tend to enjoy my martinis at home. Where, if I spill a cocktail everywhere, I only have to deal with the wrath of Chris. And the potential danger of my dog licking it up. But at home, I can immediately change my shirt if necessary instead of being out all night in a martini-soaked outfit. Also, I can re-fill my glass without paying a ridiculous price.
JALAPEÑO PARSLEY SOUR MARTINI RECIPE
A jalapeño martini with parsley may sound a little bit unique, but trust me, it works. I've made this martini many times over the years and almost always have the jalapeño simple syrup in my fridge. I also always have parsley, lemons, and limes in my fridge and always have vodka on my bar, so this Jalapeño Parsley Sour Martini is always within just minutes of being mine.
The jalapeño simple syrup actually came along due to my poor planning years ago. I love infusing liquors, especially with spicy peppers. But I hadn't planned ahead for this drink and wanted it immediately. No time to seep jalapeños in vodka. So, I decided to make a jalapeño simple syrup instead. Quick and powerful. And sweet and delicious. You can either keep the seeds in when you slice the jalapeño (extra spicy!!) or remove them if you want more of the jalapeño flavor without all of the heat.
You'll just need to bring the water and sugar to a boil. Add the jalapeños, turn down the heat, and let the mixture simmer for 10 minutes, until it thickens a bit.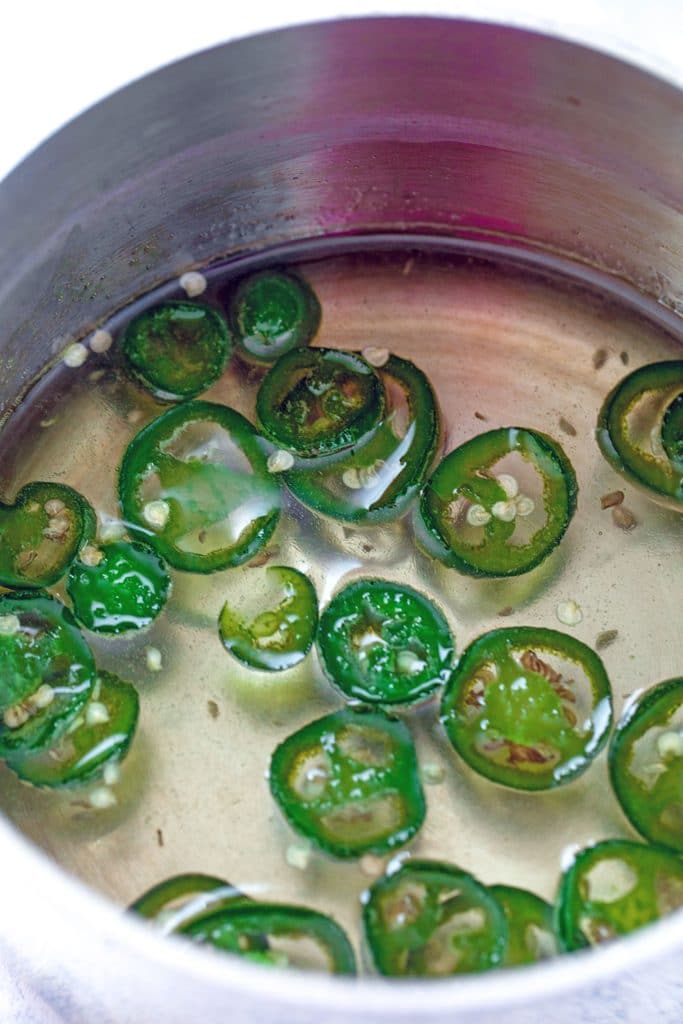 Strain the mixture into a heat-proof bowl or mason jar and pop it in the fridge to let it cool completely. If you're really short on time (and need this jalapeño martini in your life immediately!), you can put it in the freezer for a little bit. I always do that because I have zero patience when it comes to cocktail making.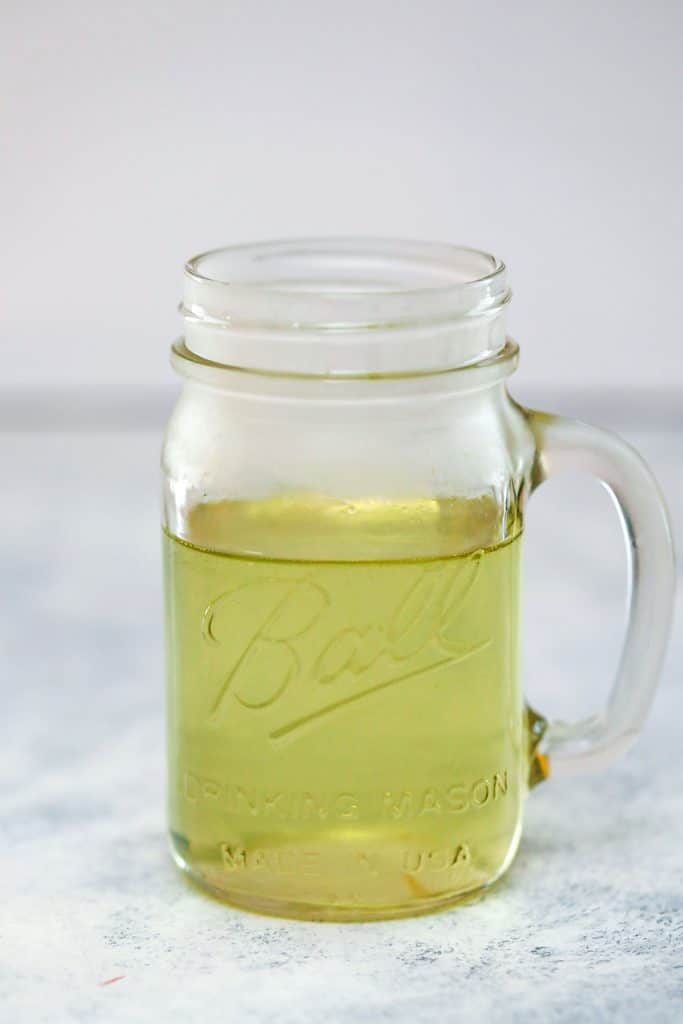 Now, in a cocktail shaker, add parsley, lemon, and lime. Muddle together.
Add ice and pour in vodka and about 3 oz. of the jalapeño syrup. I did this all in one big batch (it makes 2 martinis), but my shaker was filled almost to the brim, so feel free to do this in two batches if you prefer.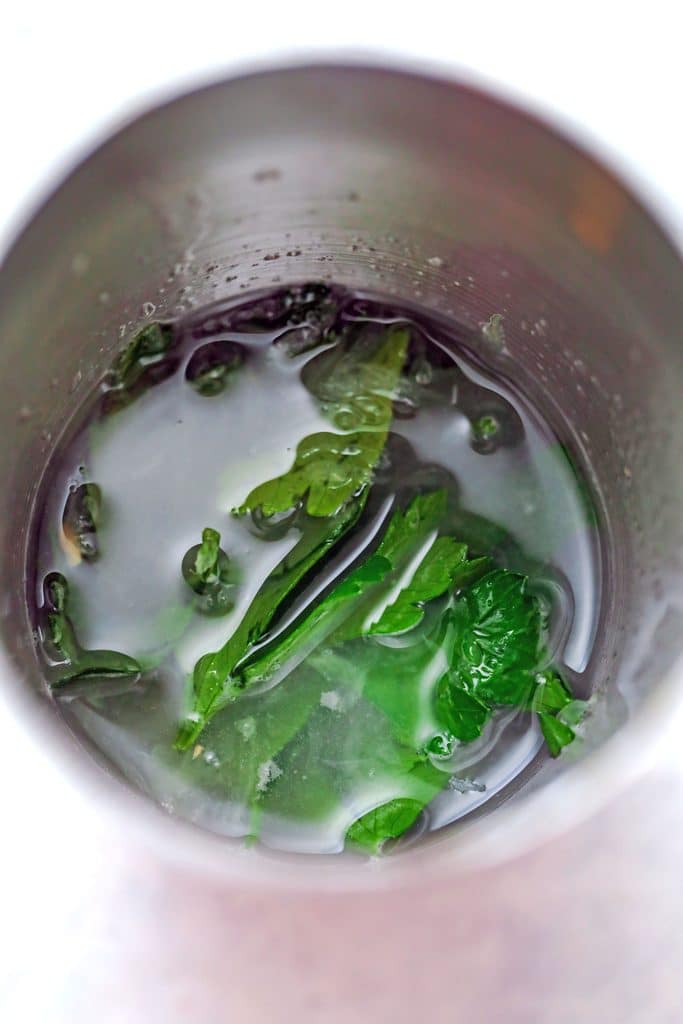 Shake, shake, shake and pour into a martini glass with a prepared lime-sugar rim (just rub a lime on the rim and dip glass in a plate of sugar).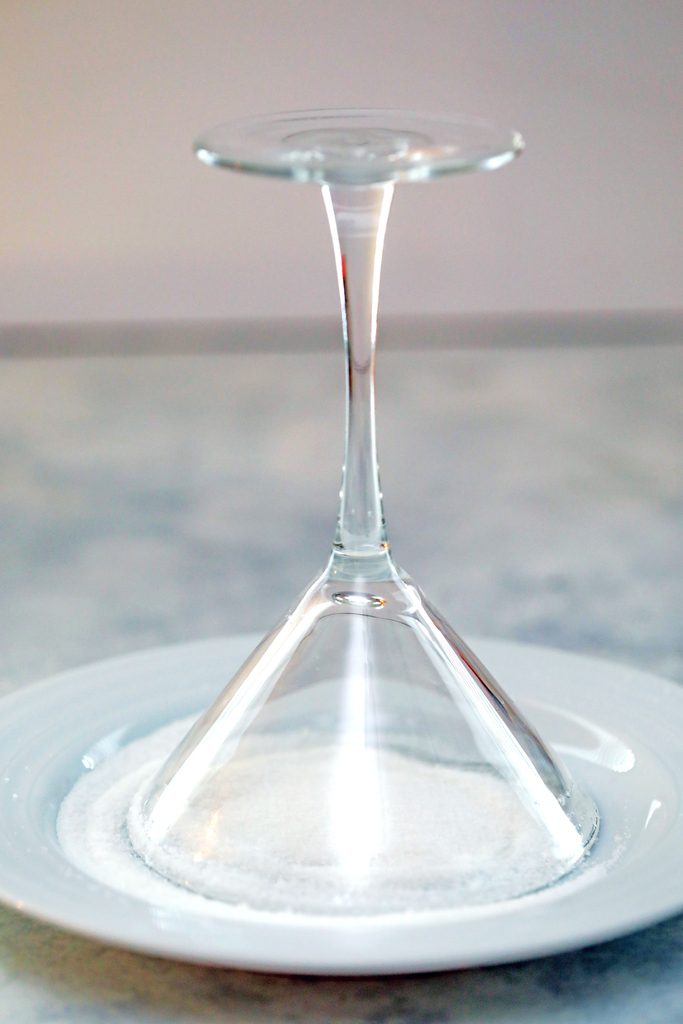 Add in some jalapeño garnish for good measure. You can never have too many! You might want to remove the seeds from these ones. Just in case. I never do because I love the heat! Chris loves it even more than me and I'm pretty sure I could never make a drink that was too spicy for him. Maybe I'll make that my life's mission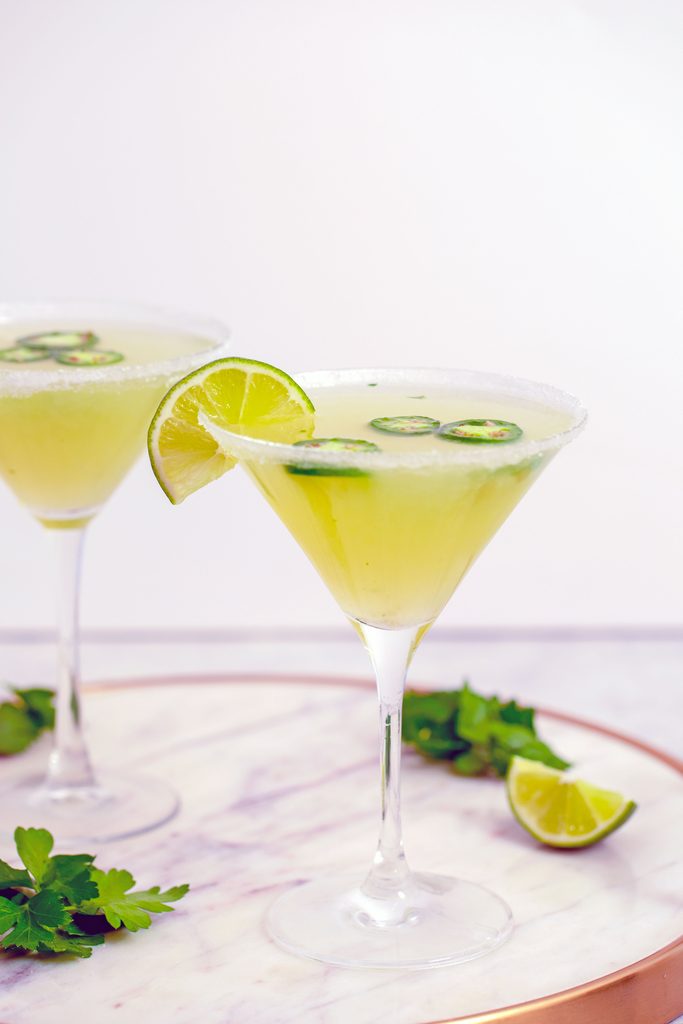 This jalapeño martini has ALL the elements I love. It's really spicy and really sour! It's also pretty sweet, but in a fabulous way and not a "oh my God, I'm going to wake up with the worst hangover way." But don't forget, it's also a parsley martini! Which I know sounds a little bit strange, but the mild bitterness of the parsley actually really brightens the cocktail and balances out the sour and spice from the other ingredients. It's not overpowering at all and is more of a mild background flavor.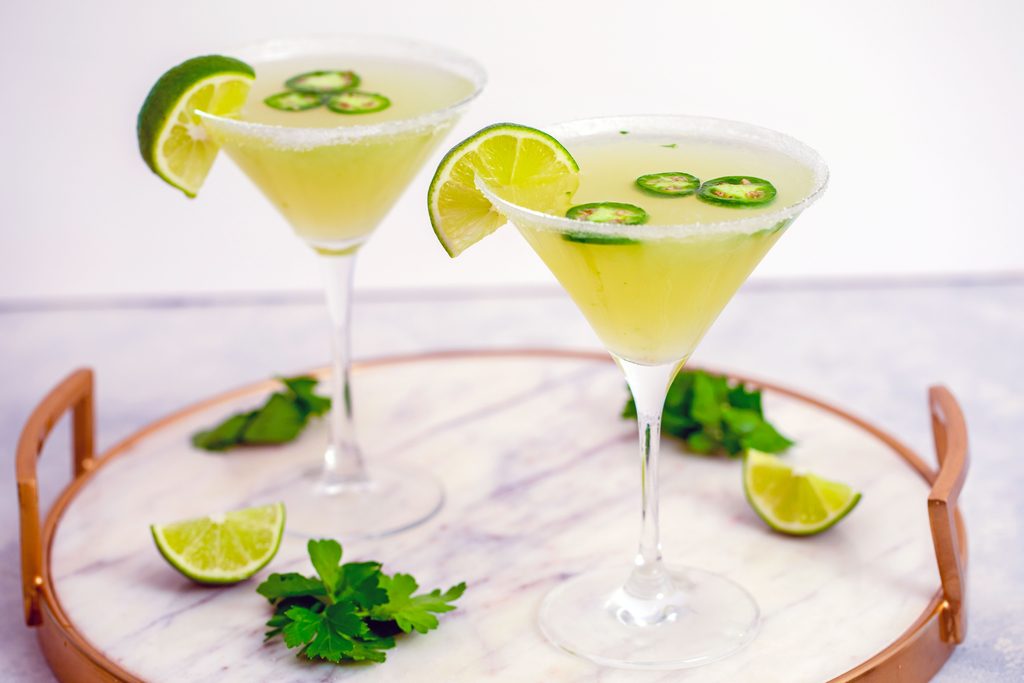 But let's be honest; the jalapeños are truly the star of this show. They'll give you that tropical feel in the summer and a warm-me-up feel in the winter. Which means this drink is perfect all year round. I may have drizzled even put some of that jalapeño simple syrup in plain soda water. Just because.
Chris said this should be on the menu at a restaurant and I have to say, I would order it if it were. But the waitstaff would definitely have to issue a warning to anyone who ordered. This really is spicy! But remember, I left all the seeds in my jalapeños… Remove them if you don't want a lot of heat!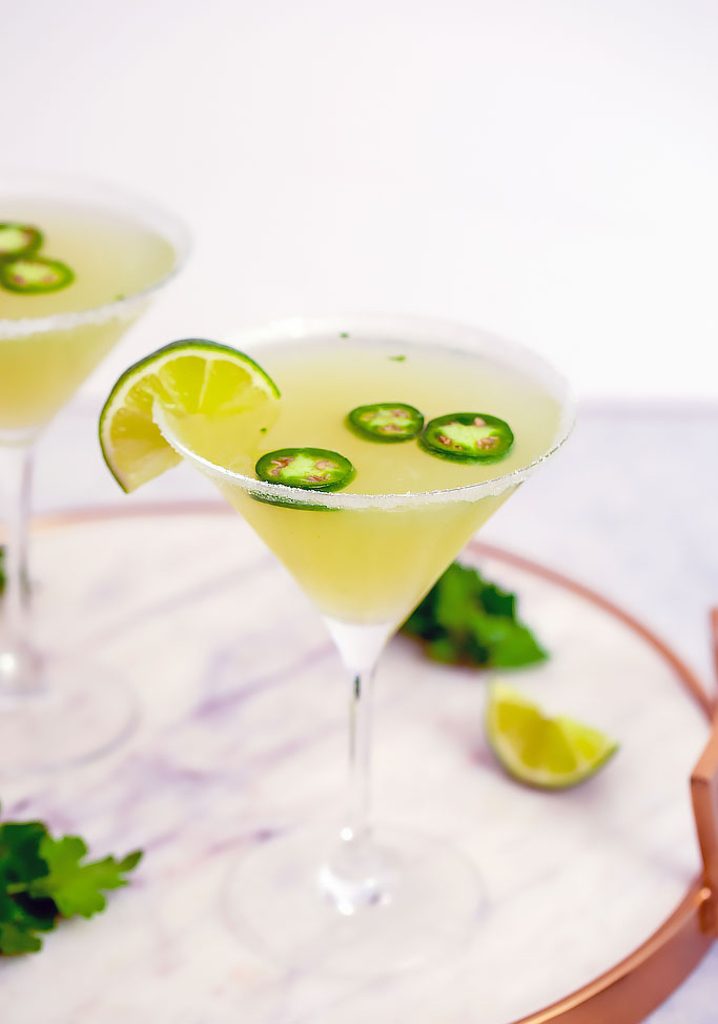 The best thing? I didn't even spill a little bit of my jalapeño martini. I think Murphy's law says something about "If you're in public, you'll spill your martini every time. If you're at home, you never will." Life is weird like that.
But martinis and Fridays make it better.
Happy almost weekend! I hope you get to enjoy a cocktail or two and some fun. And a million hours of sleep. Or something like that.
Do you like spicy cocktails?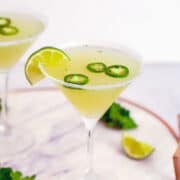 Print Recipe
Jalapeño ParsleySour Martini
This Jalapeño Parsley Sour Martini brings a little bit of heat, a little bit of sweet, and a little bit of sour and is the ultimate jalapeño vodka martini.
Ingredients
1/4

cup

granulated sugar,

for rimming glasses

1/4

cup

roughly chopped parsley

4

oz

freshly squeezed lemon juice

2

oz.

freshly squeezed lime juice,

plus more for rimming glasses

4

oz.

vodka

3

oz.

jalapeño simple syrup

(recipe below)

1/2

jalapeño,

sliced for garnish
Jalapeño Simple Syrup
1

cup

granulated sugar

1

cup

water

2

large jalapeño peppers,

sliced
Instructions
Run lime wedge (or brush lime juice) around rims of martini glasses. Place glasses upside-down on a plate with sugar to coat rims.

Add parsley, lemon juice, and lime juice to a cocktail shaker. Muddle.

Add some ice and pour in vodka and jalapeño simple syrup. Shake well.

Pour martini into two prepared martini glasses. Garnish with sliced jalapeños.
Jalapeño Simple Syrup
Put sugar and water in a medium saucepan and bring to a boil. Add sliced jalapeños. Lower heat and let simmer for about 10 minutes, until mixture is thickened.


Pour mixture through a fine mesh sieve/strainer into a heat-proof bowl or mason jar (leaving jalapeños behind). Place bowl or jar in fridge to cool completely before using.