Hello, friends! I just returned from the best ever whirlwind vacation to Las Vegas! My first ever. But certainly not last. Because while I think three nights is probably enough for one visit, there are about a million more things I want to do (OK fine, places I want to eat) in the city, which means I'll obviously be back. I had a super difficult time trying to figure out how to organize my Vegas roundup posts, which might also have something to do with the fact that I'm seriously sleep-deprived after a 6-hour delay on our flight home on Sunday meant I got home from the airport at 5:30 a.m., took a shower, and went straight to work (and then had several ridiculously long and busy days at work). And because honestly, I didn't take a ton of photos other than food photos (surprised?). But I'm going to start with my general Vegas post and then to do one on my dining experience at é and L'Atelier de Jöel Robuchon. So, here we go.
We left for Vegas after work on Thursday and obviously our flight was delayed then, too. Because every flight we ever take now is delayed. But I have to admit it was still nice to spend some downtime in the airport with Chris, just relaxing and relishing in the fact that we're on vacation!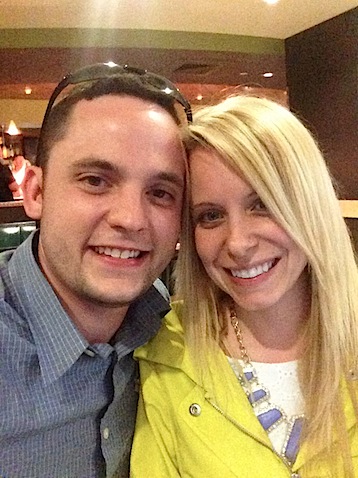 Also our friends' flight was delayed, too, and this meant we were going to arrive pretty close to the same time as them. Matching delays are the best. Well, really no delays are the best, but you know what I mean. So, we met up with Kyle and Jeff, jumped up and down a few times over the fact that we were in Vegas together (!!!), and grabbed a cab.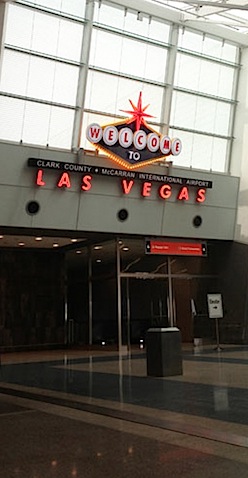 Turns out things are really just getting started in Vegas at 12:30 a.m. or so, considering our checkin line at the MGM Grand was crazy long. While we were in line to check in, we just couldn't get over the fact that we were in Vegas!!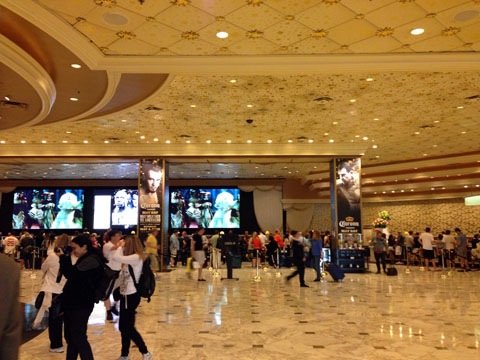 We had no idea that "the fight" was going to be at the MGM Grand while we were there. In retrospect, maybe not our best idea, but it didn't end up affecting us too much (aside from the mad rush of people when the fight got out on Saturday). And it was kind of cool to see all of the excitement surrounding it. Kyle and Jeff even "ran into" Evander Holyfield at one point.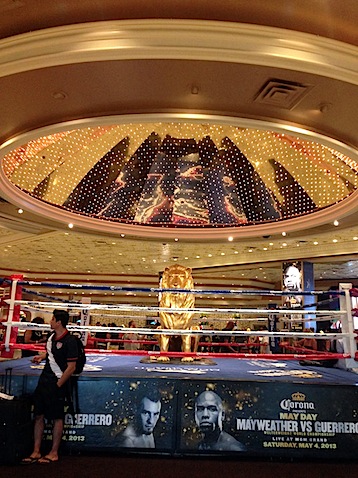 We stayed in the new rooms at the MGM Grand, known as Stay Well.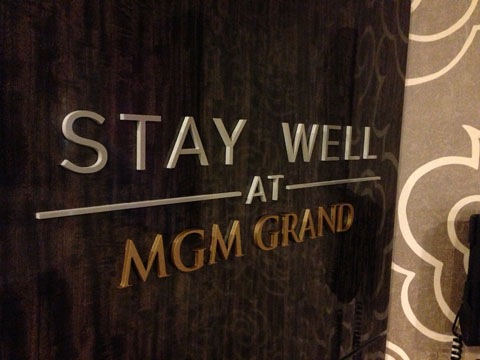 Now, maybe I'm crazy and totally buying into the gimmick, but I'm pretty sure this room is the best thing that could have happened to us. For as little sleep as we got and as much smoke (other people's!) that we inhaled, every time we stepped into our room, we felt immediately better. We also woke up every morning feeling totally relaxed. Basically, I'm crediting the hotel room and its amenities for my feeling good... especially considering the older I get, the crappier I generally feel when I have one little ounce of fun!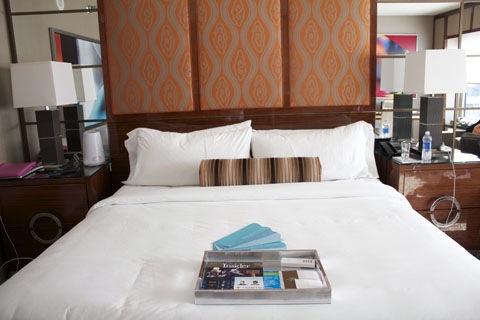 So, the Stay Well rooms were designed by Delos, the "wellness real estate pioneer" and they had tons of cool stuff in them.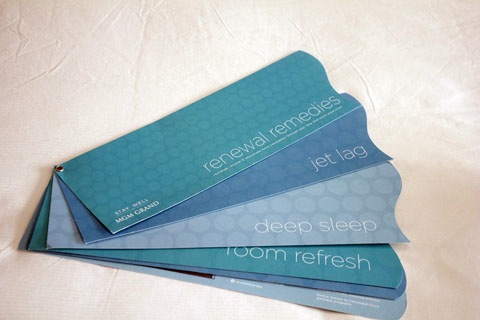 The room had a super amazing air purification system, which is why I think we instantly felt so much better. We couldn't even smell smoke on our clothes and could just breathe easy.
I'm obsessed with the dawn simulator alarm clock that basically mimics the sunlight and makes it easier to get up in the morning. I need one of these in my home.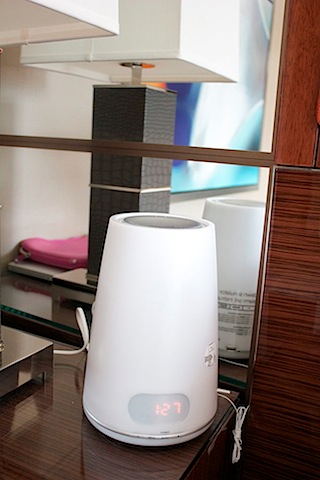 Um, I'm also pretty sure I now need a Vitamin C shower infusion at home, as well. Right?? I have no idea what this did or why, but I do know that I felt that much better taking a shower when I knew vitamin C was mixed in.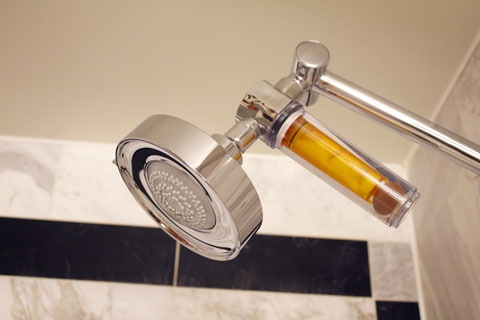 Not to mention, the shower was a pretty one. I'm a sucker for a good shower in hotels… though I even more appreciate a jacuzzi if and when it's possible.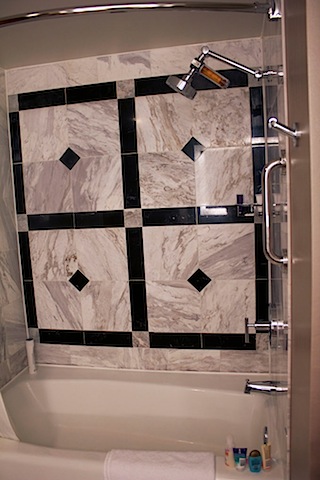 There was also "Welness Lighting" in the bathroom, which is supposed to increase your energy. I'll take it.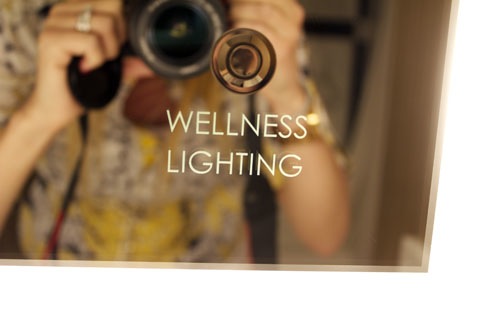 Even on a not exactly meant to be relaxing trip to Vegas, it's still important to unwind and chill out, so I appreciated that our room helped us do that.
So did the pools at the MGM Grand. It didn't hurt that it was 90 degrees in Vegas (leaving behind Boston's 50s and 60s) and though we didn't spend a ton of time at the pools, we certainly tried to spend a little bit of downtime there. We even rented rafts and cruised down the lazy river.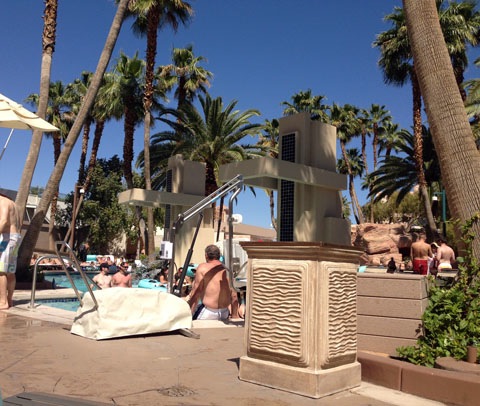 Kyle and I also got massages at the spa at the MGM Grand on our first morning in Vegas. So relaxing and such the perfect way to kick off the trip!
I was too starving and too impressed to snap many good pics, but the brunch buffet at the MGM Grand made me extremely happy. I'm not much of a buffet girl and though I heard they were awesome in Vegas, I just assumed that meant ridiculously huge. MGM Grand's was indeed ridiculously huge, but was also surprisingly really good. I mean there were tacos. And guacamole. And I obviously ate those right alongside my french toast and waffles. Because I have no self control and brunch is the best meal. But this isn't even the half of it; with everything from fried chicken and waffles to Chinese food to huge bowls of bacon, hash browns, potatoes, etc. I highly doubt you'd find anyone complaining about brunch at the hotel. Plenty of salad too, if you're into that kind of thing.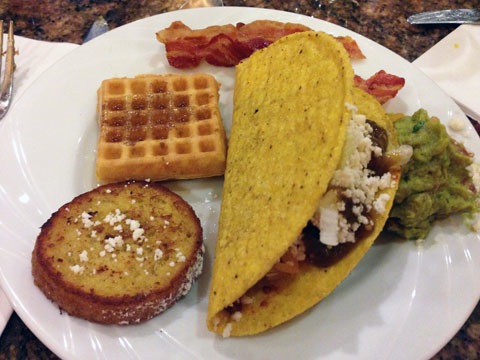 We did a lot of sightseeing during the weekend, which is completely essential when you've never been to Vegas before.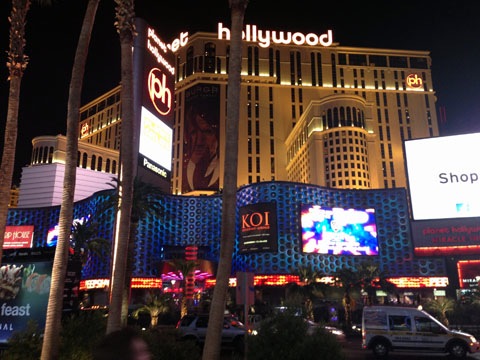 In embarrassing admissions, I'm the hugest Donny Osmand fan ever (well, that's probably not true at all as I can imagine he has some pretty avid fans). My Vegas traveling companions don't share my love and so I didn't get to see Donny and Marie's show, but I obviously took this photo. I know they're totally cheesy, but I've loved this pair since I was a kid. I know. But still. Don't make fun of me.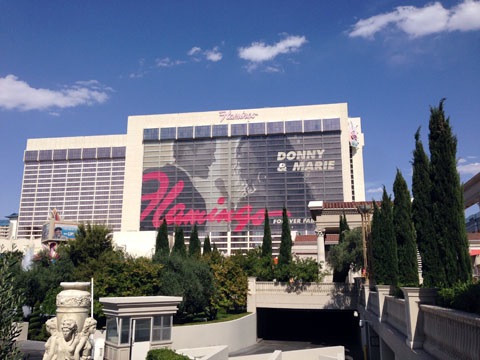 Filed under "things you only see in Vegas" is a pop up wedding chapel with a corresponding hashtag. And yes, that is Elvis walking down the aisle. Obviously.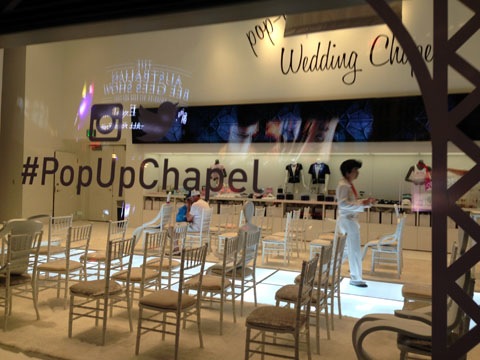 We didn't get to visit Paris, but that's a definitely must-do and already on my list for our next visit.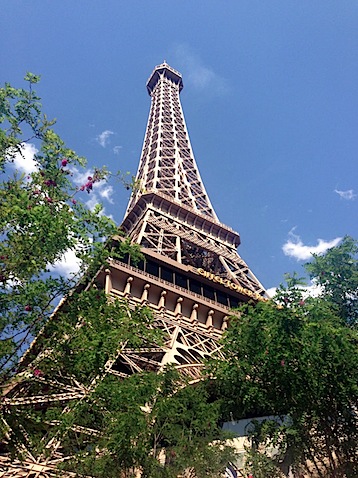 We did walk through several of the hotels on the Strip so that we could at least experience them a bit. Absolutely loved the ceiling at the Venetian.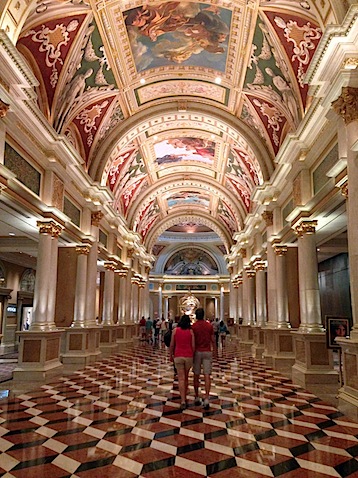 After walking through the Venetian, we stopped for a quick lunch at Zine in the Palazzo. According to Chinese Restaurant News, this is one of the top 10 Chinese restaurants in the U.S.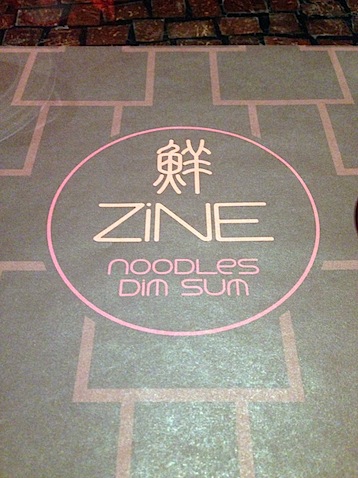 I got a GIANT bowl of spicy pho with filet mignon and it totally hit the spot. We had dinner at L'Atelier planned for that evening, so I didn't want to overdo it… But as you can see from the photo, this soup was way more than a meal!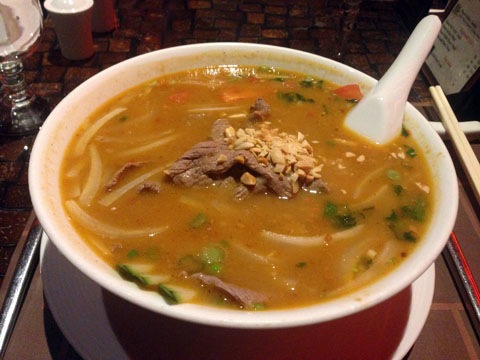 We posed for a few photo opps outside of the Venetian. Did I mention that it was in the 80s and 90s for pretty much our whole stay? But that it was a totally comfortable heat? And basically the best thing ever?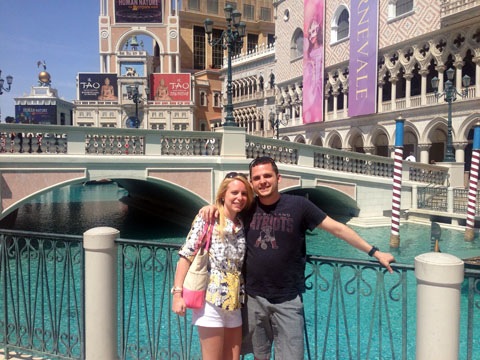 So excited to travel with my college bestie and her husband. Both Kyle and Jeff have been to Vegas several times and they did a fabulous job of showing us around and making sure we go to see everything we absolutely should.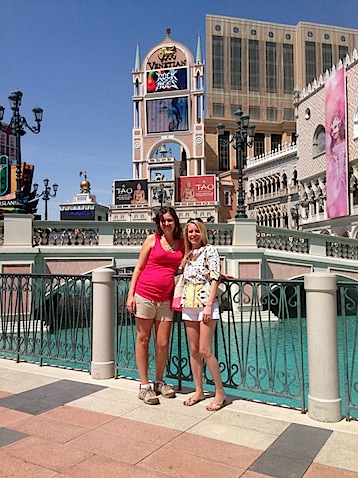 We also happened to be in Vegas during the Kentucky Derby, which was pretty cool. I'm not much of one for betting, but we all put some money down on a few horses and went to Caesar's Palace to watch the race with just about everyone else in Vegas 🙂 I was slightly disappointed they didn't have any mint juleps at the bar, but I sipped on a bloody mary while watching Orb win (nope, not one that we placed our bets on!).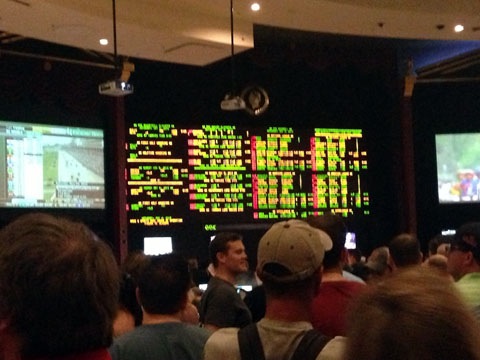 On Sunday, Kyle and Jeff had a super early flight, so we said goodbye to them on Saturday night. Chris and I weren't leaving until Sunday afternoon (or really late night by the time our flight actually took off!), so we decided to spend the morning walking around and enjoying one last fabulous meal. We weren't sure what the wait would be on a Sunday morning, but we headed back to the Venetian to hit up Thomas Keller's Bouchon!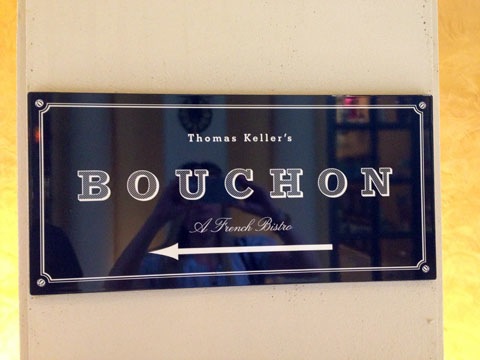 The wait was only 15 minutes. What do you know; the perfect amount of time to sit at the bar and enjoy a champagne cocktail. I had the French.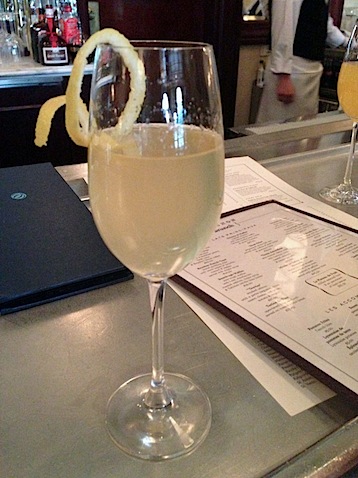 Then we headed outside to the patio for brunch.. because did I mention the weather was absolutely perfection in Vegas?? Yup.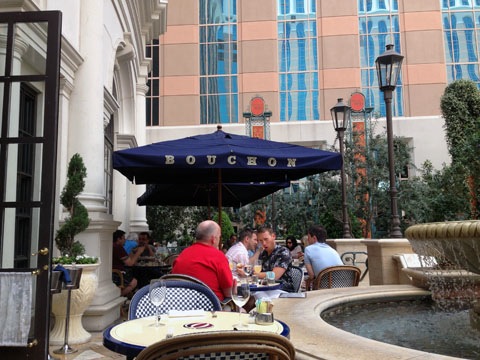 Coffee and bread are my ideal way of starting any meal.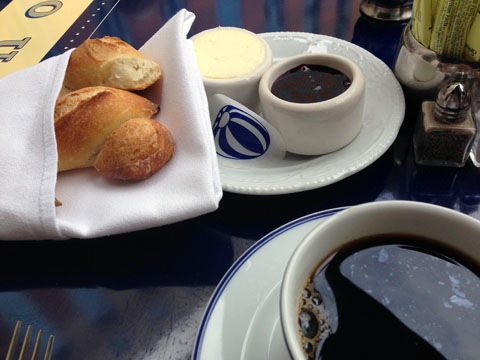 Also, a entire bowl of bacon. Because this is what it should be like when you order a side order of bacon, right?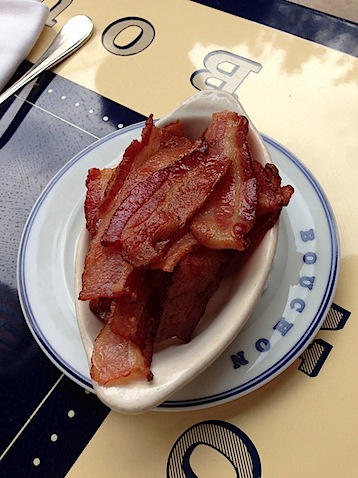 That went along with Chris's French Toast, bread pudding style. I'm not usually much of a "sweet for breakfast" type person, but oh my God this was good. I might actually order this if we were to make a return visit to Bouchon for brunch. I mean, it had custard and apples layered in it. I'd pay a lot of money to have this in front of me right now. Anyone?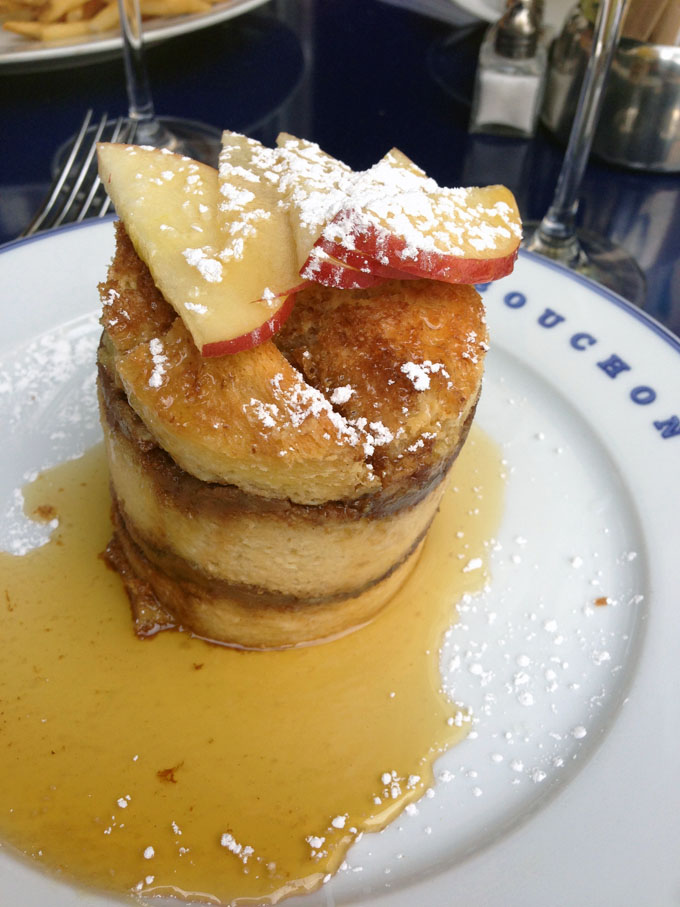 Chris was quite happy with it, too.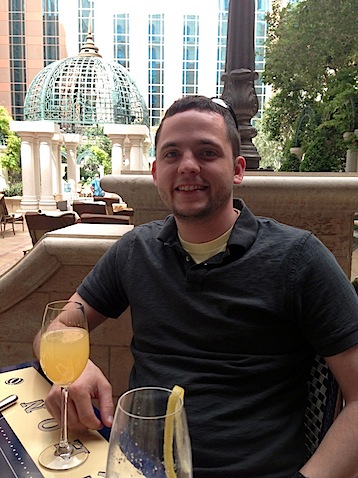 I stuck with the Croque Madame. Because basically any time I see it on the menu, I have to order it. Most perfect egg yolk ever and I ate every single bite of it.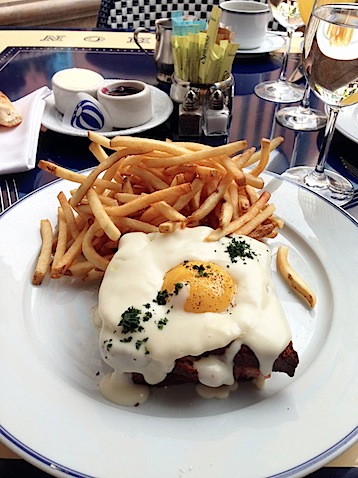 And was clearly in my "happy place" zone. How could I not be??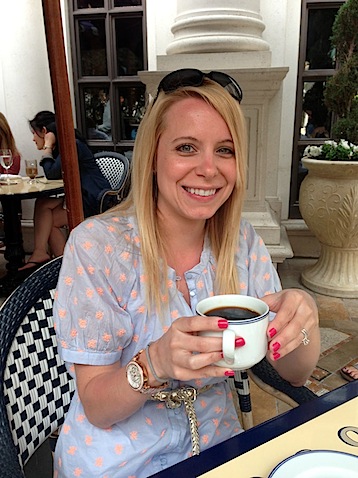 I must have had some kind of weird intuition that things would get rough later that day due to our 6-hour flight delay. So, I made sure to order a pain au chocolat to go. I couldn't be at Bouchon and not get a croissant.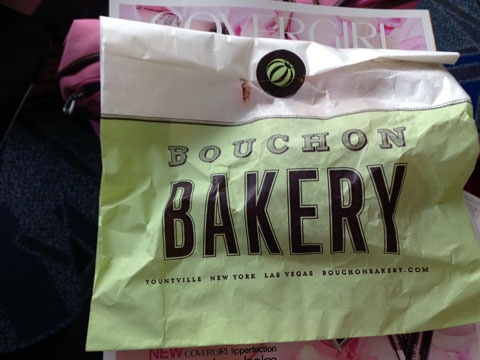 And this flakey goodness totally made my airport wait all the better. Even if I did end up with crumbs all over everything. 100% worth it.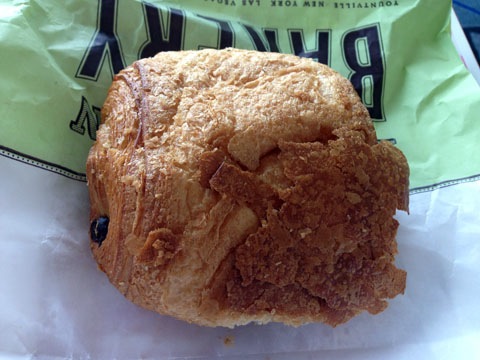 After brunch, we headed to Caesar's Palace where we wandered around and did a little high-end window shopping. So. Much. Swoon. Worthy. Shopping. Also? Only in Vegas do they serve you margaritas while you're shopping in retail stores. Don't mind if I do. It was Cinco de Mayo, after all.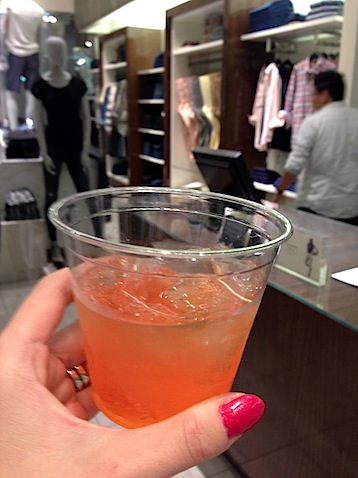 When I was in the airport waiting for our flight for a bazillion hours and wishing I had 100 more chocolate croissants from Bouchon, I came across this ad for Vegas Uncork'd. Which just happens to be this coming weekend. Which means I obviously need to go back to Las Vegas ASAP please.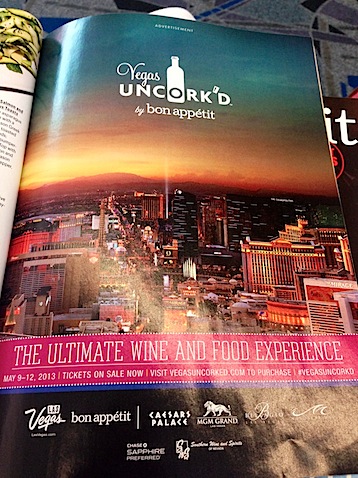 We had such a blast on our trip and still can't believe it's over. But I still have to share the best parts with you... Dinners at é and L'Atelier! Stay tuned because those will be up soon 🙂
Also, note I was going to call this post "Las Vegas Vacation: Everything But the Food," but then realized most of it was about food anyway. Not really sure what that says about me, but food-filled vacations are the only kind I really want to have anymore. And I'm so glad Kyle and Jeff completely agree with this sentiment.
Have you been to Vegas? What was your favorite part?
[Sues]