Made with lavender simple syrup, lemon sorbet, coconut milk, and soda water, these Lavender Lemonade Floats are both pretty and refreshingly yummy!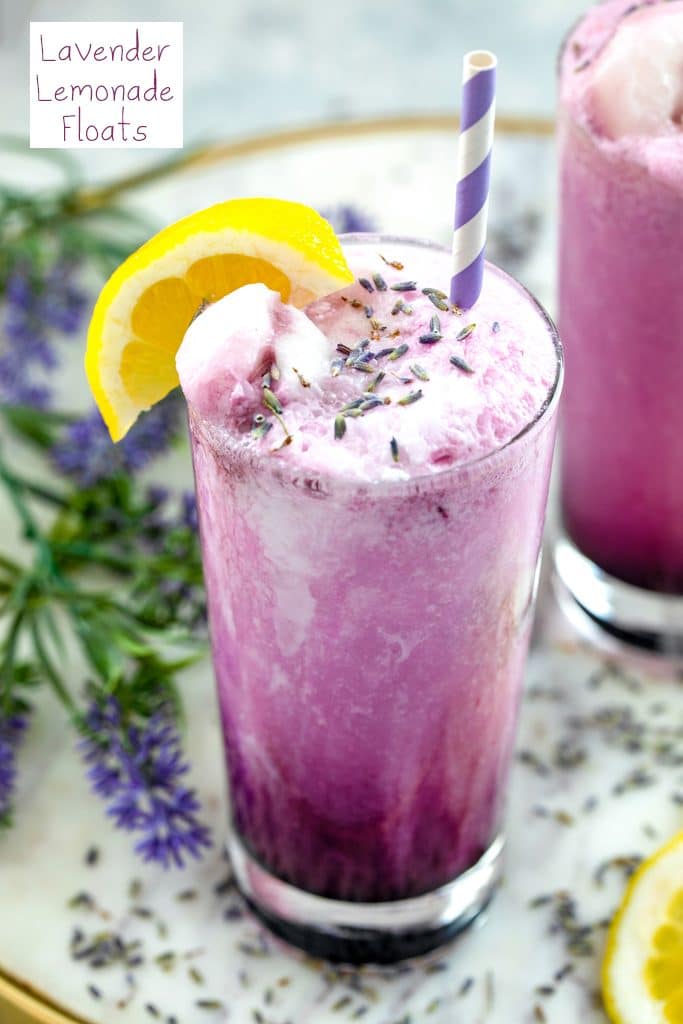 I love this time of year in large part because of the flowers blooming everywhere. My yard is currently filled with roses, peonies, and about 20 other blooms I don't know by name. Clearly, I'm not really a gardener.
But I do appreciate beautiful plants and flowers and they are all over my yard right now. Plus, the grass is so green and luscious and while I do kind of wish the rain would just stop already, I can't hate on the beauty that it's bringing. It feels like spring is in its full glory right now, despite the fact summer will be here in just a few days.
I'm pretty sure there are two types of people in this world- those who like floral desserts and those who don't like floral desserts. I used to be in the second camp, but something happened over the years that totally made me change my mind.
I think it had something to do with these Lavender Lemonade Mojitos. Or maybe these Rose Pistachio Shortbread Cookies. Whatever the case, the spring weather and flowers blooming everywhere had me craving more lavender in my life. So, I decided to make these Lavender Lemonade Floats.
And now that I have some leftover lavender simple syrup in my fridge, I've been adding a couple spoonfuls to my soda water and entering floral heaven whenever my heart desires.
LAVENDER LEMONADE FLOATS RECIPE
These lavender lemonade floats are super easy to make and consist of just lavender simple syrup, lemon sorbet, unsweetened coconut milk (the kind in the carton), and soda water.
Once you have the simple syrup made (you can even double the recipe if you want!), you can make these sorbet floats any time you want in just minutes.
The simple syrup is just water, granulated sugar, and dried lavender. I set out all the steps below, but you can also see my lavender simple syrup post to get very detailed instructions (and a video)..
I often get my dried lavender from Amazon here (affiliate link) and am very happy with the quality.
You'll bring the ingredients to a boil in a saucepan and then let them simmer for about 10 minutes while the syrup thickens. Remove from heat, cover saucepan, and let steep for about an hour.
Strain the lavender into a heat-proof bowl or jar and let the syrup cool to room temperature.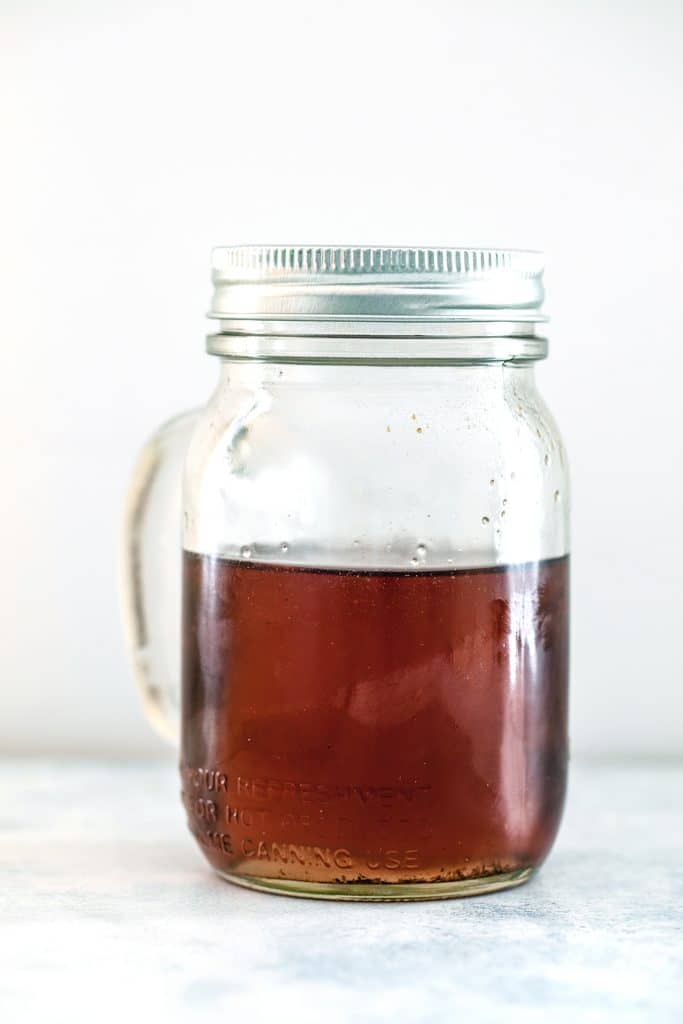 I ended up adding a little purple food coloring to my lavender simple syrup since it wasn't quite bold enough for me. The above photo shows the syrup in its natural state- it looks nice and lavender colored, but was a bit bland in the finished lavender float. It's up to you whether or not you want a more purple color or not.
Once your syrup is cooled, put a couple scoops of lemon sorbet into a glass and drizzle some lavender simple syrup over it. I'm very into that purple color now and am obsessed with this photo!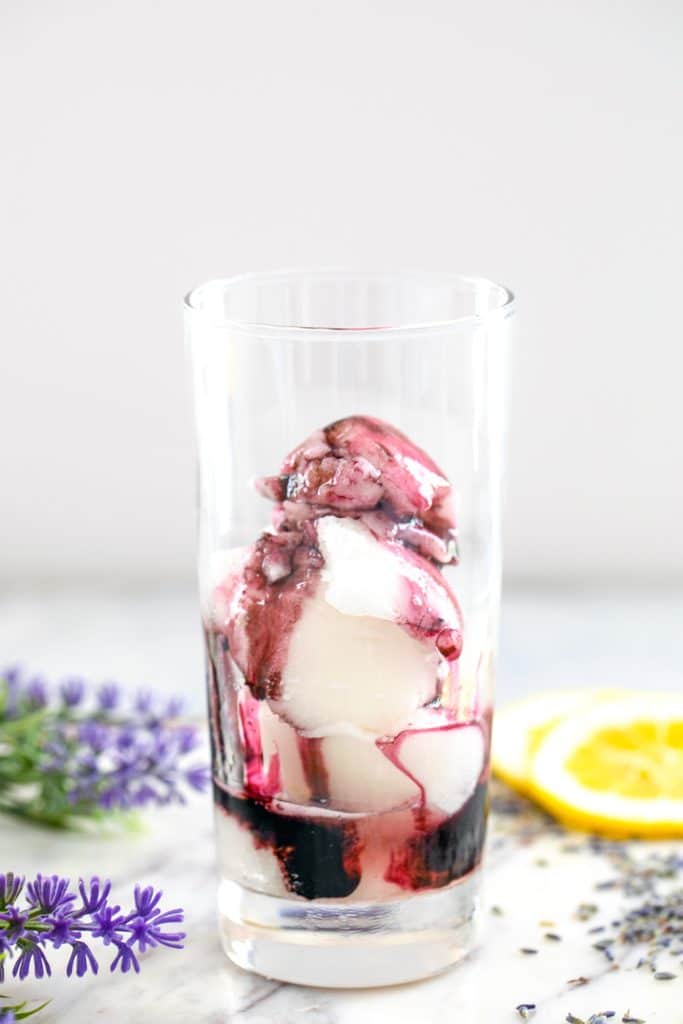 Now pour coconut milk into the glass. And top off with soda water. Stick a straw in it and take a sip.
You'll be saying, "Spring, please don't ever leave!!" but then you'll realize that you also really love summer and because you're using dried lavender, you can actually enjoy these lavender lemonade floats at absolutely any time of year.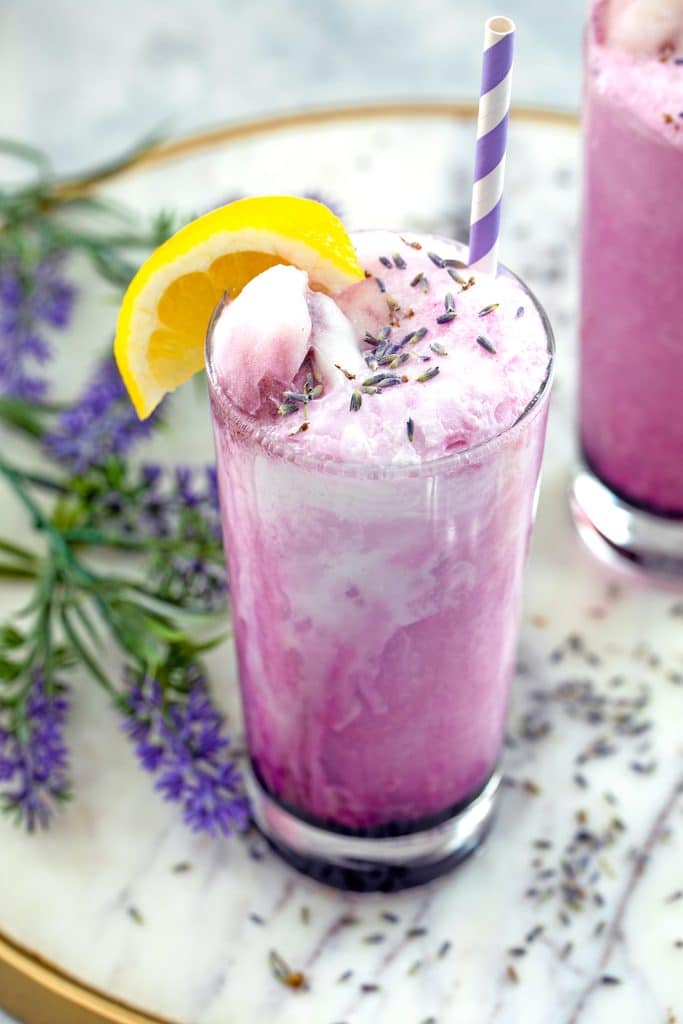 Substitutes for Lavender Flavor
If you're in the camp of people who don't enjoy floral notes in your food and drink, I get it, I really do. But I still want you to try this drink. Because it may just be the thing that changes your mind. Start by using just 1 Tbsp of lavender simple syrup instead of 2. Work your way up to that lavender love. I bet you'll be feeling it in no time.
However, if you really don't like it, but do love the idea of lemonade floats, here are a few ideas:
Use a plain simple syrup. Don't add the lavender to your simple syrup and you'll have a simple and delicious lemonade float.
Use a different flavoring in your simple syrup. A couple ideas include, rose, raspberry (recipe here), vanilla (recipe here), or blueberry (recipe here).
Don't use any simple syrup. For a lighter, less sweet version of a lemonade float, you can omit the simple syrup all together.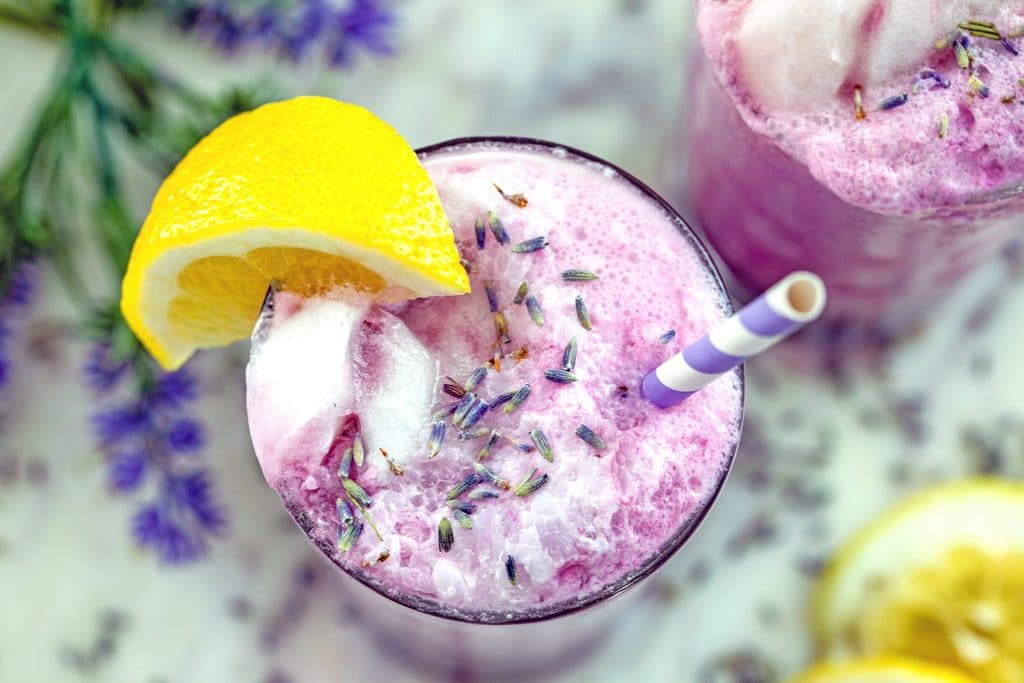 But still, I recommend trying the lavender flavor. And if all else fails, you can just bask in the beauty of these lavender lemonade floats. Because no matter how you feel about floral flavors, there's no denying that flowers are almost always pretty to look at (though can we talk about the fact that peonies really need to stay in bloom longer??).
For me, someone who loves lavender drinks (as long as the lavender flavor isn't TOO strong/intense), I am very into these lemonade floats. As in, I downed one of these drinks extremely quickly.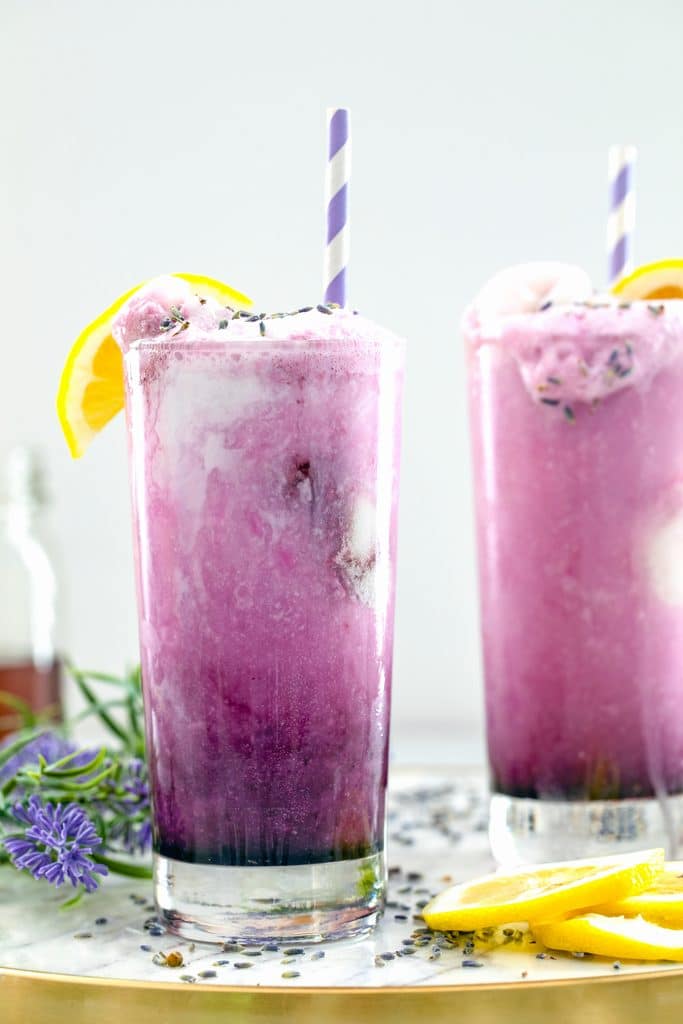 I stuck the second one in the fridge because Chris was out of town... And the next day, I downed that, too. OK, it wasn't quite as delicious after sitting in the fridge overnight, but I loved it so much, I couldn't stop drinking it and couldn't bare the thought of wasting it.
Do you think maybe lavender is addictive? Or maybe I just have a problem.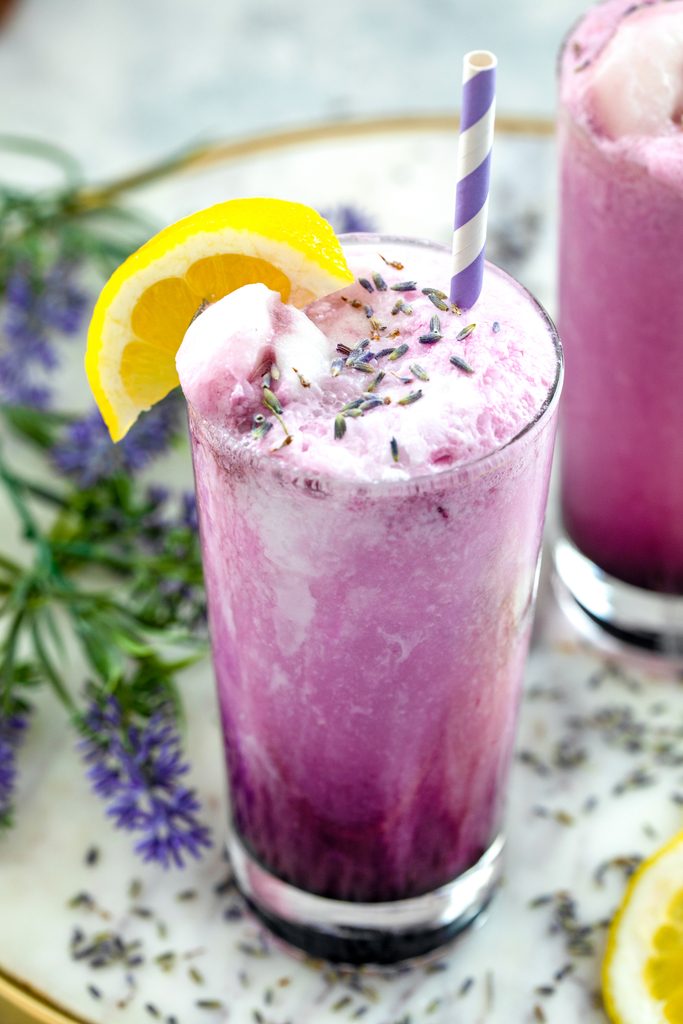 Don't get me wrong, I LOVE a good cocktail in the warm weather, but sometimes I crave a deliciously refreshing non-alcoholic drink, too.
Lavender lemonade floats are perfect for adults and kids alike and mini versions would be so cute for a little spring or summer wedding or baby shower!
Do you enjoy floral notes in your cocktails/mocktails?
If you're looking for other fun drinks to incorporate lavender into, definitely try this Watermelon Lavender Frosé from The Pedantic Foodie!
📖 Recipe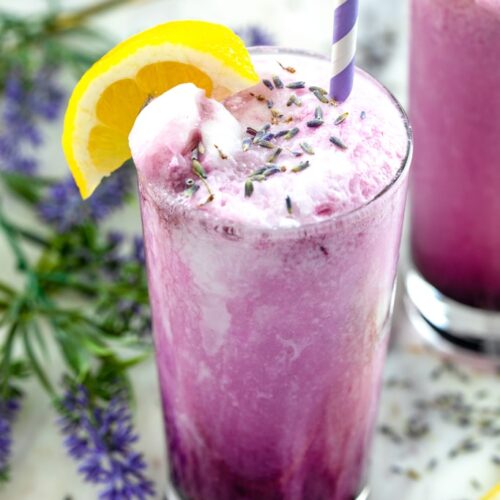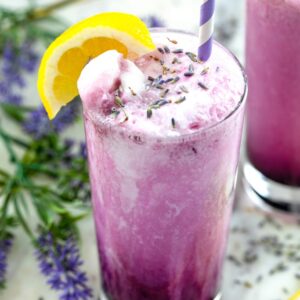 Lavender Lemonade Floats
Made with lavender simple syrup, lemon sorbet, coconut milk, and soda water, these Lavender Lemonade Floats are both pretty and refreshingly yummy!
Print
Pin
Rate
Ingredients
1

cup

lemon sorbet

2

Tbsp

lavender simple syrup

(recipe below)

1

cup

unsweetened coconut milk

(the kind in the carton), or dairy/dairy alternative of your choice

Soda water
1

cup

water

1

cup

granulated sugar

¼

cup

dried lavender

2-3

drops

purple food coloring,

optional
Instructions
Add lemon sorbet to a tall glass and drizzle lavender simple syrup over it. Pour coconut milk into glass and top off with soda water.
Put water, sugar, and dried lavender in a medium saucepan, stir, and bring to a boil.

Once mixture comes to a boil, lower to a simmer and let simmer for about 10 minutes, until it thickens.

Turn off the heat, cover the saucepan, and let steep for about an hour.

Push syrup through a mesh sieve to strain out lavender buds and into an airtight container. Place in fridge to cool. If you want the simple syrup to be a more vibrant color, add a couple drops of purple food coloring.
Notes
Recipe makes enough lavender simple syrup for about 8 drinks.
Feel free to add 1.5 oz. of vodka to this drink to make it an alcoholic float!
Share a Photo of Your Finished Recipe!
Mention @wearenotmartha and share a photo if you've made the recipe!