This Mint Chocolate Green Smoothie is a delicious way to get your vitamins with a little chocolate mint kick. It's perfect for St. Patrick's Day as a Shamrock Shake replacement, but a wonderful addition to your diet any time of year!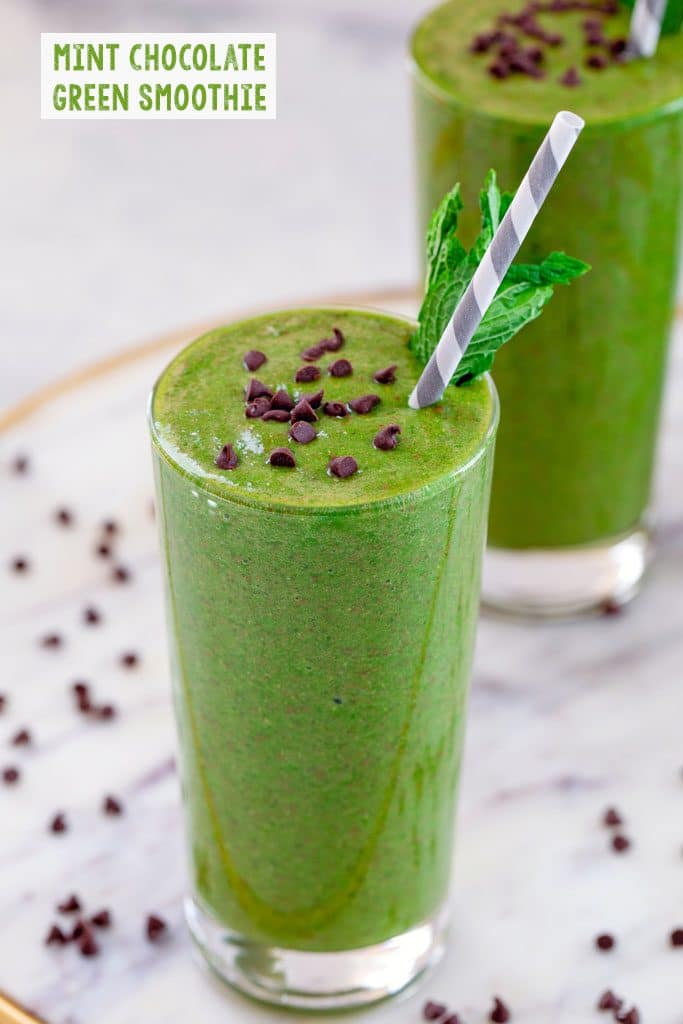 I never thought I'd be the kind of person who would be making drinks out of spinach and chia seed. To be fair, I don't know exactly what kind of person I thought did this, versus what kind of person I thought I was. But I guess I thought I was the type of person who made doughnuts and cupcakes and martinis out of Lucky Charms. I don't drink spinach, for crying out loud. Or kale. Or chia seeds. What has become of me?? Oh well, I'm accepting it.
A couple weeks ago, I was telling my sister that I had my Vitamix on overdrive and was trying to drink a green smoothie every day. She asked why I didn't have any recipes on the blog and I said I just never really thought about posting the healthy drinks... They really aren't that pretty and heaven knows there are enough green smoothies on the internet. Right?? But then I made a special St. Patrick's Day green smoothie. And it has chocolate in it. Real chocolate. And it's kind of pretty. Plus, I already posted an alcoholic St. Patrick's Day beverage, so I figure a semi-healthy sober mint chocolate green smoothie is an acceptable addition to the blog.
You could call this a healthy Shamrock Shake, but considering I've never actually had a Shamrock Shake before (am I missing out??), I'm not totally sure how accurate that is. I'm guessing this is similar, but with chocolate added in... And a super healthy boost from all that spinach!
MINT CHOCOLATE GREEN SMOOTHIE RECIPE
While I'm very hesitant to technically call a spinach-based smoothie dessert, I do think this green smoothie is a combination of a healthy smoothie and a dessert smoothie, thanks to the chocolate. And if you're trying to cut down on desserts, the pineapple and little bit of chocolate in this smoothie could may just be a perfectly satisfying dessert for you. But it's also fun to drink for breakfast because when is a little bit of chocolate for breakfast ever a bad idea??
I like to use vanilla soy milk for these chocolate green smoothies, but you can use any dairy or dairy alternative that you want! If your milk isn't vanilla flavored, you can simply add in 2 tsp of vanilla extract. I like the extra vanilla kick in these.
Basically, all you have to do is put all your ingredients into a blender or Vitamix. But save a tablespoon of chocolate chips so you can sprinkle them over the top of each of the smoothies. It's always a good idea to put the wet ingredients in the blender first.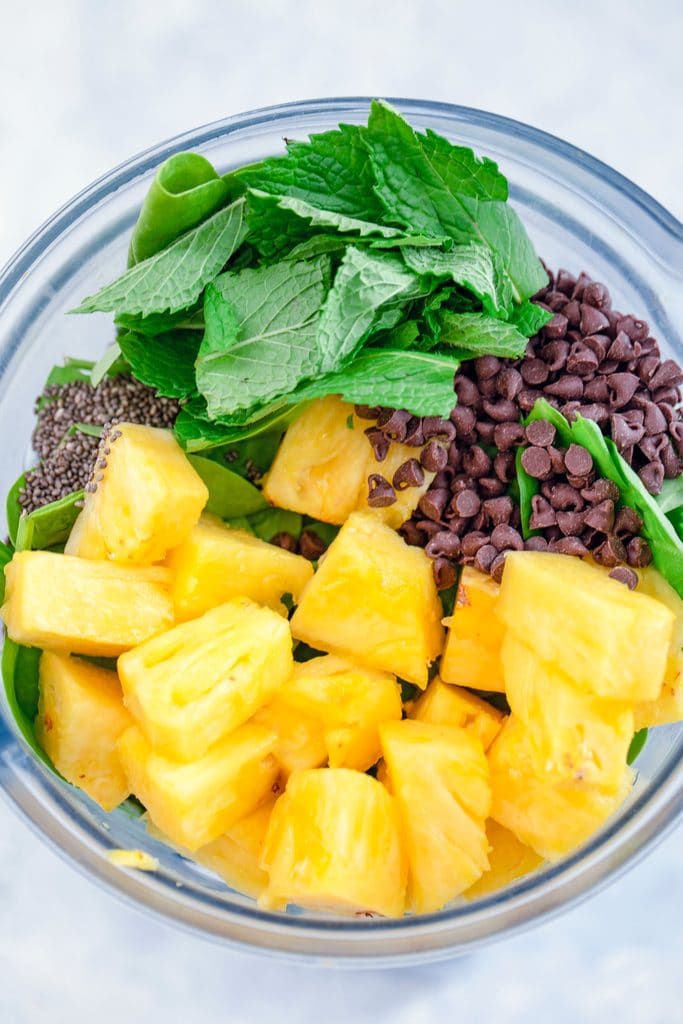 Blend away until smooth. And it's that easy.
You've probably heard it a million times before, but I promise that you really cannot taste the spinach in a green smoothie. Especially when there are other fun ingredients involved. I also strongly dislike when people make green smoothies and put "a few" leaves of spinach in. Clearly, I am spinach-ing it up to excess with 5 cups here, which means each smoothie has 2.5 cups of spinach in it. If you're going to drink a green smoothie, you may as well do it right.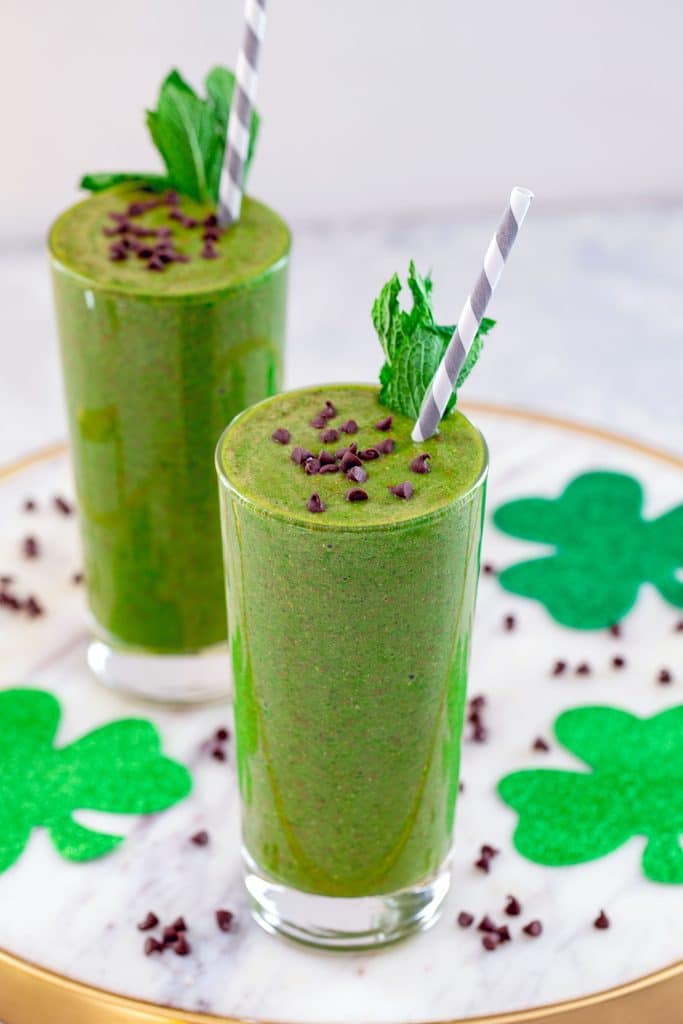 And the color is perfect, right? For St. Patrick's Day, but really for any day. Because green is good! And most of us aren't getting enough of it in our diets. And this is sooo easy to drink. I actually got Chris totally hooked on spinach/kale smoothies made with a little frozen fruit and water, so this version made with milk, mint, and chocolate really blew him away!
I feel like there aren't too many people out there who don't enjoy the flavor of chocolate and mint together. Before I made this, I was considering using a little mint extract, but then I decided to go the fresh route instead and I'm glad I did because it was the perfect flavor.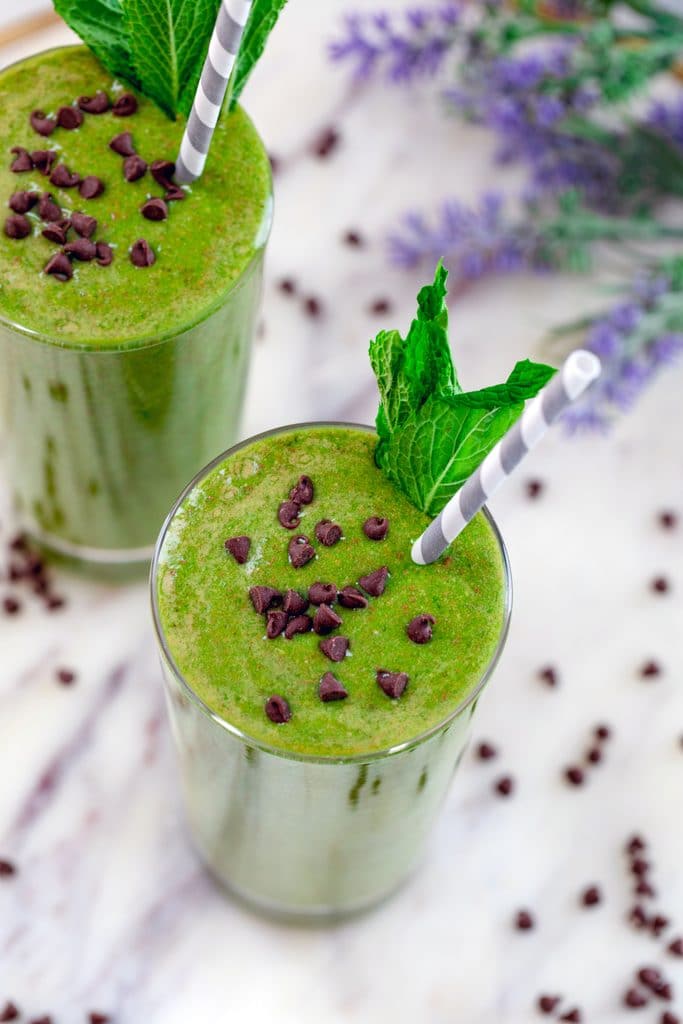 I love adding chia seeds to my smoothies since they're so healthy and filling. They do thicken this drink up a bit the longer it sits, so keep that in mind if you're sipping this smoothie with a straw!
Like I said, I don't think there's quite enough chocolate in here to qualify this mint chocolate green smoothie as dessert, but that's for you to decide. And I promise I won't make you feel bad for drinking this for dessert WITH a pile of cookies. Who am I to judge? Seriously though... I'm not allowed to judge.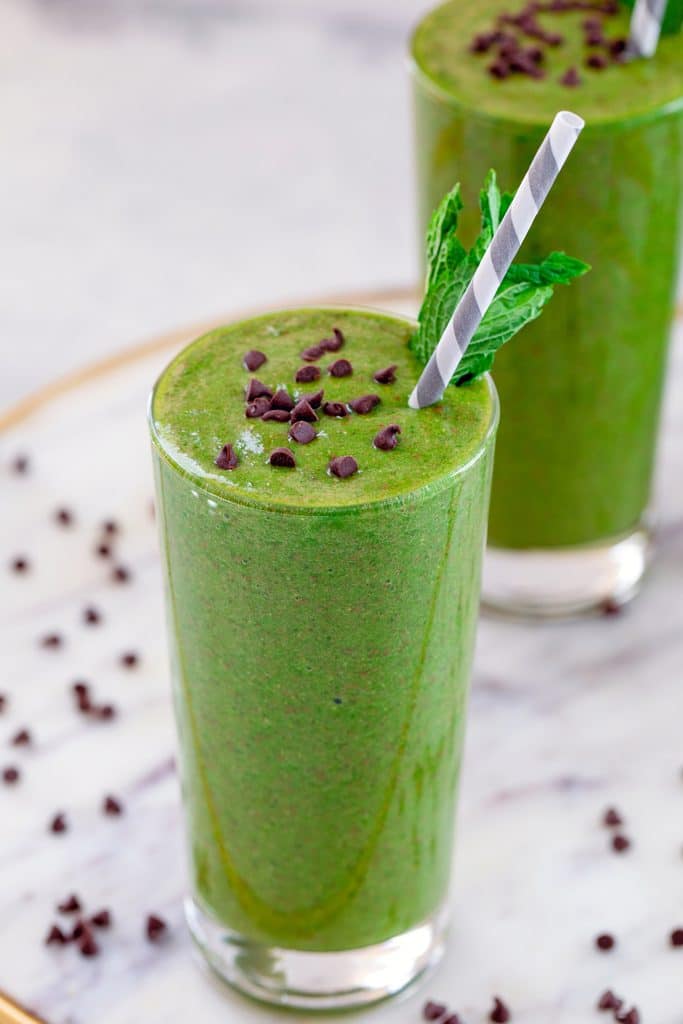 So, let's pretend you had all your St. Patrick's Day fun this weekend. And since it's Monday, you aren't quite in the mood to go out and get crazy. Whip up one of these smoothies and you can still kind of sort of celebrate, while also packing in some vitamins AND getting a very important chocolate fix. Fine, I'll admit I'm old and just gave you a way to celebrate St. Patrick's Day as an old person. But at least you'll get your vitamins?
Are you on the green smoothie train yet?
If you're looking for more smoothie recipes, check out my Beet Avocado Smoothie or my Coconut Chia Dragon Fruit Smoothie Jars. I also love these Green Antioxidant Smoothie Bowls from The Nourished Mind!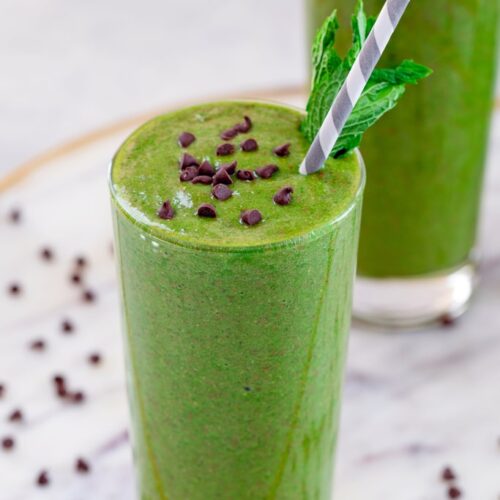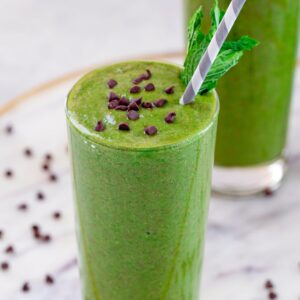 Mint Chocolate Green Smoothie
This Mint Chocolate Green Smoothie is a delicious way to get your vitamins with a little chocolate mint kick. It's perfect for St. Patrick's Day as a Shamrock Shake replacement, but a wonderful addition to your diet any time of year!
Print
Pin
Rate
Ingredients
2

cups

vanilla soy milk

(you can also use plain milk or other dairy/dairy alternative with 2 tsp vanilla extract added in)

1

cup

chopped pineapple

5

cups

spinach

12

leaves

fresh mint

2

Tbsp

chia seeds

4

Tbsp

mini chocolate chips,

divided
Instructions
Pour milk into blender, followed by pineapple, spinach, mint leaves, chia seeds, and 3 Tbsp mini chocolate chips. Blend well until smooth.

Pour smoothie into two glasses and top with remaining Tbsp mini chocolate chips.
Share a Photo of Your Finished Recipe!
Mention @wearenotmartha and share a photo if you've made the recipe!