This Mint Chocolate Hummus can be served with fresh fruit or cookies and makes the perfect creamy dessert dip. Nobody will even guess that it's made with chickpeas!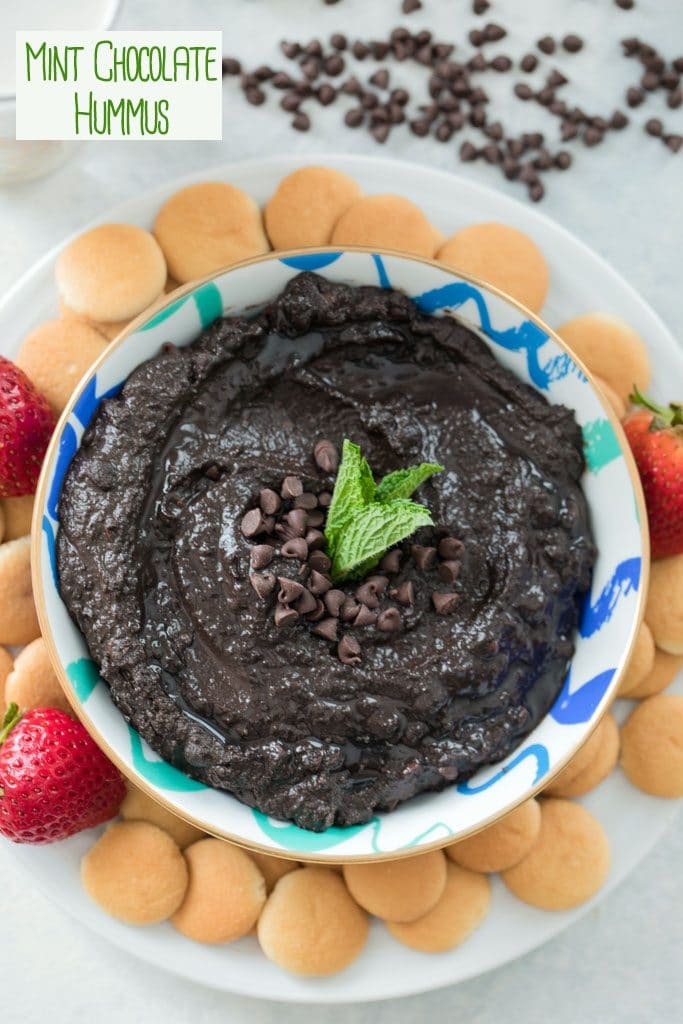 Have you guys gotten sucked into the chocolate hummus craze yet? omg I am so here for it. I admit, I was pretty bothered by it at first... Like, why would I want my hummus, a food that's meant to be savory, to be served as a dessert? Why would I want my chocolate to be mixed with chickpeas? Why why why??? Well, I can now tell you exactly why. Because it's freaking DELICIOUS; that's why. It took a little while from when I first saw chocolate hummus on my grocery store shelves until I built up the courage to try it, but once I did, I fell immediately in love. It's chocolatey and creamy and basically just a delightful dessert spread that you won't be able to stop eating. You can't even taste the chickpeas and wouldn't think there's anything weird about it.
I wasn't quite sure how making my own would turn out and figured those crazy hummus people must have some secret trick to make this stuff taste so amazing. But after a little experimenting in the kitchen, I realized it's incredibly simple to make at home. And now I have the perfect party dessert dip recipe to share with you. Hooray!
MINT CHOCOLATE HUMMUS RECIPE
This recipe is only eight ingredients (aside from the dippers!) including chickpeas, dark cocoa powder, coconut milk (or dairy/nondairy alternative of your choice), agave (or honey) mint extract, fresh mint, salt, and mini chocolate chips. You could even leave the fresh mint out if you don't have any, but I wanted a little extra minty kick.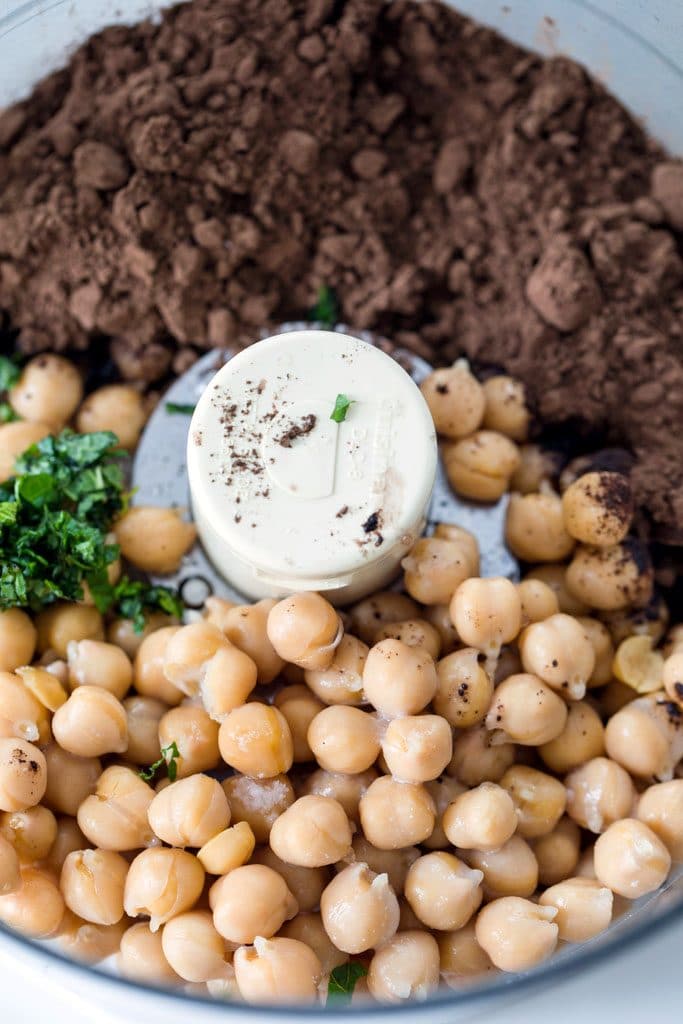 And all you need to do is put the first seven ingredients (just half the milk) in a food processor, adding the milk until you get your desired consistency. I like a super creamy hummus, so I used the full ½ cup coconut milk.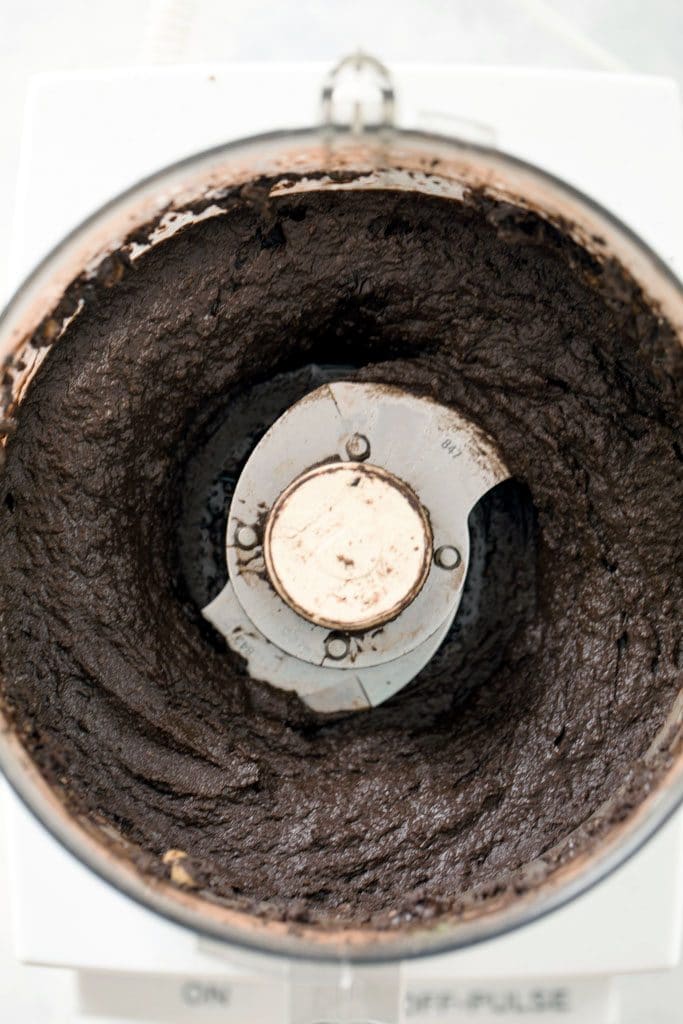 Then you fold in the mini chocolate chips and put the whole shebang in a serving bowl. And set it out with your favorite dippers. I absolutely loved the mint chocolate hummus with mini Nilla Wafers (hello! how did I not know those minis existed??), but it's also pretty ridiculous (that's ridiculous in a good way) with strawberries, apples, and all kinds of fresh fruit.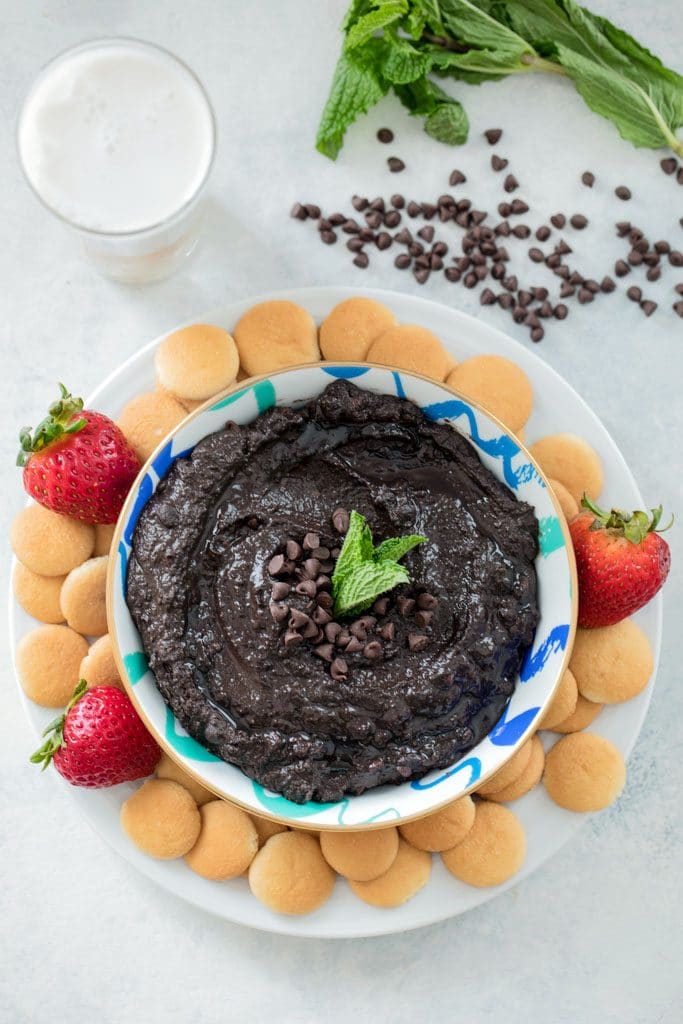 Basically, I want to dive into this bowl and live in a pool of mint chocolate hummus. But wait! If you don't like the mint chocolate combo (I loveeee it, but sadly know quite a few people who don't), you can simply omit the milk extract and fresh mint leaves and make this a straight up dark chocolate hummus. There are a million other chocolate hummus flavors you could make, too, including coconut, peanut butter, hazelnut, strawberry, marshmallow, etc. You better believe there is more chocolate hummus in my future. I also have a really delicious recipe for Cranberry Hummus on my blog and it's kind of like the perfect mix of savory/sweet hummus. It could be a good stepping stone dip for you if you're scared to try dessert hummus!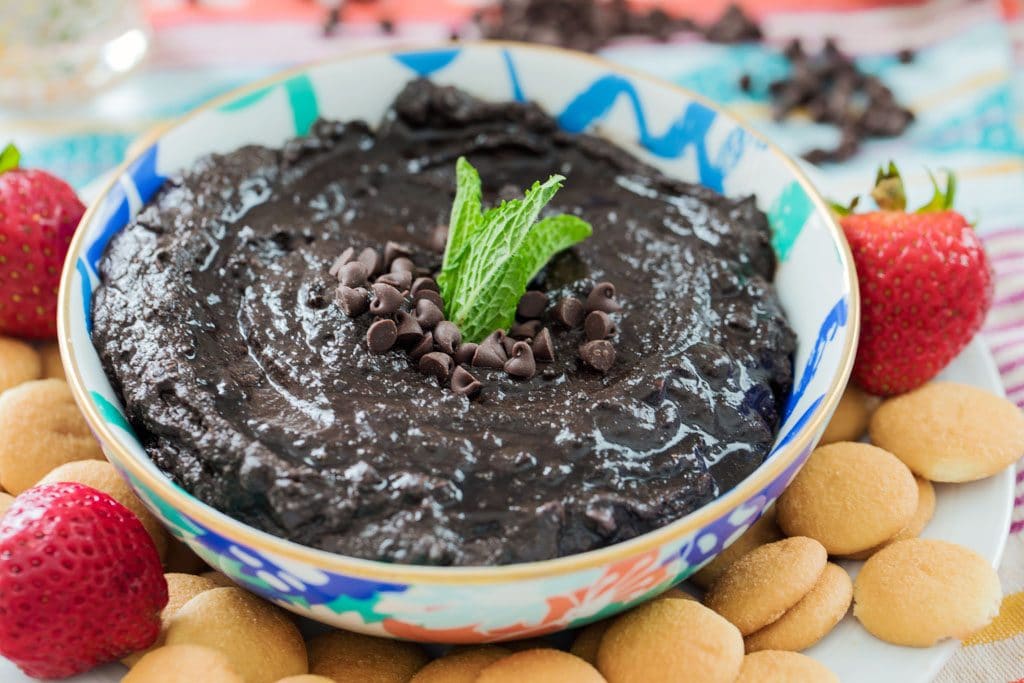 I went back and forth on whether or not chocolate hummus should involve tahini, but after looking at the ingredients on a few different chocolate hummus packages, it seemed like none of them had it. But wouldn't you know, I just noticed that my grocery store now carries a chocolate tahini. I might need to try another version with that... But then again, why mess with perfect??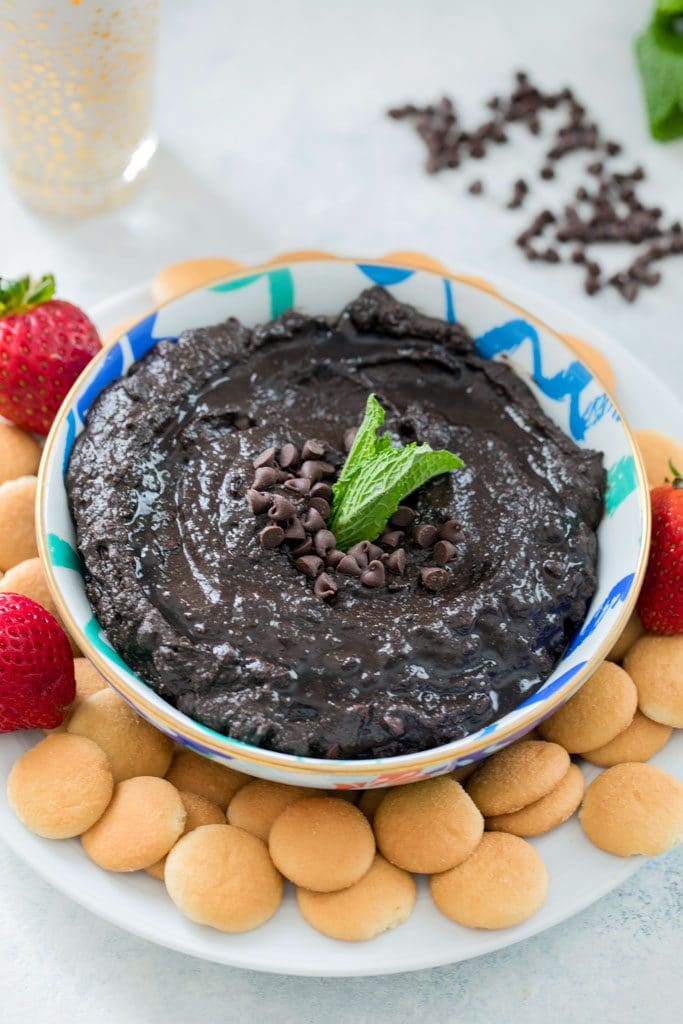 This is such a fun dessert to serve at a party. But I kind of recommend just setting it out as a "chocolate dessert dip" and letting people indulge. And then when the bowl is basically empty, yell out, "surprise! you just ate chocolate hummus!" Not that I believe in deceiving your party guests, but I feel like some people might be a little weirded out by the idea of a chocolate dip involving chickpeas.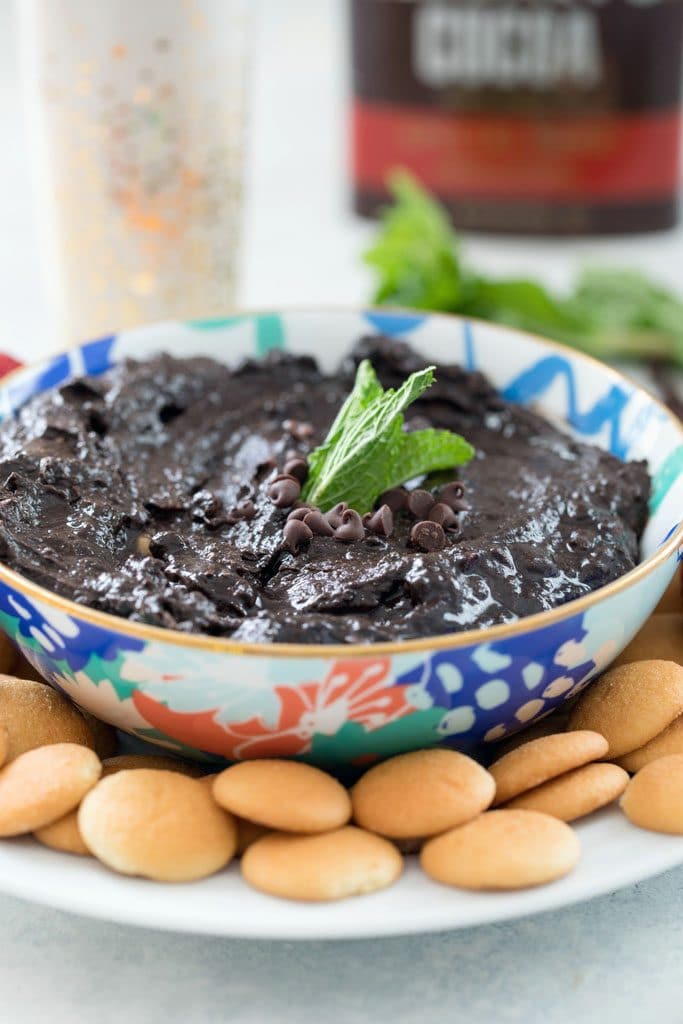 But once they take a bite, they'll fall in love. You definitely can't taste the chickpeas and there's nothing hummus-y about this chocolate dip. It's just plain deliciousness. I'm not going to go so far as to start proclaiming this is a healthy dessert because it obviously has cocoa powder, sweetener, and mini chocolate chips in it (also I served it with cookies LOL), but it's definitely healthier than most other dessert dips. Plus, the chickpeas are packed with protein and fiber, so this is one dessert that will likely fill you up and satisfy you more than others.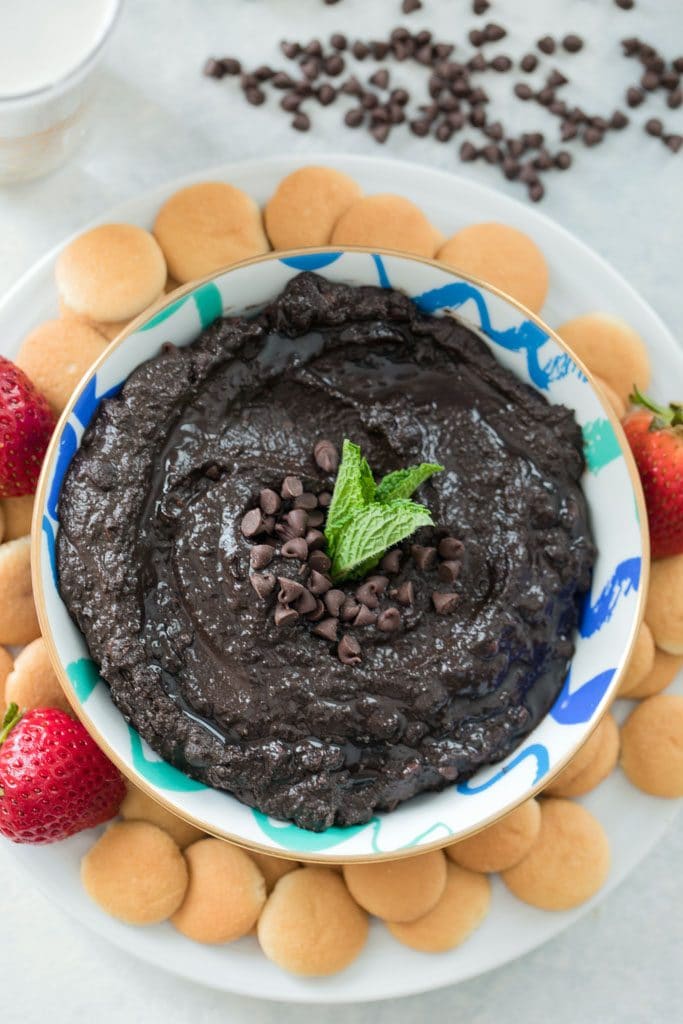 Now that dessert hummus is a thing, what could possibly be next?? I'm all about any new ways I can pack nutrition into my desserts, especially when those desserts involve chocolate. And bowls that I can sit on the couch with while I watch bad reality TV and indulge. Bring. It. On. We live in a crazy time, my friends, and I'm just so happy I'm here to experience it.
Have you tried chocolate hummus yet?
If you love the idea of unique hummus recipes, be sure to check out my Cranberry Hummus and my Sweet Potato Hummus! I also want to try this gorgeous Beet Hummus from Salt and Baker!
📖 Recipe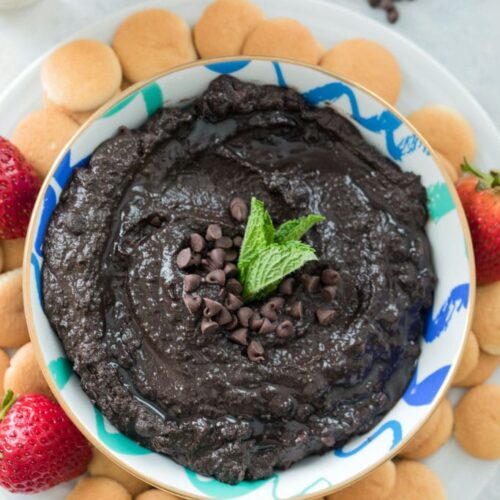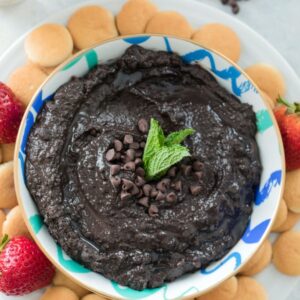 Mint Chocolate Hummus
There's no reason to be skeptical of chocolate hummus! This Mint Chocolate Hummus can be served with fresh fruit or cookies and makes the perfect creamy dessert dip. Nobody will even guess that it's made with chickpeas!
Print
Pin
Rate
Ingredients
1

can (15.5 oz)

chickpeas,

drained and rinsed

⅓

cup

dark cocoa powder

(regular cocoa powder is also fine)

½

cup

coconut milk

(in a carton or milk of choice), divided

3

Tbsp

agave

(or honey)

1

tsp

mint extract

1

tsp

chopped mint

¼

tsp

salt

⅓

cup

mini chocolate chips

Nilla Wafers, fresh fruit, etc,

for serving
Instructions
Put chickpeas, cocoa powder, ¼ cup coconut milk, agave mint extract, chopped mint, and salt in a food processor and blend until creamy.

Slowly add in and blend remaining ¼ cup coconut milk until desired consistency is reached.

Fold mini chocolate chips into the hummus and move to a serving bowl. Top with additional mini chocolate chips and mint leaves.

Serve mint chocolate hummus with Nilla Wafers, fresh fruit, animal crackers, or whatever you choose!
Notes
If hummus isn't sweet enough for you, feel free to stir in more agave or honey, 1 Tbsp at a time.
If you don't have fresh mint, you can omit it.
Share a Photo of Your Finished Recipe!
Mention @wearenotmartha and share a photo if you've made the recipe!