Not in the mood for coffee? Choose wine instead and combine your favorite red with vanilla ice cream and fun toppings for this delicious Red Wine Affogato dessert.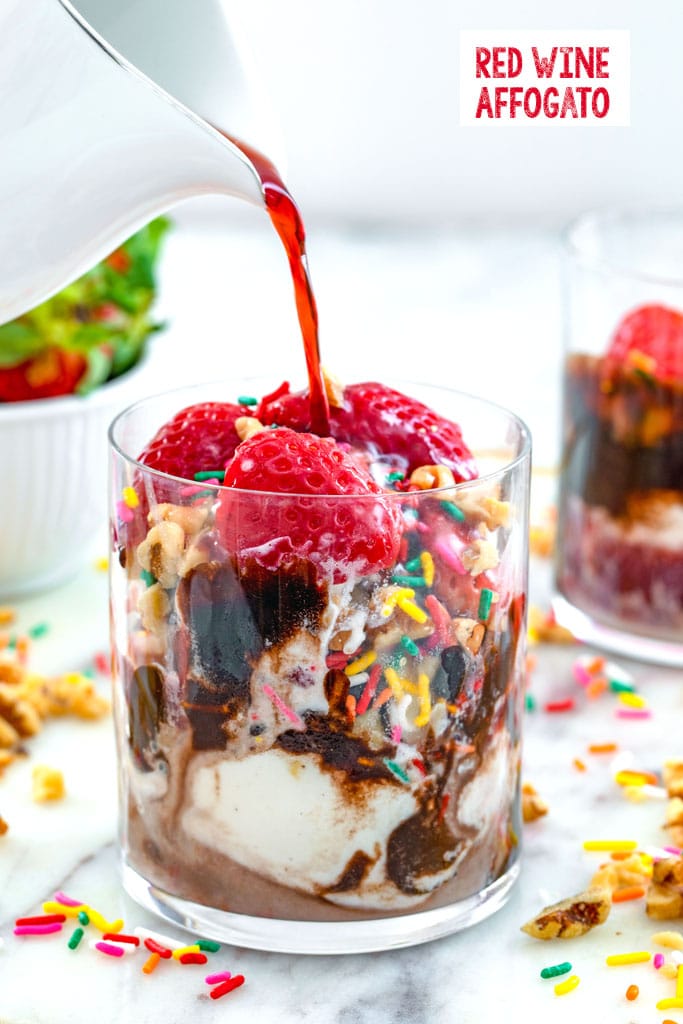 In my ever so humble opinion, coffee and wine are two of the world's greatest beverages. I'm an all day kind of coffee drinker and often enjoy a nice hot cup at the end of a long day. But sometimes, a long day calls for wine instead. And pretty much any kind of day calls for ice cream. Trust me, we all deserve it.
Affogato is basically my dream dessert because it combines two of my true loves: coffee and ice cream. But what about those nights that call for wine?? What about all the people who don't want coffee right before bed?? Ladies and gentlemen, let me introduce to you the perfect solution: red wine affogato.
This dessert is not only incredibly fun, but it's also ridiculously easy and perfect for serving during a dinner party. It requires virtually no prep time, but still manages to impress.
You can even ask your guests if they'd prefer a traditional affogato with espresso or a boozy affogato with red wine. I'd probably ask you for one of each. Would that be rude?
Red Wine Affogato Recipe
At first glance, some of you might be saying, red wine in ice cream?? How weird. But there's really something delightful about it, especially when you add in strawberries and fudge sauce. It's creamy, sweet, and a little bit tangy.
The walnuts add a little bit of crunch and the rainbow sprinkles some extra fun (as if wine isn't enough!). I've seen lots of recipes for homemade red wine ice cream and really, this is just a much easier version as it can be ready in just minutes.
Start by scooping some vanilla ice cream into a glass (or bowl). Drizzle on some hot fudge (or a simple chocolate syrup) and add strawberries, walnuts, and sprinkles and really anything else your heart desires.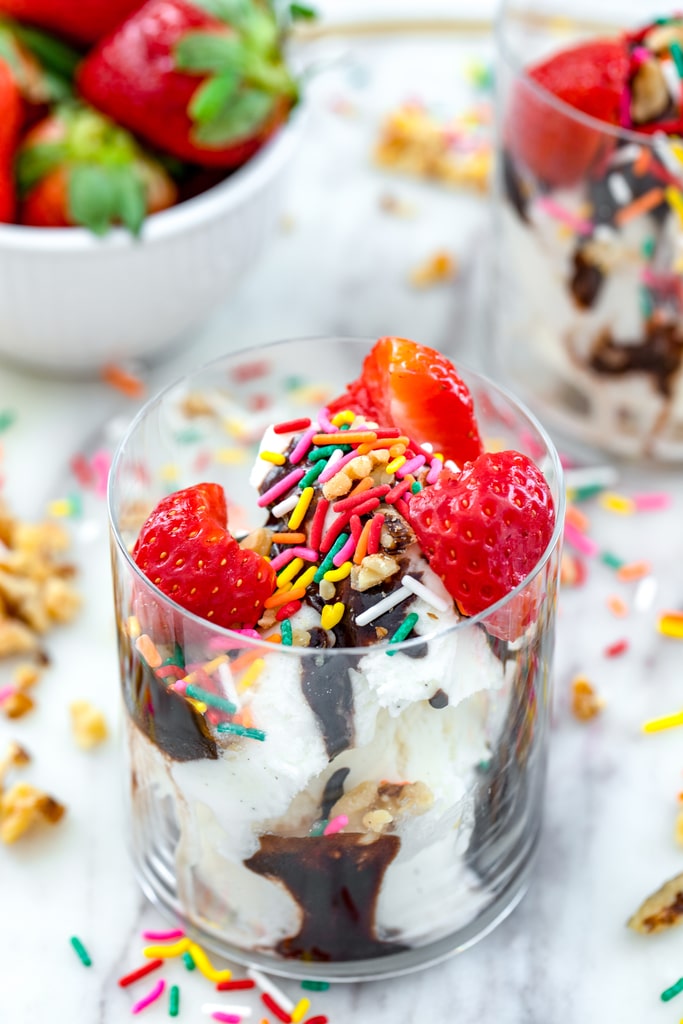 And slowly pour red wine over the top. I recommend a fruitier wine like a merlot or a malbec (though you can use whatever you want) and used about ¼ cup of wine in each glass.
Of course, you can use as much as you want, but don't go overboard or the affogato will basically just become a "wine drink" that you'll have to sip.
Not that there's anything wrong with that.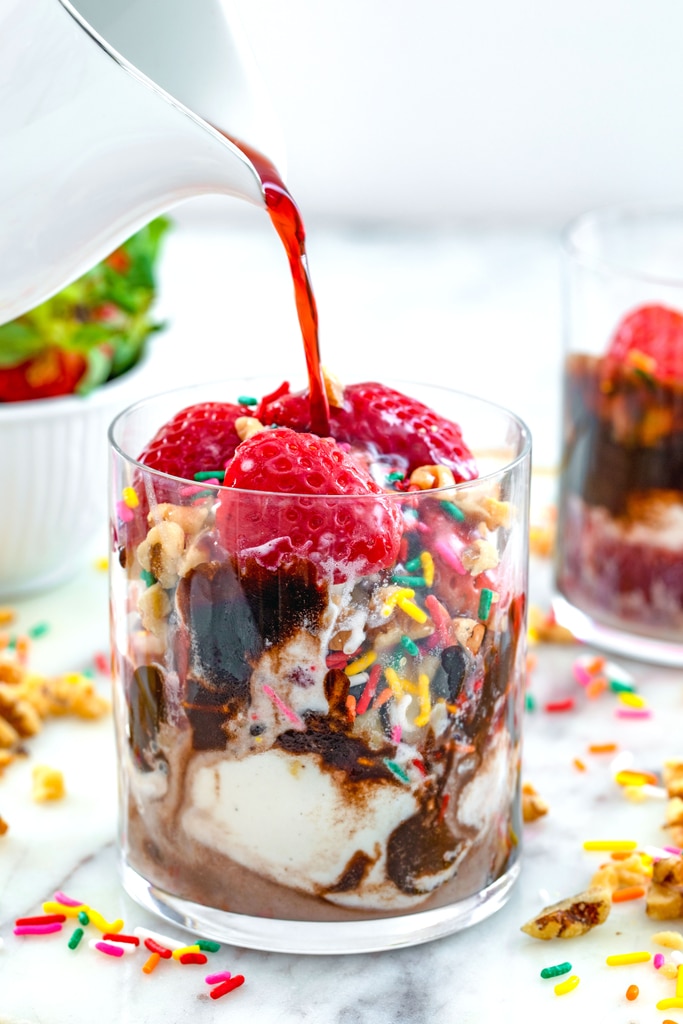 As you pour it in, the red wine will drizzle down and combine with the vanilla ice cream and chocolate fudge and result in the most incredible mixture ever.
Enjoy the dessert with a spoon and delight in this new knowledge that wine is delicious, but creamy wine is even better. In fact, I think creamy wine is my new favorite thing.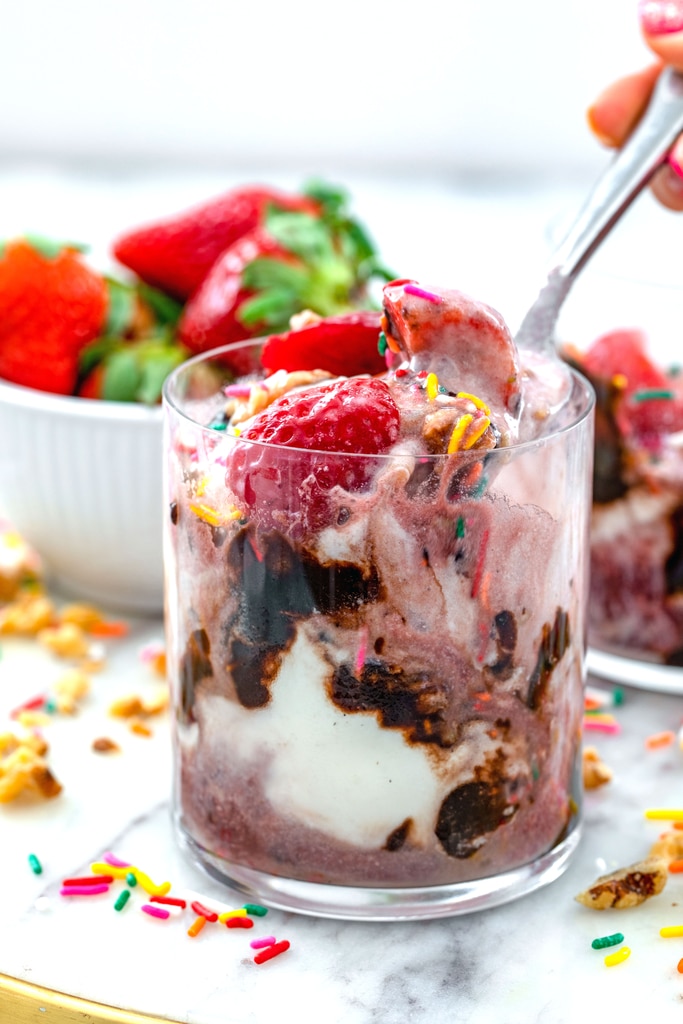 I honestly closed my eyes as I ate this... It's so heavenly.
If you prefer to use chocolate ice cream, you certainly can, but I liked the lighter sweet notes of the vanilla with the touches of chocolate fudge mixed in. Next time, I might try strawberry ice cream. And rosé? The options for wine affogatos are really endless here.
And unlike many wine dessert recipes you can make at home, the alcohol in this affogato doesn't burn off. Which makes it the perfect way to end the evening.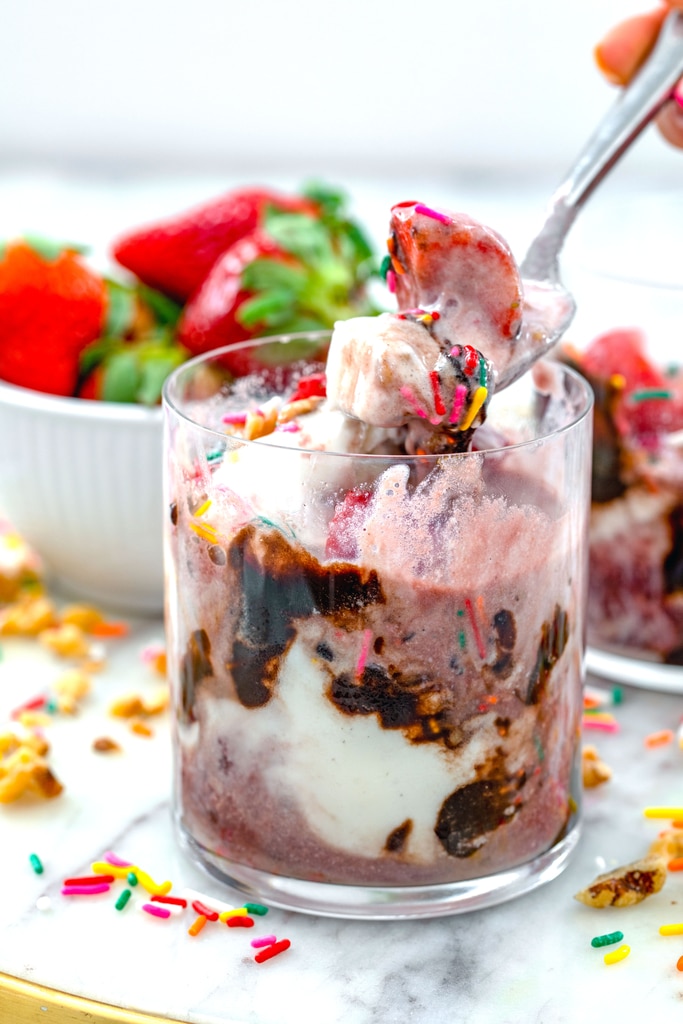 Whether you're closing out a dinner party or simply enjoying some downtime at the end of a long day, a red wine affogato is going to make the night that much better.
Do you prefer a cup of coffee or glass of wine at the end of the day?
If you're loving the idea of alternative affogato recipes, check out my Banana Split Affogato. And if you're just here for the wine, try frosting your next cupcakes with my Red Wine Buttercream!Though I love how quick and easy this affogato dessert is, I also want to try this Fudge Swirled Red Wine Black Cherry Ice Cream from Pedantic Foodie!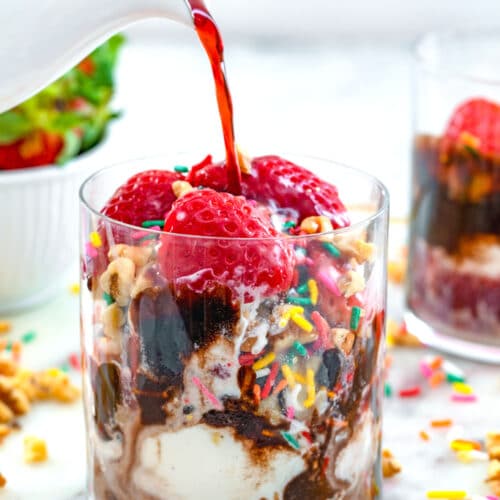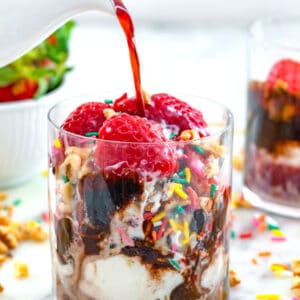 Red Wine Affogato
Not in the mood for coffee? Choose wine instead and combine your favorite red with vanilla ice cream and fun toppings for this delicious Red Wine Affogato dessert.
Print
Pin
Rate
Ingredients
3

cups

vanilla ice cream

¼

cup

chocolate fudge sauce

(or chocolate syrup)

4

strawberries,

sliced

¼

cup

chopped walnuts

1

Tbsp

rainbow sprinkles

½

cup

red wine of your choice
Instructions
Divide ice cream between two glasses or bowls. Top with fudge sauce, strawberries, walnuts and sprinkles.

Pour red wine over the top of ice cream.

Top with more sprinkles if desired.
Notes
You can swap out vanilla ice cream for any flavor you choose and can also experiment with different wine varieties and toppings.
Share a Photo of Your Finished Recipe!
Mention @wearenotmartha and share a photo if you've made the recipe!