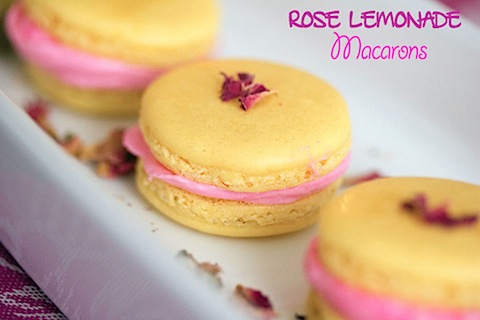 I wanted to start this post with some deep thoughts about macarons and how beautiful and lovely and French they are. But instead, all I can say is "You guys, I made macarons!! And they were smooth and not hollow and they had legs and omg I did it!!" And "No, I never thought I would be a person who knew what macaron legs are, but I do and I can do them!" OK, now that I got that out of my system, I can continue on. A couple weeks ago, Sucré, a New Orleans confectionary specializing in macarons, asked me if I wanted to be a part of their macaron challenge. I've never made macarons on my own. And I've been meaning to test my hand at them after spending the day making them with my mom and her friends about a year ago. So, this was the perfect motivation!
First, Sucré sent me a box of their macarons. That's when I realized I had a lot to live up to. I mean…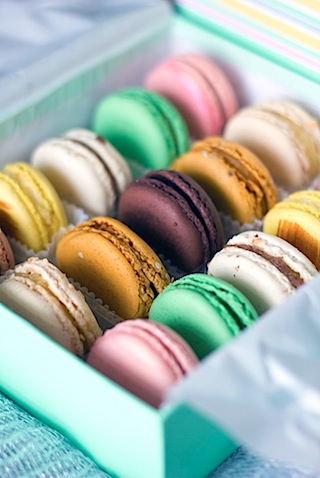 Stunning!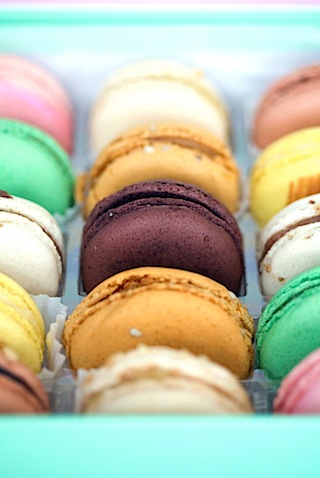 I obviously tried every single one of them and determined that my favorite flavors were the Strawberry (hello pink glitter!).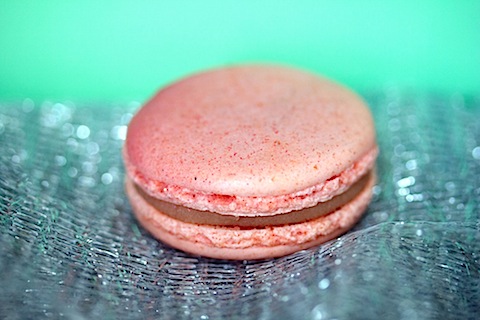 And Bananas Foster.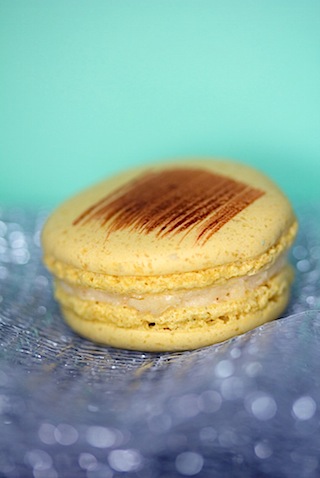 Sucré sent me their very own macaron recipe, but I know how finicky macarons are, so I stuck more closely to a tried and true Martha Stewart recipe. Generally, I'd never recommend making macarons without weighing ingredients, but the batteries died in my scale and I couldn't find any AAA batteries anywhere (and am clearly too lazy or too in my pajamas to get myself to a store), so I crossed my fingers and everything ended up working out. Hooray!
Also, I realyyyy wanted to make lavender lemonade macarons, but have somehow misplaced my giant bag of dried lavender. Weird thing to lose, right? Hopefully some day it will come back into my life… But for now, dried roses must suffice.
Rose Lemonade Macarons (makes about 32):
Print this recipe!
1 cup powdered sugar
3/4 cup almond flour
2 large egg whites, room temperature
Pinch of cream of tartar
1/4 cup granulated sugar
1 T lemon zest
Yellow gel food coloring
1 batch rose buttercream (recipe below)
Start by pulsing powdered sugar and almond flour in a food processor until combined. And then sift the mixture two times. I don't have a sifter and seriously hate sifting with my mesh strainer… So I basically whisked the sugar and almond flour together as best I could.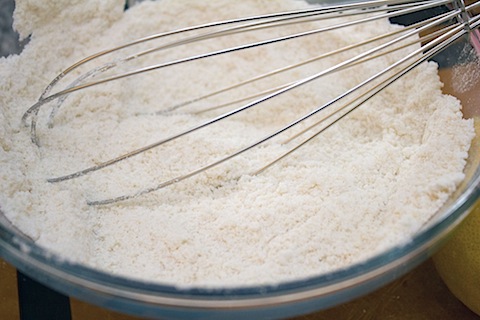 In case you're uncertain where to find almond flour, I highly recommend seeking out Bob's Red Mill. It can be found in most major grocery stores… Or on Amazon
. If you're going to be making a lot of macarons, the four-pack is a good deal.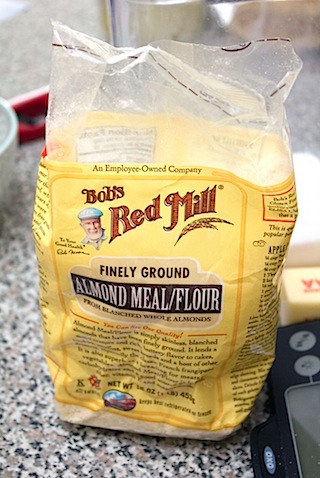 Here is where I utilize Martha's technique. In the bowl of a stand mixer, whisk the egg whites on medium speed until foamy.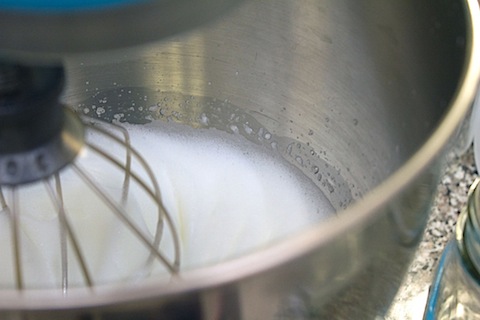 Then add the cream of tartar and lemon zest.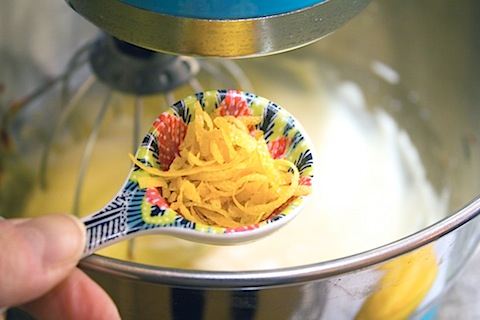 And continue to whisk until soft peaks form.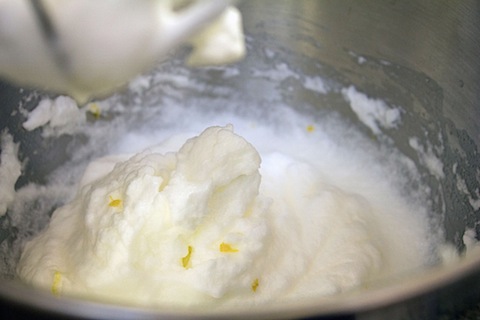 Now reduce the speed to low and add the granulated sugar and gel food coloring. Increase speed back to high and whisk until stiff peaks form, about 8 minutes.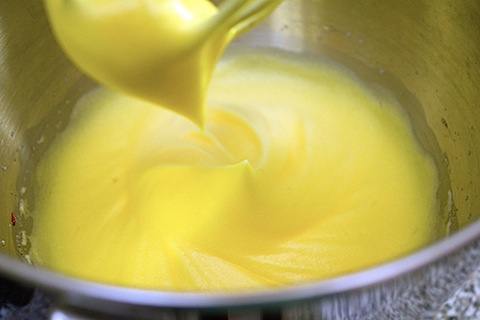 Now you're ready to fold the almond flour mixture into whites. Continue to fold until the mixture is smooth and shiny (I say about 25-35 folds, scraping the spatula against the side of the bowl).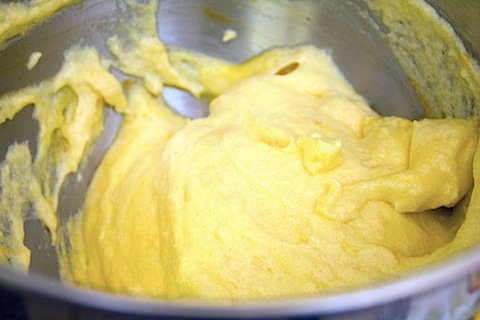 Put the batter in a pastry bag with a plain round tip. On a parchment paper-lined baking sheet, pipe 3/4-inch rounds of batter, about 1 inch apart, doing your best not to form peaks on the tops of the macarons. Tap the baking sheets on your counter a few times in order to release any trapped air in the macarons. Then leave the macarons alone for about 30 minutes to an hour. After letting them sit, you should be able to touch them with the tip of your finger and not have the batter come away on your finger. Letting them sit will allow your macarons to form a bit of a crust.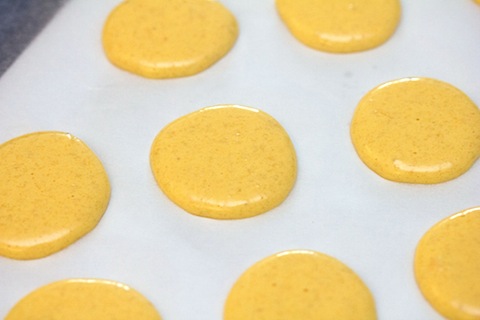 Now, the whole oven heating process is a bit strange, too, but it totally worked for me. While macarons are resting, heat oven to 375 degrees. Once macarons are ready, lower the oven temperature to 325 degrees. Pop one of the baking sheets in the oven, rotating it halfway through, until macarons are firm, but not browning, about 10 minutes.
If you have more than one tray to bake, maker sure you bring the oven temperature back to 375 degrees, letting it remain at that temperature for five minutes, and then reducing back to 325 degrees.
Let the macarons cool on their baking sheets for a few minutes (Look! My macarons have feet!).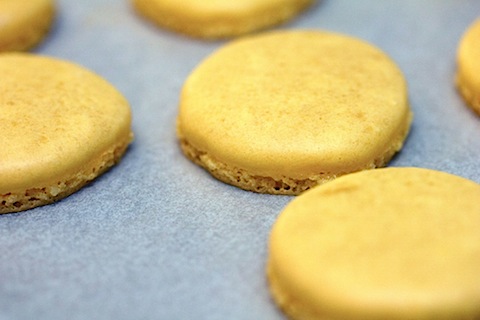 Before moving to a wire rack to cool completely.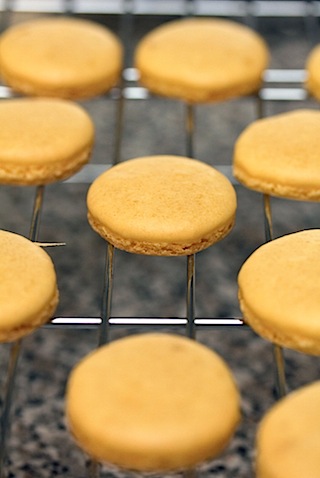 Rose Buttercream:
Print recipe!
1/2 C milk
3 T ground dried rose buds
1 C butter (2 sticks), room temperature
3- 3 1/2 C powdered sugar
Pink food coloring
I ground my rose buds up as much as possible with my mortar and pestle.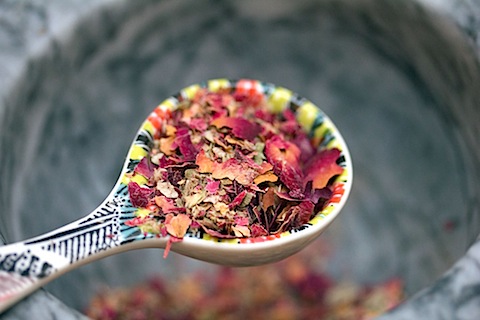 Then brought the milk and ground dried rose buds to a simmer over medium heat in a saucepan.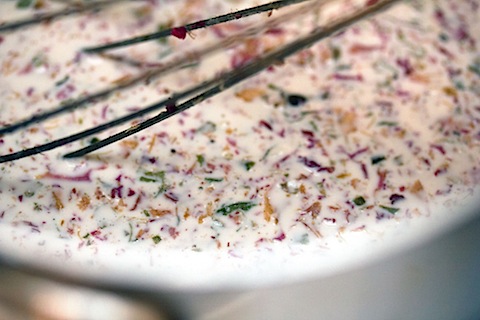 I let them seep for 15 minutes and then strained the roses from the milk.
Then I whipped up a typical buttercream by beating the butter and one cup of powdered sugar in the bowl of a stand mixer. I continued to add more sugar (one cup at a time until all three had been added) and beating until nice and creamy. Then I mixed in the pink food coloring and 3 T of the rose milk. If the buttercream is too runny, add in that extra 1/2 cup sugar.
Put the buttercream in a pastry bag and pipe it onto one of the cooled macarons. Top with another. You can add a little rose bud on top, too (I used a little simple sugar to adhere).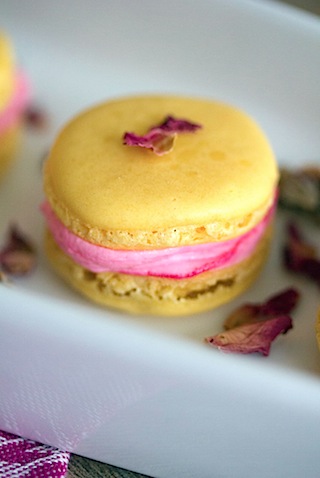 I'm just going to cheer one more time. Hooray! I made macarons.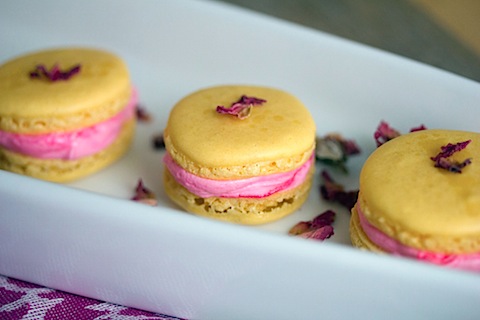 These macarons were the most lovely amount of lemony. Not too overpowering since I only added zest and not juice (I was too scared to add any liquid to my batter). The buttercream wasn't too rosy tasting either; but combined they made for a rose lemonade flavor that reminded me of summer.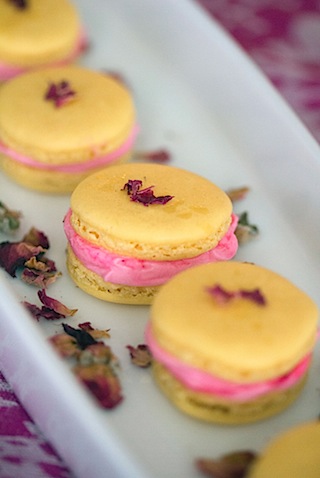 Plus, I was kind of partial to the colors.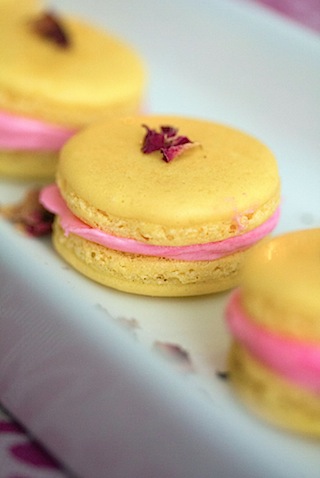 And really, just the fact that I made macarons all by myself and that when I bit into them, they had the perfect crispy on the outside and chewy on the inside consistency.
While I'm very sorry you can't actually try my macrons (unless, of course, you make them yourself!), I would love it if you'd vote for me in the Sucré competition.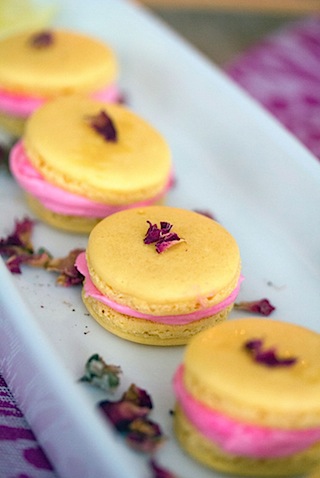 There are a lot of majorly talented macaron bakers in this competition and let's be honest, I'm only getting started in my macaron career. But if I did happen to win, I'd win a Sucré Macaron Subscription, which basically means macarons all year long (without even turning on my oven). And a box of Sucré macarons delivered to my door each month would make me immensely happy.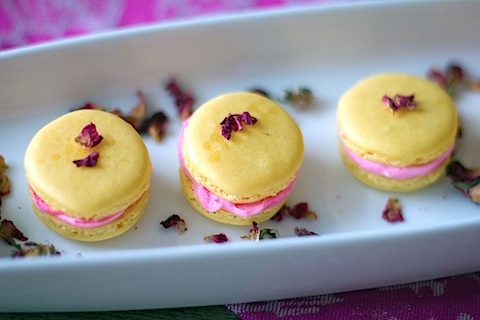 But even if I don't win, I have a feeling macarons will still be appearing in my kitchen on a regular basis from now on. Because I can think of about 150 million different varieties I want to try making. I don't even know where to start. Maybe I'll start by finding my dried lavender. Hmmph.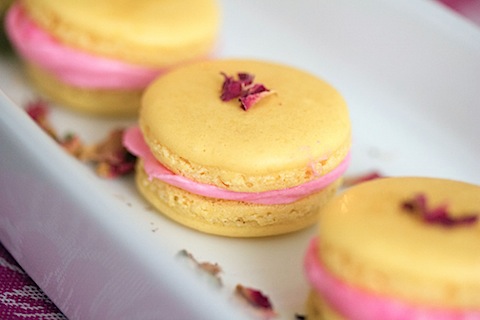 If you have a second, please vote for me! And now I am off to bed to have sweet macaron dreams. Seriously though.
First of all, have you made macarons before? Second of all, what kind of macarons do you think I should make next?
[Sues]