This BBQ Chicken Pizza is inspired by a menu favorite from California Pizza Kitchen. With simple ingredients and a homemade crust (or store-bought if you want!), it can easily be made and enjoyed at home.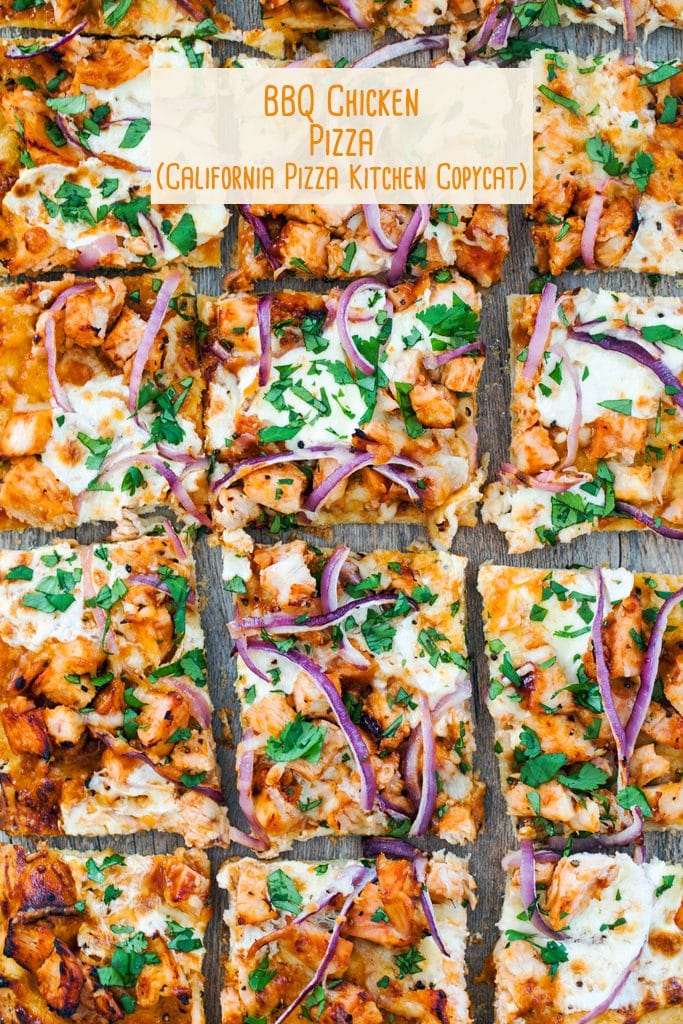 First, let me start off by saying that once upon a time, I adored California Pizza Kitchen's BBQ Chicken Pizza. CPK is one of those places I would eat at after as a broke just-out-of-college girl after a busy day of "window shopping" at Copley Plaza in Boston.
These days, if I'm going out to eat, I like to go to non-chain restaurants, especially since there's always something new opening in the Boston-area.
But I still think about that pizza sometimes and get all kinds of nostalgic. So, I did what any pizza obsessed blogger would do, I made my own California Pizza Kitchen BBQ Chicken Pizza at home!
Though the ingredients seemed pretty obvious, I based the recipe off The Pioneer Women's CPK BBQ Chicken Pizza recipe (and through her commenters learned that smoke gouda is the magic ingredient!).
How to Make California Pizza Kitchen BBQ Chicken Pizza
First, you have to make your dough. It's just so simple and yes, it might make a little bit of a floury mess on your countertop, but it's always worth it.
To be able to say you made the entire pizza from scratch is just admirable and your friends will think you're that much cooler.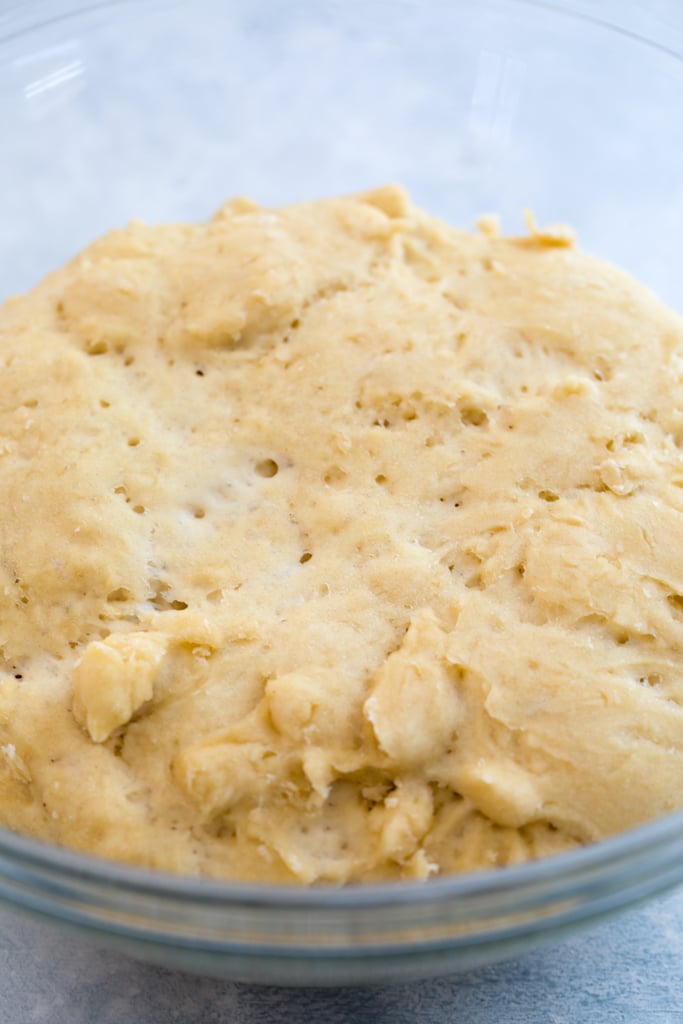 If you're really not in the mood to make your own (I promise, it will take about 5 minutes... Plus the 2 hours rising time), of course you can buy store-bought. Just be sure to note that this recipe makes two BBQ Chicken Pizzas, so either buy two pounds of dough or cut the topping ingredients in half.
Once the dough is made, smother the chicken breasts in BBQ sauce and bake them at 375 degrees for 15-20 minutes, until the chicken is cooked through and registers at 165 degrees.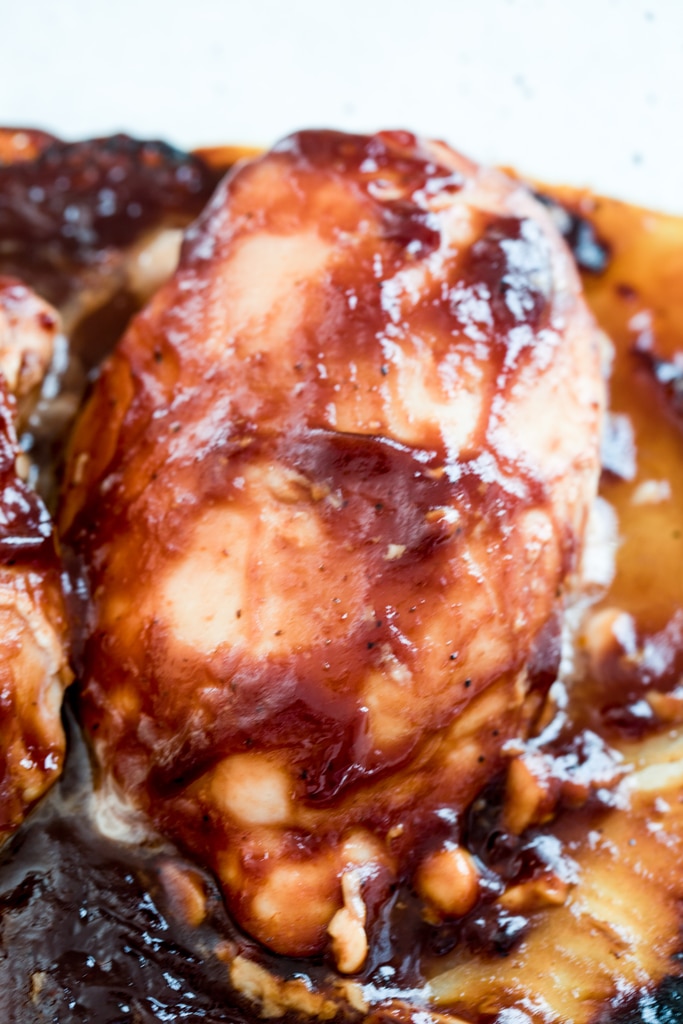 Then roll our your dough and brush a little more BBQ sauce over it.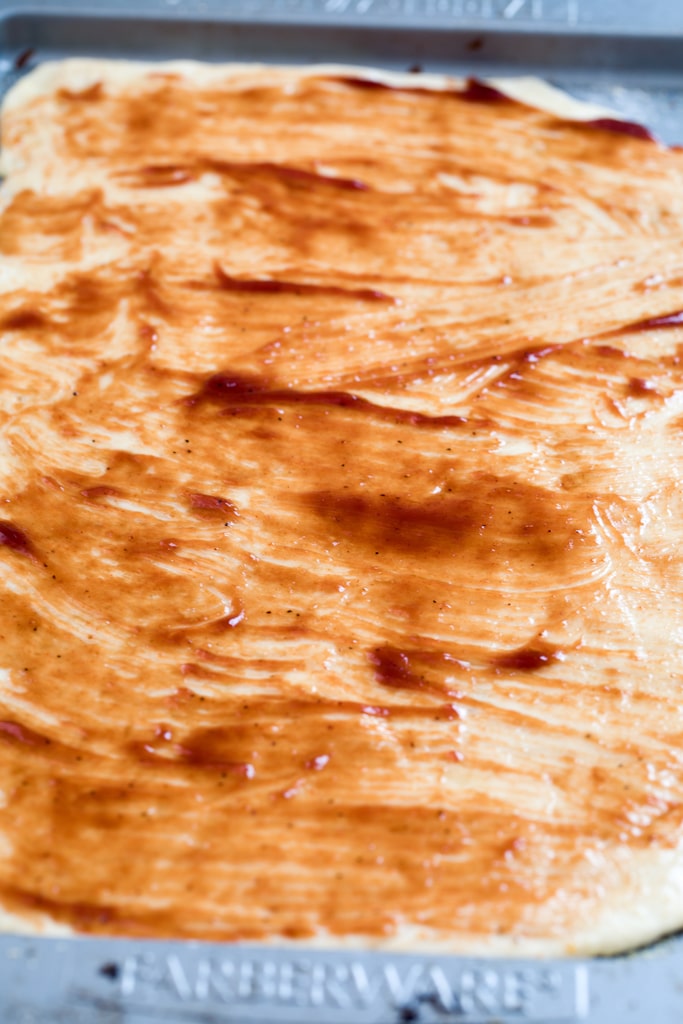 And add the rest of those beautiful toppings. There's actually not a ton you'll need for this BBQ chicken pizza; it's a beautifully simple one. Just add:
BBQ Chicken (that you already cooked)
Sliced Fresh Mozzarella
Shredded Gouda
Sliced Red Onion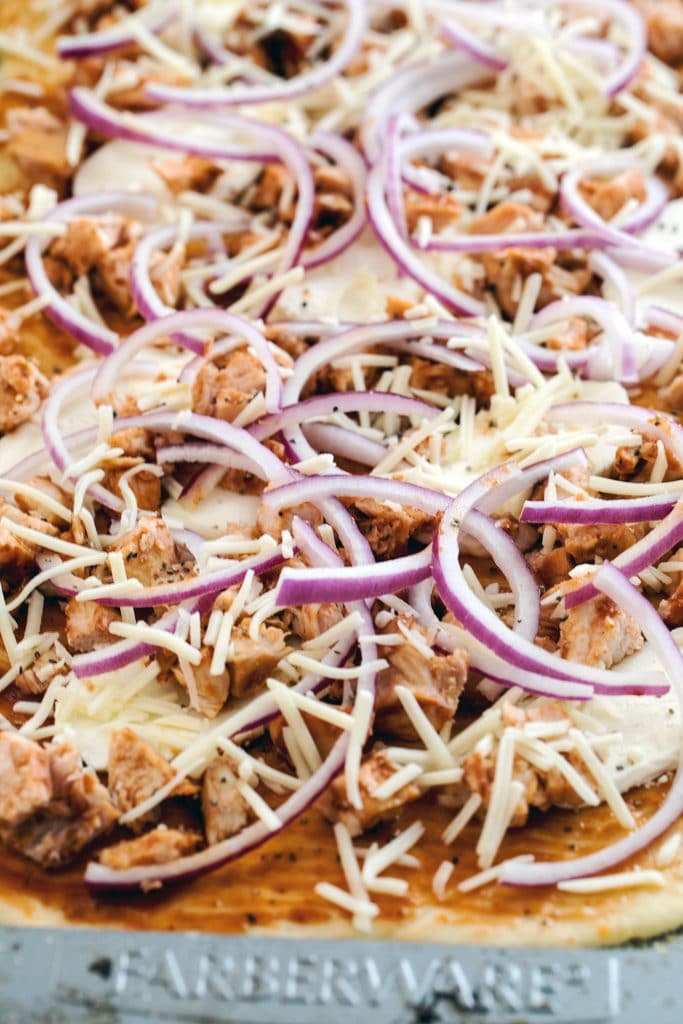 Once you bake it for 13-15 minutes at 500 degrees, it will be perfectly golden with the toppings nice and bubbly.
But don't forget to add the cilantro. I'm not even the biggest cilantro fan, but it's SO good here.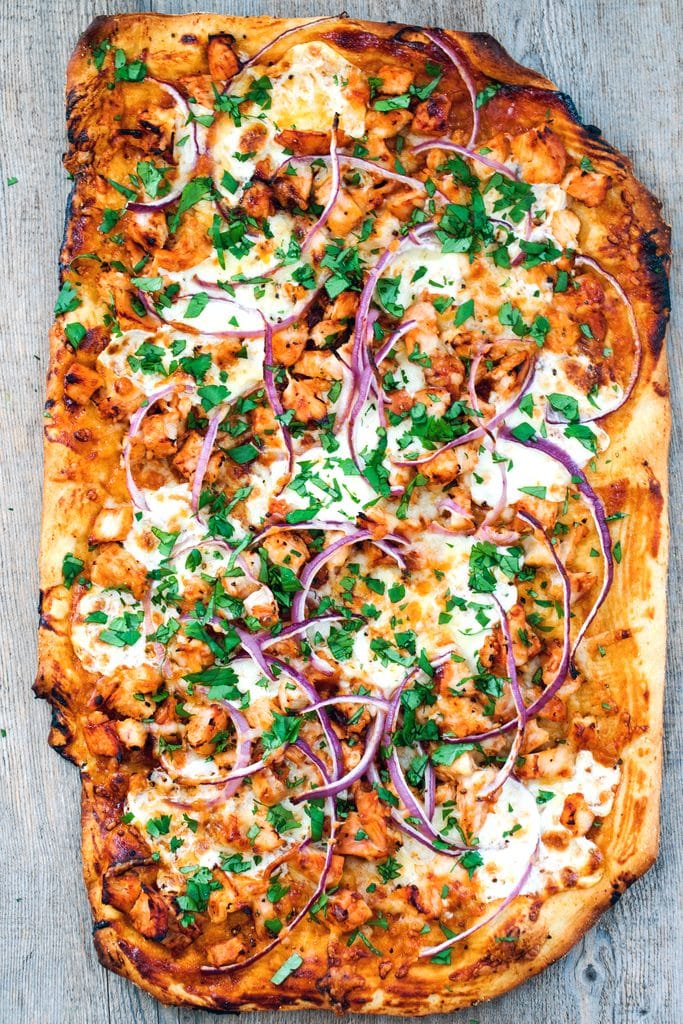 To serve the BBQ chicken pizza, cut it into square and serve nice and hot, fresh out of the oven.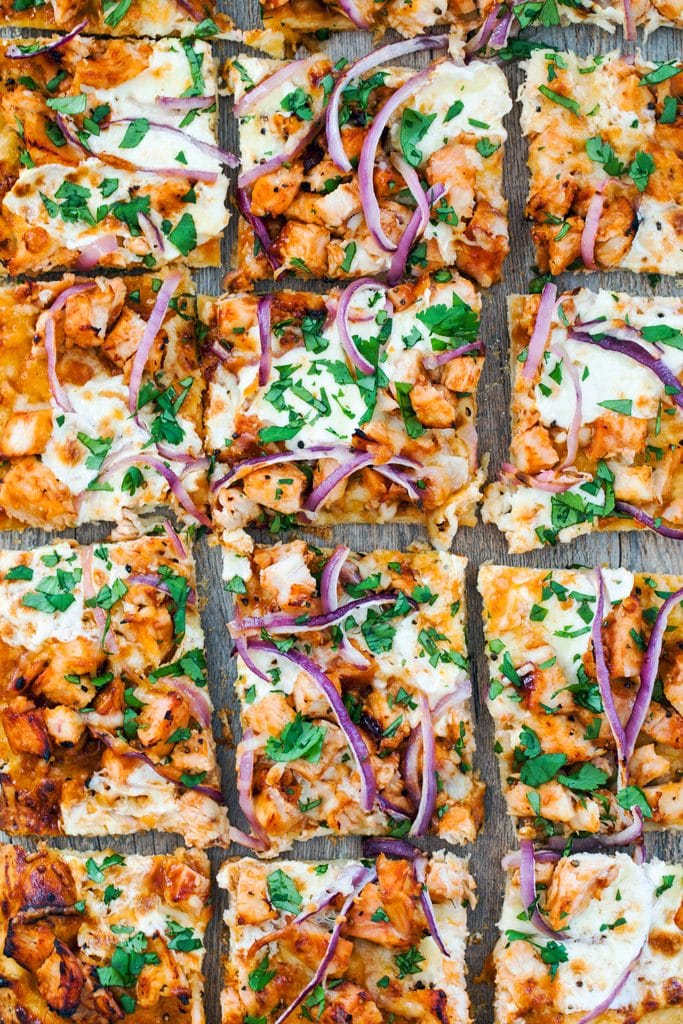 Did you know I am usually seriously anti-square pizza?? I have no idea why, but something about it brings back really bad memories for me (maybe school pizza??). If you take me out to a pizza shop or order me takeout and it's square pizza, I will not be a happy camper.
But when it comes to homemade, I love square pizza and make it often. I think I love that squares are generally smaller than normal pizza slices, which means you can eat more!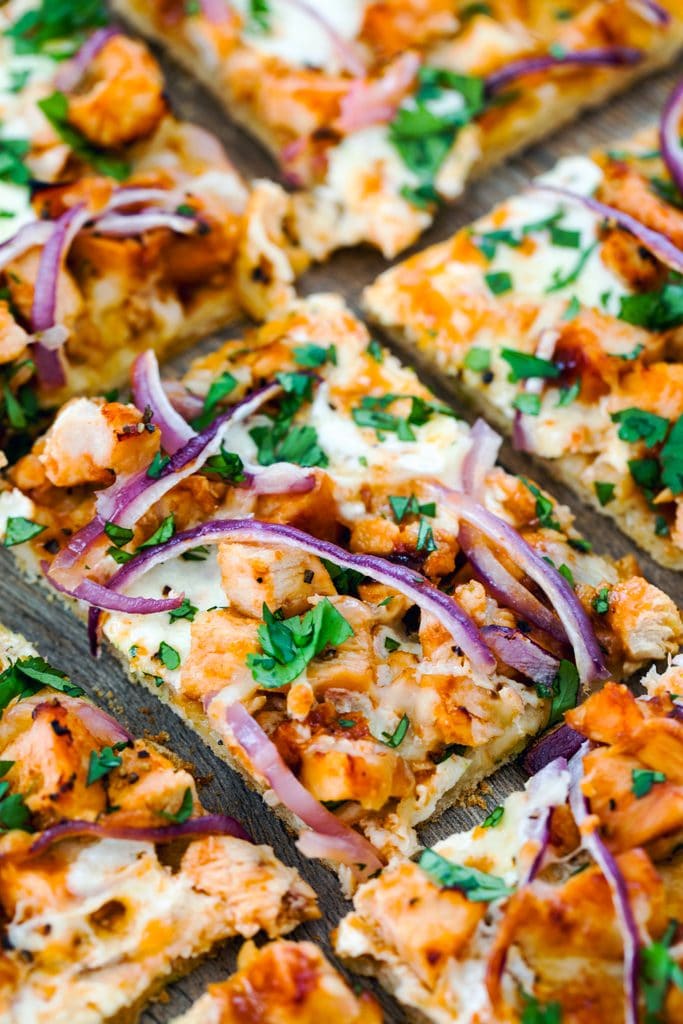 This CPK BBQ chicken pizza did not last long in this house. I really love the BBQ sauce base over traditional tomato sauce and naturally BBQ goes superbly with chicken.
It's basically a no-fail recipe and an automatic people-pleasing pizza! It's especially perfect for a summer party and goes really well with beer. Trust me on this!
I'm just thrilled I can have my California Pizza Kitchen BBQ chicken pizza without even leaving my house!
More Delicious Pizza Recipes
I always say I could eat a different pizza every night of the week and be perfectly happy. In fact, I think I could eat it for breakfast, lunch, and dinner for weeks at a time and be thrilled. Here are a few of my favorite pizza recipes:
Do you have a favorite restaurant pizza that you'd love to recreate at home?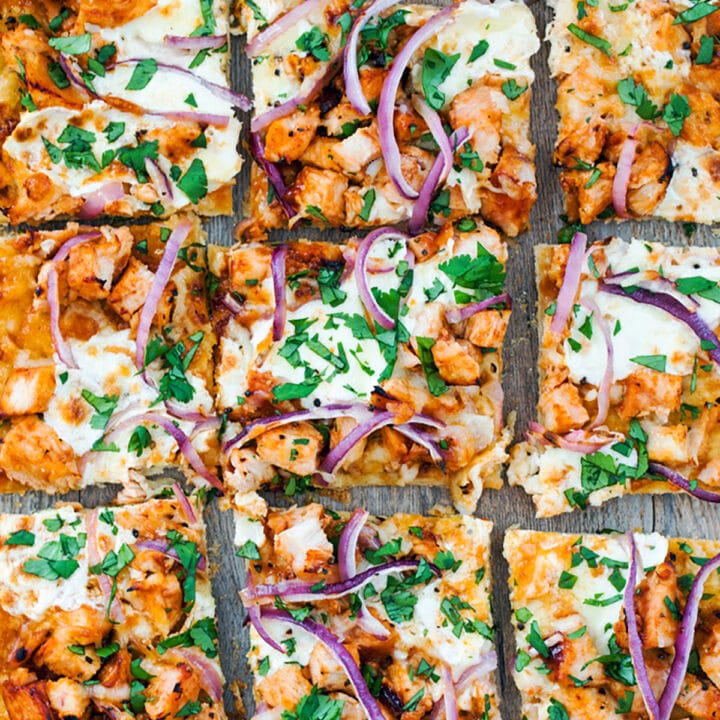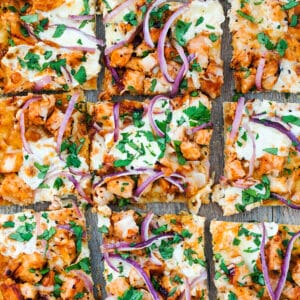 BBQ Chicken Pizza (California Pizza Kitchen Copycat)
This BBQ Chicken Pizza is inspired by a menu favorite from California Pizza Kitchen. With simple ingredients and a homemade crust (or store-bought if you want!), it can easily be made and enjoyed at home.
Print
Pin
Rate
Ingredients
1

lb.

boneless skinless chicken breasts

Salt and pepper

1

cup + 2 Tbsp

BBQ sauce,

divided

Pizza Dough

(recipe below or 2 lbs. store-bought)

Olive oil,

to drizzle

12

oz.

sliced fresh mozzarella cheese

1

cup

shredded smoked gouda cheese

1

small red onion,

thinly sliced

Chopped cilantro,

for garnish
Pizza Dough
¾

Tbsp

active dry yeast

1 ½

cups

lukewarm water

¾

Tbsp

salt

1 ½

tsp

granulated sugar

2

Tbsp

extra-virgin olive oil

3 ¼

cups

all-purpose flour
Instructions
Pre-heat oven to 375 degrees.

Lightly sprinkle salt and pepper on both sides of chicken breasts and place in an oven-safe baking dish. Pour ¾ cup BBQ sauce over the chicken making sure to coat both sides. Bake for about 15-20 minutes, until the chicken is cooked through and registers at 165 degrees.

Remove chicken from the oven and increase oven temperature to 500 degrees. Let chicken cool slightly and dice into small cubes.

Divide pizza dough into two portions and roll and stretch one out to fit on a rimmed sheet pan sprinkled lightly with corn meal. Drizzle with a touch of olive oil and season lightly with salt.

Drizzle 3 Tbsp BBQ sauce over dough and smooth out with a brush or the back of a spoon. Place half of the fresh mozzarella on dough, add half the chicken, sprinkle half the smoked gouda, and add half the sliced onion. Repeat with second portion of dough.

Place pizzas in oven and bake for 13-15 minutes, until crust is golden and toppings are bubbly. Remove from oven and sprinkle with cilantro. Slice and serve.
Pizza Dough
Mix yeast and water in a large bowl and let rest for 2 minutes.

Stir salt, sugar, and extra-virgin olive oil into the mixture.

With a wooden spoon, mix the flour into the mixture.

Cover bowl with a kitchen towel and let rest in a warm spot for about 2 hours, so dough can rise.
Notes
If you only want to make one pizza, you can wrap second portion of dough in plastic wrap and keep it in the fridge for about 7 days. You can also put dough in freezer for up to 3 months and defrost in fridge overnight before using. Be sure to divide pizza topping ingredients in half if only making one pizza!
Please note recipe cook time does not account for 2 hours of dough rising time.
Adapted from The Pioneer Woman
Share a Photo of Your Finished Recipe!
Mention @wearenotmartha and share a photo if you've made the recipe!