First, let me start off by saying I've adored CPK's BBQ Chicken Pizza since the first time I ate it a longgg time ago. Then, when I discovered they sold it frozen at the grocery store I just about thought life was complete. But, it gets even better. A while ago, while I was drooling at the Pioneer Woman's recipes, I discovered she had a homemade version of CPK's delicious pizza. And really, nothing beats homemade. So I immediately bookmarked the recipe for a perfect occasion.
Since friends were over for my Valentine's Day Brunch, I decided since we were spending the entire day together, why not make a simple and fun dinner, too? And what better dinner to make for a few close friends than a homemade pizza? Into the bookmarked folder I went!
First, you have to make your dough. I must say, Sues made me a believer in making my own pizza dough. It's just so simple and yes, it might make a little bit of a floury mess on your countertop, but it's worth it. To be able to say you made the entire pizza from scratch is just admirable and your friends will think you're that much cooler 😉
For the dough I used Ree's recipe for her basic pizza crust which is enough to make two pizzas.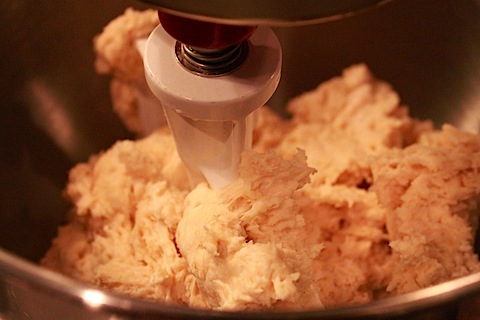 For one pizza you'll need: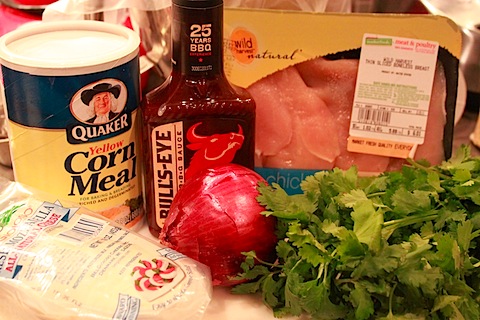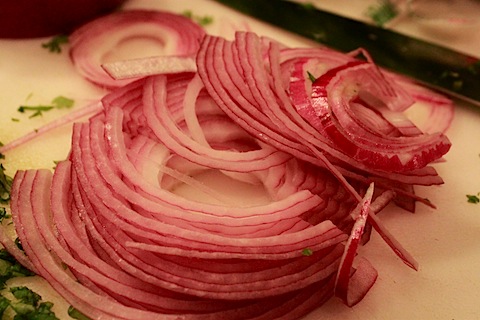 • 1/2 of the basic pizza crust
• 3 boneless, skinless thinly sliced chicken breasts
• 1/2 cup barbeque sauce (I love Bull's Eye)
• Olive oil, to drizzle
• salt
• 8 ounces of mozzarella cheese, thinly sliced (you can use as much or as little cheese as you'd like)
• 1/2 red onion, very thinly sliced
• chopped cilantro, for garnish and to taste
Here's what you do:
• Preheat your oven to 375 degrees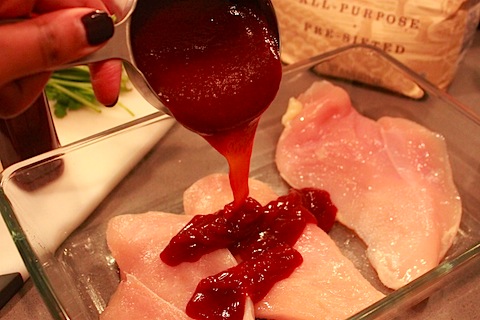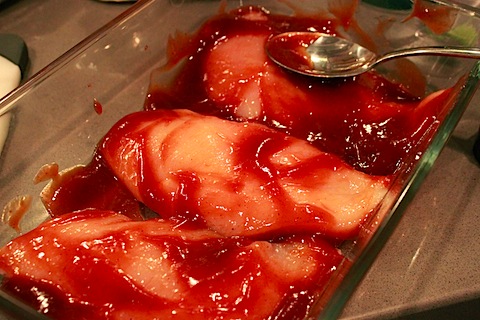 • Salt the chicken breasts on both sides and place in an oven-safe dish. Pour your barbeque sauce over the chicken making sure to coat both sides. Bake for about 15-20 minutes, until the chicken is done.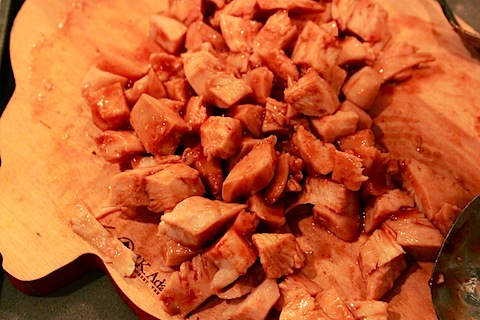 • Remove the chicken from the oven and dice. Try not to eat the perfectly coated cubes of chicken drenched in BBQ sauce. Try. Try. Try.
• Now, you're going to increase your oven temperature to 500 degrees. You have to get it nice and hot for the dough to get crispy and for the cheese to melt, of course!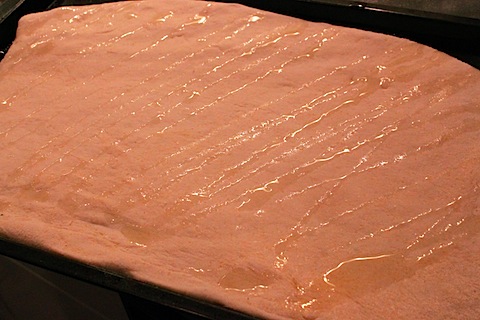 • Roll and stretch out your pizza crust to fit a rimmed sheet pan. Drizzle with a touch of olive oil and season lightly with salt. If you want, you can add a little corn meal underneath the dough so the crust doesn't stick.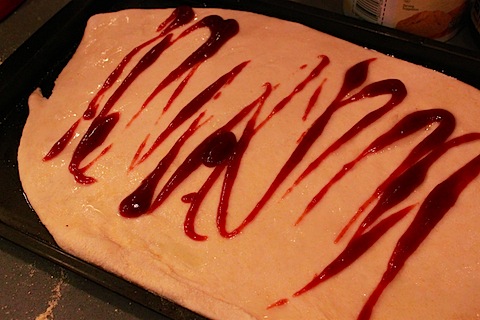 • Drizzle over a few extra tablespoons of BBQ sauce over the dough and smooth out with either a brush or the back of a spoon.
Now it's time to add the toppings… Only the best part!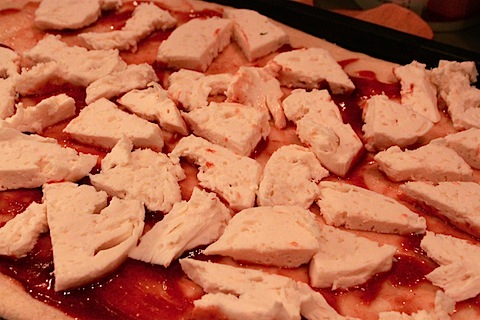 • Arrange your mozzarella…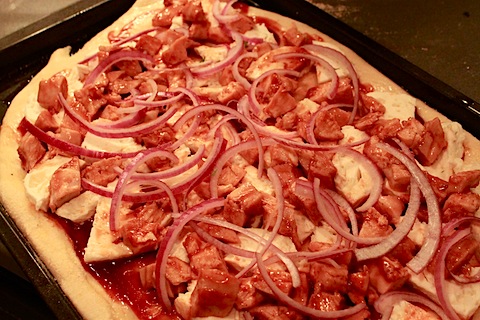 • Add the diced chicken and top off with your sliced red onion.
• Sprinkle with salt and bake for about 15 minutes. Towards the end of the cooking time I usually take the pizza off of the sheet pan and slide it directly onto the oven rack to ensure the crust is golden brown. I like a crunchier pizza crust 😉
• When the pizza is finished baking, remove from oven, and sprinkle a generous amount of cilantro over the top. Not only does it add additional flavor but the extra bit of green is a necessary touch!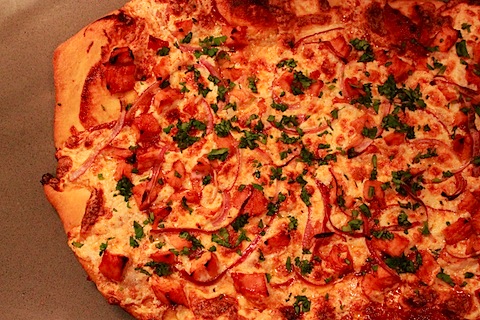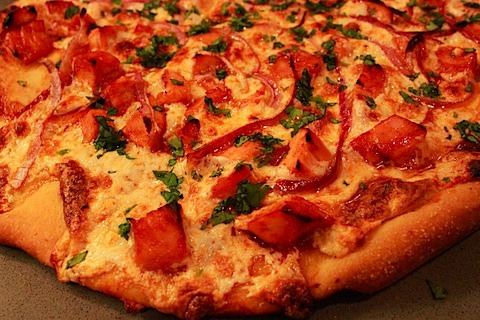 To serve, cut into square and serve nice and hot, fresh out of the oven.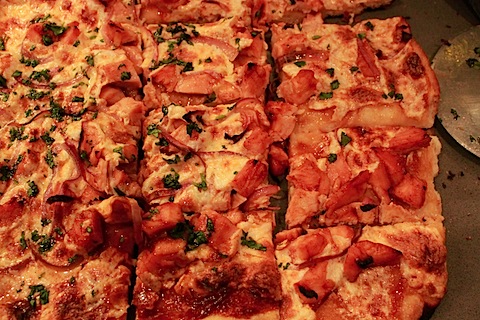 This pizza did not last long in this house. I really love the barbeque sauce base over traditional tomato sauce and naturally bbq goes superbly with chicken. It's basically a no-fail recipe and an automatic people-pleasing pizza!
Now I have to figure out what to do with the other half of my dough… What is your favorite homemade pizza recipe? Go!
——————
We were on TV!
If you missed Tuesday night's episode of Chronicle, be sure to check it out here! Sues and I were featured in their Escape to Nowhere show about different ways to beat the winter blues by finding hidden gems across the state. Chronicle is such a prominent show here in New England and we were absolutely flattered to have been asked to participate since we've both been watching since we were kids! Thank you so much, Chronicle!
[Chels]