Take your traditional holiday cranberry sauce and give it a cocktail twist! Rum, mint, and lime juice star in this Mojito Cranberry Sauce, perfect for your Thanksgiving or Christmas dinner.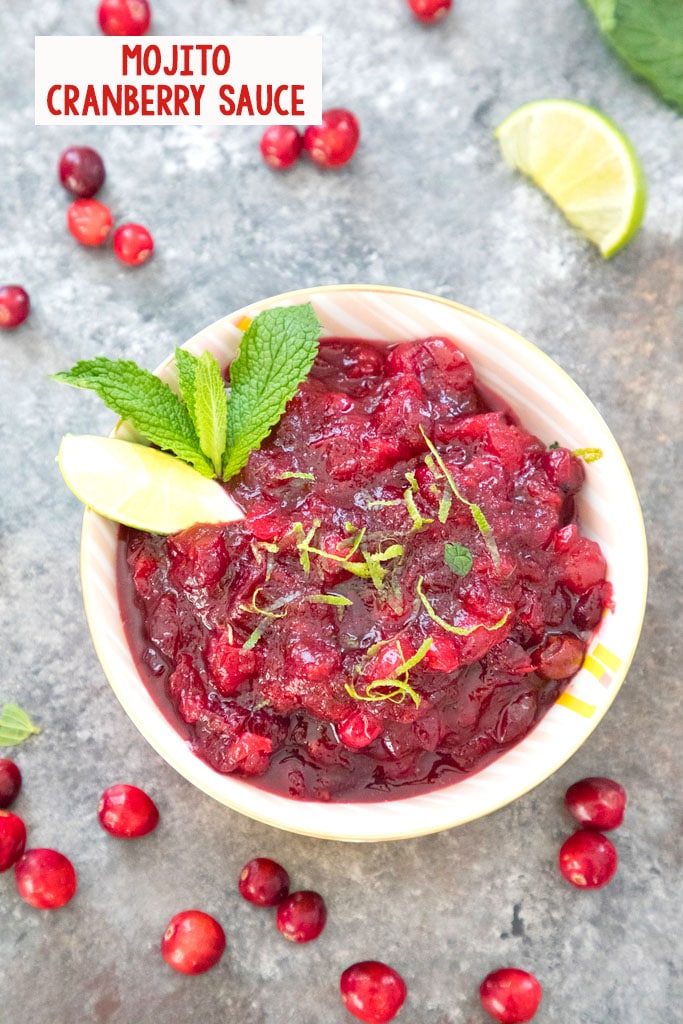 Guys, I think I'm officially old. I mean, I could totally list a million reasons why, but nothing demonstrates it better than my Saturday night. Basically, I spent Saturday night at home cleaning my house. Sign #1 I am no longer a spring chicken.
Chris went to pick Winnie up from the groomer while I put on my yoga pants, grabbed a seltzer water, and ran around dusting and tidying. Wild and crazy Saturday night! At one point, I decided I needed to get rid of the 8031 books on my bedroom nightstand and move them to the bookshelf in our family room.
So, I grabbed a stack and headed down the stairs. But somehow my shoe slipped on one of the top steps and I fell alllll the way down. On my butt. My shoes came off, books went flying, and I literally laid on the stairs crying, unable to move. It hurt so badly. I finally pulled myself together and limped my way back upstairs to lay down on the bed, which hurt even more.
And now, here we are 5 days later and my butt is absolutely killing me. It hurts to sit. It hurts to walk. It hurts to bend over to pick something up off the floor. And I feel like such an old lady. Not only did I fall down the stairs, but I did so carrying a stack of books. While cleaning. On a Saturday night. Also, no alcohol was involved. Just seltzer water.
When Chris got home, he actually said, "We should get an Amazon Alexa so if something like that ever happens again, you can just say 'Alexa, call 911.'" Like, really?? Am I at LifeAlert status now??
Still, I promise... I still know how to have fun! Look! You know I still love my cocktails. And adding beer, wine, and liquor to many of my recipes. And now, I've made cranberry sauce with rum in it. Mojito Cranberry Sauce, if you will.
You see... years and years ago, I made Cranberry Mojitos for the holidays and they've ended up being one of my most popular cocktail recipes over the years.
Last year, my cranberry obsession grew and I made my own cranberry juice at least four times over the course of the winter (and this delicious hot spiced cranberry cocktail).
I've been so excited that cranberries are back in season again and I've been dreaming of my Cranberry Mojitos for weeks. And then it hit me, why not enjoy my mojitos in cranberry sauce form, too? So, I did.
Mojito Cranberry Sauce Recipe
Cranberry sauce tends to be a bit polarizing with people either loving or hating it (and some preferring only the canned variety). I absolutely love all things tart, so I'm always on board with it... It wouldn't be Thanksgiving or Christmas without cranberry sauce!
But how you make it totally matters. If you aren't really a fan of the normal stuff, I recommend kicking it up a bit with rum, mint, and lime juice.
Start with some beautiful fresh cranberries!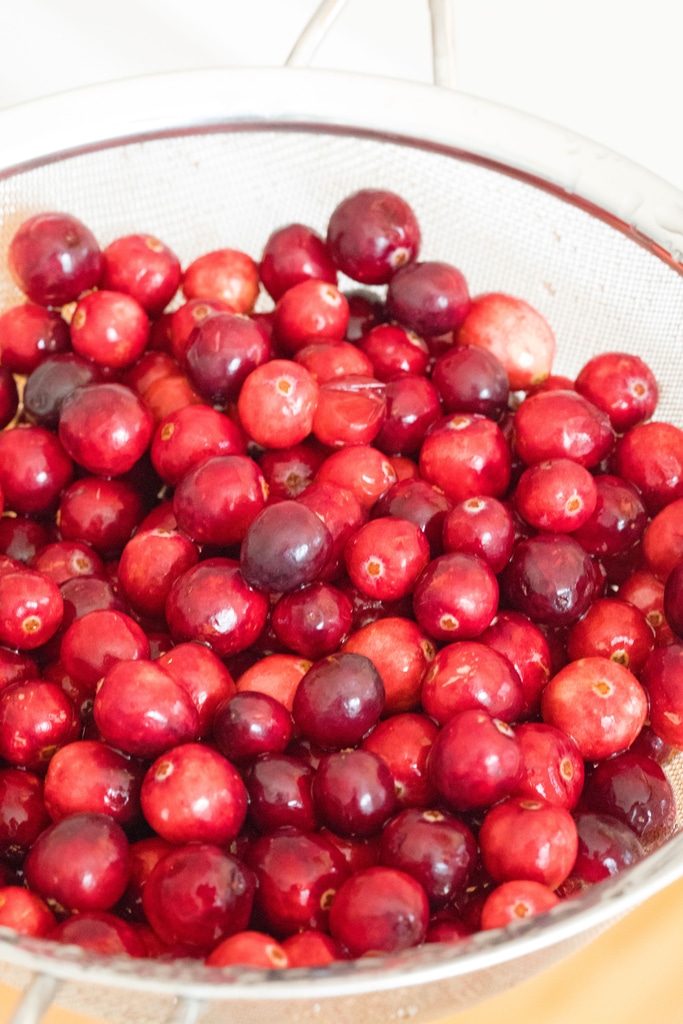 All you have to do is combine the cranberries with sugar, water, rum, lime zest and juice, and mint.
Bring the mixture to a boil and then let simmer for about 10 minutes., until cranberries start bursting.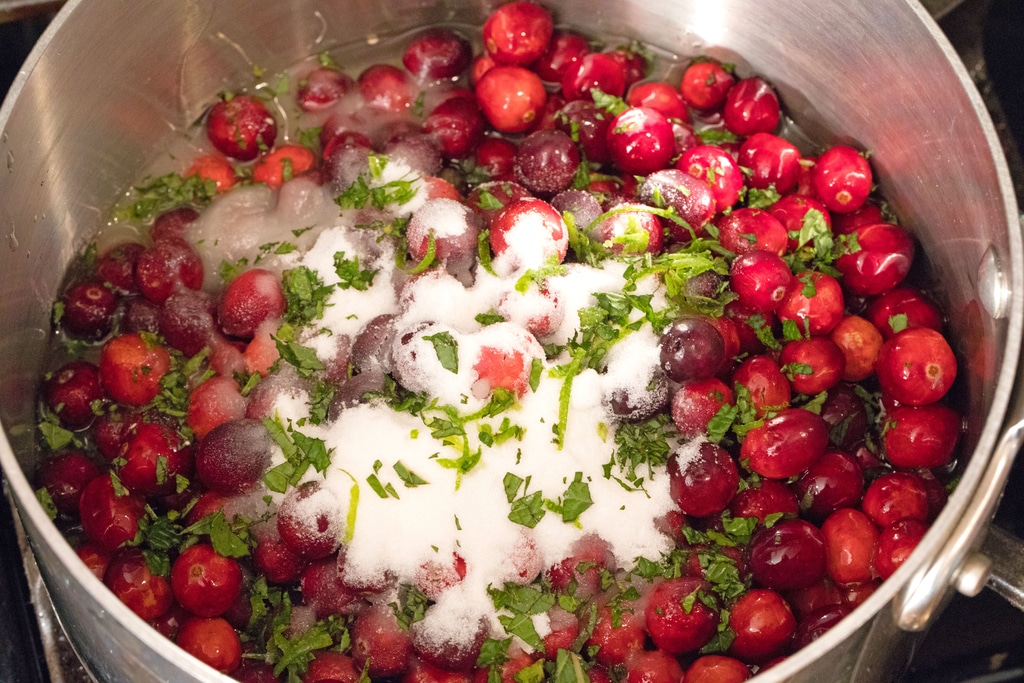 Once you remove from the heat, you'll stir in a little bit more rum (because why not?!) and some more lime zest and mint.
Obviously we've got some major Christmas colors going on here. But that doesn't mean mojito cranberry sauce is a Christmas only side dish. And with Thanksgiving just four weeks away (hold me!), I know lots of people are already starting to meal plan.
My family is quite traditional when it comes to Thanksgiving, meaning we have our favorite dishes and find it tough to veer and add new dishes without going overboard.
But I might have to put out a petition to get this cranberry sauce added to the menu this year. Hoping I'll get enough votes for it to pass! Our Thanksgiving consists of 8 adults and 2 toddlers all who don't even love cranberry sauce, so something tells me I can get this one through.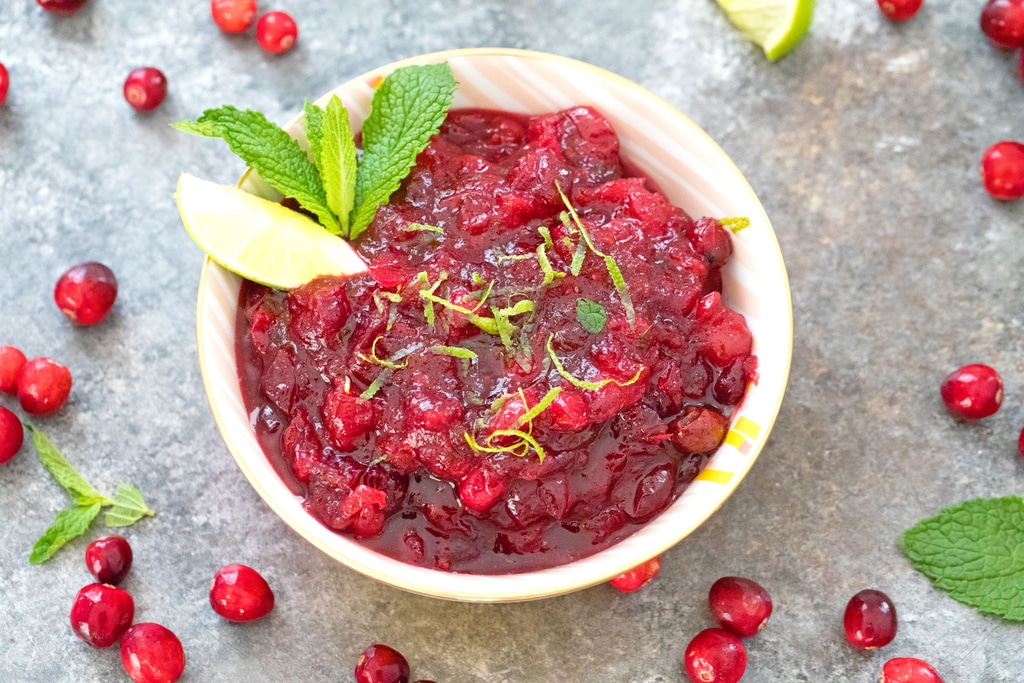 More Unique Cranberry Sauce Ideas
If mojitos aren't your favorite cocktail, but you like the idea of a boozy cranberry sauce, here are a few other ideas:
Cosmopolitan Cranberry Sauce: since cosmos are already cranberry based, just add vodka and lime with a little cointreau
Margarita Cranberry Sauce: use tequila, lime, and orange cointreau (or simply orange juice)
Old Fashioned Cranberry Sauce: use bourbon and orange juice
Moscow Mule Cranberry Sauce: use vodka, ginger, and lime
Who knew so many cocktails made for such delicious cranberry sauces??
Now, if you're someone who thinks you don't like cranberry sauce because you never have, I'm begging you to please try this mojito cranberry sauce!
Love for tart flavors can often grow as you get older and while kids often scrunch their little faces up to sour, you might find that you actually enjoy it as an adult. Or that foods you thought were ridiculously tart actually aren't anymore.
Though my three-year-old nephews seriously love sucking on lemon and lime wedges, so I'm sure the opposite can be true, too. My theory is that it's always good to occasionally try foods you think you hate because you never know how your tastes have changed.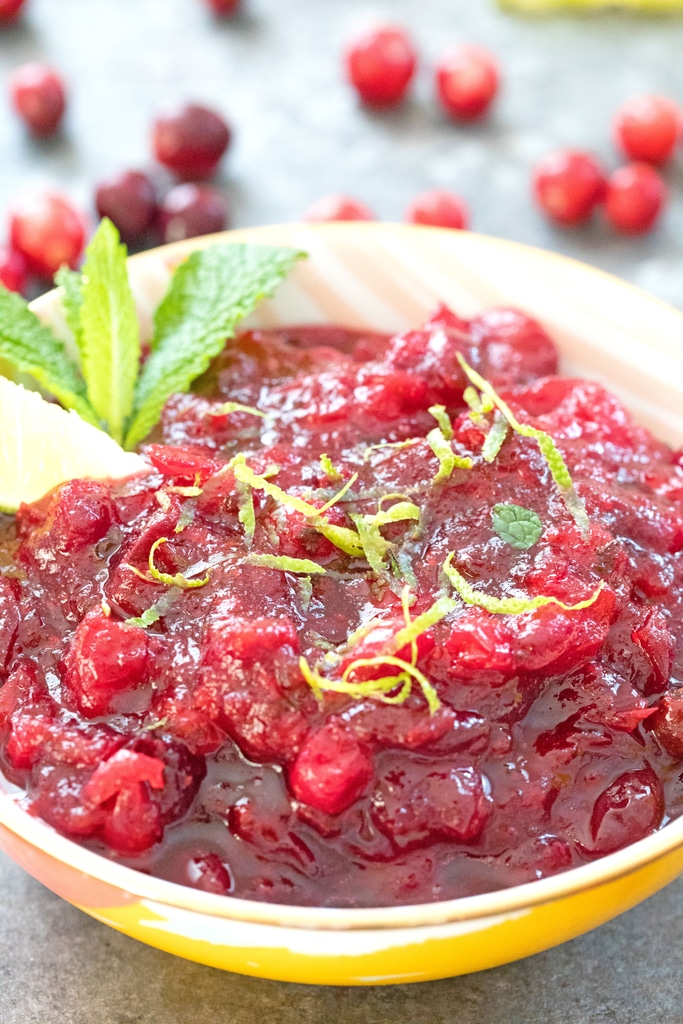 Also? You can always make cranberry sauce sweeter by adding more sugar! I didn't use a ton of sugar in this recipe (compared to other cranberry sauce recipes) because I like tartness and wanted to mojito flavor to be the star, but there's nothing wrong with adding a little more sweetness.
We also need to talk about the mojito flavor! Don't worry, the rum isn't overpowering in this sauce, but it's definitely present, along with the lime juice and mint. This side dish truly tastes like cranberry mojito cocktails and I couldn't be more excited about it.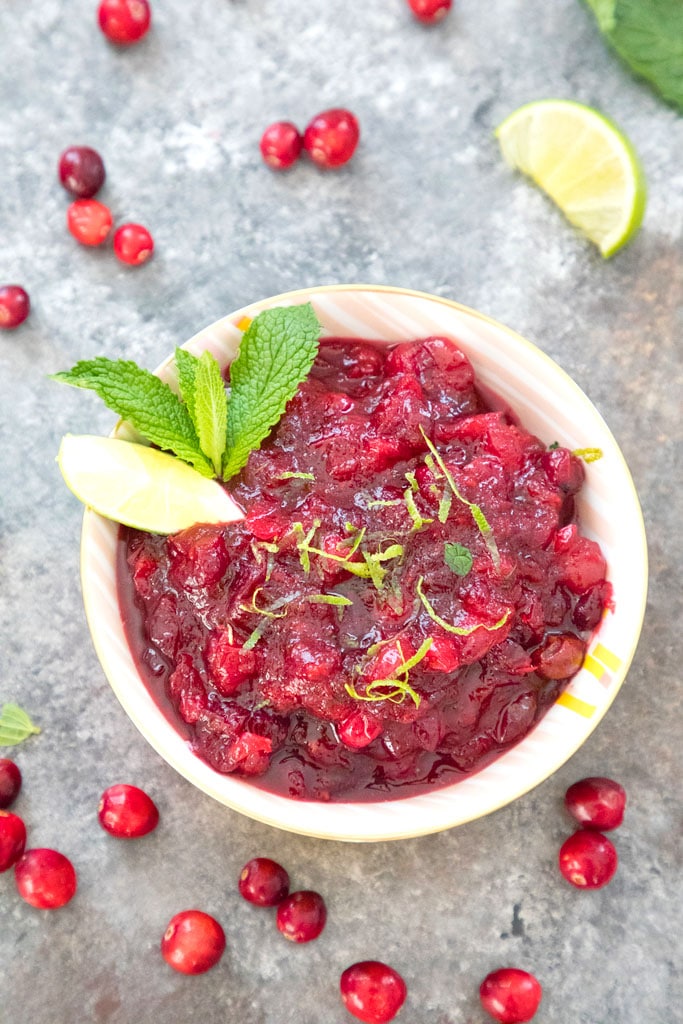 At the risk of sounding even more lame than I already do, after I took my fall down the stairs on Saturday, I sat (uncomfortably) on the couch and ate this straight out of the bowl for dessert. And it was perfect.
And I'm officially at the age where my idea of the ideal Saturday night involves cranberry sauce. Huh.
Additional Thanksgiving Side Dish Ideas
If you're looking for more ideas for fun Thanksgiving side dishes, check out some of my other recipes:
And be sure to check out my comprehensive guide on cooking Thanksgiving turkey to ensure that your main dish is also perfectly delicious.
I also really want to add this Cheddar Herb Sweet Potato Mash from Ginger with Spice to my Thanksgiving menu!
Are you planning Thanksgiving dinner yet? What kind of cranberry dish do you typically enjoy?
📖 Recipe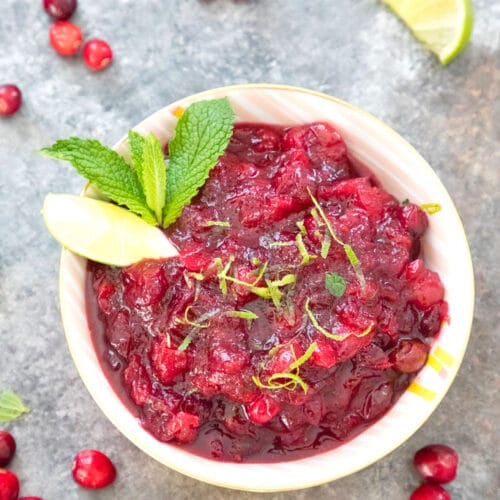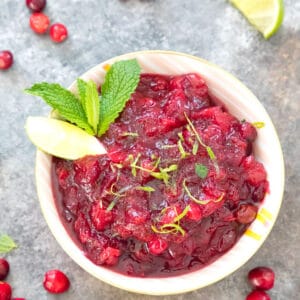 Mojito Cranberry Sauce
Take your traditional holiday cranberry sauce and give it a cocktail twist! Rum, mint, and lime juice star in this Mojito Cranberry Sauce, perfect for your Thanksgiving or Christmas dinner.

Print
Pin
Rate
Ingredients
12

oz

fresh or frozen cranberries

(1 bag)

¾

cup

granulated sugar

⅓

cup

water

3

Tbsp, plus 2 tsp

rum

2

Tbsp

freshly squeezed lime juice

2

tsp

lime zest,

divided

1

Tbsp, plus 1 tsp

chopped fresh mint
Instructions
In a medium saucepan, combine cranberries, sugar, water, 3 Tbsp rum, lime juice, 1 tsp lime zest, and 1 Tbsp chopped mint. Stir to combine.

Over medium heat, bring mixture to a boil and then lower heat and let simmer for about 10 minutes minutes, until cranberries start bursting.

Remove saucepan from heat and stir in remaining 2 tsp rum, 1 tsp lime zest, and 1 tsp chopped mint.

Let cranberry sauce cool a bit before placing in fridge to cool completely. It will thicken up as it chills.
Share a Photo of Your Finished Recipe!
Mention @wearenotmartha and share a photo if you've made the recipe!