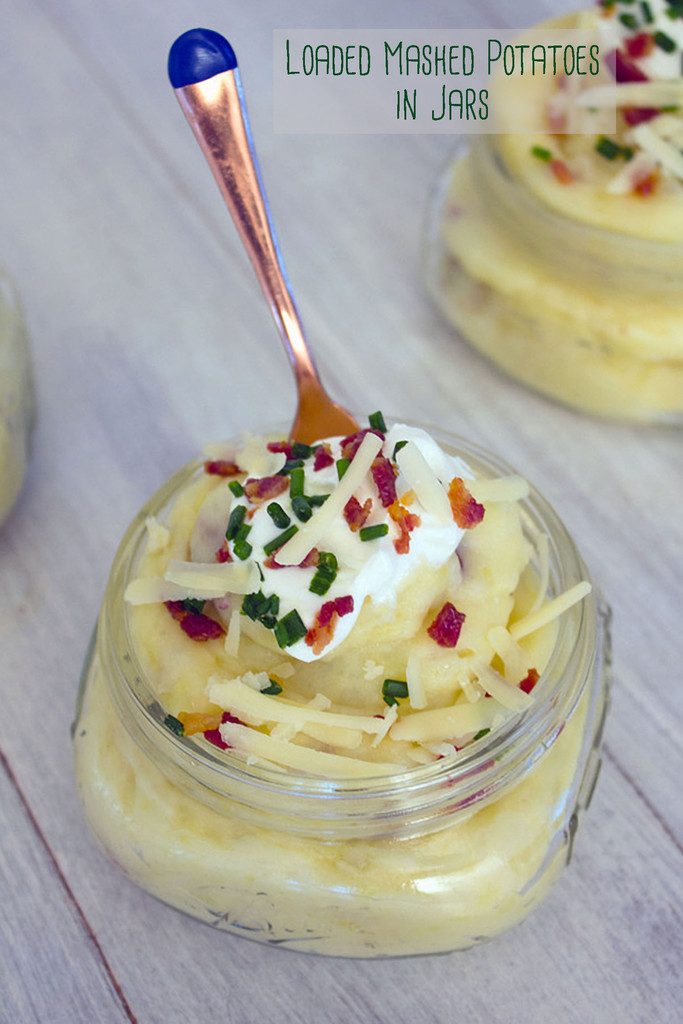 Want to hear something crazy? In the almost nine years I've had this blog, I've only used white potatoes (meaning non-sweet potatoes) in a total of four recipes. That's like one potato recipe every other year. And really, one of those recipes was for gnocchi, which I'm not even totally sure counts (do you ever actually feel like you're eating potatoes when you eat gnocchi??). I've probably said it about a billion times, but I'm just plain not a potato person and I do not understand everyone's obsession with them. I just feel like they're one of the world's most boring foods and I rarely get excited about them. Well, unless they're covered in cheese and baked so that the cheese gets all golden and crispy and then I could eat them forever. But at that point, I'm probably just eating crispy cheese-covered potato.
However, I did get a random mashed potato craving out of nowhere the other day and I had to satisfy it ASAP. To be fair, it might have been a bacon/cheese/sour cream craving, but I can't  be certain. All I know is that these loaded mashed potatoes cured it. I also know that I put them in little mini mason jars because I thought they'd be super cute and also so perfect for holiday entertaining! While I find potatoes pretty boring, I do think a well-made mashed potato can be heavenly when the mood hits!
If I'm going to eat potatoes, I'm most definitely going to eat the skins. It's my favorite part! And the most chock full of vitamins and nutrition. So, I decided to boil these potatoes with the skins still on. I used a mixture of yukon gold and red potatoes, but you can use whatever your heart desires.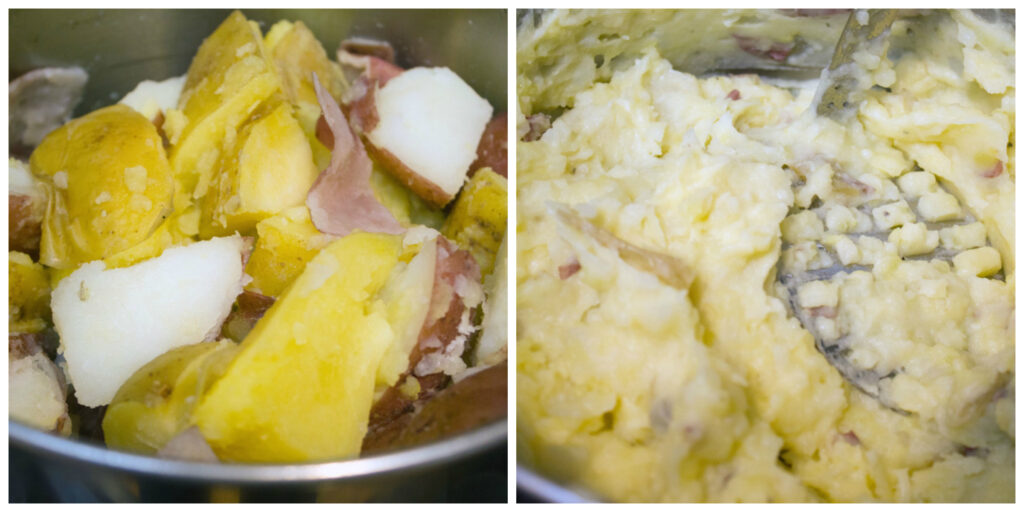 Because a potato just isn't worth it without cheese, I incorporated Cabot Farmhouse Reserve Cheddar into my mashed potatoes. This is one of my favorite cheeses in all the world! Cabot sent me a little selection earlier this month and I have to admit that it's almost gone! I will not feel guilty about that.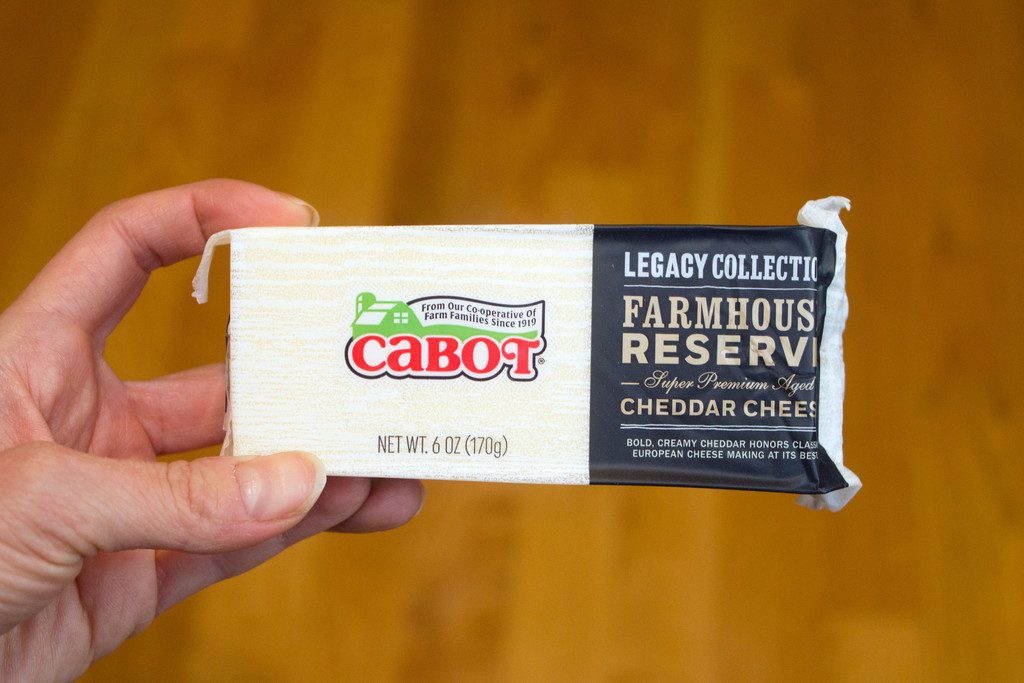 So, really these are quite simple. Once you're done with your mashing business, you simply put the mashed potatoes in jars. I used a pastry bag with no tip, just to make sure the potatoes were nice and smooth as they went into the jars. In case you're wondering, I used these 8 oz. mason jars and felt like they were the perfect size.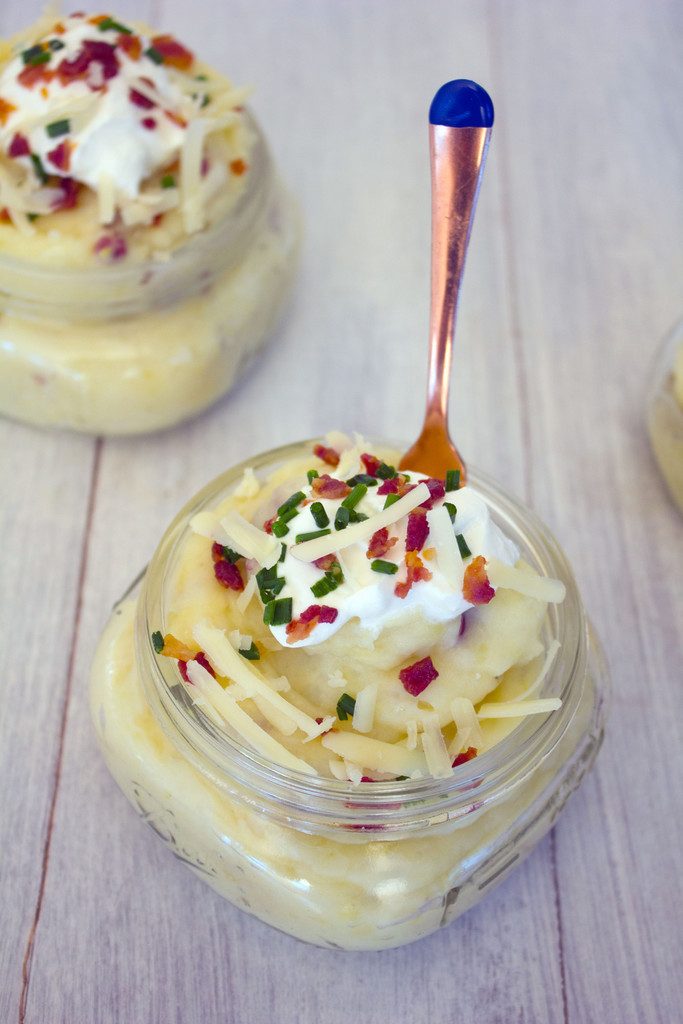 And because these aren't just mashed potatoes, but are loaded mashed potatoes, I loaded them right up with a combination of sour cream, bacon, chives, and another healthy sprinkling of cheese. The more the merrier, my friends. One thing I didn't add to the potatoes was garlic… Which always makes potatoes more awesome to me. I actually didn't feel like these ones needed it, but I wouldn't stop you if you tried to add it!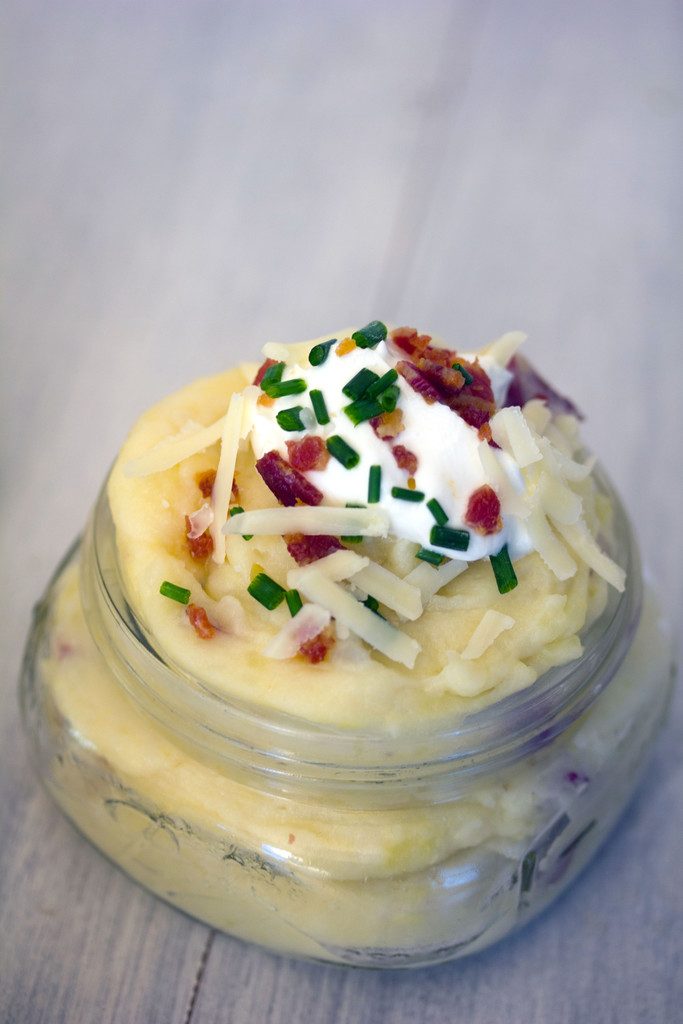 Man, these hit the spot and totally took care of my potato craving. At least for the next year or so. And the little jars definitely help with portion control, too. Not that anyone would have known if I had eaten two. Maybe I did… You'll never know.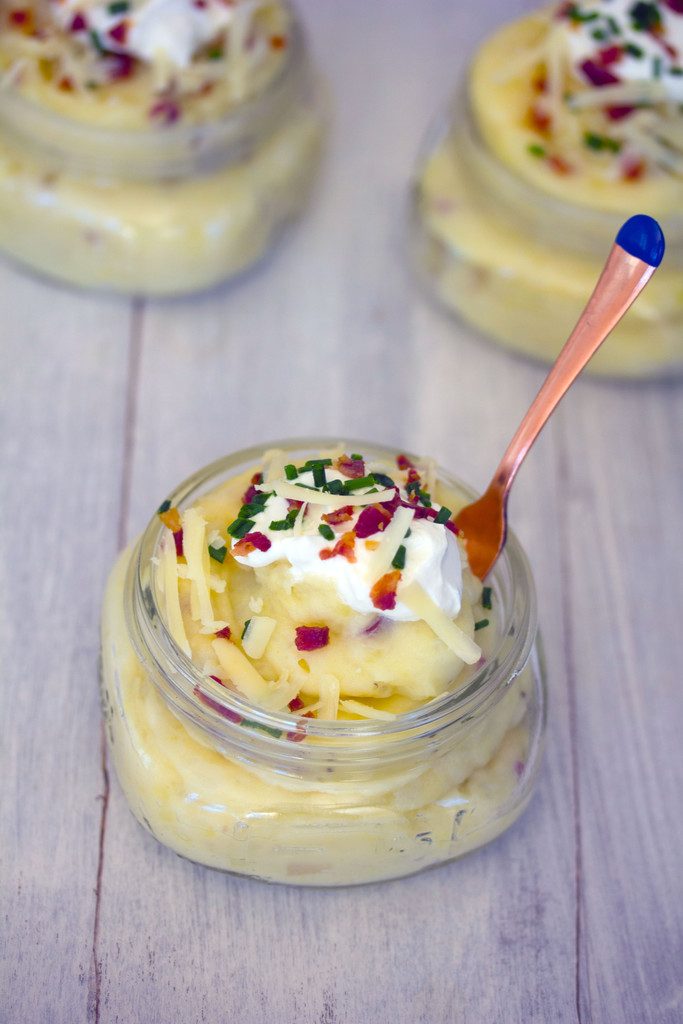 I really think you need to serve these loaded mashed potatoes at any holiday gatherings you have this year. The jars look so cute set all around the dinner table and they leave plenty of room for your guests to still fill their plates up with other goodies.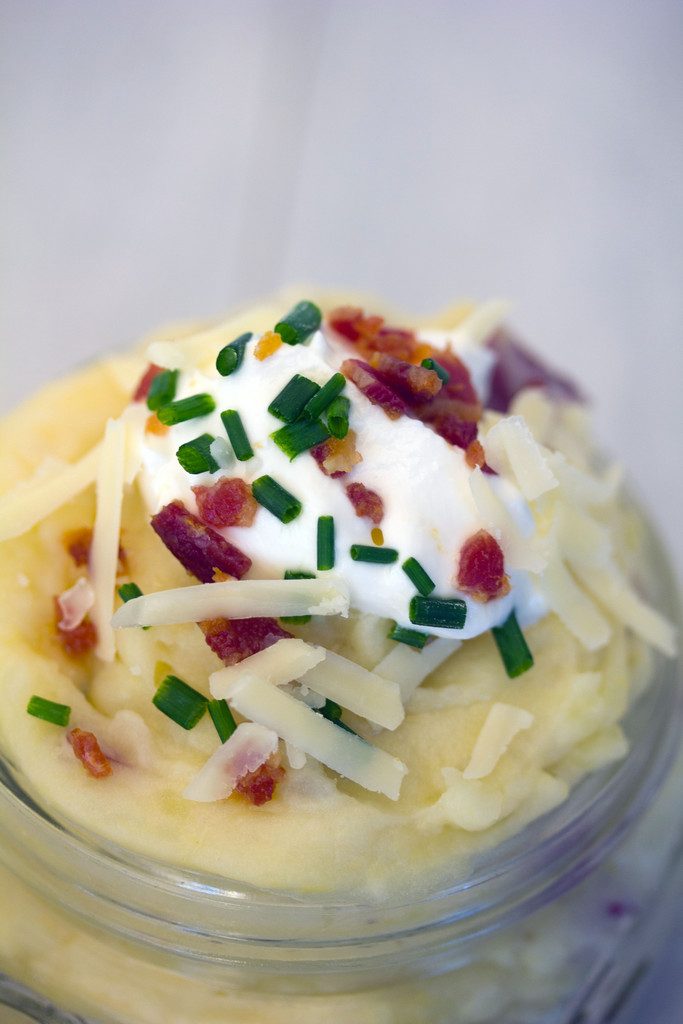 Next, I might have to try to make mini sweet potato soufflés in jars. While I rarely eat white potatoes, my diet (and blog) is pretty sweet potato heavy. I made my first sweet potato soufflé for Thanksgiving and now I want to eat it all the time. Serving it in jars would help since I could basically eat an entire soufflé dish of it and it's not exactly the healthiest dish in the world!
But then, isn't everything basically better when served in jars?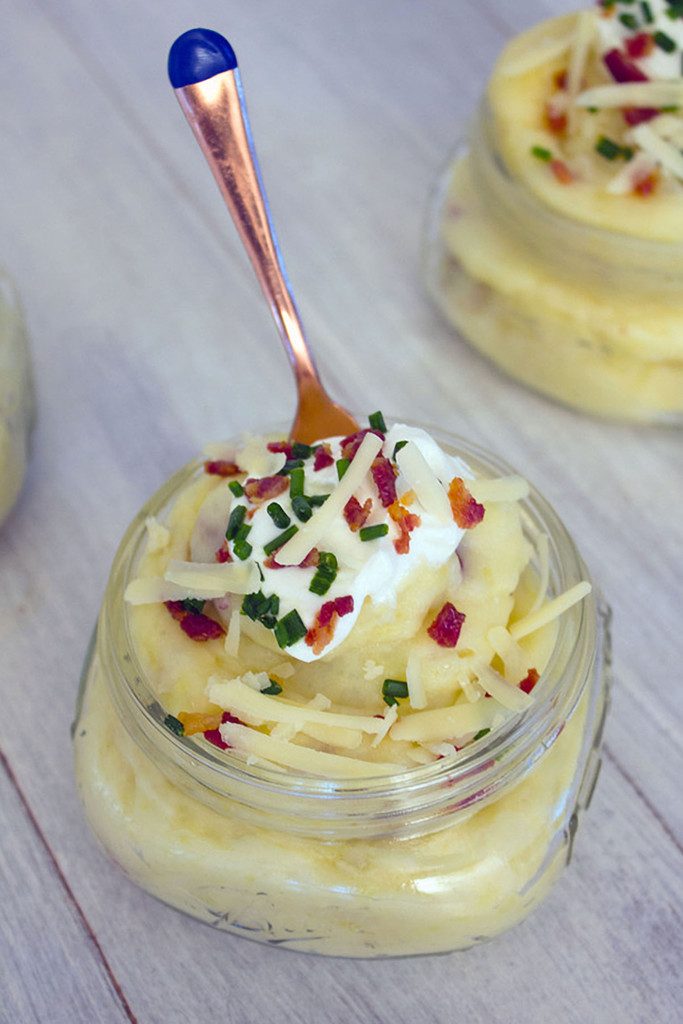 Welcome to my blog, potato recipe number five! I'm actually thinking I'll make a potato dish for Christmas dinner, too, but haven't settled on just which one yet! Recommendations are welcome!
Are you a white potato person? Or do you need to jazz them up to really get into them?
Loaded Mashed Potatoes in Jars
Loaded mashed potatoes are made even more special when served in individual jars. Perfect for dinner parties or holiday entertaining!
Ingredients
3

lbs

potatoes

I used a mix of red and yukon gold, cleaned and chopped into 2-inch pieces

1/4

tsp

salt

6

Tbsp

butter

1/2

cup

2% milk

1

cup

shredded sharp cheddar cheese

plus more for topping

Sour cream

Chives

2

strips crispy bacon

crumbled
Instructions
Place potatoes in a large pot and cover them completely with water.

Cover the pot and bring to a boil. Add salt to pot and boil potatoes, uncovered, until they're fork tender, about 20-25 minutes.

Drain potatoes and return them to the pot.

Add butter, milk, and cheese to the potatoes and mash until incorporated.

Season to taste with salt and pepper.

Using a pastry bag, pipe mashed potatoes into 8 oz. mason jars. Alternately, you could scoop potatoes into jars.

Top mashed potatoes with sour cream, chives, crumbled bacon, and additional cheese.