There are many variations of stuffing (AKA dressing), but this easy homemade Thanksgiving stuffing is the very best and deserves a spot at your holiday table!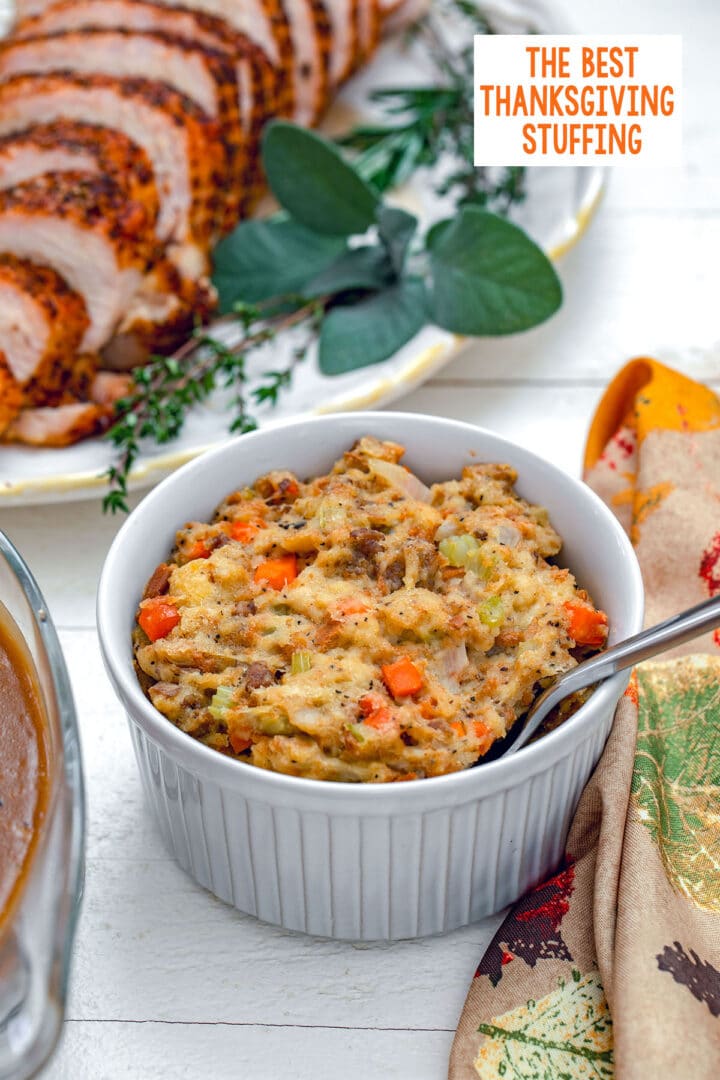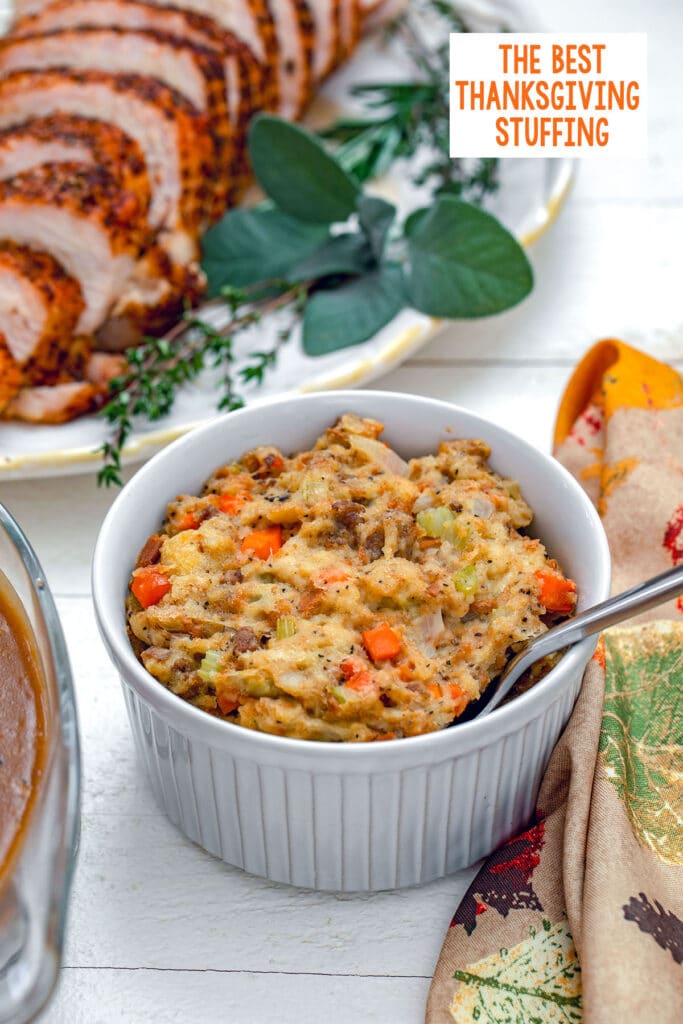 Jump to:
This is a sponsored post written by me on behalf of Shaw's Supermarket. All opinions are 100% mine.
I am so, so excited Thanksgiving is practically here! It's my absolute favorite holiday for many reasons... But one of the biggest? Stuffing.
Let's face it, when someone says they're serving stuffing (or dressing), that could mean any number of different things. And while I know many of you probably have a stuffing recipe you grew up with and/or love, I'm here to tell you that you need to try this one... The best one!
Your Thanksgiving may look a little bit different this year. For many people, Thanksgiving dinner will be a bit smaller... But that doesn't mean you have to skimp on any of the delicious traditional food! And that makes it the perfect year to bring something new to the dinner table.
I'm thrilled to be working with Shaw's Supermarket again to tell you all about their fabulous Thanksgiving dinner offerings. With Shaw's, you can beat the crowds, find the best deals, and get all of your Thanksgiving shopping done early.
I headed to my local Shaw's to pick up all the ingredients for my Thanksgiving dinner and was excited to see their huge selection of turkeys. I opted to purchase a turkey breast since I was going to be serving just 4 people, but they have a large variety of sizes available.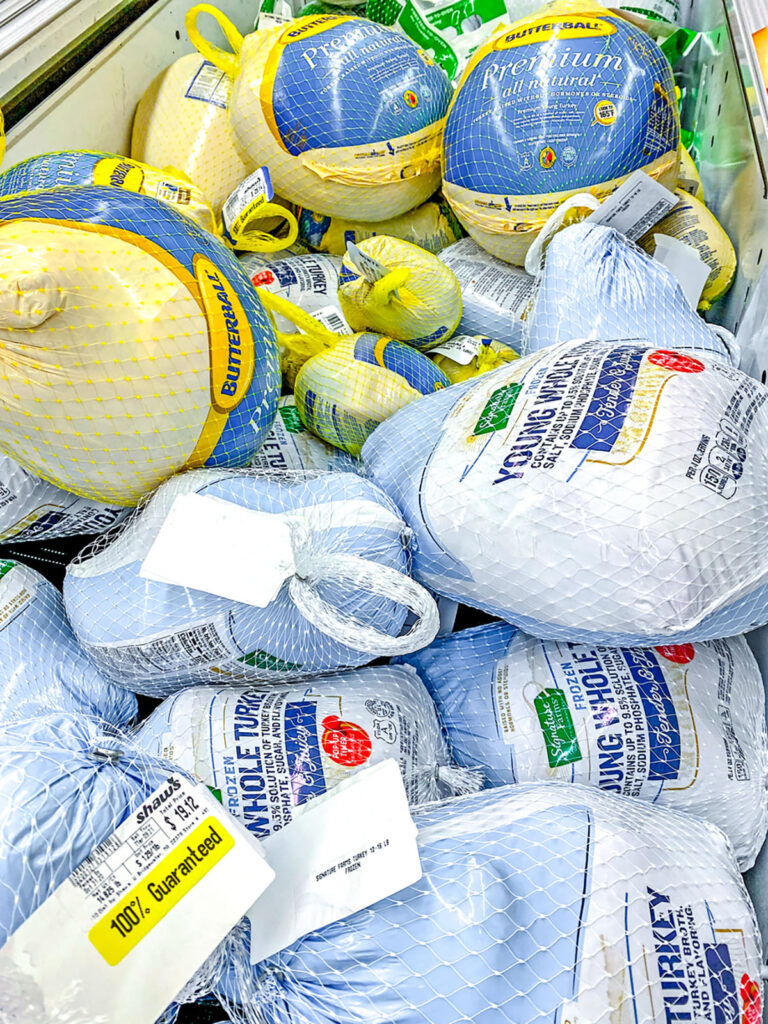 I also purchased all my produce (including fresh green beans, cranberries, and lots of herbs), a pumpkin pie, dinner rolls, and everything I needed to make the best stuffing ever.
I recommend picking up as many shelf-stable items ahead of time, so when you're picking up your produce and other fresh ingredients, you can zip in and out. If you buy a frozen turkey, you can get it ahead of time, too.
And? You can even make this Thanksgiving stuffing ahead of time!
😋 What makes this stuffing so good?
In my mind, this is how stuffing is supposed to be! It's not made with bread cubes and instead is a homogeneous stuffing that's packed with Thanksgiving flavors.
And sausage! The best stuffing recipes should always involve sausage.
This is the kind of stuffing you'd find in a Thanksgiving dinner sandwich and is perfect served with a dollop of gravy.
My mom has been making it for as long as I can remember and I'm excited to be able to share the recipe with you in hopes that you'll make it part of your family traditions, too.
We never stuff our turkey with stuffing, but eat it as a side dish. But you could certainly use it as a turkey stuffing, too.
If you're looking for a different style of stuffing, try this Southern Cornbread Dressing!
🗒 Ingredients
Here's what you'll need to make the best Thanksgiving stuffing:
White bread
Unsalted butter
Carrots
Celery
Mushrooms
Onions
Garlic
Sweet Italian Sausage
Eggs
Heavy Cream
Bell's Seasoning (see below for how to make your own mix)
Black pepper
Salt
Low- or no-sodium chicken broth
❓ What is Bell's Seasoning
Part of the secret to the best Thanksgiving flavors? Bell's Seasoning! My Shaw's has an entire display devoted to Bell's. I believe it's sold everywhere, but it may not be as easy to get everywhere as it is in New England.
The seasoning is a mix of ground rosemary, oregano, sage, ginger, marjoram, thyme, and pepper. When you open the box and smell it, you will immediately smell Thanksgiving!
🥣 How to make your own Bell's Seasoning
If you can't find Bell's, you can easily create your own mix. Here's what you'll need:
½ tsp rosemary
½ tsp oregano
¼ tsp sage
¼ tsp marjoram
¼ tsp thyme
¼ tsp ginger
⅛ tsp black pepper
Just mix it all together in a small bowl and you're ready to go!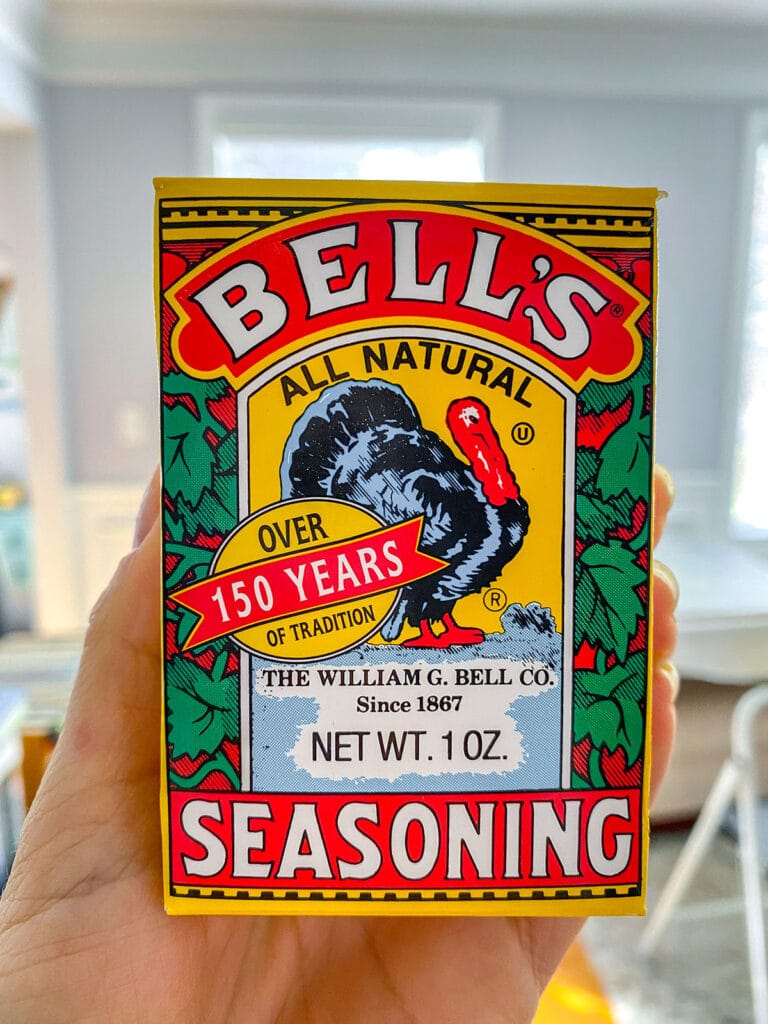 🍞 How to make the best Thanksgiving stuffing
Let's start with the bread! For this Thanksgiving stuffing, I recommend large loaves of split-top white bread. You'll want a total of 2 ½ lbs. of bread (two of these loaves) or about 40 slices.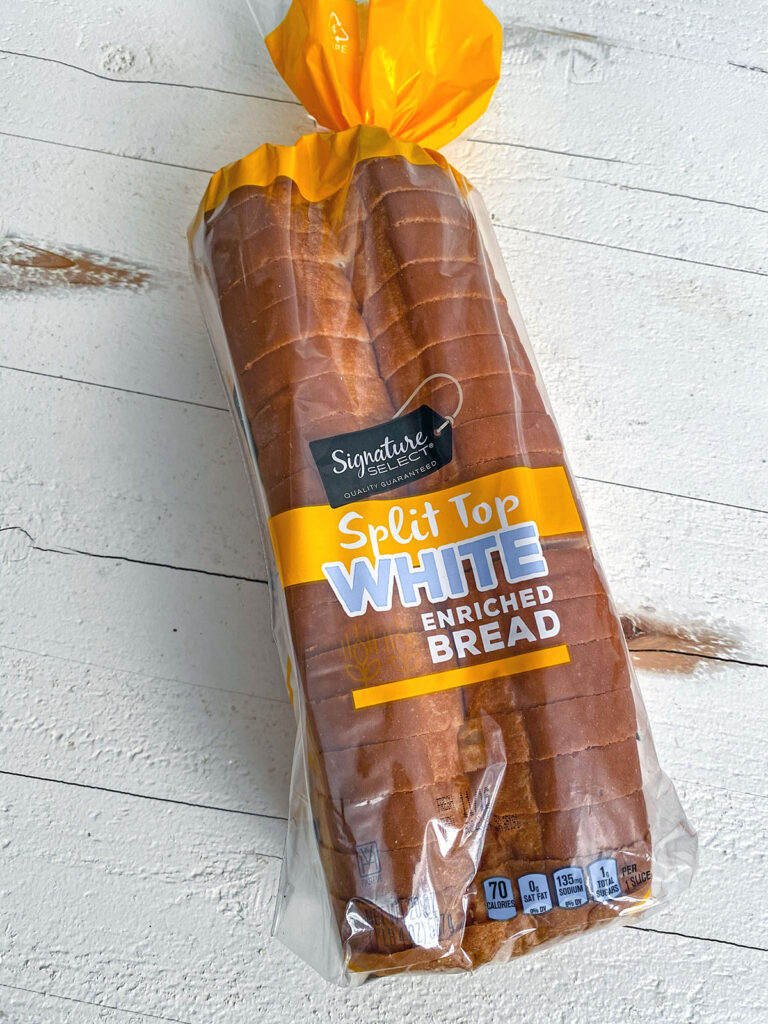 I recommend letting it sit out overnight to get a little bit stale. Then tear it up and put it in a very large bowl (trust me, you're going to want a BIG bowl for this!).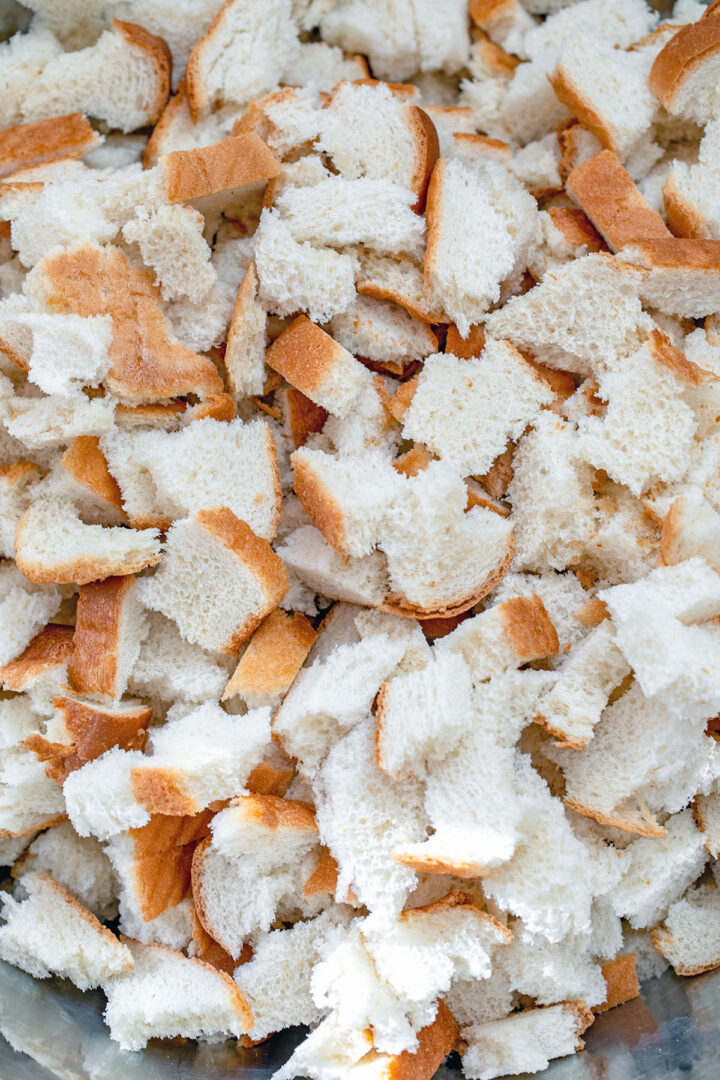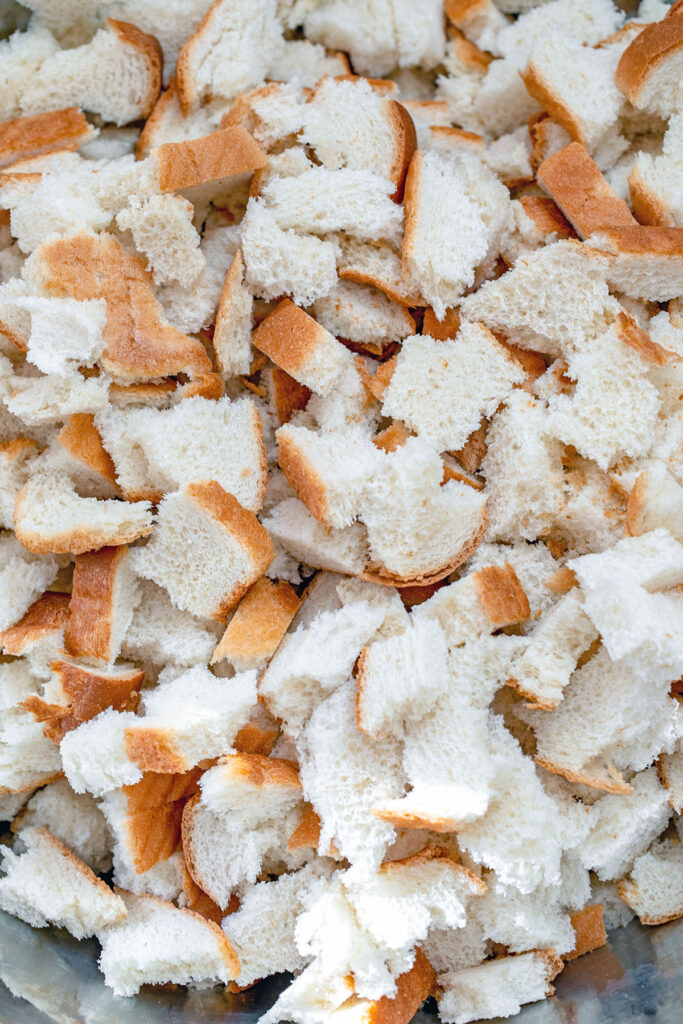 Chop up all your veggies: carrots, celery, mushrooms, and onions. You'll want about two cups of each.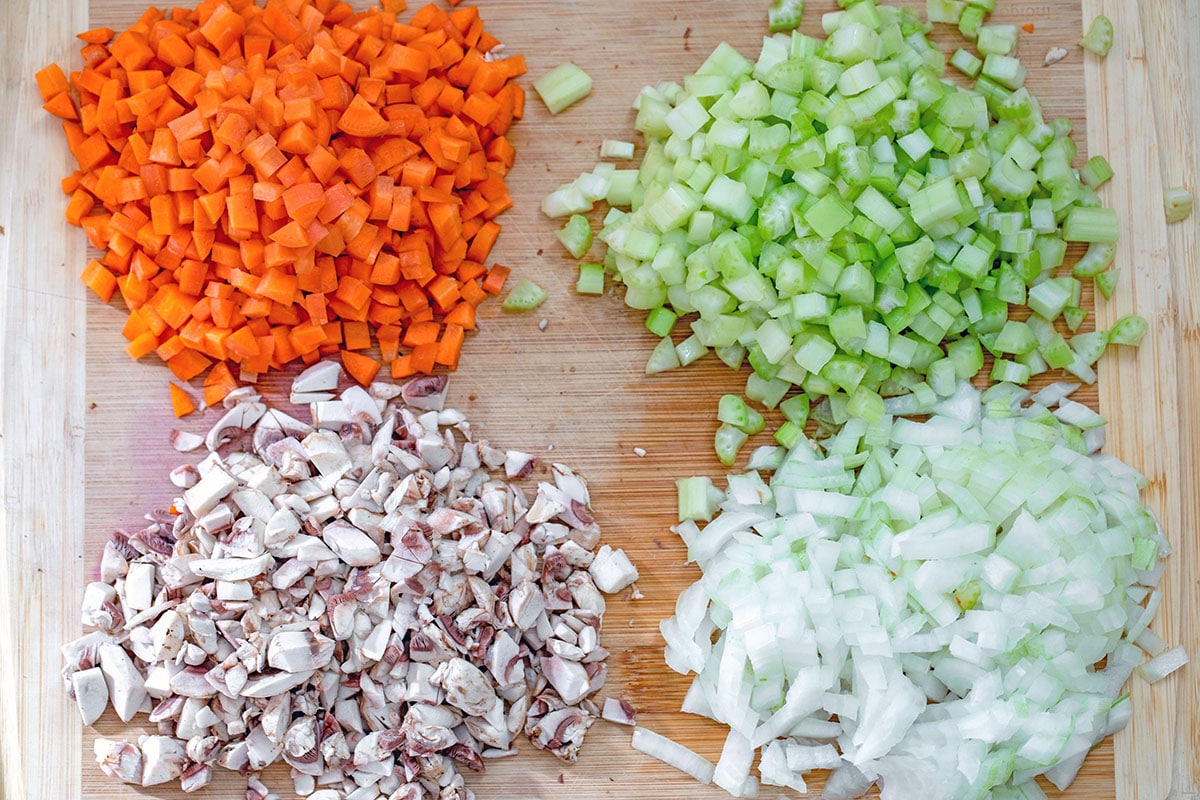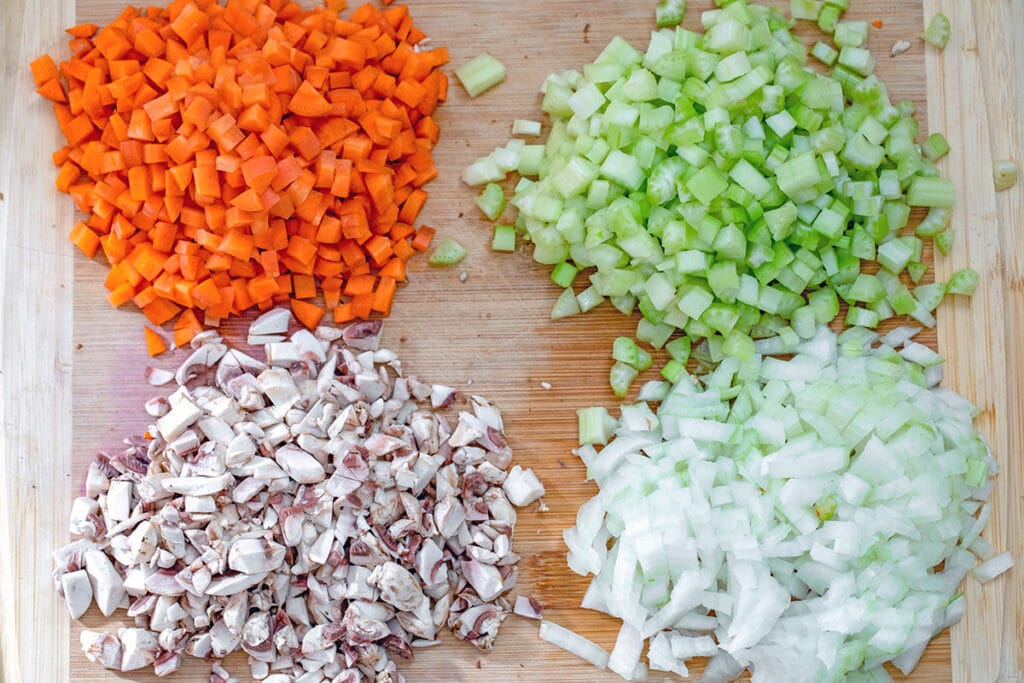 And sauté them all, along with sweet Italian sausage until sausage is cooked through and veggies are softened.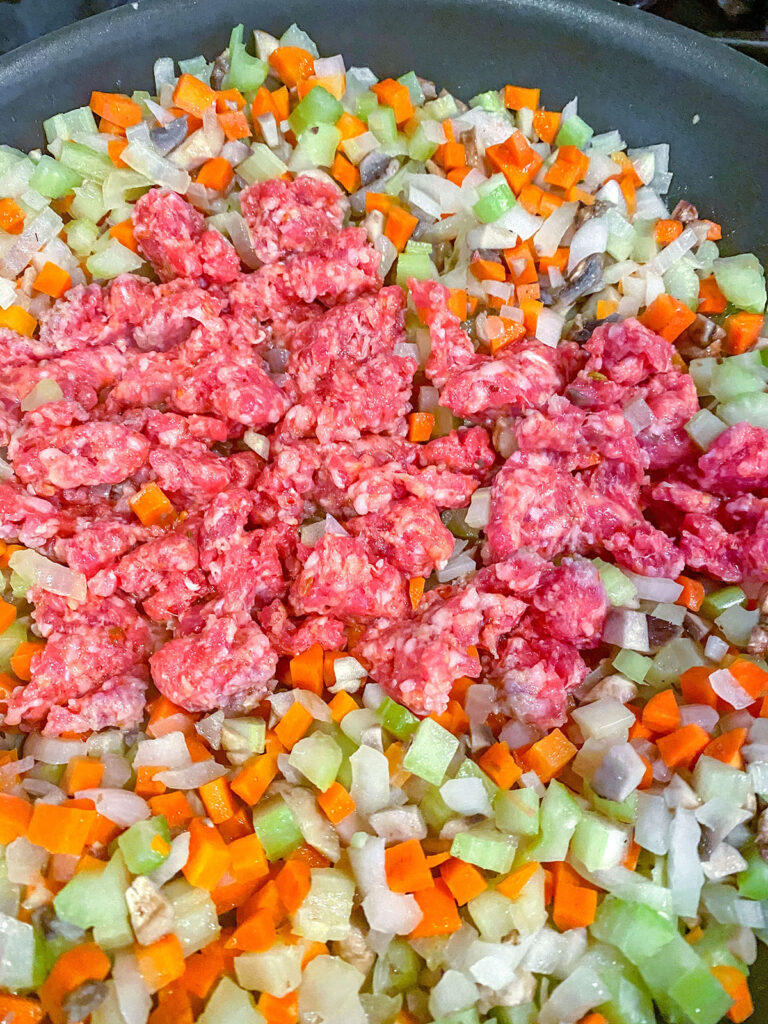 Add this mixture to the bowl with the bread.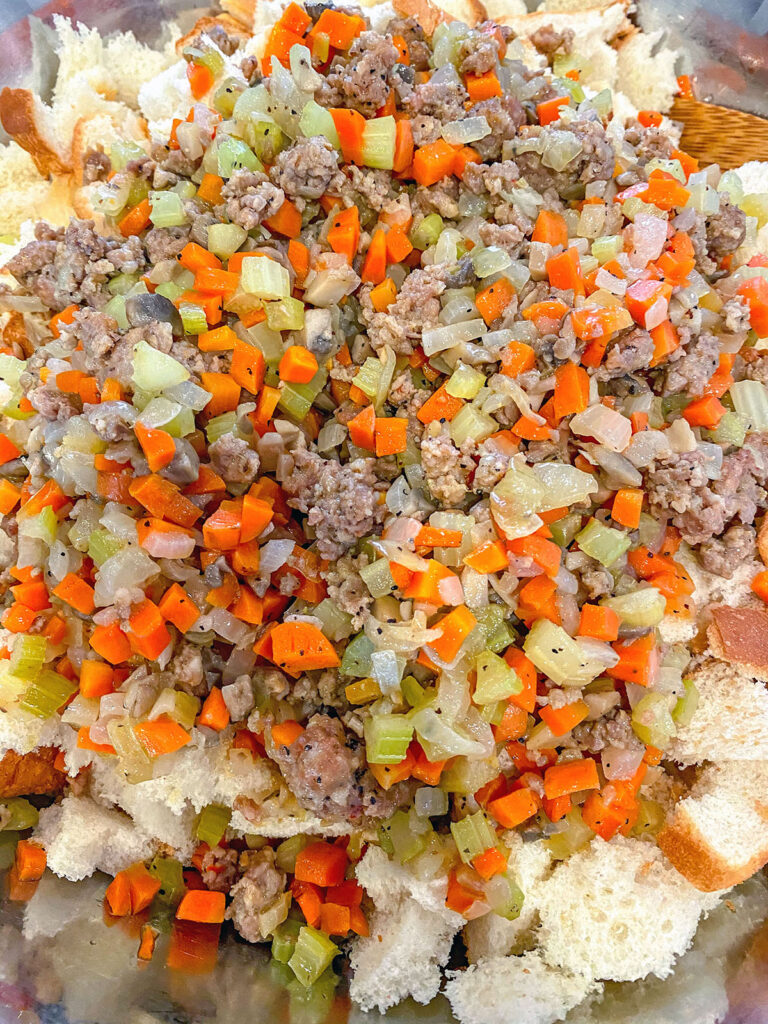 Add in eggs, cream, spices, and chicken broth and mix together.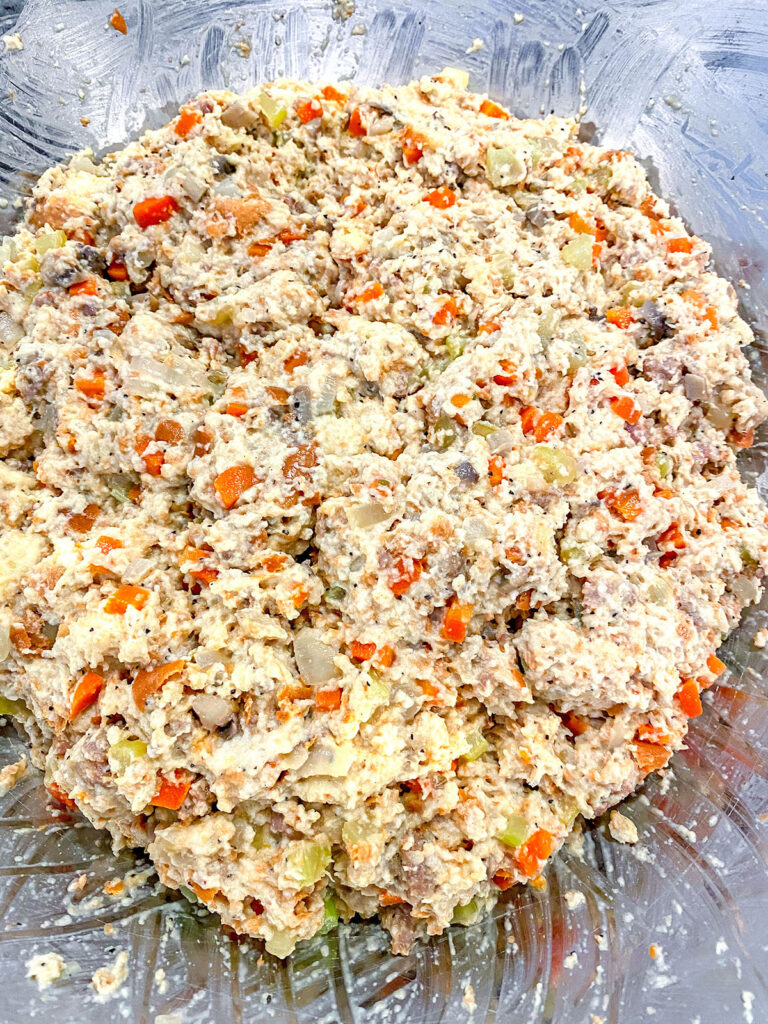 Once you have your stuffing all mixed together, scoop it into lightly buttered casserole dishes. This recipe makes about four quarts of stuffing.
You can bake it in two 2-quart casserole/soufflé dishes or any variation you like.
For a smaller Thanksgiving gathering, I recommend using one 2-quart dish and two 1-quart dishes.
Serve the larger dish on Thanksgiving and have the two smaller ones for leftovers... or you can freeze them for later!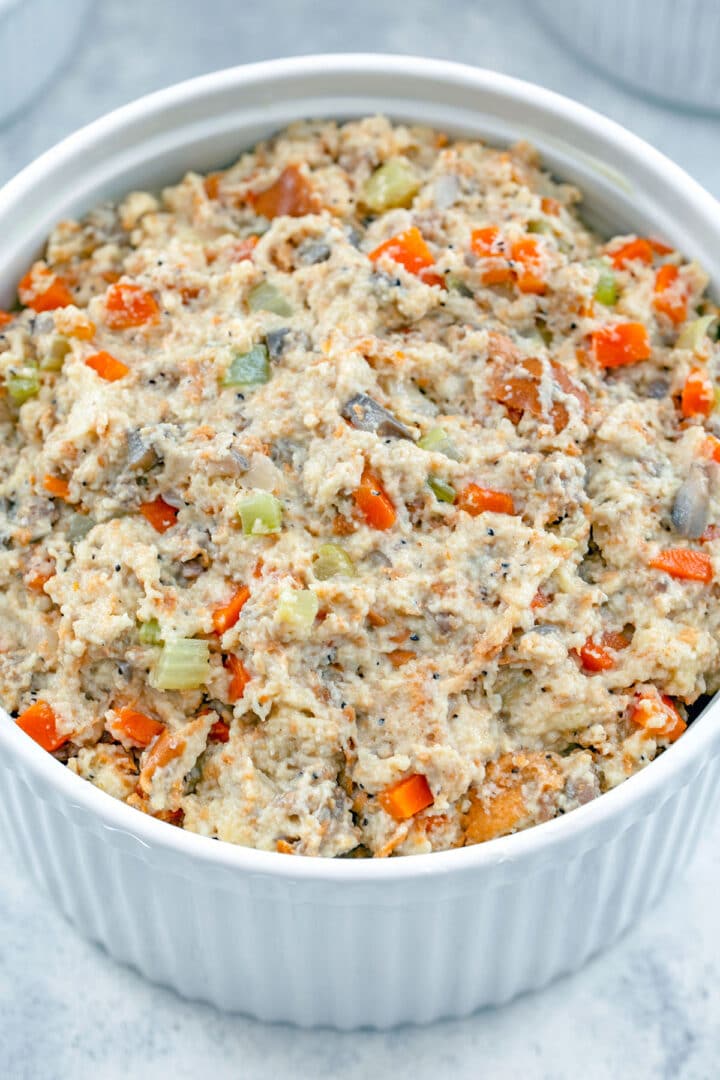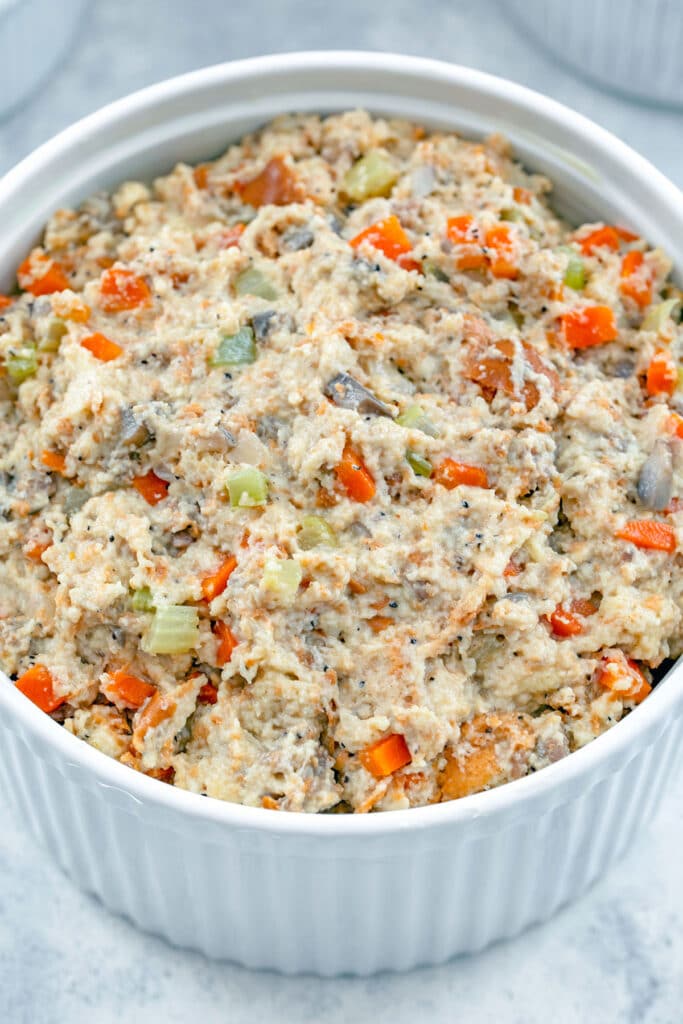 Bake the stuffing covered with lightly greased foil at 350 degrees. For the 2-quart dish, bake for about an hour. For 1-quart dishes, bake for 45 minutes.
I like to remove the foil for the last 10 minutes of baking to get the top of the stuffing a little bit crispy.
Also note that as it bakes, your entire kitchen will smell like Thanksgiving!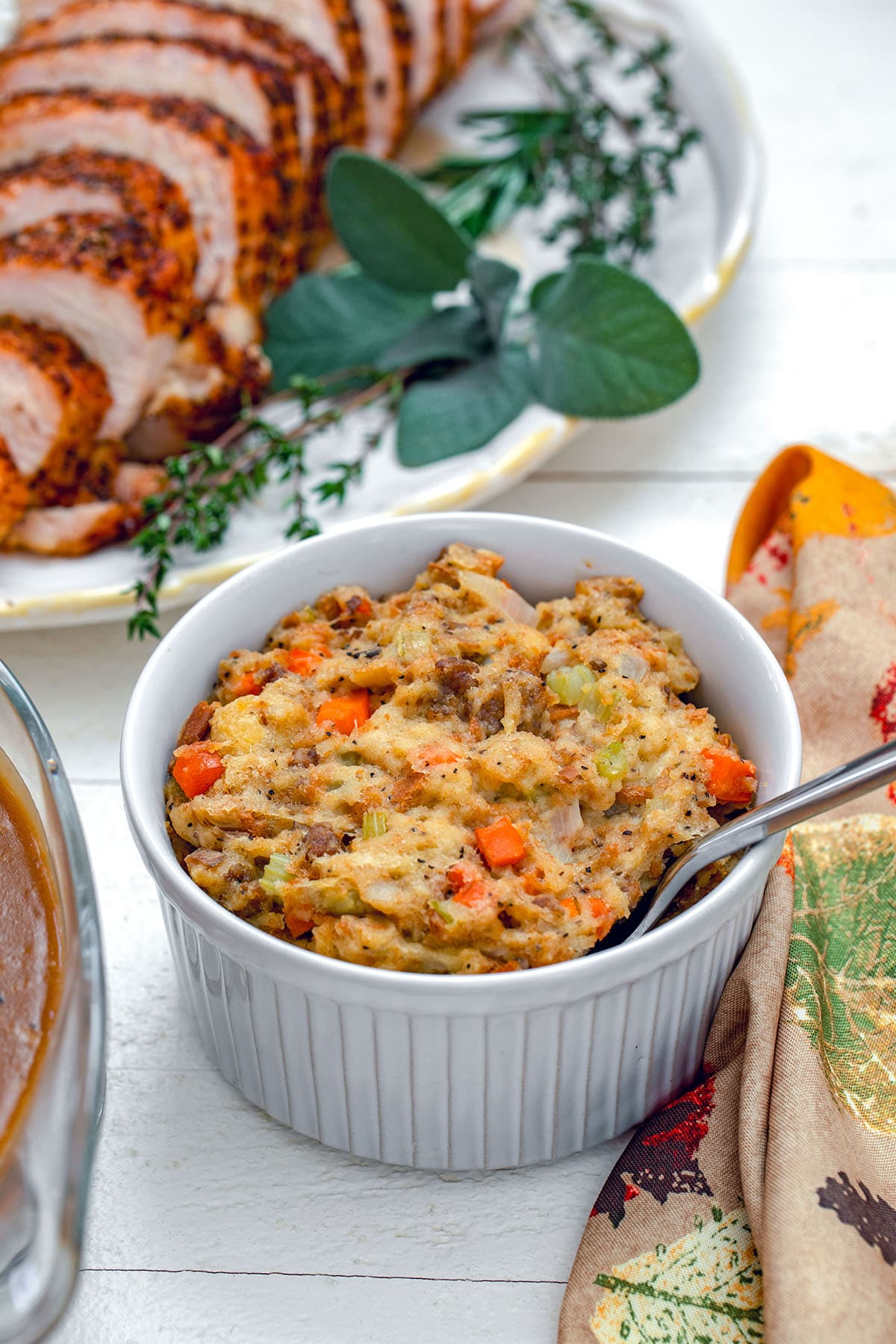 ⏲️ Can this be made ahead of time?
Yes! You can make and bake your stuffing ahead of time, keep it tightly covered in the fridge, and then simply warm it through before serving.
This will save you time and potentially oven space on Thanksgiving Day.
❄️ Can I freeze Thanksgiving stuffing?
Again, yes! Like I mentioned above, we always freeze some stuffing (tip: it makes a great filling for stuffed shrimp or lobster tails any time of year!).
I recommend making and baking it and letting it cool completely. Then remove it from the dish and wrap tightly in plastic wrap and then foil. Place it in a Ziplock bag and keep in freezer until ready to use.
---
This is my idea of the perfect feast! Sure, it's a smaller Thanksgiving dinner and there aren't a ton of frills.
But that's exactly the way I like it. We're all about holiday traditions in my family and love having our favorite dishes at the table year after year.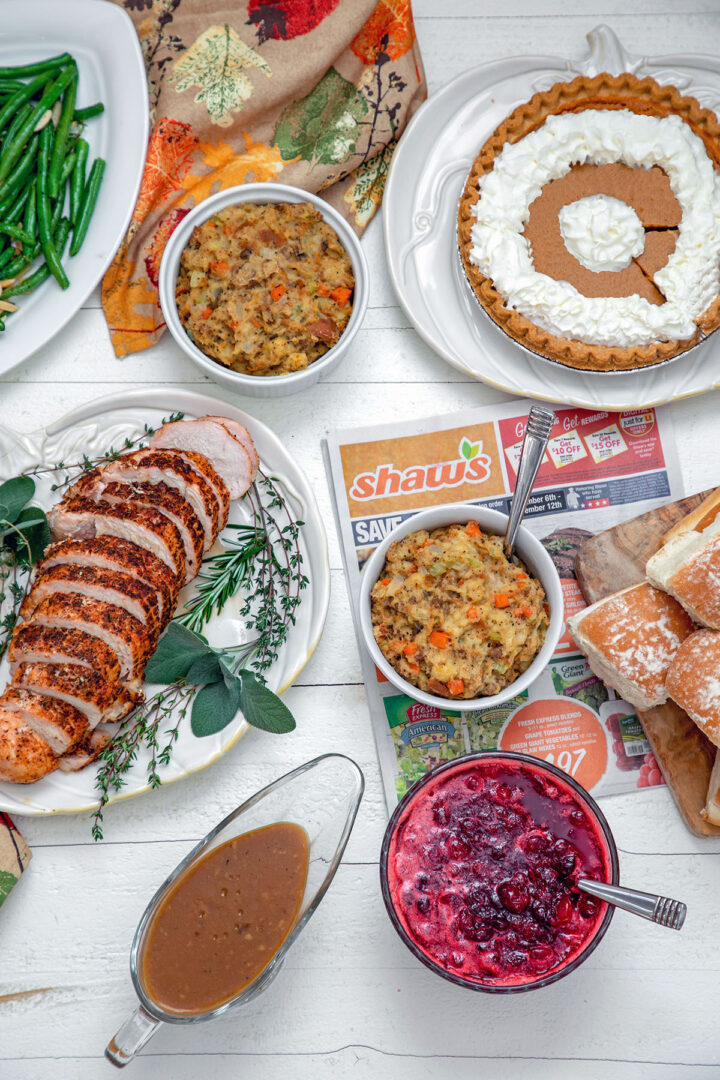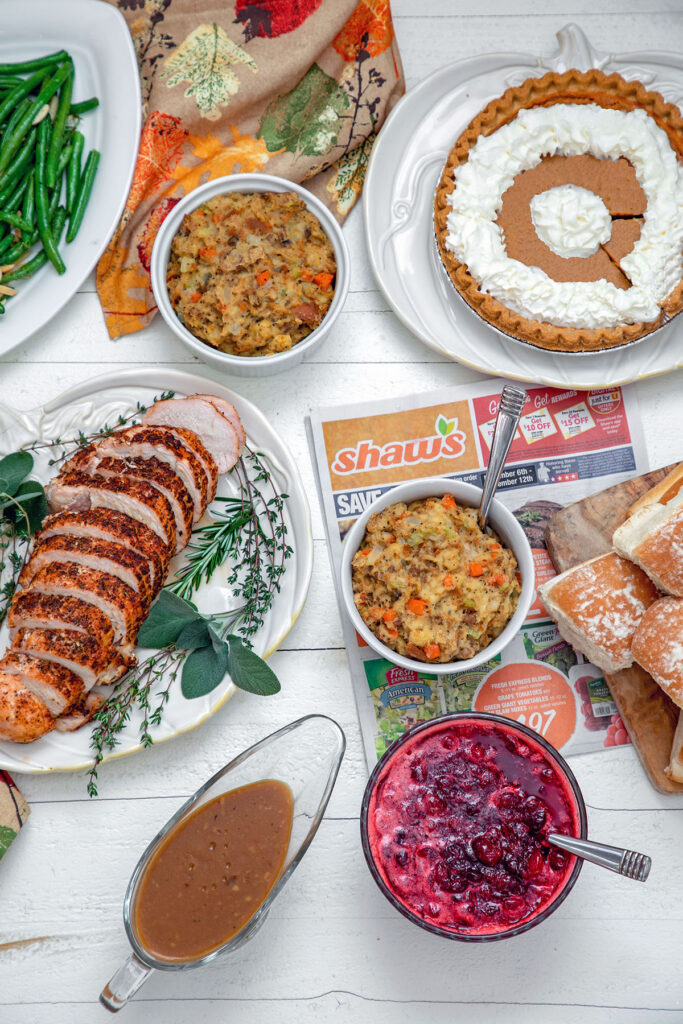 We love simple green beans almondine over casserole and a delicious fresh cranberry sauce (though we often serve canned, too!). Of course, lots of gravy is a necessity!
We actually don't usually serve rolls on Thanksgiving (since we're so stuffing crazy), but I couldn't resist these pillow-like dinner rolls from Shaw's.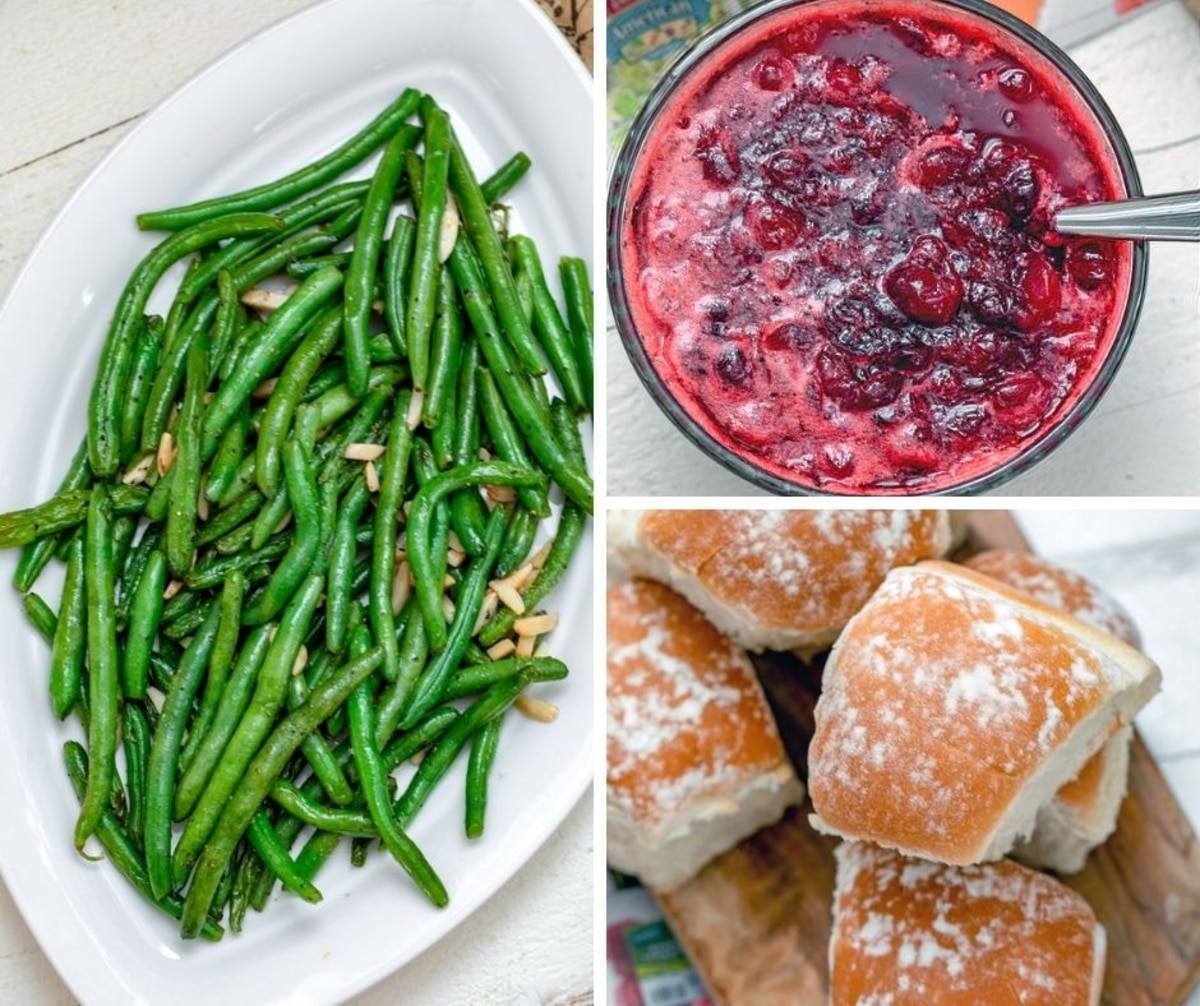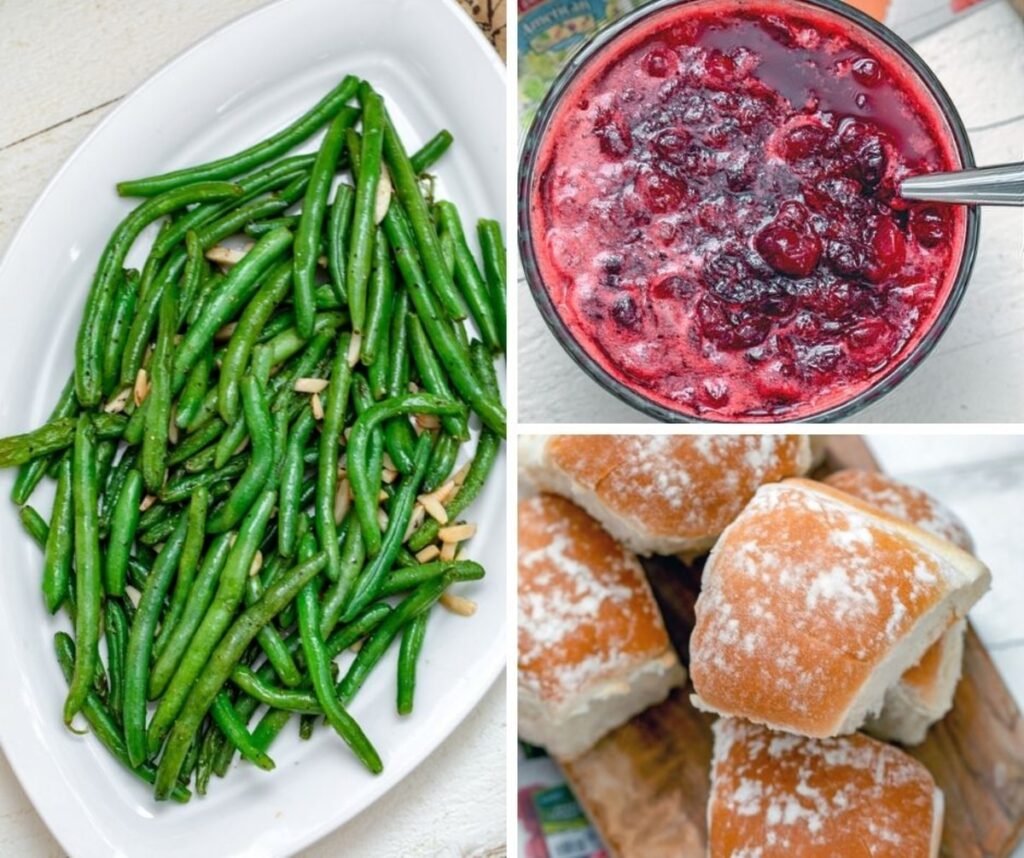 We always roast an entire turkey on Thanksgiving, so I was a little skeptical about just making a turkey breast. But I have to admit, this turkey breast was absolutely perfect! It was 3 lbs. and served 4 easily with some leftovers.
I simply rubbed the skin with olive oil, chili powder, thyme, and pepper before baking for about 2 hours.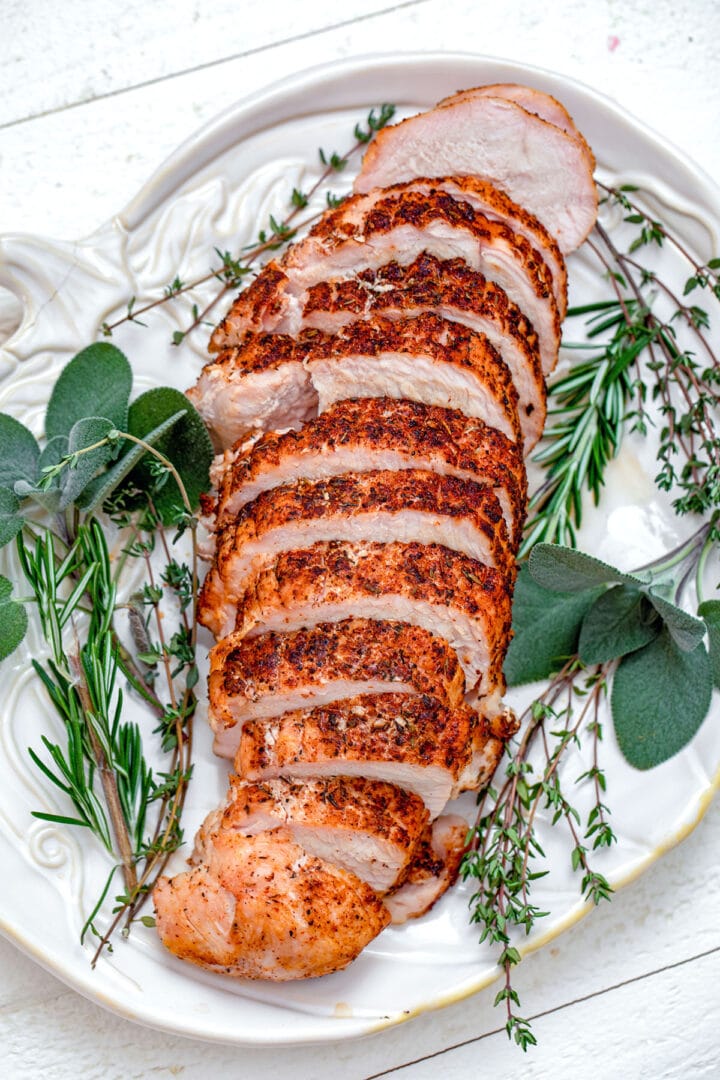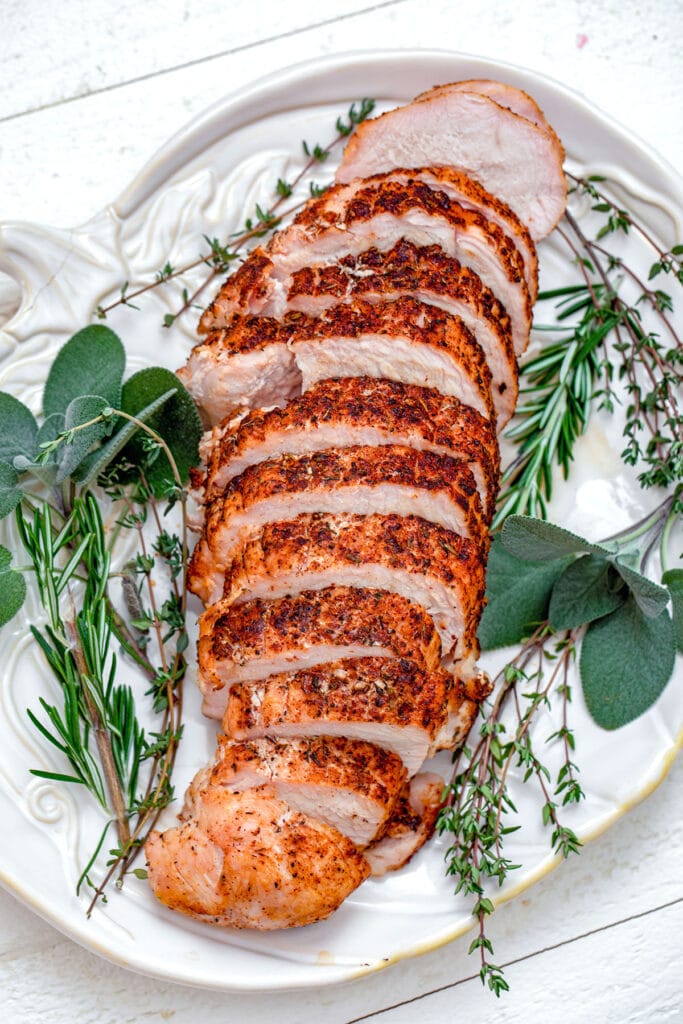 But for me, the stuffing is always the star of the meal.
I try to only make it at Thanksgiving time because I want to keep it special... But I definitely think about it all year long!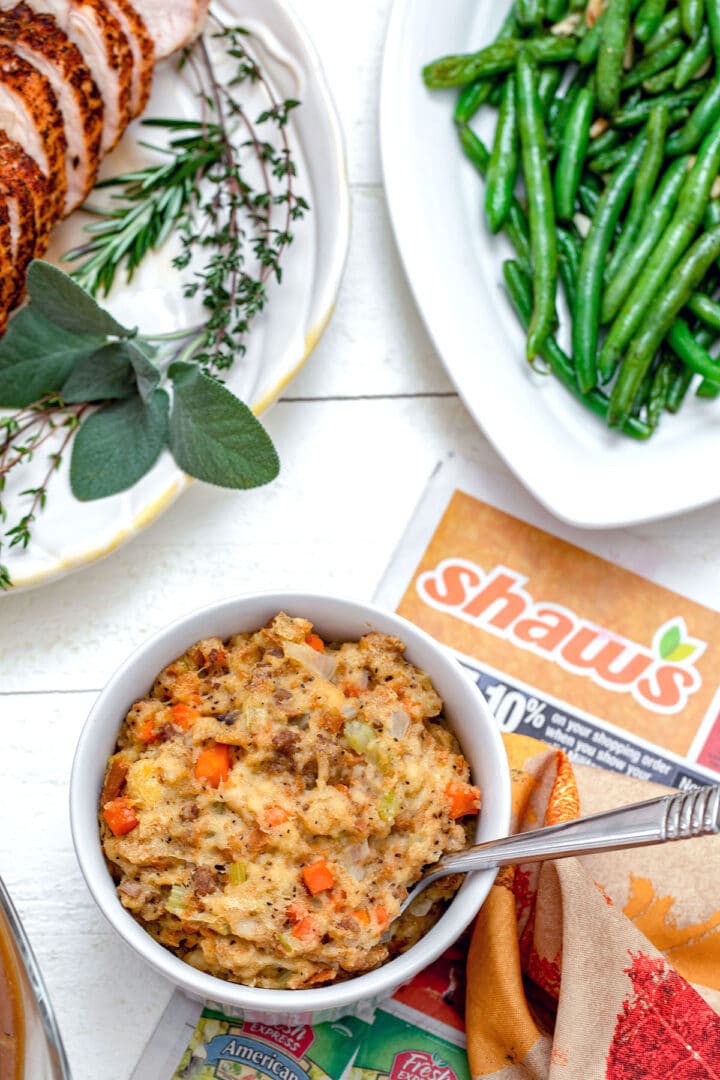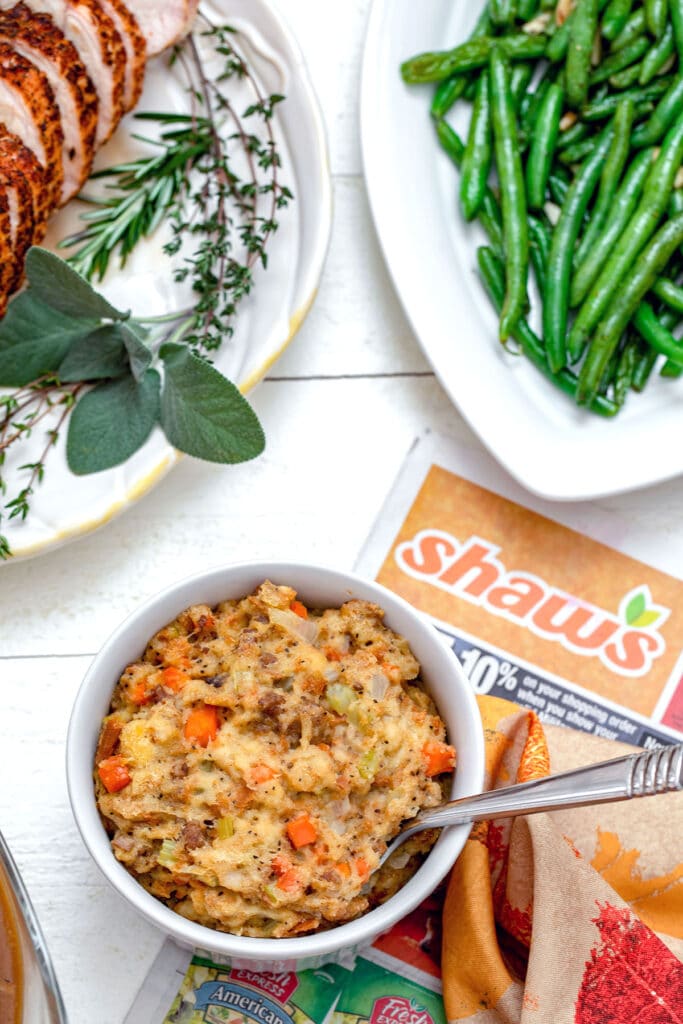 Oh and that pumpkin pie from Shaw's bakery department? We topped it with some whipped cream and it made for the perfect super easy dessert.
Shaw's also has lots of fun Thanksgiving themed cupcakes, cookies, and more if you want to serve a selection of desserts.
🦃 More Thanksgiving recipes
If you're planning your Thanksgiving menu from scratch and want some more delicious ideas, here are some of my favorite recipes: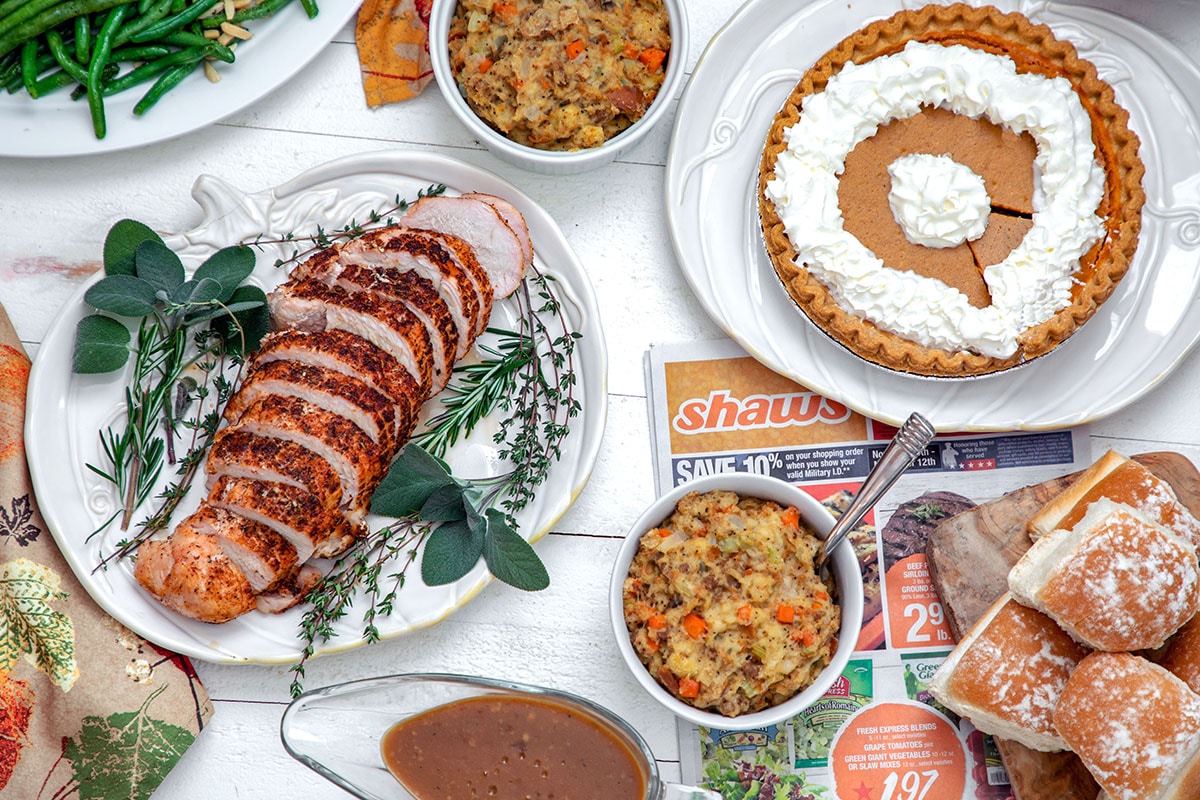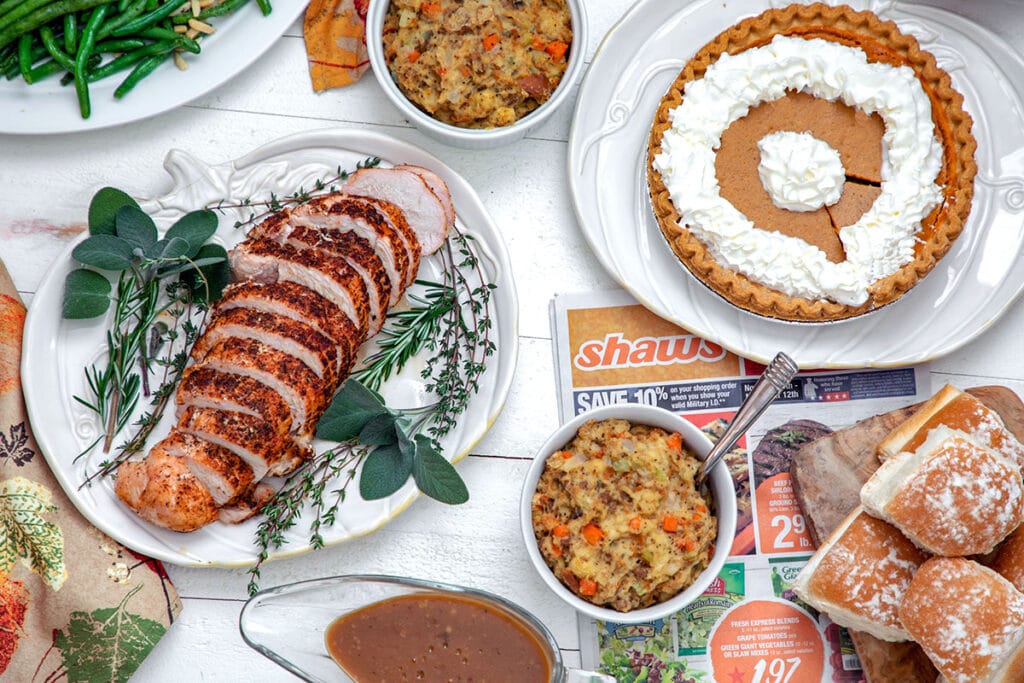 As you know, I love spending time in the kitchen and making food from scratch. But I completely understand if you'd prefer to spend less time in the kitchen (especially this year!). The good news? Shaw's can do the work for you!
You can order your entire Thanksgiving meal ahead of time online with their Order Ahead option. All you have to do is order online, pick it up in-store, heat, and enjoy!
I hope you all have wonderful Thanksgivings filled with your favorite foods and people (even if some of those people are with you virtually!). And I hope you add this Thanksgiving stuffing to your dinner table this year and for many years to come.
What's your idea of the best Thanksgiving stuffing?
📖 Recipe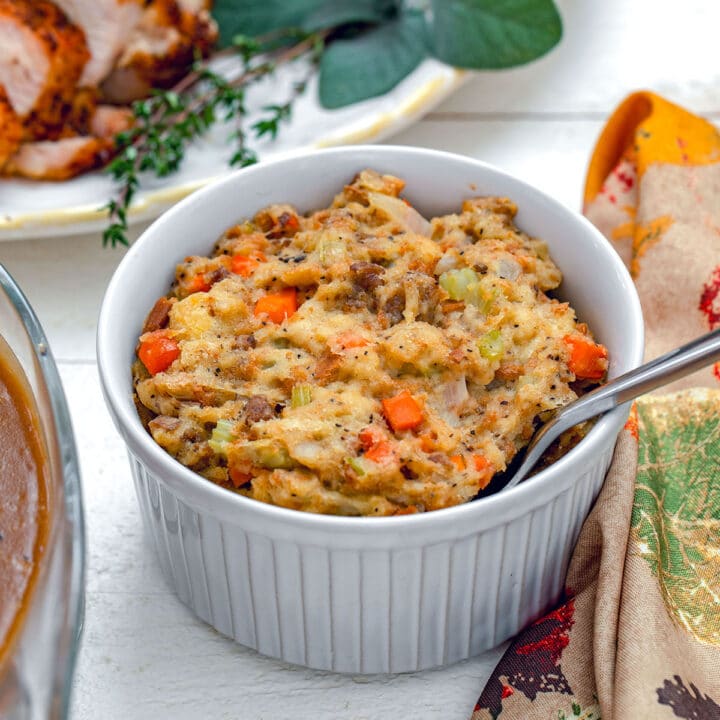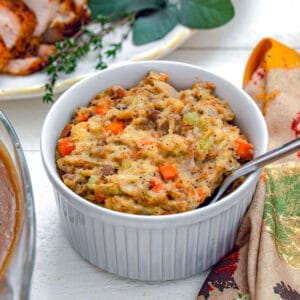 The Best Thanksgiving Stuffing
There are many variations of stuffing (AKA dressing), but this easy homemade Thanksgiving stuffing is the very best and deserves a spot at your holiday table!
Print
Pin
Rate
Ingredients
½ cup

(1 stick)

unsalted butter,

plus more for buttering dishes

2

cups

finely diced carrot

2

cups

finely diced celery

2

cups

finely diced white mushrooms

(from 8 oz. package)

2

cups

finely diced onion

(about 1 medium onion)

1

clove

garlic,

minced

¾

lb.

sweet Italian sausage

(about 3 large links), removed from casing

2

large loaves split-top white bread

(about 40 slices or 2 ½ lbs.)

2

large eggs

½

cup

heavy cream

2

tsp

Bell's seasoning

2

tsp

black pepper

1

tsp

salt

4

cups

no or low-sodium chicken broth
Instructions
Pre-heat oven to 350 degrees and lightly butter two 2-quart soufflé dishes or similar (I like to use one 2-quart dish and two 1-quart dishes so I can freeze the smaller ones).

Melt butter in a large skillet over medium heat. Add carrot, celery, mushroom, onion, and garlic to skillet and toss to coat with butter. Add sausage and cook for about 10 minutes, breaking sausage up with a wooden spoon, until sausage is cooked through and vegetables are softened.

While veggies and sausage are cooking, break bread into pieces in a very large bowl. In a small bowl, lightly whisk together eggs and cream.

Add vegetable/sausage mixture to bowl with bread and sprinkle in Bell's Seasoning, pepper, and salt. Pour in egg/cream mixture and add chicken broth. Stir together until well-combined.

Scoop stuffing into prepared baking dishes and cover with a piece of foil lightly sprayed with cooking oil.

Bake for about an hour for 2-quart dish and 45 minutes for 1-quart dish. I like to remove the foil for the last 10 minutes of baking time so the tops get crispy. See notes below for tips on freezing and/or making stuffing ahead.
Notes
T

o freeze stuffing: I recommend baking stuffing and letting it fully cool. Then remove from dish, wrap tightly in plastic wrap and foil and then place in a tightly sealed Ziplock bag.

Y

ou can make and bake stuffing a day or two ahead of time, keep in fridge, and then warm before serving.

If y

ou can't find Bell's Seasoning, you can use the following spices:

½ tsp rosemary
½ tsp oregano
¼ tsp sage
¼ tsp marjoram
¼ tsp thyme
¼ tsp ginger
⅛ tsp black pepper
Share a Photo of Your Finished Recipe!
Mention @wearenotmartha and share a photo if you've made the recipe!
View Web Story for this recipe.