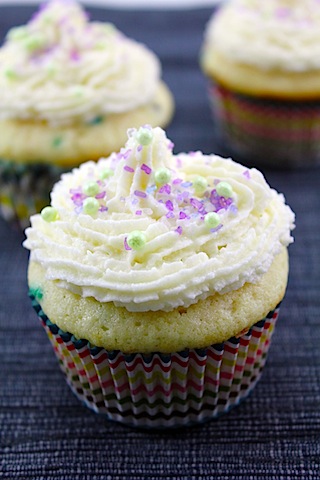 This year, I resolve to become a better cake decorator. Which also means a better cupcake decorator. Which also means I'll be devouring a lot of cupcakes in 2012. And I'm OK with that. My new cupcake papers that my sister and brother-in-law got me for Christmas proclaim the perfect New Year's resolution. One I think we can all handle.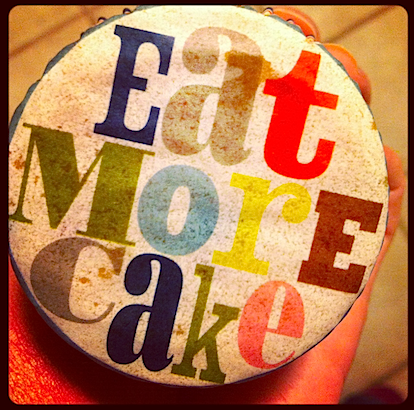 I'm also resolving to learn how to make the perfect pain au chocolate and to bake more bread. And to make at least 20 new cocktails and to improve my photography enough to get at least 30 of my photos on FoodGawker or TasteSpotting (but not to feel bad when they don't make it… Because these sites are definitely not the be all end all!).
I'm also resolving to fit into a wedding dress in about 5 months. But the rest of my resolutions don't seem to be jiving too much with that one, do they? OK, fine. Add eat more vegetables to the list. (notice that doesn't mean "eat less cake").
If I succeed in accomplishing all of the above, I will consider 2012 to be a grand success. Even if I don't, I'm still marrying my best friend and I think he'll forgive me if I don't perfect my pain au chocolate. And maybe even if I don't fit into my wedding dress. Well, maybe I should try to achieve that resolution.
These were my last cupcakes of 2011 and definitely had celebration written all over them. There are three components to them, including the confetti cupcake, the champagne custard filling, and the vanilla champagne buttercream. The custard filling does need some time to cool, so you can make it ahead of time if you want. Or you can just wait for it to cool while you sip the rest of the bubbly.
Confetti Cupcakes with Champagne Custard Filling and Vanilla Champagne Buttercream (makes about 20 cupcakes):
Print this recipe!
2/3 C butter, room temperature
1 1/2 C sugar
2 3/4 C all-purpose flour
3 t baking powder
1 t salt
1 C milk
1 T vanilla
6 egg whites
1/4 C rainbow sprinkles
1 batch champagne custard (see below)
1 batch vanilla champagne buttercream (see below)
(pre-heat oven to 350 degrees)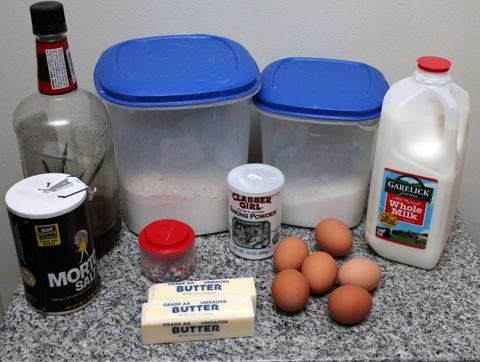 Start by creaming together the butter and sugar in a stand mixer or with a hand mixer, until light and fluffy.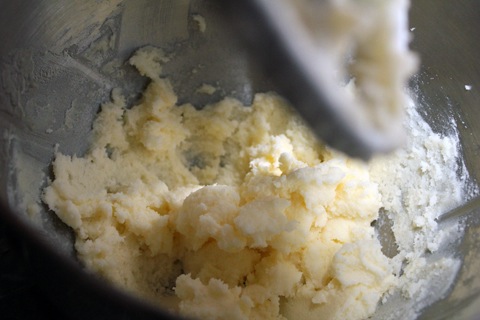 Whisk the flour, baking powder, and salt together in a separate bowl.
Now, mix the dry ingredients into the mixer with the wet ingredients, alternating with the milk. At this point, the batter will be pretty thick and not very cupcake-like. Don't worry. The next step will fix that.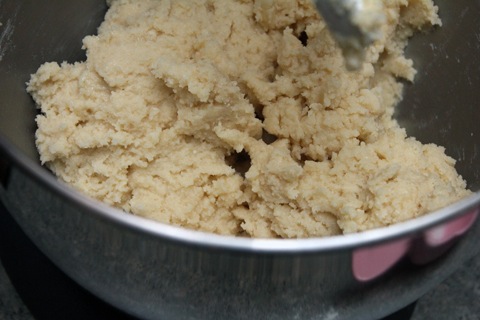 In another separate bowl (yes another!), beat the egg whites until stiff peaks form. This might seem like a crazy cupcake recipe, but it's similar to what I did for my white wine cupcakes (a recipe I originally adapted from here). And I thought those were so wonderful that I decided to do it again.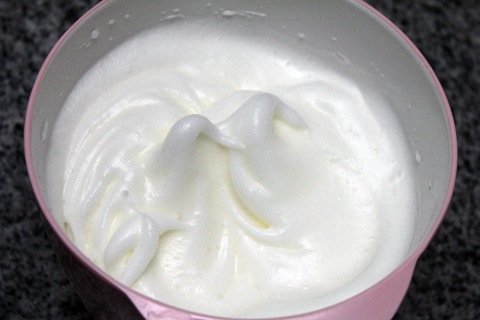 Fold the egg whites into the batter. And then stir in the sprinkles. It will immediately start to look like Funfetti cupcake batter. Which is clearly the best thing ever.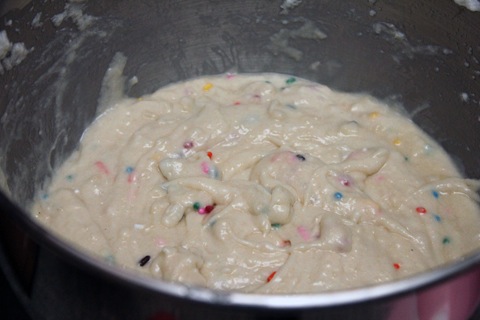 Fill your cupcake papers 1/3 of the way with batter.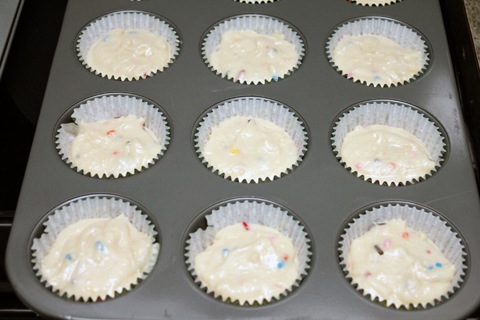 And bake at 350 degrees for 18-20 minutes. Pretty!!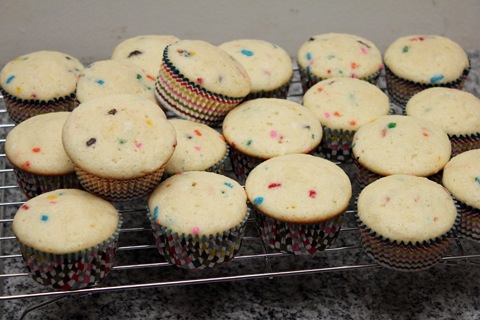 Let the cupcakes cool while you whip up some champagne custard filling. This recipe makes quite a bit more than you need… So feel free to cut it in half. Or make it all and eat it out of the bowl with a spoon. Who needs New Year's resolutions anyway?
Champagne Custard Filling:
1 1/2 C champagne
1/2 C water
4 eggs
1/2 C sugar
2 t corn starch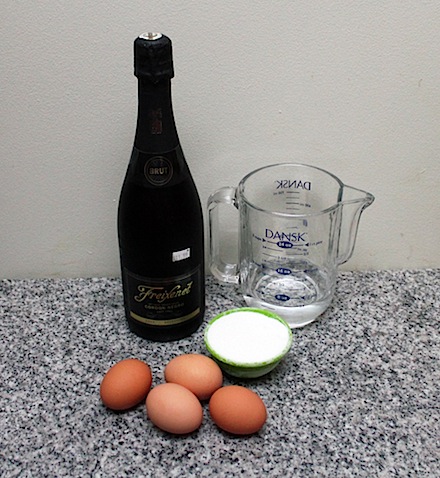 Whisk all the ingredients together in a double boiler (with water boiling). Cook while beating with a whisk constantly for 10-12 minutes, until mixture thickens. If the mixture isn't thickening, you can add a bit more corn starch, but make sure you whisk it well, so it doesn't lump. Also, once your custard cools, it should thicken a bit more.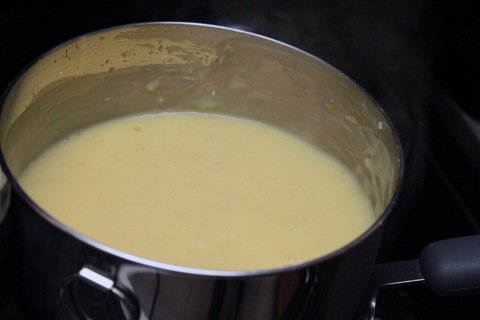 Put custard in the fridge to cool. And whip up that buttercream!
Vanilla Champagne Buttercream:
1 C butter
3-3 1/2 C confectioners' sugar
2 T vanilla
3 T champagne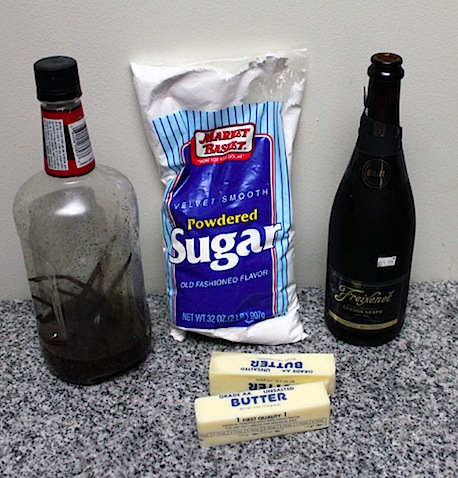 I totally forgot to take a photo of my frosting in process. But it's super simple. Just cream your butter in your mixer (or with a hand mixer). Then add the confectioners' sugar 1/2 C at a time, alternating with champagne and vanilla, until it's at your desired consistency.
Once the champagne custard has cooled and your cupcakes have cooled, too, core your cupcakes (you can simply cut out a piece of the center or use a nifty cupcake corer, like I have!).
Fill the center with champagne custard!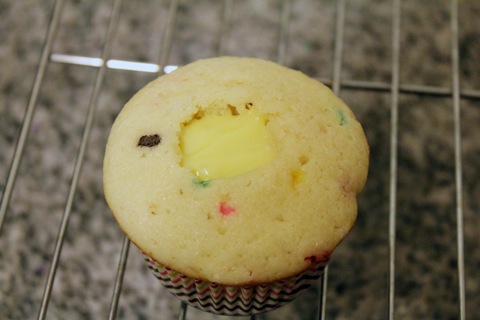 Frost. And decorate to your liking.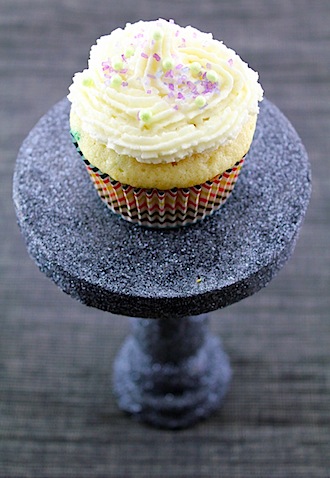 I'm not the best cupcake froster. At all. But that's what 2012 is for. And maybe when the craziness of my life calms down a bit, I'll actually take a class. It's one of those skills that I believe can take me very far in life.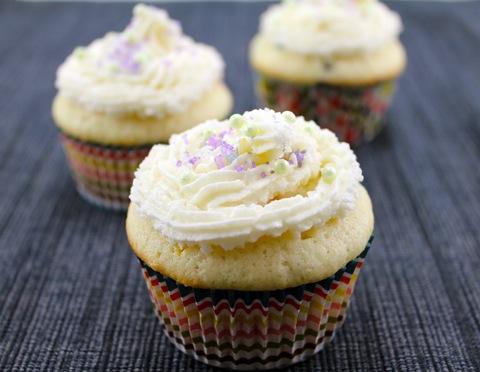 But when it comes to a delicious cupcake, I suppose looks aren't the most important thing. It's what's in the inside that counts. And when that's champagne custard filling, you really can't go wrong.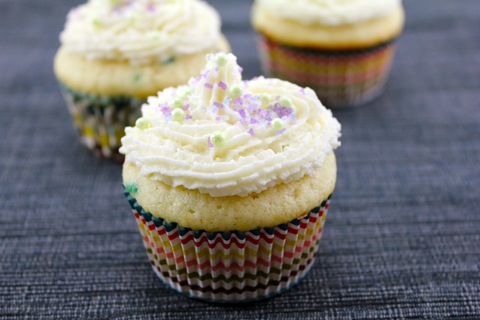 I took these cupcakes to a fabulous New Year's Eve party thrown by my sister and Adam.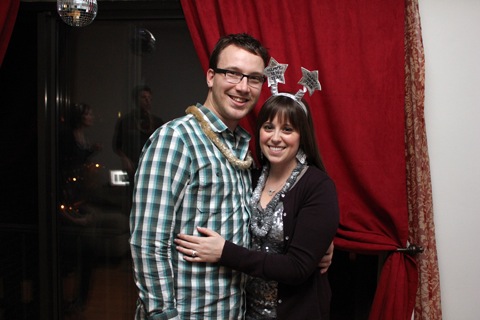 Their party was the perfect way to ring out the year… And the fact that they live just a few blocks from us, didn't hurt either. It was also wonderful to catch up with Eat Well with Janel, who I know through blogging and through about a million different connections.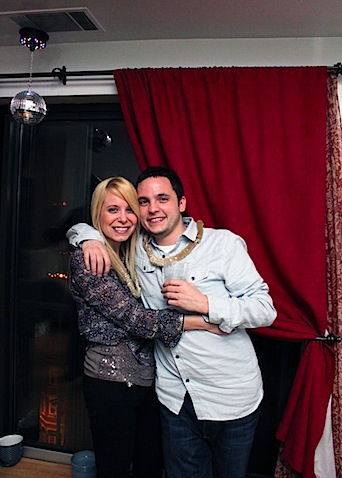 All's well that ends well… And we're on to a huge one with 2012!
I hope you all had wonderful a New Year! And are all prepared to head back to work tomorrow… If that's where the day will be taking you.
What food-related resolutions/goals are you making for 2012?
[Sues]
Don't forget to enter our Sierra Mist giveaway to win a fabulous prize pack!